To think I'm going to be married in exactly 2 months from today is WILD!!! It just started to feel real last week when Bridger and I were in Mexico getting some R&R and things checked off our to-do list for the wedding, i.e. touring our rehearsal dinner venue & staying one night at our ceremony venue. We also had our menu tasting scheduled, which I'll get into later, but I've never looked forward to a day more in my life!
To be quite honest, I didn't grow up designing every little detail of my future wedding in my head… Of course, I knew I always wanted to have one, but I didn't mess with the deets. Maybe I'm just not a Type A critical planner that way.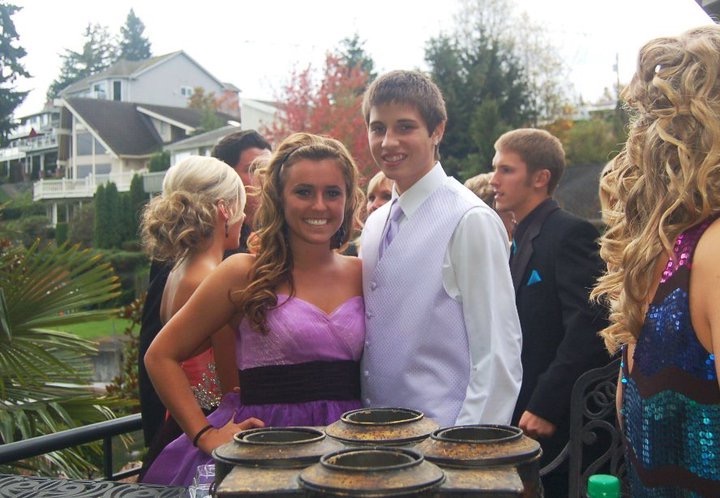 To go WAY back, Bridger and I have known each other since middle school. We dated for three months when I was in 8th grade and he was in 7th. Young love, you know the story haha. We got back together late in high school and have been together ever since! 9+ years and counting– engaged just one day before our 9-year anniversary in Cabo, Mexico. I can't say I didn't see it coming, but it was a nice surprise 😉 and honestly perfect timing in my opinion.
We both knew we'd be together forever and didn't want to rush anything or spend all of our money on a one-day event before we had bought a home together. Everyone has their own way of doing it and I think not following societal pressures is always OK. Who cares what people think anyways, right?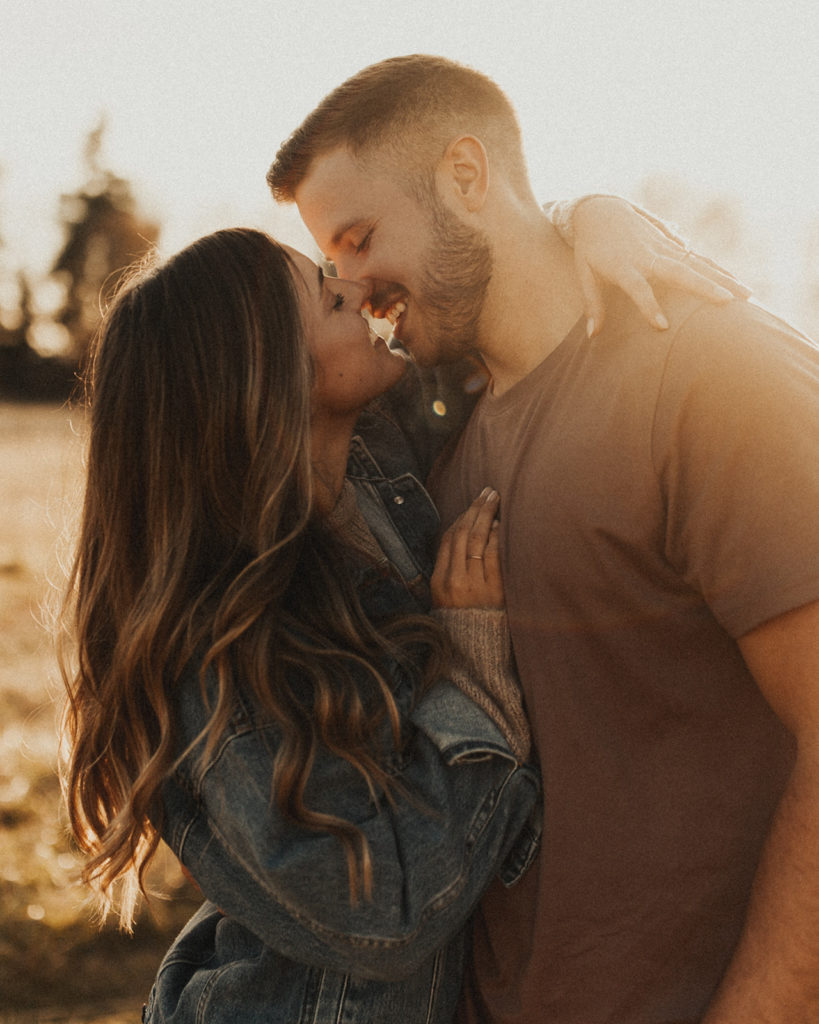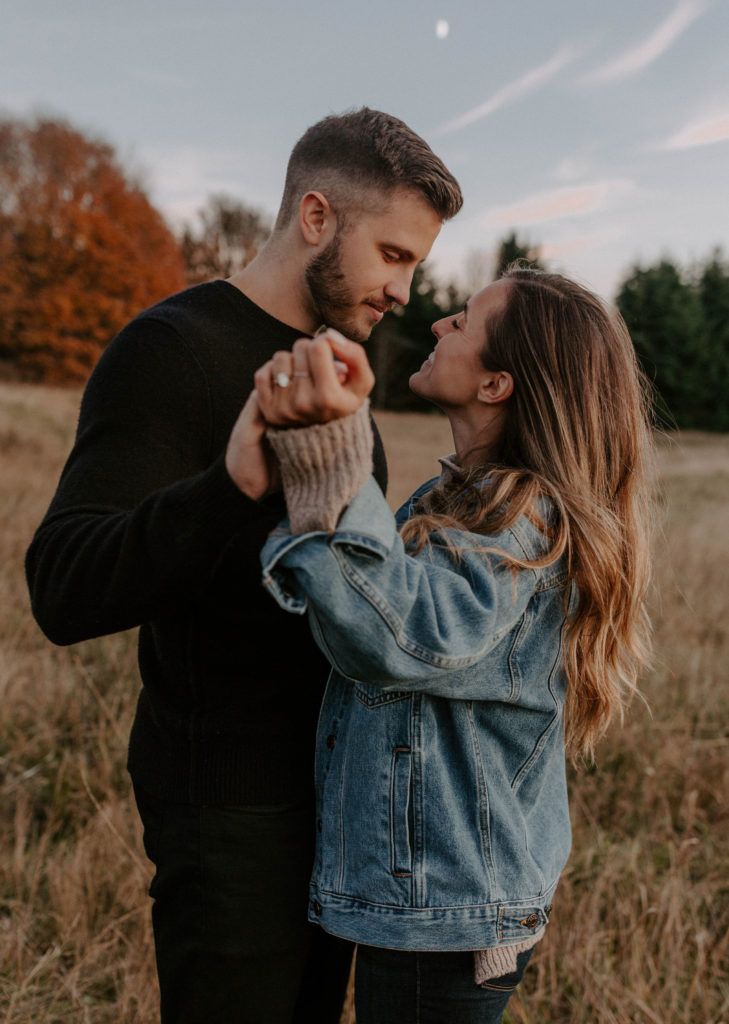 Now, to give you an idea of my experience planning a wedding the past 4 months… a breeze. I know, that has to be v uncommon, but once we decided on the venue and the date, and after I found my dress and our wedding planner, it's been such a positive and low-stress experience. For one, I do think it all depends on the person with how they handle the stressors of wedding planning. Of course, there are big decisions that have to be made along the way (guest list, helloooooo), but one thing I've realized is that the only thing that really matters is who you'll be marrying that day. So the little details of what shape the reception napkins are, are not really on my list of things to worry about.
I'll give you another update after the wedding happens, because things can always change haha but so far, so good!
THE DRESS
It's on my way to me from Brisbane, Australia as we speak!!! Of course, I was drawn to the designer from Australia. Did we think anything less? It's my favorite place in the world, if you didn't know. At the end of November, I flew down to LA with my mom and met one of my bridesmaids at the Grace Loves Lace showroom. It was a dream, let me tell you! I had the sweetest stylist (thank you, Sheryl!), the most gorgeous gowns to try on, ugh I could've been in there for hours. And to think initially I wasn't overly excited to pick out a dress. If this happens to be you reading this, enjoy the whole experience. Trust me. You'll never get to do it again–try on dresses you love, dresses you would never pick out for yourself and dresses you probably won't end up choosing. It's such a fun, once-in-a-lifetime experience that I ended up loving! The one I chose has to be the most comfortable dress I've ever worn in my life, cannot WAIT to wear it for real!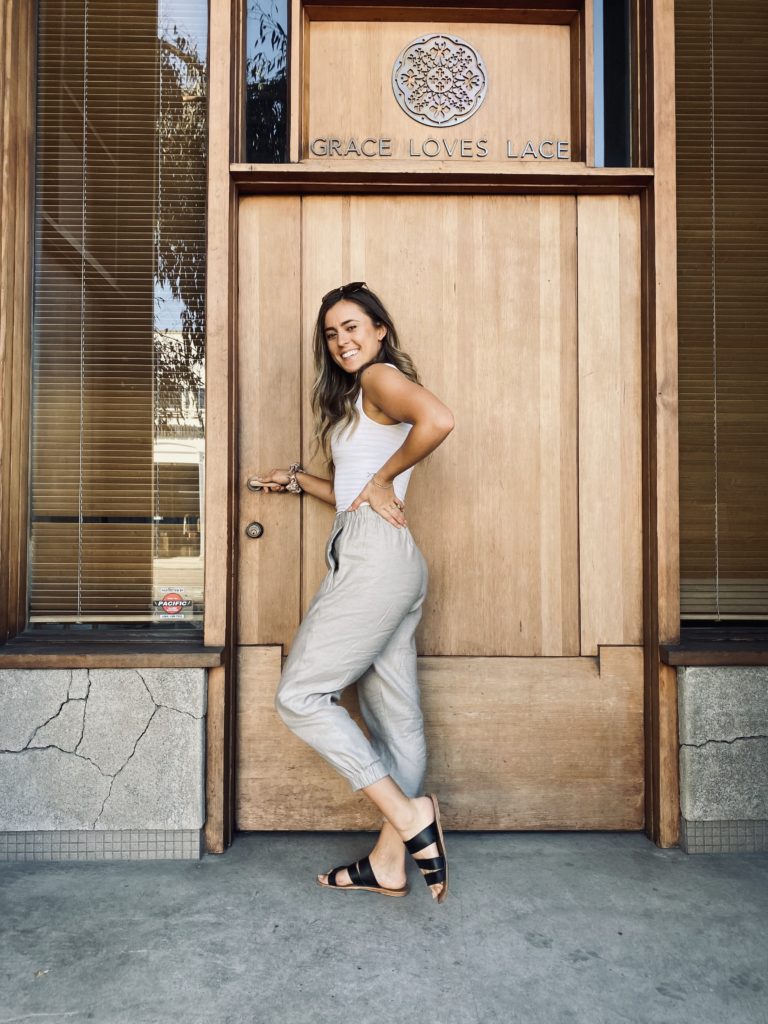 In total, I went to two wedding dress shops before GLL and learned something new at each one. A few shops that were recommended to me in Seattle included a&bé Bridal (I went here and loved), The Dress Theory, and BHLDN (Anthropologie's wedding section).
THE VENUE
Before getting engaged in Cabo, Bridge and I sort of assumed we'd be getting married in Washington. But after he proposed in Mexico, we just knew it had to be there. We've traveled to Cabo multiple times together, once only a year or so into dating, and now it holds such a special place for both of us. The people are incredibly friendly, the landscape is beautiful, and I'm convinced I just belong in the Mexican sun.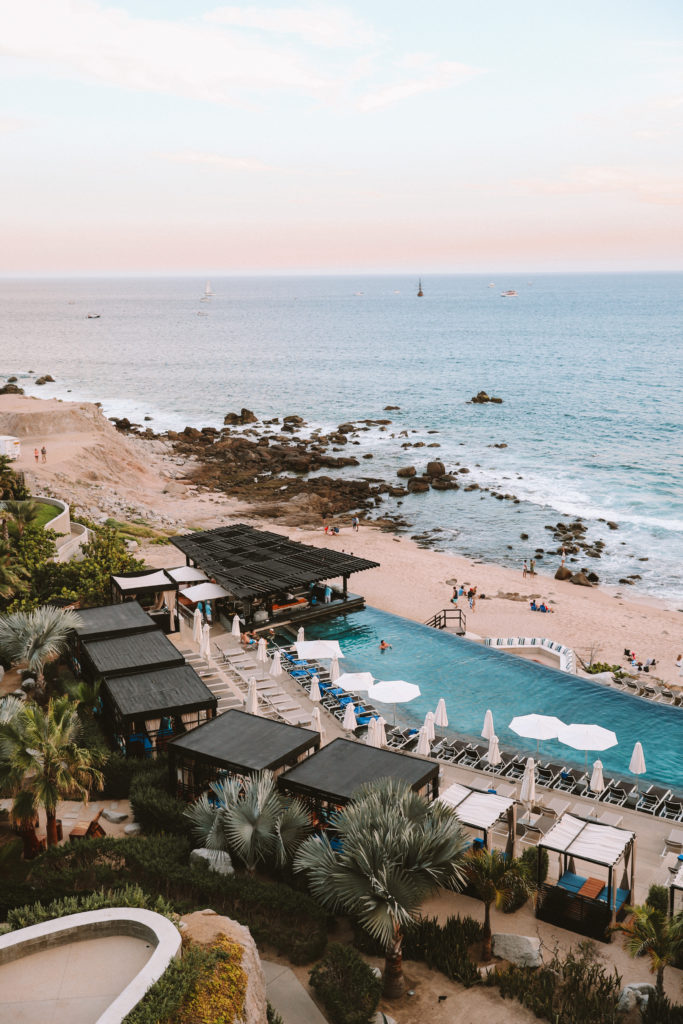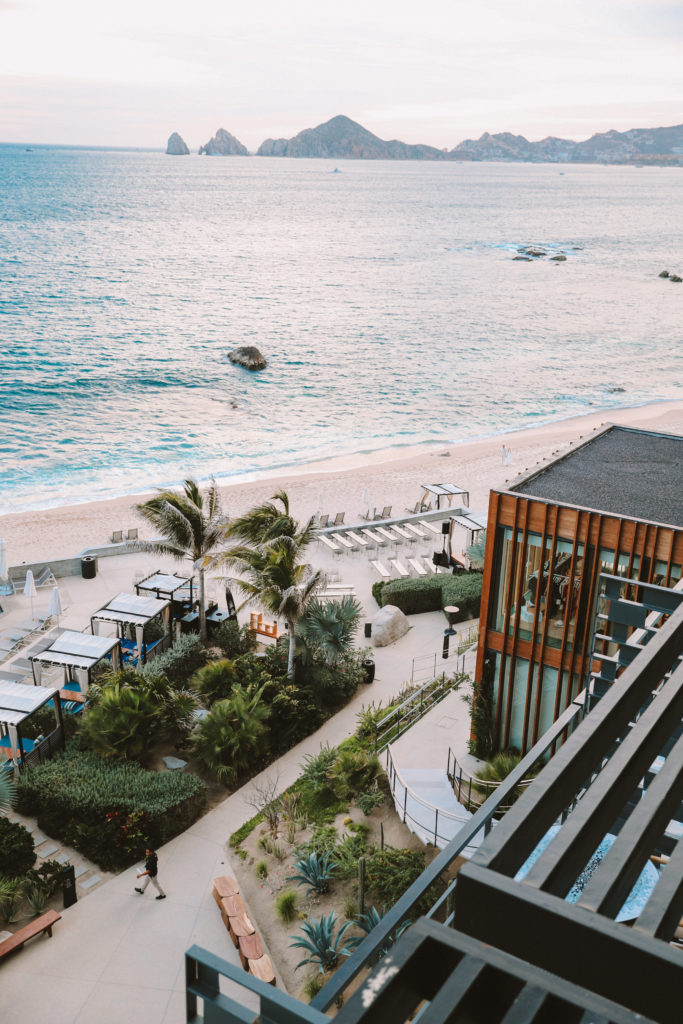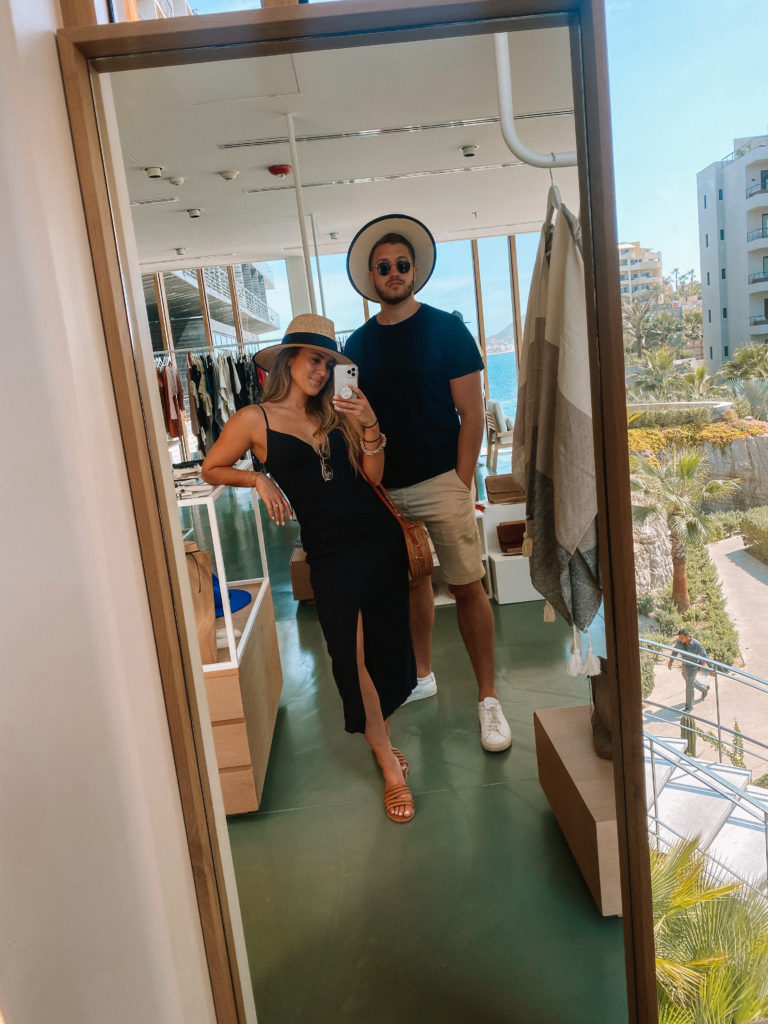 The Cape Hotel has been on my radar for the past year or so–a couple friends and my sister have stayed there and raved about how great it was. It's only about 40 minutes from the airport and 15 minutes from downtown Cabo. Perfect location. Bridger and I had the opportunity to stay one night here after I hosted a few workshops at Grand Velas, just 10 minutes up the road. It also happened to be whale watching season so I spent time each morning from our balcony watching the whales migrate east. So peaceful to watch, we felt so grateful to witness it!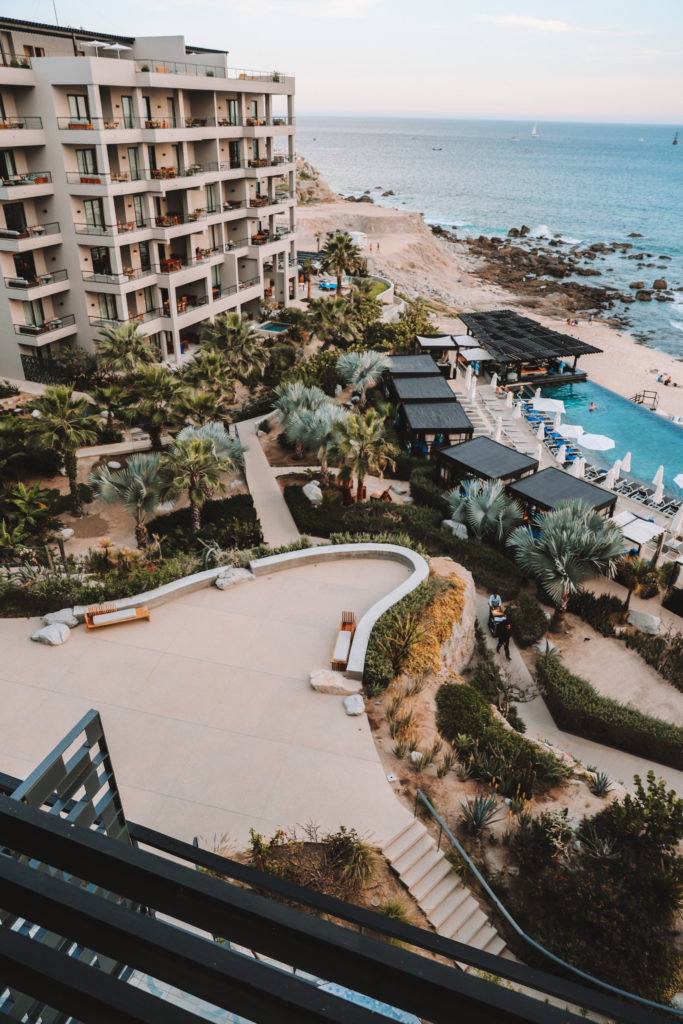 This hotel is a VIBE. As soon as we walked in, we saw the exact spot where our ceremony is going to be held and I just about lost it! It's right above in that last photo on the upper terrace, so gorgeous! One of the main reasons why we chose this hotel is because you can see El Arco in the distance– that's where Bridger proposed 🙂 right next to the arch on a yhat. Casual, I know. It's a dream scenario and we're so lucky to have our wedding here!
REHEARSAL DINNER
One thing I was set on when it came to planning the wedding in Cabo was that I wanted to integrate Flora Farms into the picture. Each time I travel to Cabo, I get so many recommendations to visit this 25-acre working organic farm + restaurant, that happens to always be booked out in advance. Unfortunately, we've never had the chance to go until our most recent trip this month. And shockingly, they had availability the night before our wedding for a rehearsal dinner at their Potting Shed. They focus on farm to table organic ingredients, which is so in line with what I promote on a daily basis. It's only fitting that our guests experience this little piece of magic in the hills of Mexico.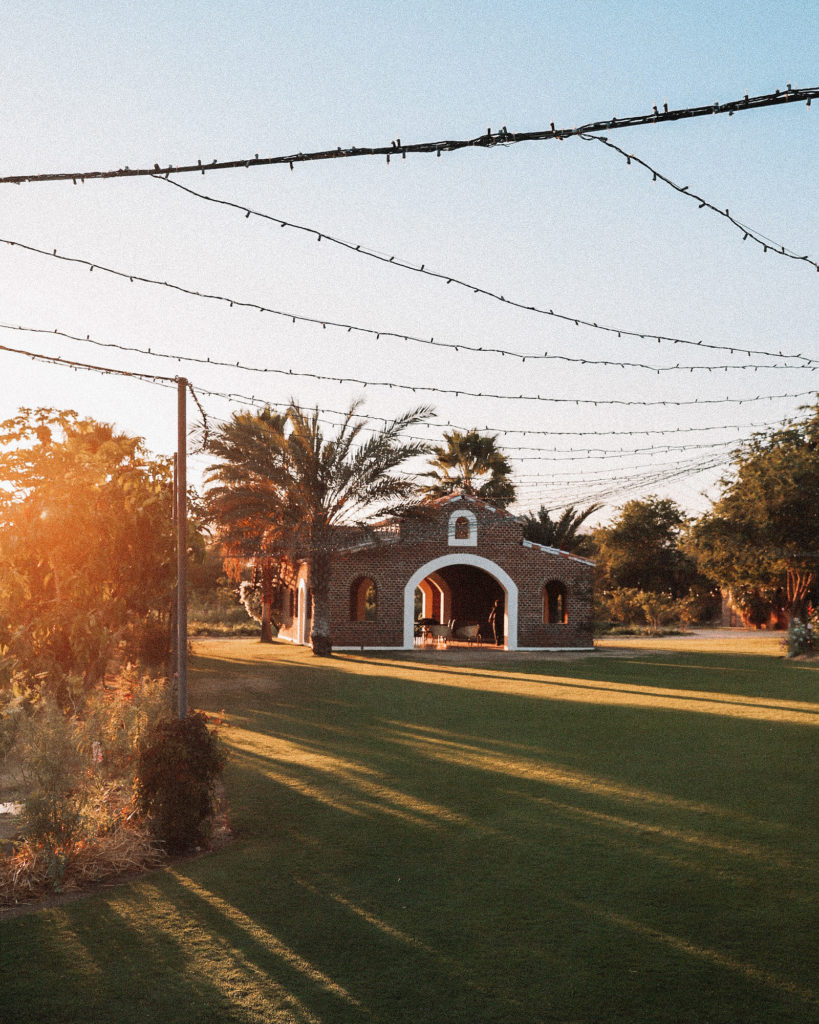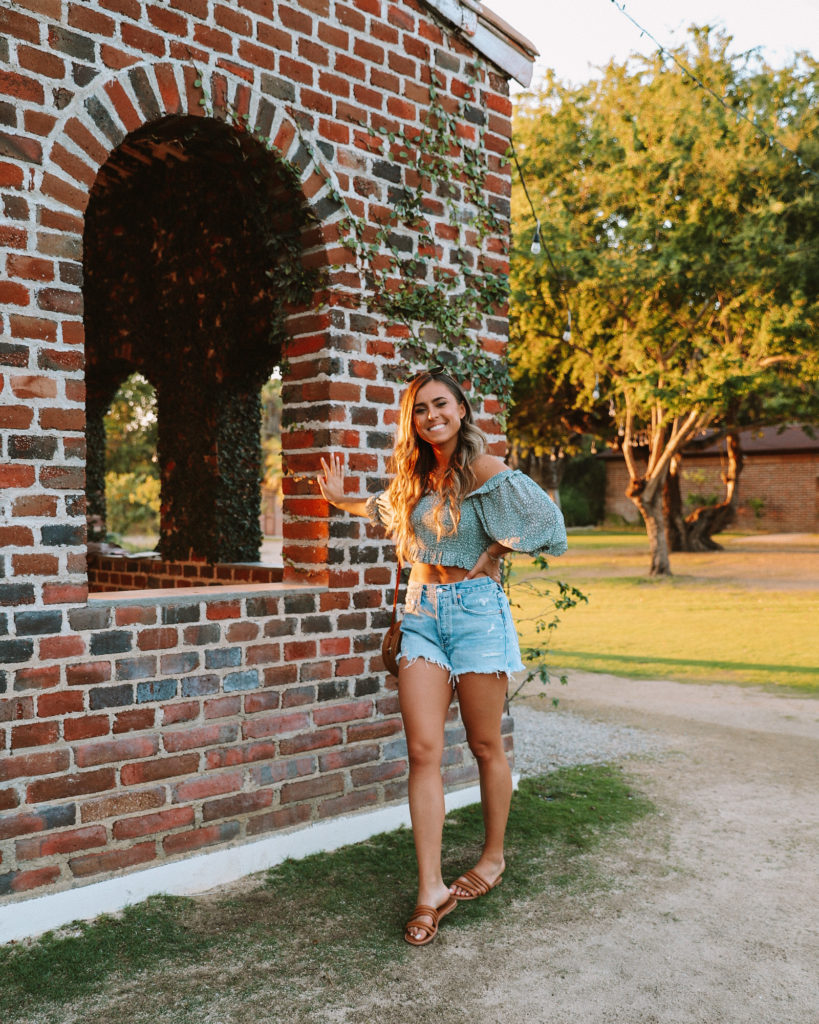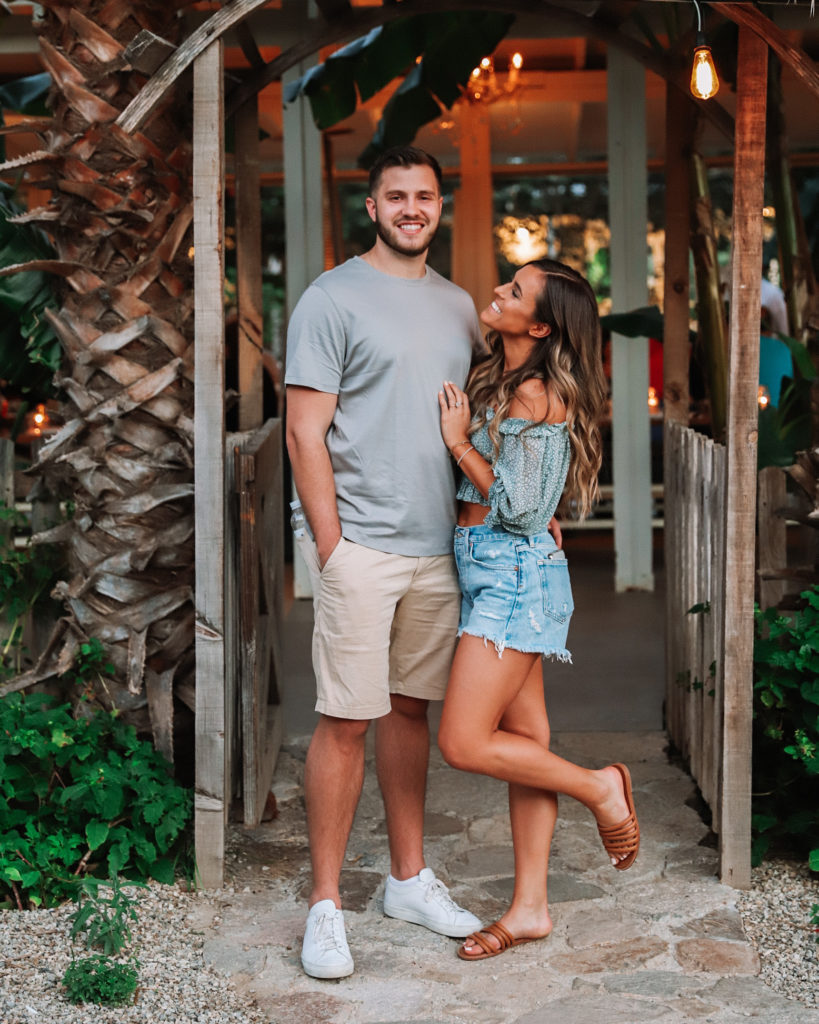 They have cooking classes, a spa, cute shops on property, and the most incredible sustainable and organic ingredients! Several locations on property to host events as well! I've been working with their events coordinator, Erika, and she's the best! So sweet and helpful.
THE PLANNER
I'd say the main drawback in planning a 6-month wedding– something I didn't really think about until it came time– would be availability of all things wedding, including a planner. Props to the brides who can do it all themselves, but I knew right away I would need a couple extra hands. Especially since we're having a destination wedding, it's much easier to have someone on your side who has relationships with all the local vendors / can offer tips from past experience. Plus, can you imagine the English to Spanish miscommunication that would go down??
I actually found my planner through Instagram, by searching (stalking) past weddings in Cabo through hashtags, links from popular wedding sites, etc. By the end of my first few weeks of "planning," I felt like I knew every vendor in each category of hair & makeup, florals, planners, DJ's, photographers/videographers in the area.
I interviewed (very important!!) Bonnie Chase from Events By Bliss and knew she was the one. I could tell she was more organized than I could ever be, she gave me the most detailed spreadsheet of a sample budget, and assured me her and her team have never gone over a bride and groom's budget in the past. Plus, she had availability for our wedding on apparently one of the busiest weekends of the YEAR for weddings in Cabo.
She's been a gem through the whole process thus far! So helpful and willing to give any advice or personal opinions along the way. She even met us for our tour of Flora Farms and came to our menu tasting at The Cape, which brings me to the below…
MENU TASTINGS
I almost cried tears of happiness after getting to try and narrow down all of the foods on our menu. Seriously, Bridge and I can both agree that it will be the best wedding food we'll ever have in our lives! haha. I'll share some photos below, but will give more deets about the food post-wedding 😉 And I mean, guac and churros on my wedding day? Sign me up, sis!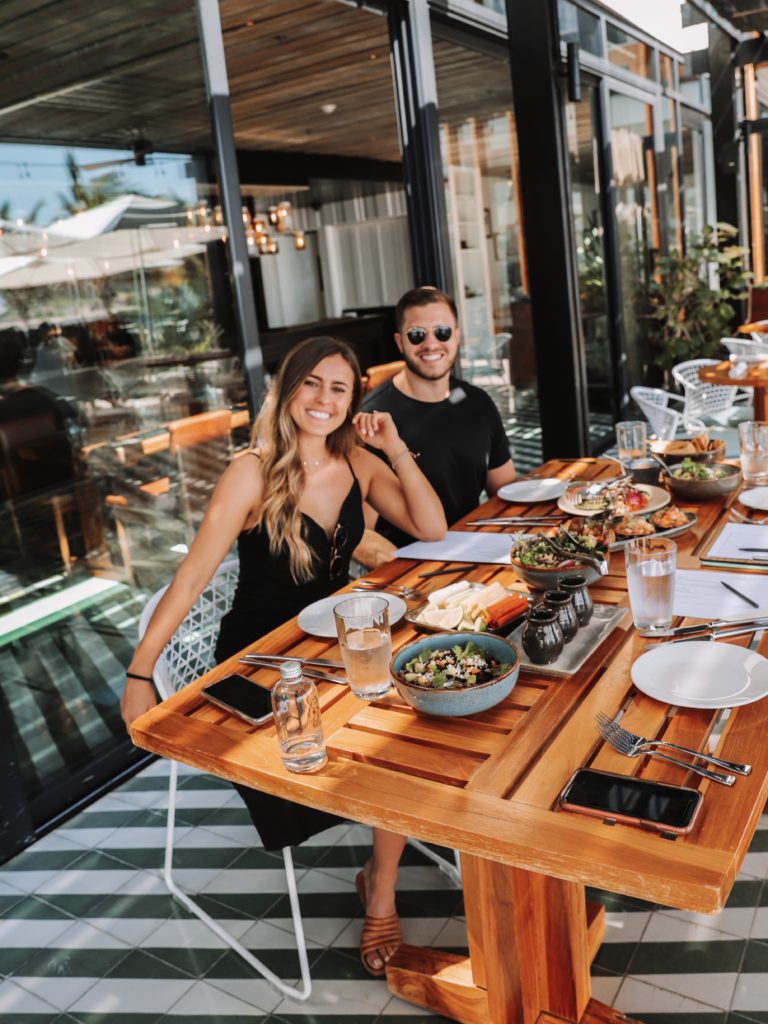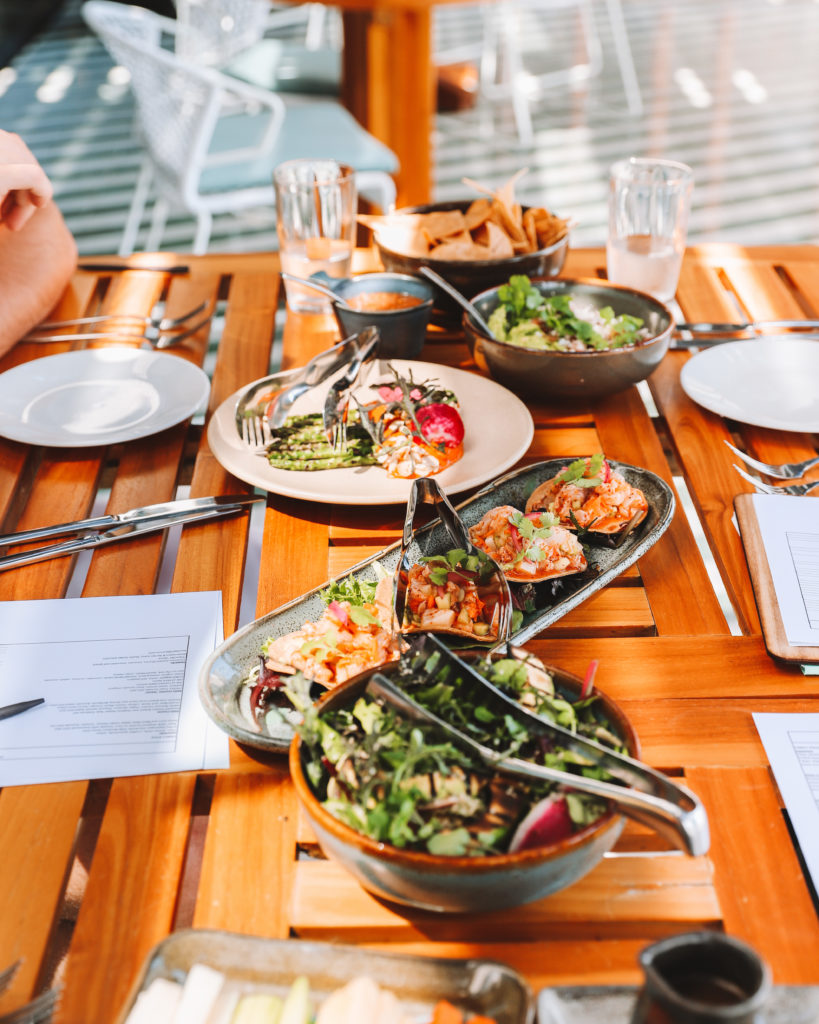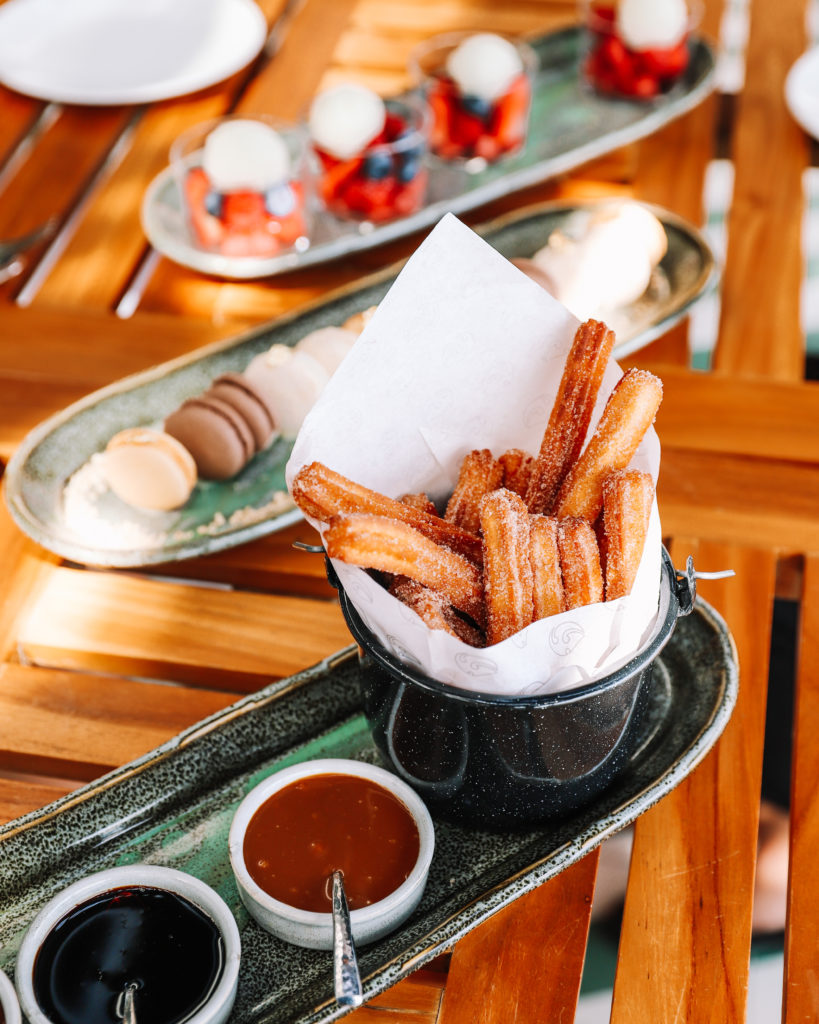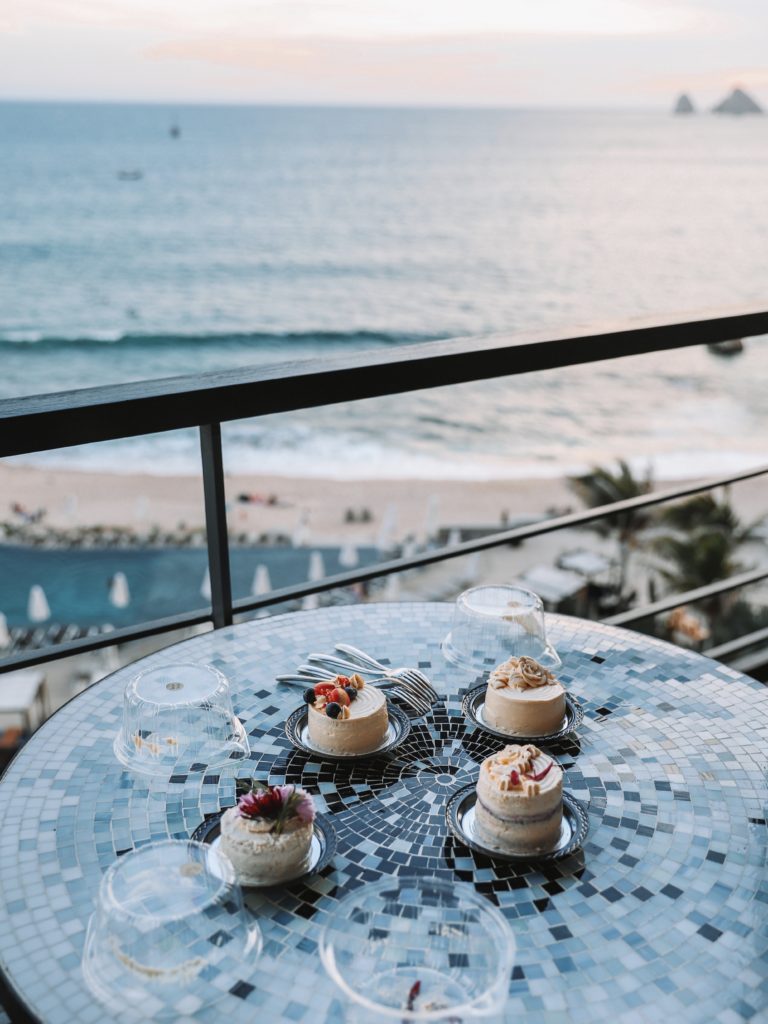 They were also able to send cake samples to our room that night to try– 3 flavors for Bridge and 1 dairy-free and gluten-free flavor for me! Can you believe it?!! Apparently, there's an amazing baker that specializes in allergen-friendly cakes and pastries in Cabo. Nothing has made me more excited for Bridge to stuff this in my face on the night of our wedding. Just kidding if you're reading this, babe. Refrain! Think about the makeup!
PHOTOGRAPHER & VIDEOGRAPHER
Another HUGE decision for your wedding day. These photos are going to be how you remember this day for the rest of your life– but no pressure, right?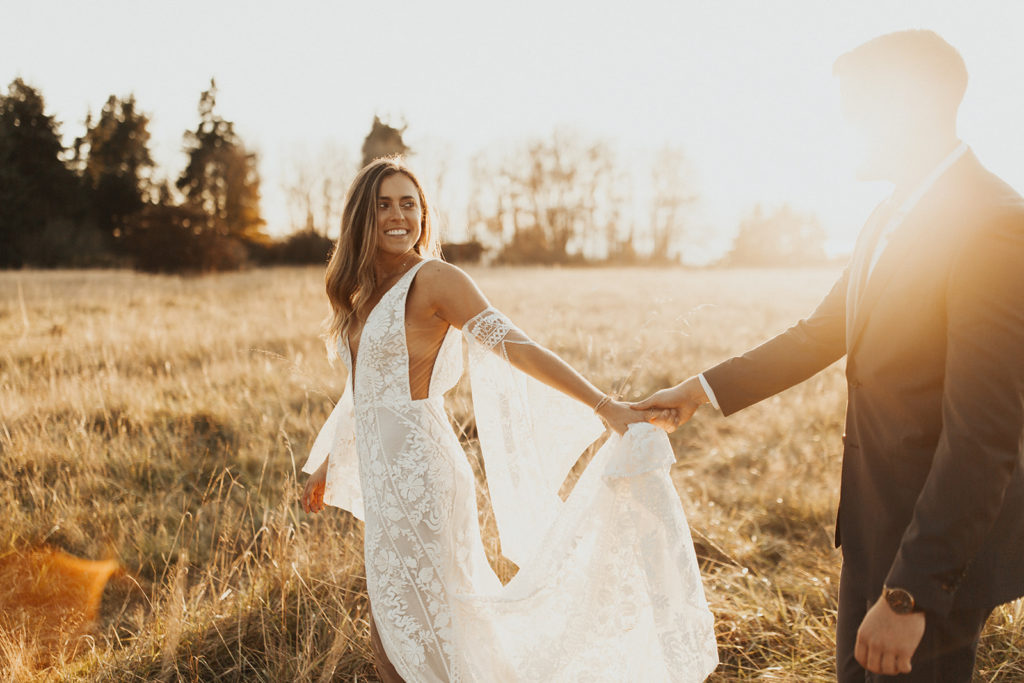 Fortunately, I have several very talented photographer friends and it ended up that my good friend, Kendall (check out her IG here!) introduced me to Marci who asked if Bridger and I would step in to shoot wedding dresses / engagement photos for her job. It just so happened that Bridger and I got engaged just a week or so before that. Both of them shot our engagement photos and I am completely obsessed with how they turned out (the photo above and at the top of this page)!! Marci has shot dozens of destination weddings and we thought she'd be perfect to bring down with us– especially because now we're familiar shooting with her, which will make our wedding day easy breezy.
As for videographers, this was a definite need from me since the beginning. Photos can only tell so much. A video of our day looking back in real-time would be so memorable for us to have, which is why we think it's worth the extra $$. Once again, I searched all the tags on Instagram–I literally do this for anything when it comes to travel, finding healthy food spots, wedding vendors lol it's our best resource these days!– and finally found the best in the area, Ana and Jerome. Their work is incred! They've also shot/done video at The Cape a number of times, so I know they're familiar with the space.
That's it for now! Continuing the wedding planning saga until our big day on April 26th! I'm sure I'll share more of the details like how I asked my bridesmaids, what the most stressful part has been, what I'm focusing on in terms of fitness and nutrition to prepare myself, etc. but if you have anymore requests, leave them below so I can cover in a separate post! 🙂
xx
Rachael