Now that I have some experience behind me after doing the Road to Hana, thought I'd share some helpful tips if you decide to conquer the 600-turn, narrow, twisting, sometimes one-lane road in Maui 😉 It's worth it, trust me!
If you're doing the entire loop, get the Jeep/4W Drive. We saw way too many cars that wouldn't be able to handle the dirt roads, potholes and uneven terrain.
p.s. a lot of the resorts have their own rental car services that are cheaper than most, using their guest discount if you're staying there. We got ours from the Andaz Hotel—Enterprise.
Don't sit in the backseat and if you're prone to getting motion sickness at all, I'd recommend non-drowsy Dramamine! Also make sure you're not looking down at your phone or reading during the drive. I was skeptical when everyone was telling us this before the trip, but Bridger and I agreed that if either of us were sitting in the backseat we'd be carsick, no question.
Start from the last stop, the Seven Sacred Pools. My sister gave me this advice and it was the best tip! You beat the crowds at their last couple stops, pass quite a bit of traffic going in the opposite direction, including bus tours, and I'm glad we got the worst part of the trip (crazy dirt roads, one-way lanes, mountain goats crossing the street, etc.) out of the way first! We drove up north to Hana, then eventually got to Twin Falls at the end.
Bring food with you! There are hardly any places to stop and eat. Fortunately, we stopped at Hotel Hana and ate at their restaurant with a great view of the resort/water in the distance. There are less than a handful of fruit/banana bread stands so make sure to stop if you see one! We loved the fruit stand immediately after Hotel Hana—lots of local products, all kinds of banana bread, including vegan, avocados the size of your face, iced tea, etc.
I think we initially thought Hana was a little beach town with shops, café's, acai, etc. so we were a little thrown off when we got there haha.
Bring an AUX cord for the rental car! Another life-saving tip from my sister. This way you can listen to your own tunes instead of the radio.
Get up EARLY and go! We left the hotel at 5:30am and were able to get back to our hotel by 2pm (we didn't stop and hike, so it definitely could've been a longer trip! My vibe was the pool and getting tan, can you blame me?)
Download the Shaka Guide app. It's basically a tour guide in your pocket and can use your GPS to guide you to interesting places along the way. We didn't use it because I only heard about it after we went.
Drive on the defense… what I mean is that the roads can get a little dicey, especially if you're starting from the Seven Sacred Pools. The highway leading up to this spot can get extremely narrow, bumpy, turn into one-lane, you'll see mountain goats & cows crossing the roads, and the locals will speed around the corners as if no one will be on the other side. It's SKETCH. Be prepared and don't be afraid to use your horn as you're leading into the turns to alert other drivers.
Depending on what you have planned for the day (hiking, swimming, stopping, etc.) pack accordingly! Bring a suit, a couple different outfits– you can get a lot of content if you're gone the whole day, trust me!– food, sandals, sneakers. Be mindful when you ditch the car to hike or swim as rental cars can be easy targets for people to break into them.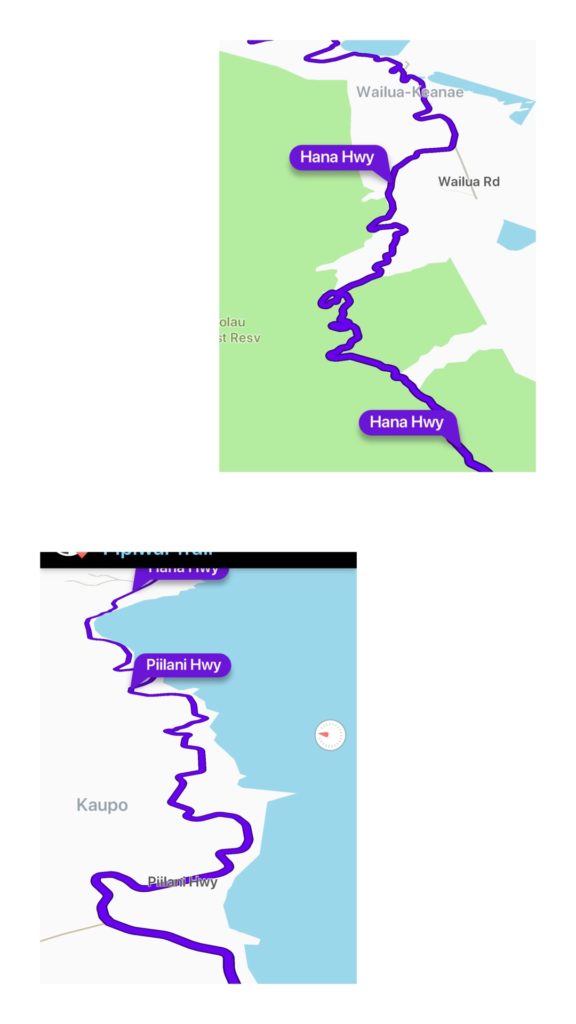 (Actual screenshots from our GPS of the Road To Hana)