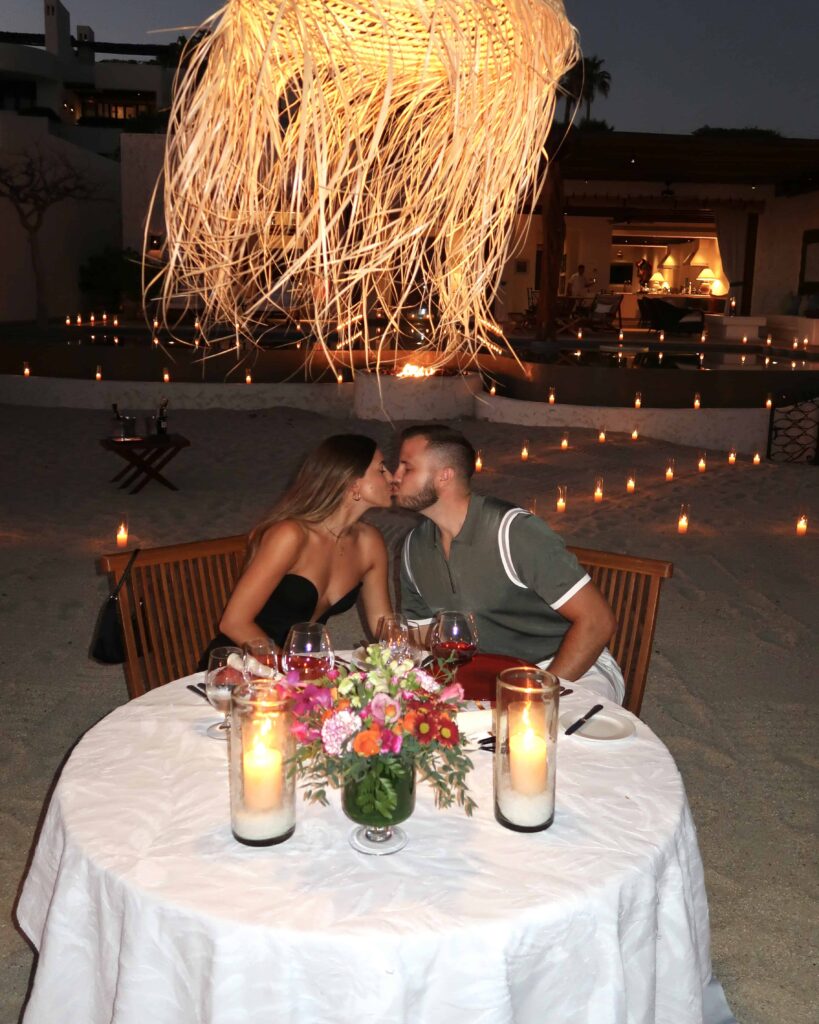 Back to Cabo for our, well, I can't even keep track at this point. But, it has to be around my 14th time to Cabo with Bridger. This time, to celebrate 13 years together!? I can't wrap my head around how long we've already been together, it's going by way too fast. The reason we love Mexico so much is because I grew up vacationing there with my mom, and then Bridge and I traveled to Cabo for our first ever trip together after I graduated high school (Bridge was going to be a senior the following year). We've been going back basically every year; we got engaged there, married in Cabo, and really just love the people, the food, the weather and the service.
Anyways, it's our little slice of heaven and we were so excited to be there this month to celebrate 13 years together since we first started dating in October of 2011.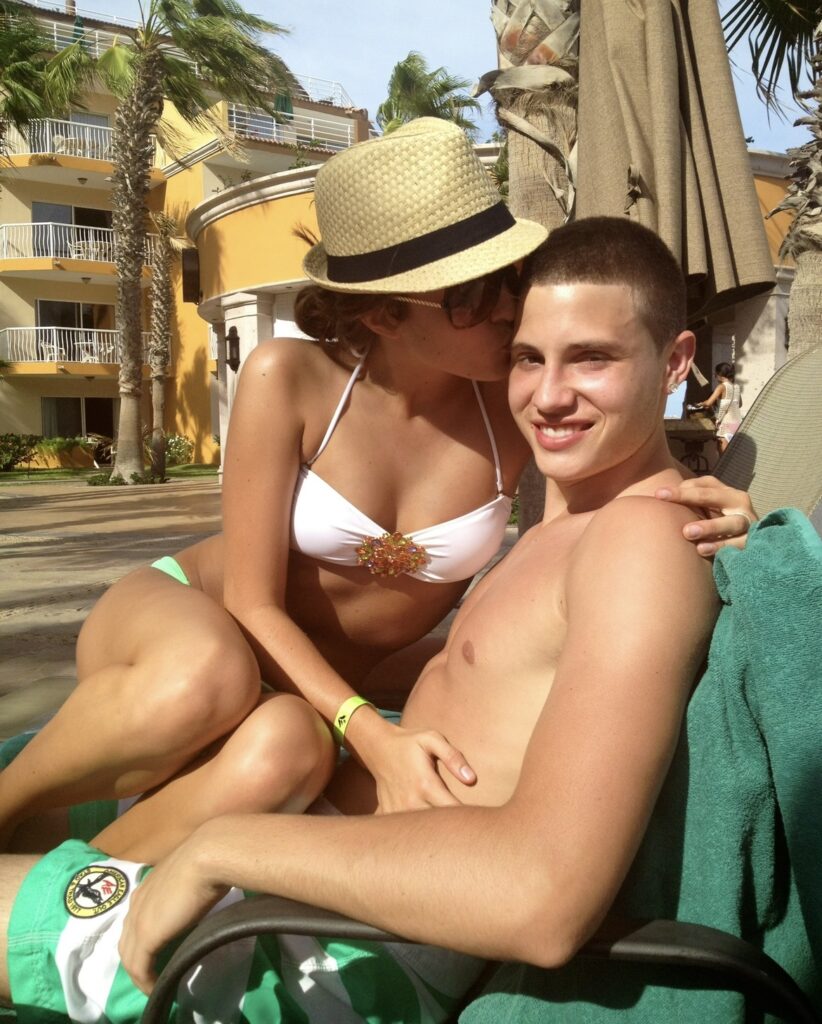 We were BABIES in 2011. *Peep the Victoria's Secret swimsuit I bought straight from the catalogue. It's funny because looking back, my sister was supposed to be our "chaperone" on this trip, which is laughable now since we found her at Mango Deck and Bridge had to carry her over her shoulder back to the hotel.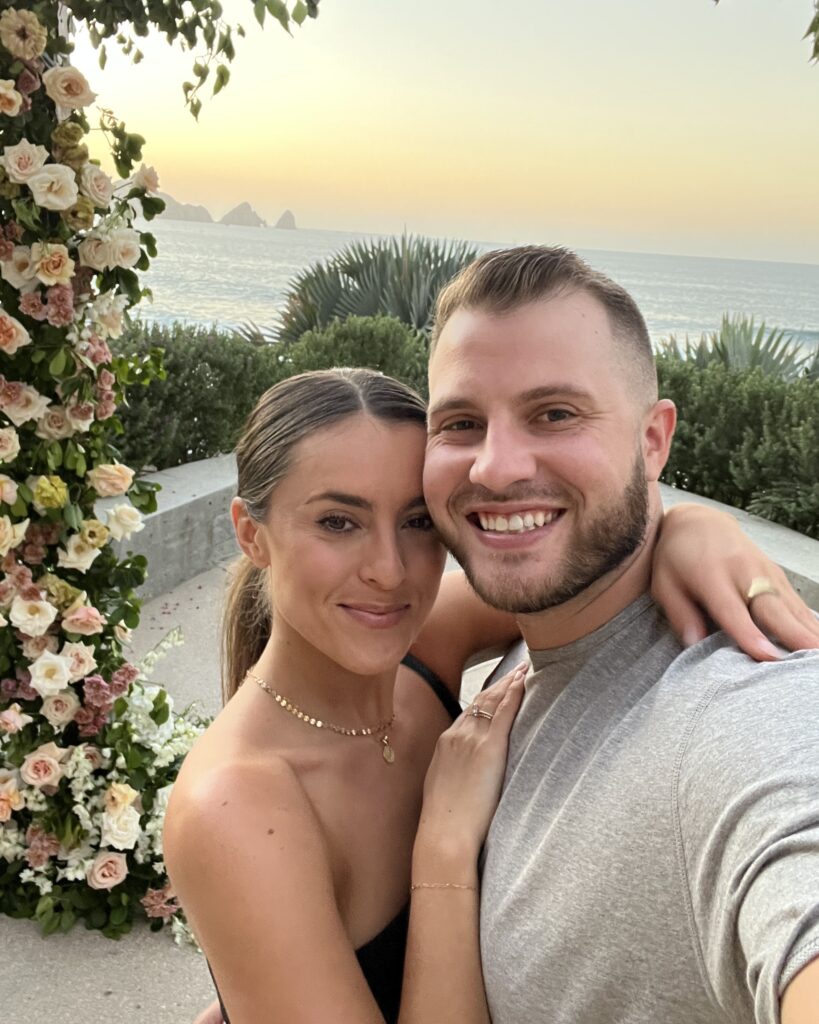 We stayed at The Cape hotel the first night on our most recent trip, which is where we got married. It has a great view of the Cabo Arch, where Bridge proposed. Read all the details of our Wedding Day here.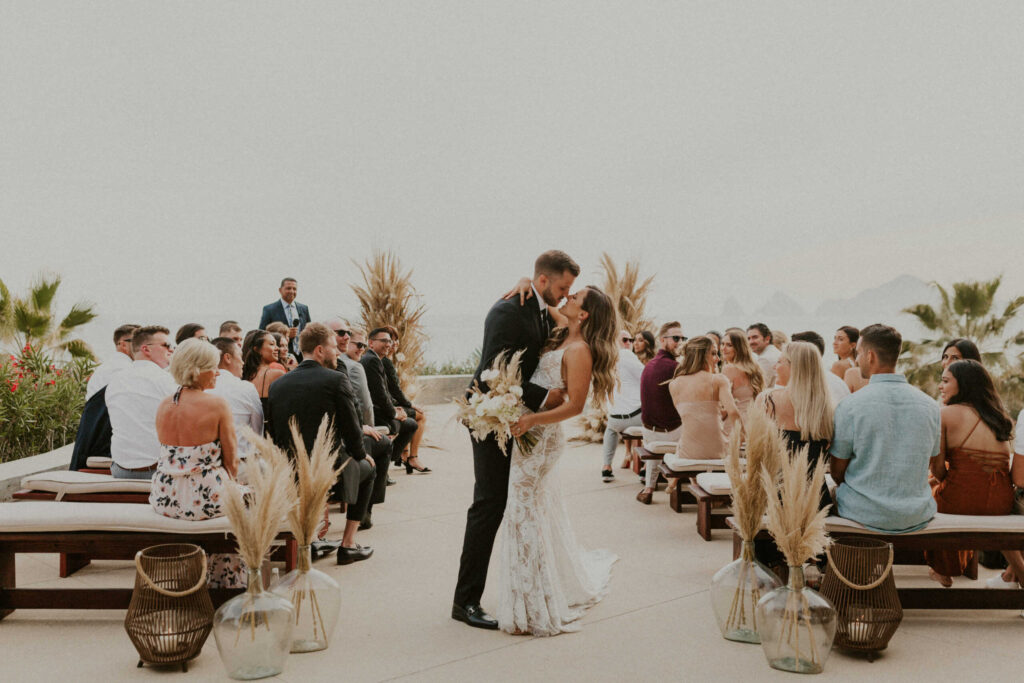 LAS VENTANAS
The rest of our trip was spent at Las Ventanas, and one of my personal favorite places in Cabo. It's so stunning, the food is incredible, and the attention to detail is really special. If you haven't stayed here yet, I highly recommend it. It's a Rosewood property and now I'm dying to stay at another one of their hotels. Leave a comment at the bottom of this post if you have any recommendations!!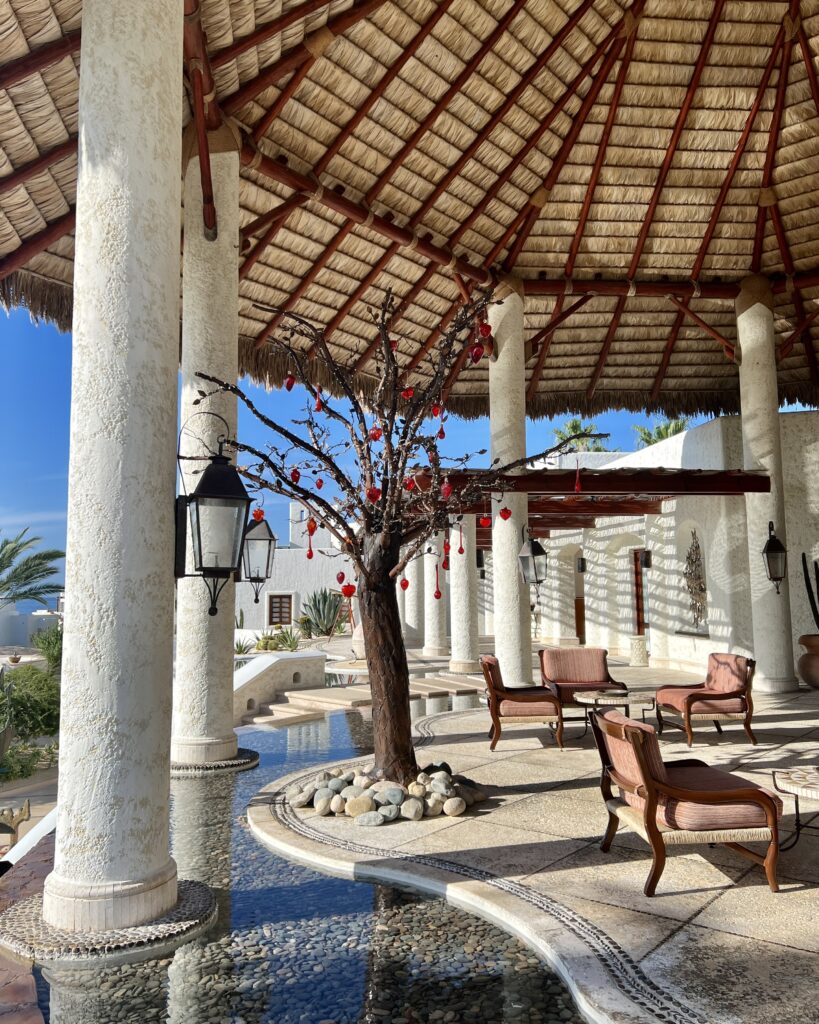 Every inch of this place is gorgeous! It was our second time here and it was so fun because my sister, brother-in-law and niece met us there for our last 3 days. (The hotel is very family-oriented and offered everything from a crib, changing table setup with diapers, wipes, a baby robe, high chair, etc. all in the room when they arrived).
They live in Las Vegas so we always make an effort to see them every few months. Last winter we lived with them for two to three months and we all loved it, especially when our niece was born.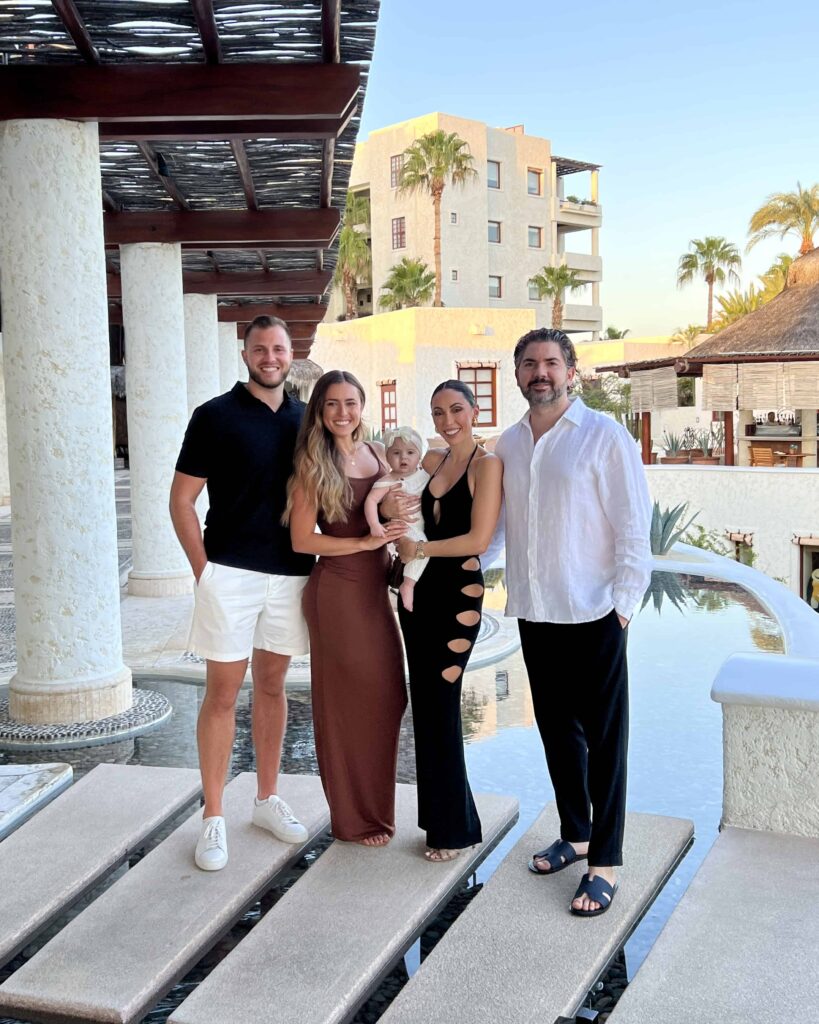 THE POOL
We laid by the pool and beach everyday for hours. Here's the thing, we grew up in Seattle, so anytime there's sun, you'll see me find a way to soak it up. It was pure paradise and just what we needed as a break from work these past few months. We looked forward to the daily popsicles (mango, always) and fresh juices they would hand out to all the guests.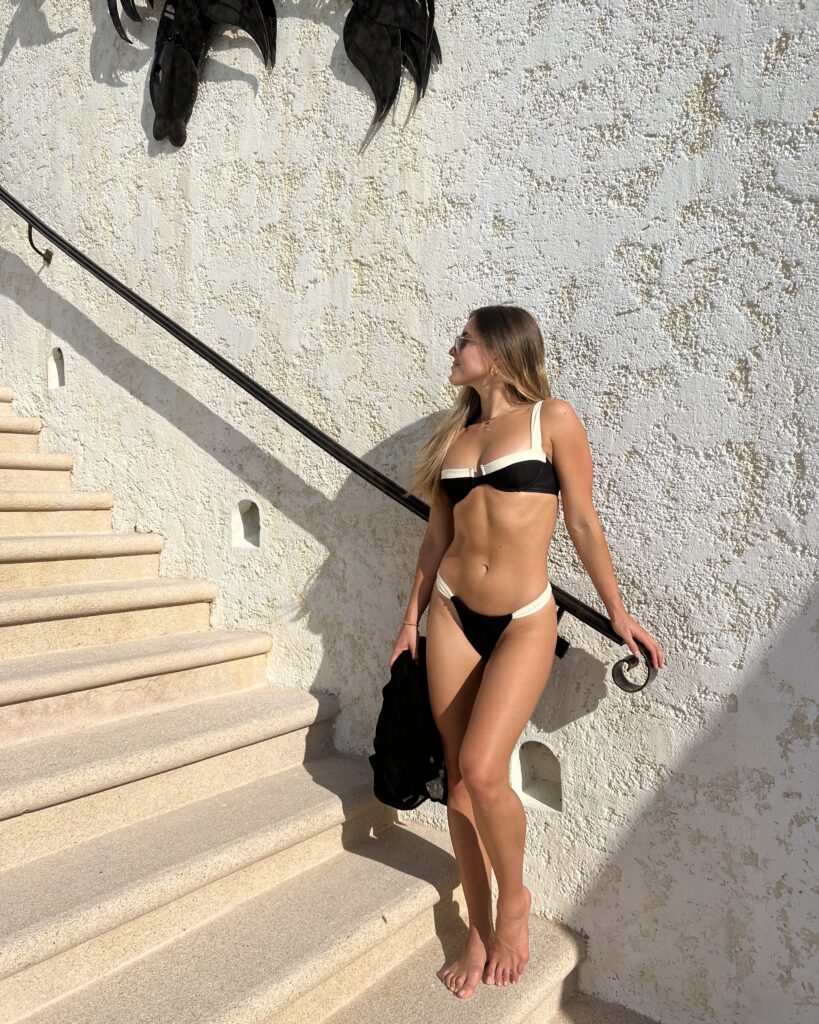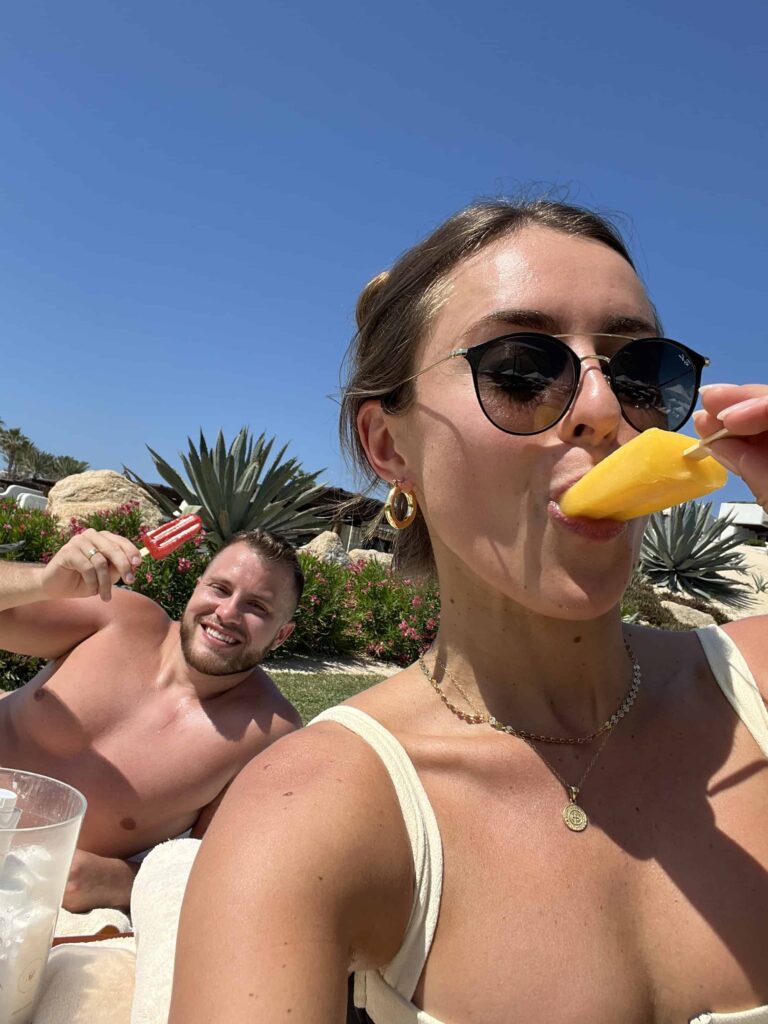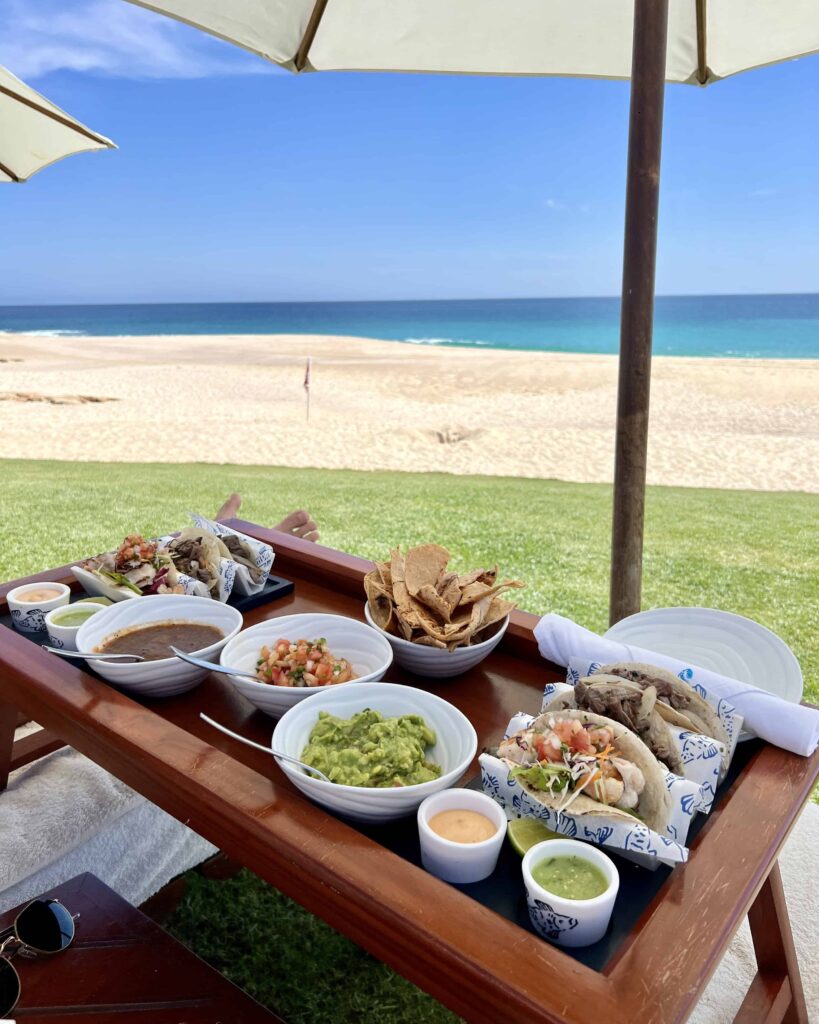 The food at the restaurants was phenomenal. We ordered tacos at our lounge chairs several times — beef and shrimp on corn tortillas with gluten-free crackers and corn tortilla chips to dip in the guac & pico.

SHOP WHAT I BROUGHT



DINNER AT ARBOL
We ate at Arbol on the property our first night as a family. This restaurant is such a cool experience and one I'd recommend going to even if you're in Cabo but you're not staying at the hotel. The cocktails are so good, they have all kinds of sushi & sashimi, curries, soups, options from the charcoal and tandoor oven, vegetarian, and the wok. I strongly recommend getting the Teriyaki Salmon, Naan bread, the Salmon Sashimi and Yellowfin Sashimi. They'll modify anything to fit your dietary restrictions or needs (mine were gluten-free and dairy-free). And they're so great about celebrating any special occasion.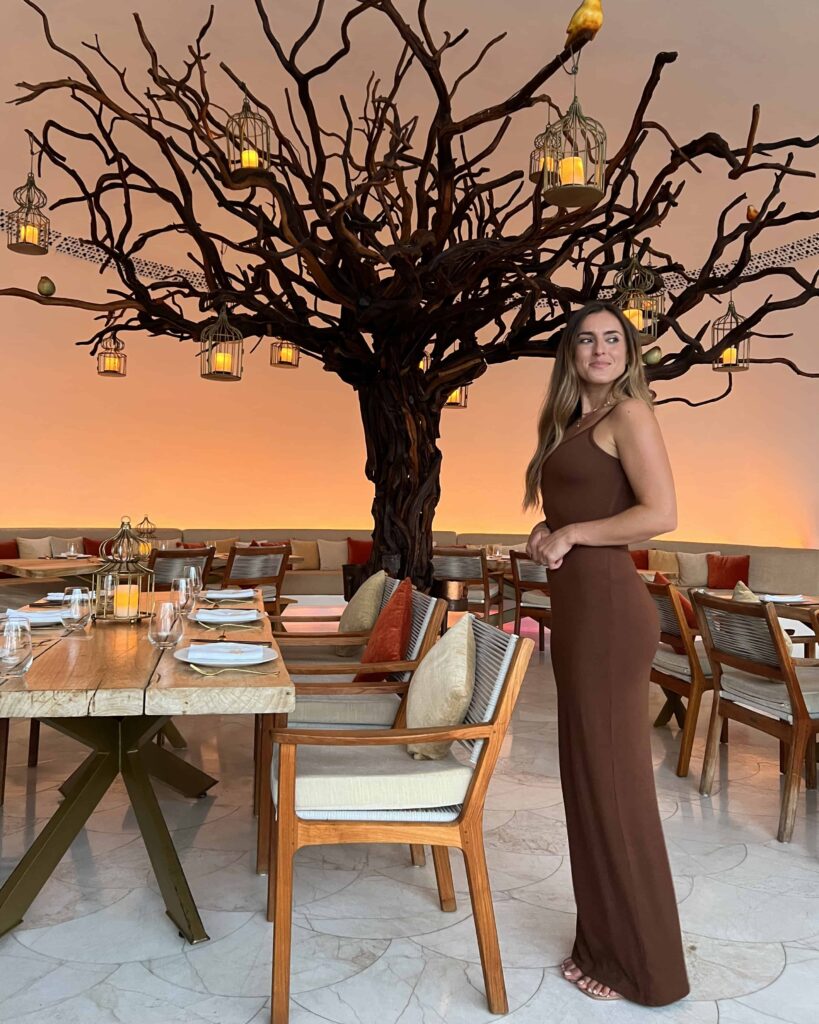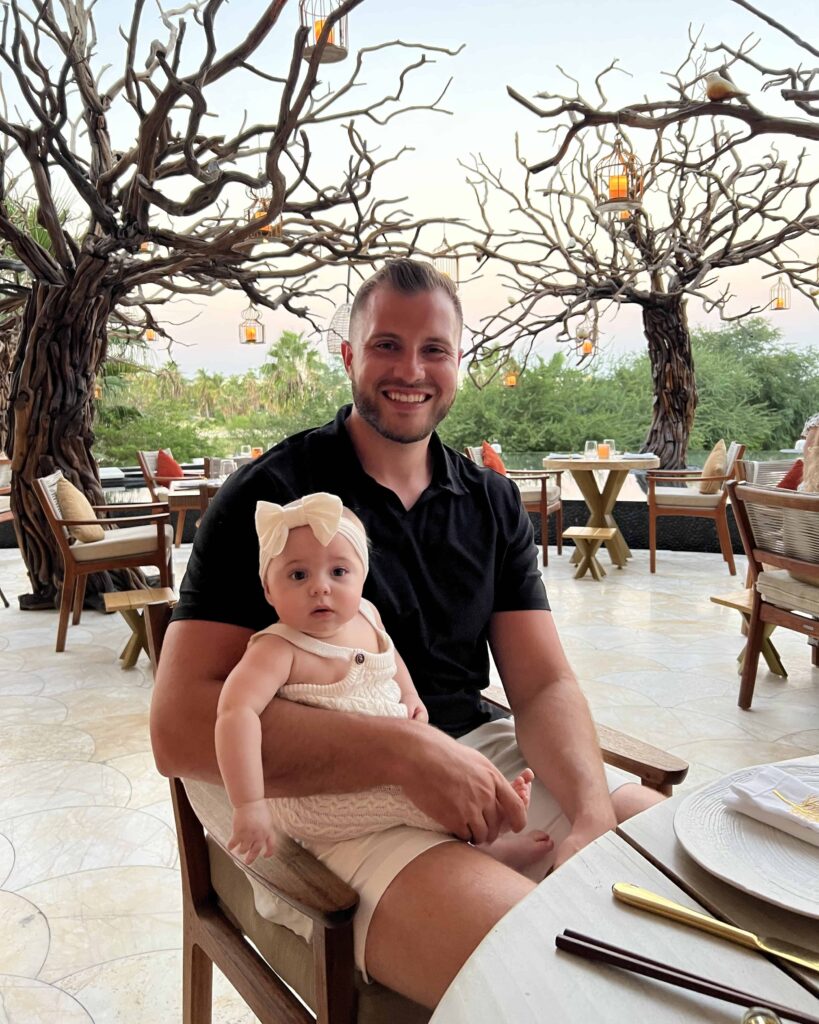 So stunning with the trees, the lighting, and the decor of the restaurant. Baby Margaux & Uncle Bridge loved it.

THE SURPRISE DINNER I PLANNED AT THE HOTEL
With it being our 13-year anniversary, I wanted to plan something special for Bridge one of the nights. Las Ventanas helped me plan the most romantic dinner on the beach in front of one of their private villas and they blew my expectations out of the water!! And now I'm ruined forever because I can't unsee this villa. I'll need to stay in it sometime in my life.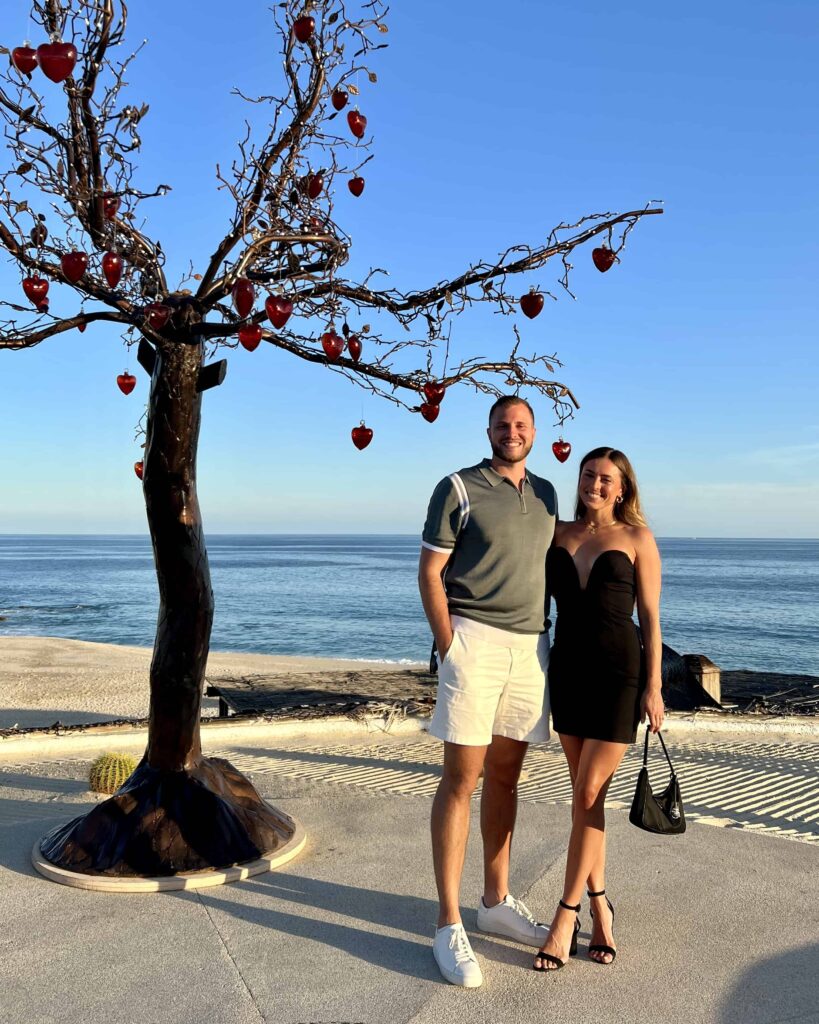 SHOP MY LOOK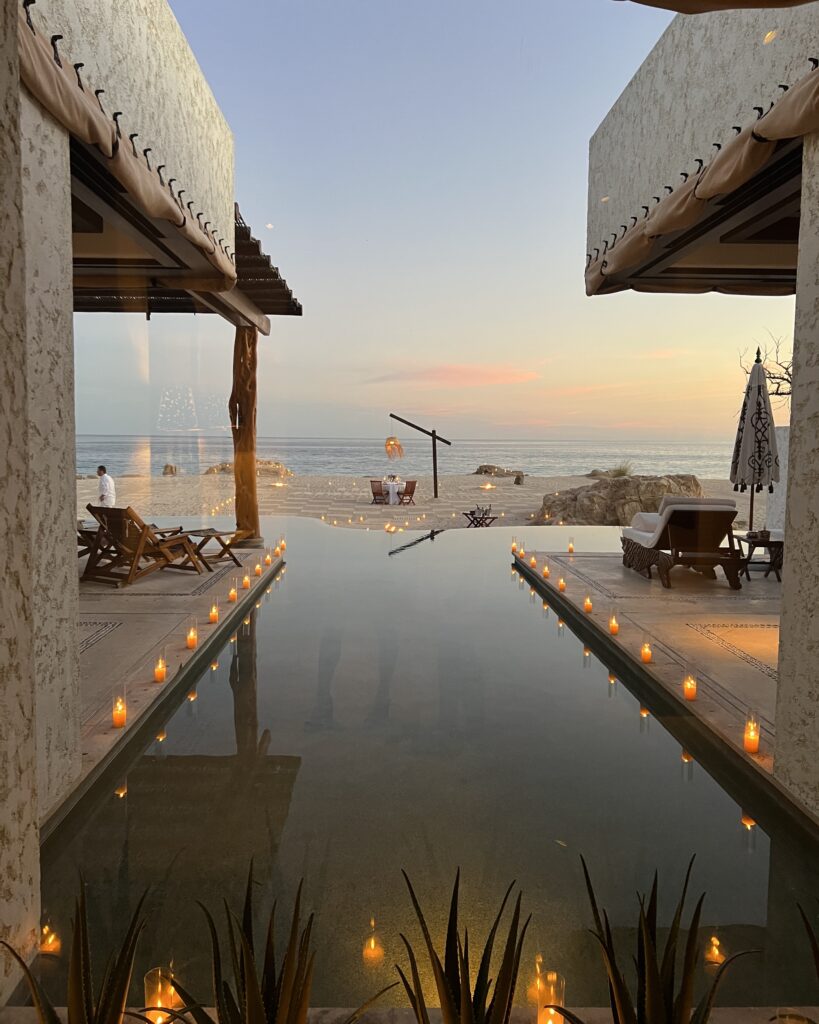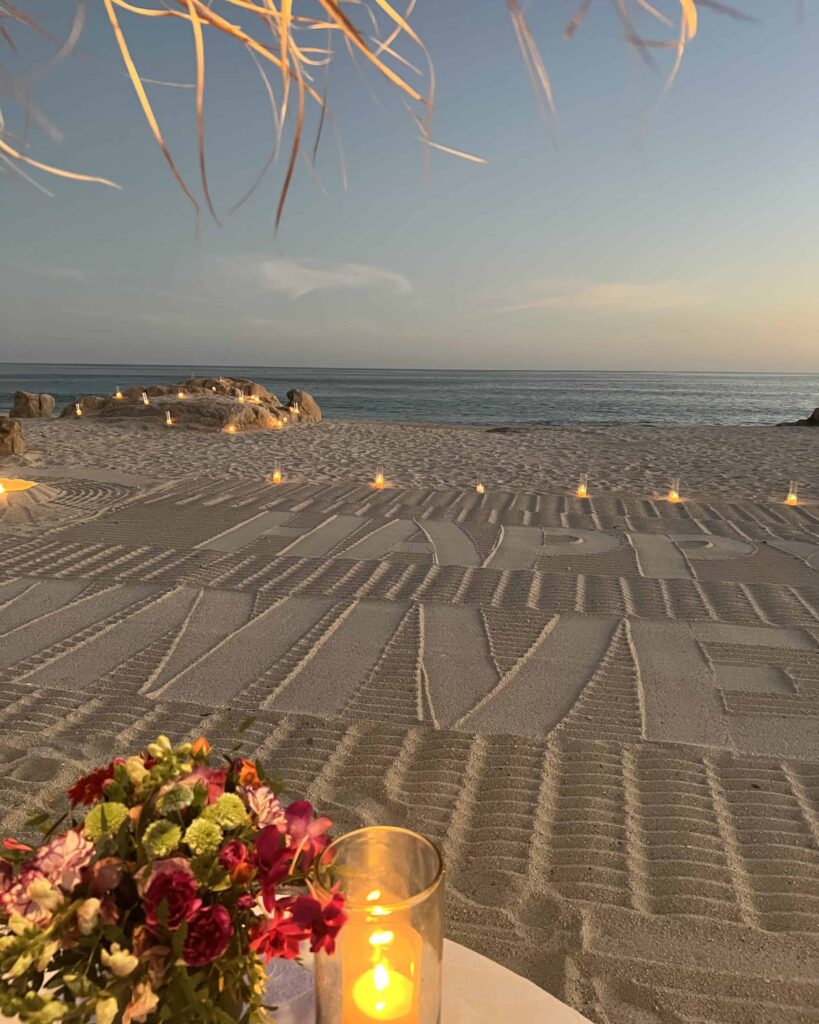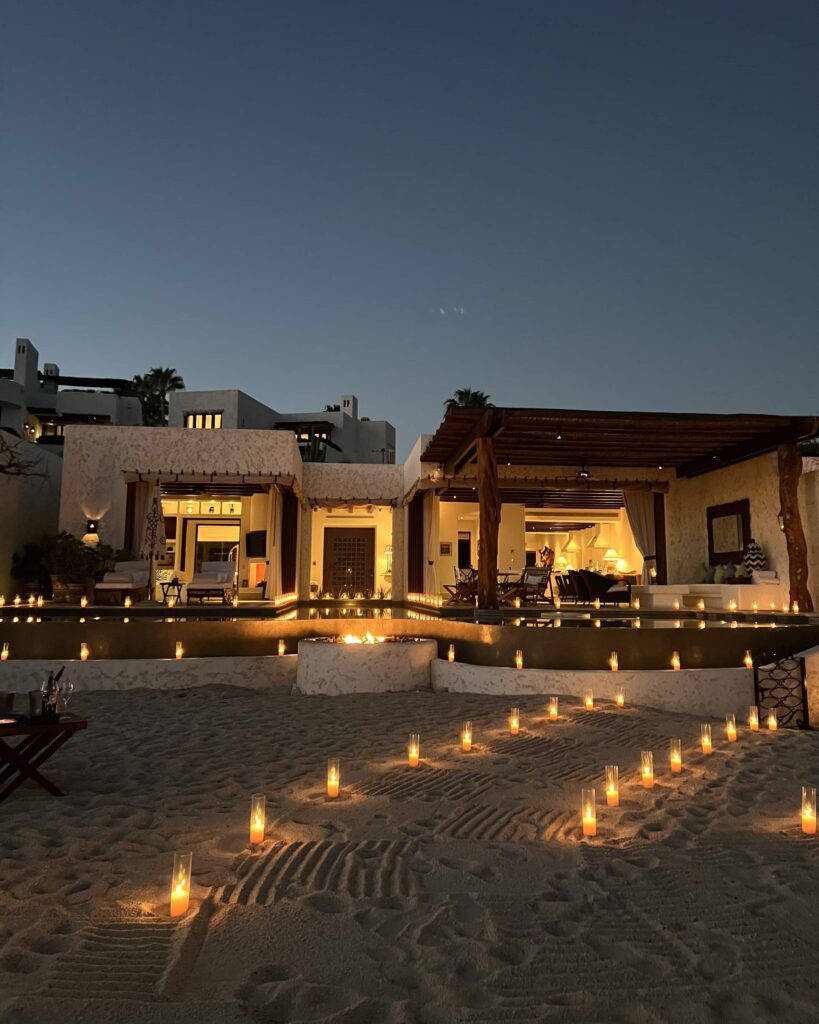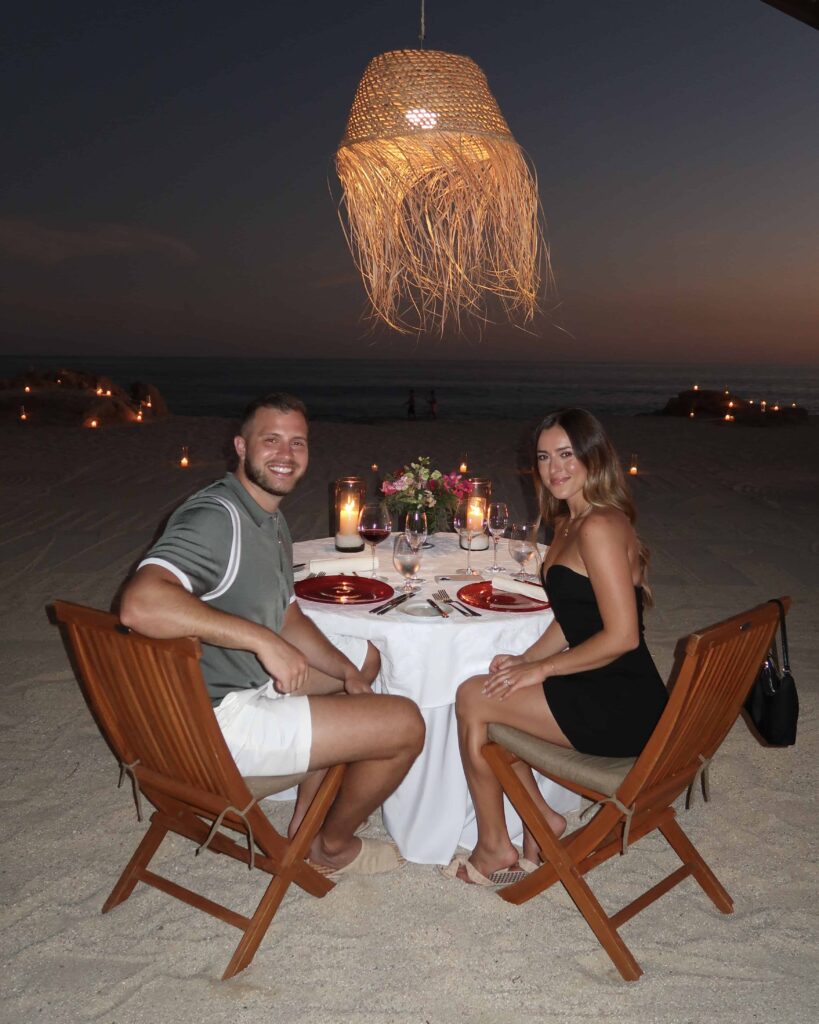 I mean, it felt like a one-on-one date straight out of the Bachelor. We were escorted to one of their private villas on the beach by our butler and walked in to the most beautiful setup I had ever seen with candles everywhere in sight. We had a personal server for the night (Daniel was 10/10) and the dinner was unforgettable. Not to mention, dessert was entirely gluten-free and dairy-free (they remember your preferences at every single meal).
I can't get over the details, like the designs and "Happy Anniversary" written perfectly in the sand, or the beach sandals they gave us to wear. It definitely made our entire trip and is another unforgettable memory in Cabo.

WATCH MY REEL OF THE NIGHT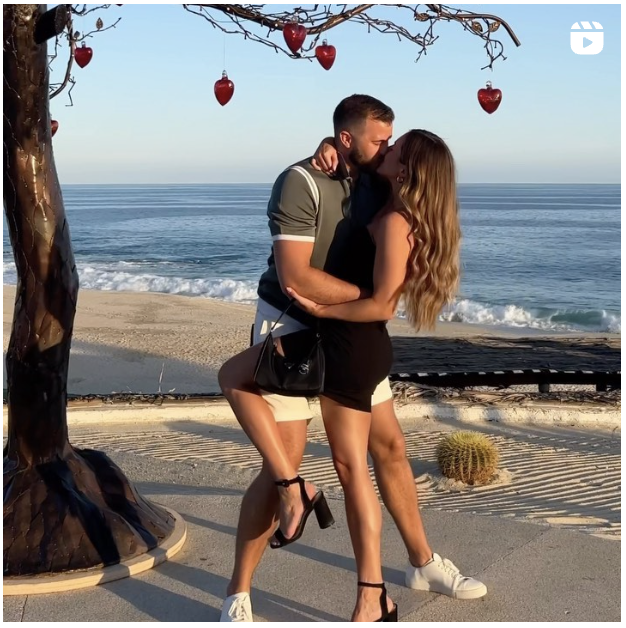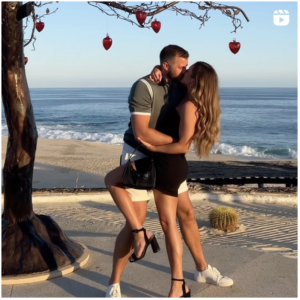 THE HOTEL GYM
Don't let me forget about the gym! You guys know I love to continue my workouts, for the most part, on vacation because it always starts out my day on such a good note. I feel more energized, it wakes me up, and it makes me a nicer person to be around when I get more movement in my day 😉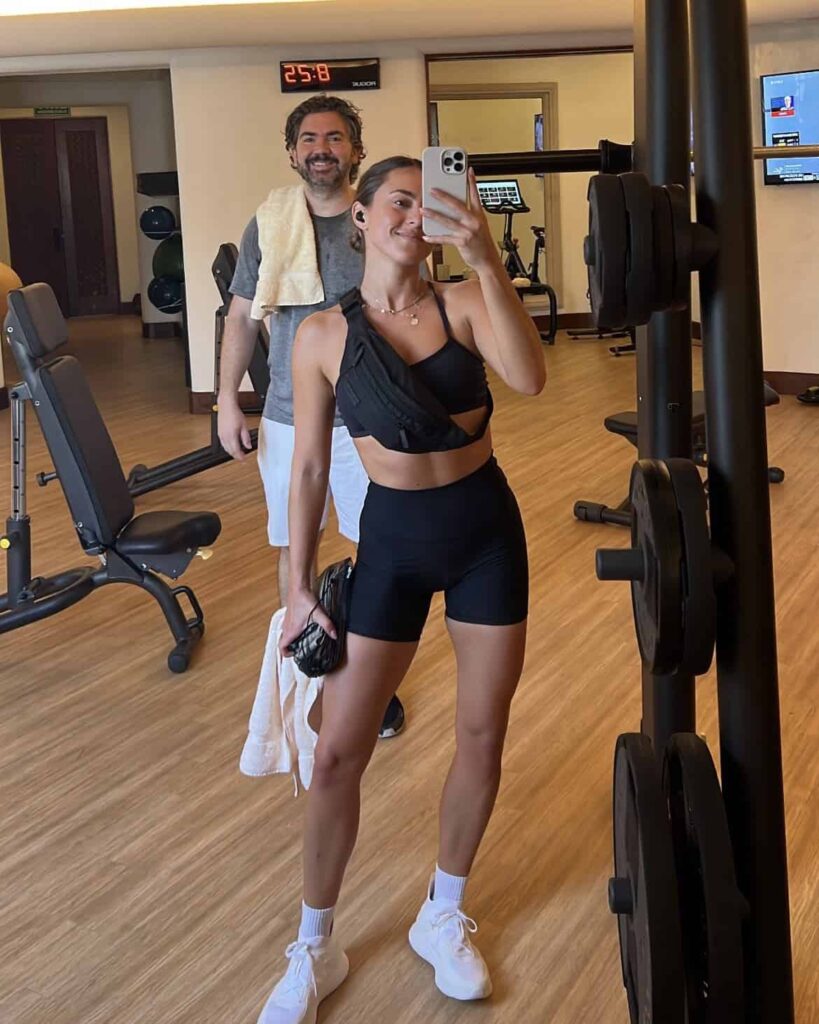 I've been currently testing workouts in order for my next workout program, GOOD // SWEAT STRENGTH 2.0. It'll be similar to my first gym guide, except I'll be incorporating a lot of your feedback and suggestions I received into this next guide. I was able to test a few workouts here and I'm getting so excited for it to come out just after the holidays(!).
Las Ventanas' gym is everything you'd need to get the best workout. They have treadmills, ellipticals, a stairmaster, pelotons, dumbbells, a Smith Machine squat rack, a separate yoga room, more machines, and benches. It's such a bonus to have a great gym when you travel.

SHOP MY LOOK



BRIDGER'S SURPRISE DINNER ON OUR LAST NIGHT
Bridge and I don't often get each other anniversary gifts. We prefer traveling somewhere or enjoying an experience together. So, both of our gifts to each other this year was the trip to Mexico and surprise dinners. Bridger planned a night for all four of us– my sister and brother-in-law — at Baja Luna. Our Cabo wedding planner, Bonnie, from Events By Bliss created this boutique-style events space and we loved it so much visiting the first time that we invested in it in 2022. It's such a beautiful wedding venue and they have so many big plans for the space, I can't wait to see as they keep adding to it. Check out their Instagram here.
Bonnie was the best wedding planner for us in Cabo and I would HIGHLY recommend her and her team if you're considering. She made everything so smooth and we couldn't have had a more positive experience wedding planning. And that's with having to postpone due to Covid. Anyways, if you reach out to her, make sure to tell her I sent you!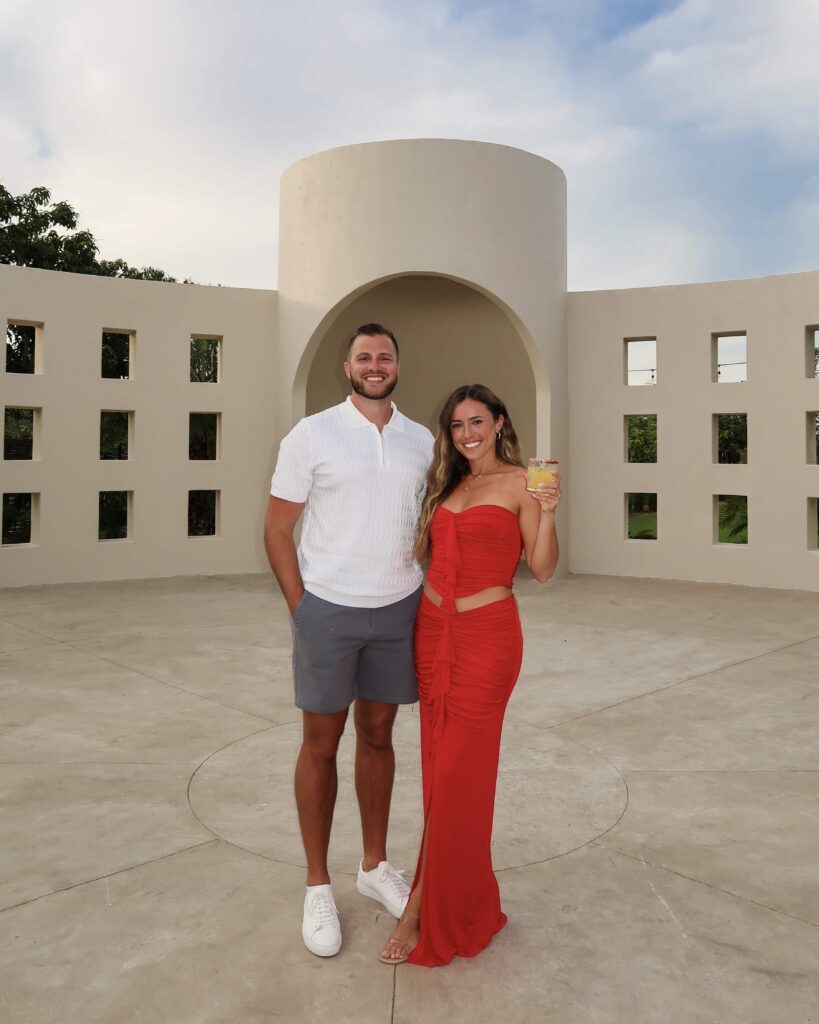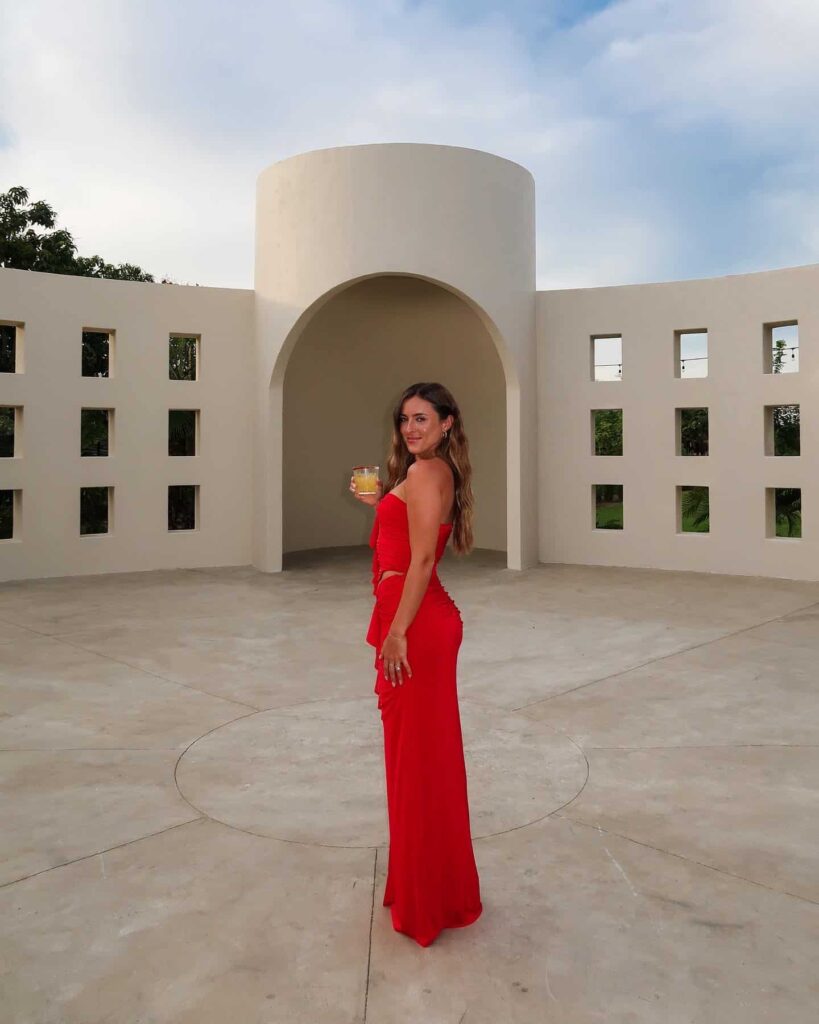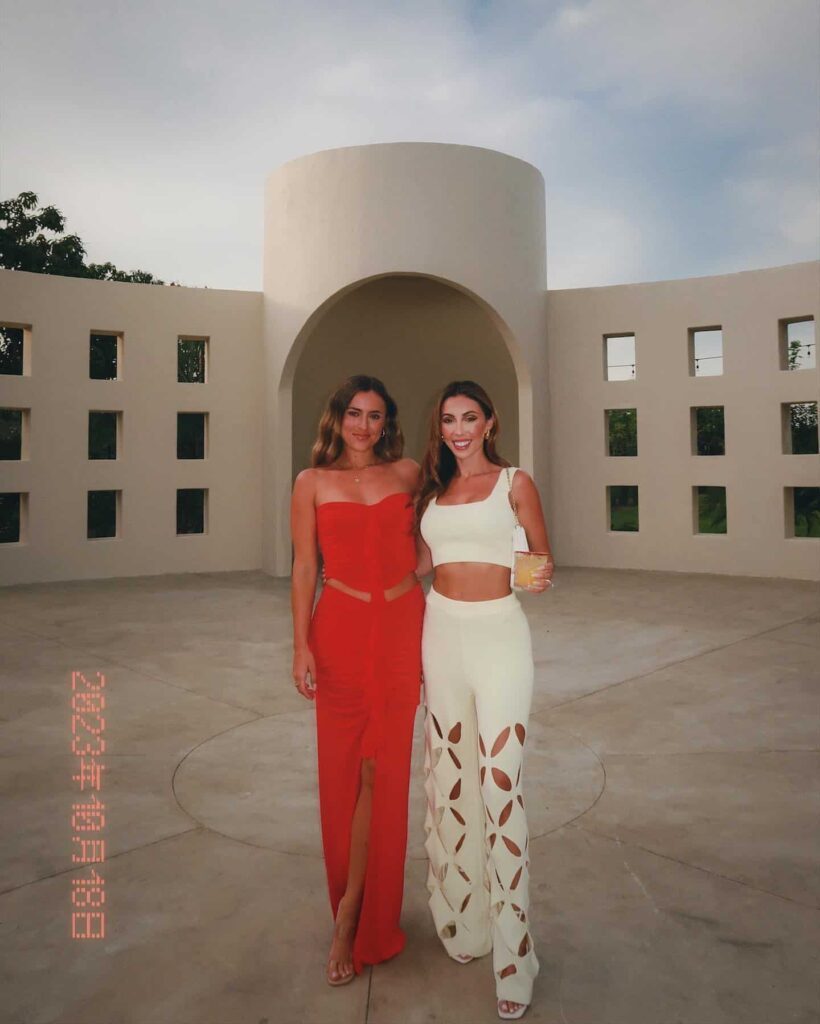 SHOP MY LOOK

The setup was so cute and the dinner was incredible– Bridge chose the menu and everything was farm-to-table and so fresh. We had a mixed green salad, crispy beef tacos, and ceviche to start, followed by cedar plank salmon, crispy adobo chicken and Tomahawk for the mains, and ended with a variety of small desserts that they made entirely gluten-free and dairy-free for me. Oh and the cocktails were unreal!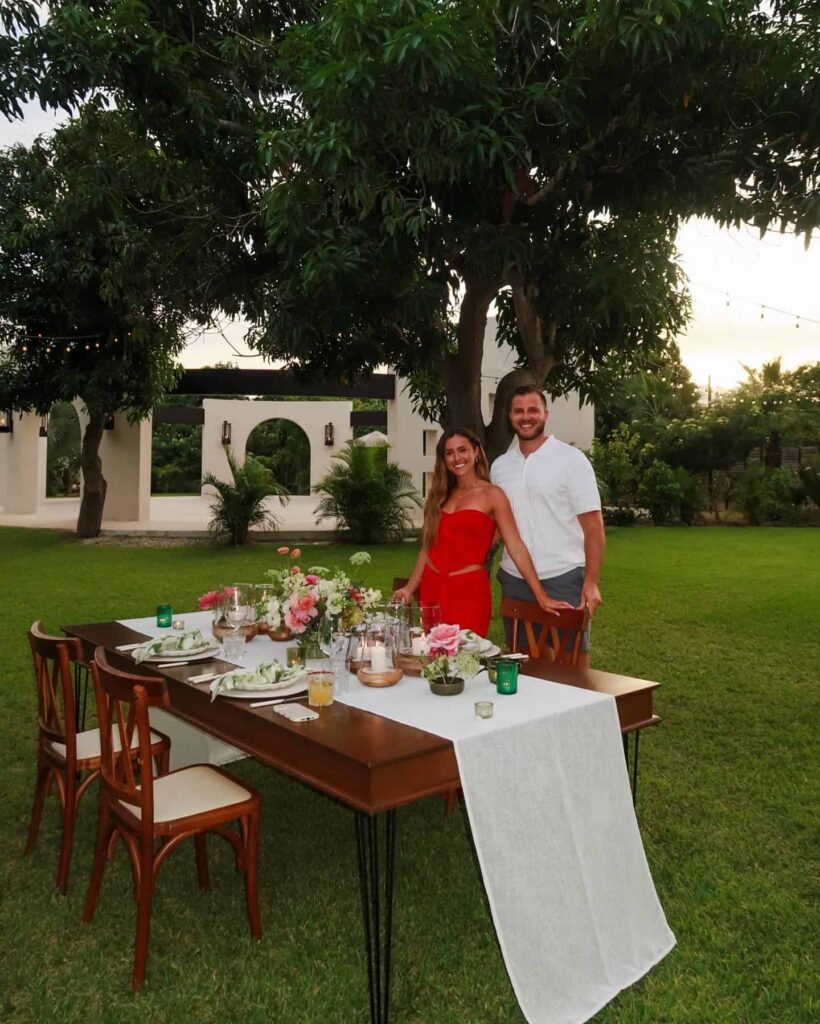 We had the best sunset! Every minute got better and better throughout the night. Thanks to my love for planning dinner and Baja Luna for the space and service.
There was a hurricane scheduled to hit Cabo a day or two after we had planned to leave, which was actually perfect timing. Hurricane season in Cabo is most active from August through October, so we've been lucky the past few times we've traveled here during our anniversary.
I couldn't have asked for a better week away, unplugged, and in the sun!
Until next time, Cabo. xx Rachael