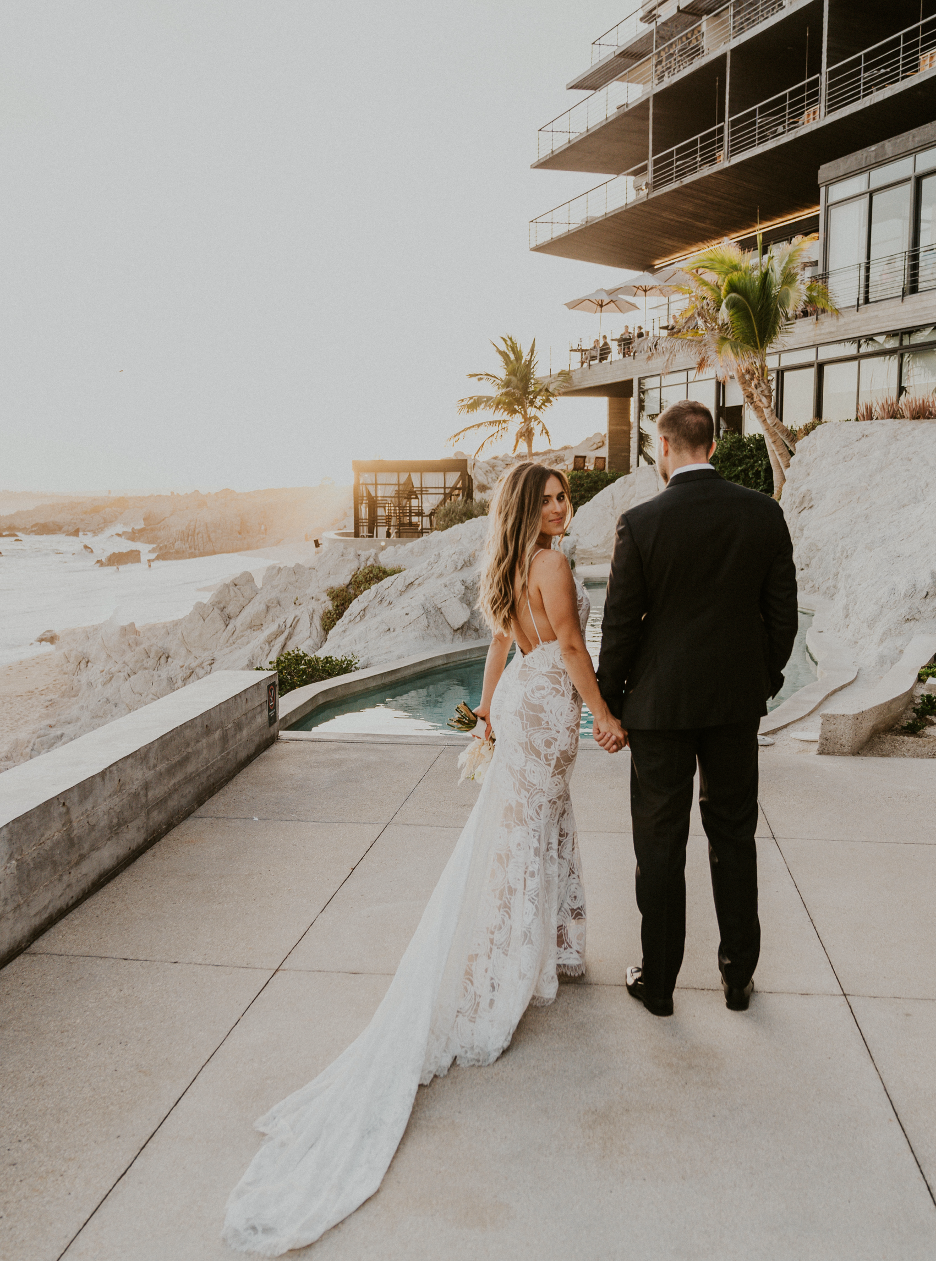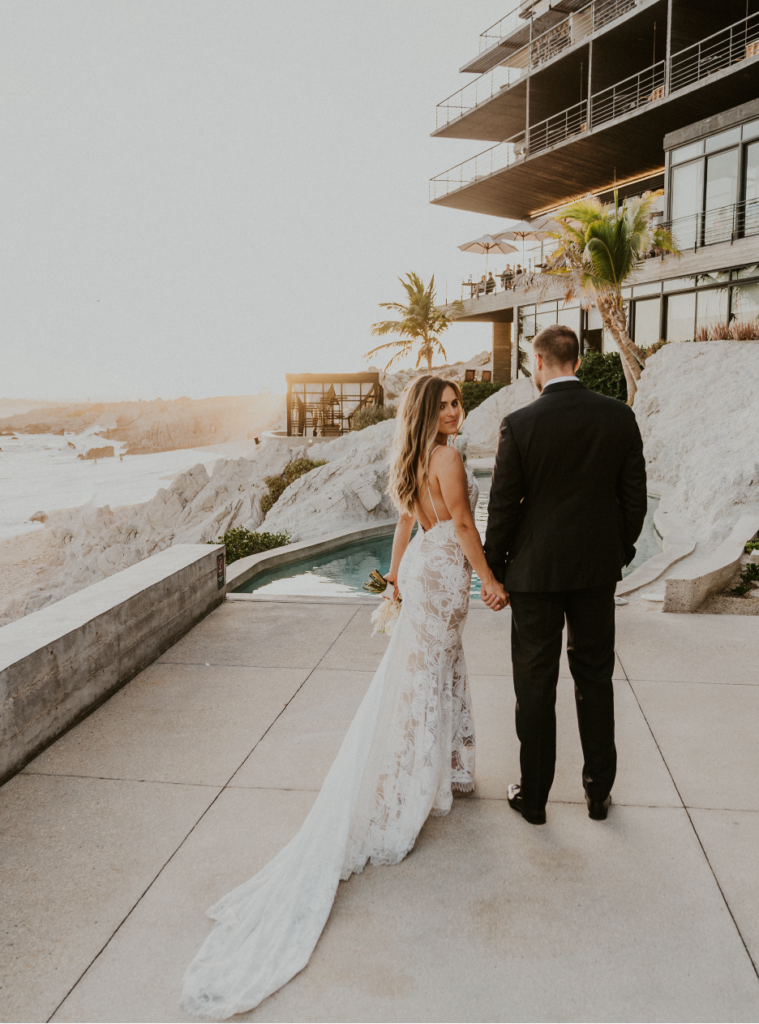 Ten and a half years later, we are officially MARRIED! Well, this is technically our second wedding in a year lol, but it happened! Bridger and I finally got to have our dreamy Cabo wedding we started planning soon after we got engaged at the end of 2019. If you've been following along, it's been quite the drawn out process, but I'm so happy we kept our original plans by celebrating with our friends and family and tying the knot at The Cape Hotel in Mexico.
Sharing all the details of the day, which is completely making me wish I could relive every second! It was so special and I couldn't be happier with how our photos and wedding video turned out. We've been joking with everyone that we need to plan the same vacation every year because it was honestly the best trip anyone has had in forever, thanks to covid. The dream!
If you want more details from the wedding, you'll find several blogs under the Lifestyle tab on my site AND our wedding video is finally up! Click here to watch and relive that day with us 🙂
I also put together an entire Wedding Lookbook if you're interested in links to the exact items we brought with us to our destination wedding! Click HERE to check it out!
Before I start, I wanted to share the list of our vendors because it wouldn't have been possible without them!!
WEDDING DAY VENDORS
Videography @anaandjerome @jaimellaca @hera_cinema
Planning & Design @eventsbybliss
Dress Grace Loves Lace
Photography @marcellalaine
Flowers @cristinagcabo
Rentals / production @bajaboutiquerentalcompany @delvaboeventdesign
Hair and Makeup @loscabosmakeup
DJ @alexdjcaboevents
Ceremony Music @cabobandlucas
Signage @uscreating
THE MORNING OF
Bridger and I woke up together at The Cape Hotel, got a quick workout in at their gym–it honestly charges me up for the day, so anything to get an extra little boost knowing we'll be up past midnight was it for me– then headed to the best breakfast in Cabo (IMO), the Ledge at The Cape. Also side note, I'm curious how many people still opt for sleeping in separate bedrooms the night before their big day. I feel like we didn't do a handful of typical wedding traditions during ours and if you think about it, there's not one right way to do anything. Do whatever you want to do and whatever makes you feel comfortable and happy!
After breakfast my planner lead a walk-through of the ceremony with our entire wedding party, officiant, and my parents. This made it feel a little more REAL.
GETTING READY
Soon after that, hair & makeup arrived at our room and Bridger went over to his brother's room next door where the guys were going to get ready. All my girls started showing up to the room around 11am to get ready and it began.
I had six in my bridal party, plus my mom and I, and we basically all got hair & makeup done. It's funny to me how early wedding days start and how long it takes for everyone to get H&M done. If you've ever been in a wedding or have been part of one I'm sure you get it. I typically get ready in about 10 minutes at home– I'm pretty low-maintenance– but there's something so fun about getting all dressed up with your best girlfriends.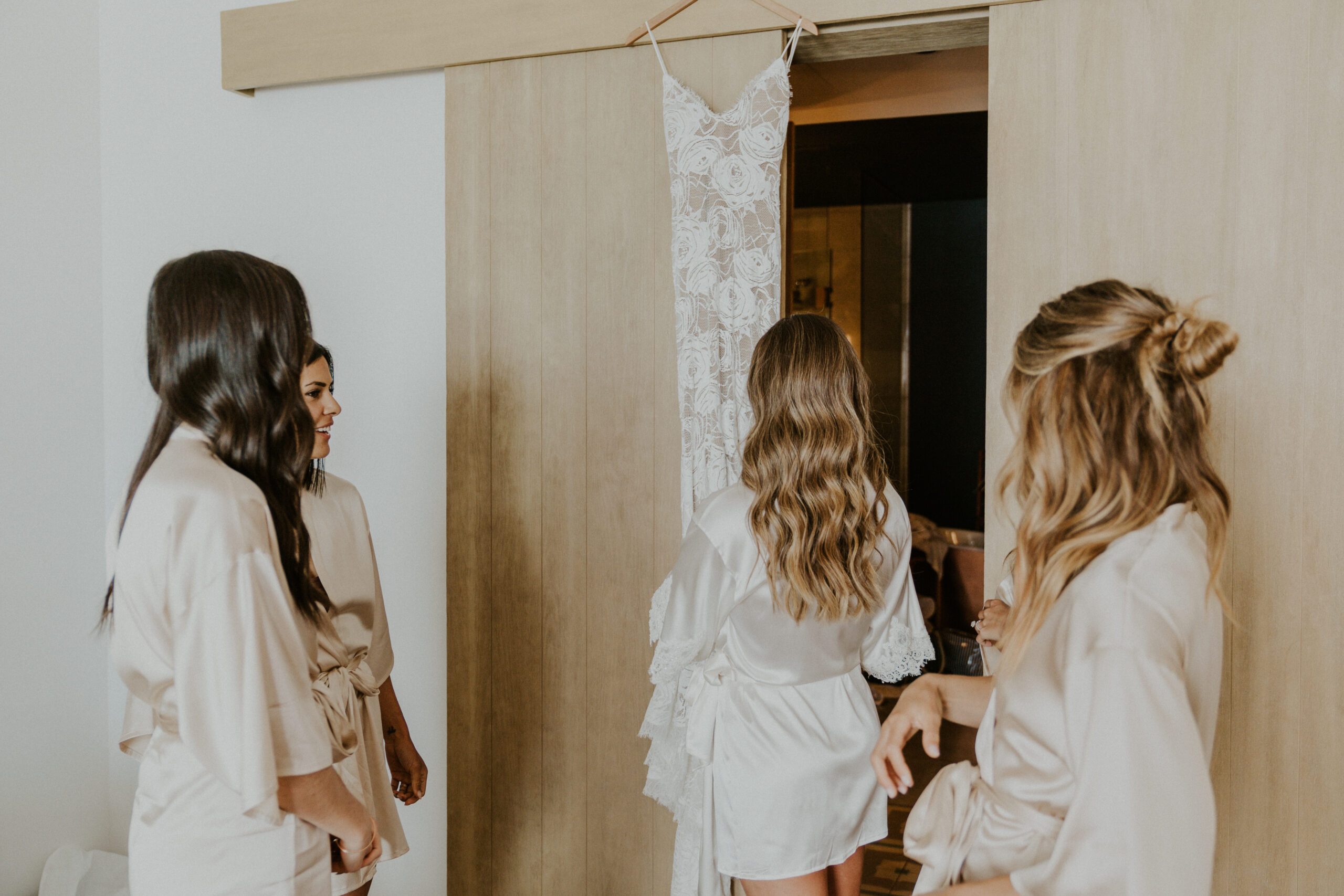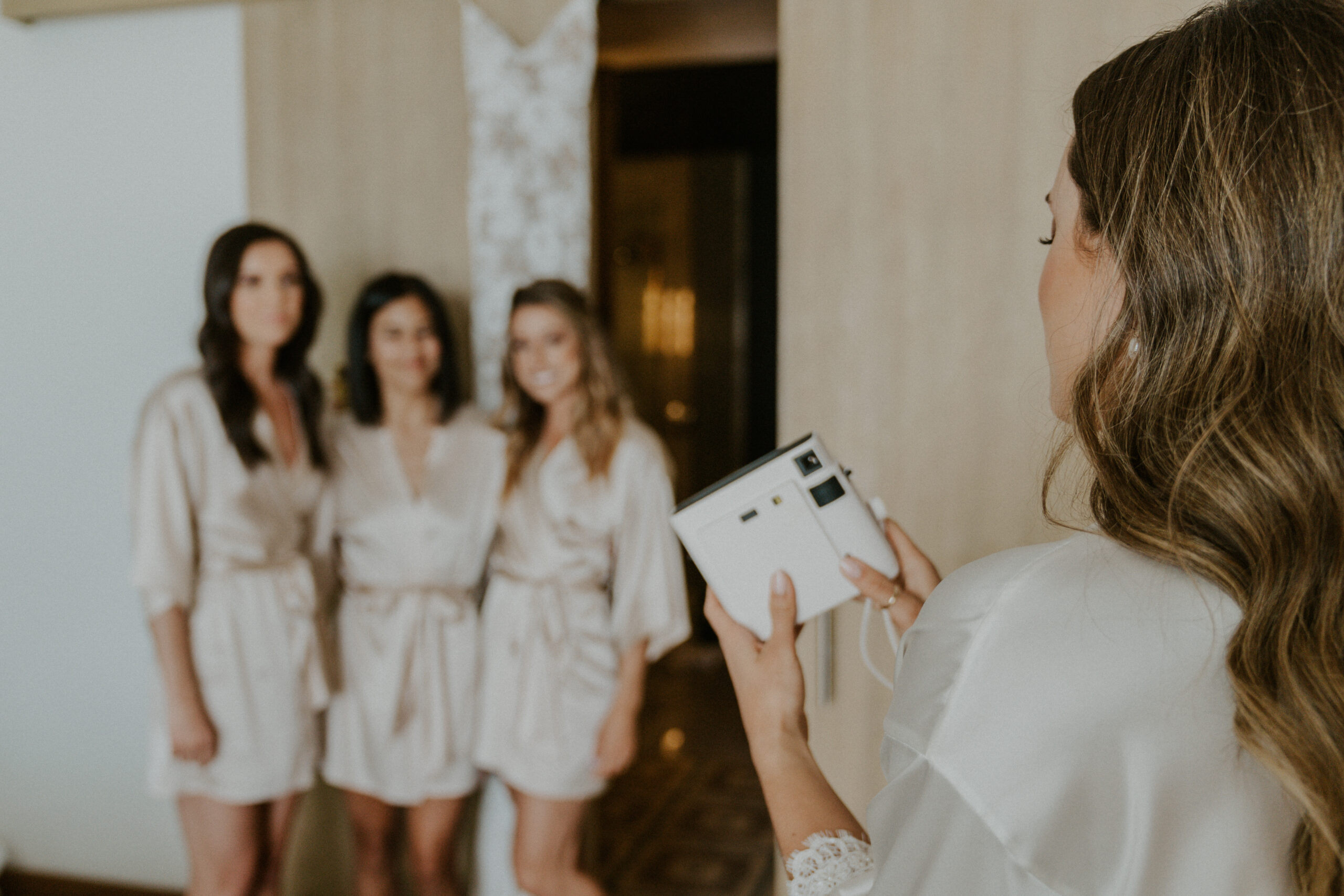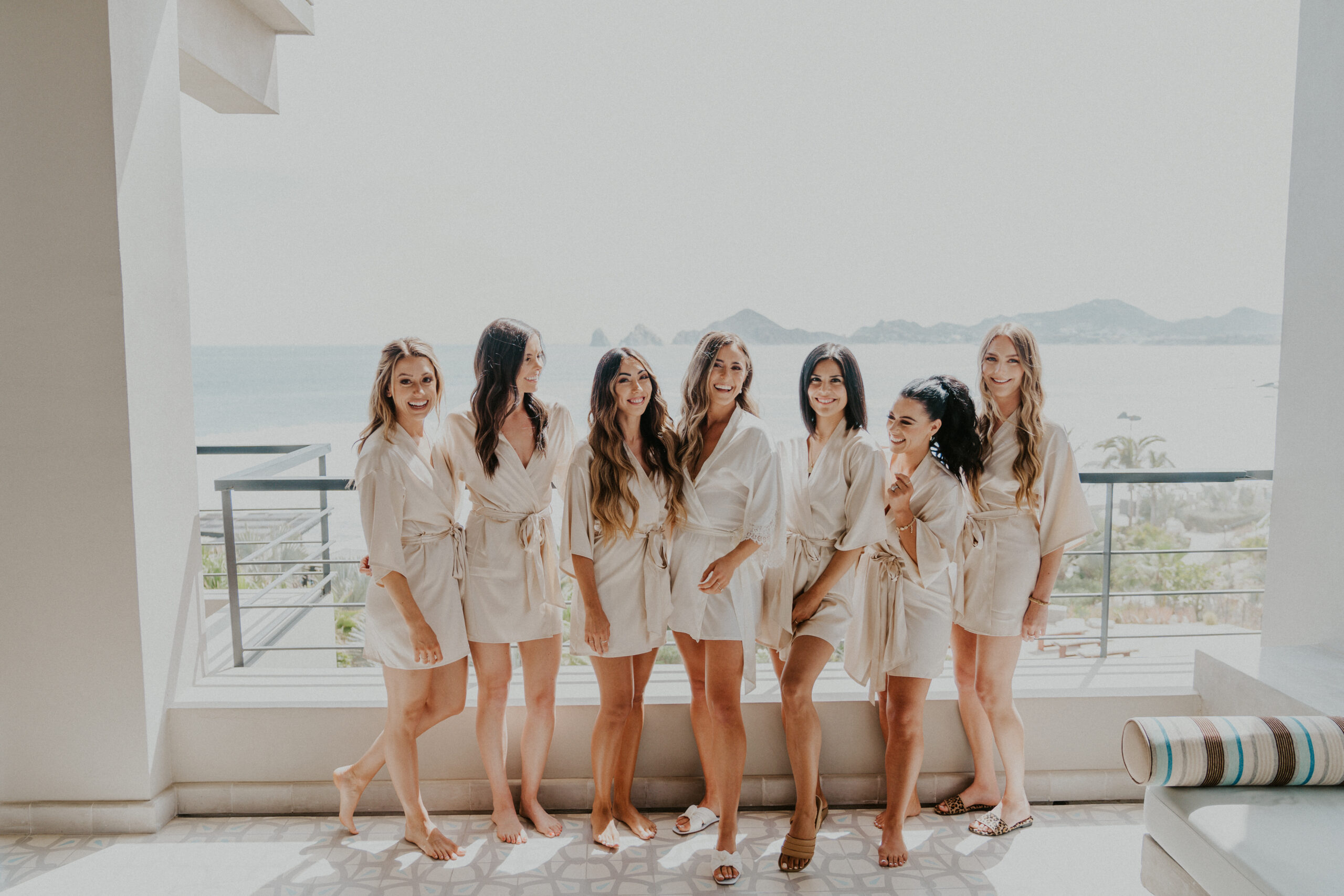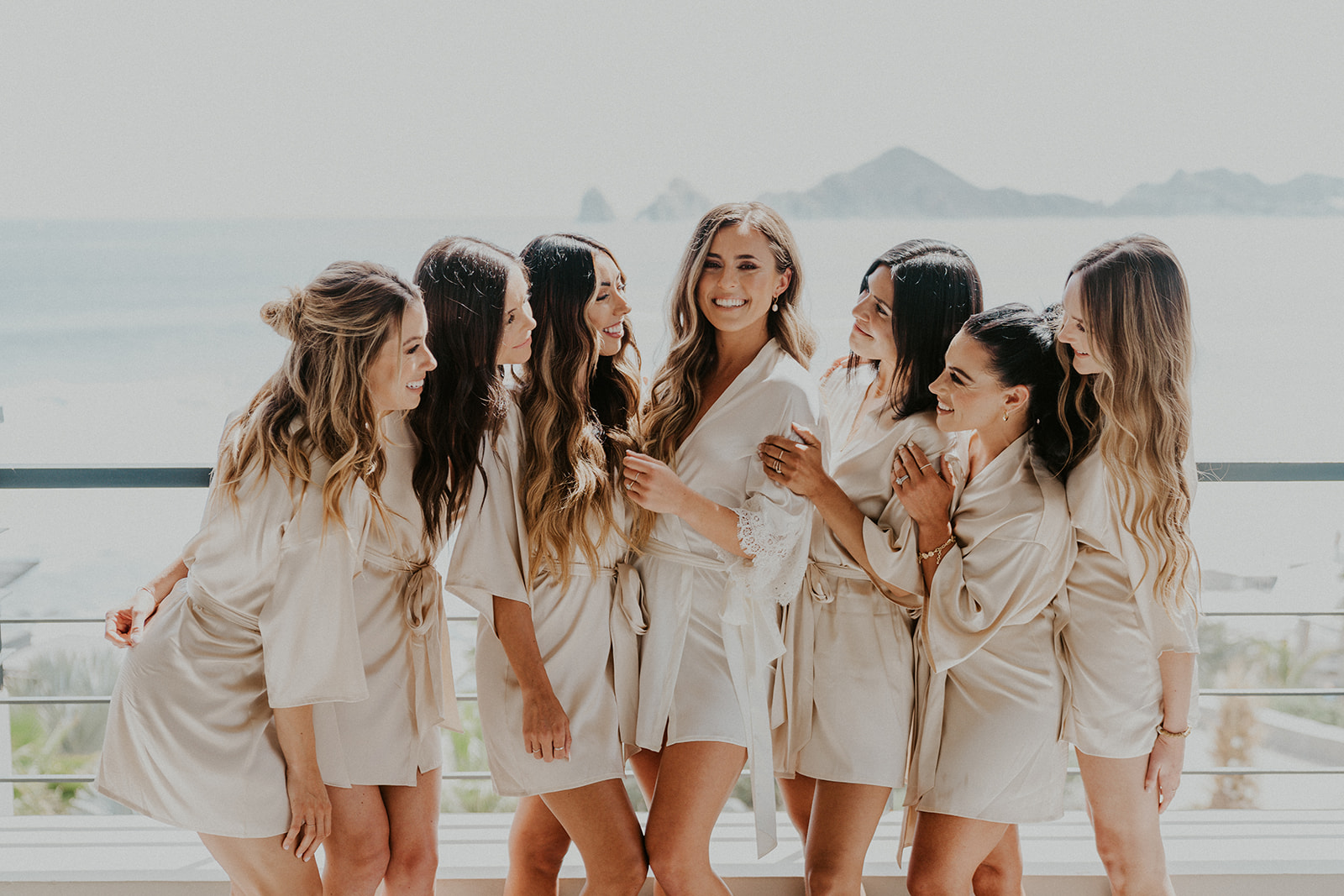 I gifted silk robes to each of my bridesmaids to get ready in — they were handmade by Daphne Newman Design in Canada and I couldn't recommend her and her team enough! She created gorgeous blush robes for my bridesmaids and a custom white silk robe with delicate lace for me. Keeping it forever!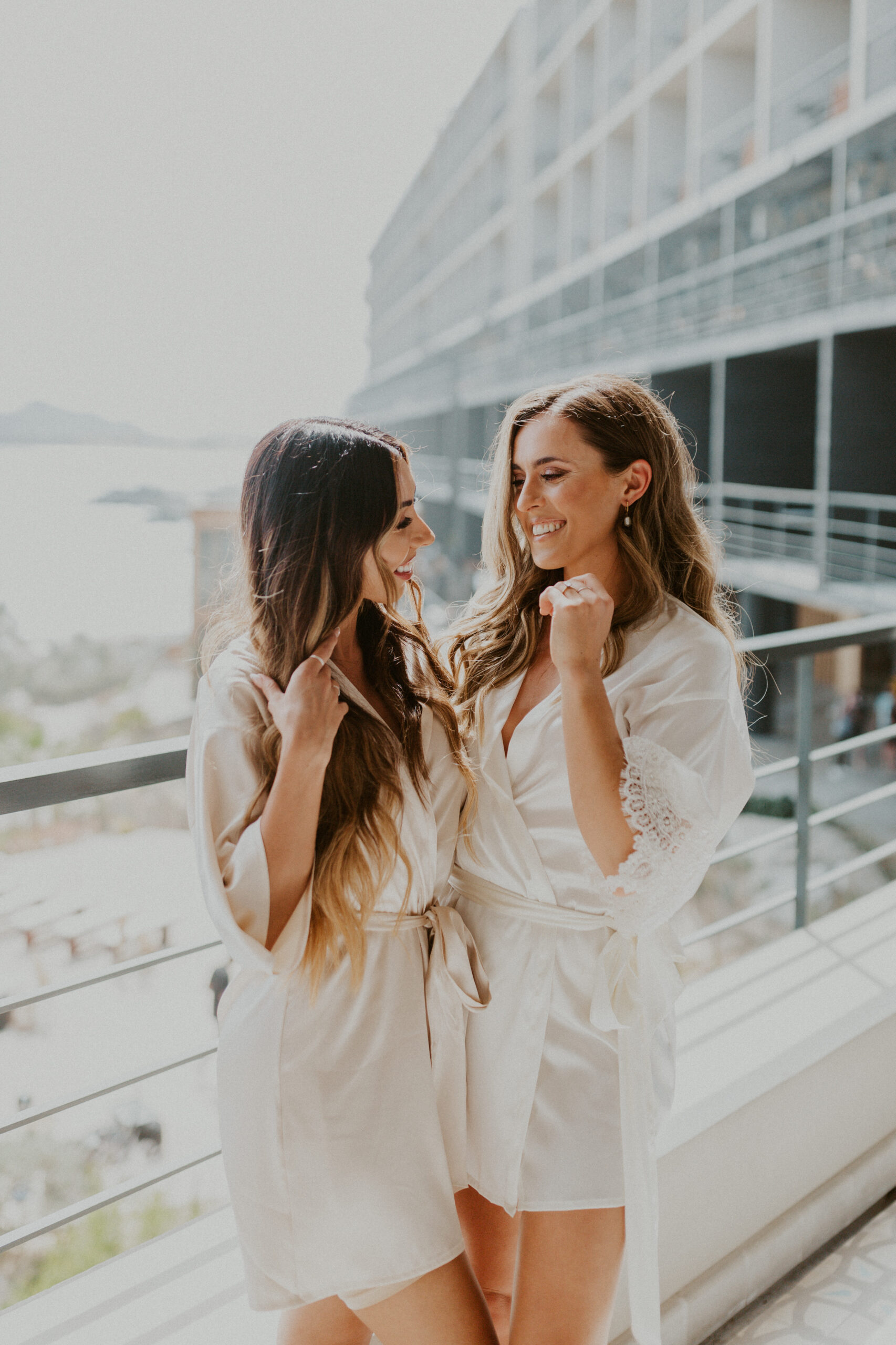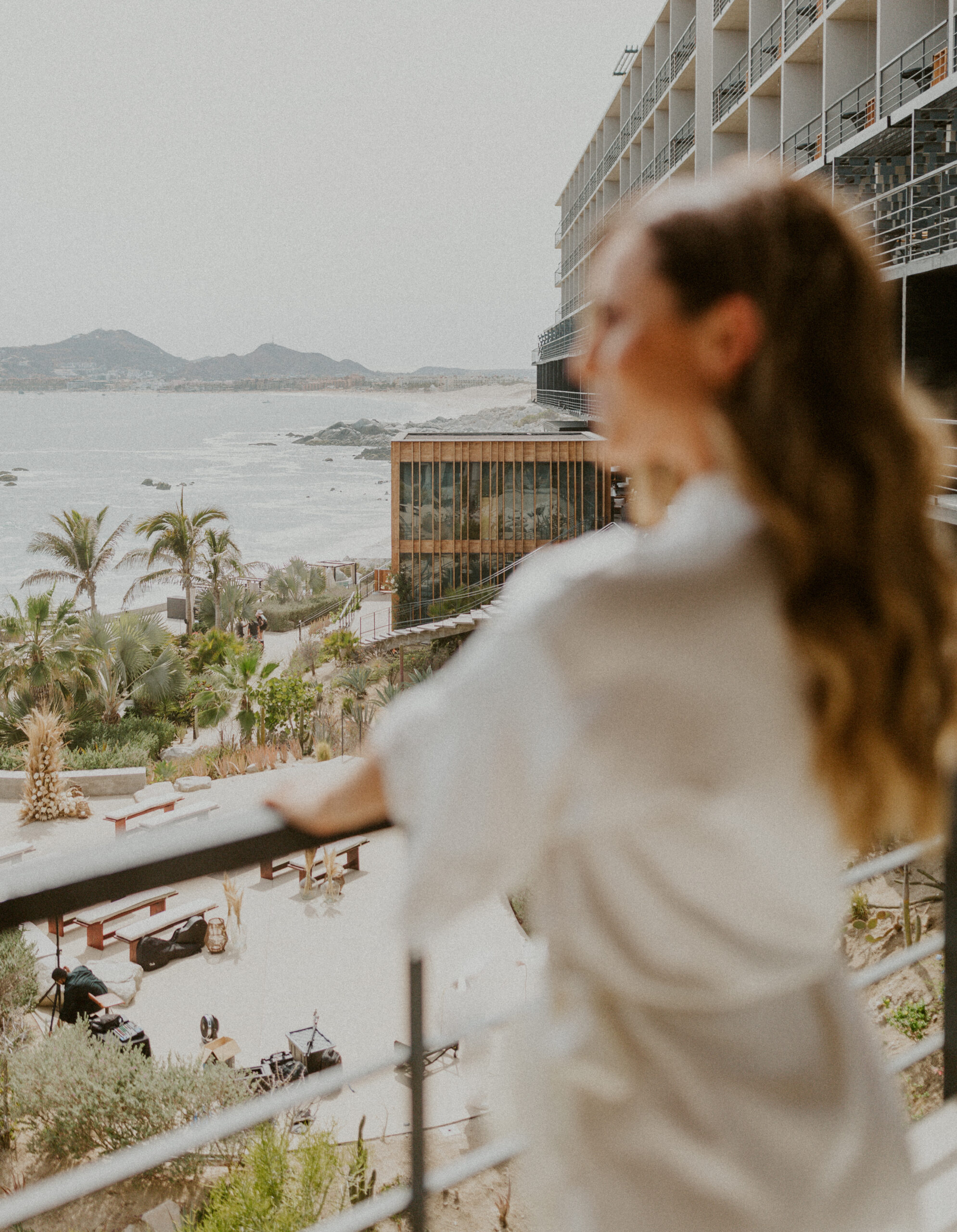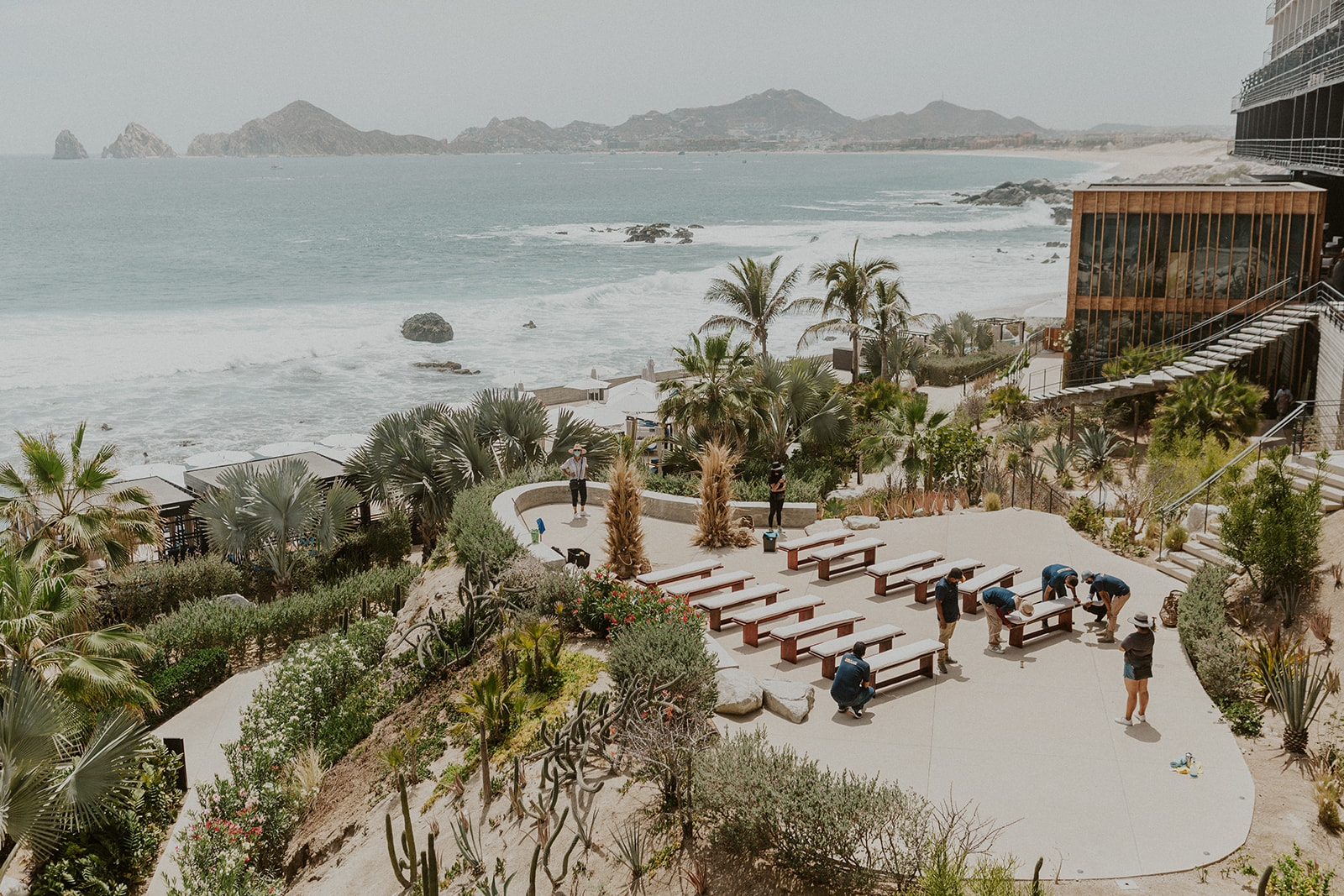 I wrote my vows the day of on the balcony overlooking everyone setting up our altar and ceremony space. I feel like seeing it all being put together was the first time I really had butterflies or nerves. First of all, it's situated at the hotel in a way that everyone from their balconies could watch, which… I mean, I hate being the center of attention haha so that's what made me the most nervous. Thankfully, during the ceremony and walking down the aisle, thinking about that didn't even come to mind.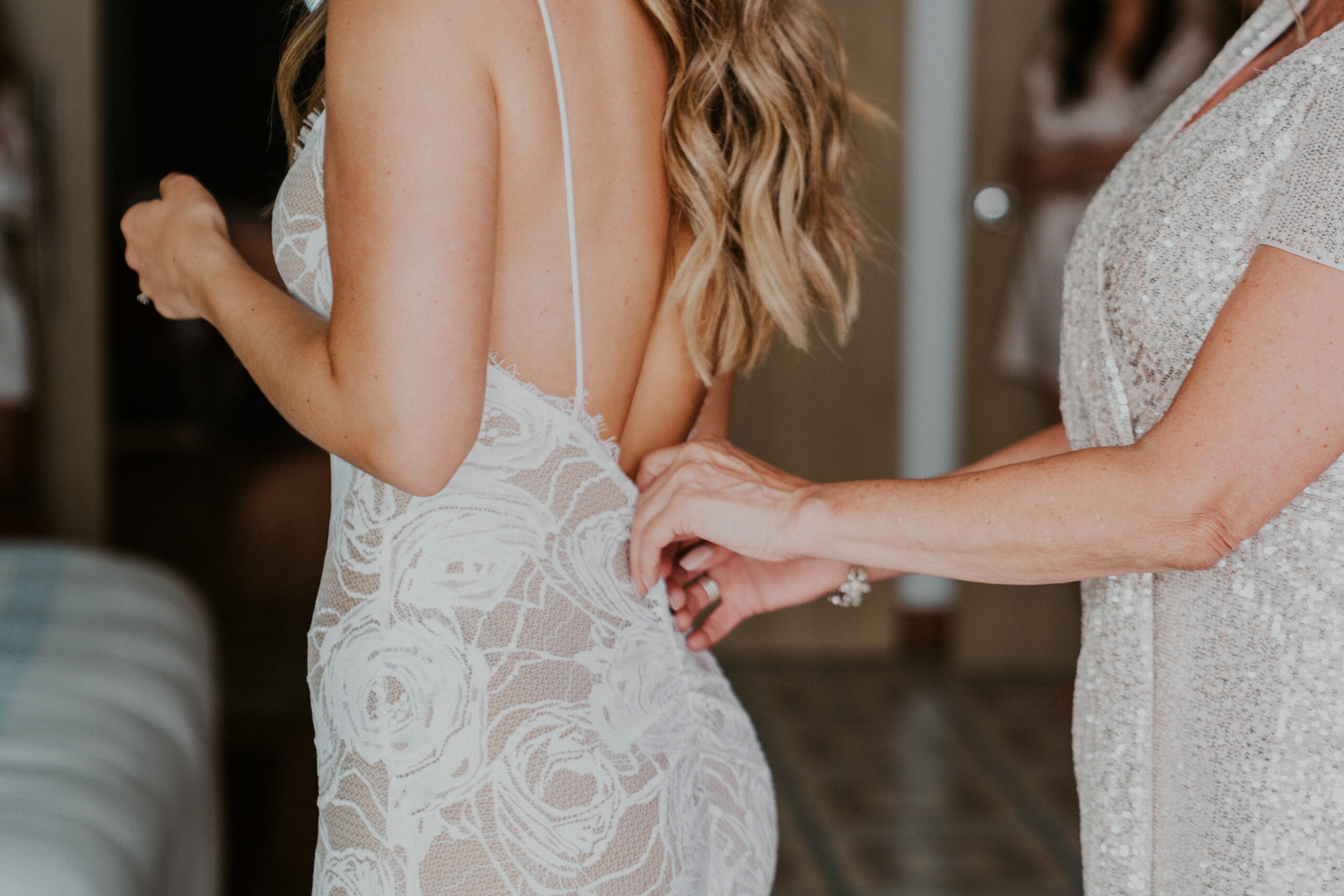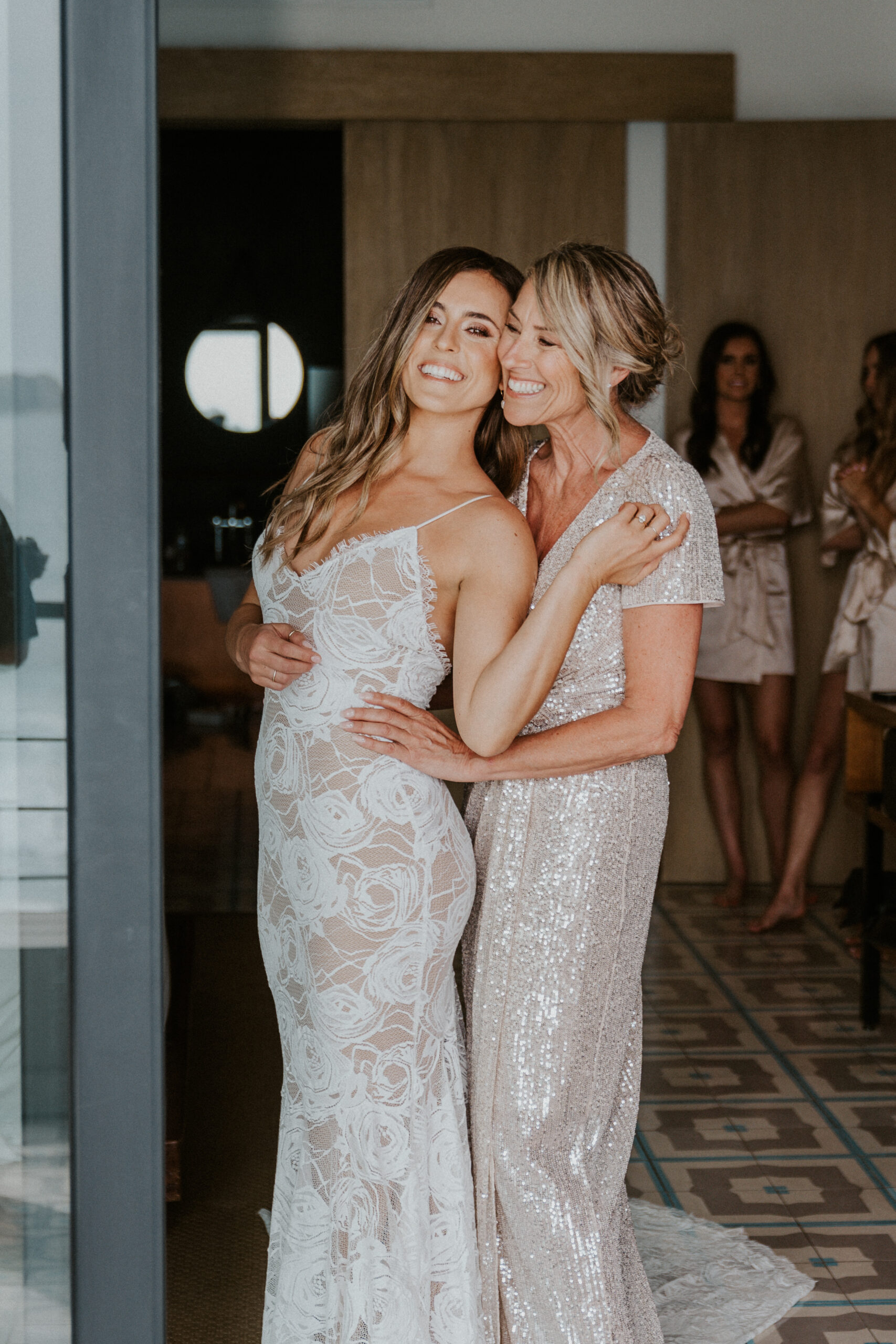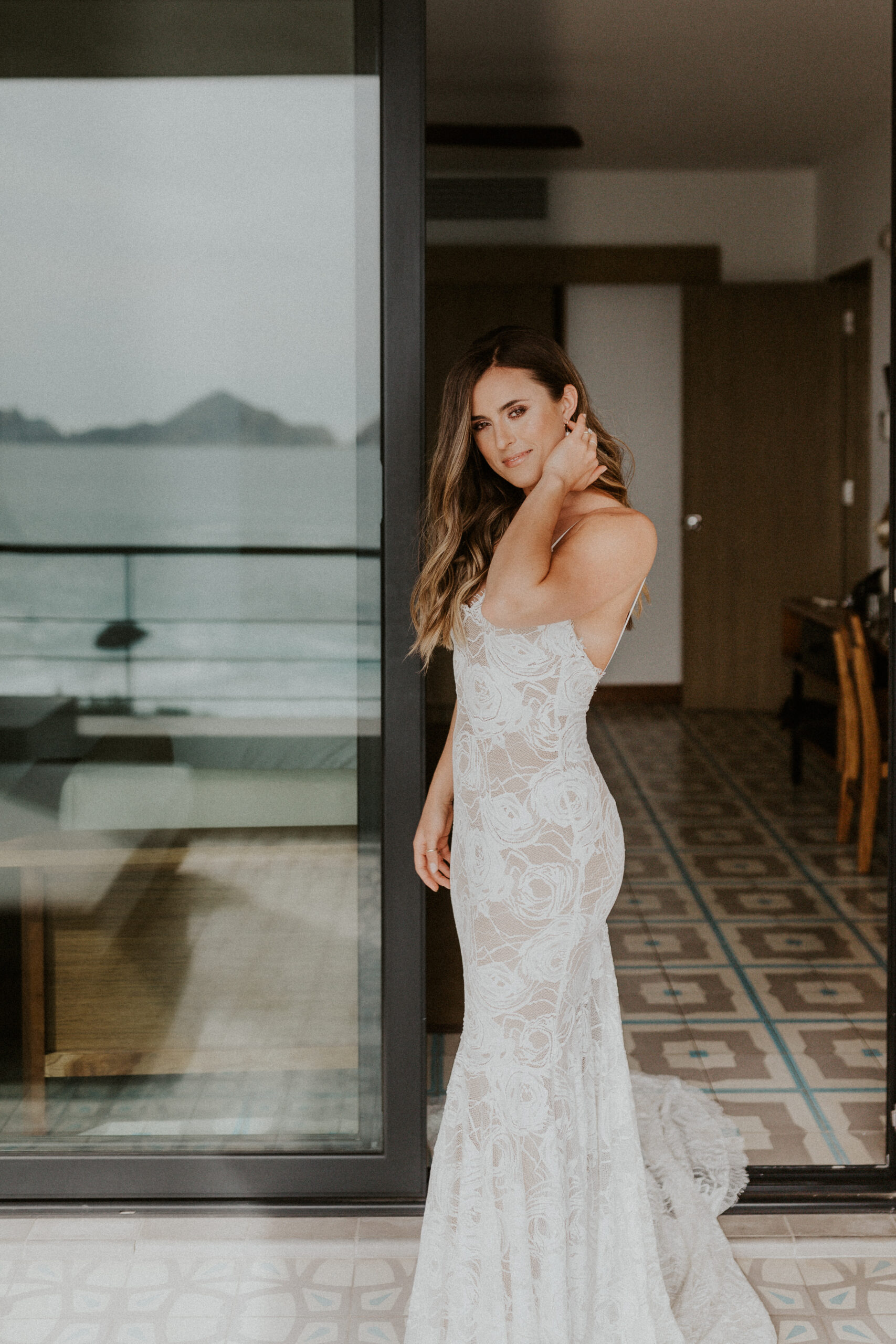 Getting ready with my mom made me so HAPPY. She was able to be there with me when I picked out my dress, whenever I needed any help with planning, choosing colors for the tablescape, and it was just so special having her there with us to send me off to get married. She's honestly been a huge fan of Bridger from the verrrry beginning back in high school, which is a major win. I feel like he wins everyone over as soon as they meet him; that's just Bridge.

You clearly know food is always on my mind, so the mistake of not eating enough or drinking water on the day of my wedding was not going to be an issue. I ordered room service for all of us to snack on & have lunch while we got ready. Guacamole, pico de gallo, chips (we also had bags and bags of Siete chips in the room), grilled chicken, ceviche, two types of salads, and a few more sides. Bridge ended up telling me the next day that he watched my IG stories of all the food I ordered and asked why I didn't tell him to do the same for his groomsmen because they were stuck with drinking Tecate and all sharing an RXBAR leading up to the ceremony LOL. I wish I could say I was surprised.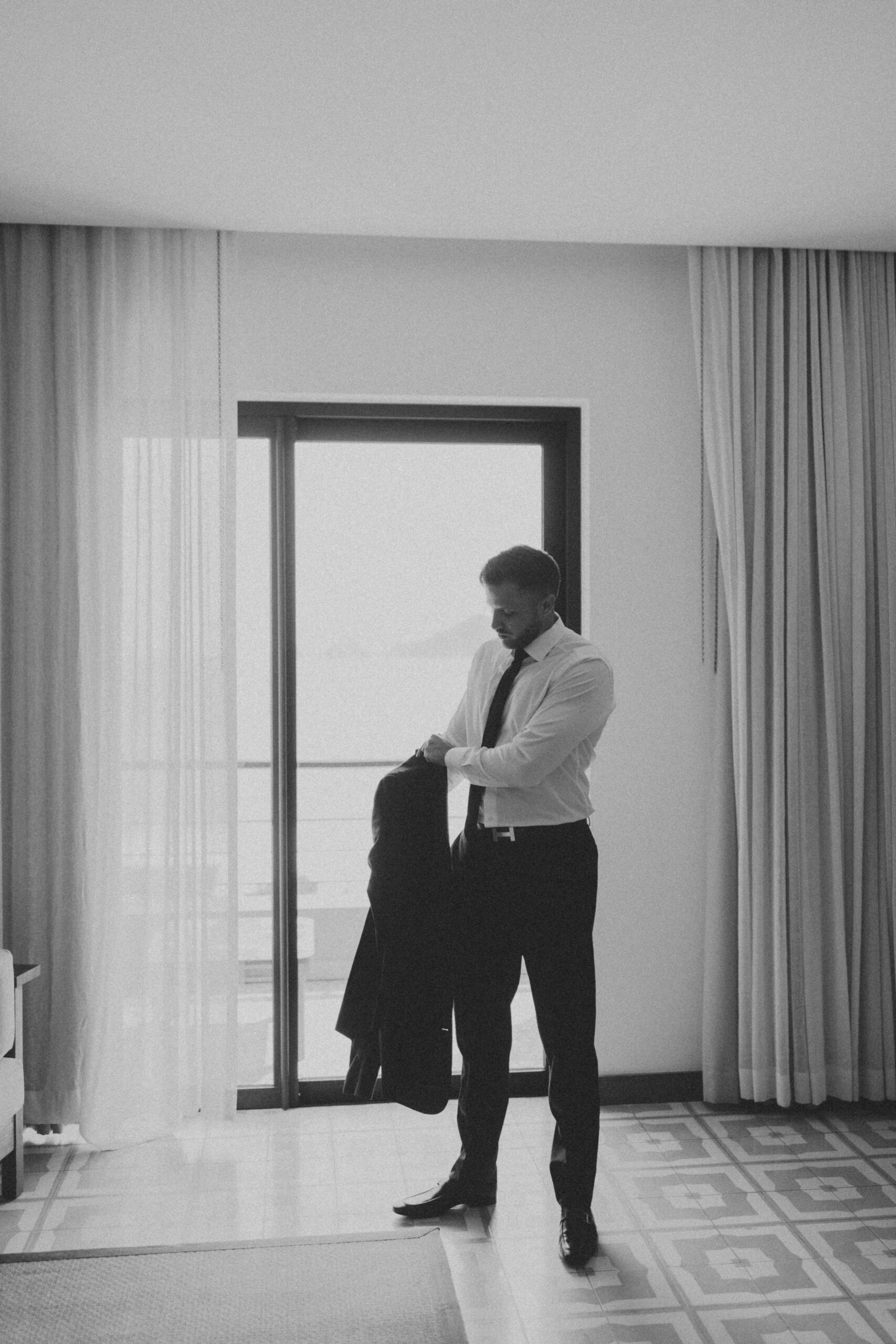 While our videographers shot drone content of our wedding party on the balcony for our video, they also got a few photos as well– look how they turned out!! It just randomly worked out that we got two rooms next to each other and were able to shoot these 'no look' shots together before we had our First Look.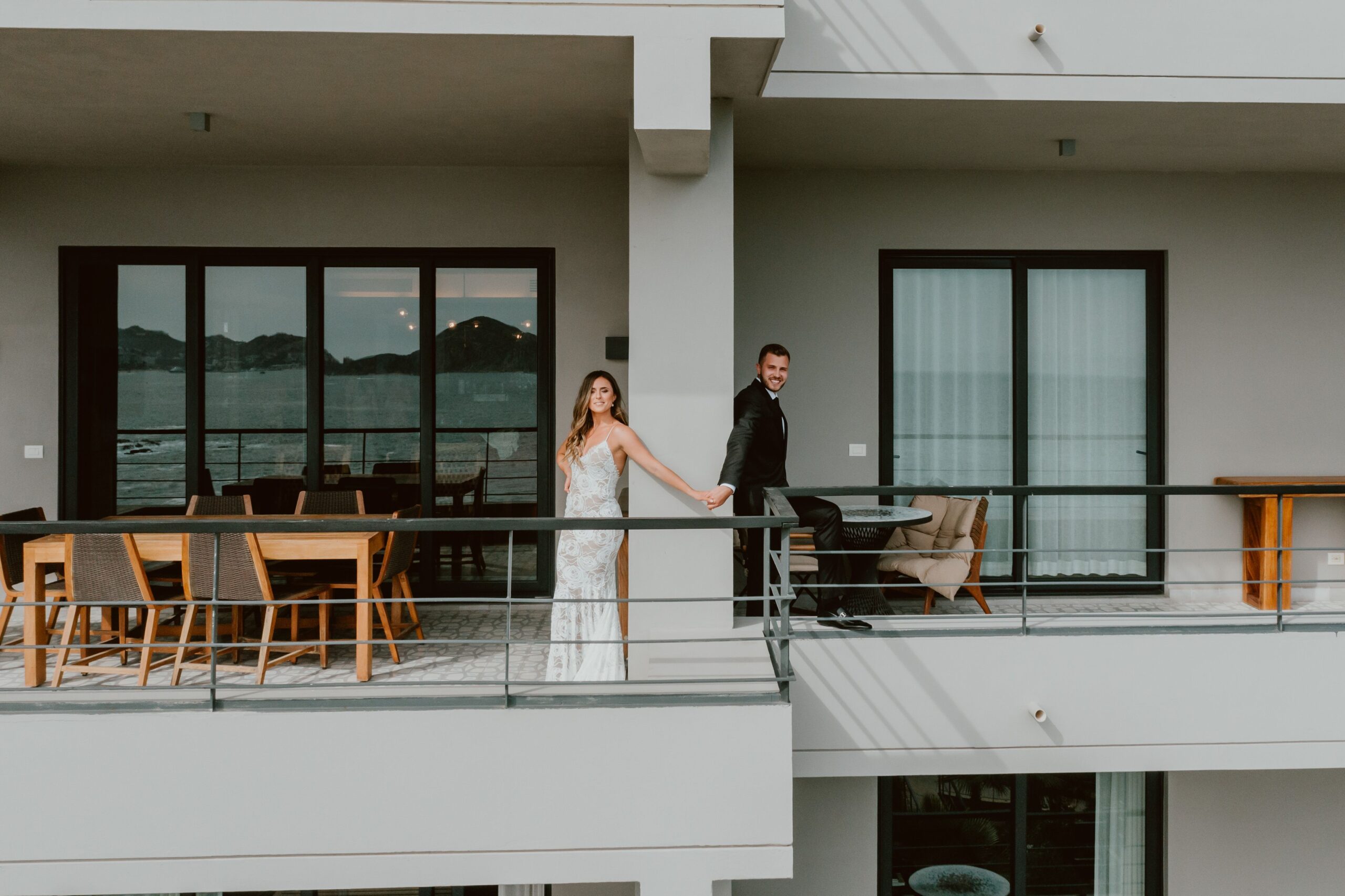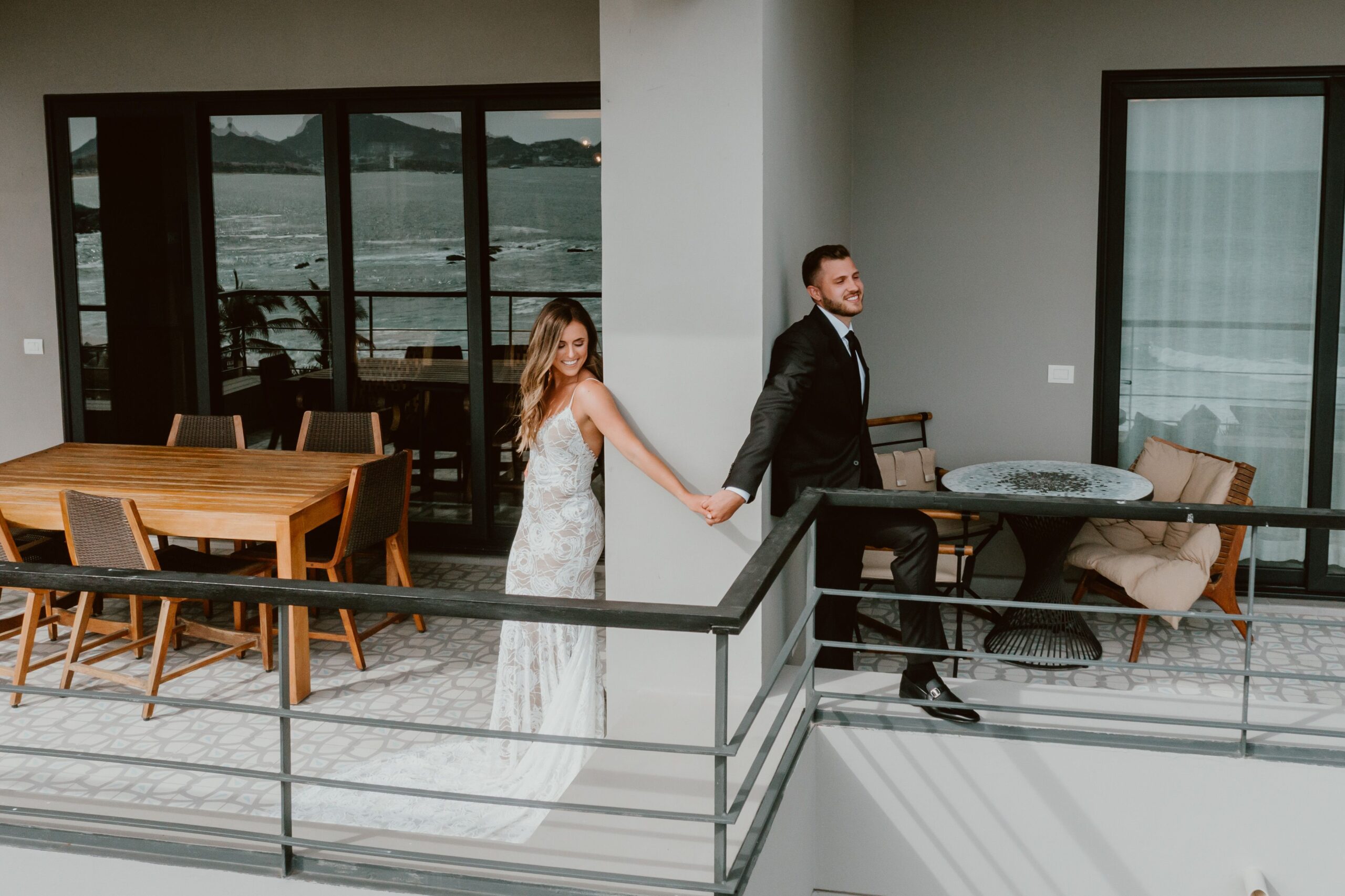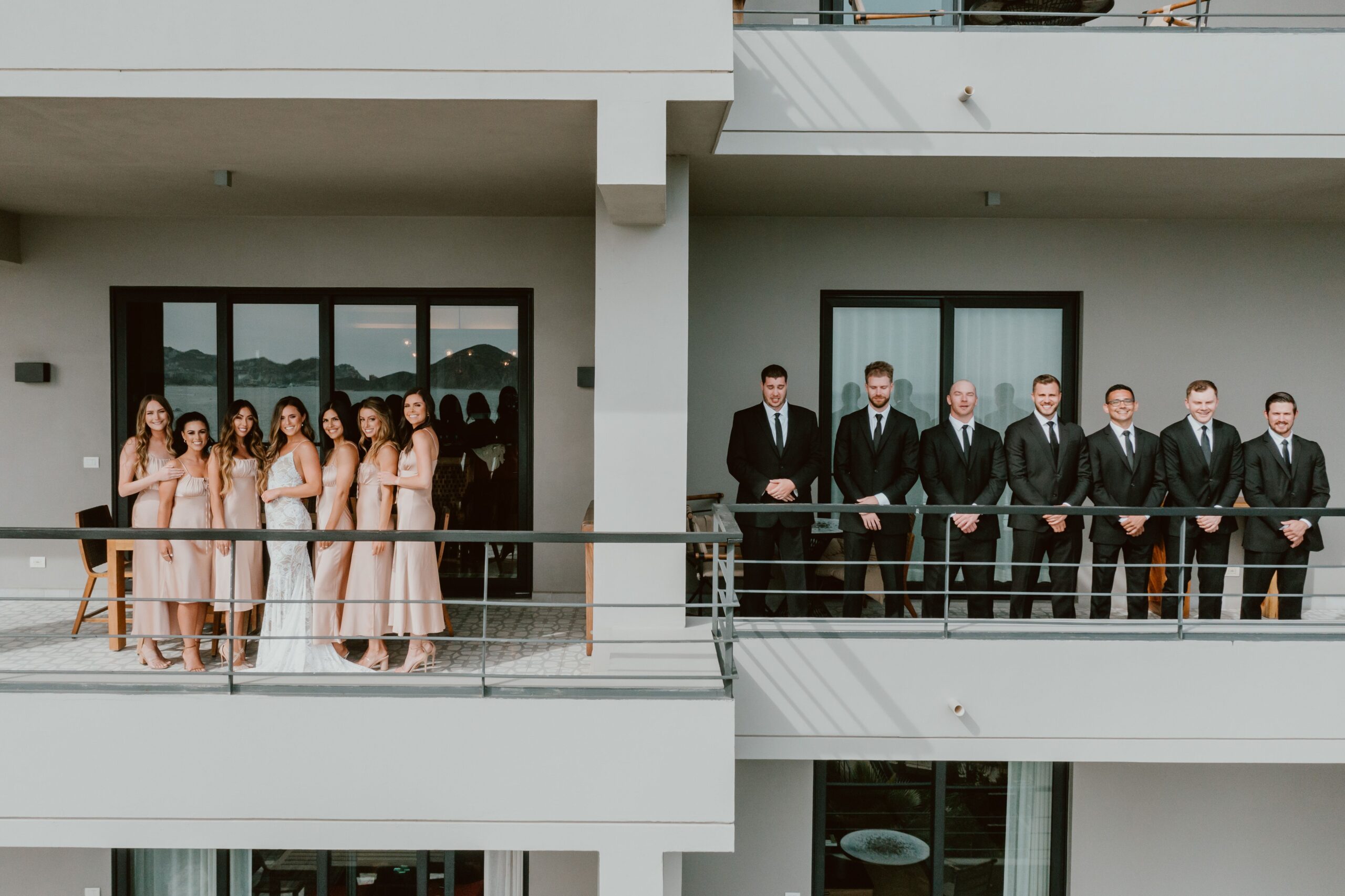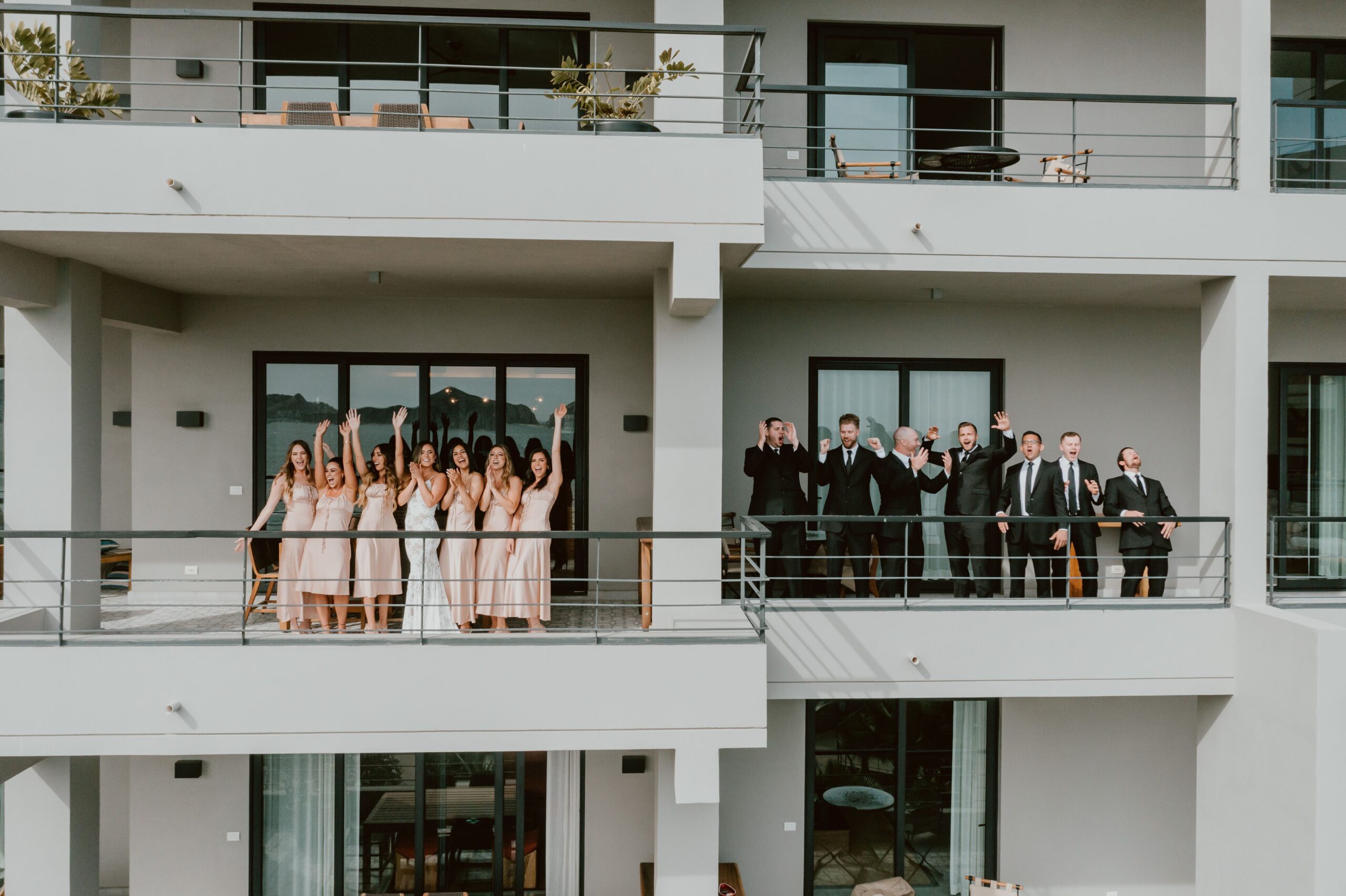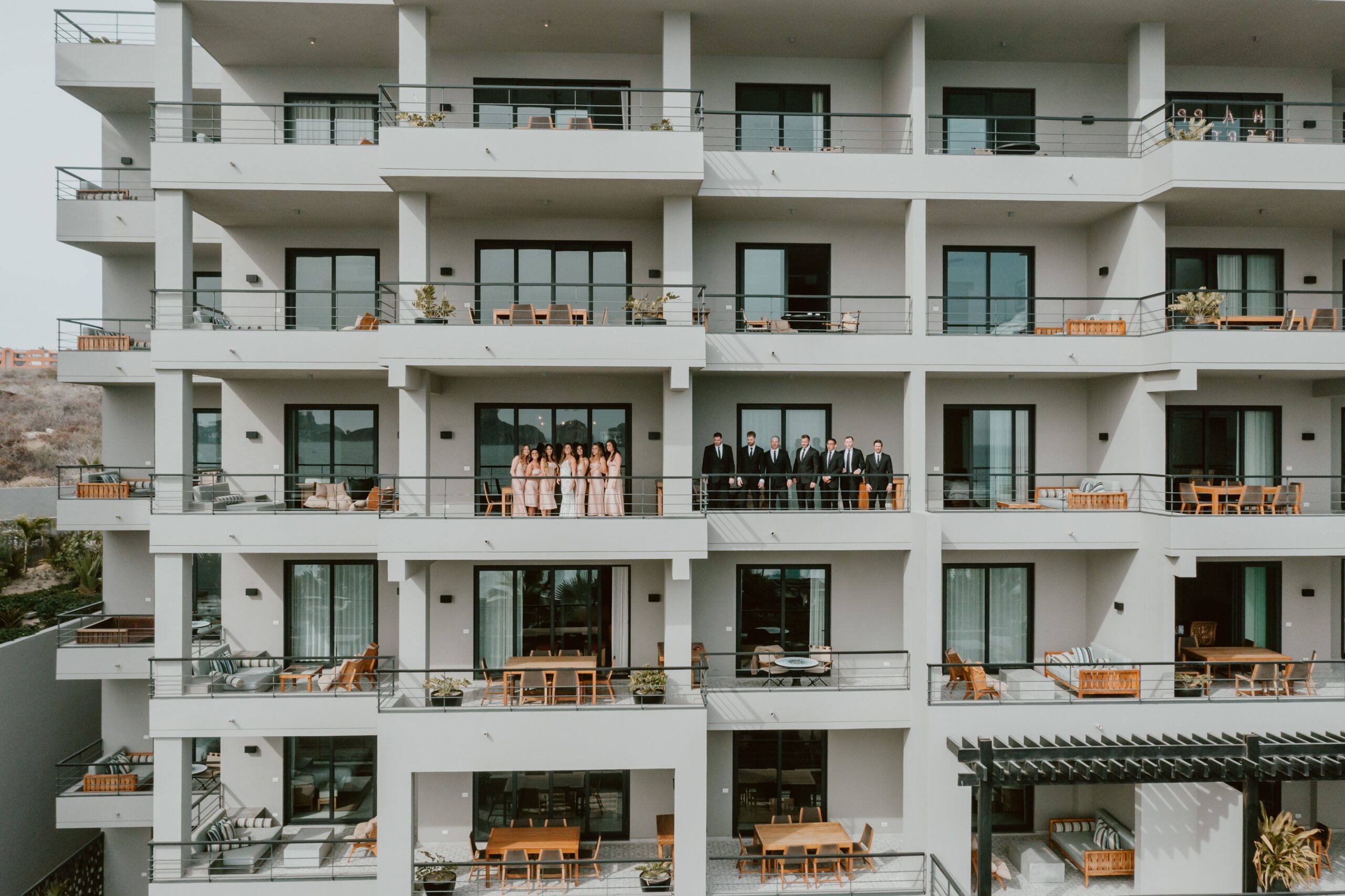 I'd highly recommend one of The Cape's larger suites on the 5th floor or higher (for the views) if you're planning any events here or prefer more space, plus a small kitchen.
Towards the end of getting ready, our photographer and videographer came in each of the rooms to get some extra photos + video content, which I'm so happy about because it's really nice to look back on getting ready together with our separate parties. One of the things I loved about the day leading up to this point was that everything felt very relaxed. There was a very calming energy over everyone and I think we were all just very grateful to finally be there getting ready together, soaking up all the feels after being isolated at home for more than a year due to the pandemic, and just truly excited to finally experience our wedding. We were READY! But obviously, not without a shot of tequila before we say, "I do."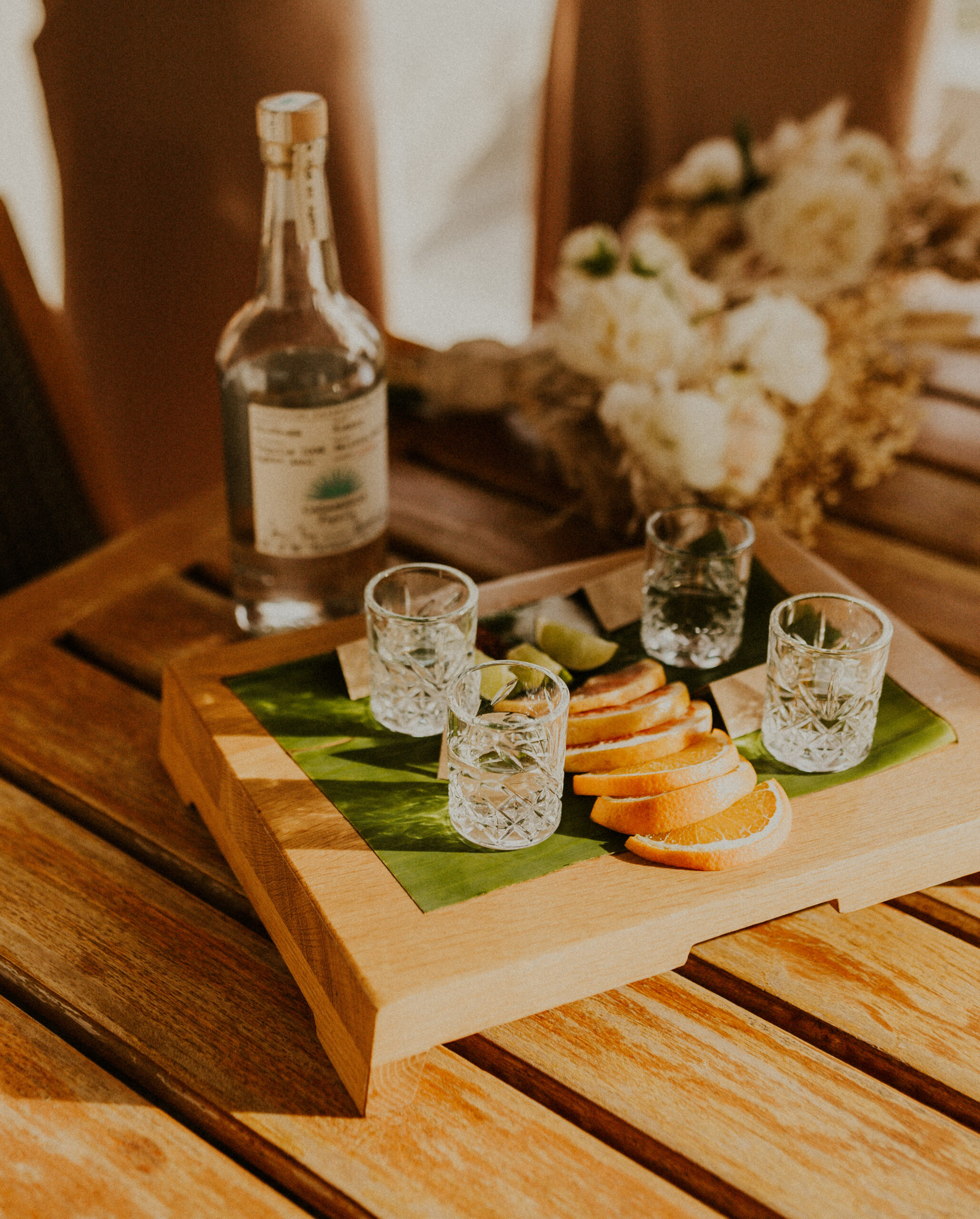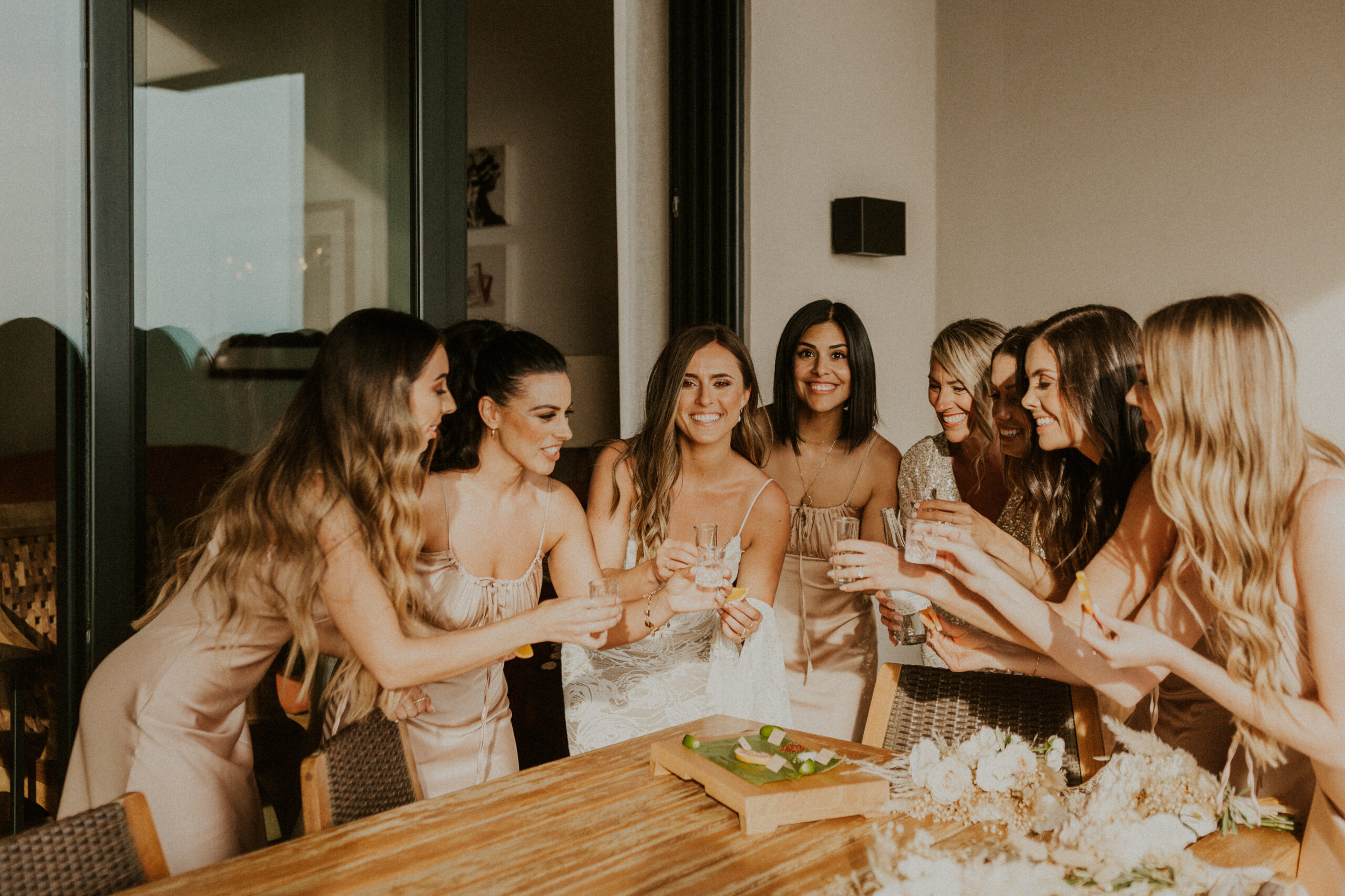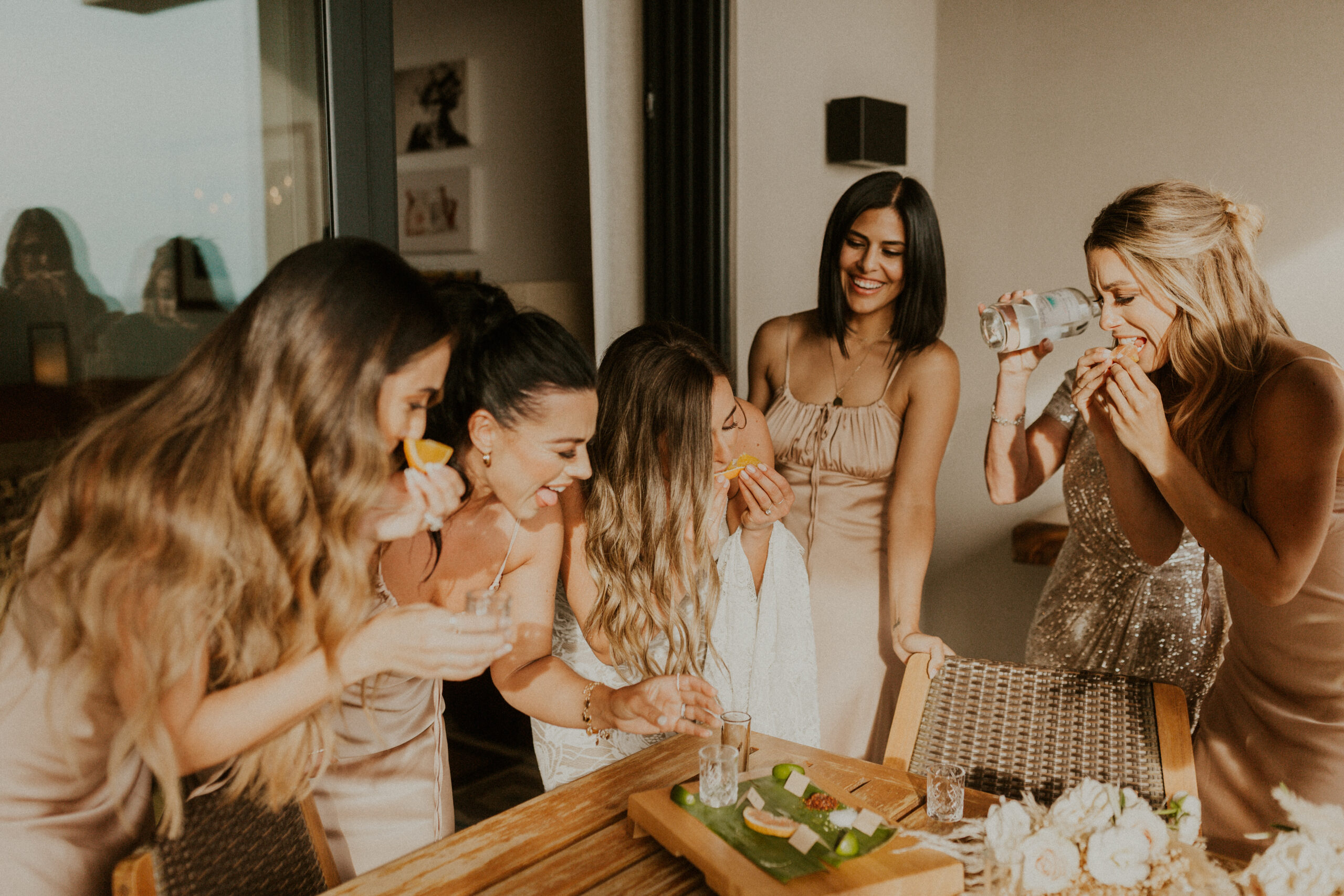 (peep my mom with the Casamigos bottle)
THE FIRST LOOK
I'm so glad we did a First Look. It gave us the time we wouldn't have had to soak up seeing each other before the ceremony began. Plus, I was still able to see Bridger's reaction when I turned him around to see me in my dress– his face is priceless!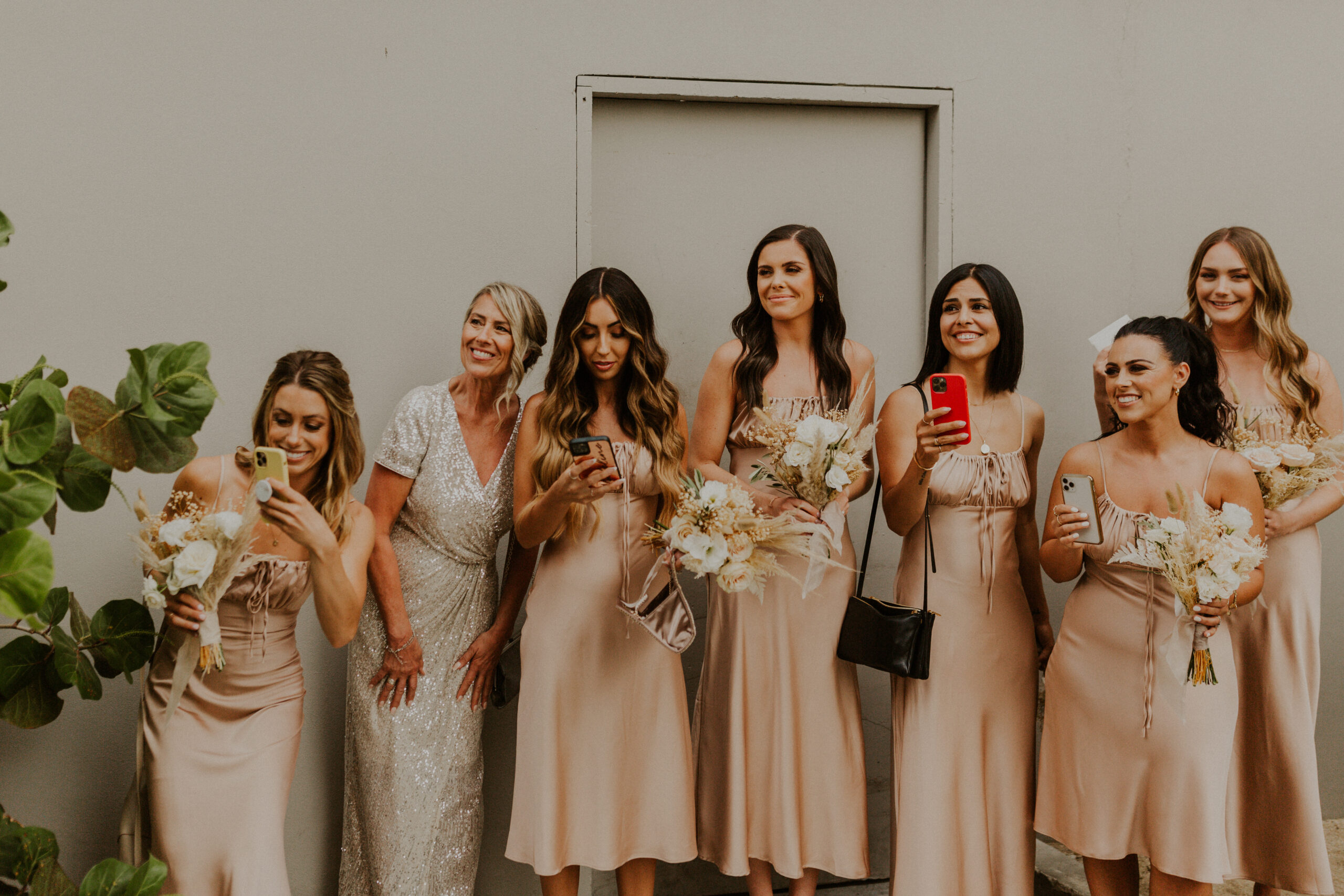 My bridal party watched from the sidelines as I walked down the path on the side of the hotel. Bridger was already waiting at the bottom with his back towards me. The photographers set me up to tap his shoulder from behind and captured ALL the feels.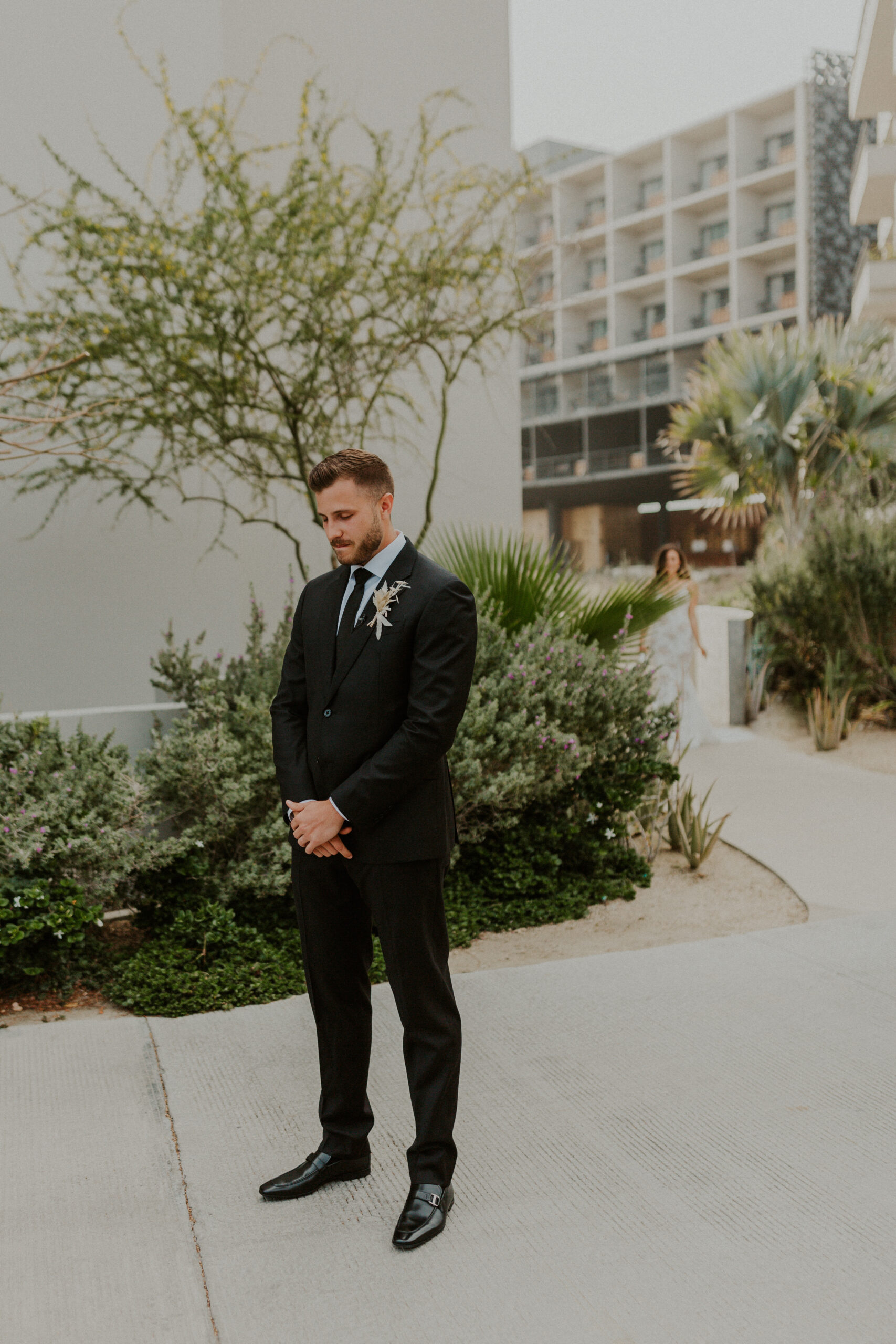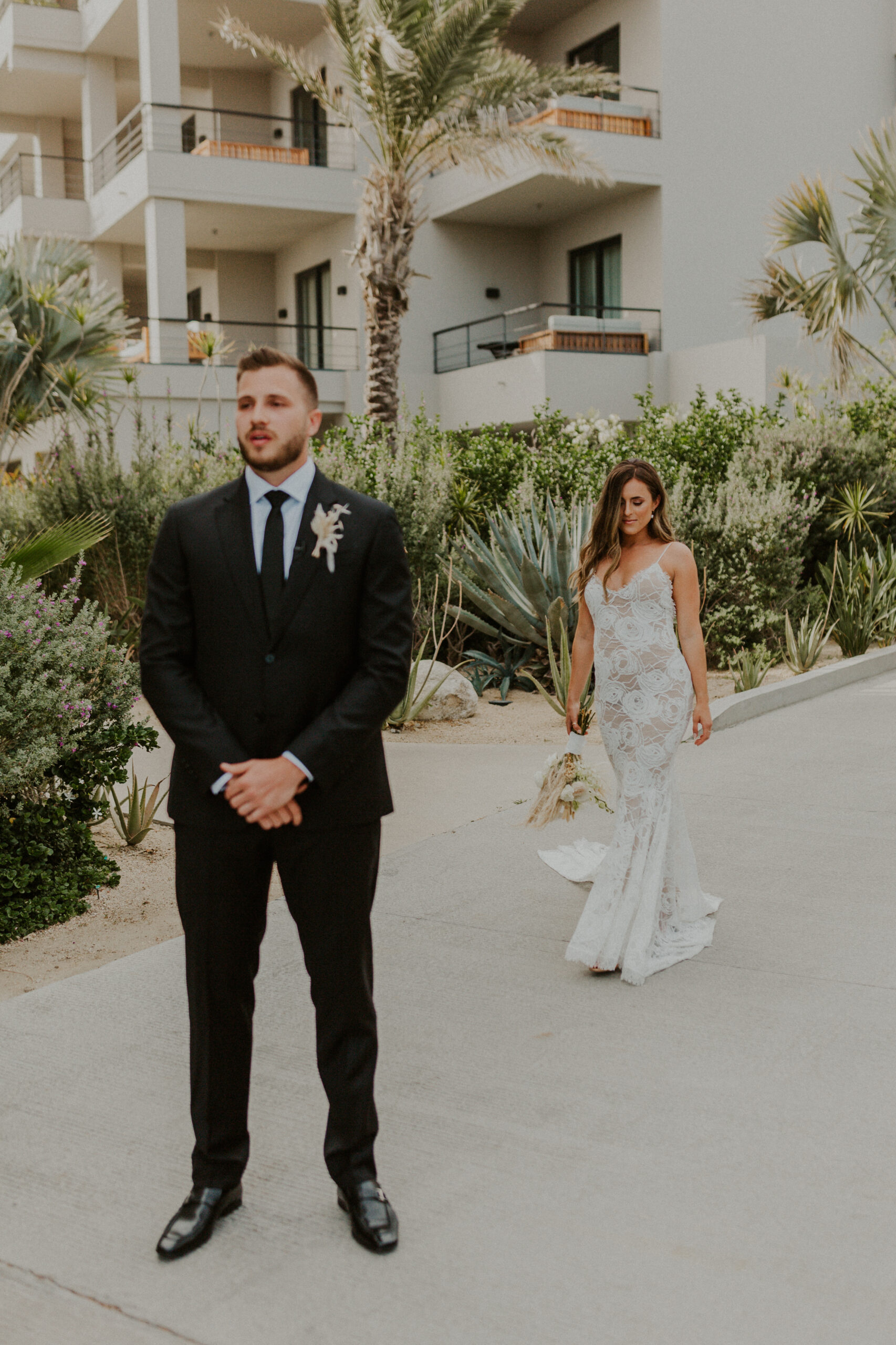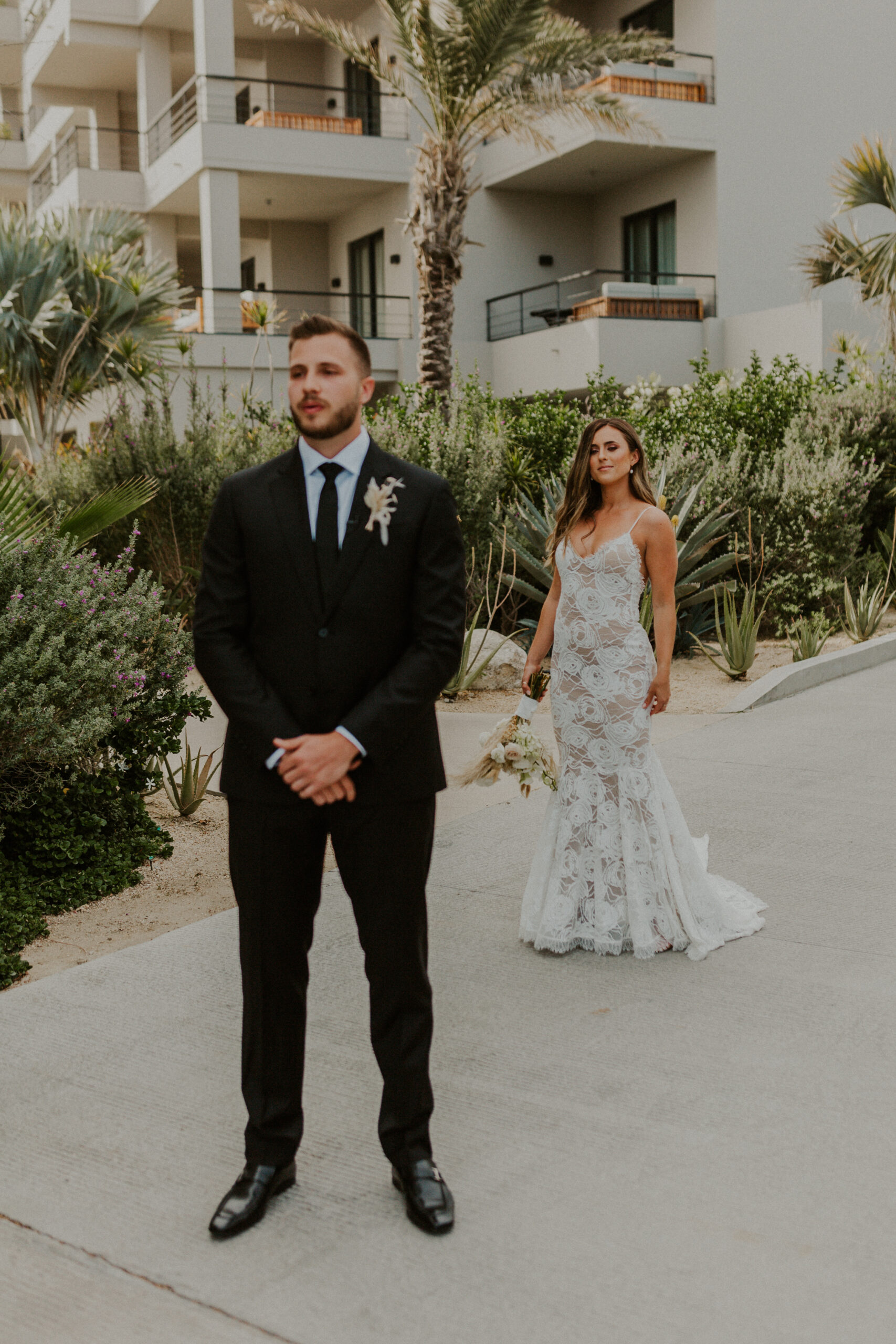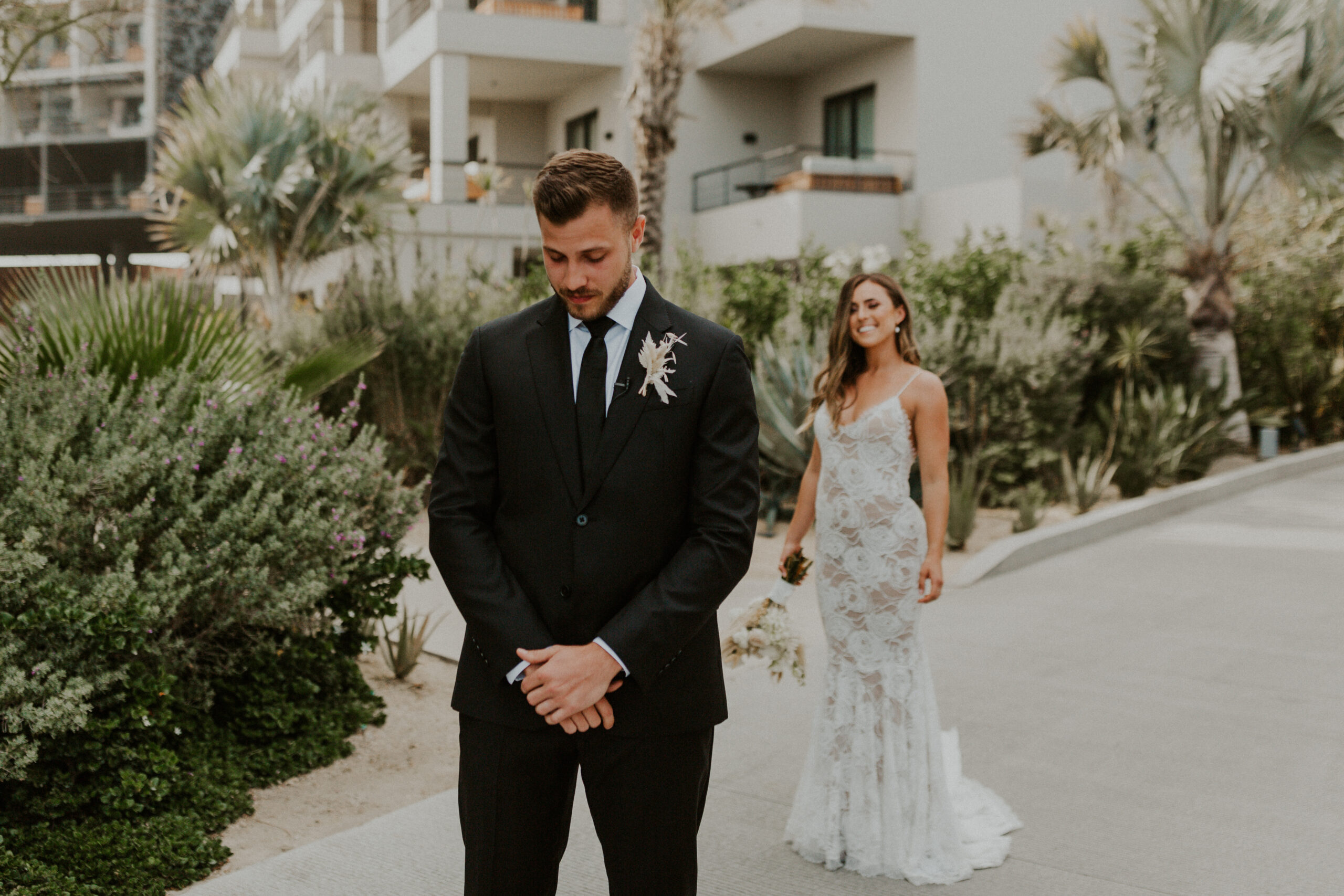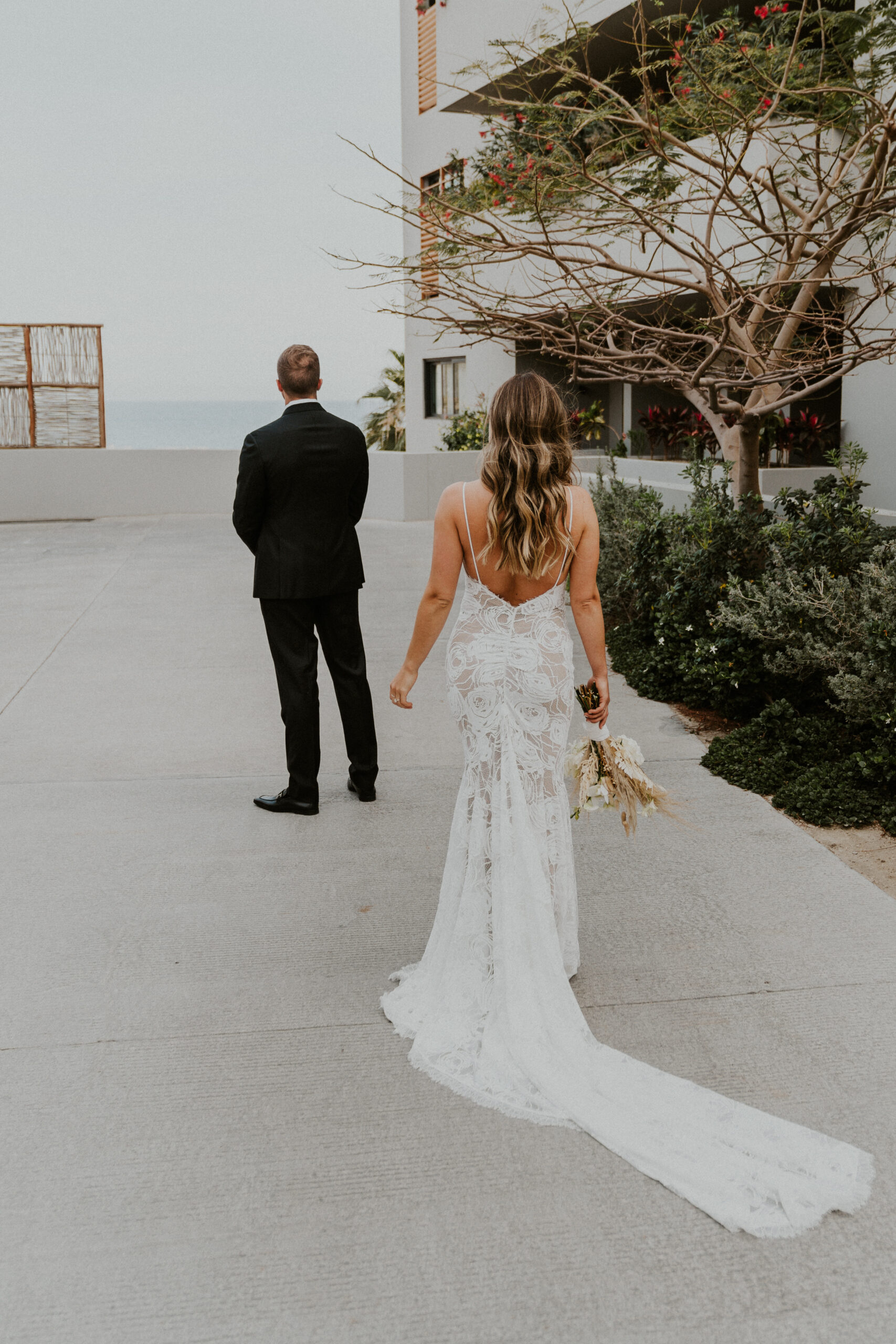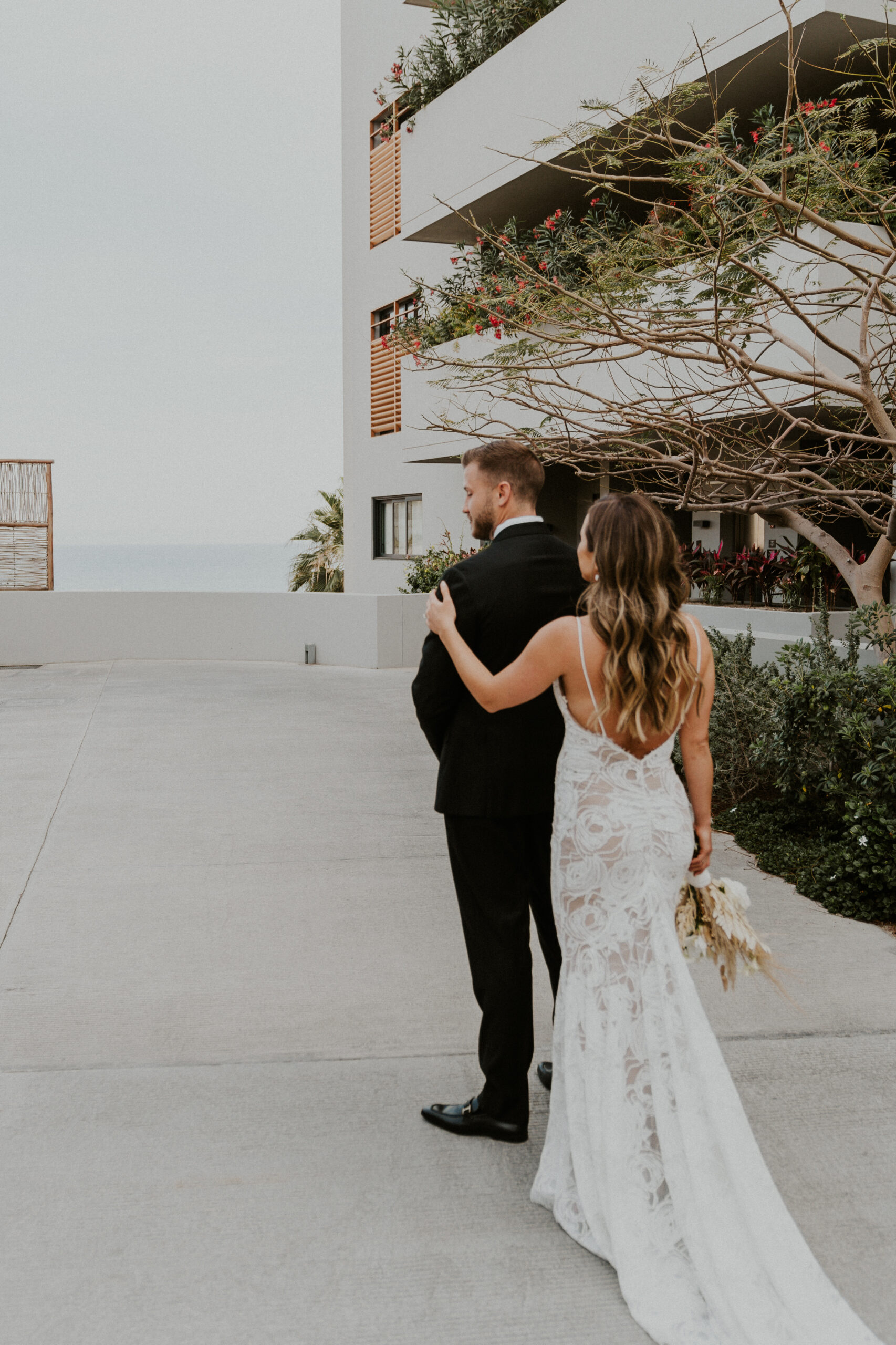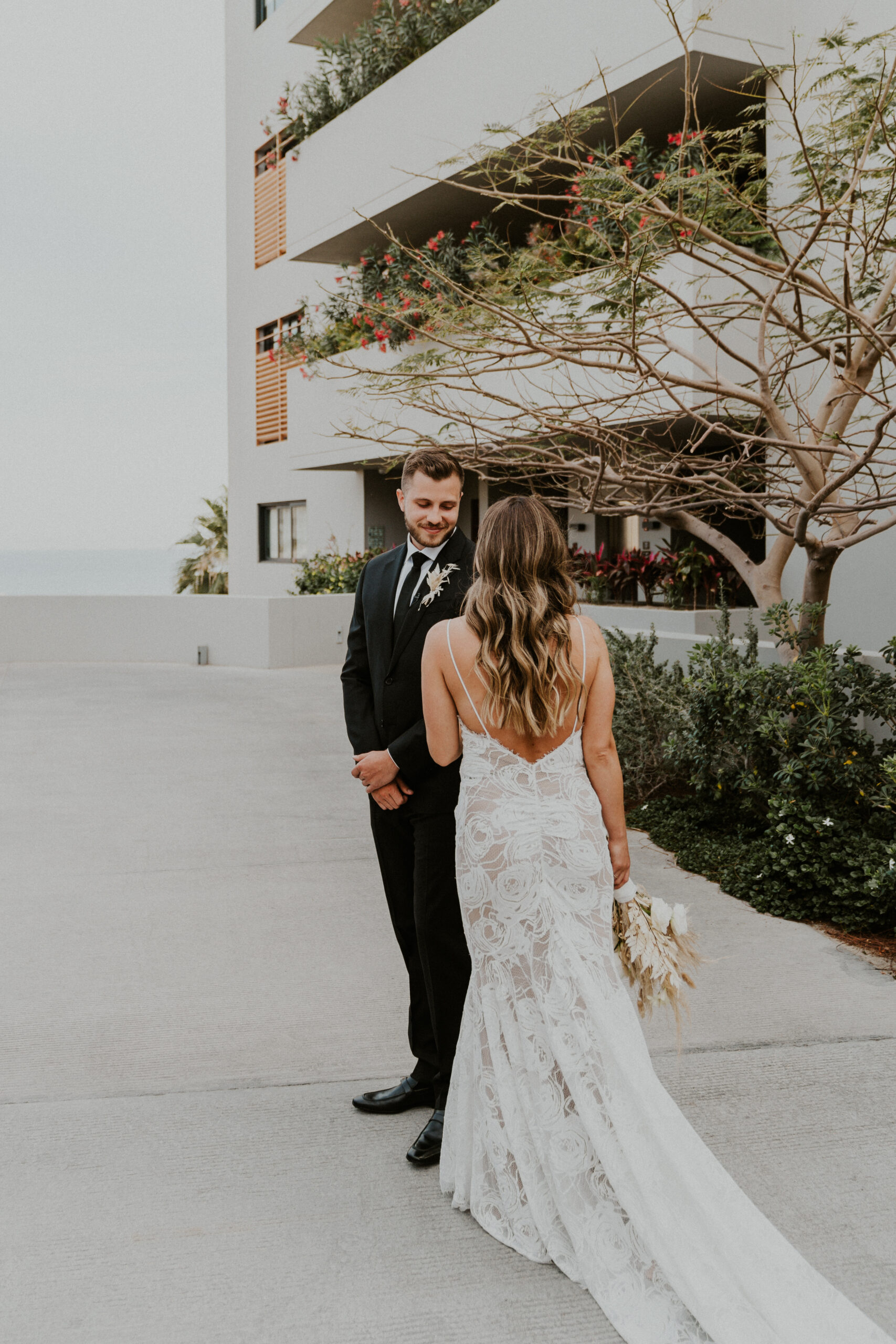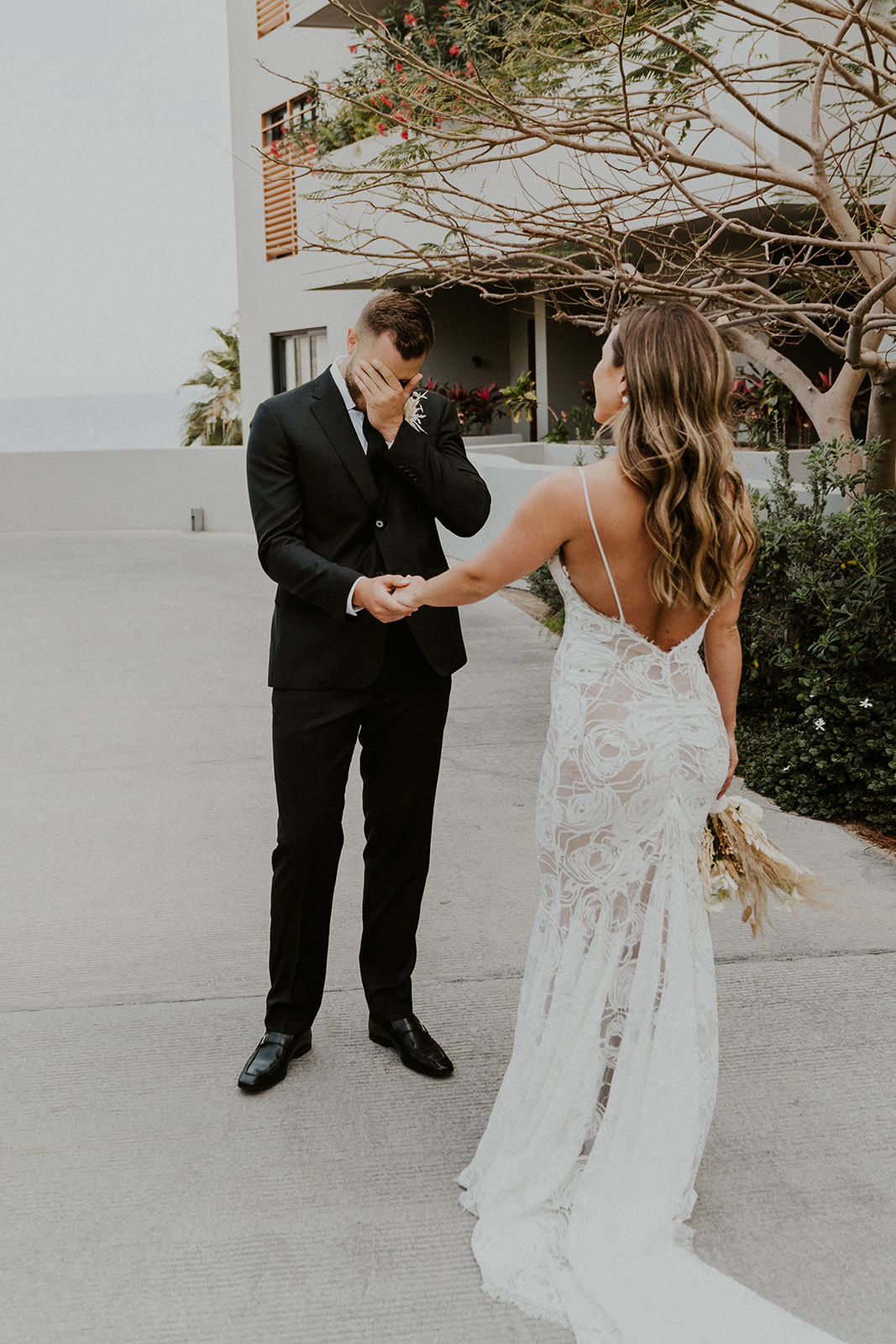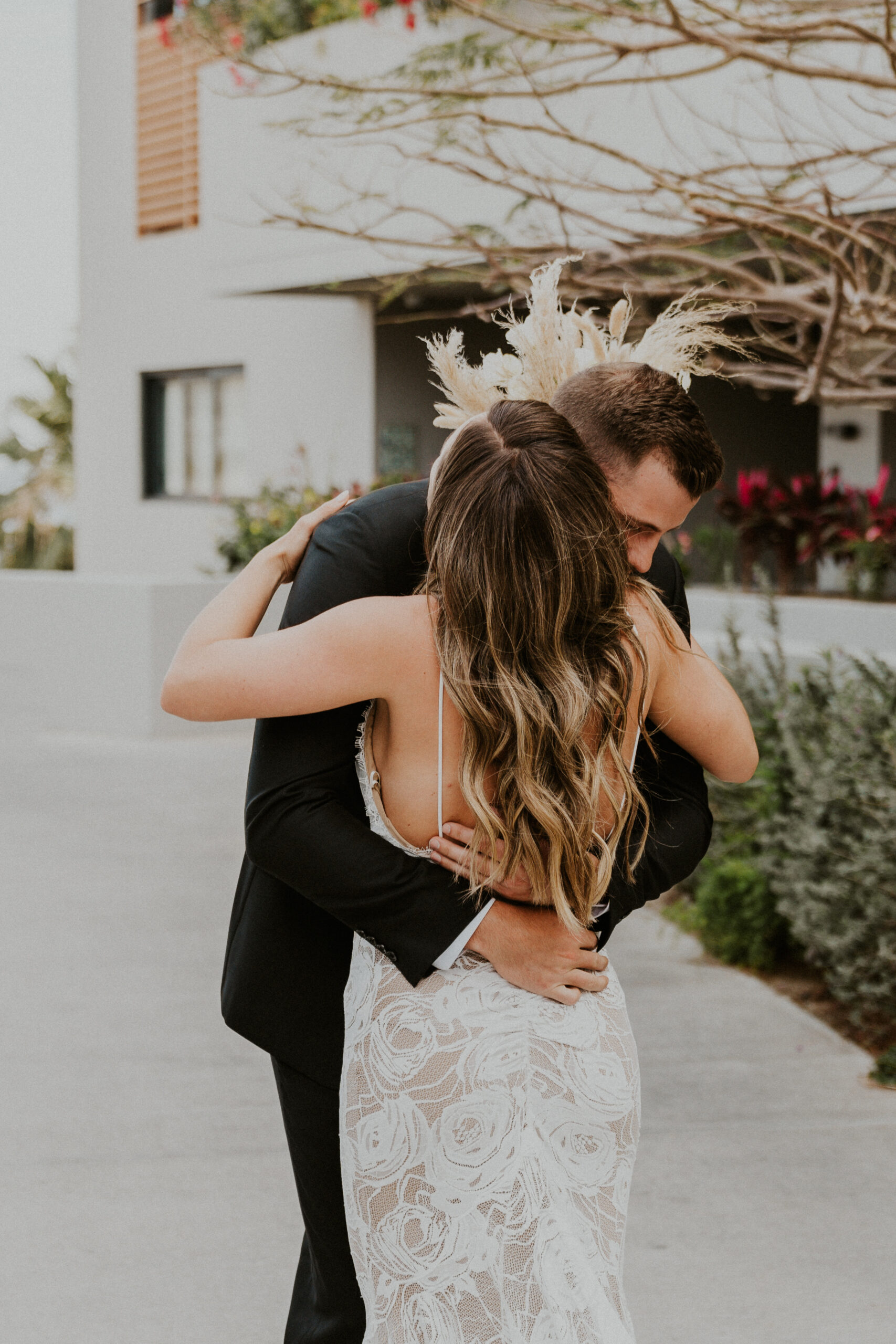 Ugh, my heart! I'll always remember this moment.
FAMILY + WEDDING PARTY
We took majority of the family photos right after this, which, in my opinion, is the way to do it because it adds more time you can spend on either portraits of the two of you right after the ceremony or a chance to spend time with your guests during cocktail hour. We did a little of both!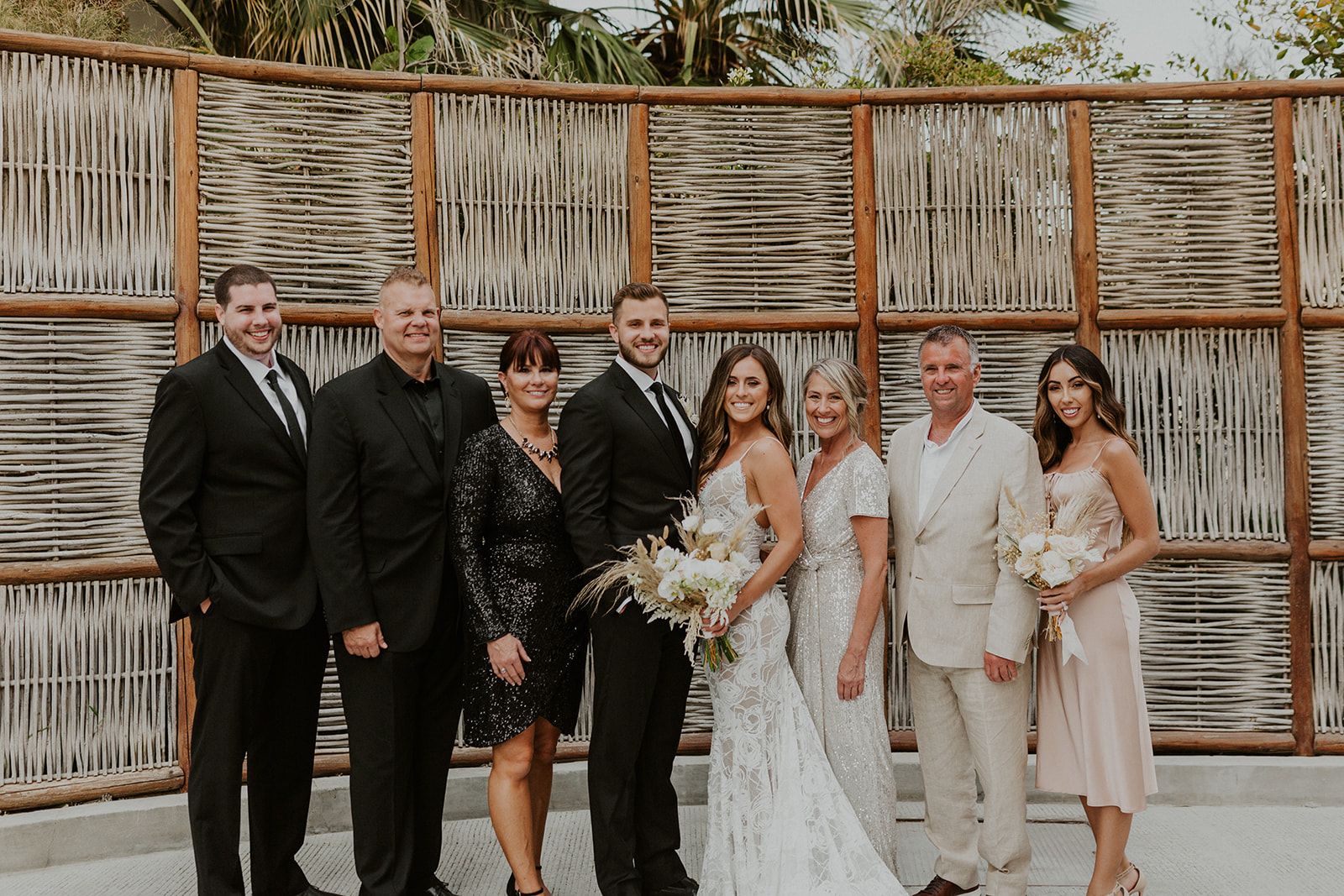 (Also, the monochrome outfit coordination wasn't planned)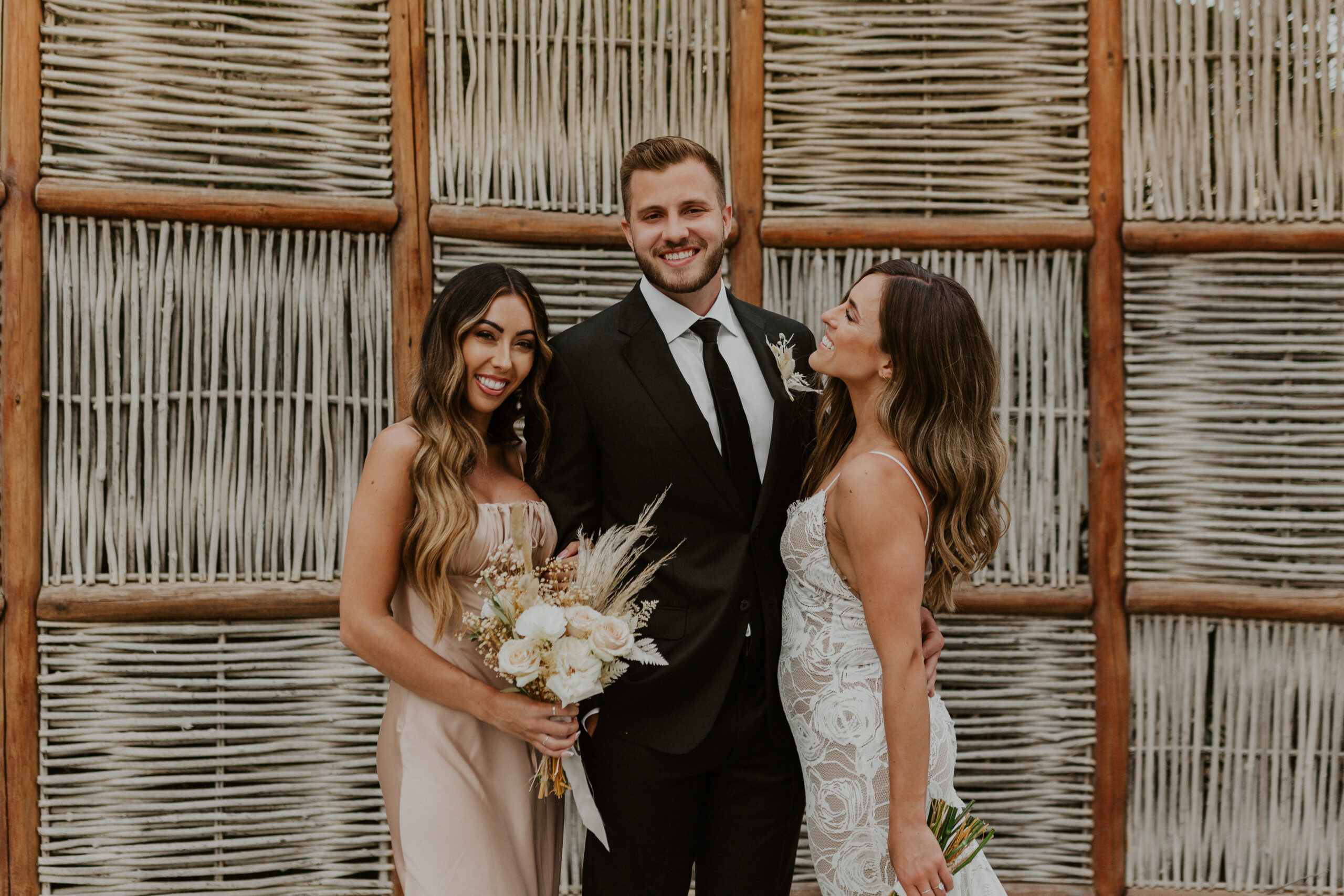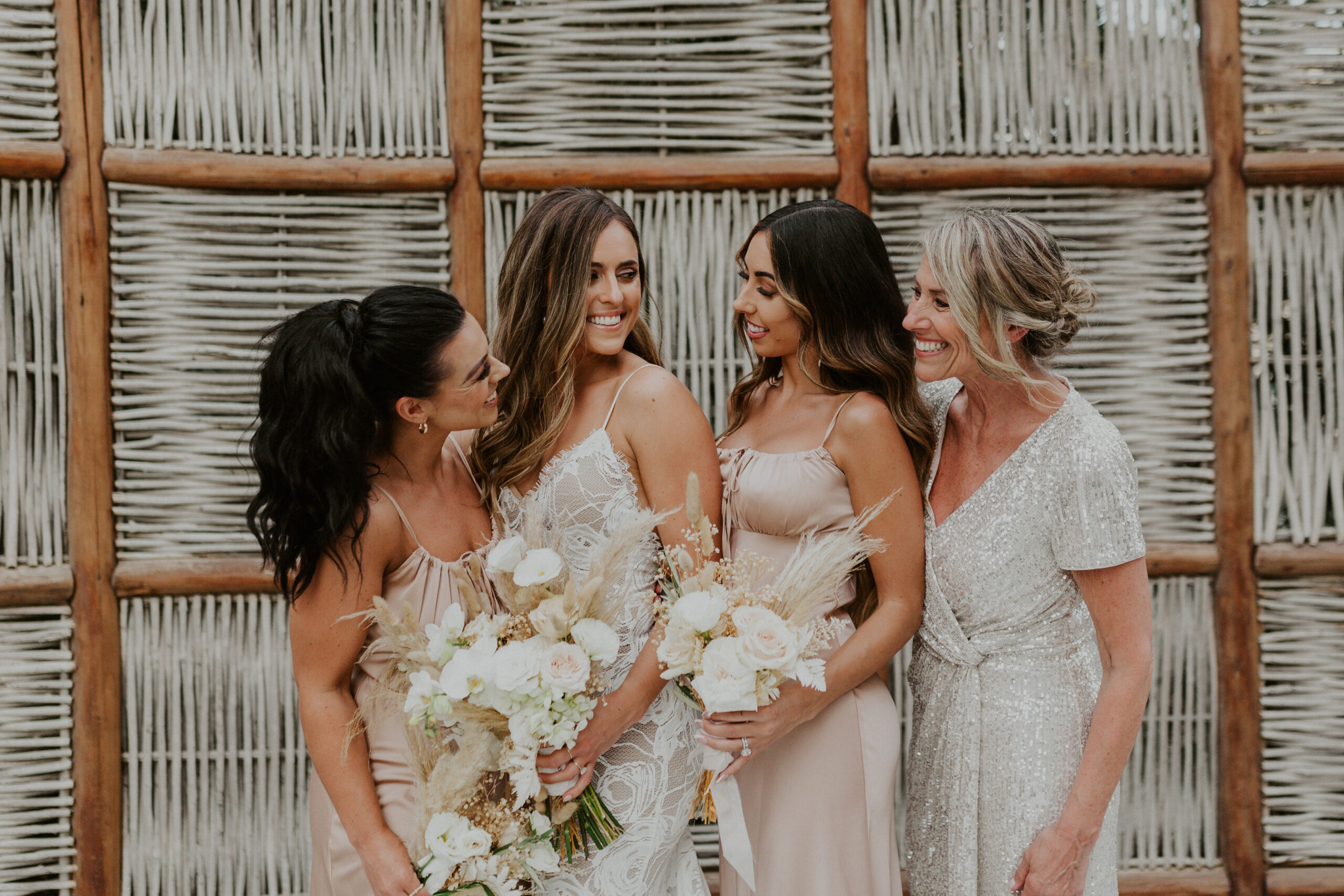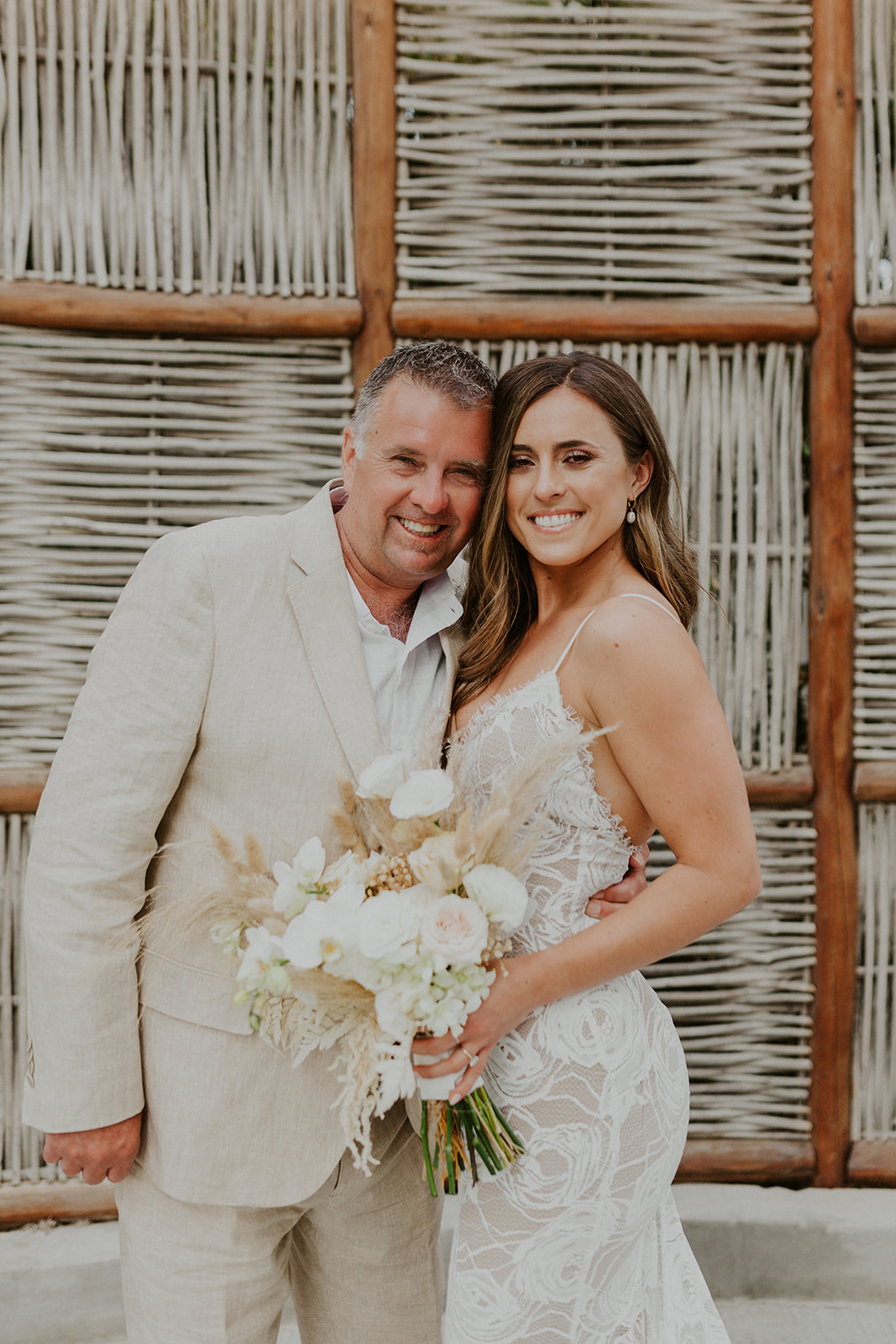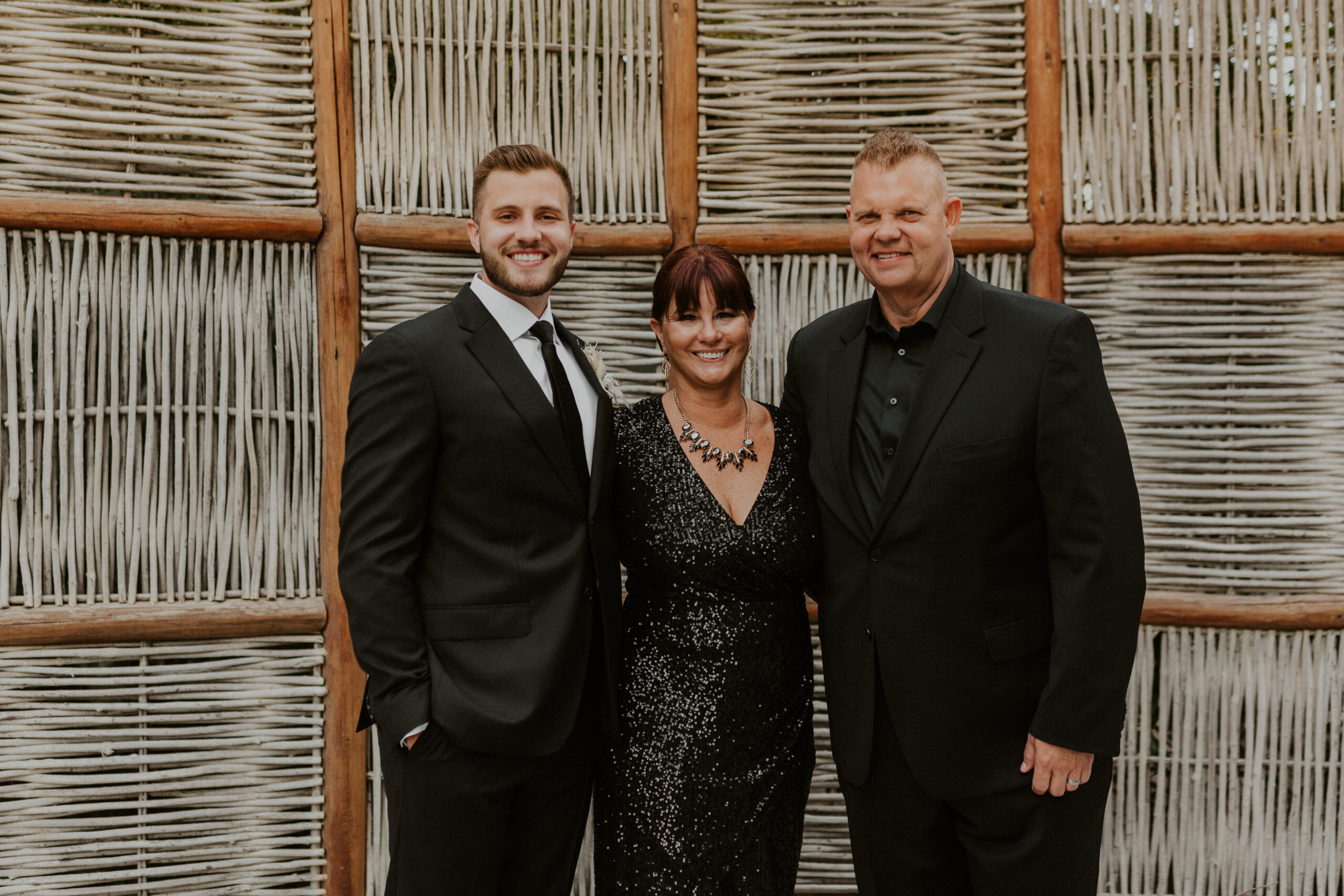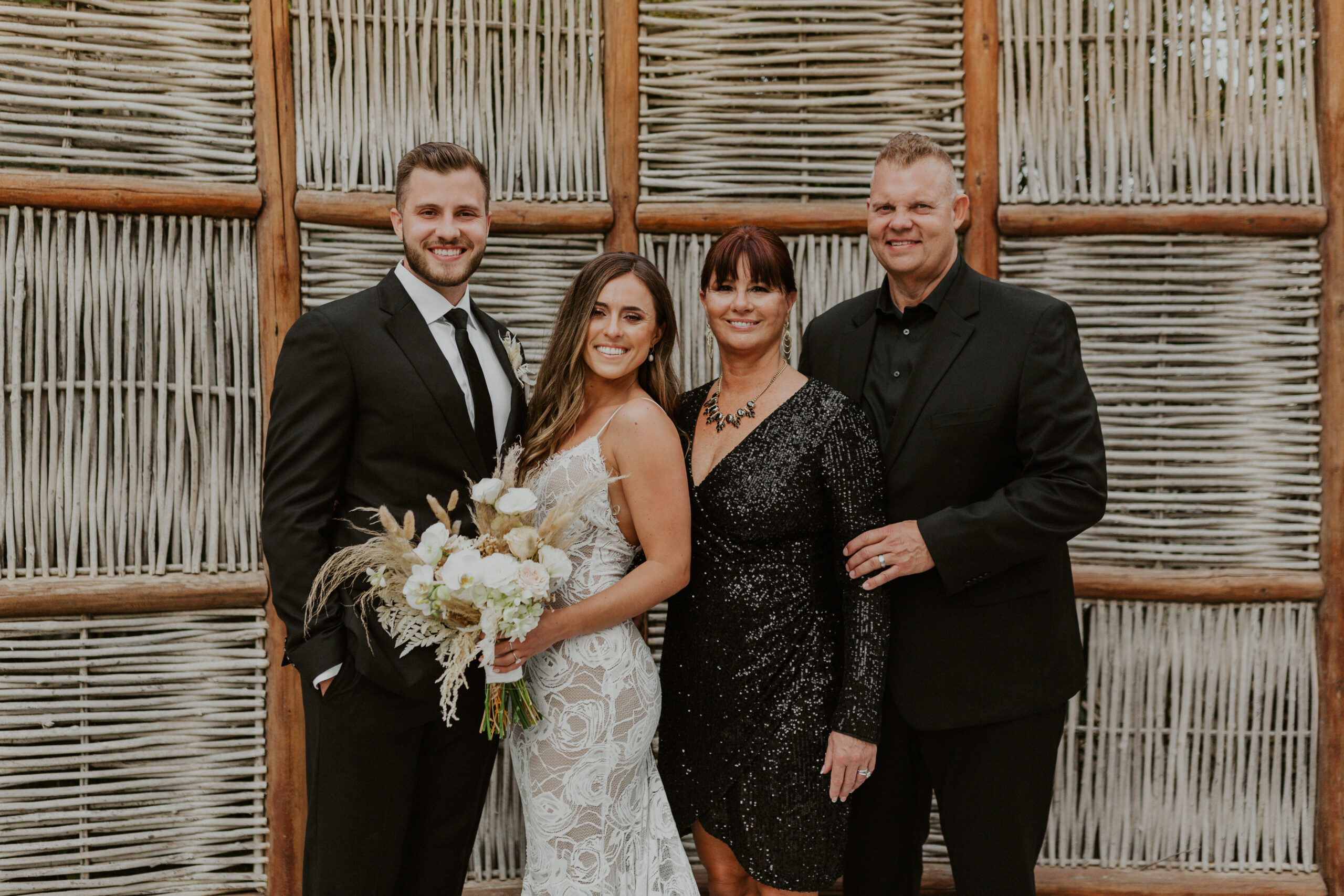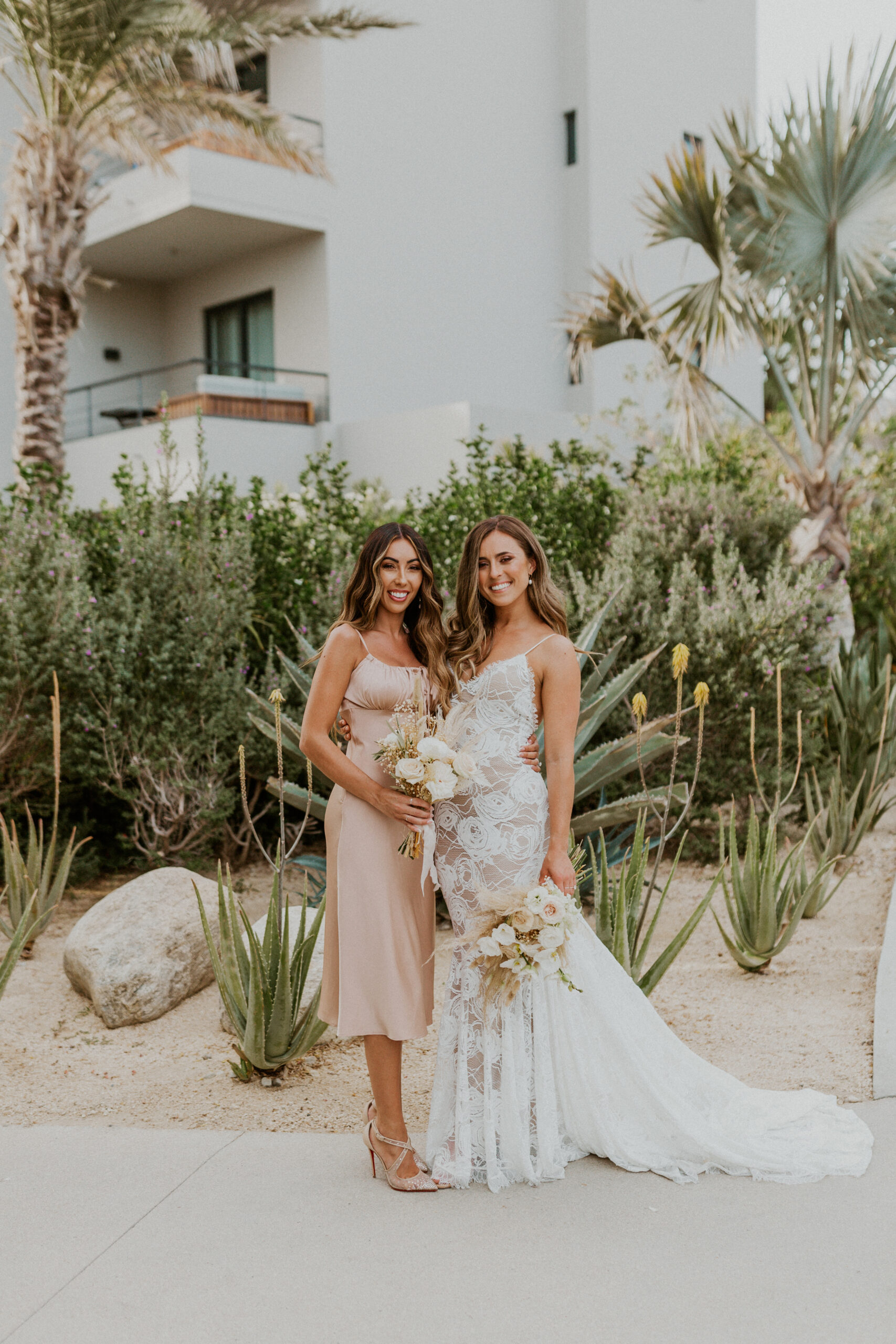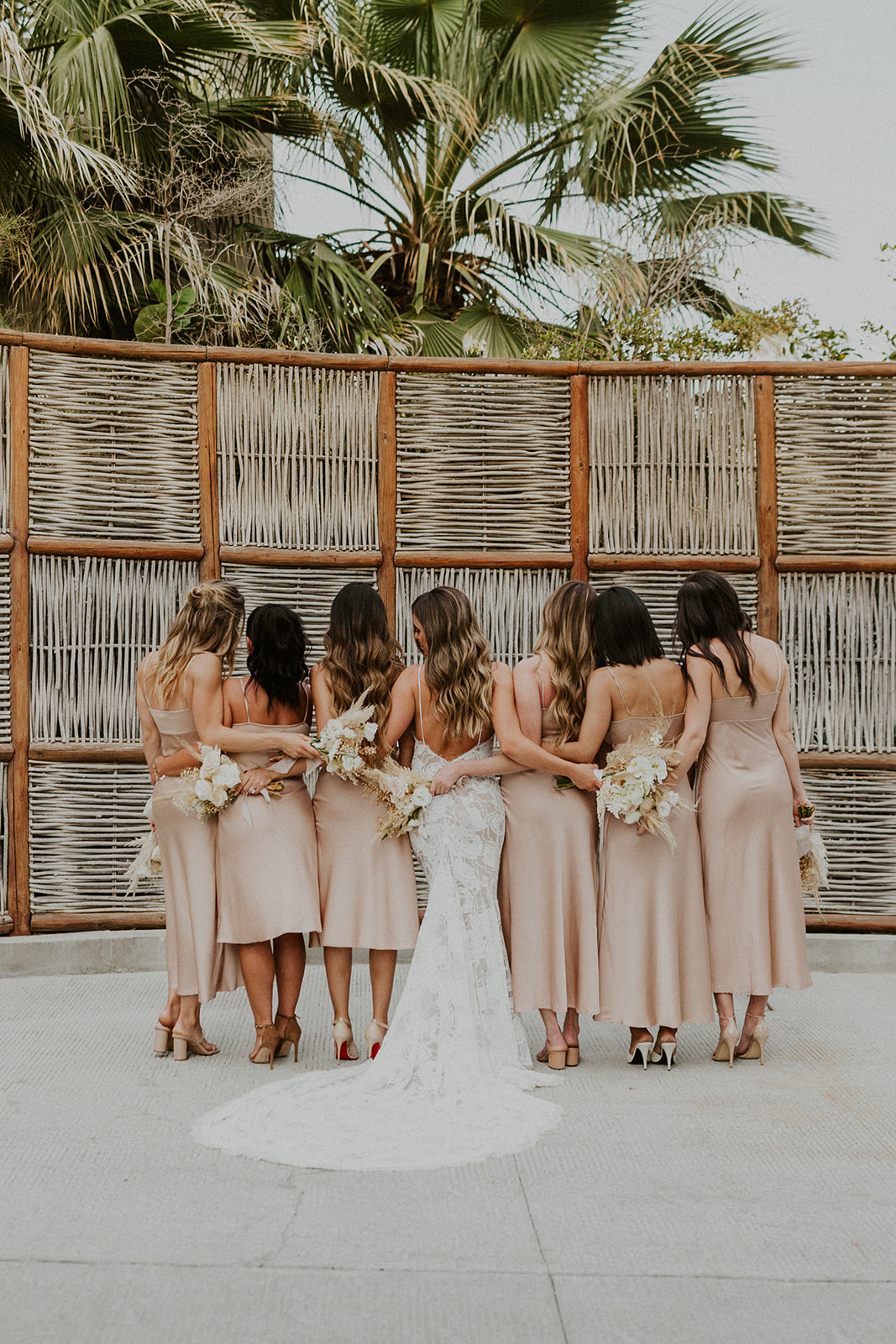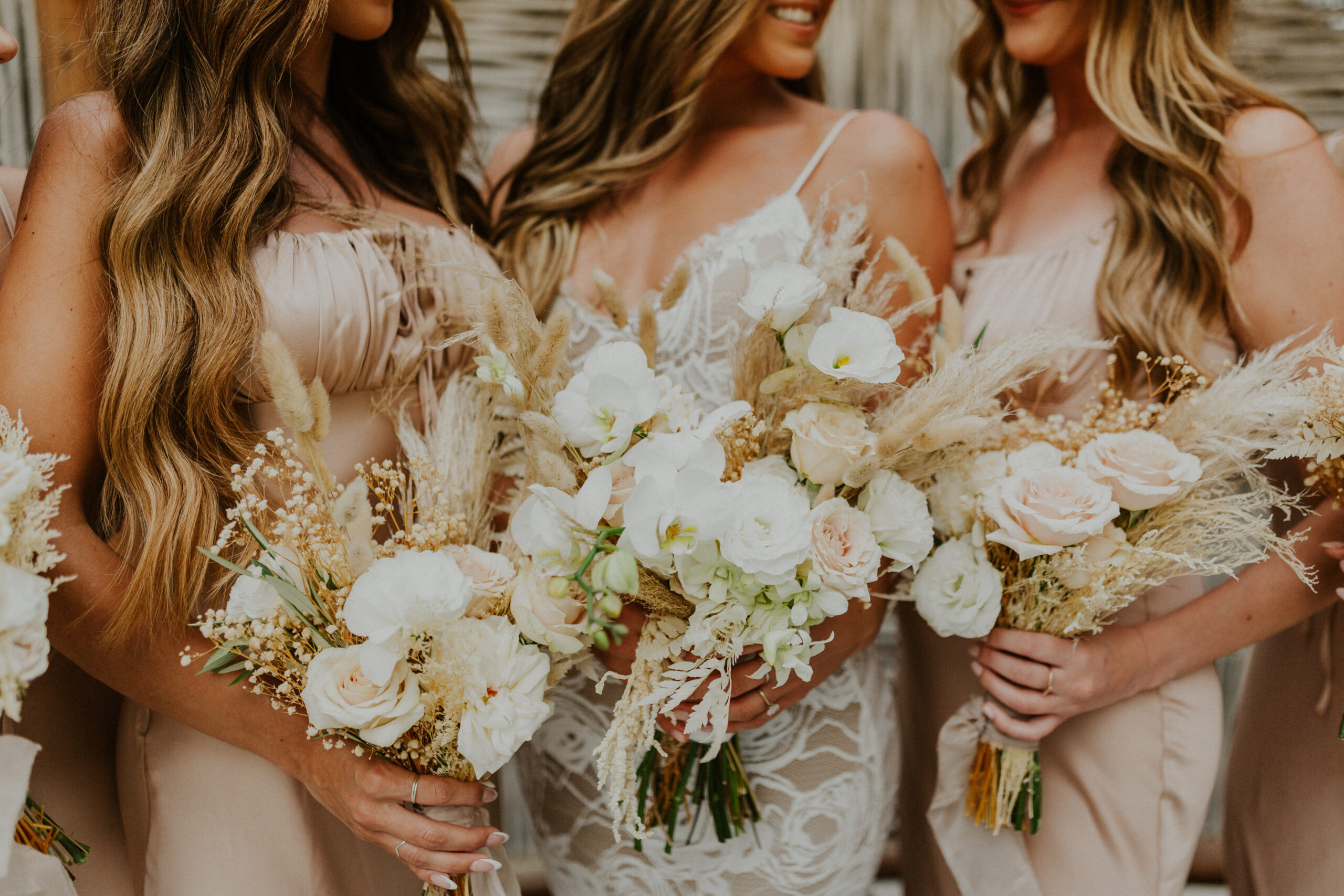 The bouquets turned out exactly what I was hoping for. Very neutral, a mixture of dried and fresh flowers, pampas grass to match the altar installment. They were perfect, and not too big or over-the-top.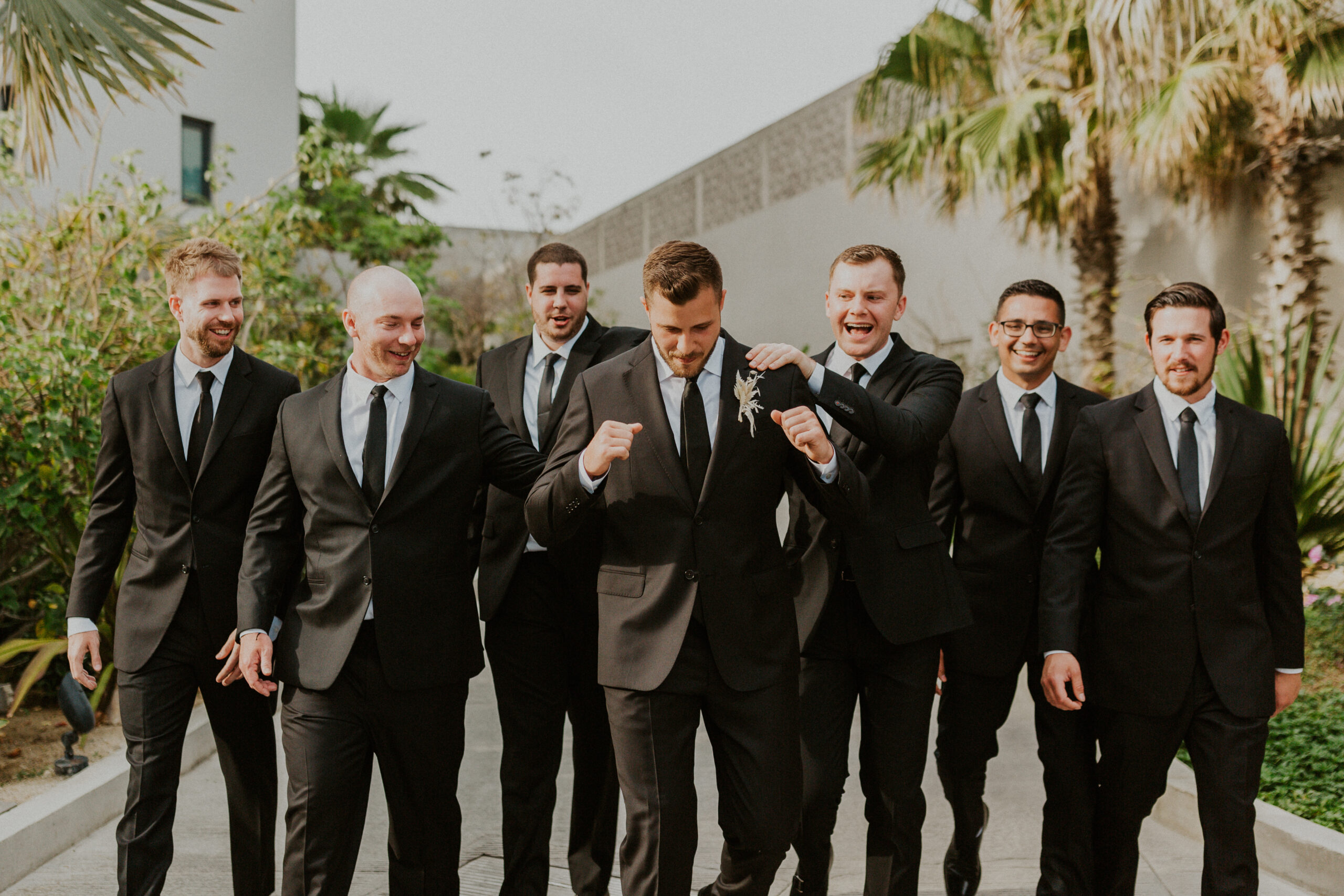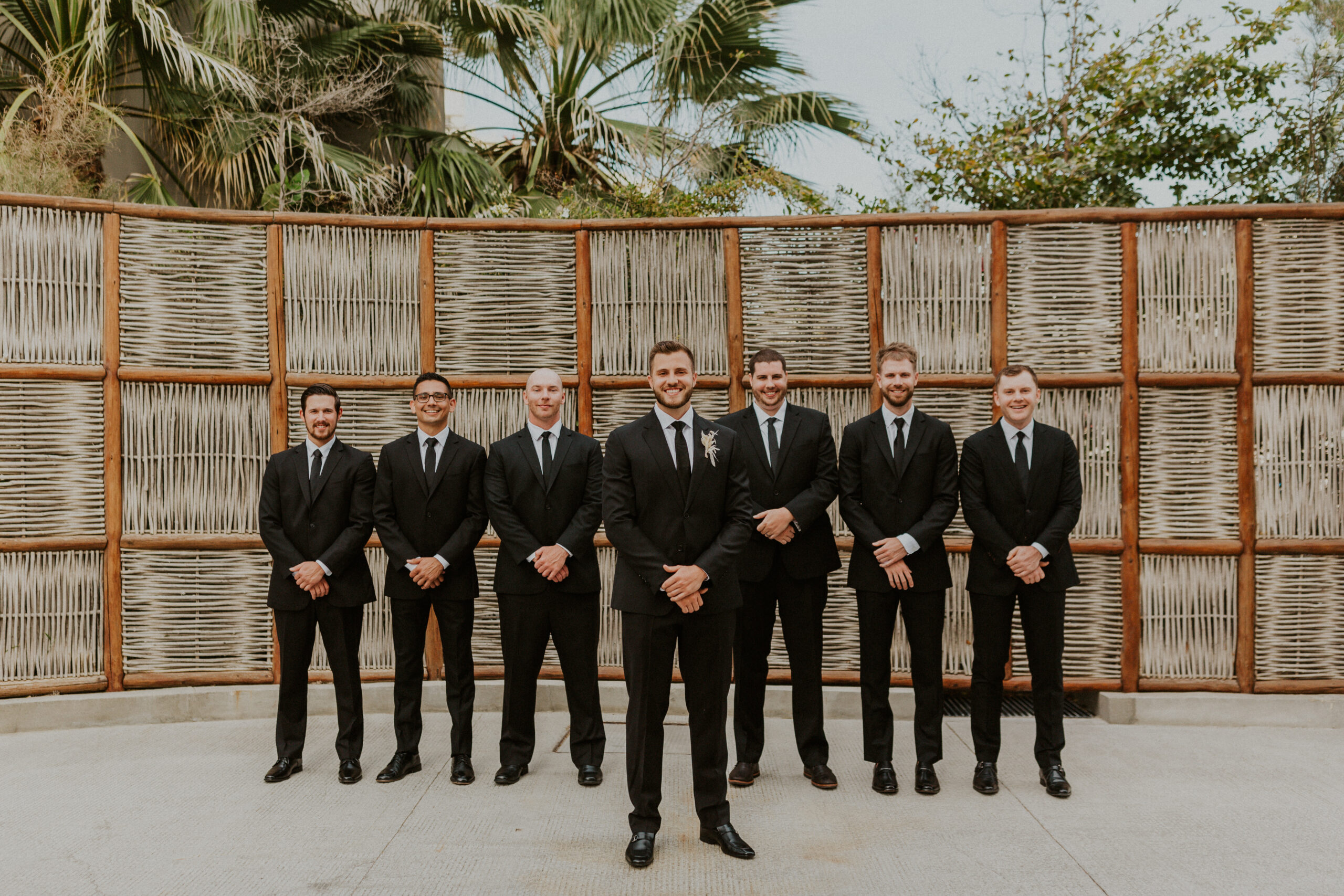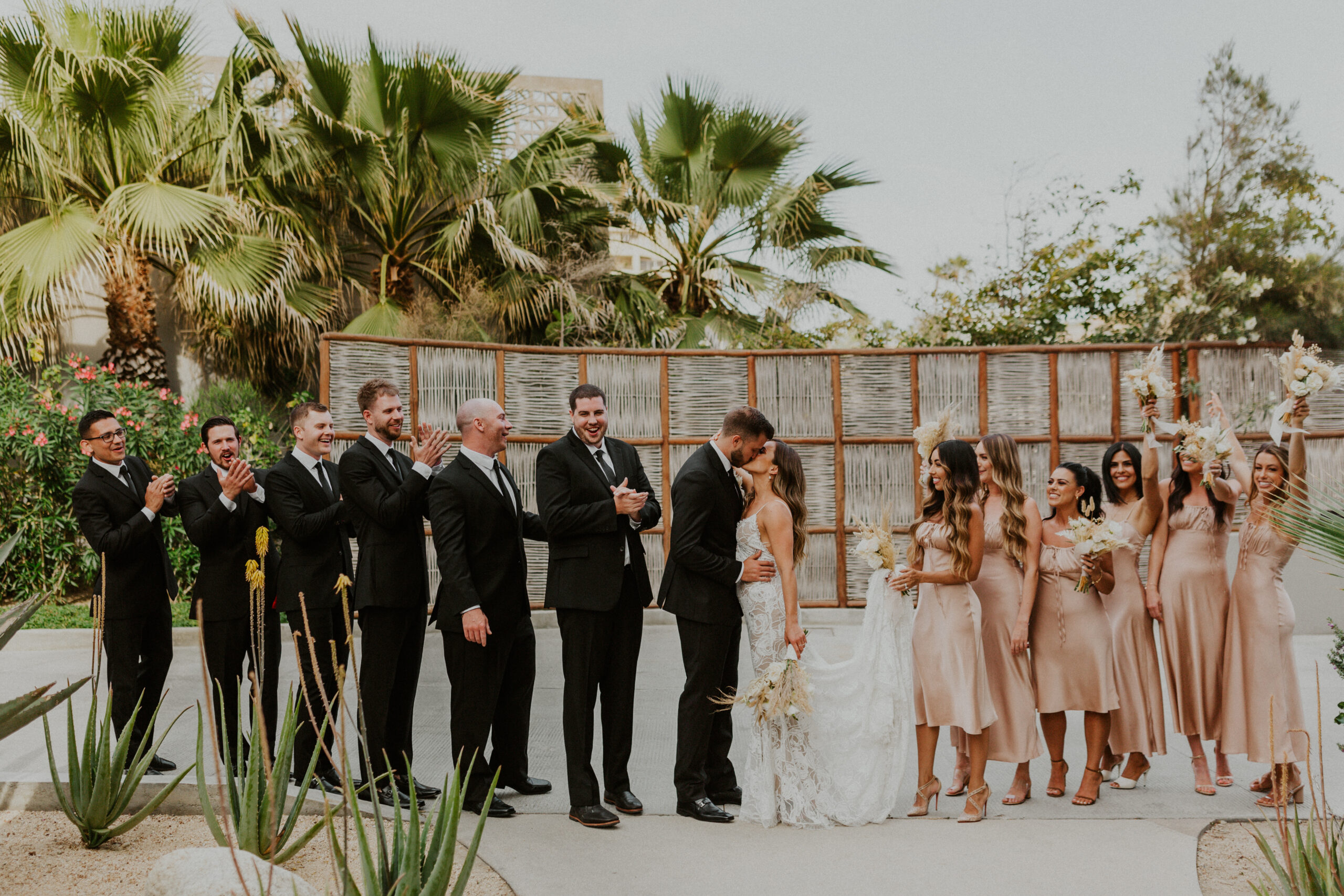 THE CEREMONY
So at this point, it was just around 6pm and we all (wedding party) lined up by the front entrance of the hotel, just outside the view from the rest of our guests sitting at the ceremony. The music started– we had Gilberto, the same guitarist from our Rehearsal Dinner the night before play acoustic– and the ceremony began! It was actually perfect weather. The morning started out with all blue sky in the mid-70s, then it started to get hazy around the time we had our first look, and stayed that way through the ceremony. I'm sure the guys were happy it wasn't full sun because of the black suits lol, but great temp!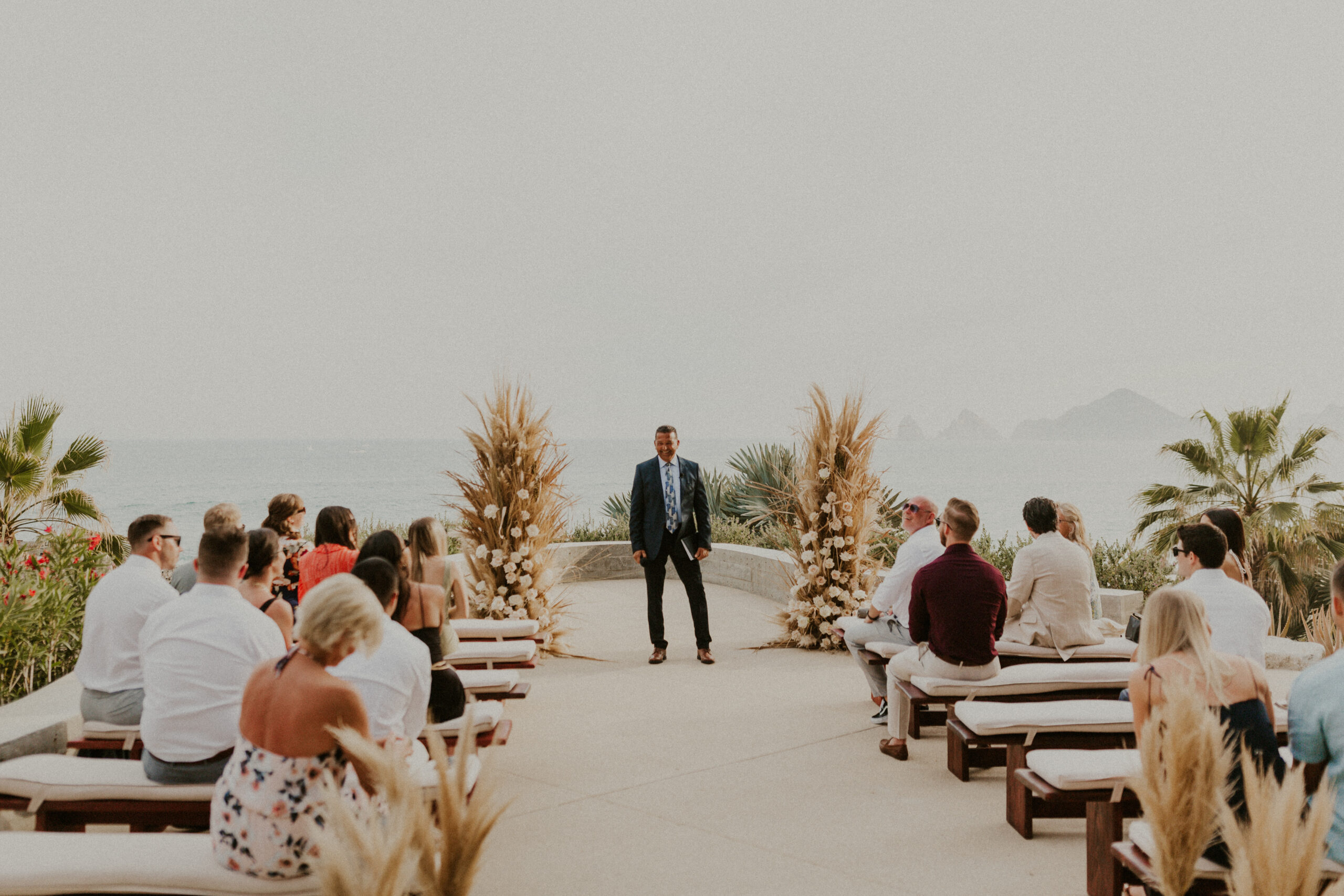 Our officiant was a long time family friend and I truly believe we couldn't have chosen someone better! So grateful for all the advice he gave us during his speech.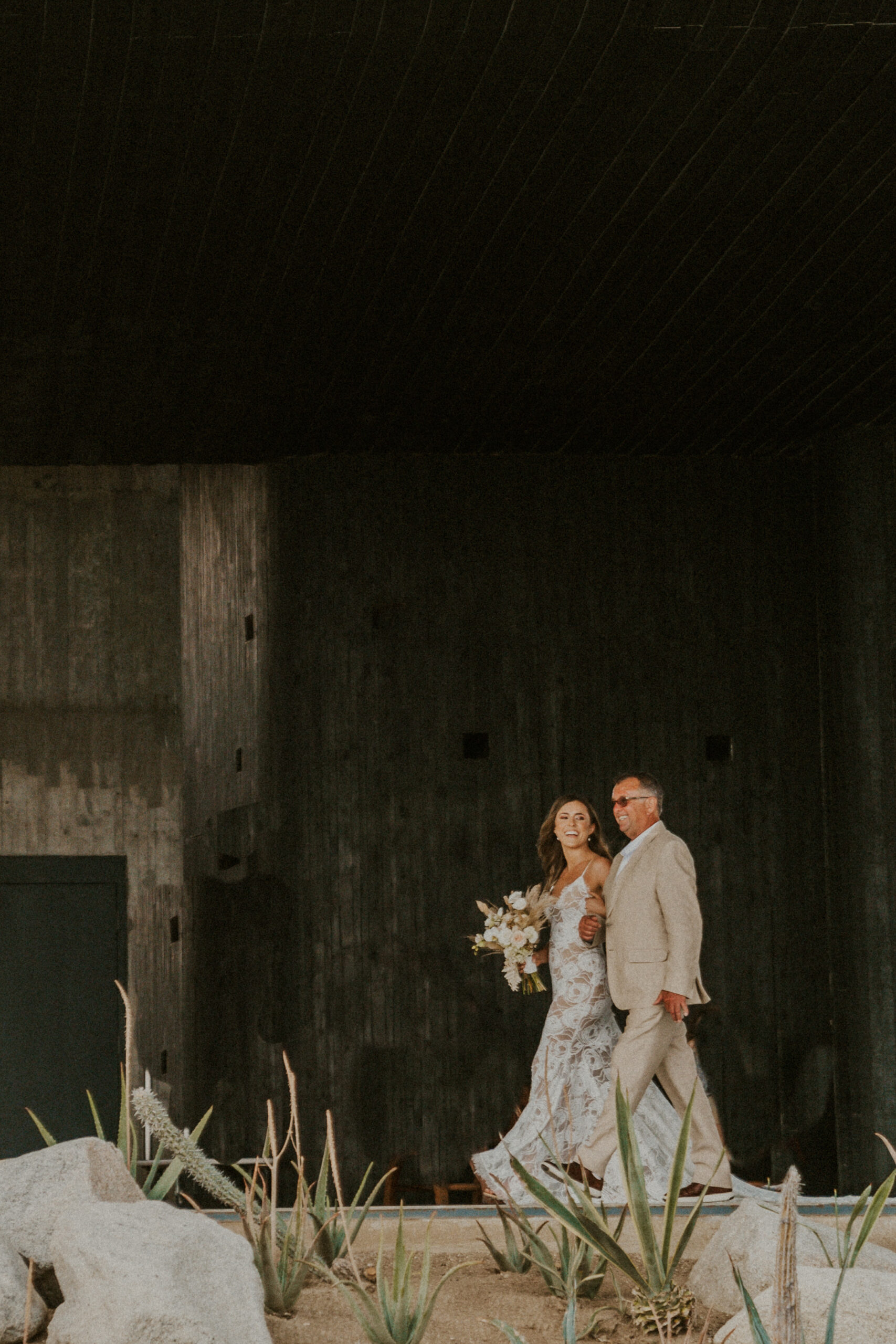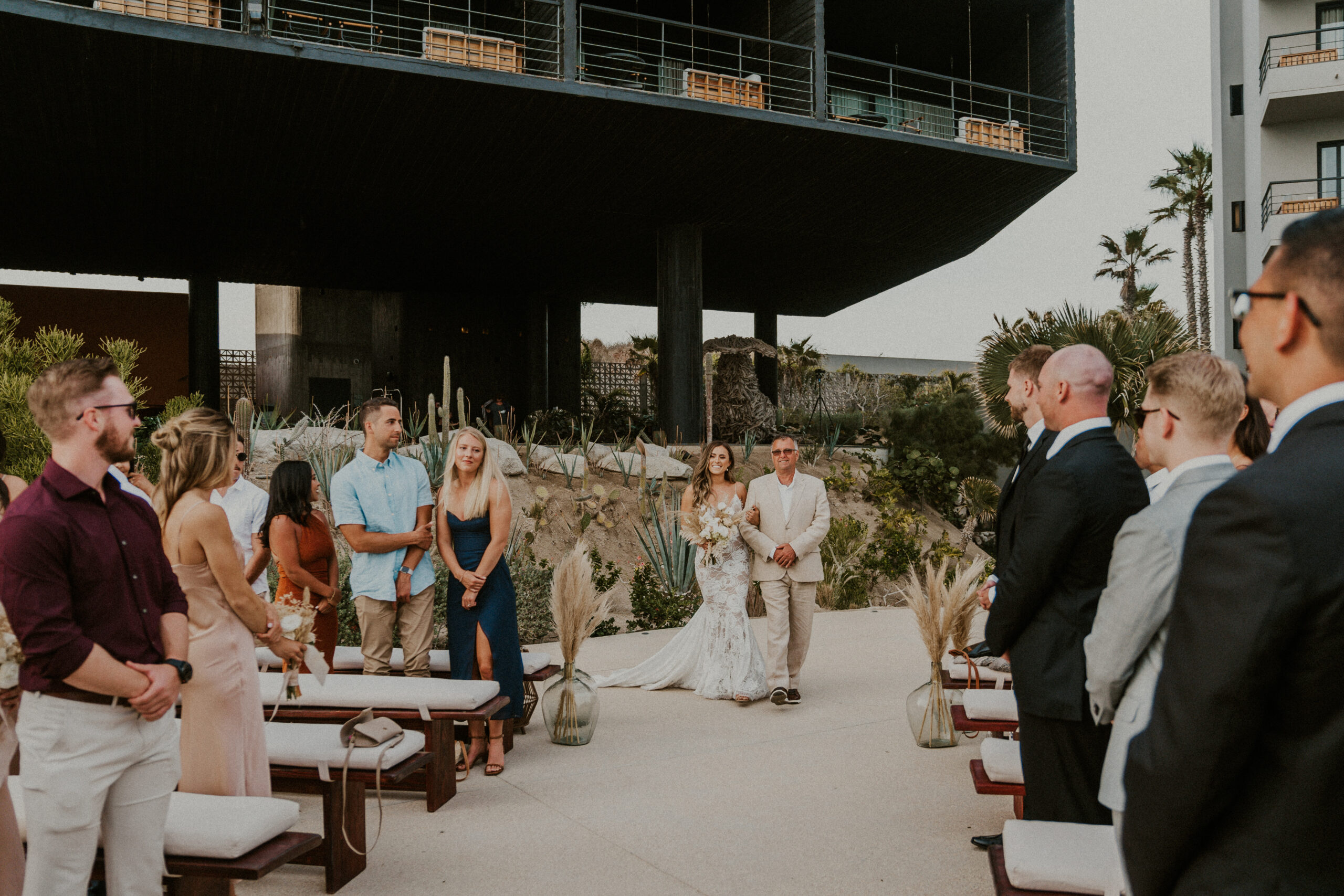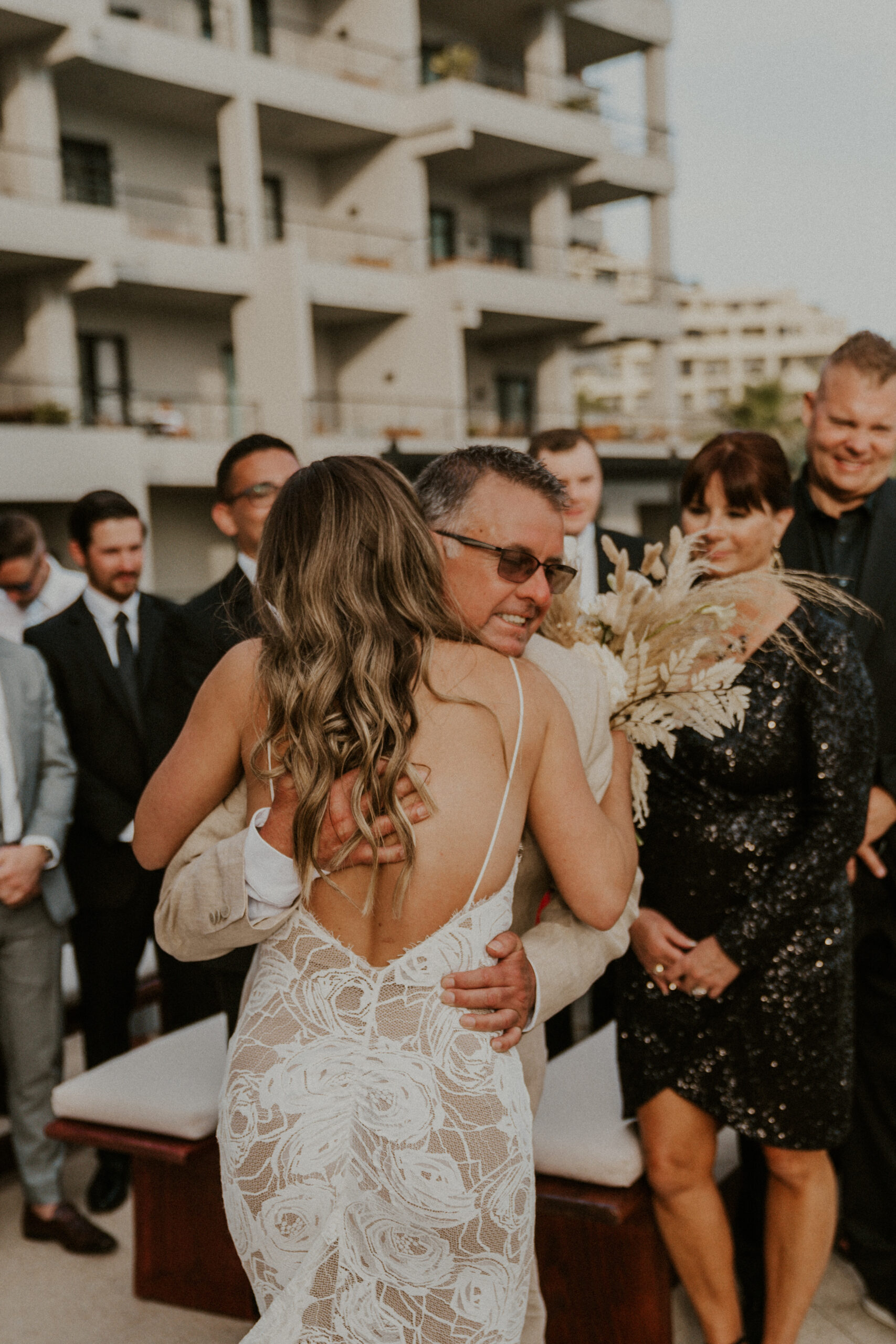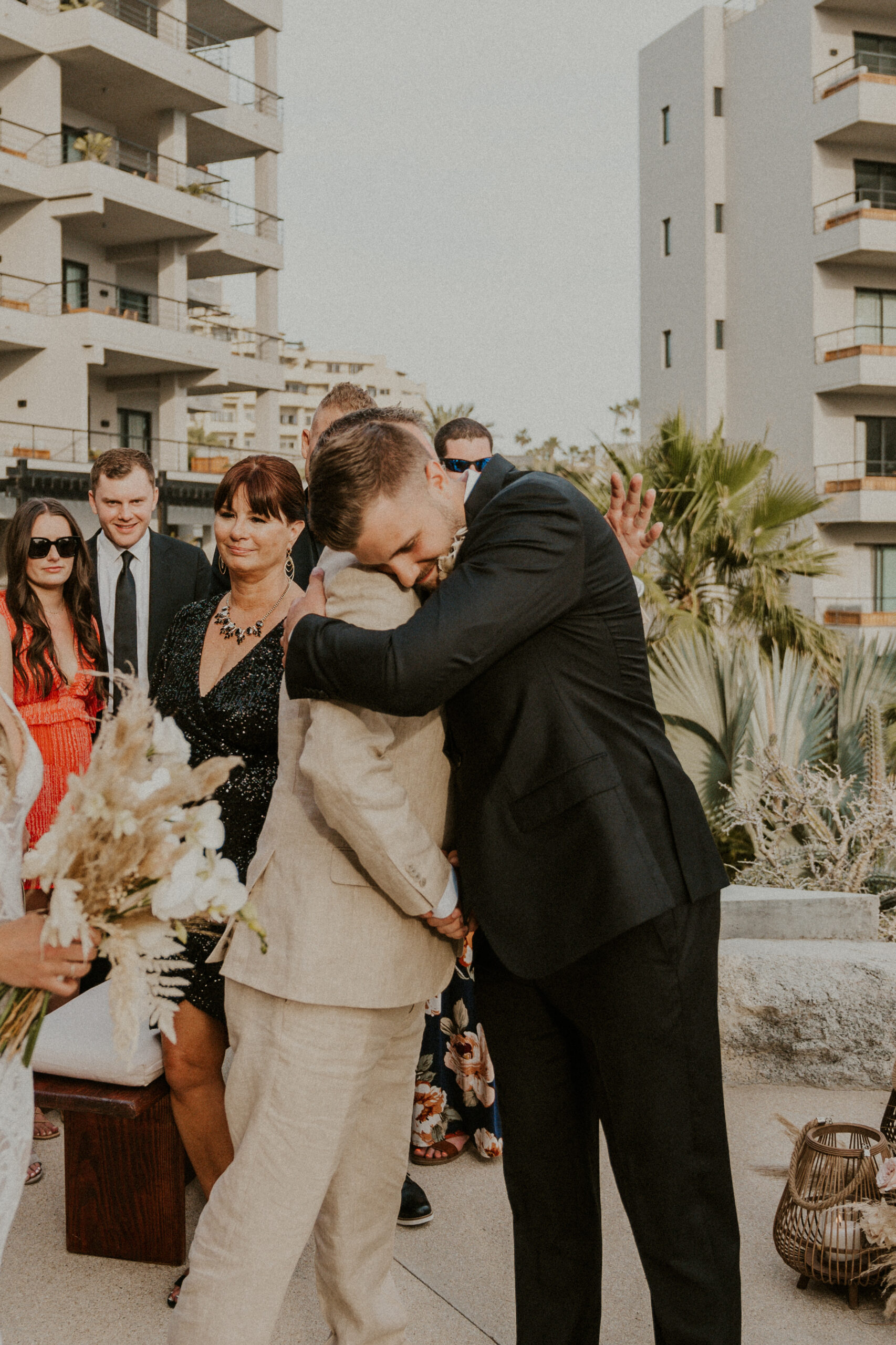 Bridge and I both talked about this weeks after the wedding, but the whole ceremony felt like an out of body experience. We both made sure to be as present as possible during the vows. It felt long in the moment, but now that we can look back it all happened so quickly, so I'd say tune everything else out as much as possible and listen to each word the other is saying so you can remember that moment forever!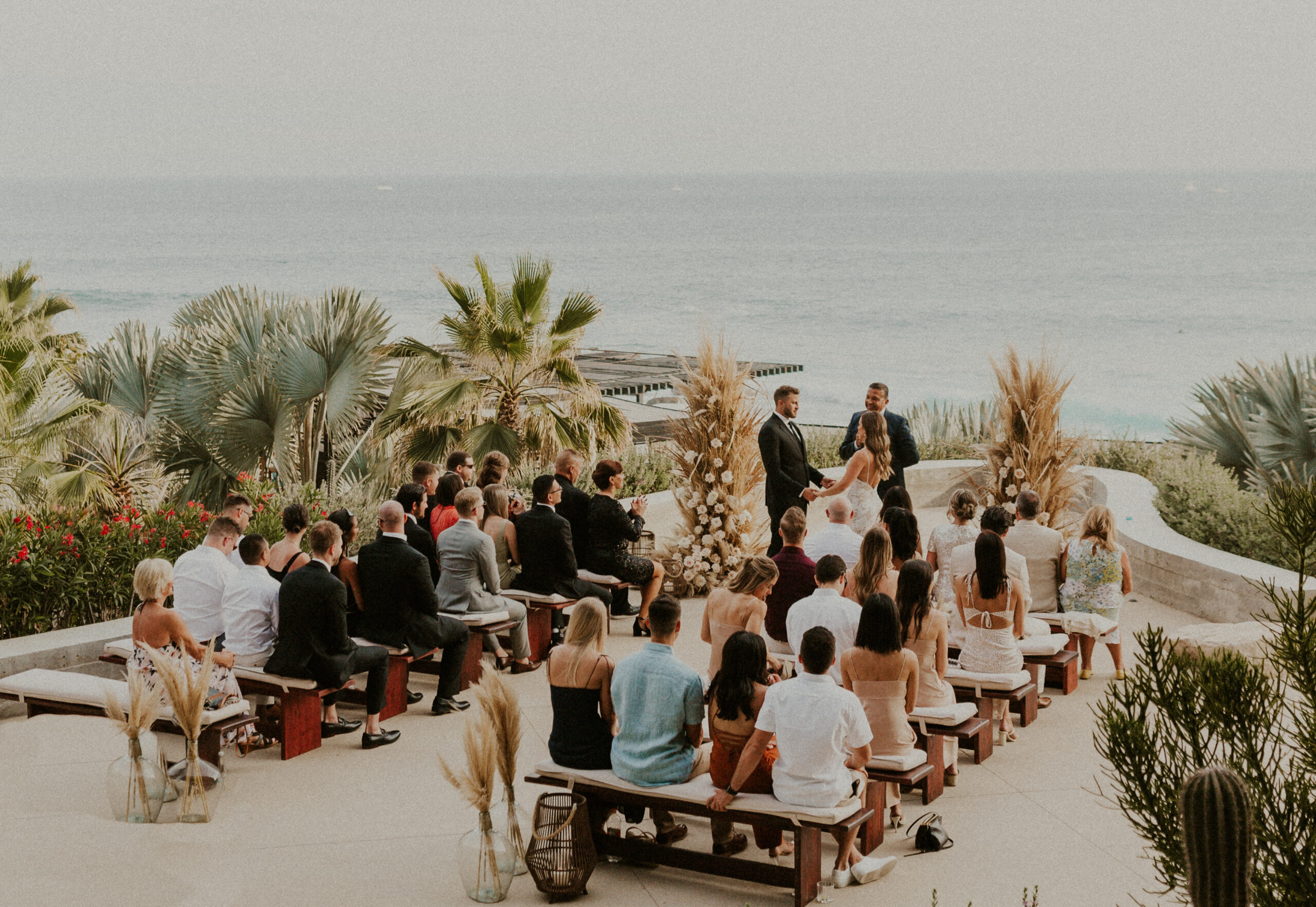 Also, looking back at these photos, I'm so so happy we decided on a super small & intimate guest list. It made the moment that much sweeter to celebrate!! We also decided against having our wedding party stand at the altar with us. 1) because it would have been half our guests haha and 2) since this was technically our one-year anniversary, we wanted it to just be us two up there.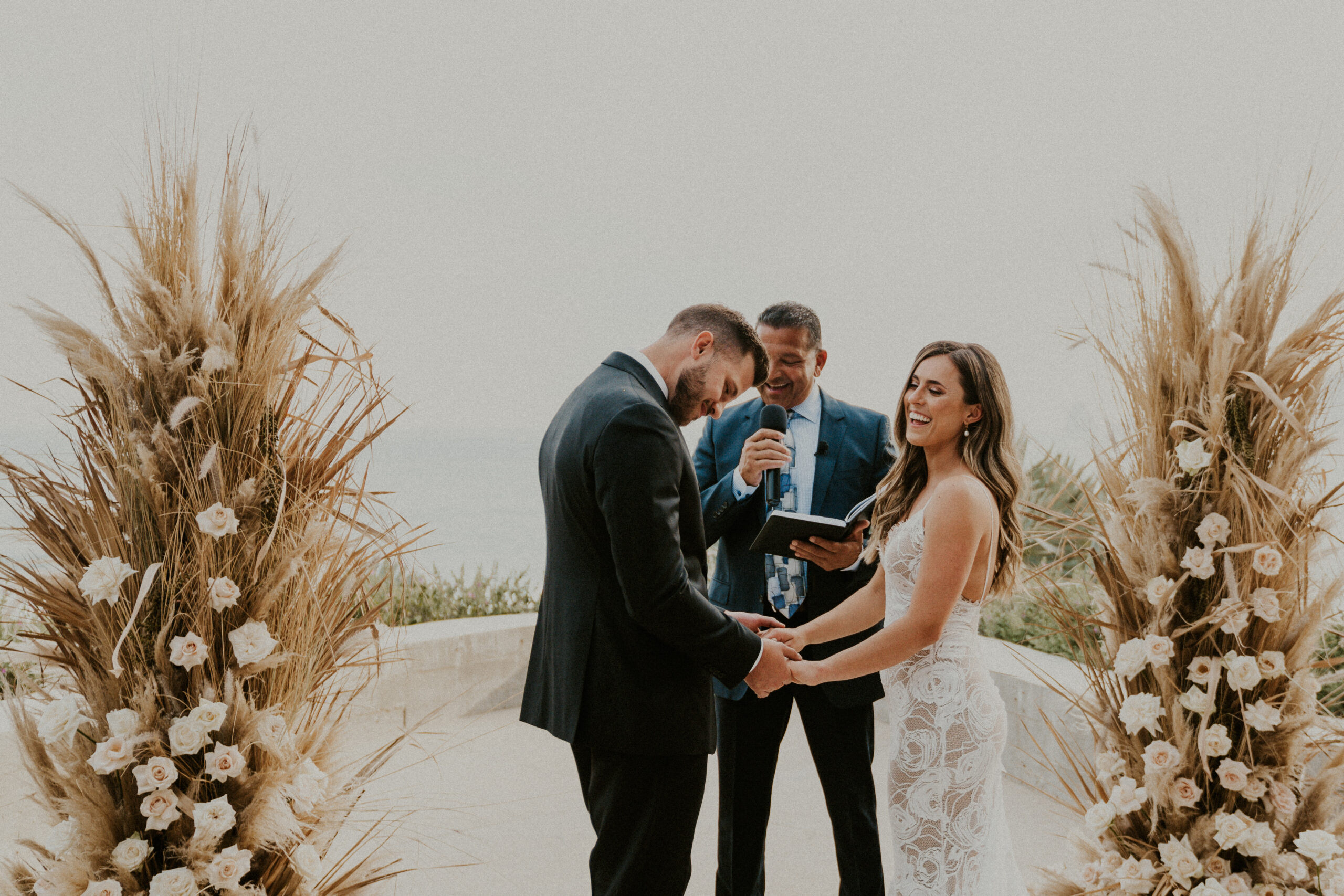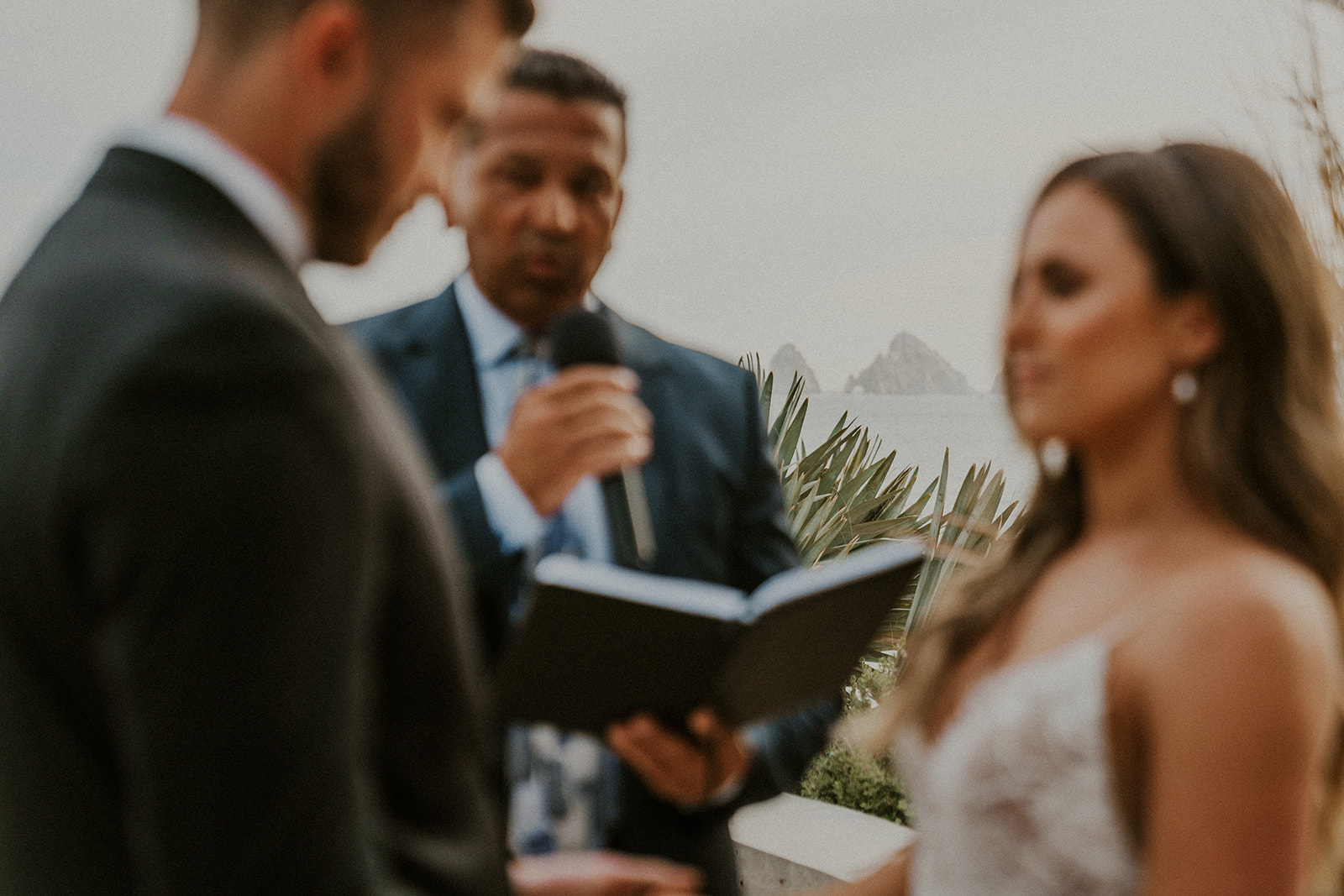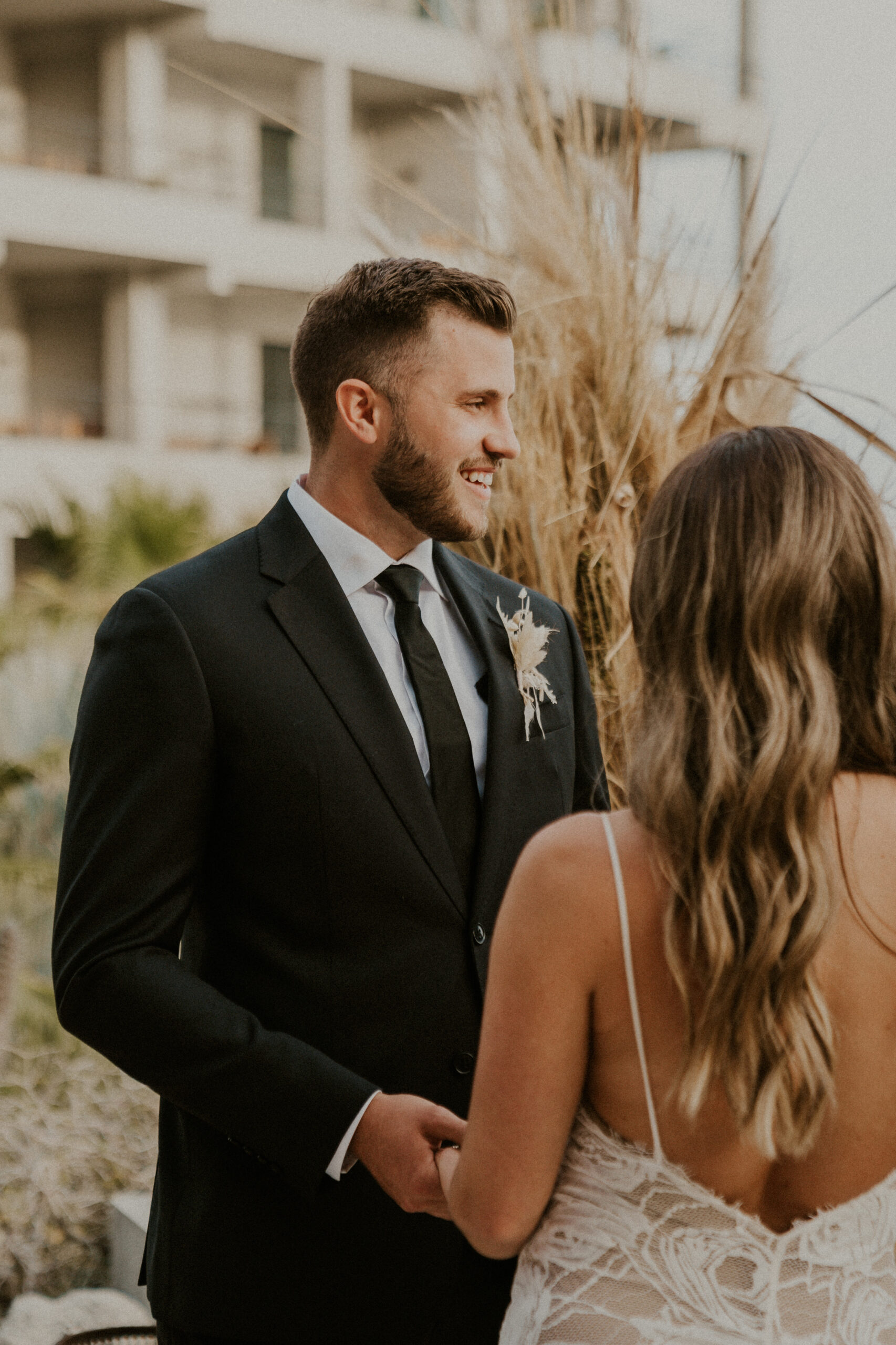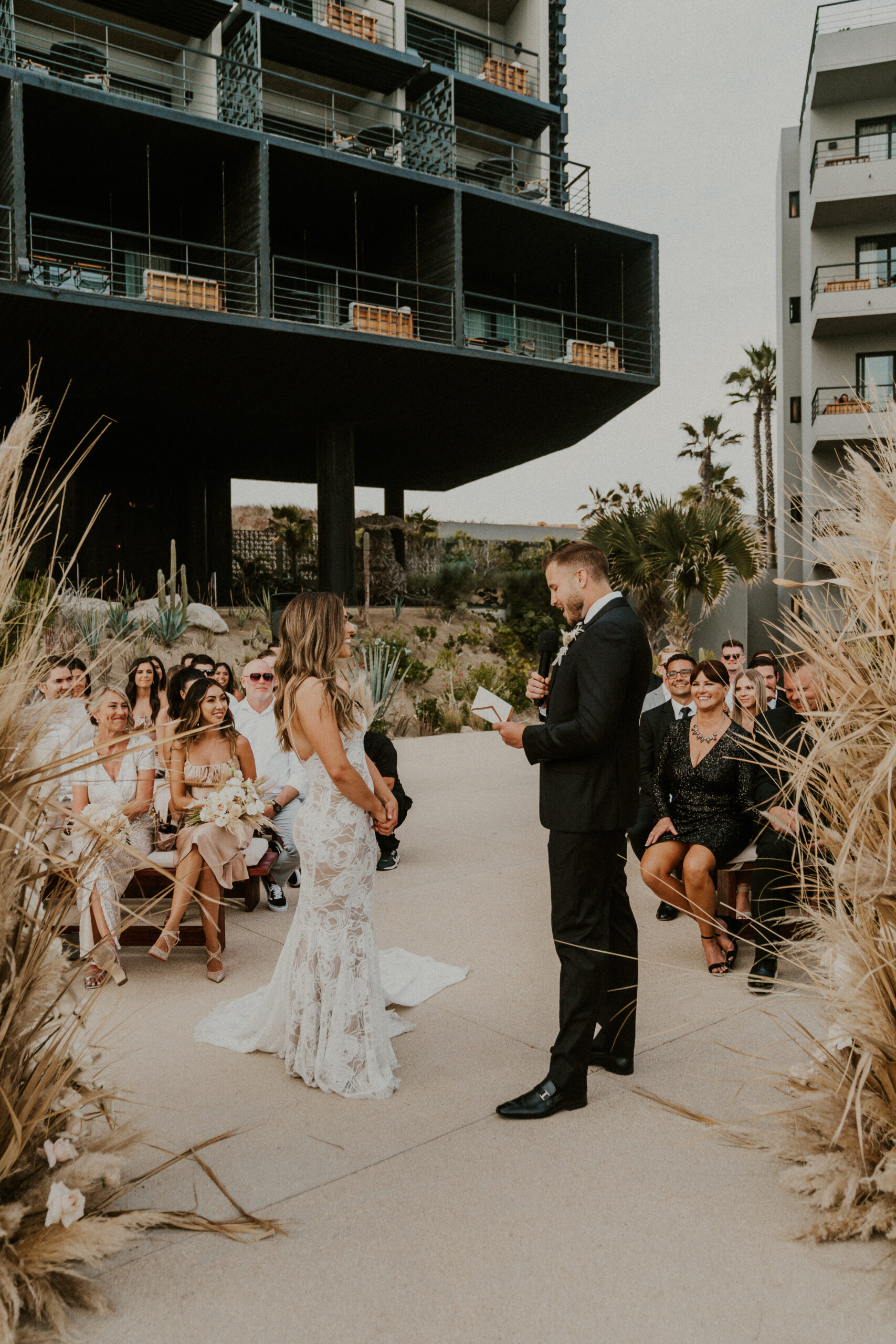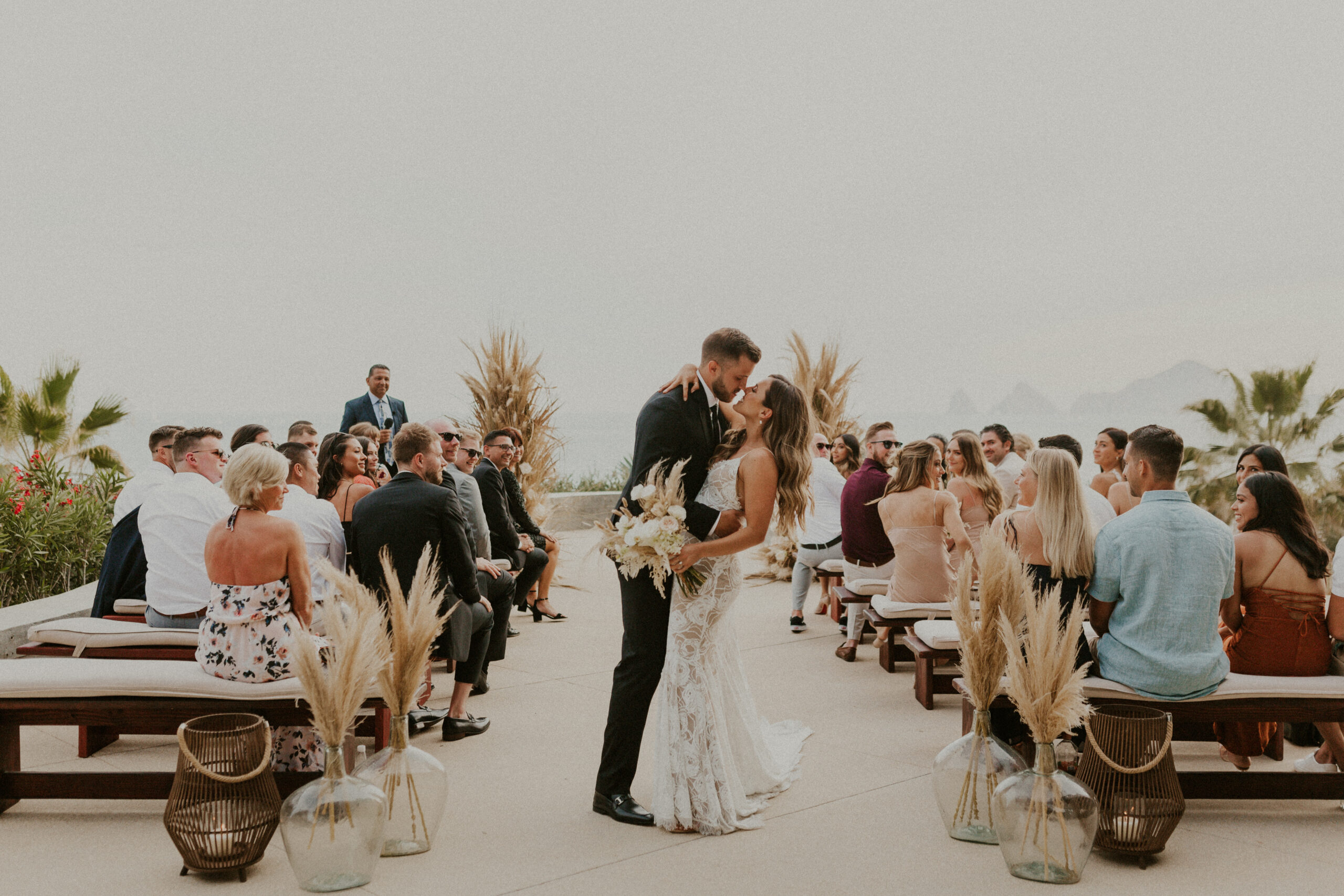 Our vows turned out to compliment one another wildly well while also being about the exact same length. I guess that's what happens when you've been together for 10+ years.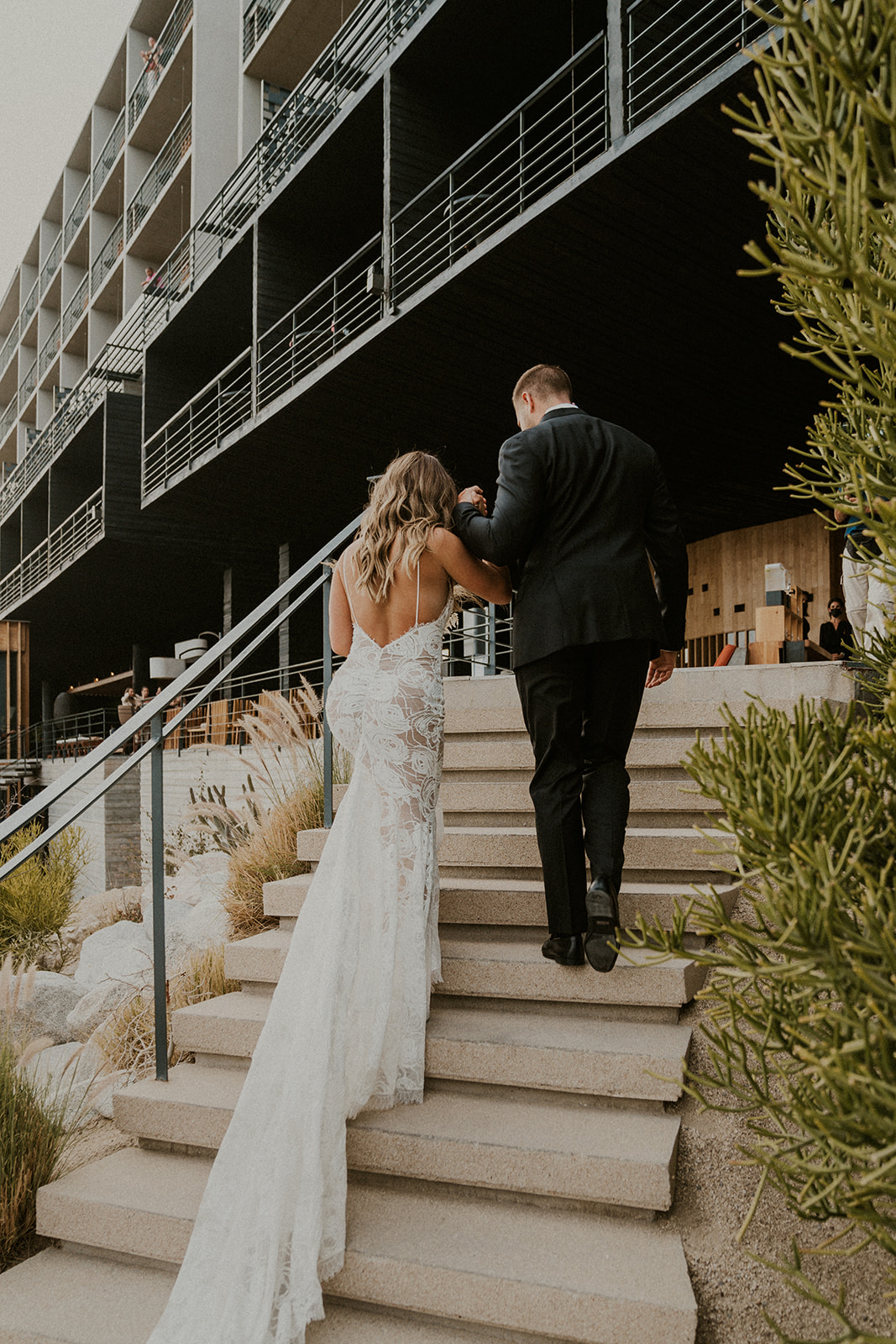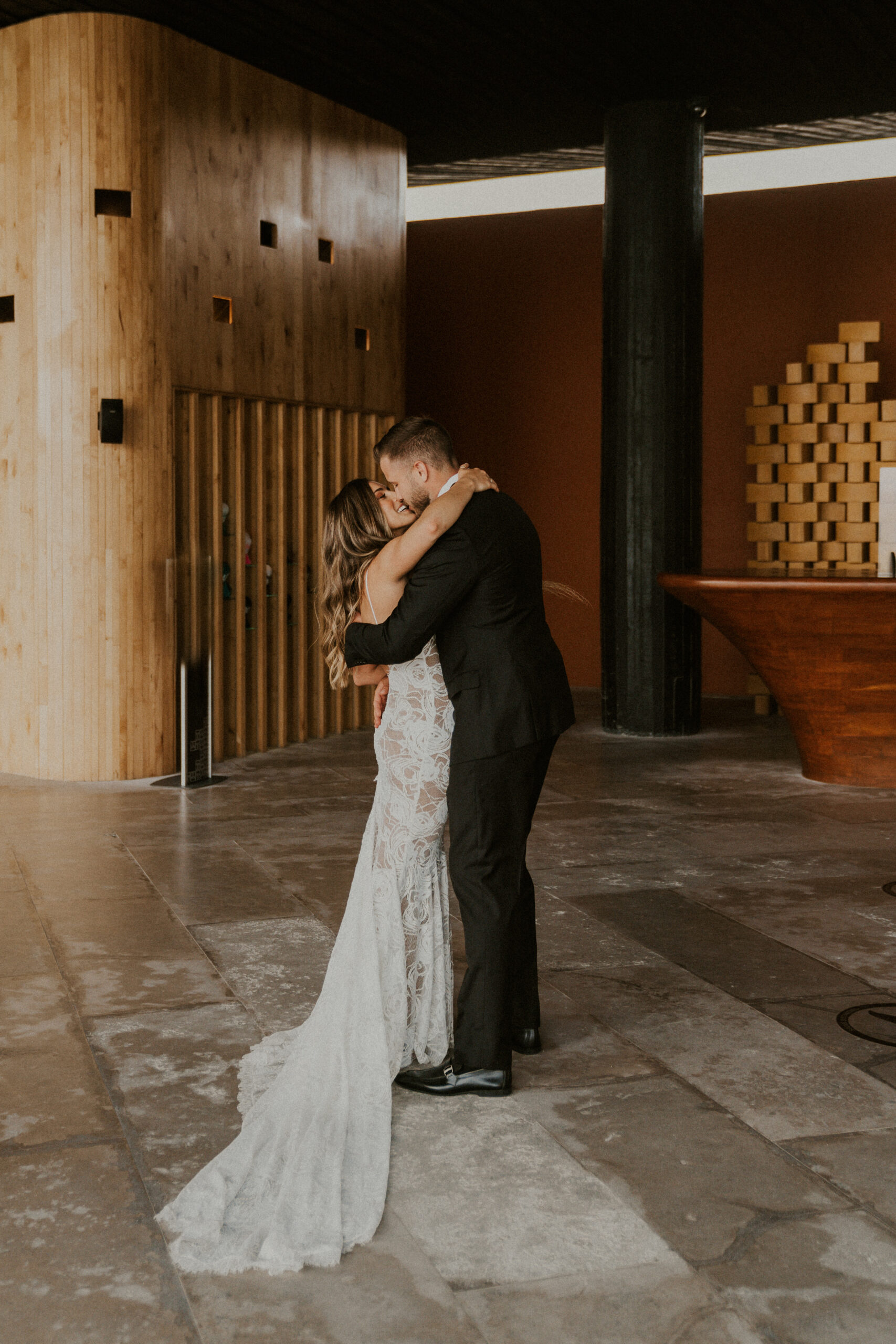 MY HUSBAND!!!
We had just a few moments together before our guests greeted us back up in the lobby area– to be honest this part was kind of a blur because there was so many emotions, but hugs all around to celebrate!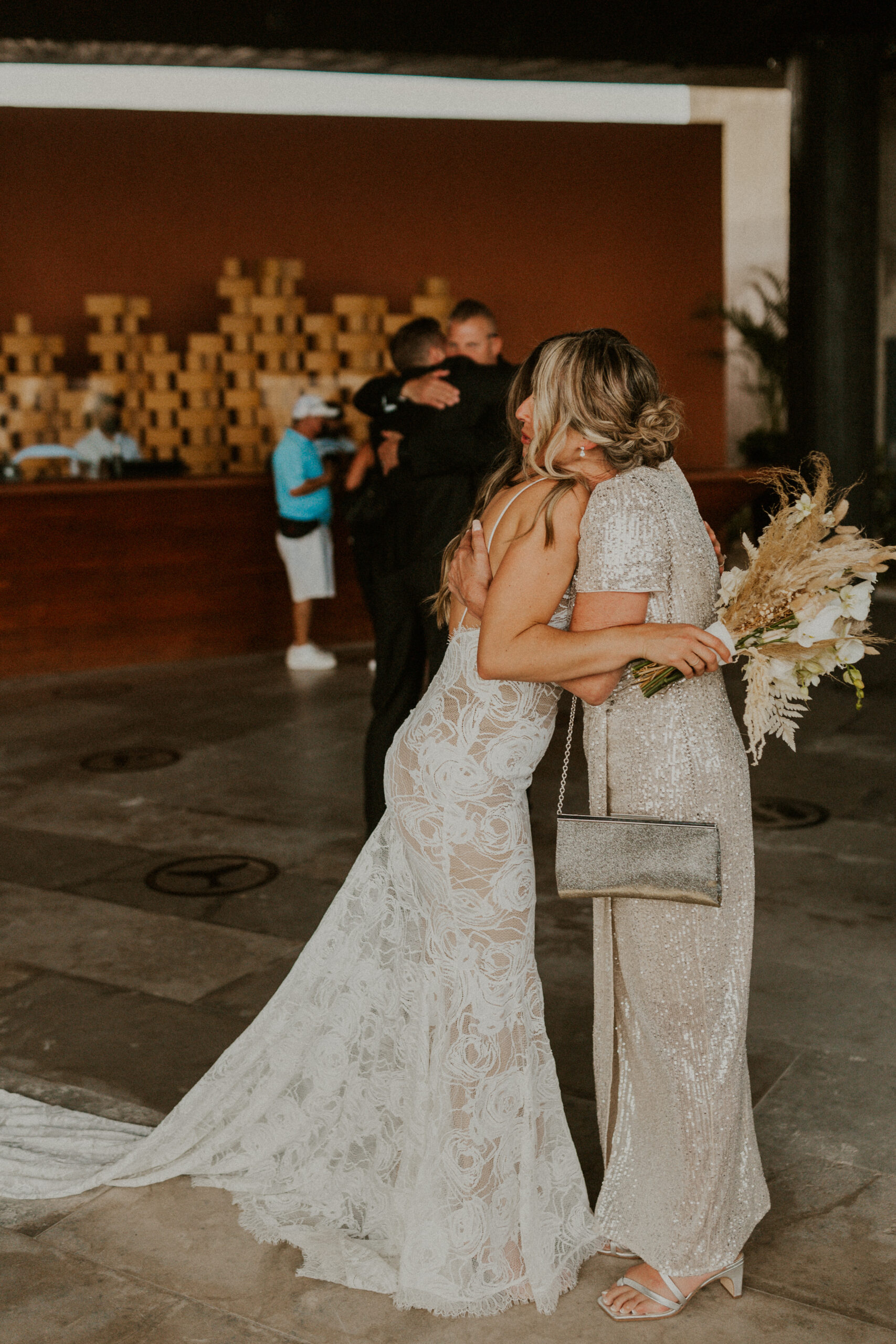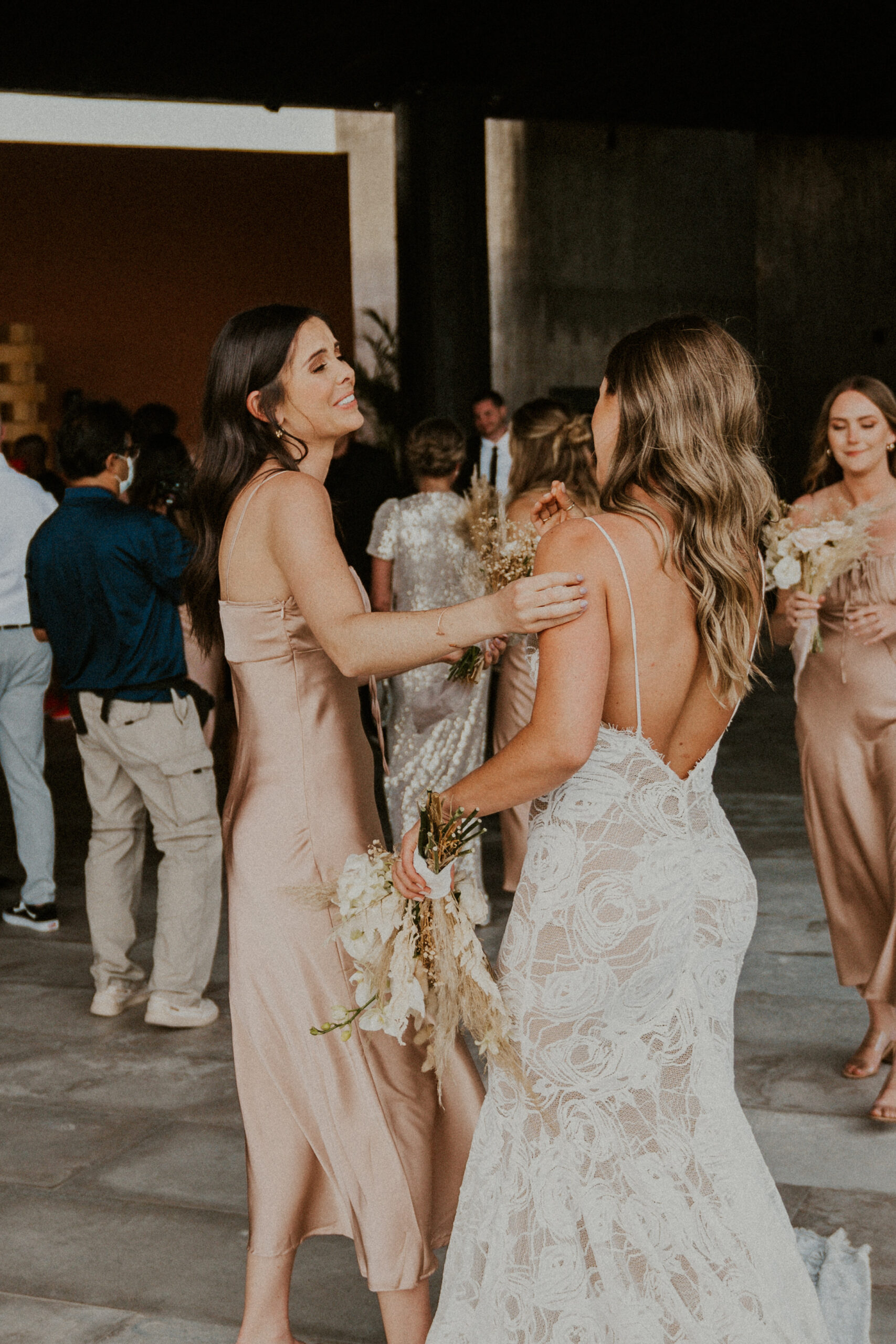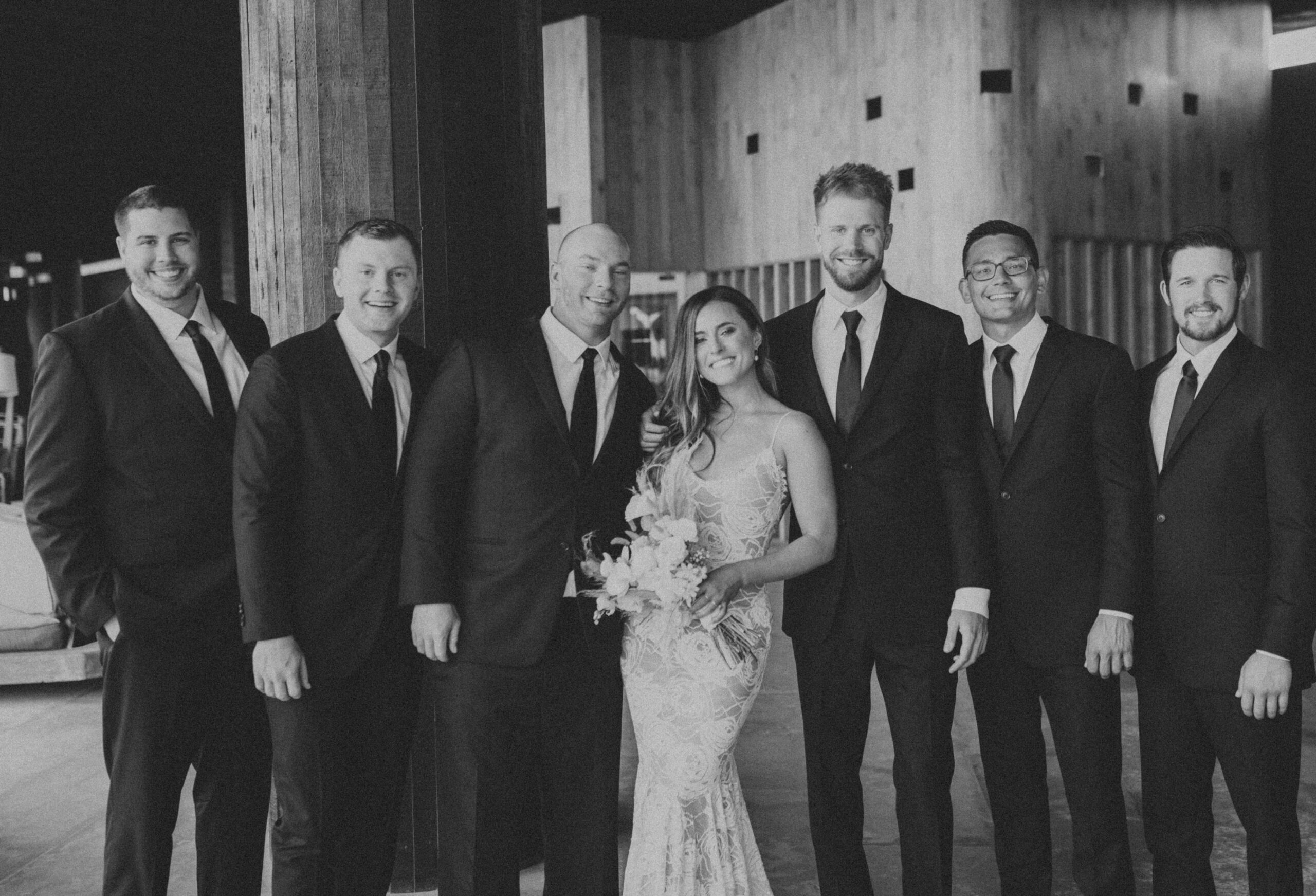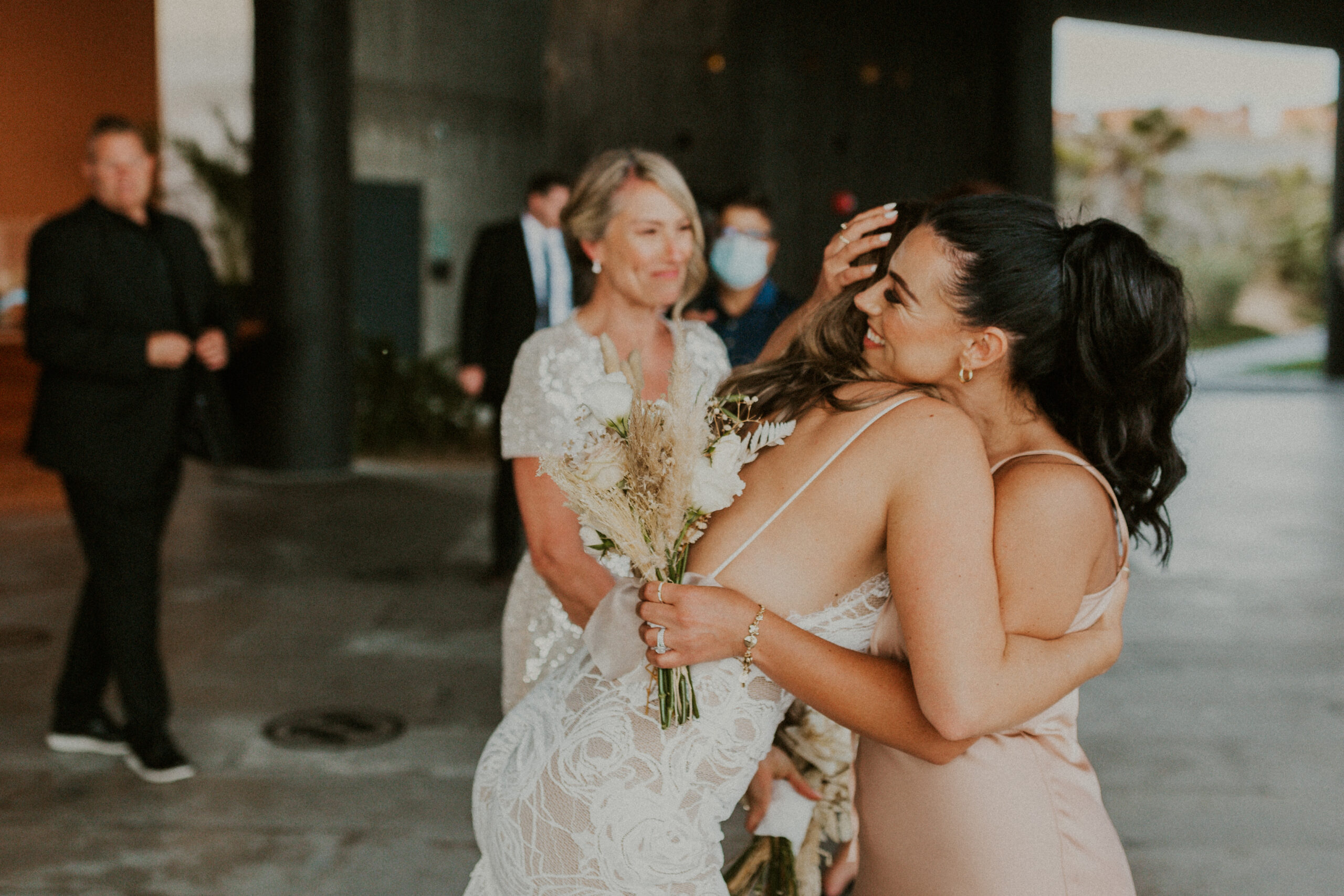 It's funny, I didn't cry during the ceremony but once we kissed, walked up the steps and started hugging our friends and family I think it all just sunk in and I teared up a little bit. It's just crazy how much thought goes in to this day with all the planning, phone calls, mood boards, etc., then the ceremony is done in less than 15 minutes. I'd describe it as very overwhelming, but FULL of happiness.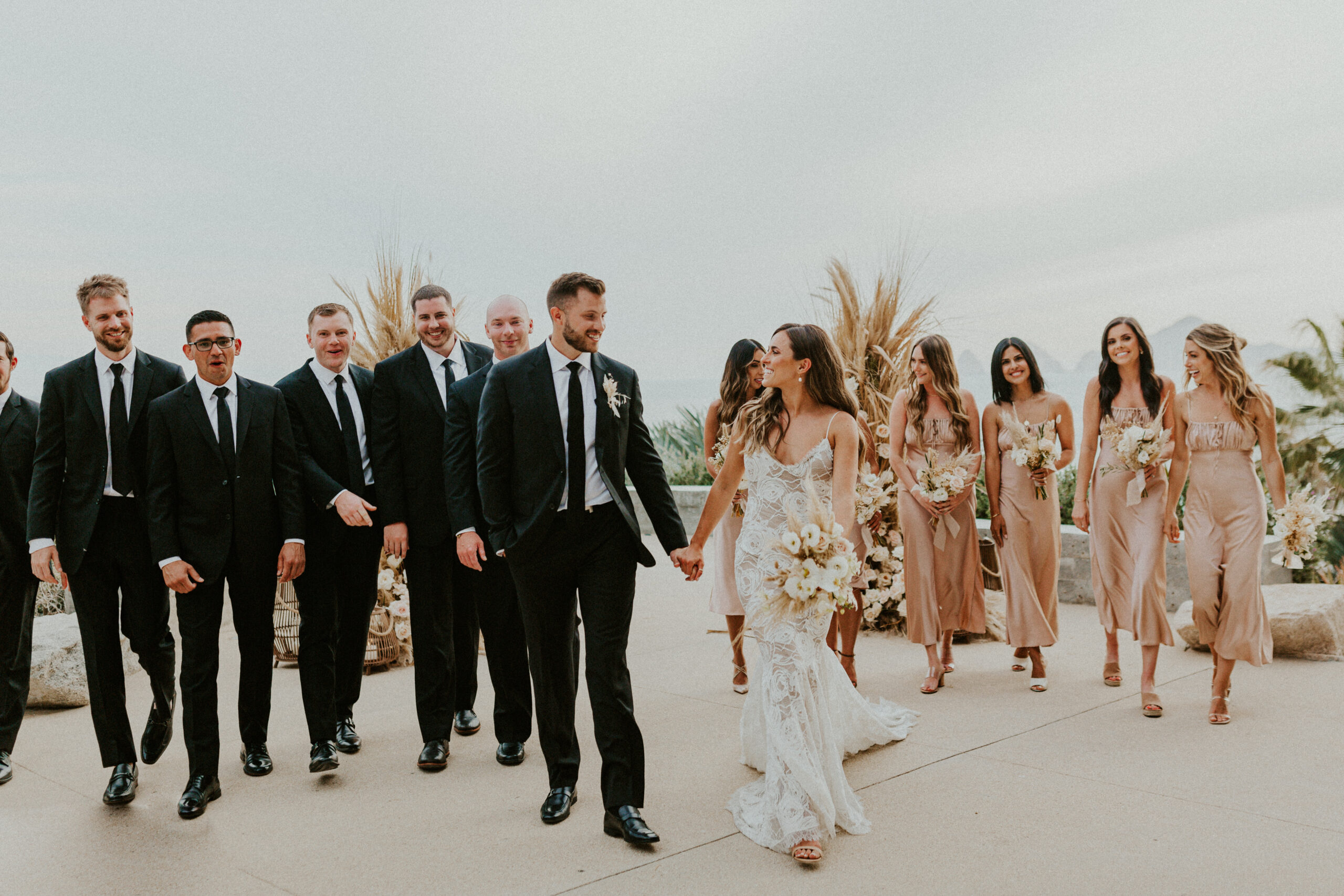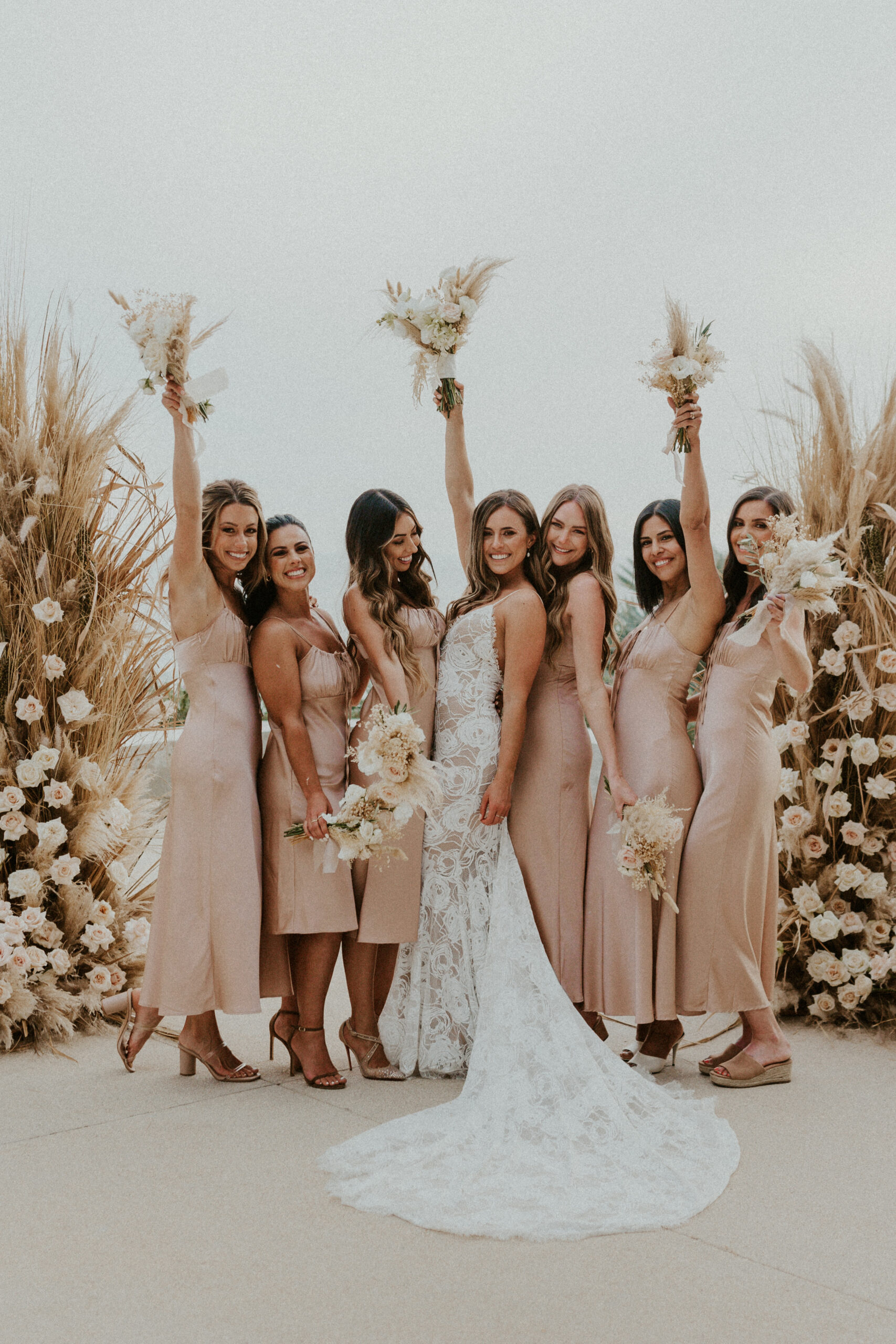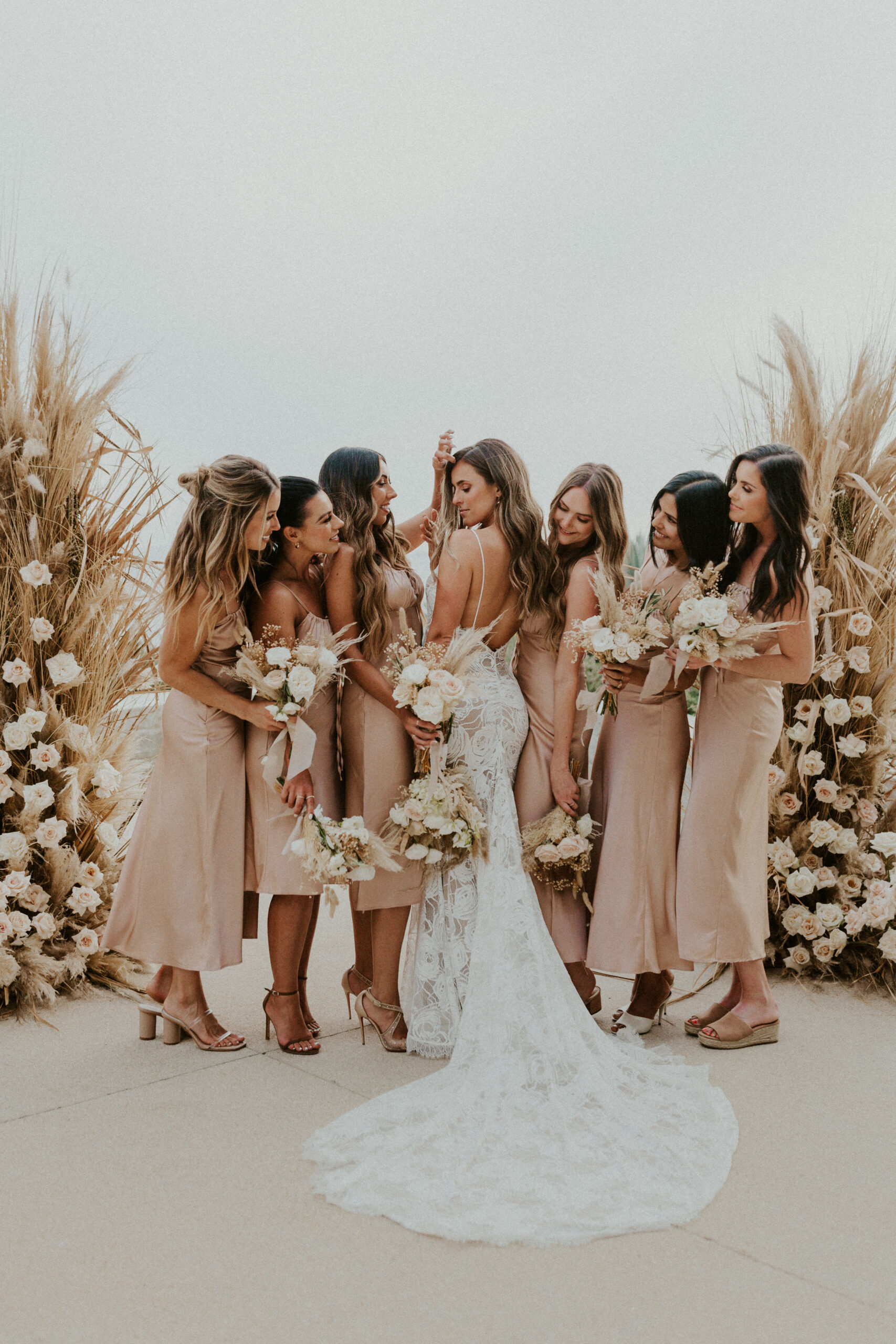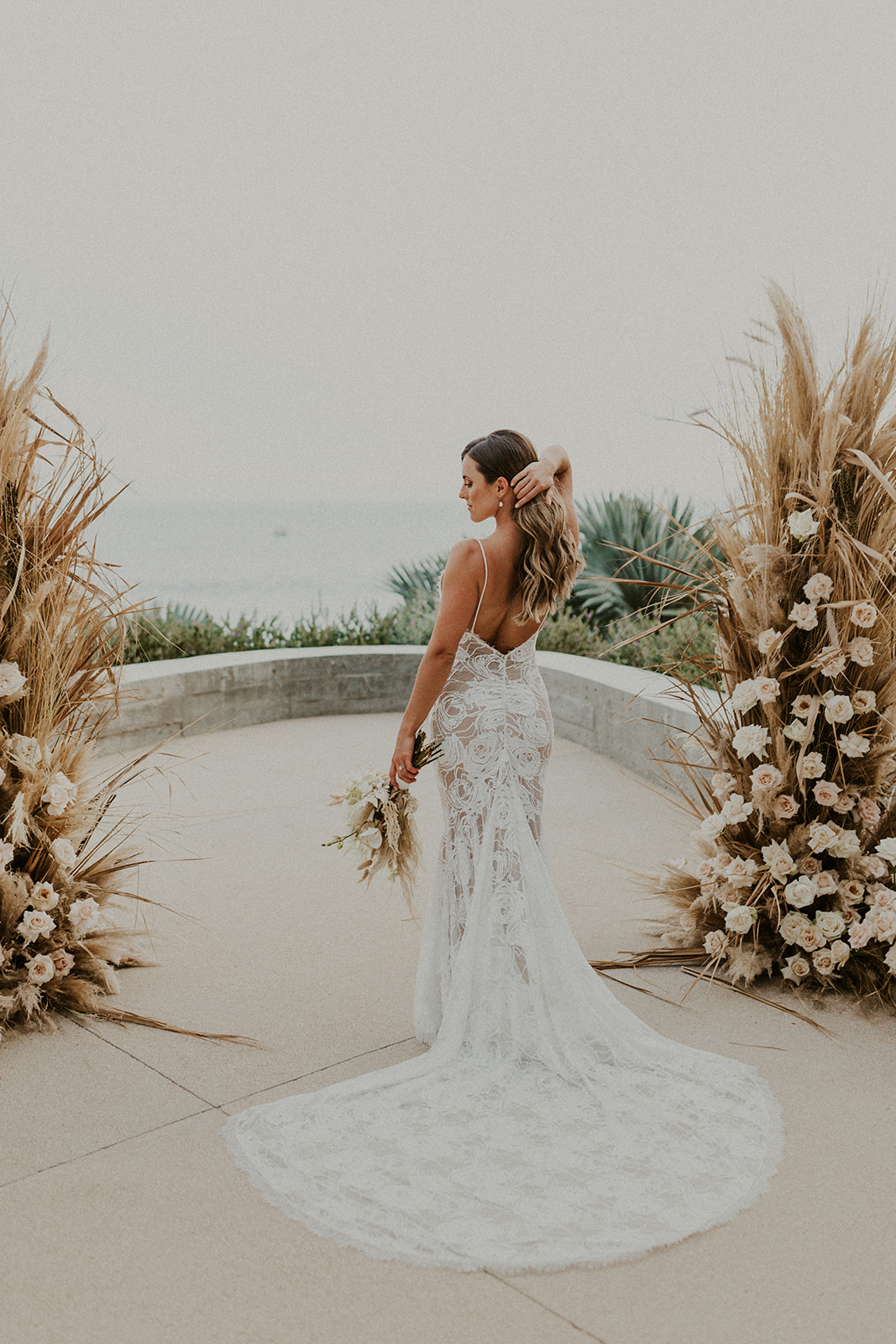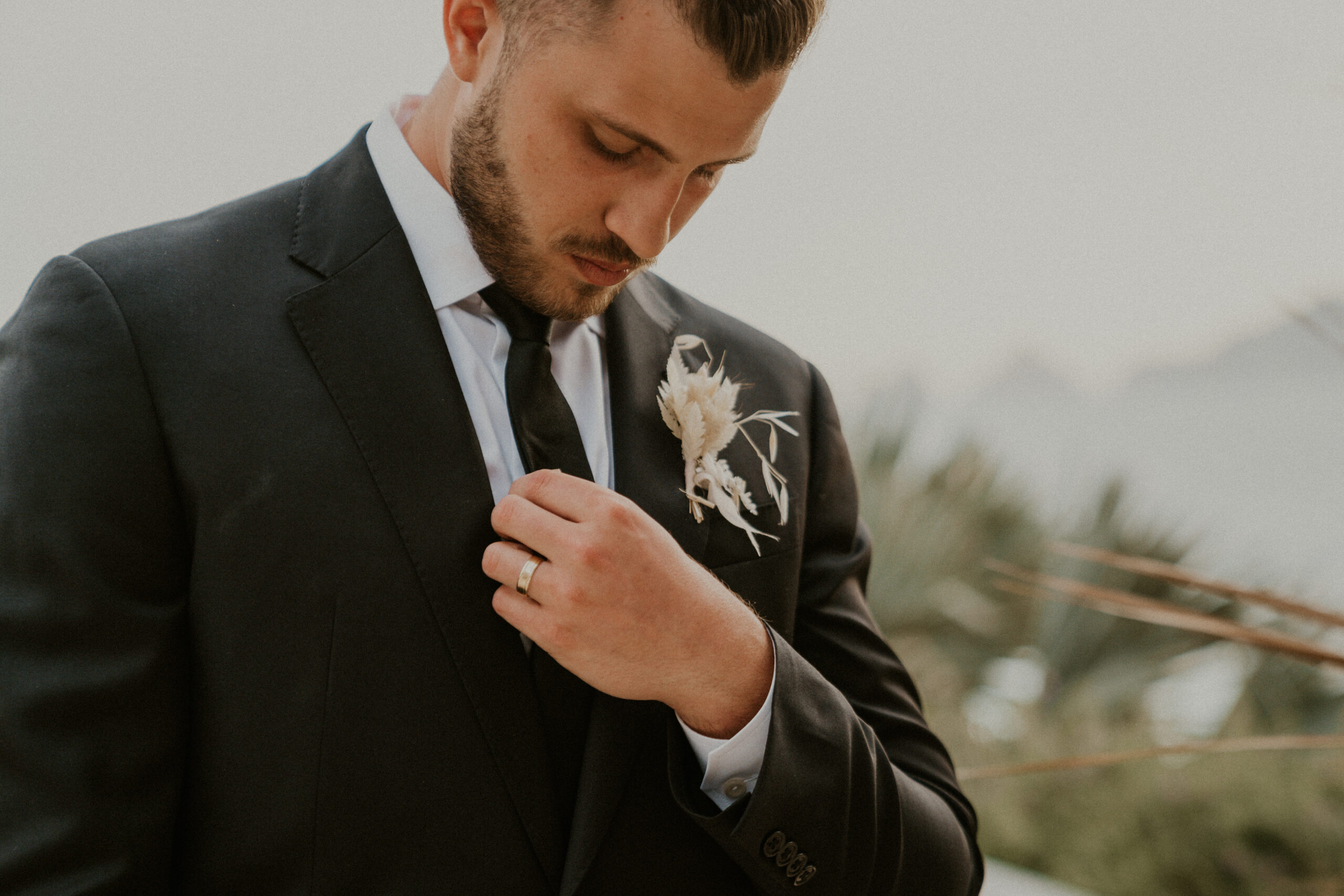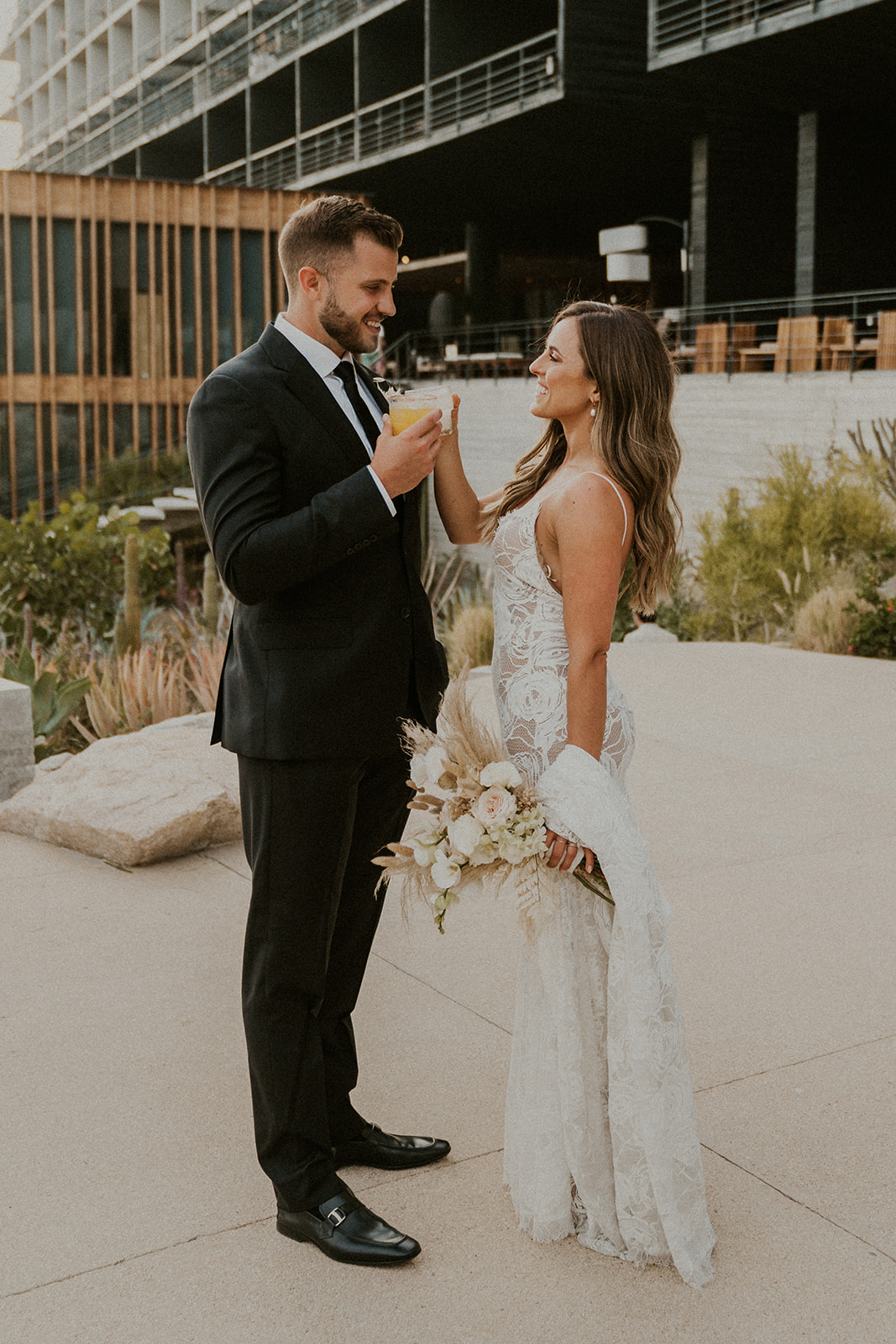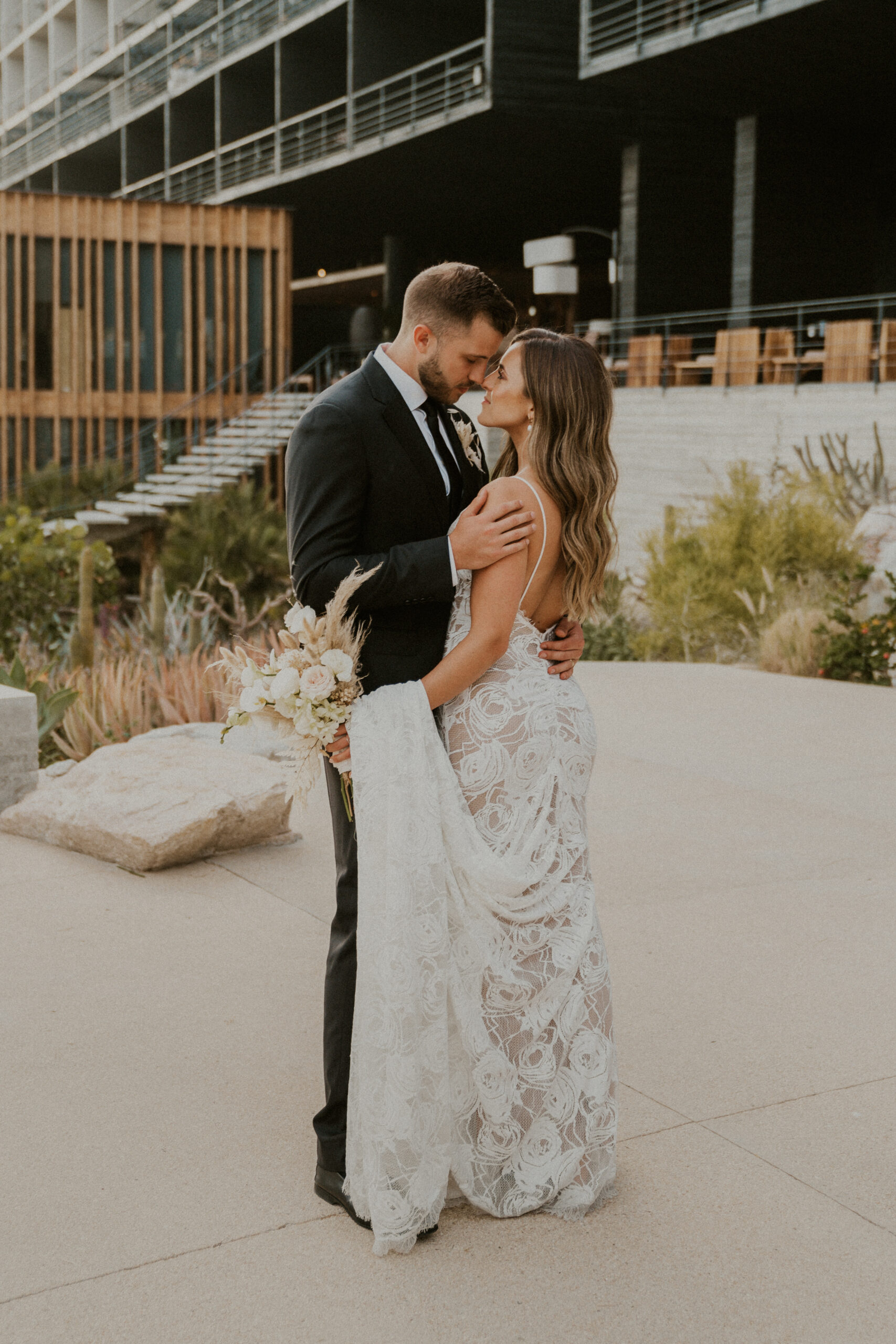 I mean, the backdrop for these photos…. I die over it. As soon as the ceremony was finished, we took more photos with our bridal party above, cheers'd with our signature cocktails, then took a handful more portraits around the hotel while the sun came out for golden hour. It was magic.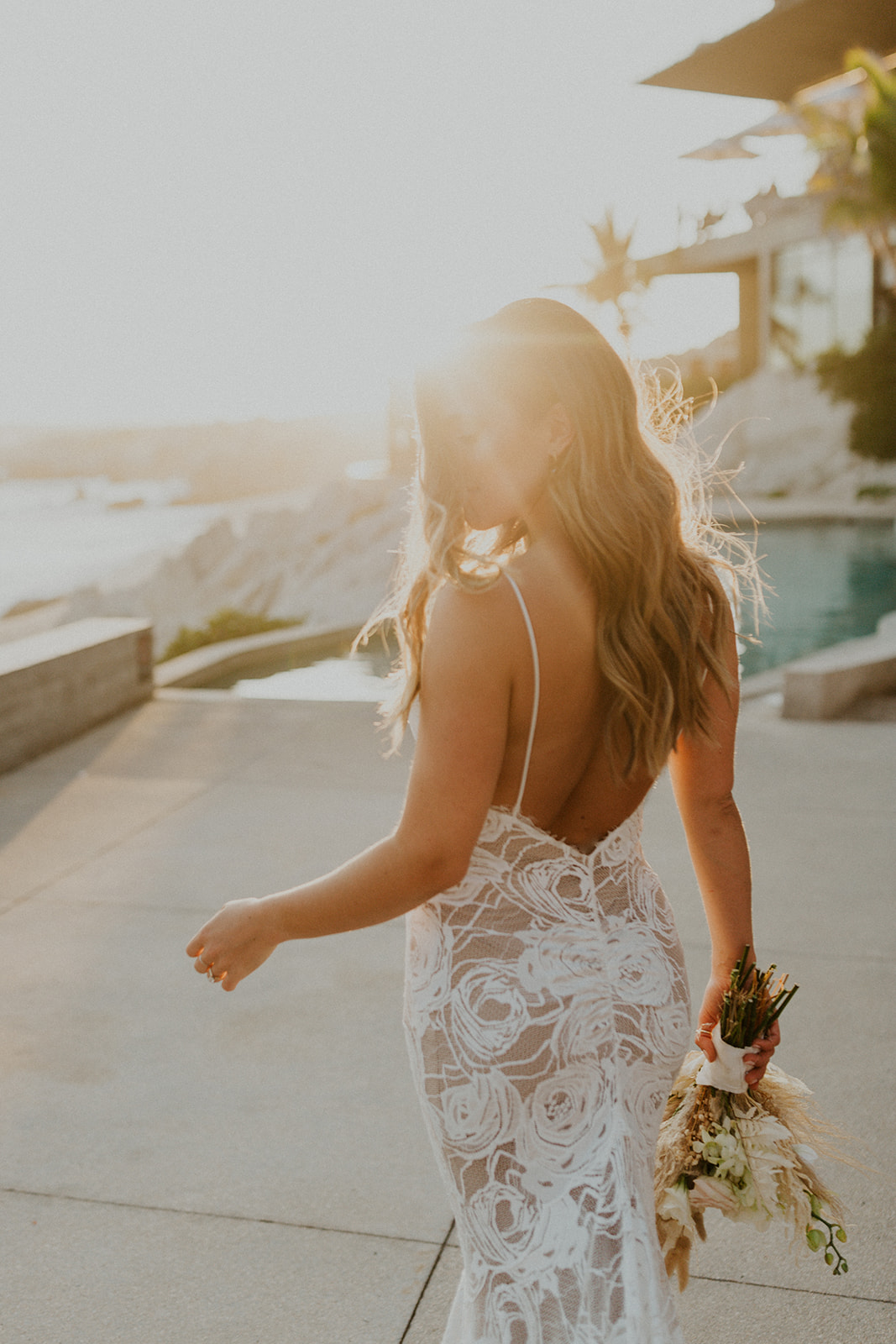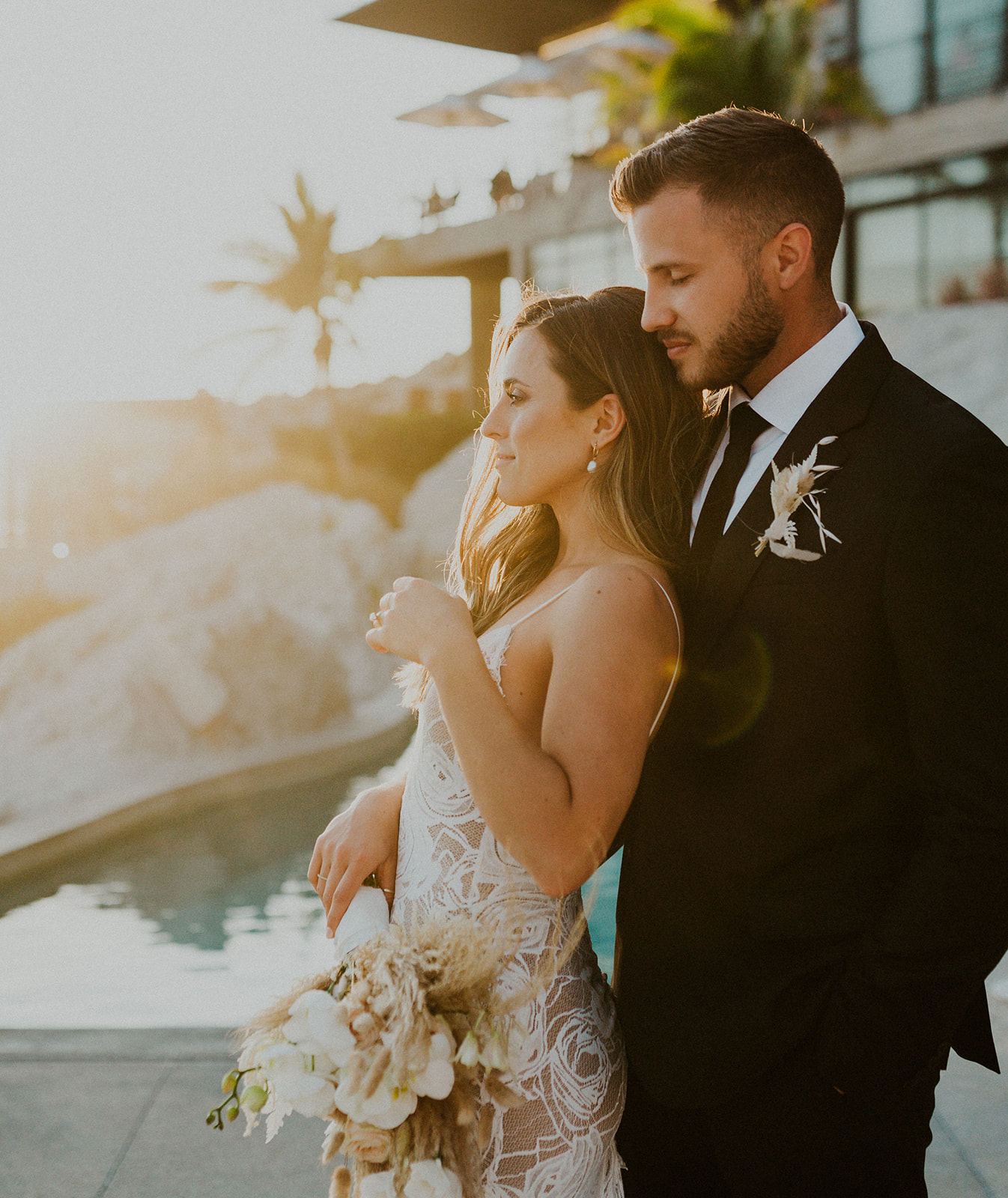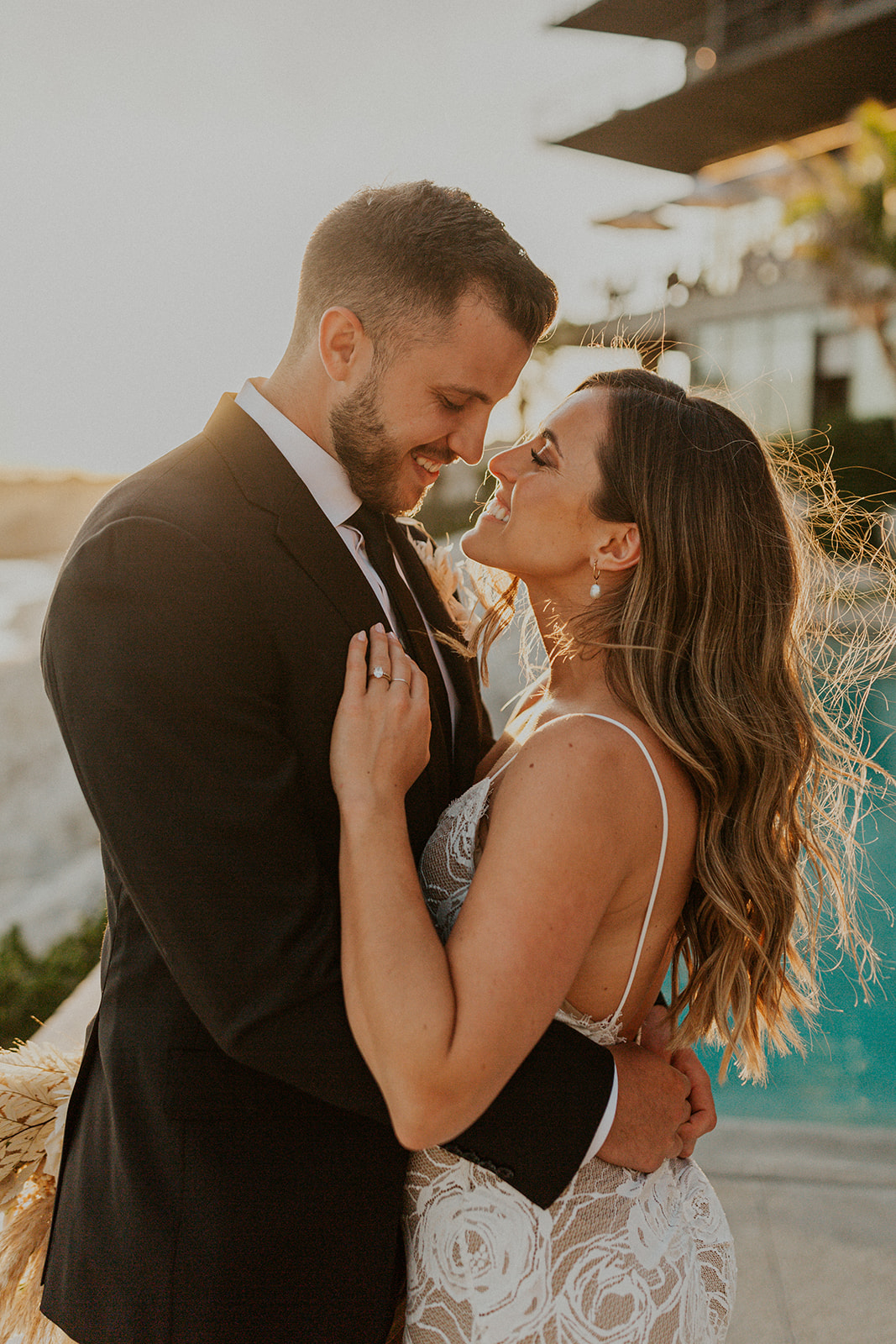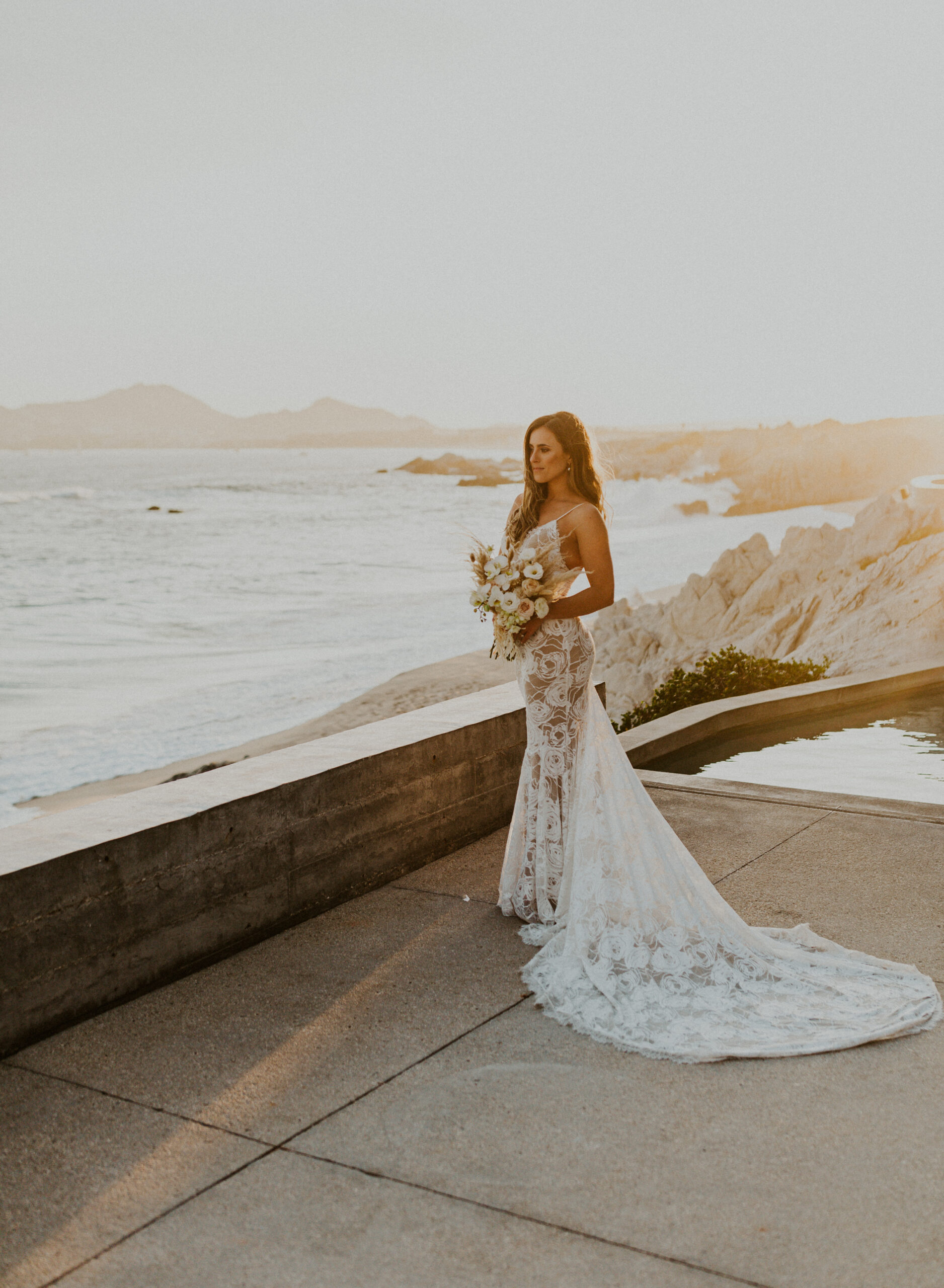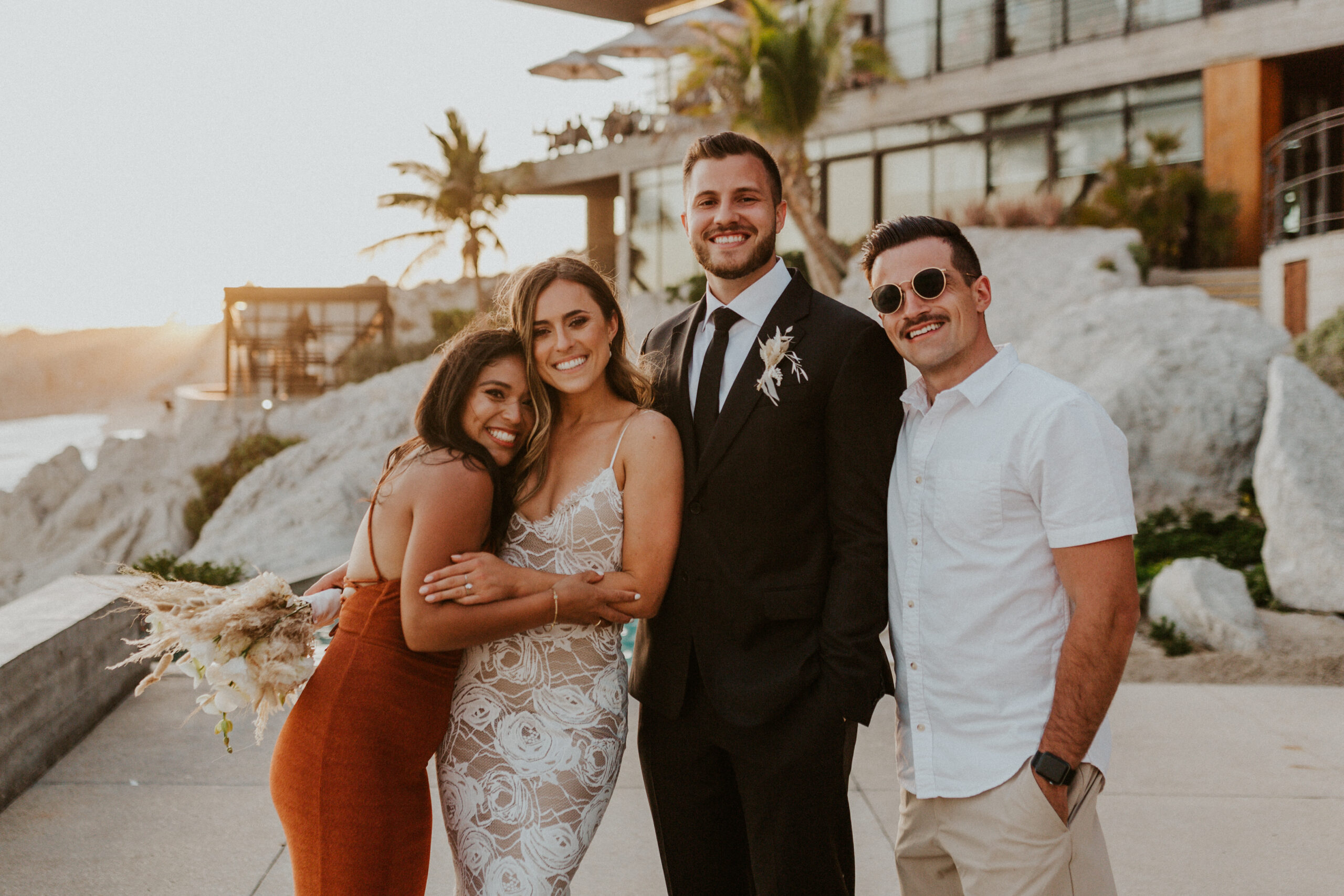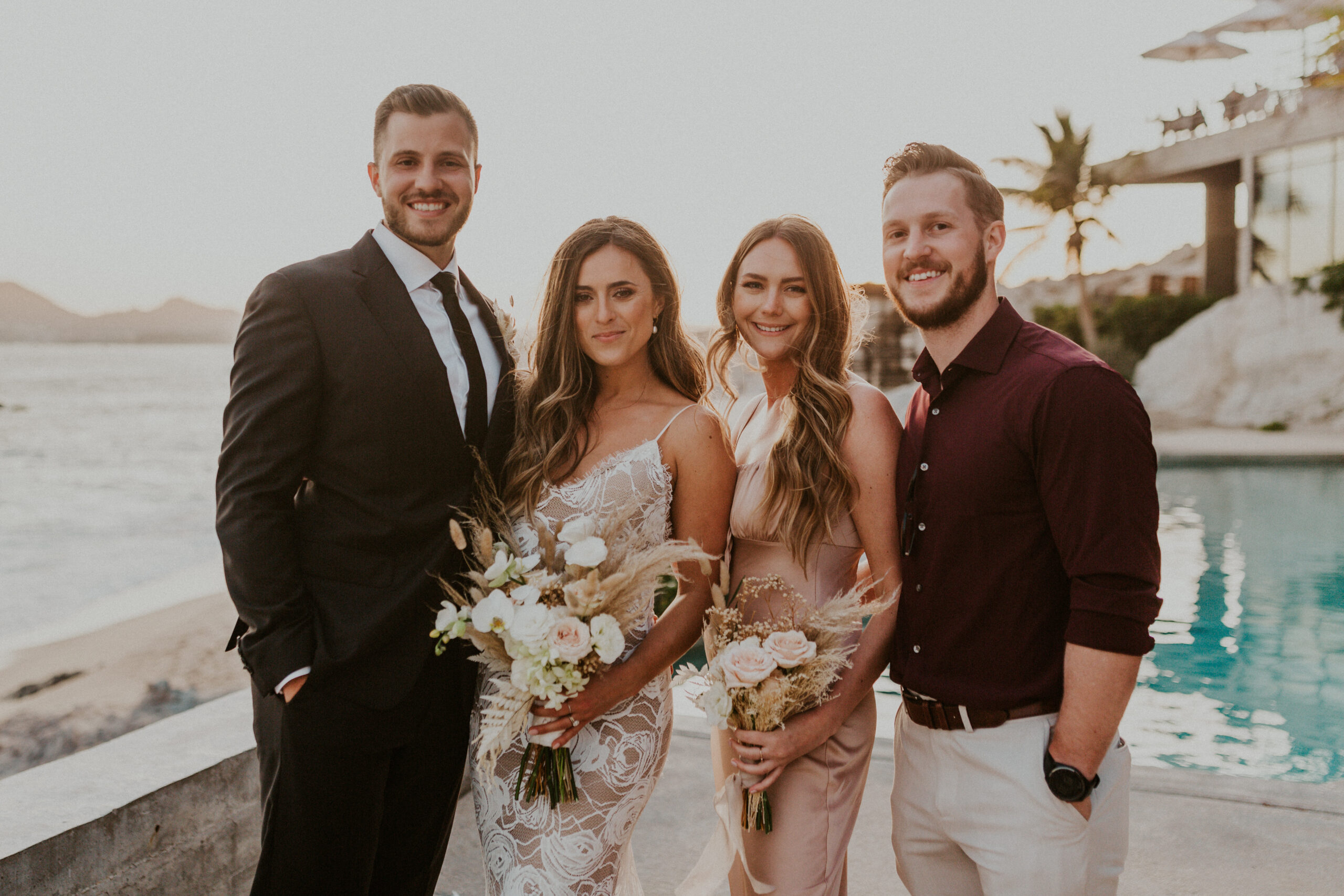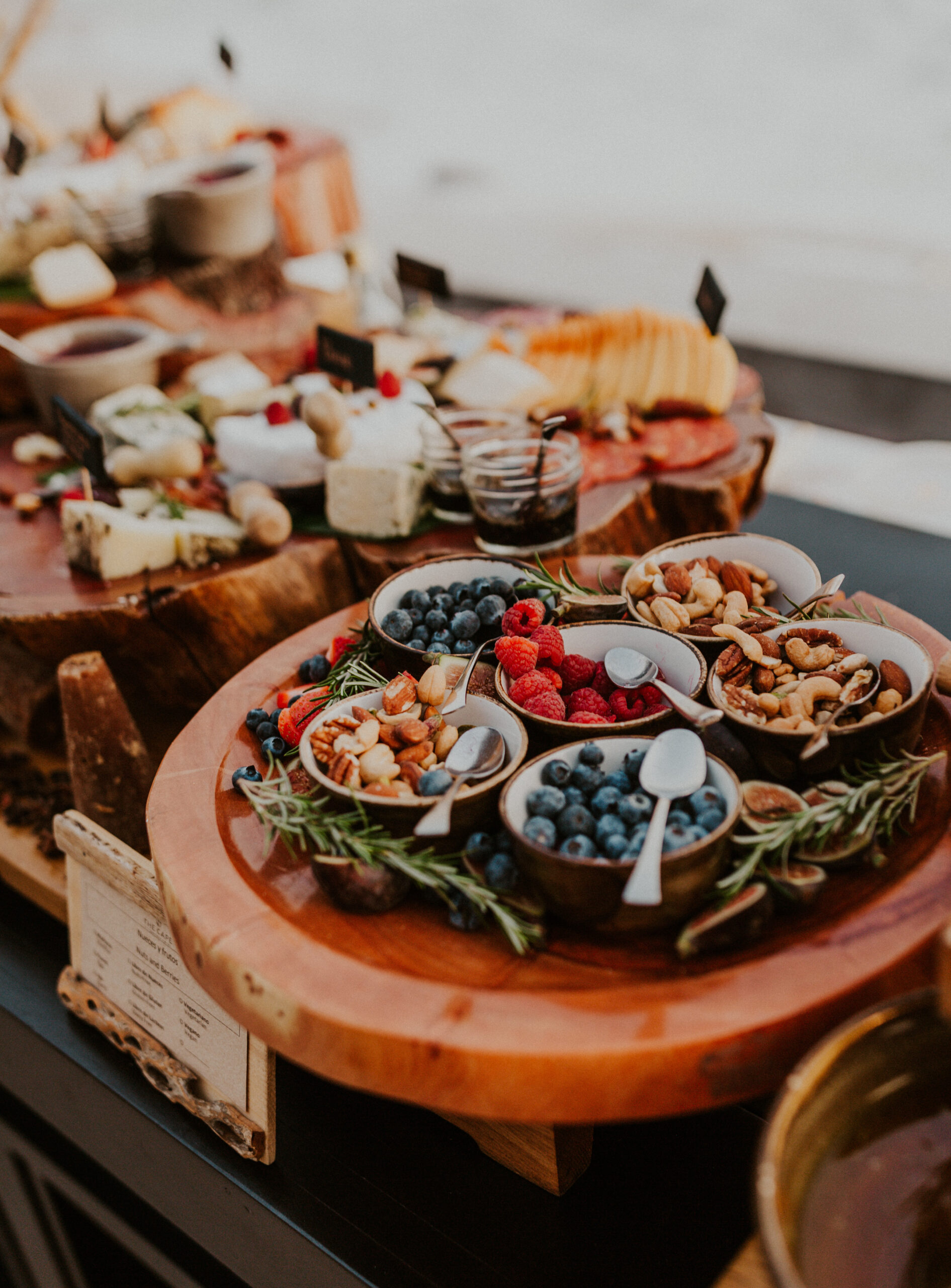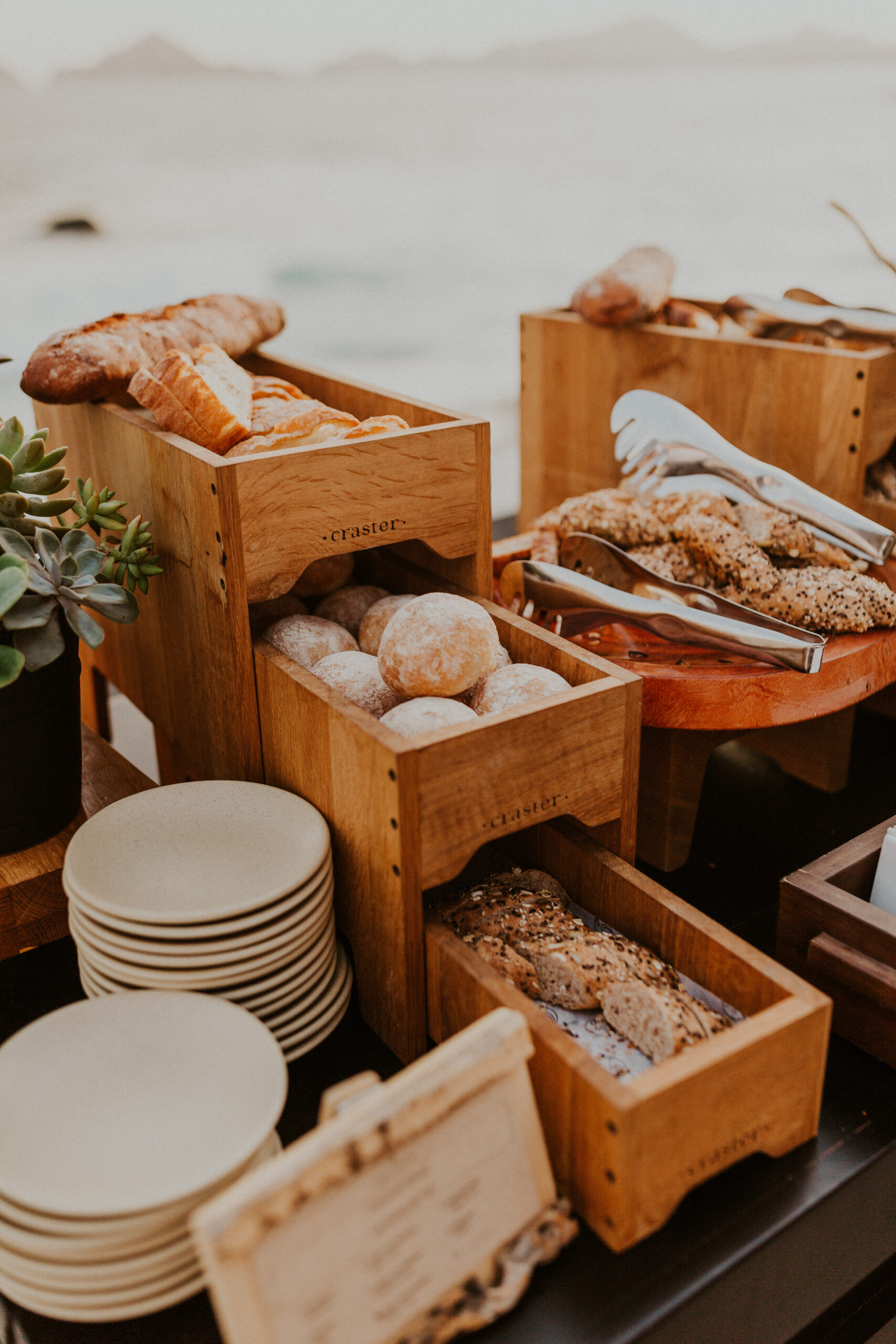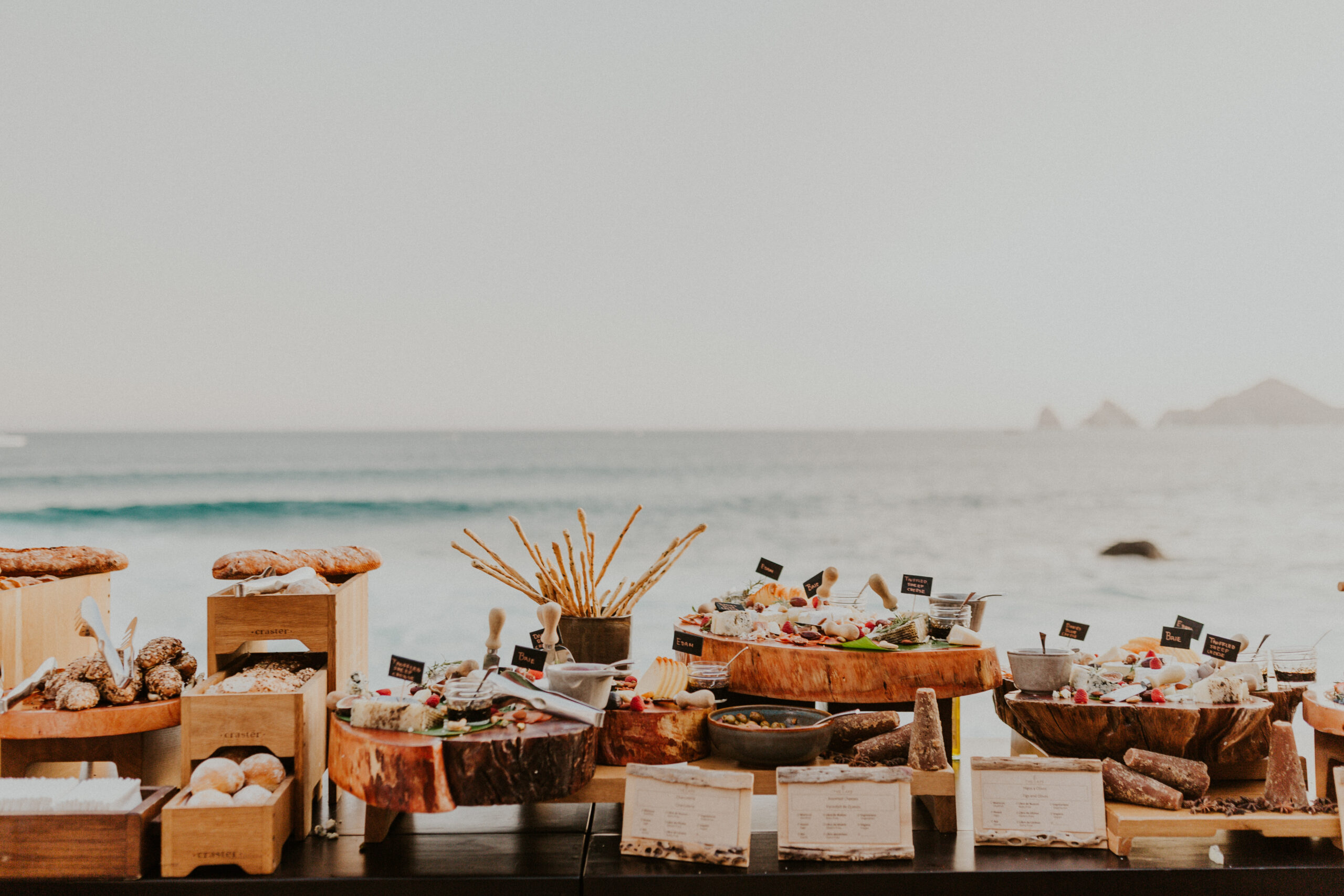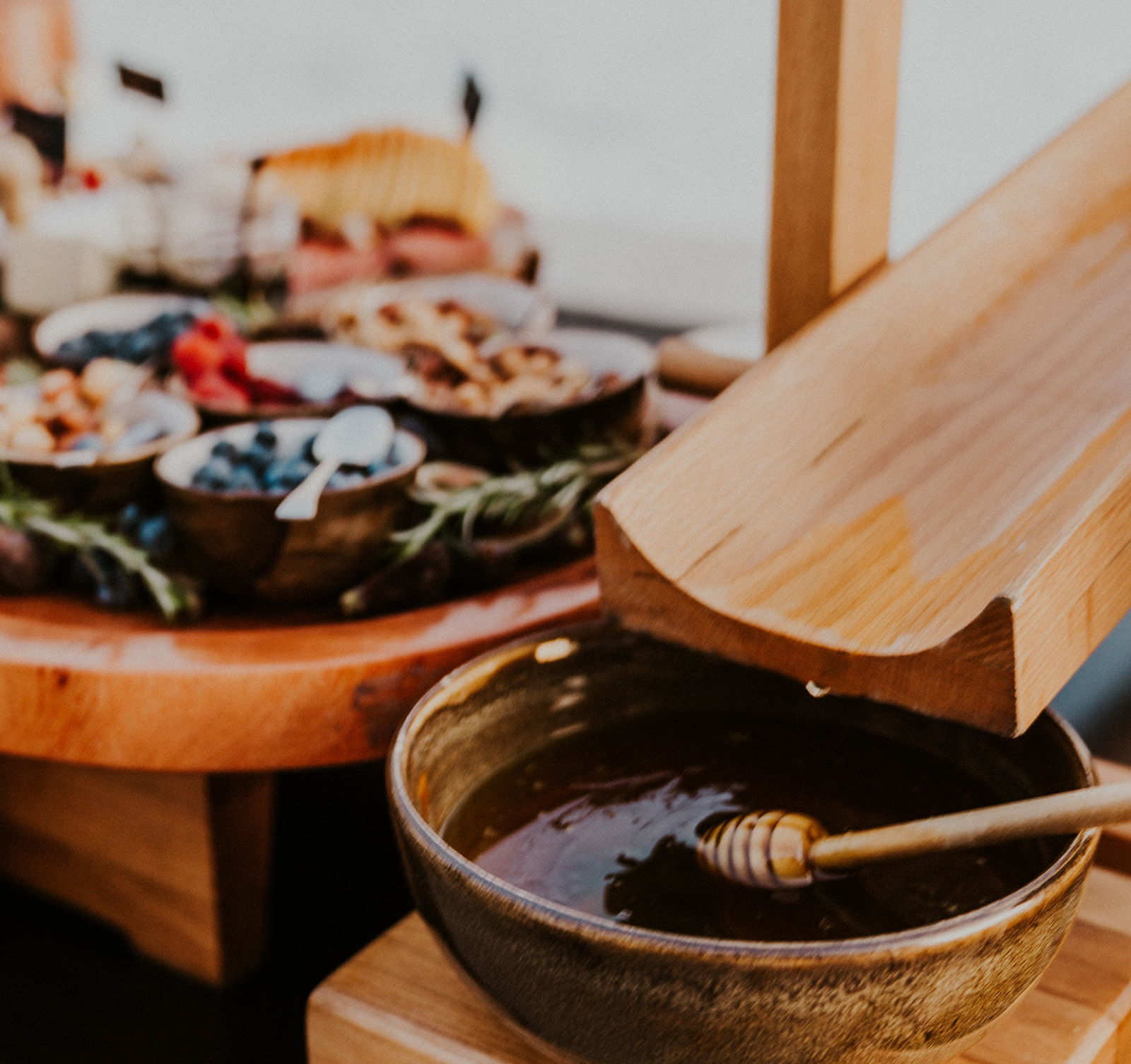 One of my requests for the wedding was a huge charcuterie table. I'm talking a statement piece, because you guys know me and my love for making charcuterie boards. Let's just say it was bigger and better than I ever thought it would be! My only regret is that Bridge & I didn't have time to enjoy it unfortunately– cocktail hour went by TOO fast. But, hello, there was a SLIDE for the honeycomb !!!!! And the view looked out to the ocean! Ugh, what I would give for 30 more minutes with this spread.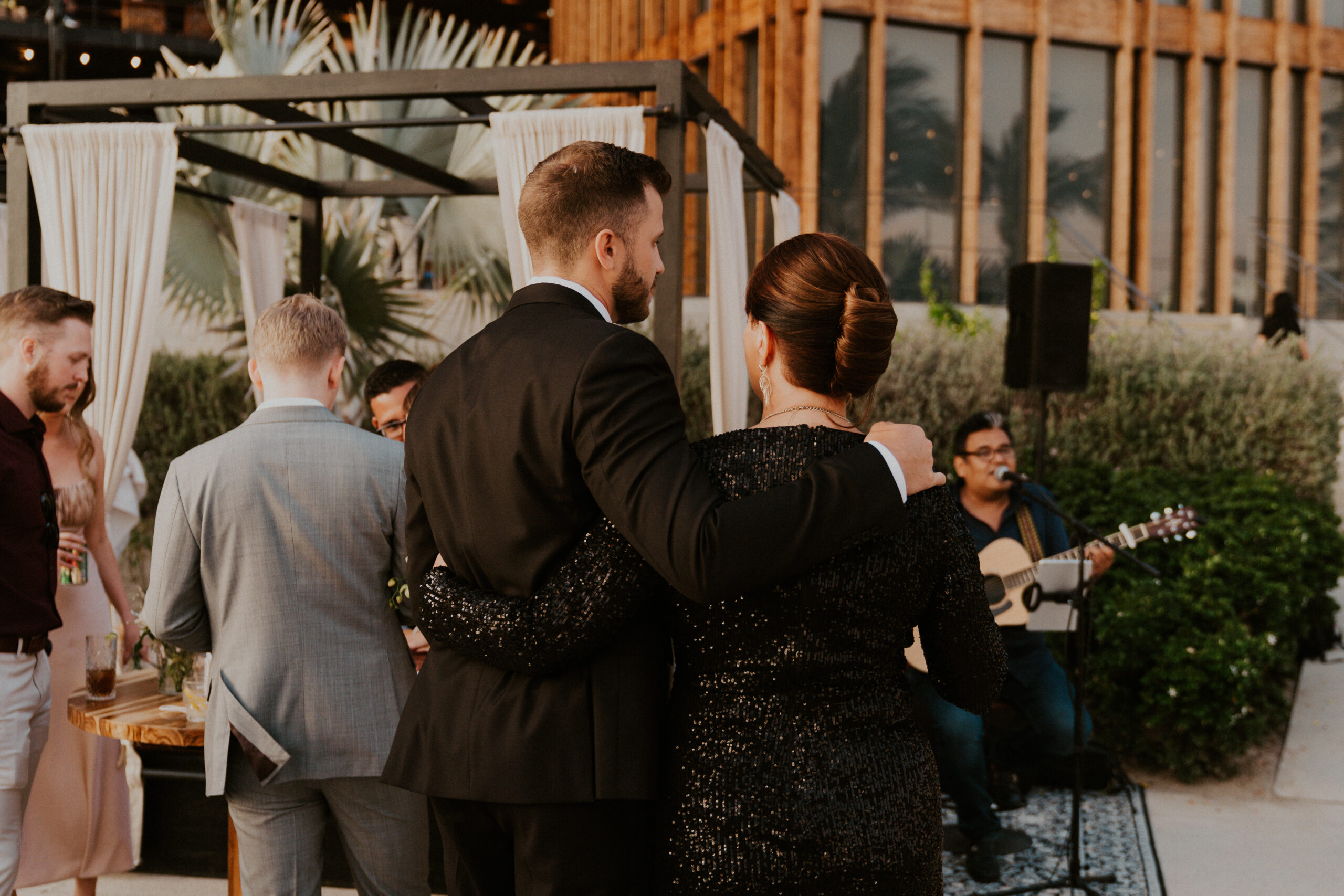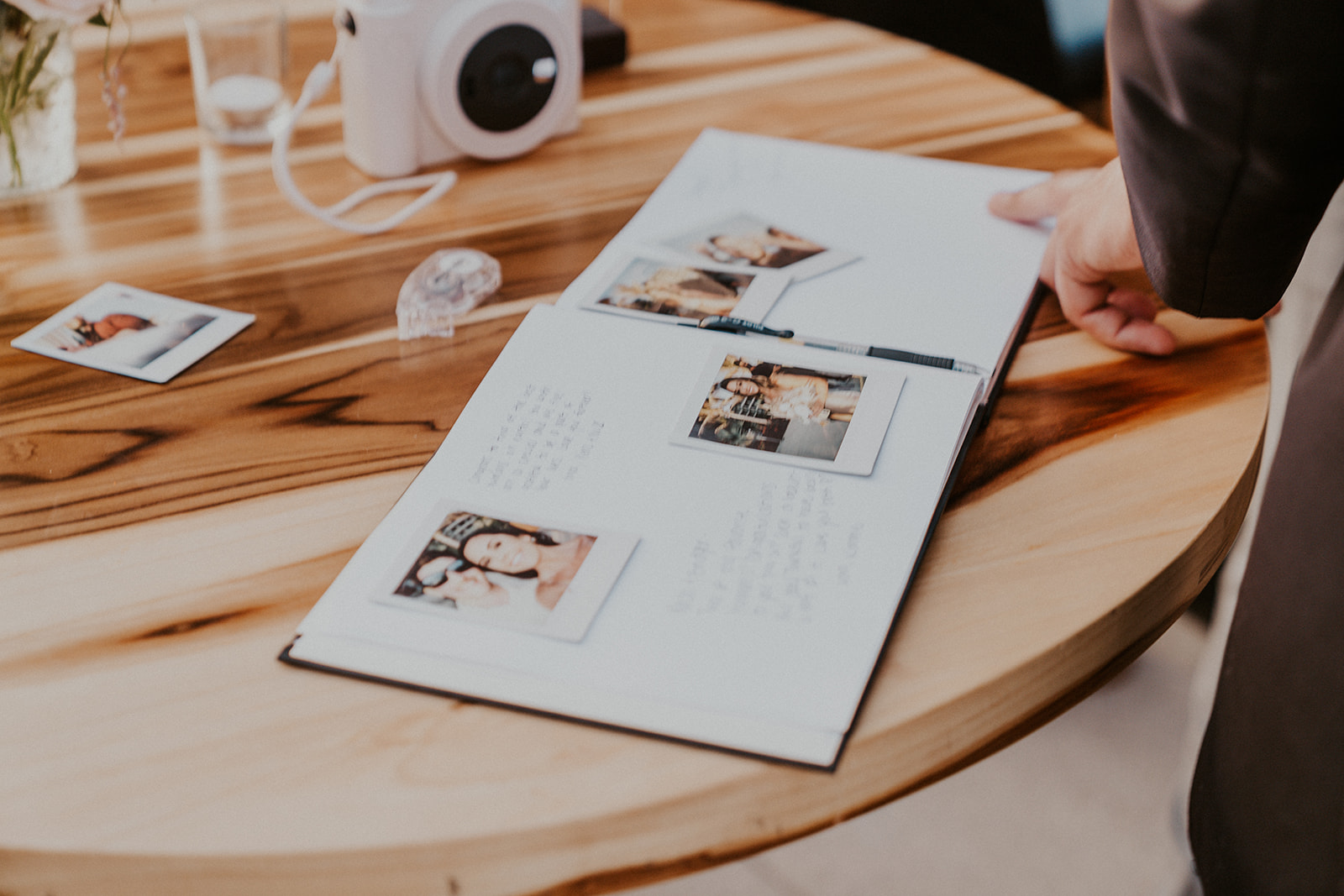 We had a guest book table equipped with two polaroids, double sided tape and a customized wedding guestbook made for all of our guests to sign. It was probably one of my favorite details, but my advice for anyone wanting to do the same idea would be to designate someone (part of your planning team or a guest) to go around and snap shots of your guests and then direct them to sign the book, because we honestly only had about half our guests sign…. so if this was you and you came to our wedding, get ready for an impromptu photo next time you come to our house lol.
RECEPTION DETAILS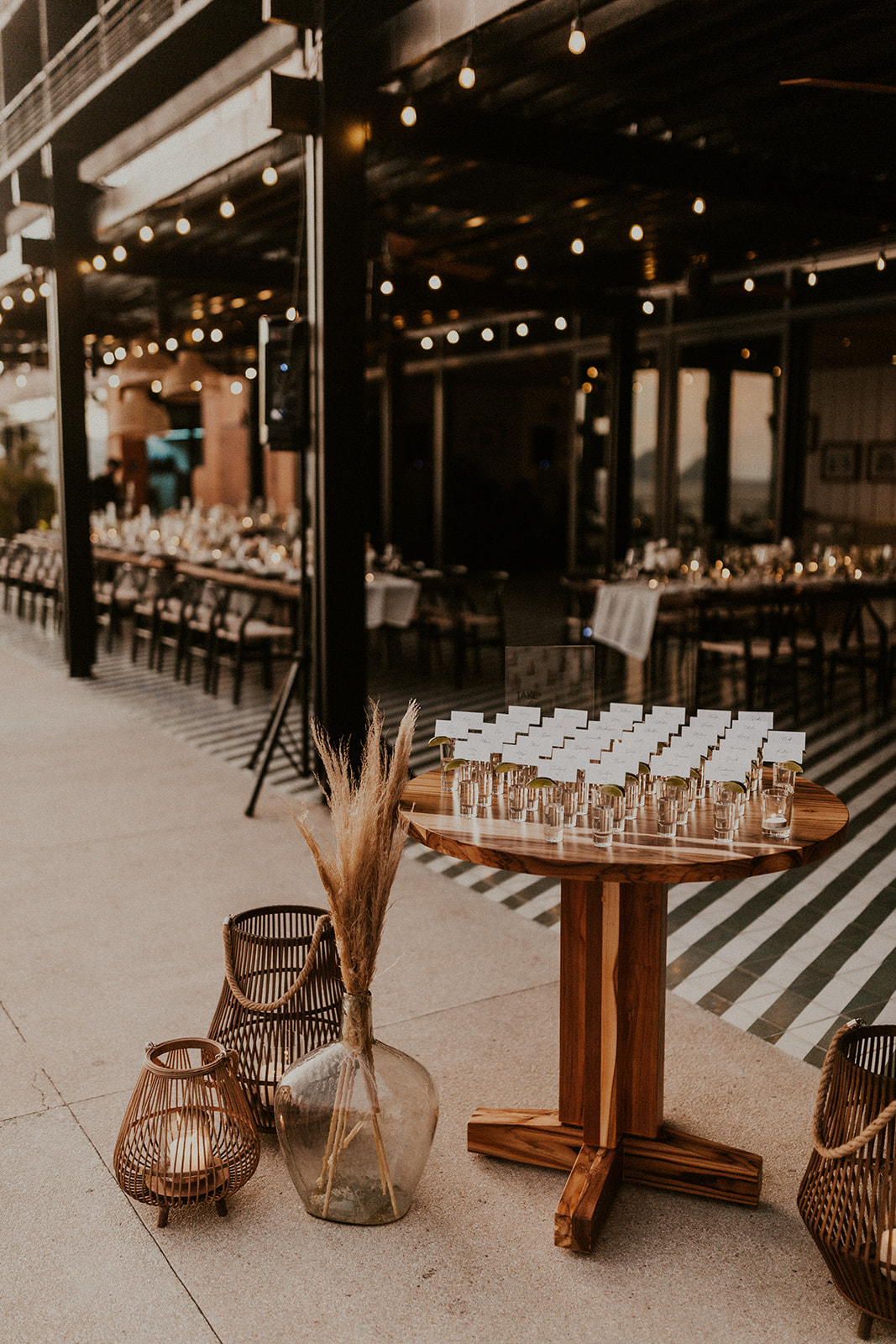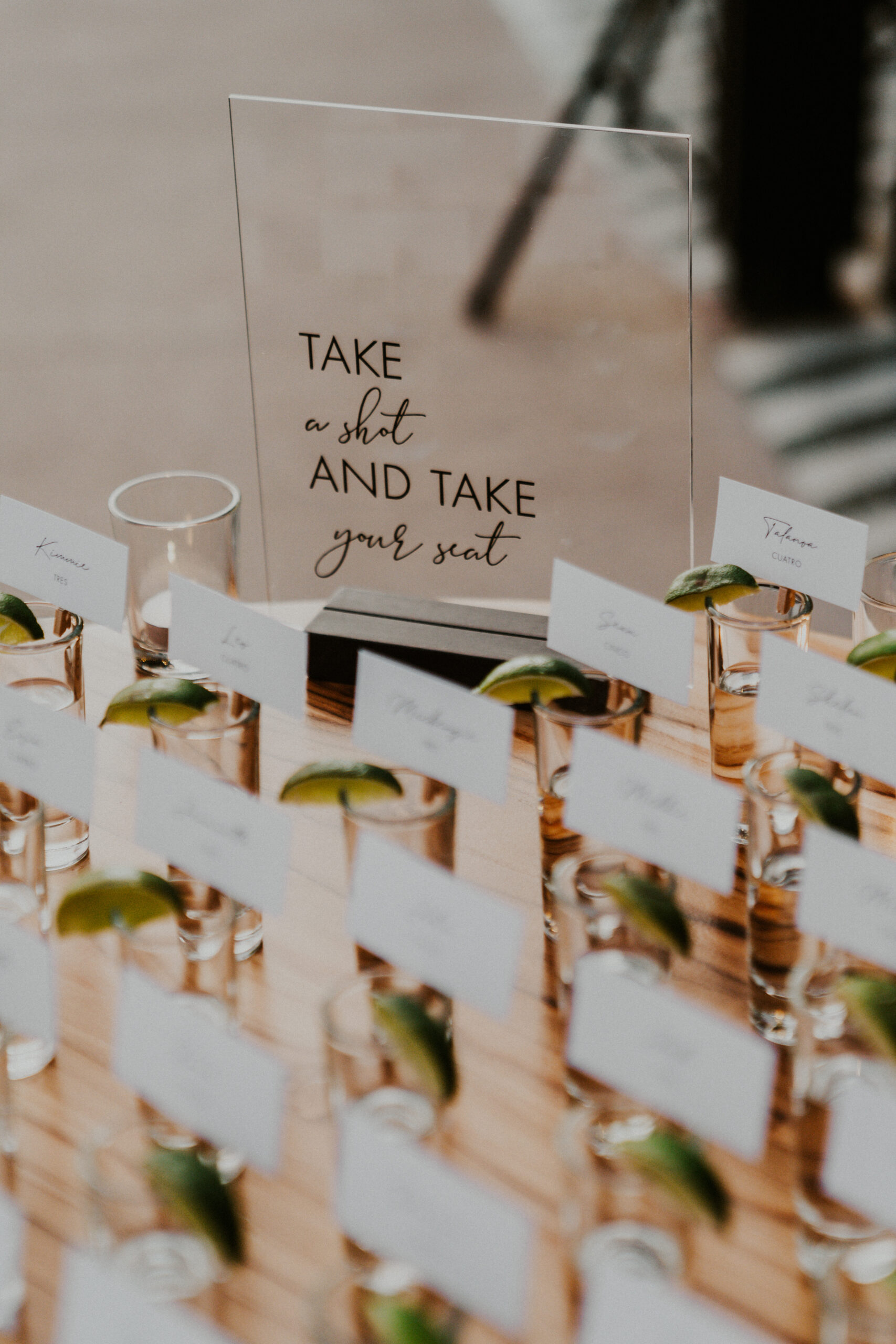 We had a few ideas floating around for our escort card table, but resorted back to the classic Mexico-themed, "Take a shot and take your seat" shot glasses. I worked with our signage vendor to create all of our signs, menus, cocktail list, etc.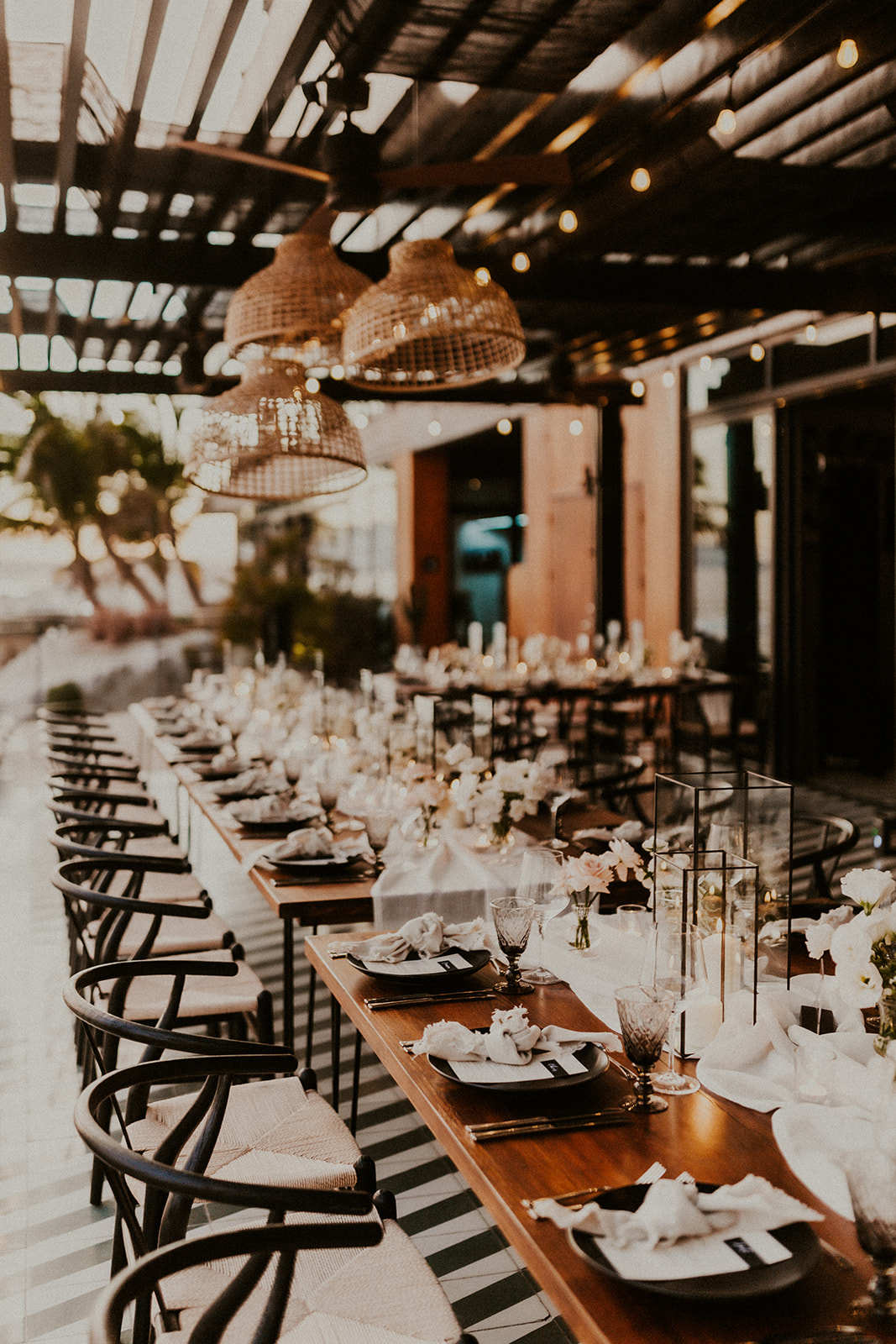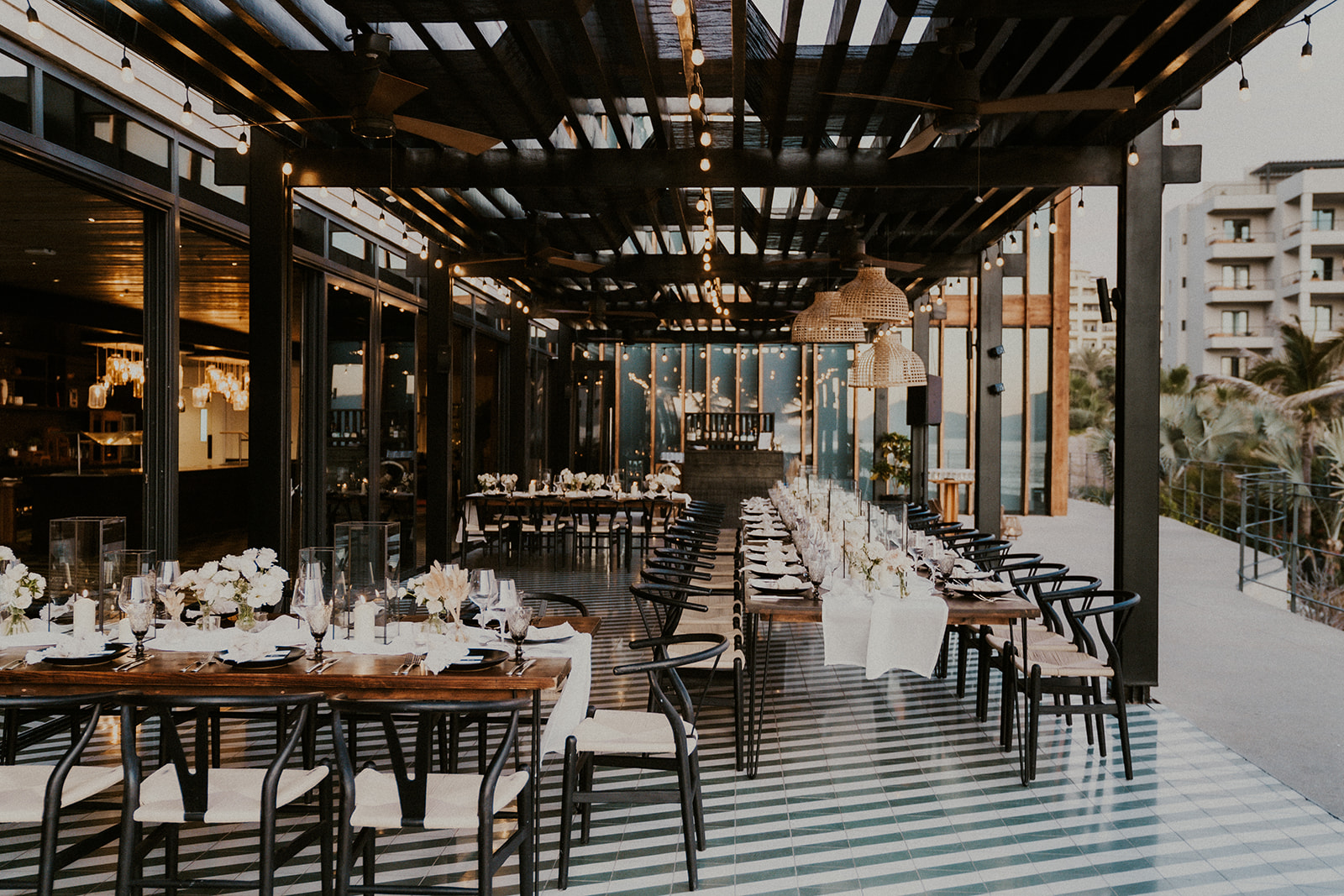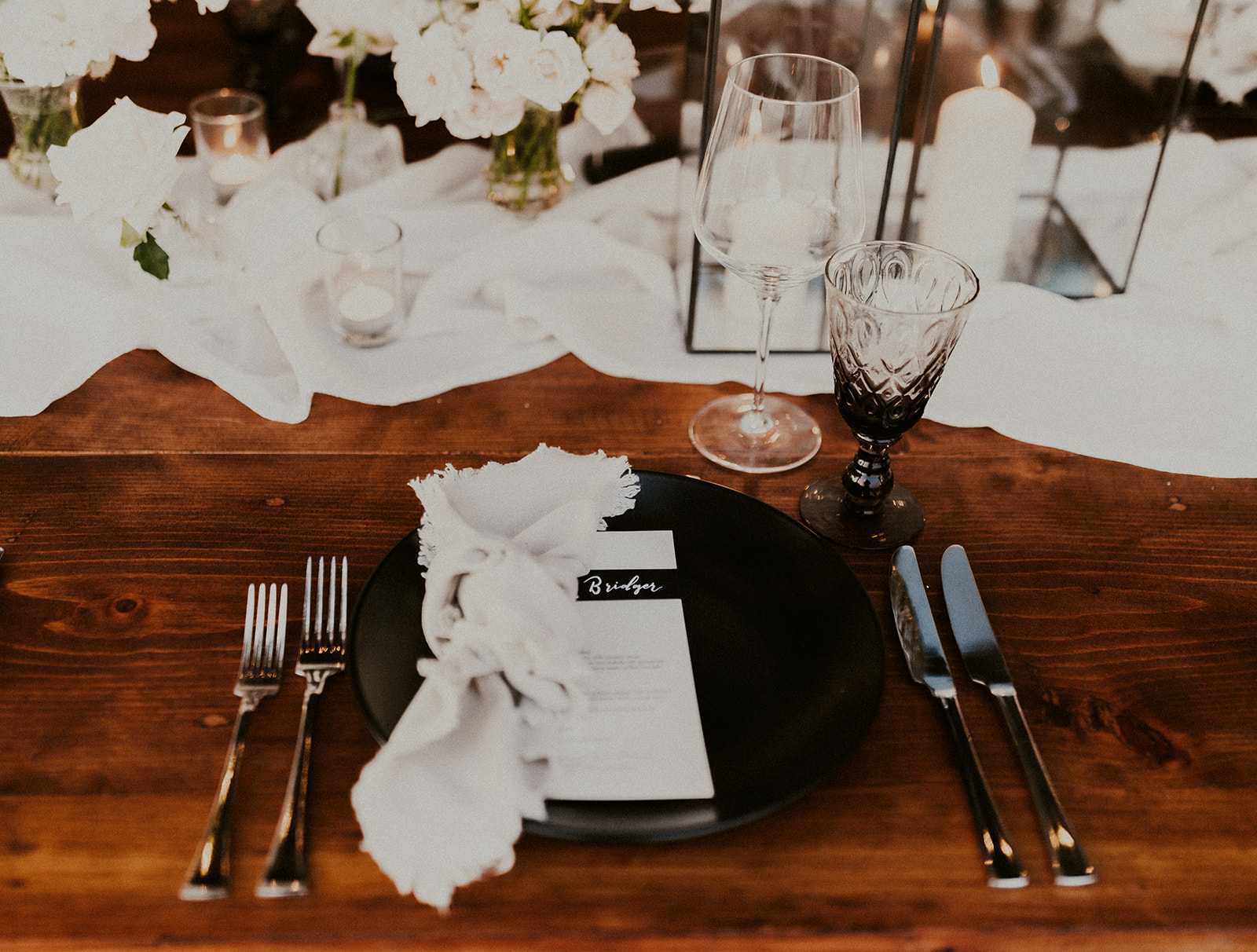 The vibe for the reception was more of a boho-modern feel with the hanging lanterns above Bridge & I's seats, fresh flowers + dried pampas throughout the tablescapes, fringe napkins, AH it was such a vision when you walked in! This is actually The Cape's, The Ledge restaurant on site that you can rent out and they completely transformed the space. It was mostly outdoors but then they had the sliding glass doors open to the inside for dancing and the DJ booth. Extremely comfortable for a 40-person wedding.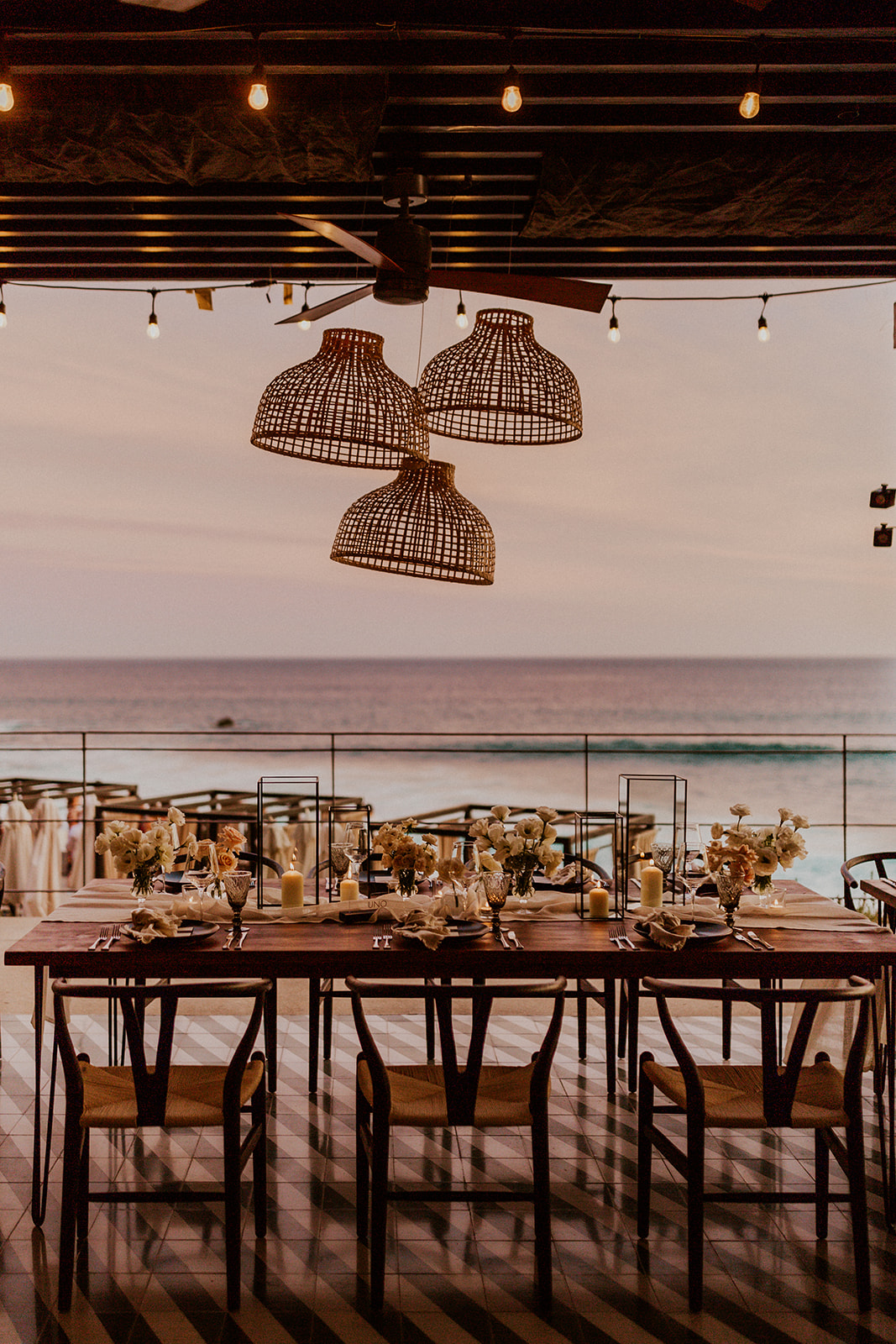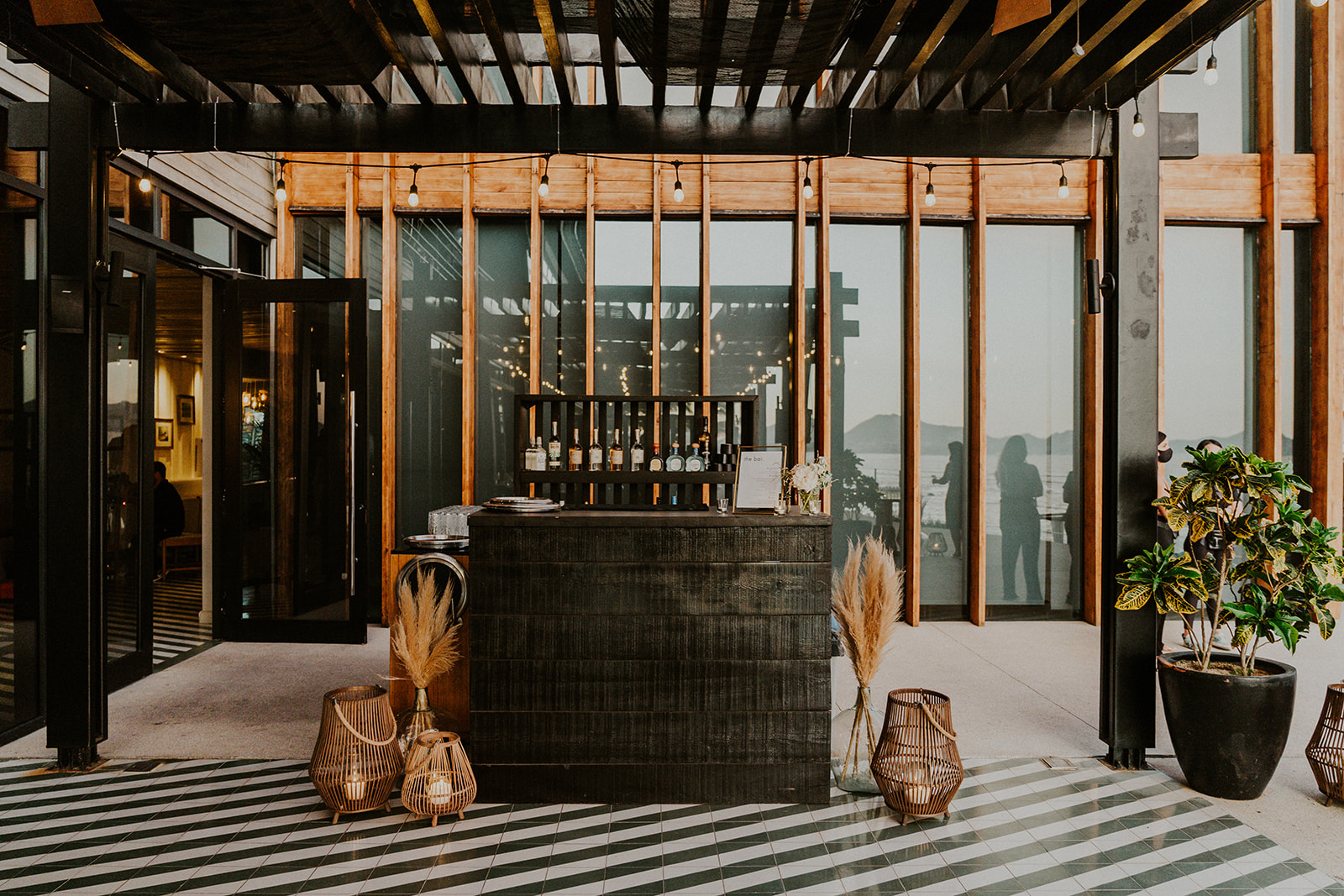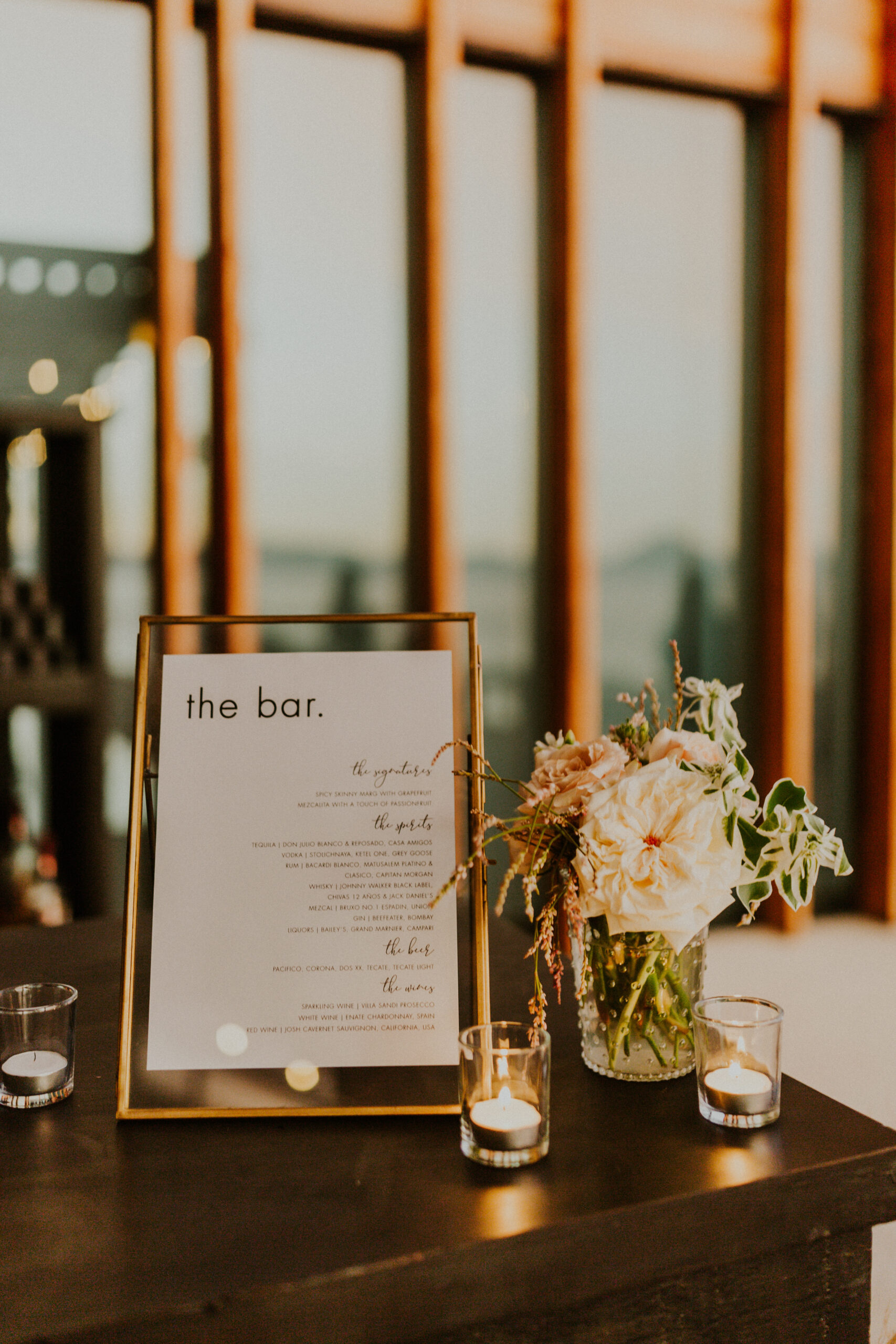 THE FIRST DANCE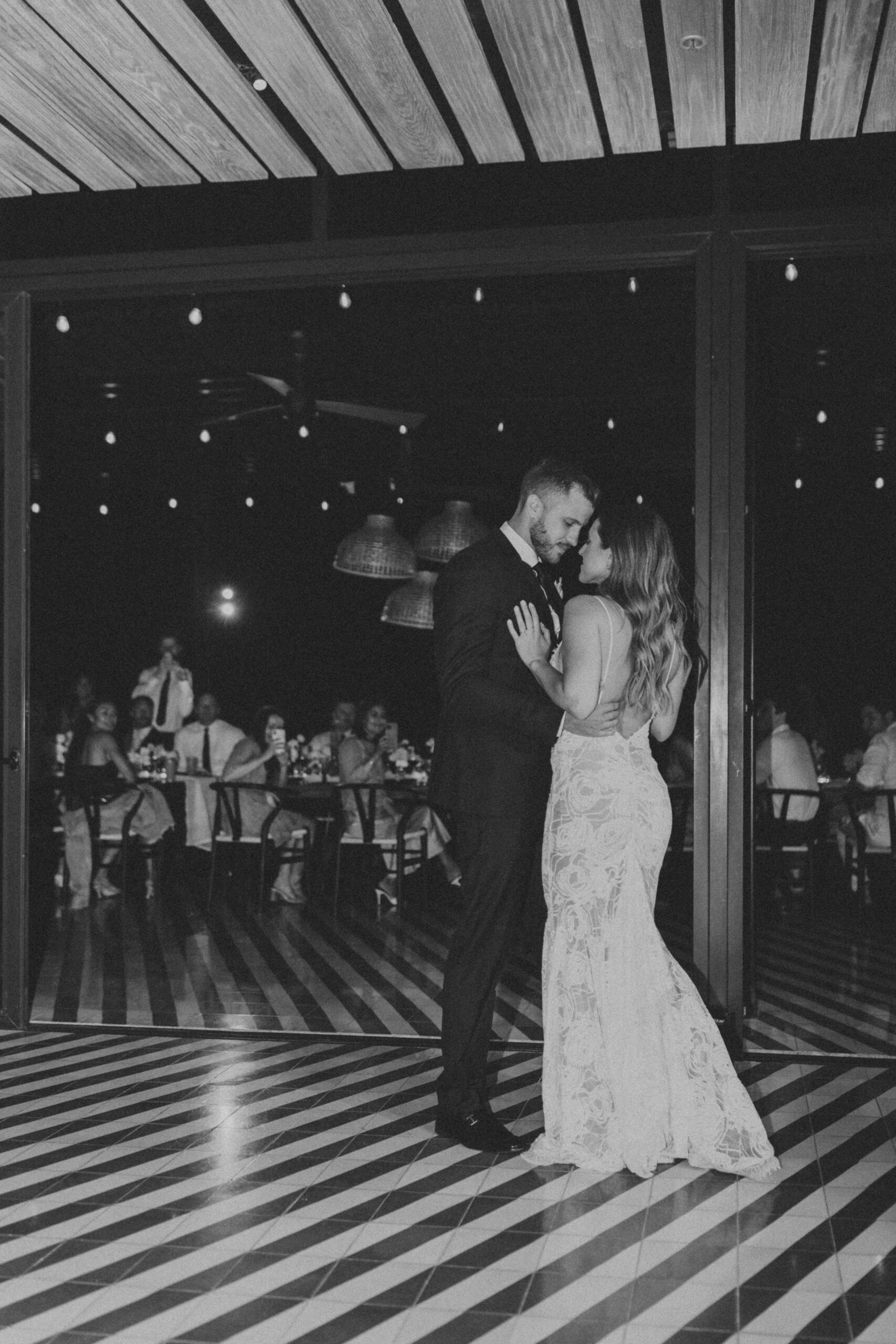 Bridger and I had plans of taking dance lessons months before the wedding, but did that happen? No lol. At that time it was still during covid and we were also so busy with a few launches I had planned for Good Sweat + Recreation Sweat so time kind of got away from us. I asked you guys on Instagram about a week or two before the wedding if it was worth it to try and learn a first dance or just wing it and so many of you suggested Wedding Dance School online hosted by Pasha and Daniella from Dancing With The Stars. Look, I already don't have much rhythm so I wasn't expecting much improvement whatsoever, but I would recommend this course in a second to anyone interested in lessons for their first dance! Bridge and I took their course online (took about 40-60 minutes total) 6 days before our actual wedding. We basically learned 4-5 moves and from there created a sequence to our own song… we practiced a little bit each day, taking it to our balcony in Mexico, and again right before we were announced as husband and wife at our reception (our planner found us dancing behind the corner before we walked in). It was perfect!
Of course, I'd say start it at least a month before your big day, but if you only have a week, that works too! They gave me a 25% discount for anyone wanting to try their wedding dance school– use RACHAEL25 on their site 🙂 We did the DIY course.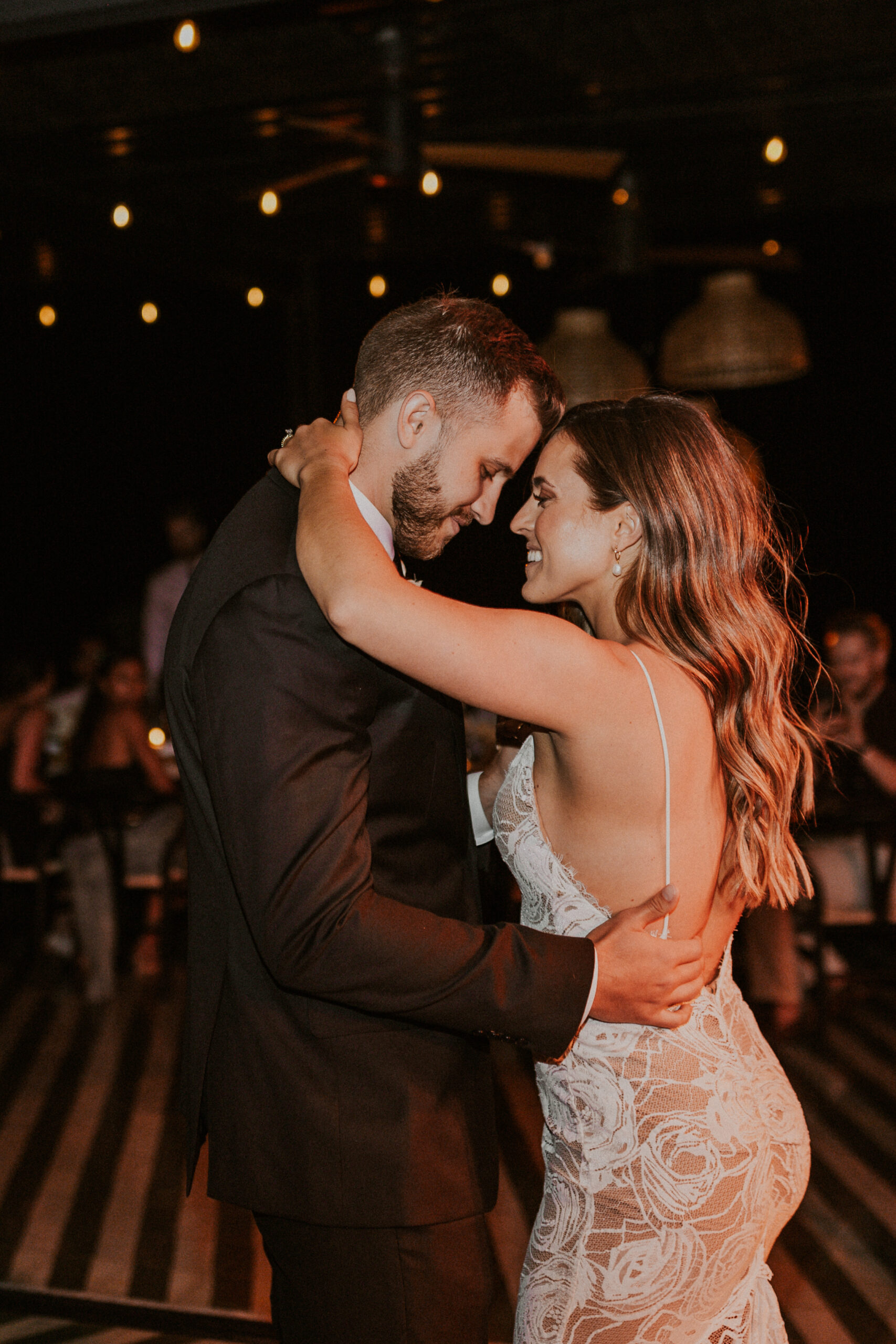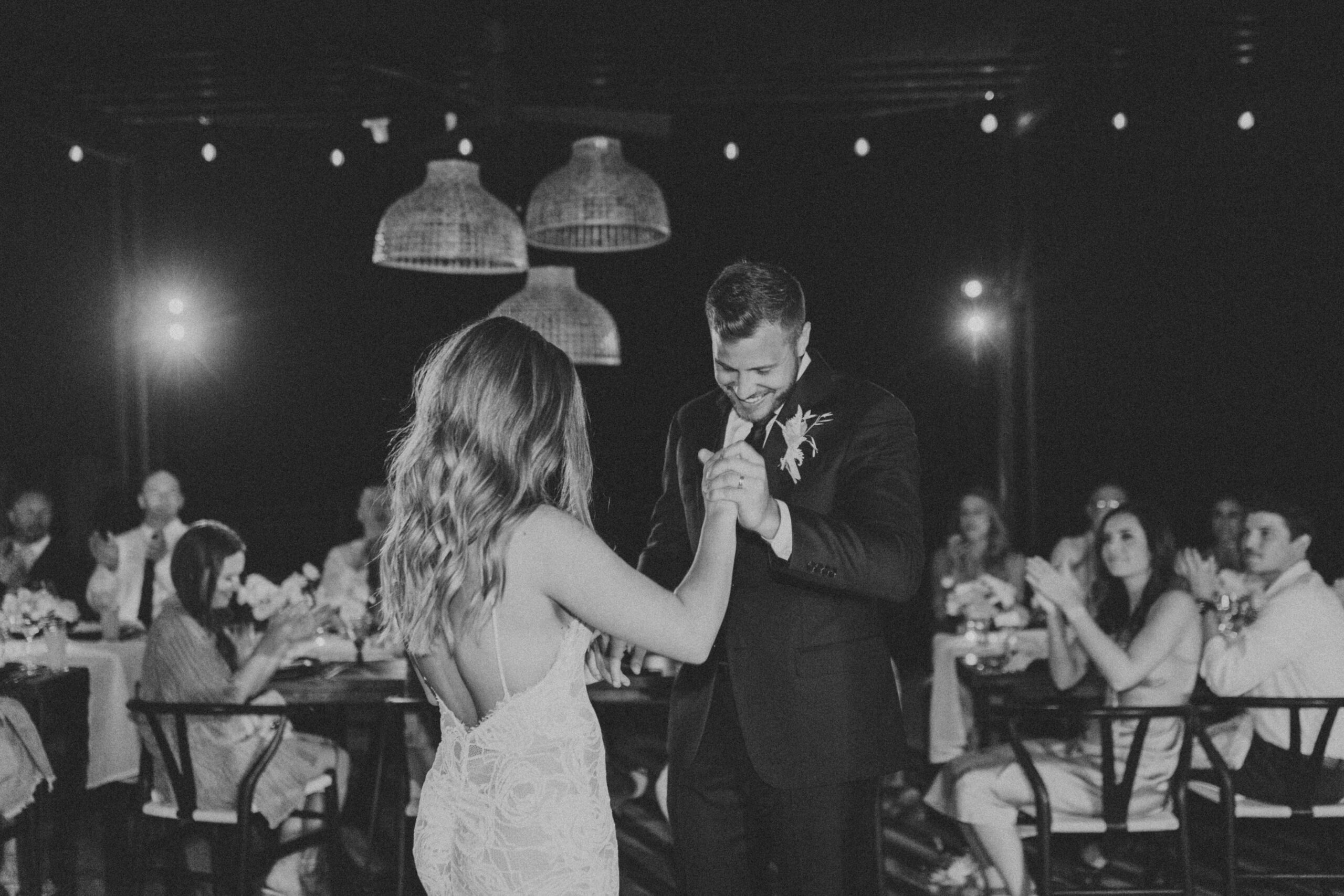 DINNER + DANCING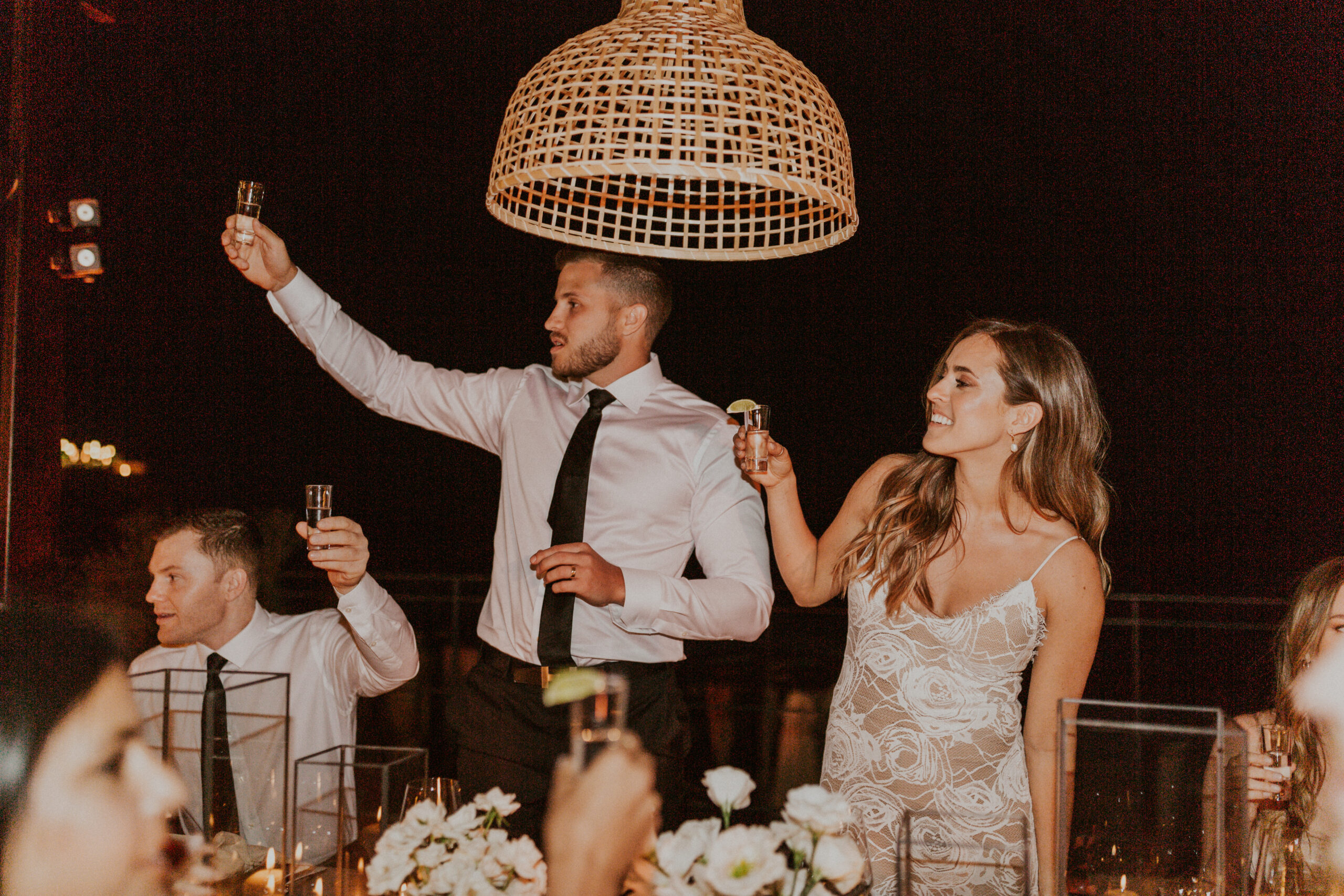 I honestly can't remember at this point, but I'm pretty sure Bridger and I made a toast and thanked everyone for coming.
The FOOD. Let's talk about the food. Definitely one of the best meals I've ever had! The Cape has incredible chefs and our family-style menu was to die for.
Appetizers
-Crudités, Guacamole & Salsas (mango pico– I recreated here)
-Grilled Asparagus and ancho chile Romesco Sauce
-Baja Style Sea food Ceviche on corn tostada with guacamole
-Mixed greens salad, toasted hemp seeds, grilled avocado, 3 dressings
Main course
–Roasted chicken breast over poblano pepper rajas poblanas.
-Carved New York steak, Lobster potato mash, Orange thyme demi glace.
-Banana leaf baked local catch and shrimp barbacoa
Sides
-side of roasted sweet potato
-side of black beans
-Grilled onions + peppers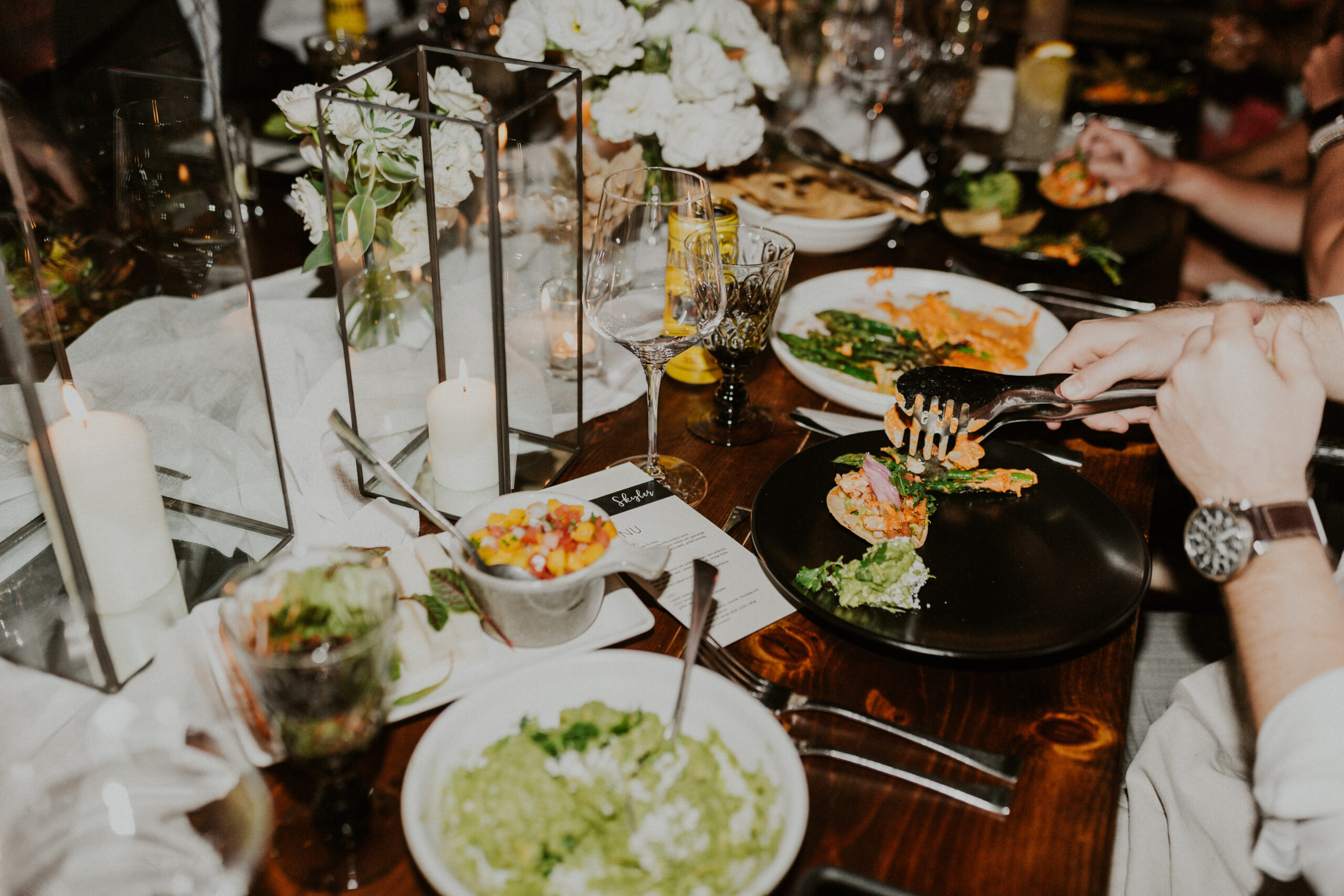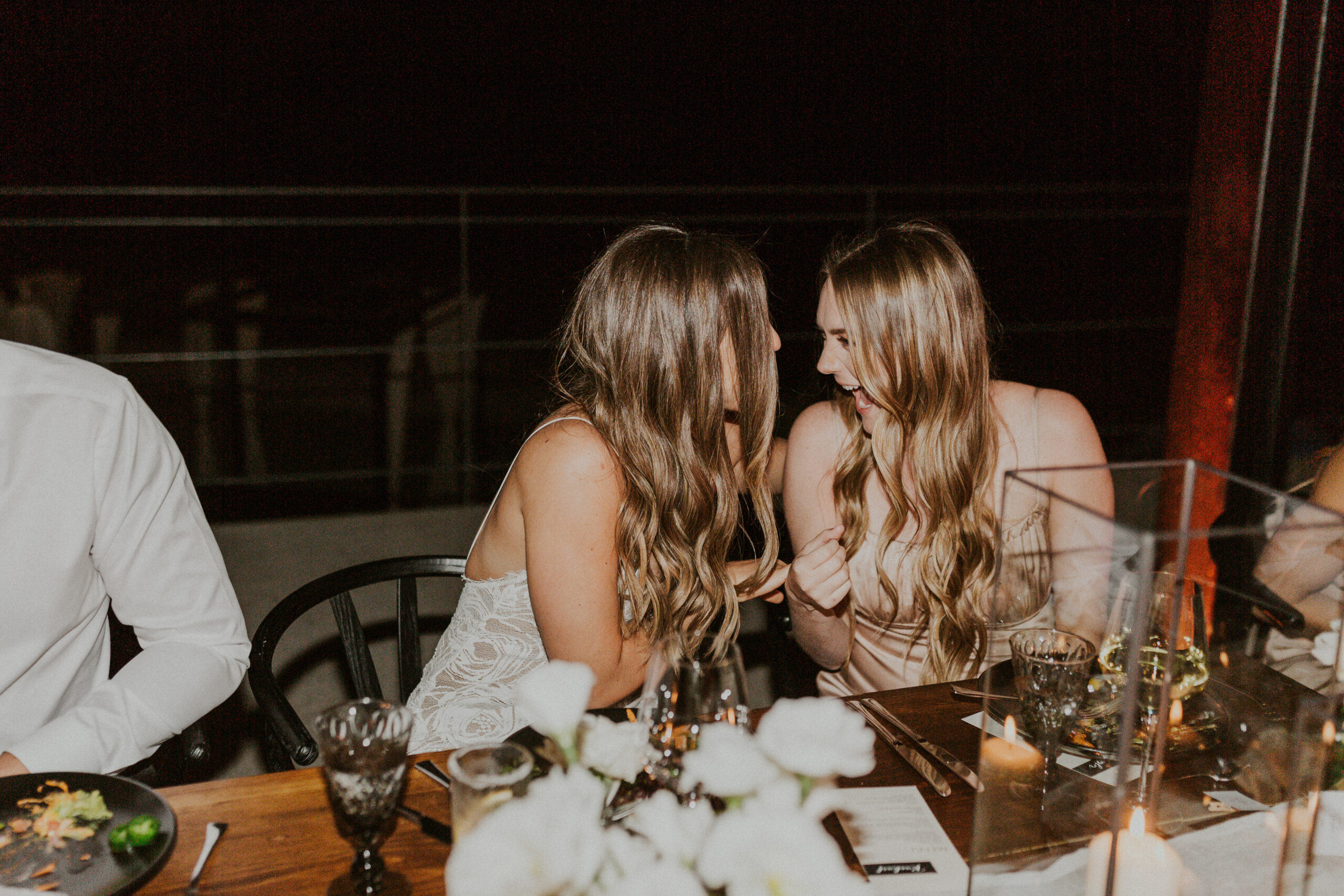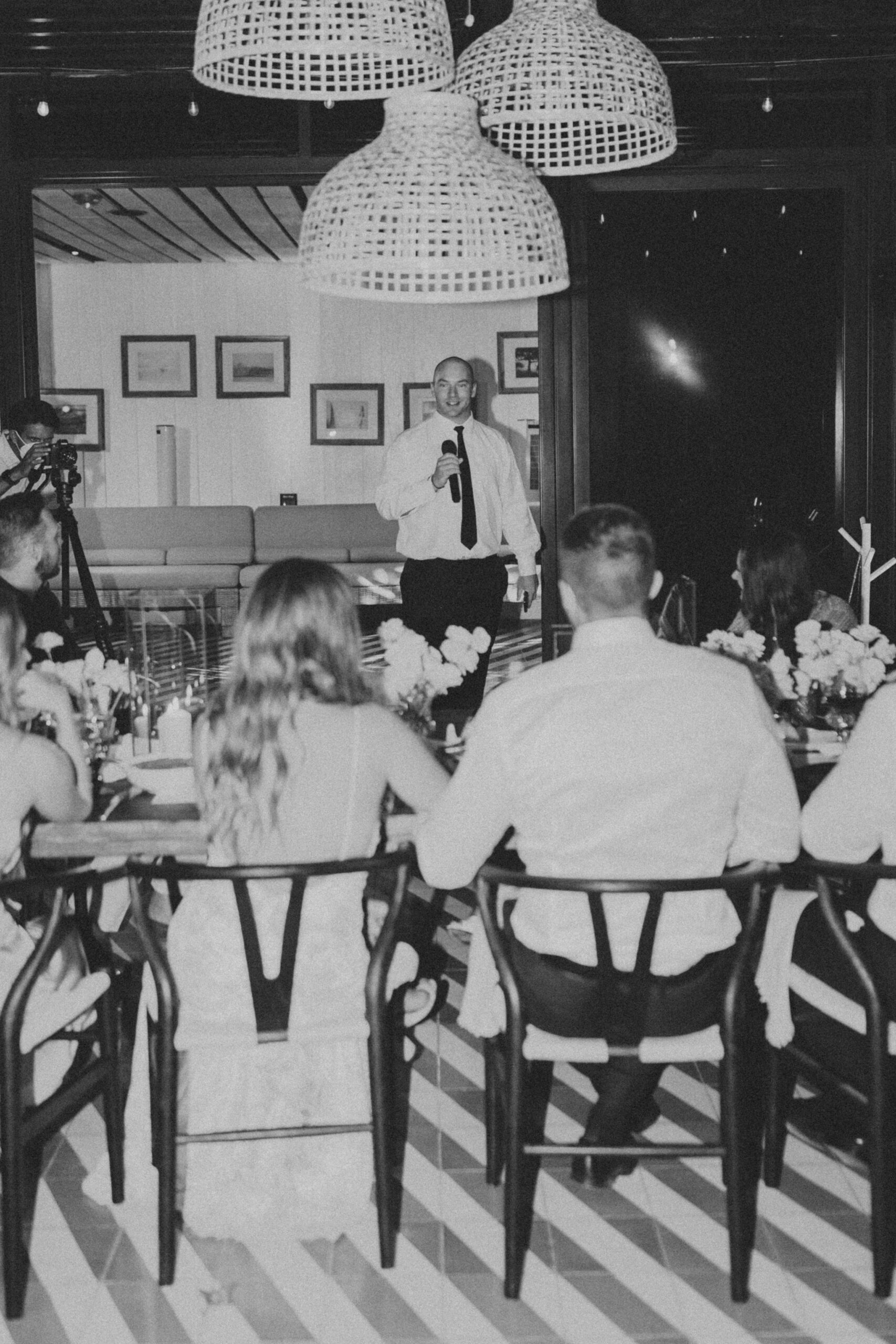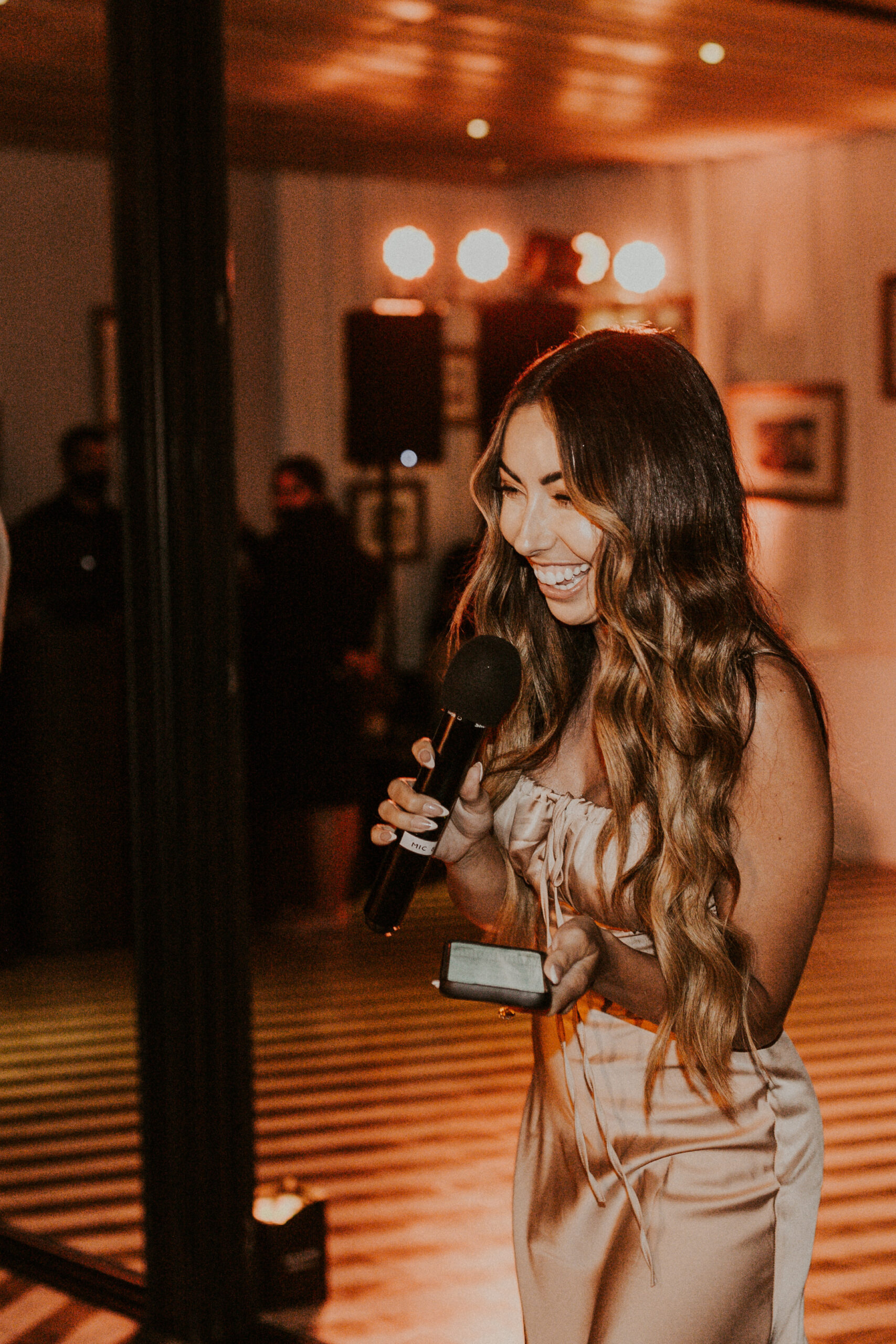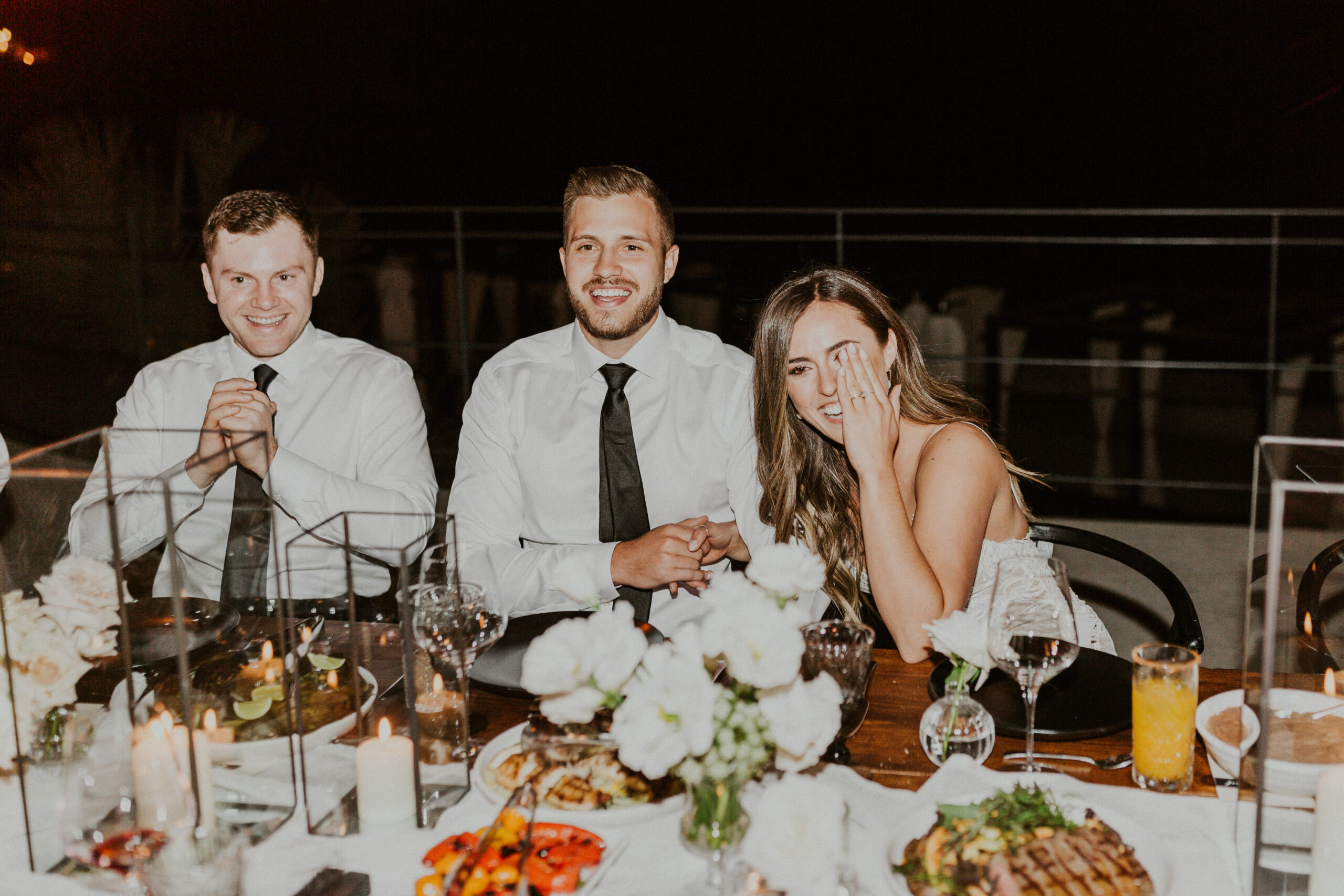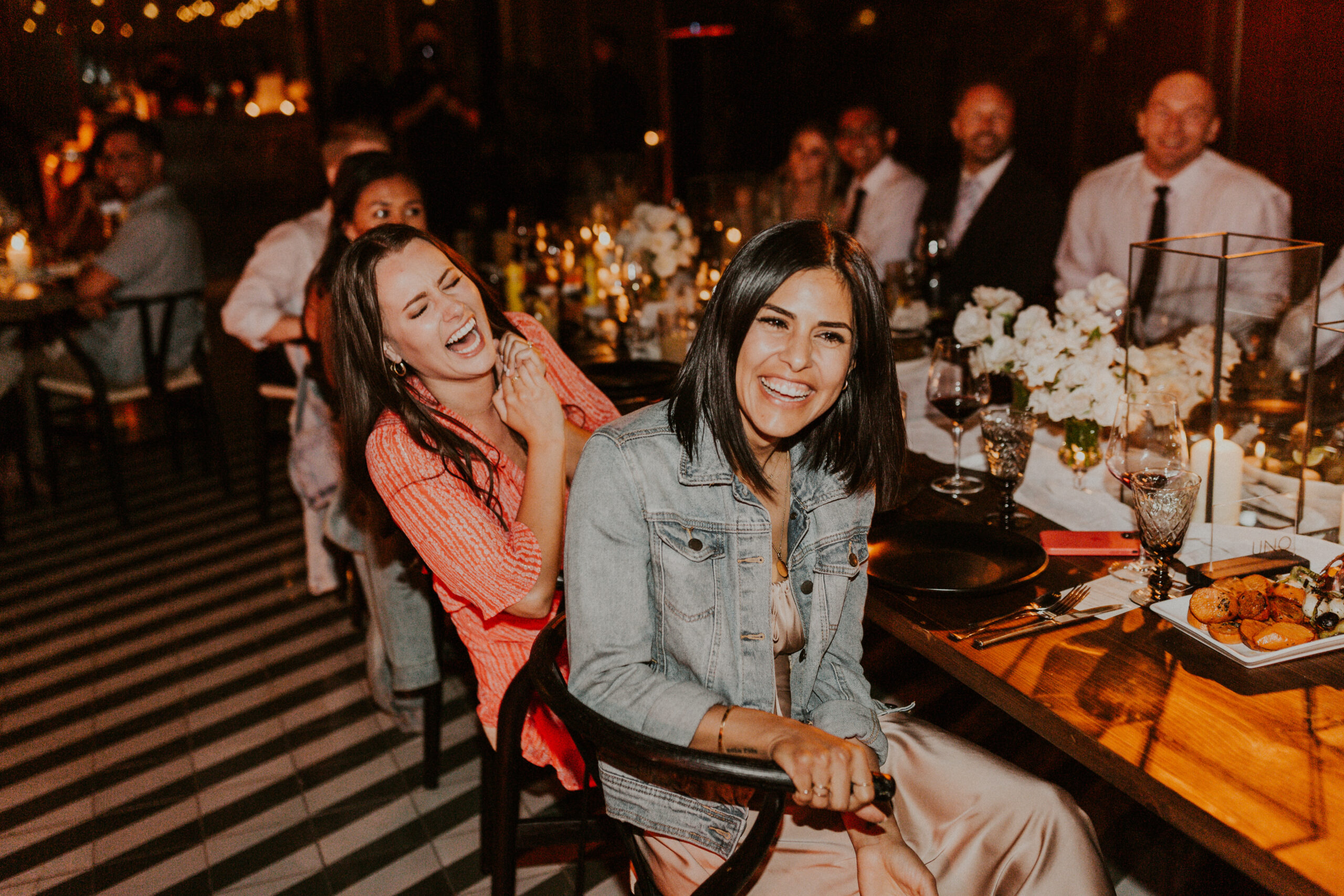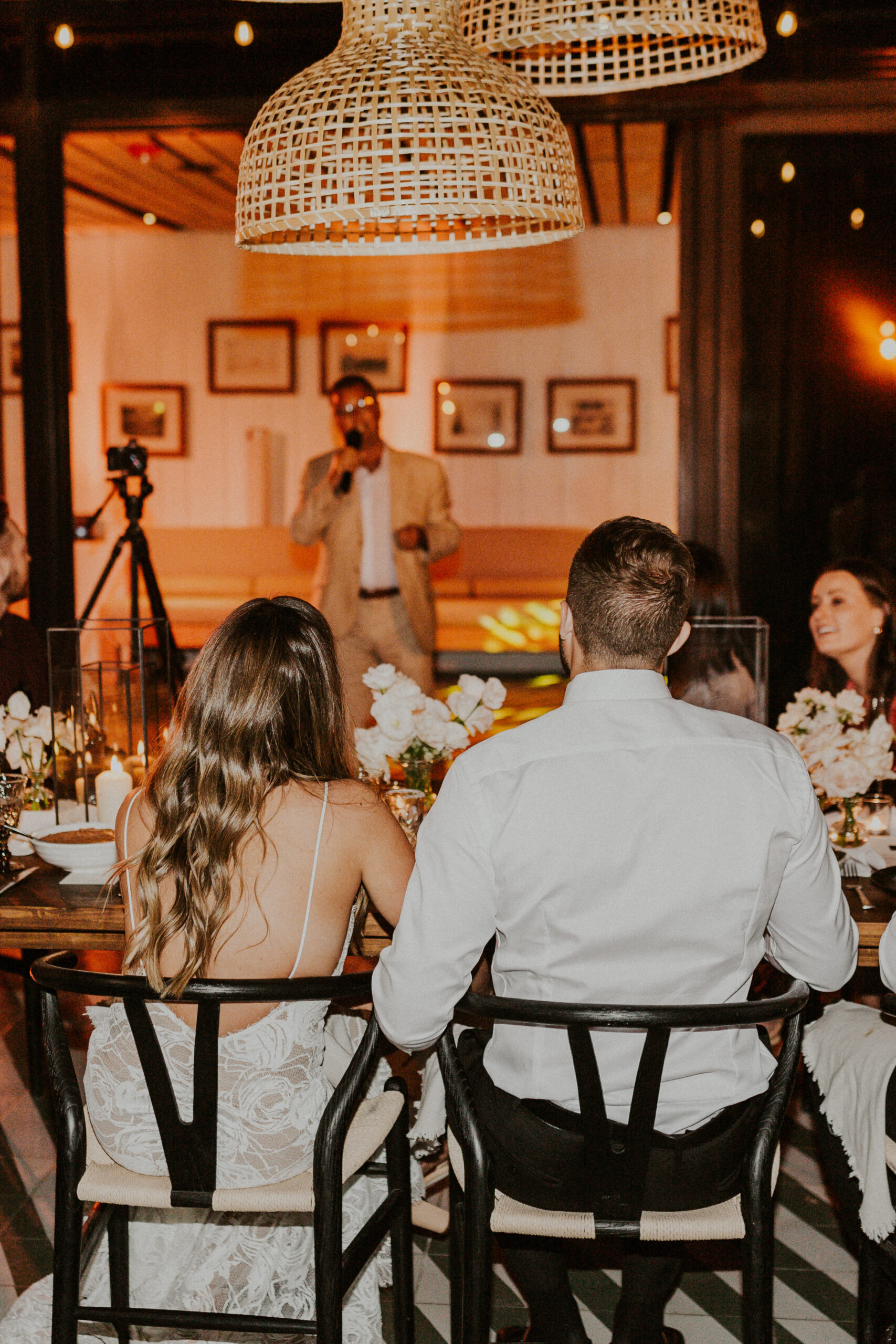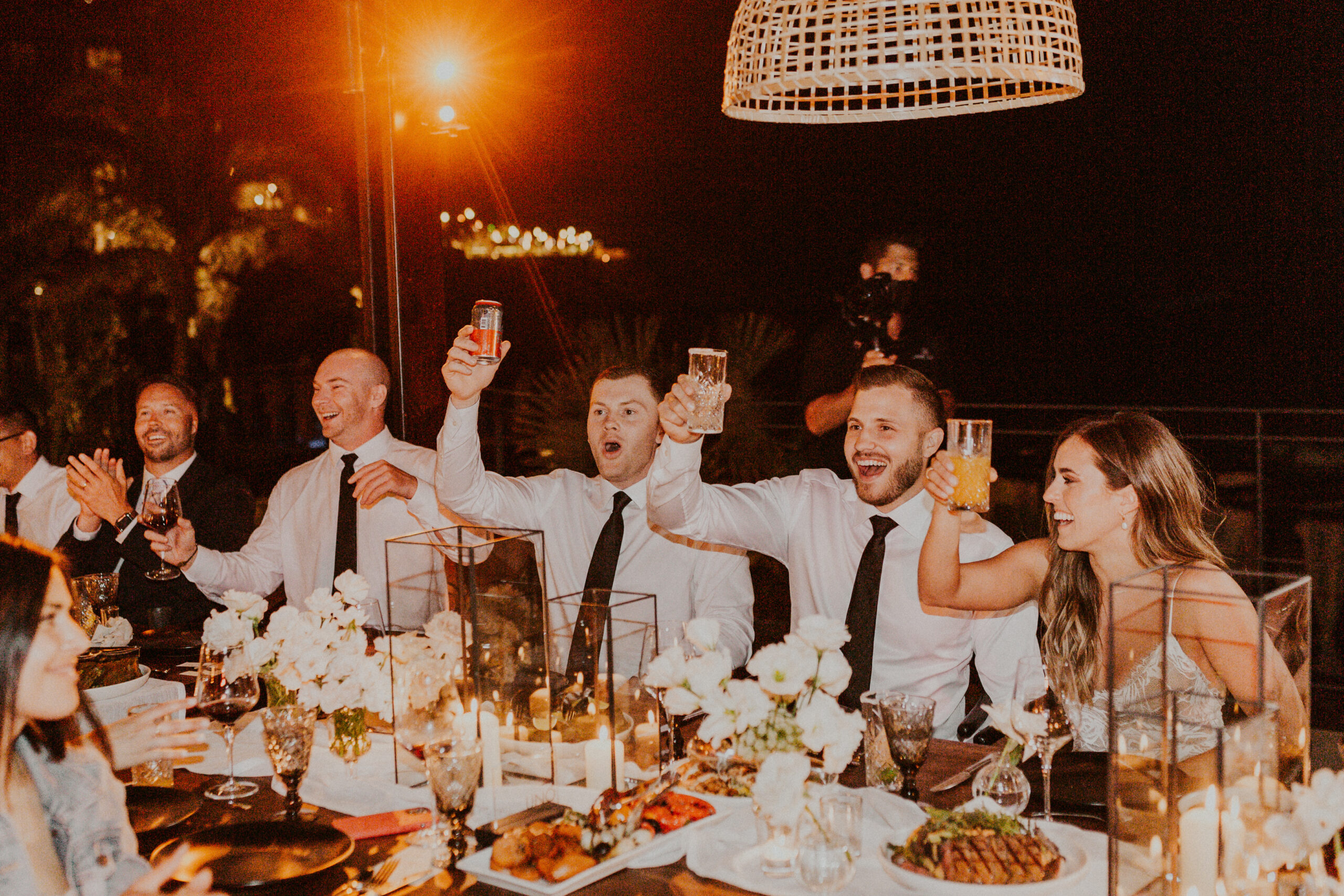 The speeches were so special. We had Bridger's best man and our long-time friend since middle school, my two maid of honors, my sister and best friend from college, and both of our dads. They were all so funny, loving, thoughtful and made us so grateful to have this group of people in our lives.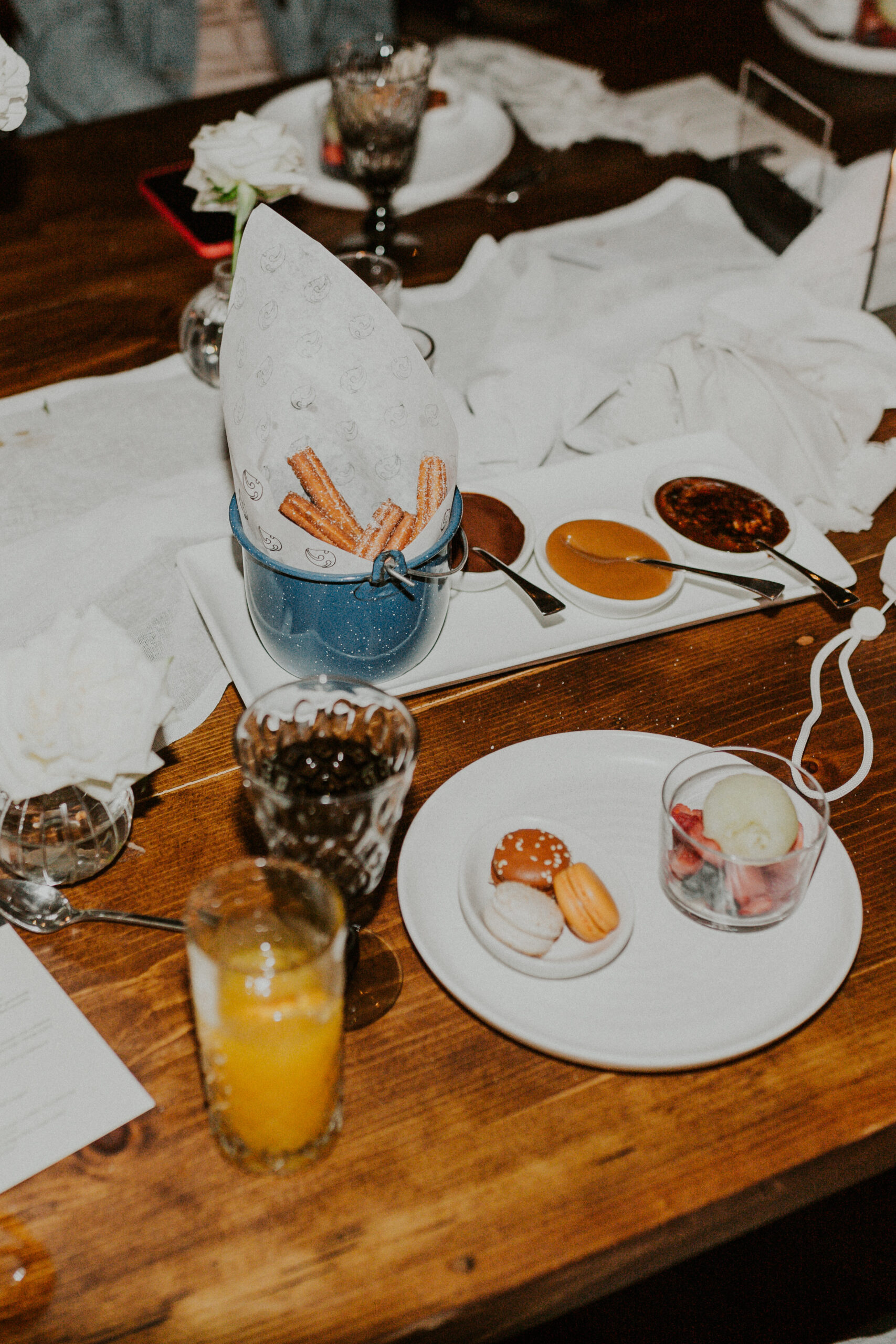 Desserts:
-Cinnamon dusted churros (obviously!!!), caramel, chocolate and spiced piloncillo sauce
-Fresh watermelon & berry salad over Mojito Sorbet
-Assorted macarons (Mango, coco, Mole)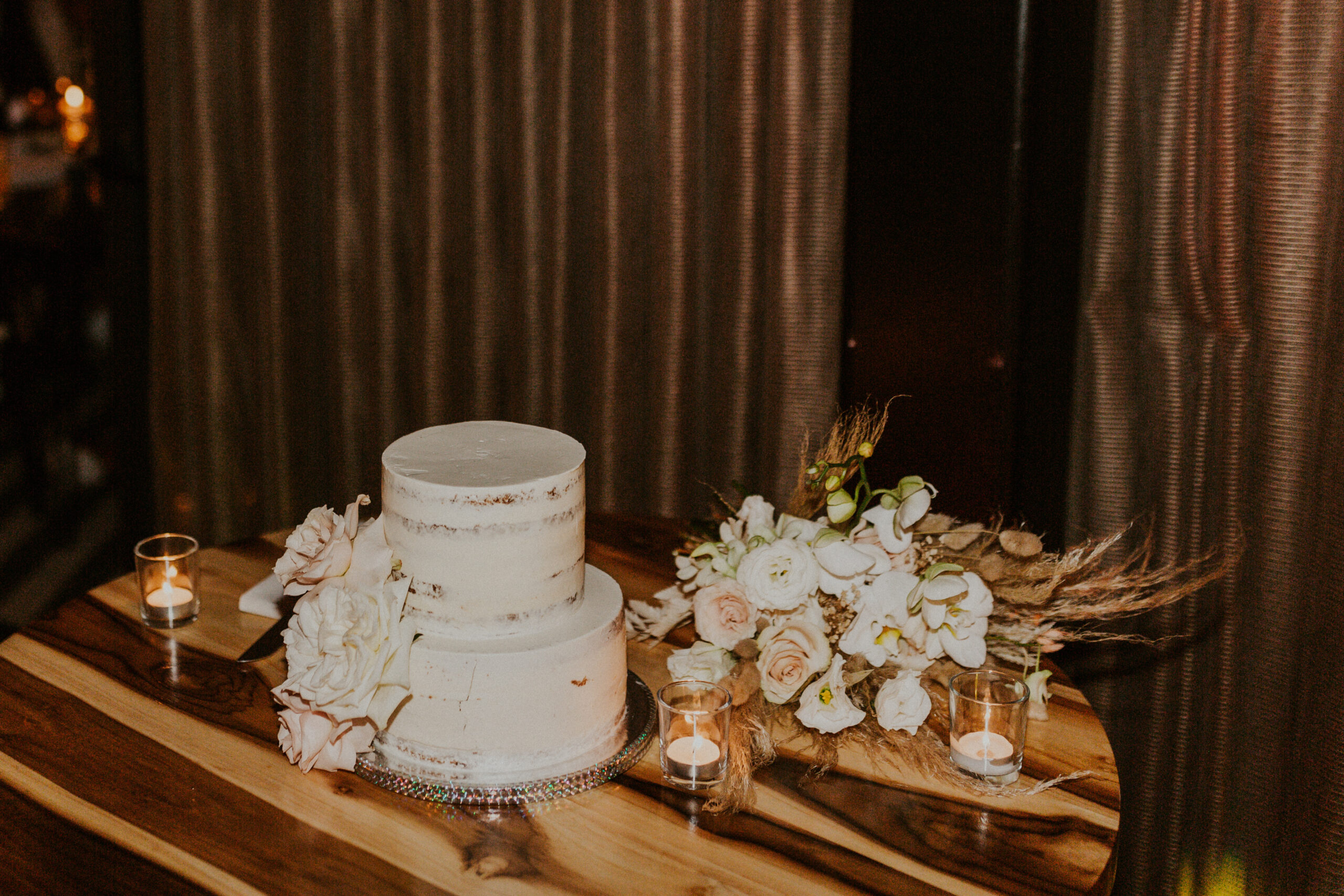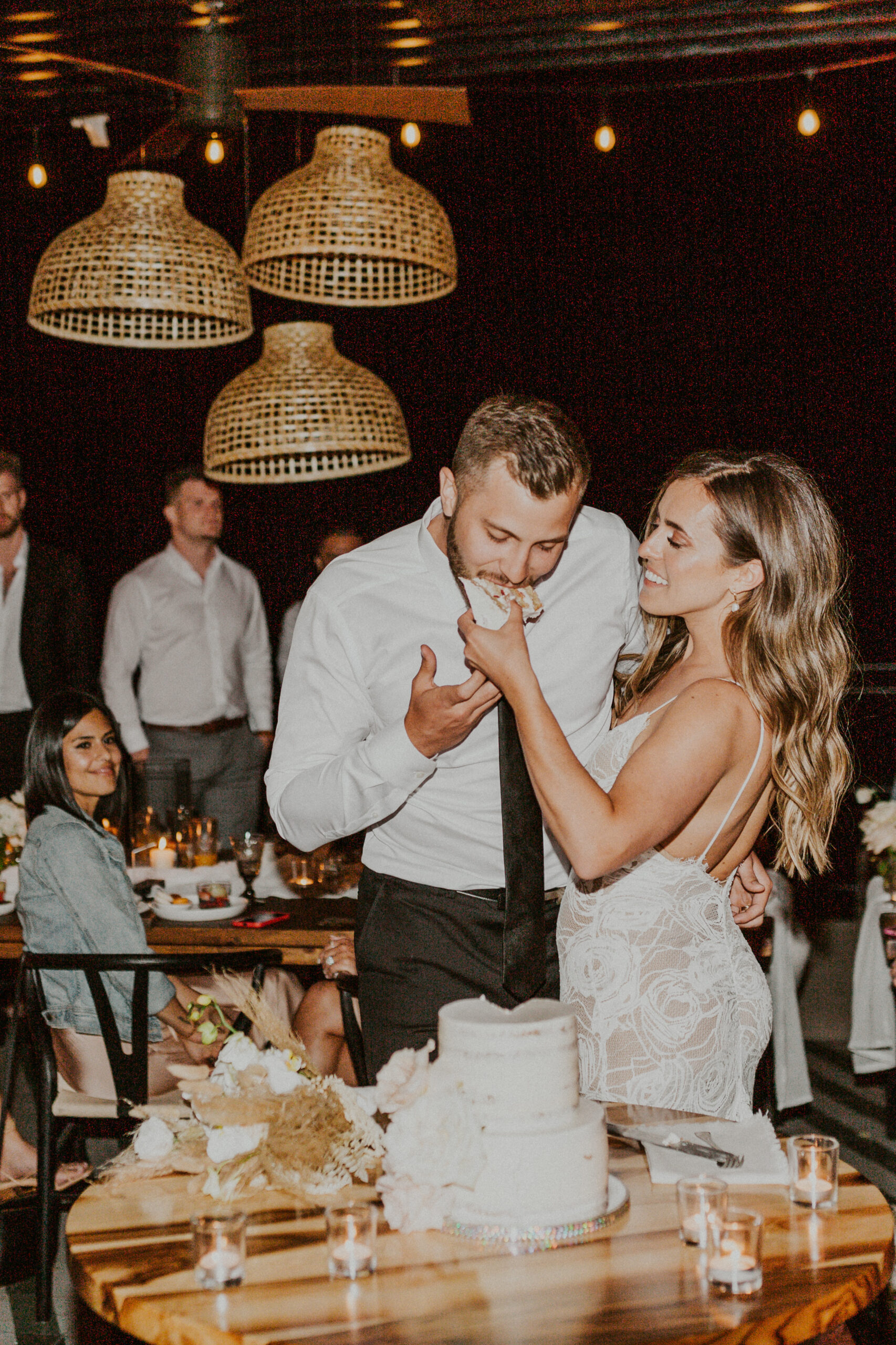 To finish it off with our Vanilla & Strawberry cake: it was the best one I've EVER had. Completely gluten-free and dairy-free, made with coconut frosting and fresh strawberries!! Bridger-approved, too!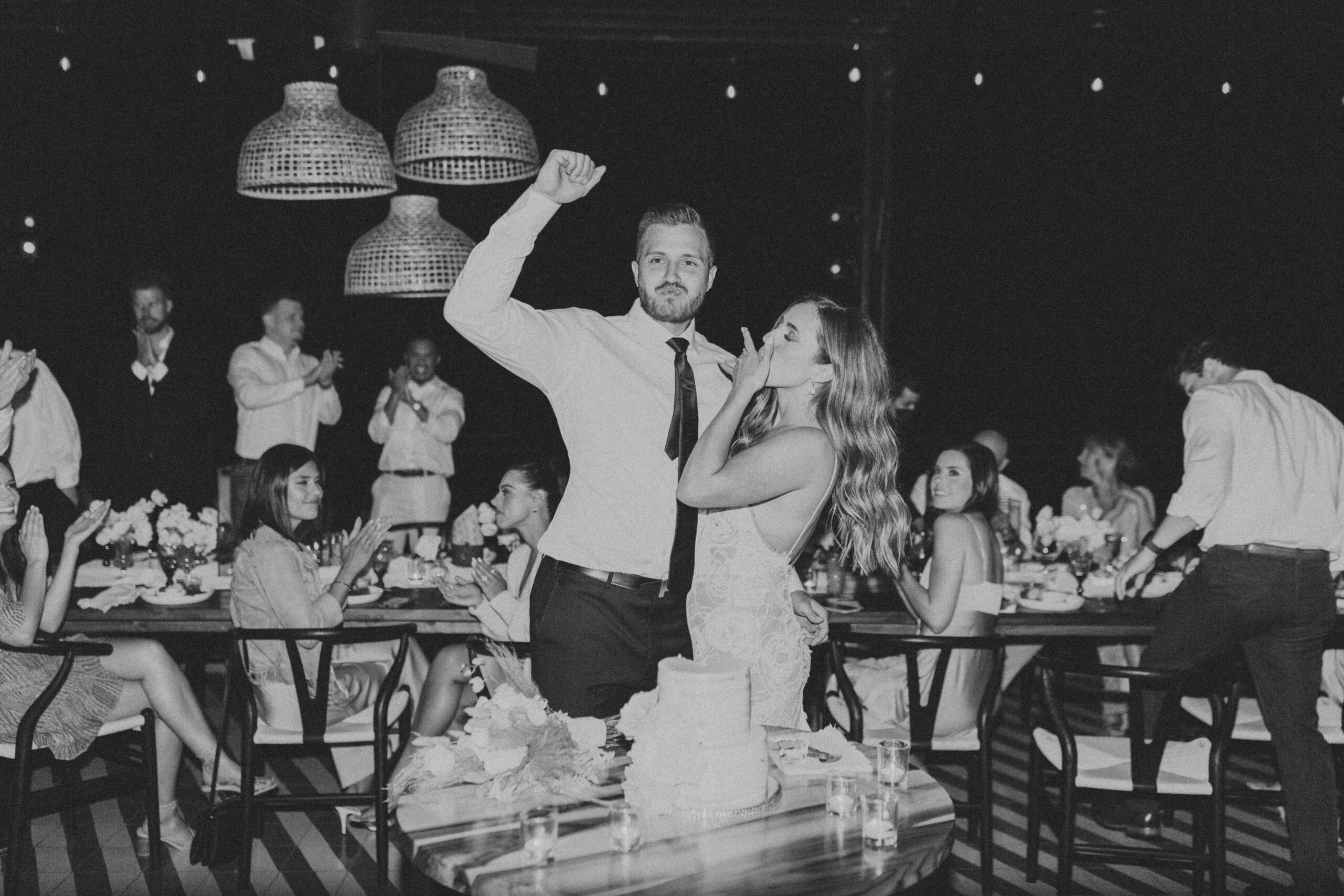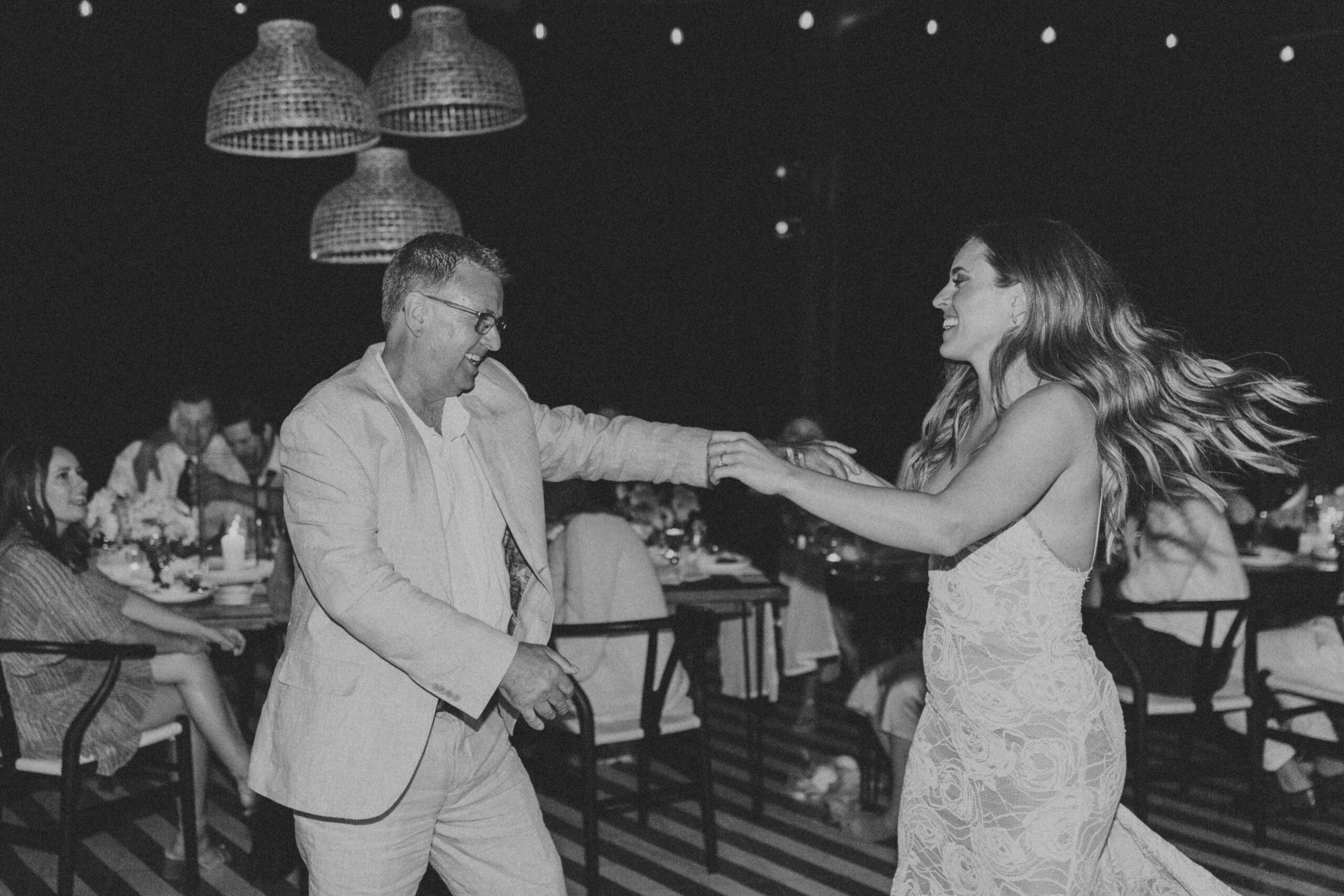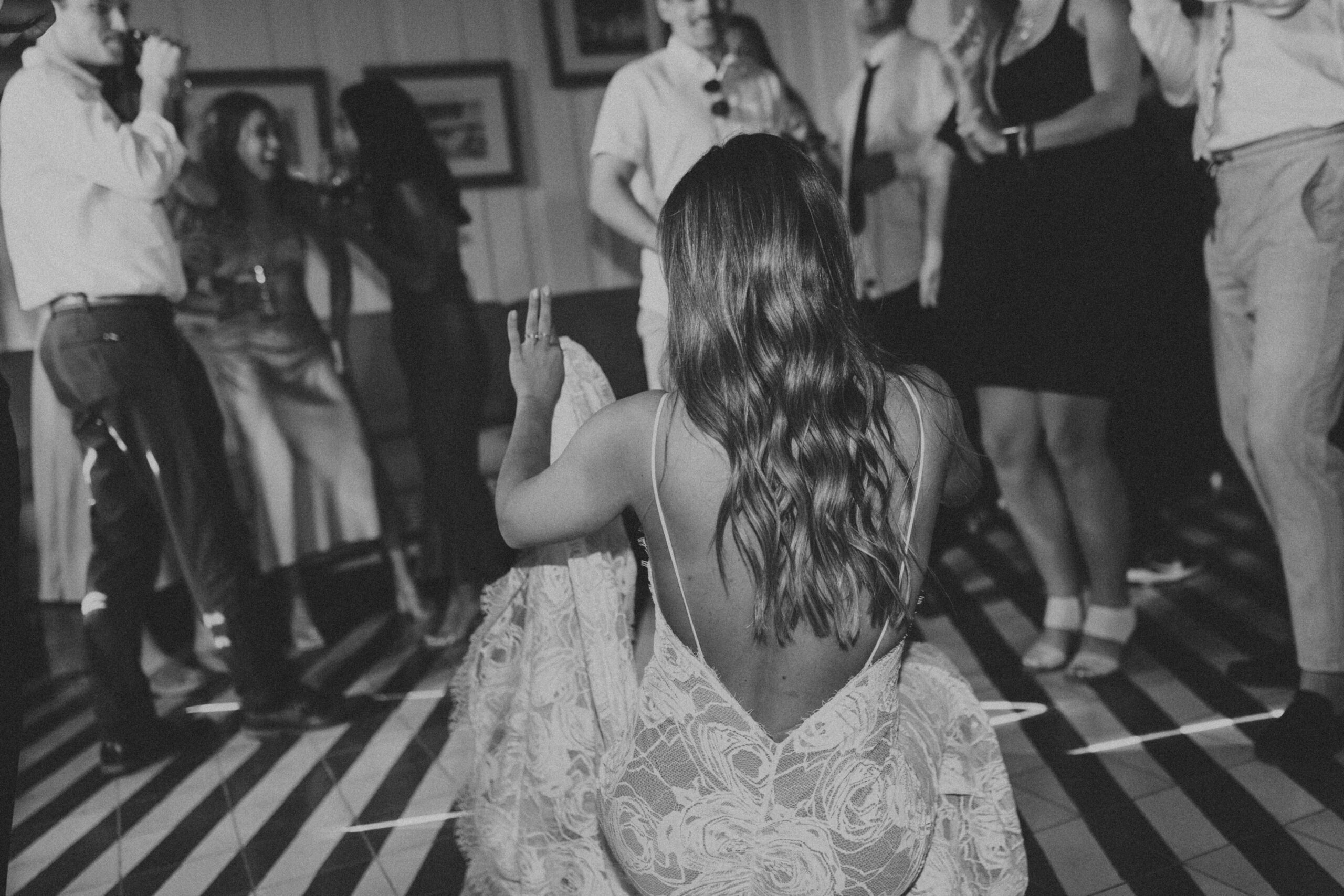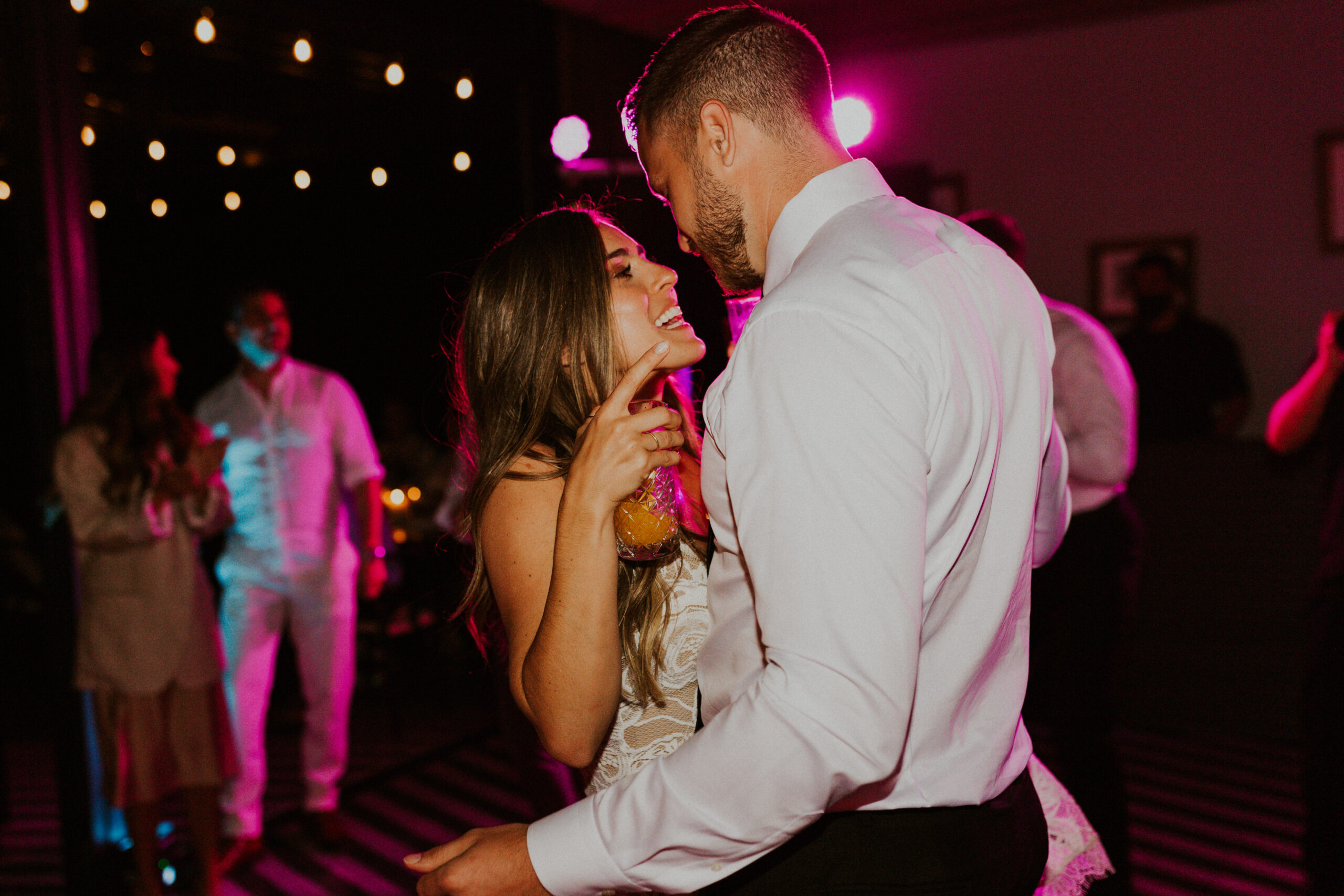 Thanks so much for reading and making it all the way down here 🙂 We hope you enjoyed seeing some more photos from our special day!
xx Rachael