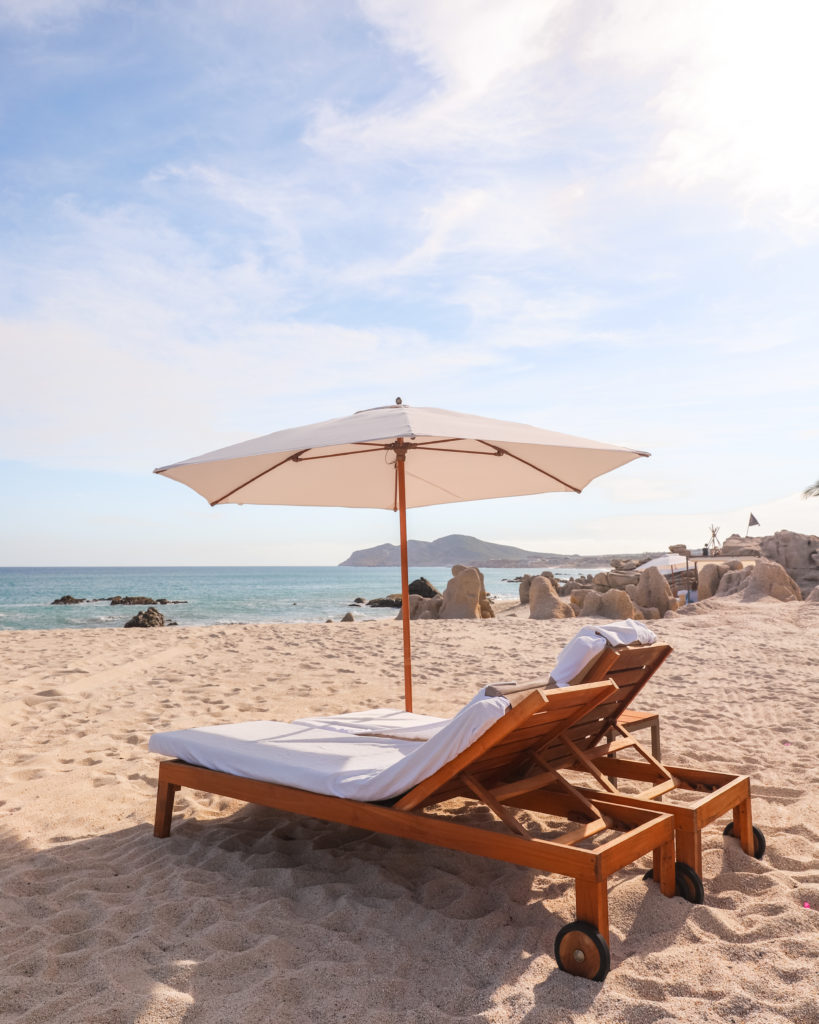 CABO. Where do I start?! The place where Bridger and I celebrated our 9-year anniversary and the place where we got engaged. DREAMY to say the least.
This was my third time to Cabo and we stayed at Grand Velas Los Cabos, a luxury all-inclusive resort, and such an awesome spot. Between the hotel and the whole engagement thing, this was definitely a trip I will NEVER forget. Let's talk about the hotel first then I'll talk more details about the proposal, k? 🙂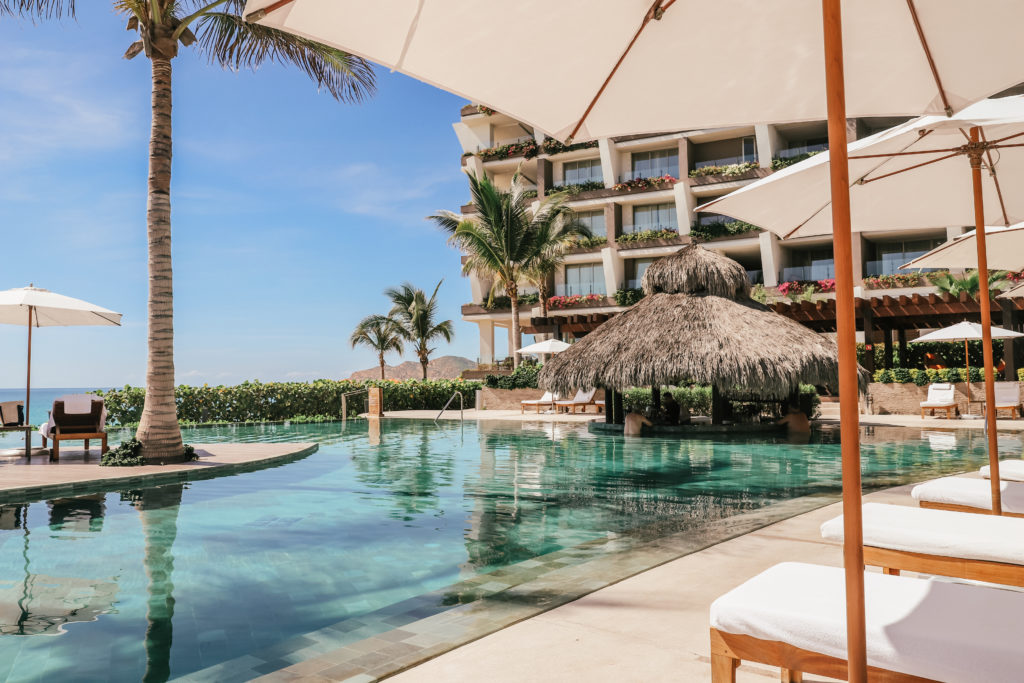 First of all, I want to call out that the hotel is technically in San Jose del Cabo, which is about 30 minutes from downtown Cabo. I actually thought this was great though since it's a lot closer to the airport and it felt less touristy and busy in general. We did Uber down to Cabo San Lucas and it was a quick and pretty drive, but we were excited to get back to our more "exclusive" area. Just as beautiful, for sure!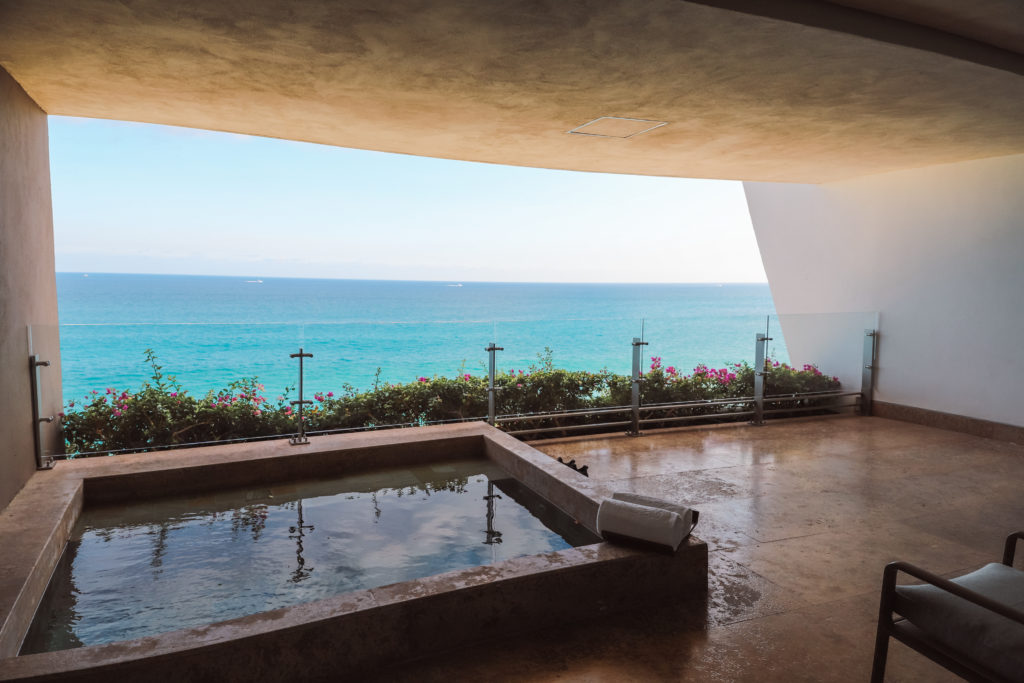 Our room was spectacular (liiike, our mouths dropped when we walked in). We had a plunge pool on our balcony, free room service and mini bar, a beautiful view, and did I mention free room service and mini bar because everything was all-inclusive? It was a game changer, let me tell ya that. There's something about not having to pull out your wallet or even look at prices that makes a vacation feel so much more relaxing and enjoyable. And while we loved all of the pools on the location, it's pretty awesome having our own to retreat too as well.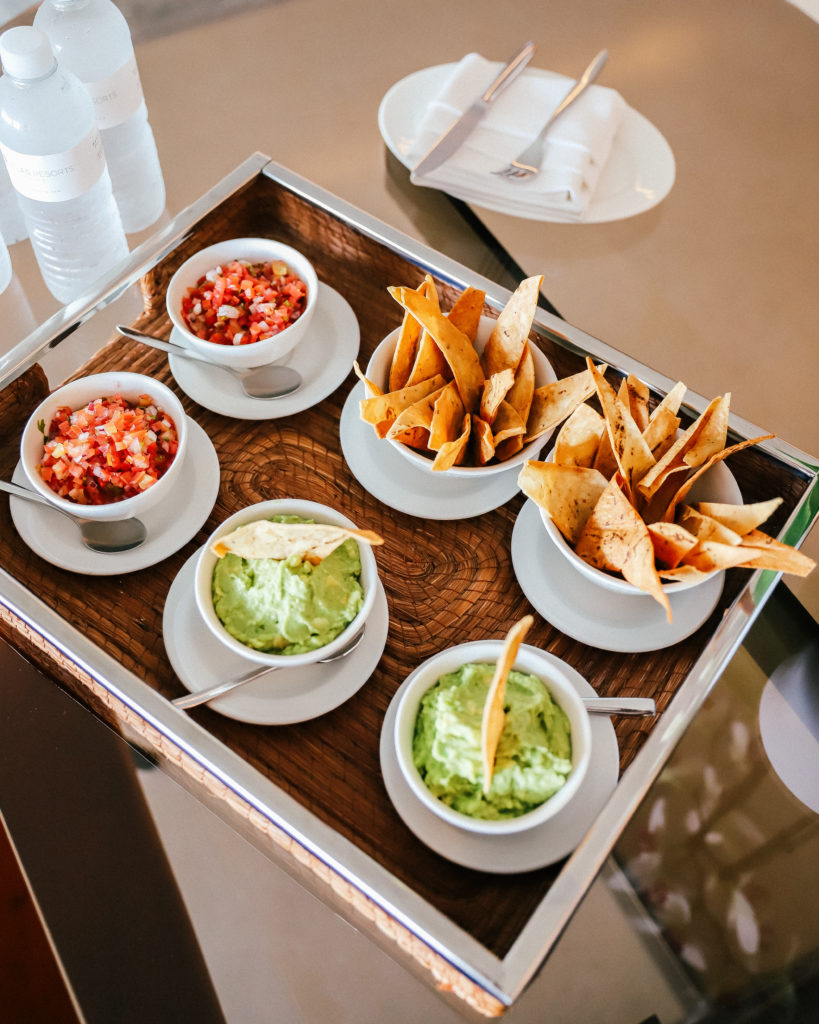 During our 4-day trip, we ate at 3 of the restaurants on property. There are actually 6 spots total, but since our trip was pretty quick, we couldn't hit them all. If the other 2 are anything like the ones we went to, I can definitely say everything is delish. We tried Frida and Cocina de Autor for dinners and Azul for the breakfast buffet each morning. You could say I'm still thinking about my veggie omelette, guac & pico, breakfast potatoes and pineapple situation every AM. Love that the buffet had such healthy choices. Honestly, the food was amazing the entire stay! Let's not forget by the pool either — ceviche arco, organic salad with chicken and chips & guac, mmhm.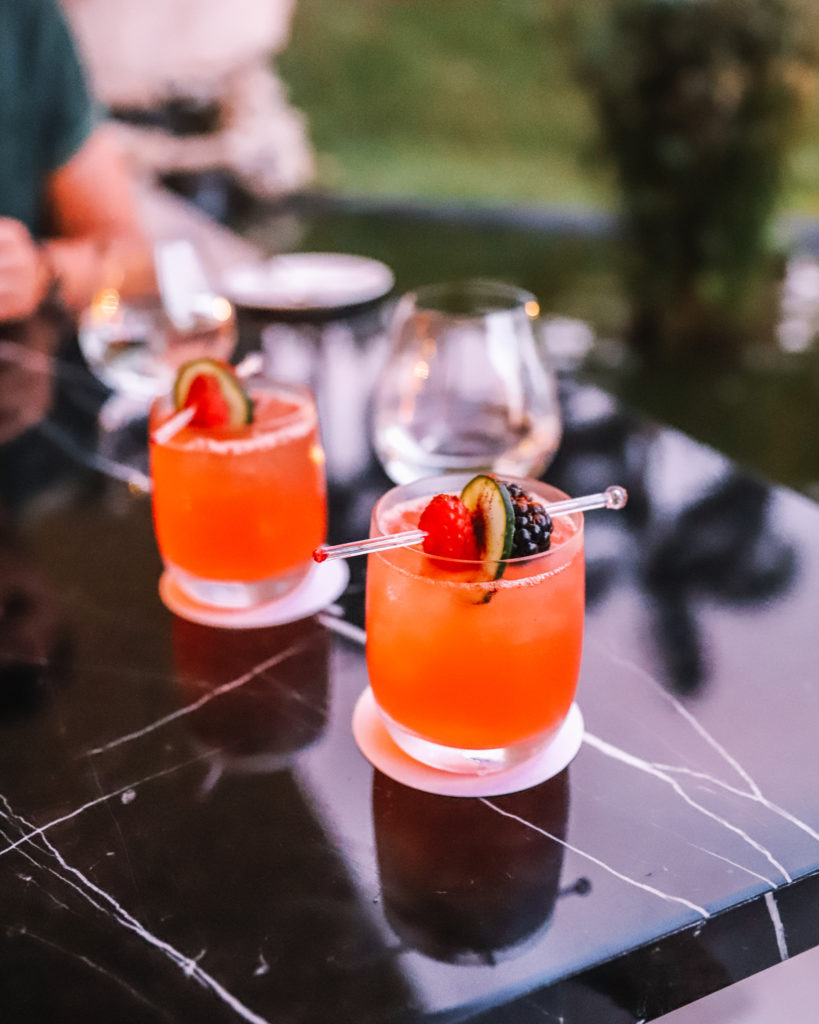 I have to mention Cocina de Autor, which was an incredible 7-course meal by a 2-star Michelin chef and it was out-of-control good. I shared a little bit of this on Insta Stories but honestly, photos can't do the meal justice. They were great at accommodating my dairy and gluten intolerance with every course, which I very much appreciated and is probably hard to find at most inclusive resorts.
The spa on property, Se Spa, was top notch. We definitely didn't want to leave! They offer a hydrotherapy ritual which includes a revitalizing shower, herbal steam and Sauna, a dip in the two-temperature lagoon, time in the Jacuzzi and a final multi-jet Swiss shower. Bridge and I both got the personalized therapeutic massages – total bliss, especially after my workout that morning. I'd 100% recommend.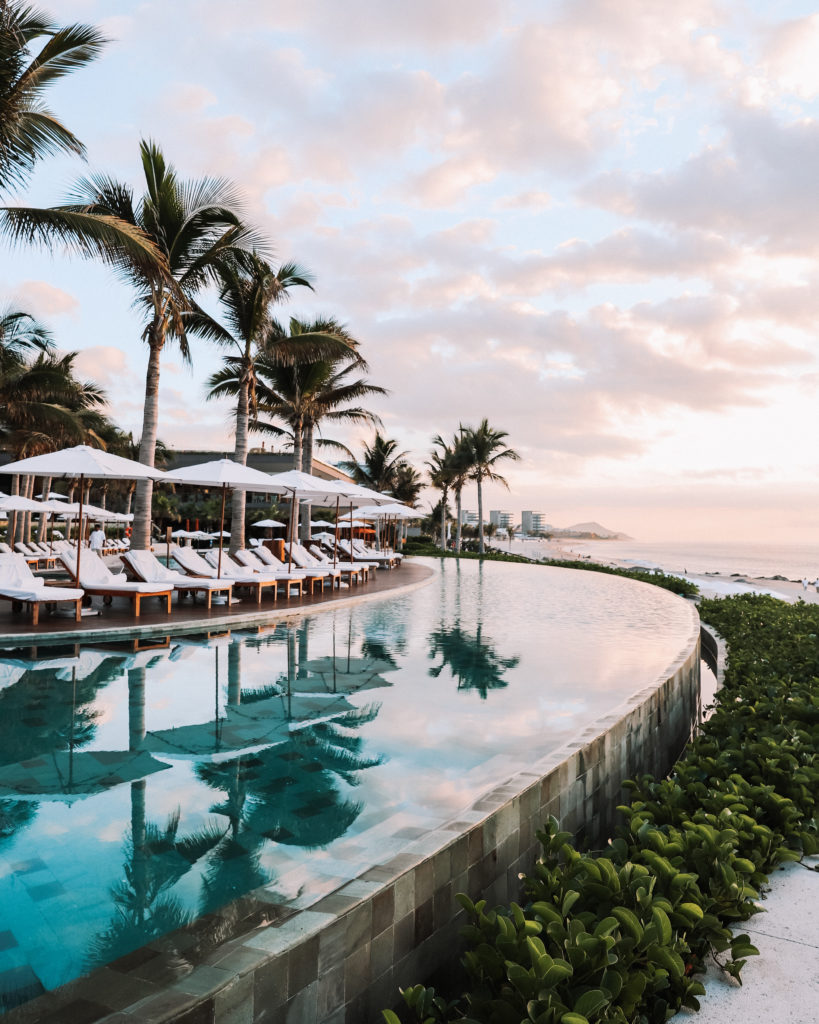 As far as the pools on property, there were 4 total, and each one was awesome in its own way. The one closest to the beach was adults only, so this is where we hung out most of the day. I thought it was cool that they offered different options depending on if you were with kids or not. I loved that we could go from pool to ocean and back depending on what we were feeling (or what the tide was like). If you're a beach person, you have that option, and if you like the pool, you're for sure in heaven. The infinity pool, white sand, Mexico sun… my favorite place to be!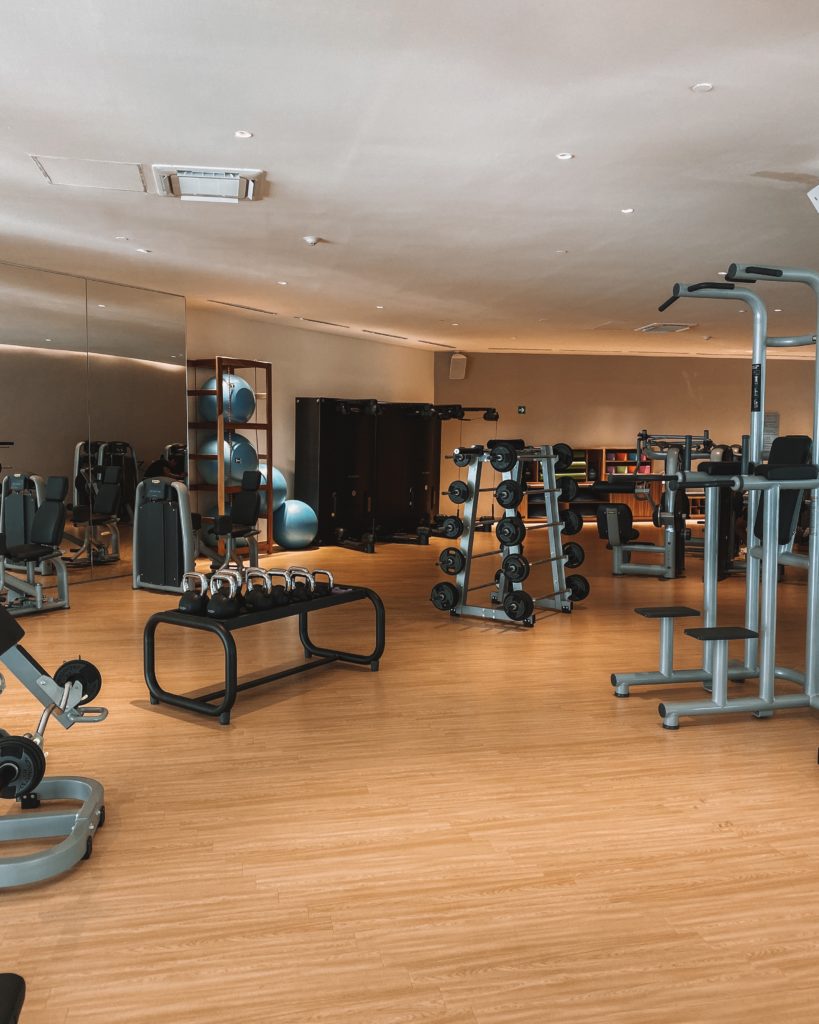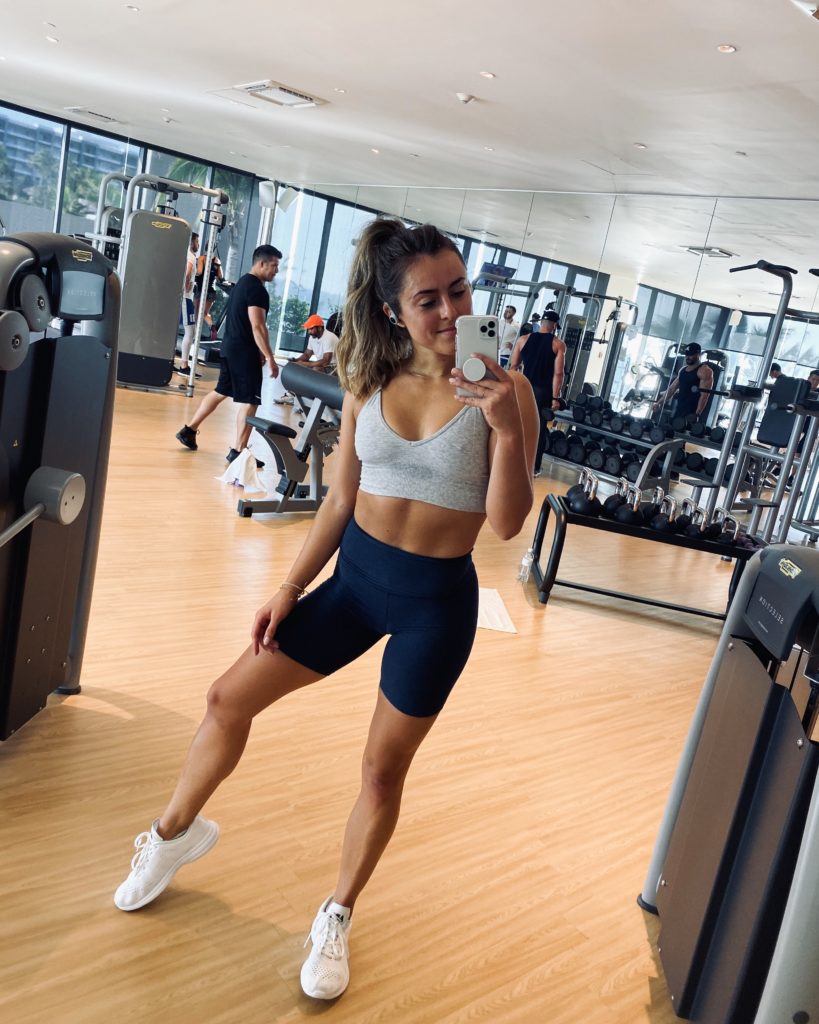 Don't let me forget about the gym situation. It was BEAUTIFUL and HUGE. Every piece of equipment you could ever need, super clean, cardio machines looking out over the ocean, and everything was top notch. The best hotel gym I've been to and that's saying a lot! I still can't get over how much they invested in their gym, and overall the hotel just really incorporated wellness which I so appreciate.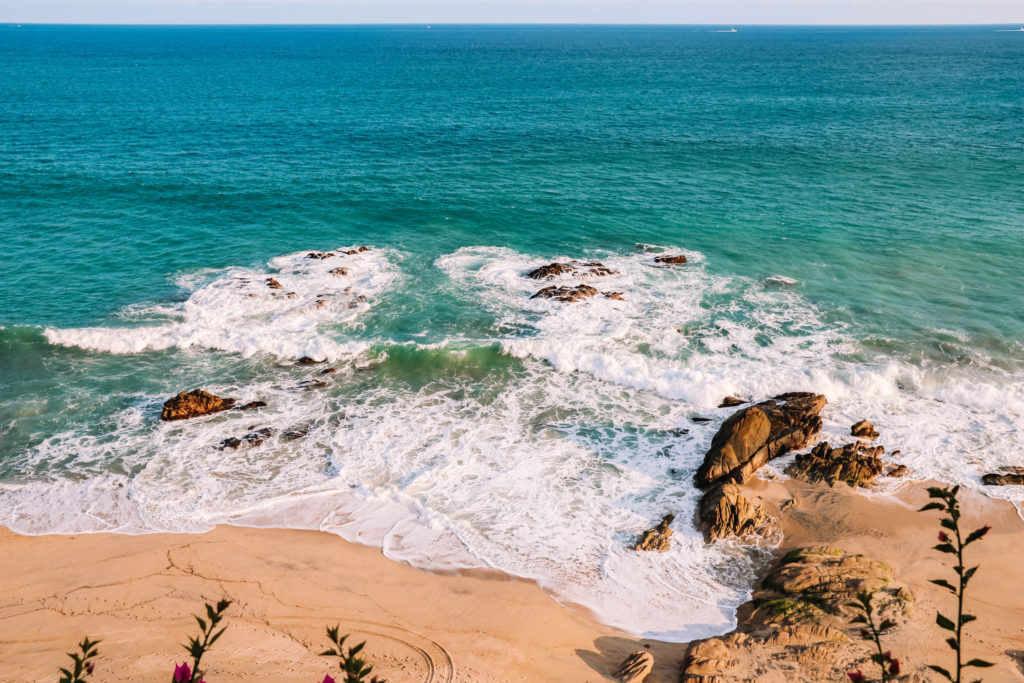 I would absolutely stay here again. You can easily see why it's won ENDLESS awards and has such great reviews (it's actually the No. 1-rated hotel in San Jose del Cabo). The staff were amazing (you get your own personal concierge who TEXTS you!), the food was great, it had so many things/activities to offer, the fact that it was all-inclusive. Should I keep going? Ha, I think you guys get the point. Yessss to Grand Velas Los Cabos!
Ok and now that you know my love for the hotel, lemme tell you about the proposal…
TO THE PROPOSAL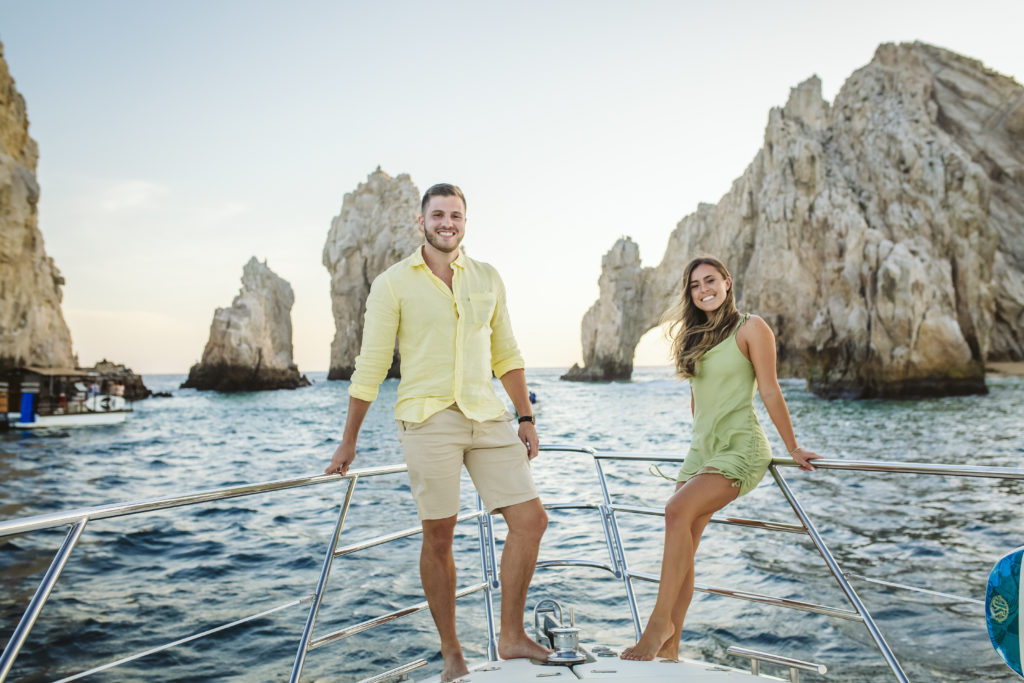 Bridger and I have been dating for 9 years now, so it wasn't a complete surprise when it happened. I mean, if we're getting technical here, we did "date" for 3 months in middle school, but he broke it off because I didn't say, "I love you" on the phone — at least he knew back then?? lol. We got back together when I was a senior and he was a junior in high school and have been inseparable ever since!
I knew this day would be special, but to be honest, he hit it out of the park with his proposal lol. Renting our hotel's yacht, The Bella, for a sunset cruise and popping the question in front of Cabo's famous arch… I mean, I just couldn't dream of a better night.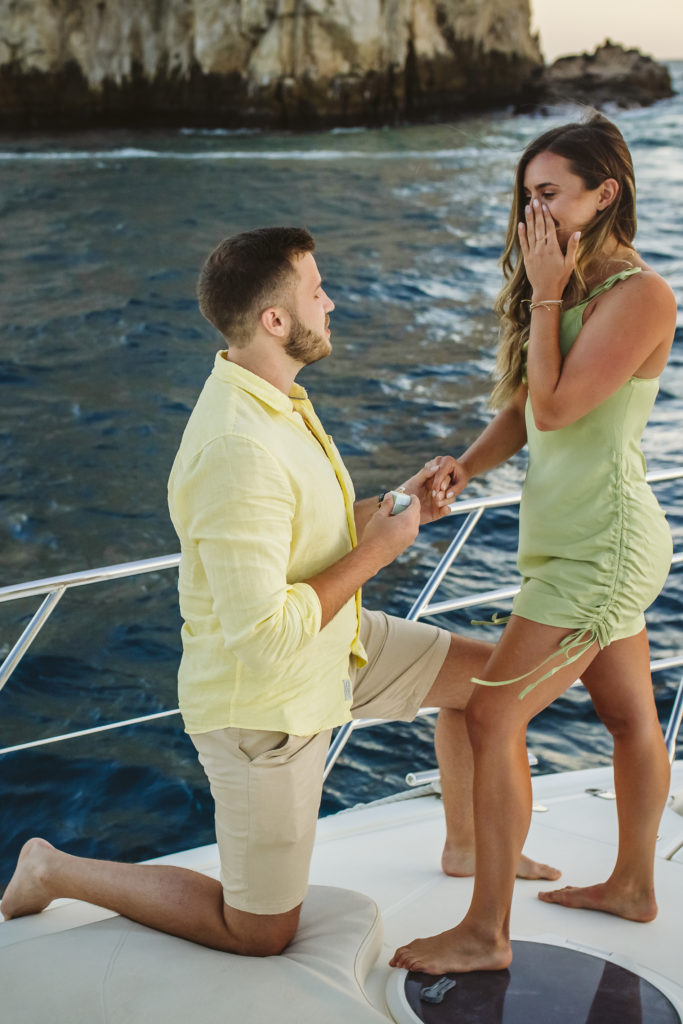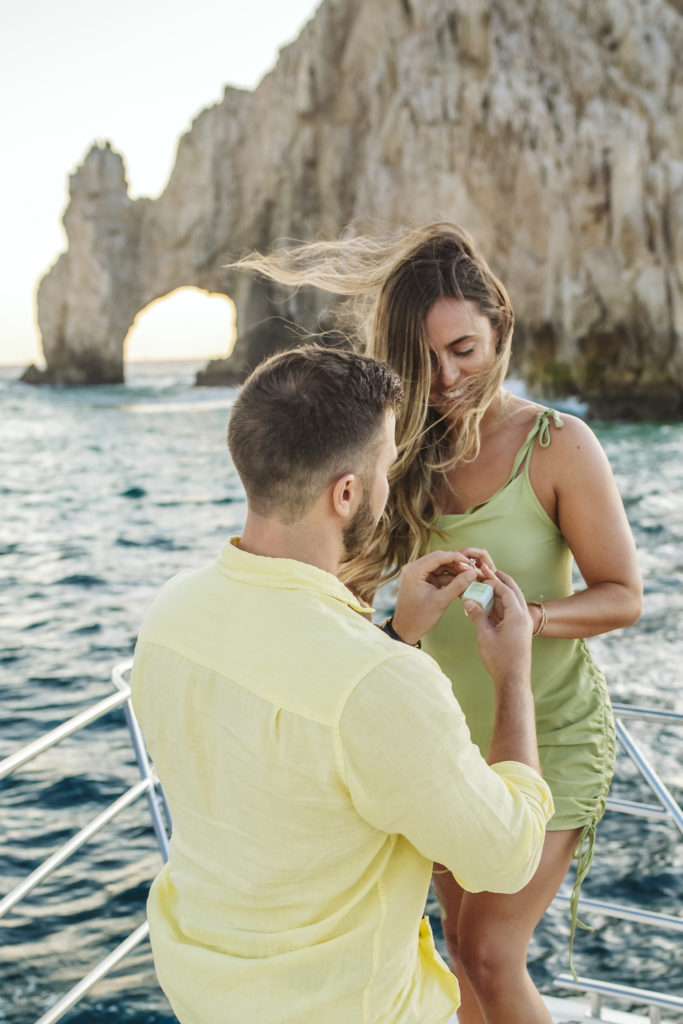 The sunset was gorgeous and immediately after he kneeled down on one knee and I said, "yes," we had applause from all the boats around us. It was so cute!! But also very awkward on my end — I still get embarrassed when all eyes are on me haha but I mean, I got through it.
He then told me there was a SECOND surprise back at the hotel. A private screening on the beach of the movie we saw on our very first date back in high school, The Social Network!! Hands down the most thoughtful & romantic thing anyone has ever done for me. We walked down to the beach to an assortment of snacks, drinks & popcorn set up next to a private cabana and a massive blow-up screen. All of this in front of the ocean and under the stars! Ugh, what I would give to go back to that night!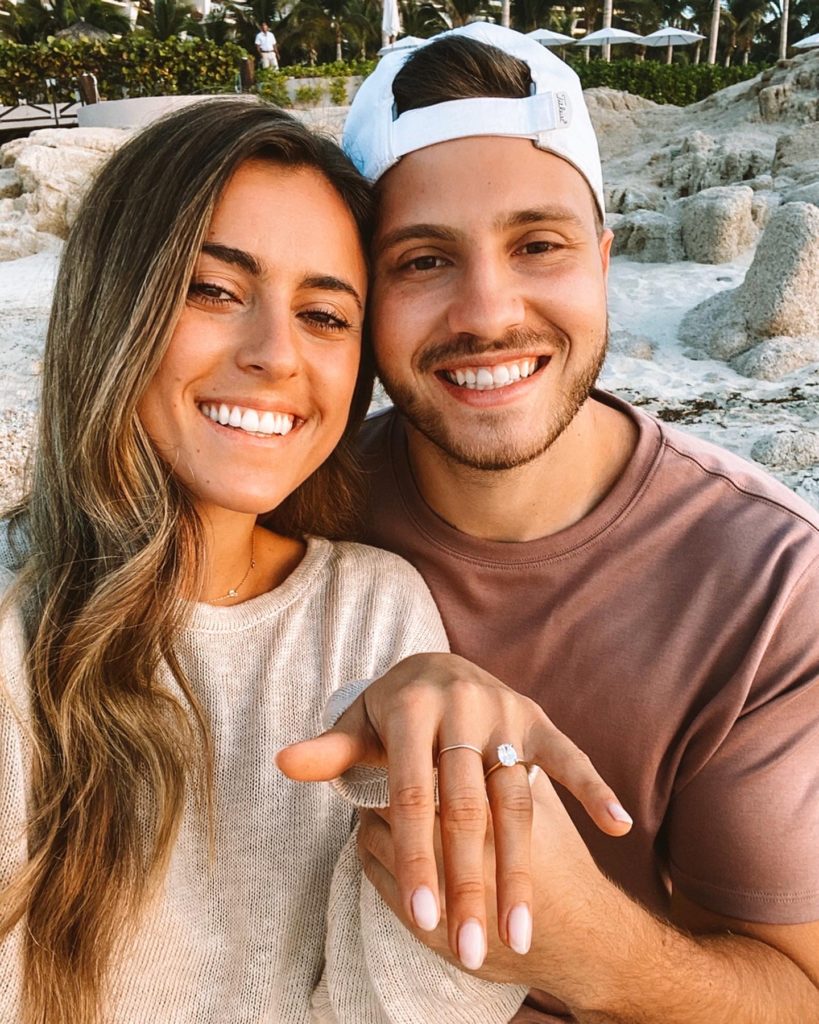 I couldn't be happier. We always knew we'd get married one day but were never ones to rush the so-called "traditional" steps of a relationship. We had been saving for a house the past several years and earlier this year, we bought our very first home together. Things finally felt so right over the summer and I honestly think it happened at the perfect time.
Oh and for Bridger's anniversary present, I got us 9 holes at Cabo Real Golf Club, just a 5-min Uber ride away. Basically his dream on any vacation (or any day, really). It was actually so fun and I think it was the perfect amount of time before I mentally checked out wishing we were back by the pool 😉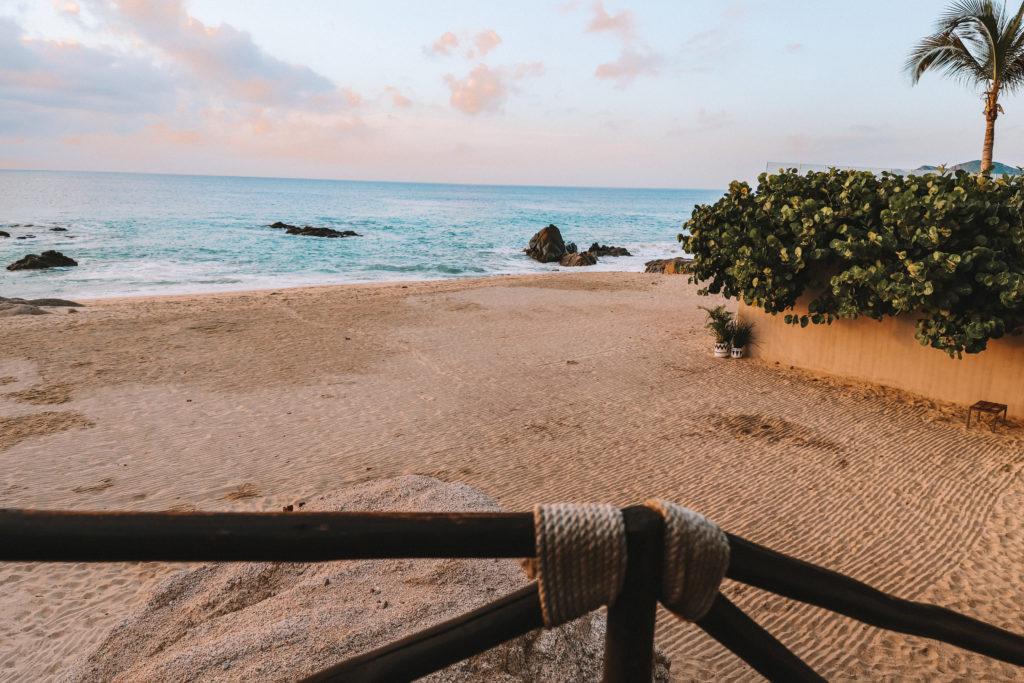 We cannot WAIT to get back to Cabo. Loved it before but now it's even more special!
SHOP MY LOOKS

xxRachael