Ohhhhh, these flautas will change your life. Anyone else used to have those taquitos you'd find in the freezer section growing up? Okay, well if you did, you're not alone lol. I wish I could take those back and replace them with this HOMEMADE & beyond delish recipe I snagged from my good friend Jeannette of @shutthekaleup. Her and her mom make tons of authentic mexican food and I'm always about finding new recipes I can put my own spin on.
I stuffed them with my [basically 2-ingredient] shredded chicken verde along with roasted chipotle beans… INSANE. Again, you can always go for making everything from scratch, like when it comes to the salsa verde, but I love a good quick hack. I usually snag the salsa verde from Trader Joe's– it's so good!
I love this recipe because it's not complicated and it'll really wow anyone… especially the guys!
As always with my recipes, I love seeing how I can add some veggies to the mix. I've been sauteing peppers & onions and putting them over the top of these flautas and we can't get enough! Of course, with freshly chopped cilantro and avocado on the side 🙂 I'll also throw mine over a big mixed green salad with a drizzle of extra virgin olive oil for my dose of greens with every meal. If you're a leftovery type of person, they're also great for having the following day for lunch/dinner.
Anyways, on to the recipe. The most important tip is heating the tortilla before you stuff it. I prefer over an open flame, just enough to where it starts to bubble/slightly char on either side– keep a close eye on them, they can burn quickly! If you have an electric stovetop, you can also heat your preferred tortillas in a skillet on medium heat without any oil. Heating the tortillas will help make them more flexible while you're filling them with ingredients + folding it up. Add your chicken (or veggie mixture asBe very gentle so they don't tear!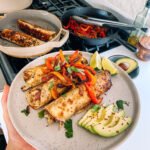 Crispy Mexican Inspired Flautas
Ingredients
Shredded Chicken Verde
2

organic chicken breasts, trimmed + tenderized and halved

2

tbsp

avocado oil

1

jar

salsa verde (I use the one from Trader Joe's)

1

lime

1/2

cup

freshly chopped cilantro

salt, pepper, red chili flakes, to taste
Flautas
Siete Foods grain free tortillas -- I like the coconut + cassava best (Bridger loves organic flour tortillas)

Better Bean chipotle refried beans

3-4

tbsp

avocado oil
Peppers + Onions
1

large

bell pepper, sliced thin

1/2

red onion, sliced thin

1/4

tsp

cumin

1/4

tsp

pink salt/sea salt
Instructions
Shredded Chicken Verde
In a medium pot, heat 2 tbsp avocado oil on medium heat, then add chicken breast to brown on either side (about 2 min).

Pour in entire jar of salsa verde, stir chicken, then cover with lid to let cook on medium-low heat for 12-15 minutes.

Once chicken is tender, remove from heat and transfer only the chicken to a plate. Shred with two forks (or use a kitchenaid mixer).

Pour shredded chicken back into the pot, stir in cilantro, fresh lime juice, and seasonings. Set aside.
Flautas
Heat 3-4 tbsp avo oil in a large skillet on medium-low heat.

Heat tortillas over an open flame until slightly charred (or in a skillet with no oil, either side).

On a flat surface or cutting board, fold in a good amount of shredded chicken + 1-2 spoonfuls refried beans, if using, and roll up right.

Gently transfer to skillet, fold side down, to fry/brown. Flip every 3-5 minutes, or when browned/crisped. Continue for your remaining tortillas.
Peppers + Onions
Meanwhile, in a separate skillet, sauté your peppers + onions with seasonings. Cover with lid and cook on medium-high heat until onions are caramelized & starting to char, about 10-12 min. Toss occasionally with tongs.
Time To Build
BUILD YOUR FLAUTAS!! Add avocado + more fresh cilantro and you're good to go!