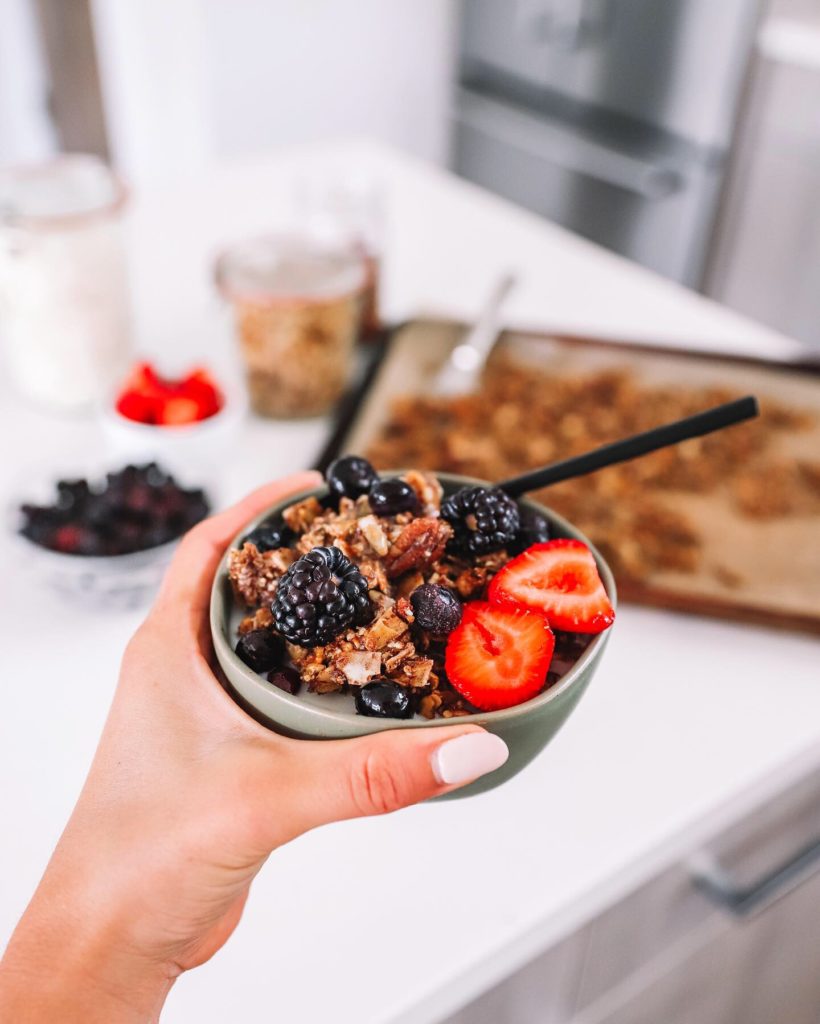 Easy 20-Minute Paleo Granola
Ingredients
1/2

cup

walnuts

1/3

cup

pecans

1/3

cup

coconut flakes

,

(I prefer dessicated coconut)

1/3

cup

pumpkin seeds

1/3

cup

sliced almonds

3

tbsp

flaxseeds

1/4

cup

macadamia nuts

3

tbsp

hemp seeds

1

tbsp

arrowroot starch

1

tsp

vanilla extract

1/2

tsp

cinnamon

2

tbsp

maple syrup

pinch

sea salt

1/4

cup

coconut oil
Instructions
Preheat oven to 325 degrees F.

In a food processor, pulse only the nuts + seeds one to two times, or enough to chop just slightly. You can also use a cutting board & knife instead and give a good chop of the nuts + seeds before tossing them in a big bowl.

Combine with melted coconut oil, vanilla, maple syrup, arrowroot starch, coconut flakes, cinnamon and sea salt. Toss together until thoroughly combined then pour mixture over a parchment paper covered baking sheet, making sure not to spread out completely (bigger chunks of granola = better).

Bake for 12-15 minutes and let cool for 5 minutes.

*Do not break up the granola* -- once cooled, immediately transfer to freezer for 15 minutes to allow coconut oil to harden and chunks to form. Once chilled, remove, break granola into chunks/pieces, then transfer to air-tight container.

Mixture will keep fresh in the fridge for several weeks.

Can use granola as cereal with almond milk, fresh organic berries and cinnamon, or as a snack throughout the day 🙂 Enjoy!
Notes
Feel free to substitute cornstarch for arrowroot starch or leave out entirely.
what I used to make this recipe