If you missed it, Recreation Sweat launched the Banded Body Guide last month and in my opinion, it's the ultimate grab-and-go fitness guide because all you need to workout is a set of glute bands.
Since releasing The Essentials Collection in 2021, it was a goal of ours to offer everything you need for a workout, not just the *chic af* fitness accessories that our brand was founded on, but the education and resources needed to use it effectively. And, the demand for a band-only workout guide was high, to say the least. This was one of my favorite projects we've ever done because there are so many cool features that I'm going to break down below!
ABOUT THE GUIDE
As the name implies, the Banded Body Guide is bodyweight only, meaning no bulky weights or heavy equipment is needed. We recommend bundling the guide with Recreation Sweat's 3-Piece Resistance Band Set for the ultimate gym-on-the go situation. Resistance bands are honestly an incredible alternative to weight training. Not only are they light and portable, but they're so versatile. There are so many booty, core, and upper body exercises that utilize the bands, it's like having a mini gym with you at all times. I'm a big fan of resistance band training because bands maintain constant tension within your body, helping muscles to tear and become stronger at a faster rate than performing the exercise with bodyweight only… major! Also, banded workouts increase stability and mobility, which are critical to performance and recovery.
This guide is a digital e-book form (a PDF is sent straight to your email) that you can use anywhere, anytime, and forever. It includes pictures and video demos for every single move, and also has suggested modifications for advanced moves. We included tons of tips on form to make sure you feel confident at all times.
The Banded Body Guide includes 30 workouts under 30 minutes, plus 15 bonus Burnouts ranging from 2-3 minutes. Together, the burnouts and workouts range from 2 to 30 minutes long, so you can count on finding the perfect workout no matter how much time you have. More about the workouts below, straight from the guide: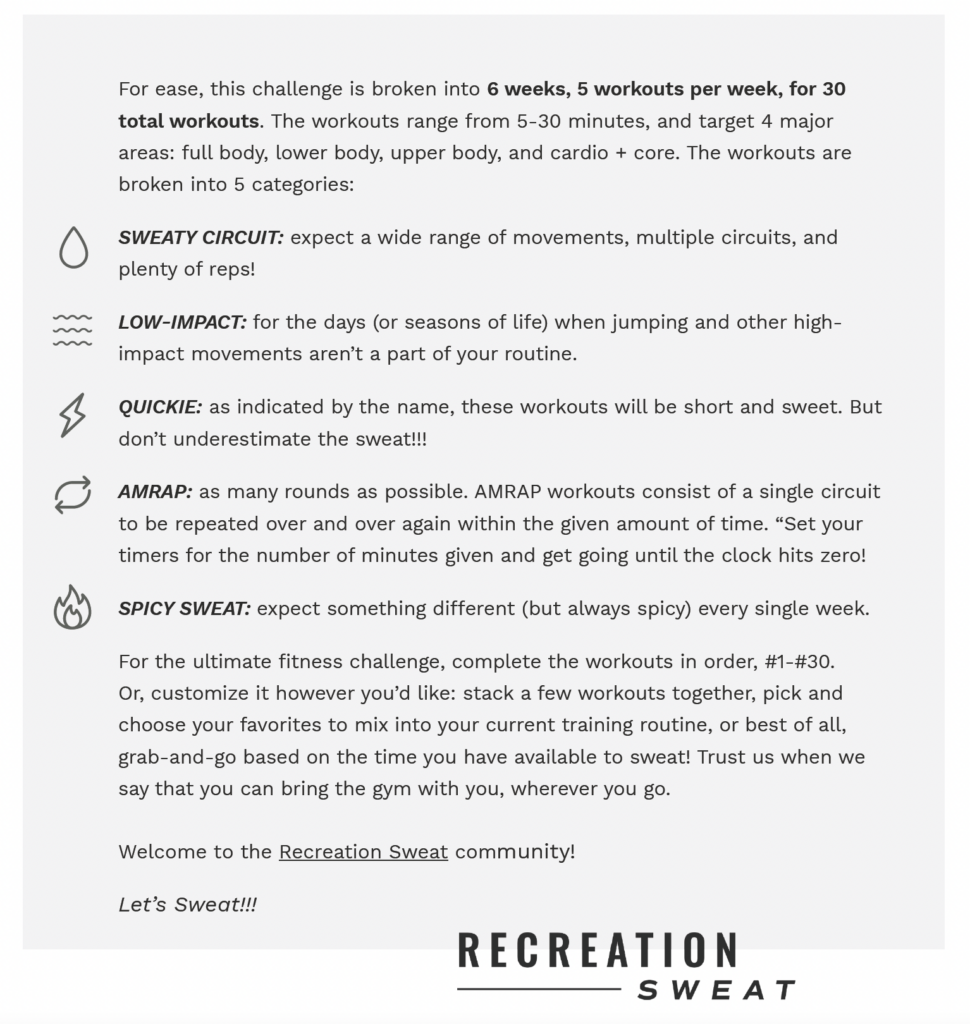 WORKOUTS
One of my favorite features of the guide are the indexes. At the back of the guide you can find 3 indexes that link to the workouts by:
time:

< 9 minutes, 10-14 minutes, 15-19 minutes, 20-24 minutes, 25-30 minutes

category:

Sweaty Circuit, Low-Impact, Quickie, AMRAP, Spicy Sweat

muscle group:

Cardio + Core, Full Body, Lower Body, Upper Body
If you have an idea of how long you have or what kind of workout you want to do but don't want to go through the guide to pick one out, you can use these indexes and pick a surprise workout.
Example of index (by time):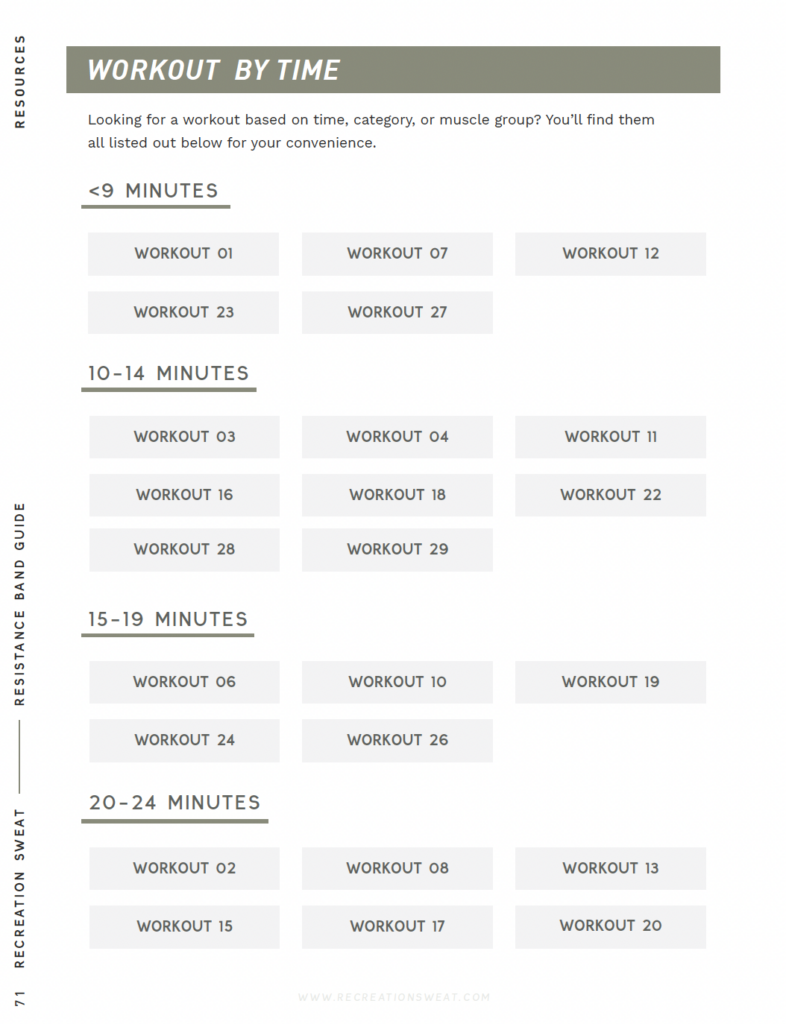 STACKING
The workouts are designed to be short, sweet, and effective af, and it's also user-friendly for everyone. The idea behind stacking was to create endless opportunities to customize your workout: do one workout each day, as listed in the guide, or, stack them up! Stack a 10-minute upper body with a 15-minute lower body and a 5-minute cardio + core for 30-minute full-body burner. Stack a cardio + core circuit with 2-3 core burnouts for some heat. The possibilities are endless! Every workout under 24 minutes has recommended STACKS to make it easy for you to keep the burn rolling, but we fully support and encourage you to get creative. Make your ideal stack based on the time you have, the muscle group you want to work, or the style of workout (low-impact, HIIT, etc). Example of STACKS:

Stackable workouts are not only great for stacking onto one another, but stacking onto other workouts. The Burnouts specifically, are perfect for leveling up a gym workout (try BURNOUT 10 for an insane burnout on your next leg day), or firing up your core after Pilates (BURNOUT 5 is sneaky hard).
Example Burnout from the guide: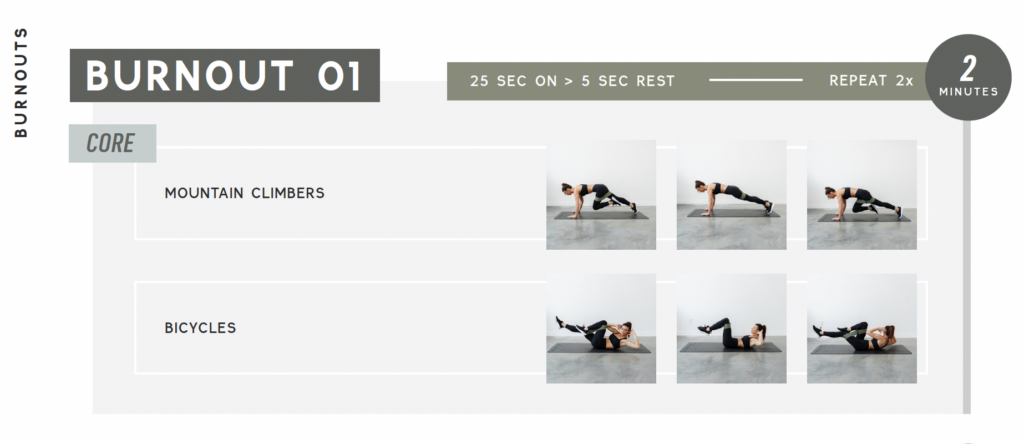 IS THIS GUIDE RIGHT FOR ME?
In short, this guide is for everyone at every skill level. You'll be guided from the tips on form (within the caption of the video demo's) as well as given modifications sporadically throughout, and it includes a wide range of movement types, from low-key, low-impact workouts to high-energy, high-intensity workouts. A major goal for this guide was to make working out more realistic for super busy, always on-the-go users. I've been testing these workouts for months, and the convenience of having the guide on my phone and bands that fit in my carry-on is next level. I tested these workouts at my sister's house, in Cabo, and in our home-gym. When I say you can workout anywhere, I mean it! Recreation Sweat's mission is to make training approachable and enjoyable, and I think they nailed it with this one!
Join the Rec Sweat fam over on insta – I've never seen such an inspiring, supportive, encouraging community!
RECREATION SWEAT EQUIPMENT
When you purchase the Banded Body Guide along with Rec Sweat's 3-Piece Resistance Band Set, you get the bundle price of 10% off. Click here to bundle and save. The Drop Band can also be used for Banded Body Guide workouts if you're super short on space. I also recommend my ride-or-die Sweat Mat – it's plush enough to support your joints and won't slip or move through even the most intense workouts.
Can't wait to hear what you think about the Banded Body Guide! xx