You guys…..I'm a MARRIED WOMAN! And to think we had nothing planned just 3 weeks ago in the midst of this wild pandemic happening in the world. To rewind a bit, Bridger and I got engaged in Cabo, Mexico on our 9-year anniversary in October. It was the BEST weekend, I still dream about it every now and then (more now that we can't travel anywhere, obviously).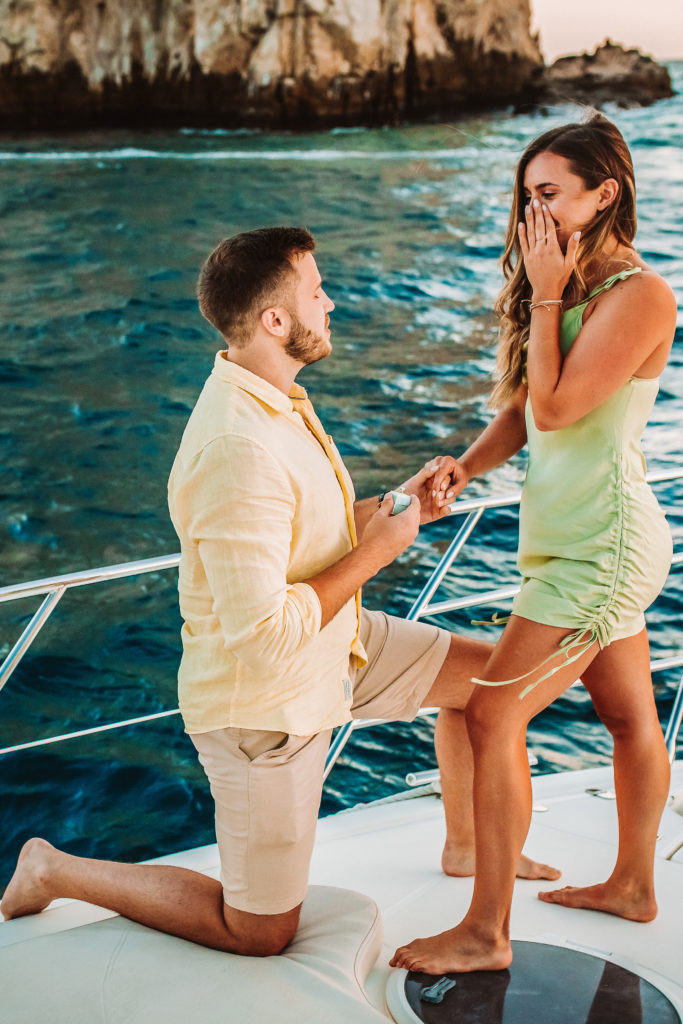 Cabo definitely has a special place in both our hearts because it was our very first trip together when we were 19-20 years old back in the day. Anyways, we decided after our engagement that we'd love to have an intimate destination wedding in Mexico– it just made sense for us, you know? We secured the date, got the dream venue, the dream wedding planner (hey, Bonnie!), I found my wedding dress, everything was happening so seamlessly and we were counting down the days to our big day. We even flew to Cabo in February– partly for work/partly to scout out our rehearsal dinner/ceremony venues, meet with our planner, have our taste testings, etc. More info on that in this blog post.
Towards the beginning of March was when covid-19 really hit and things started shutting down. Bridge and I were convinced we could still make our Cabo wedding happen April 26th, but once Mexico closed their borders / we were in quarantine, it was a rough and emotional couple of weeks. Like, who would've ever thought during the most exciting time of your lives planning your wedding, a global pandemic would break out and you'd be forced to cancel? I know a ton of brides went through/are still going through this and let me just say that I can empathize with you!! #coronabride2020 lol. I'm putting together some tips I learned and I'll share more in a blog post soon!
Honestly, no one could've ever expected this to happen, but we turned a negative into a positive and decided at the last minute to keep our date and still get married. Of course, this was after finding out our venues had only a handful of available dates throughout the rest of the year, most around the holidays so it would be hard to make that work. Plus, no one knew how long this shutdown would last, so we decided to make it official here in Seattle on April 26th of this year and then next April 2021, we would have our 1-year anniversary celebration with our original plans that included our family and friends– wedding dress and all!
I never really understood the importance of "your wedding date" until last month. It's so bittersweet because you both chose that date for a reason, both looked forward to it for months before, have it marked on all your invites, and let me just say I love a good even number situation… 04/26/2020. It was special for us to keep our date. Plus, we've been together for just about 9 1/2 years now, so why wait any longer?
I know it's different in every state, but this was the process in Seattle: I printed out our marriage application from the county's website, got it signed by a notary (TG for family friends), sent it in to the recorder's office downtown along with a check, they Fed-Ex'd our marriage packet back to us within 4 business days. The process wasn't hard at all, it was more so figuring out what we had to do / the regulations set in place during quarantine.
THE WEDDING
The morning of our wedding was casual to say the least. Let me rephrase that, our entire backyard wedding was casual to say the least haha. The day before, I had made 24 flautas, fresh pico de gallo, and a Simple Mills vanilla cake to bring with us to our family's house (mind you, this is not the one photographed below, I wish–my MIL had ordered a GF, DF cake for us as, too!). Had to keep the Mexican flare, right?? I never thought I'd be making my own wedding cake, but hey, there's a first for everything. Bridger and I drove down to his parent's house with Ellie. Both of our parents were there, his grandpa, and our gem of a photographer who was willing to shoot our super intimate day.
*we made sure to stay quarantined in self-iso for at least 4 weeks leading up to our wedding so we could visit our family without any worry of spreading covid-19.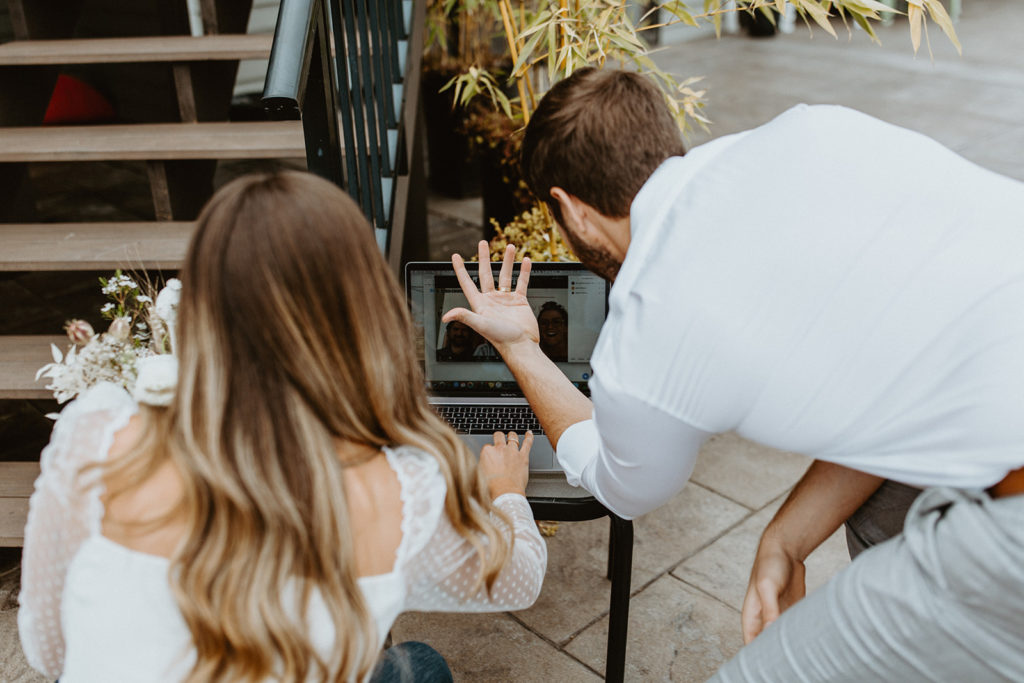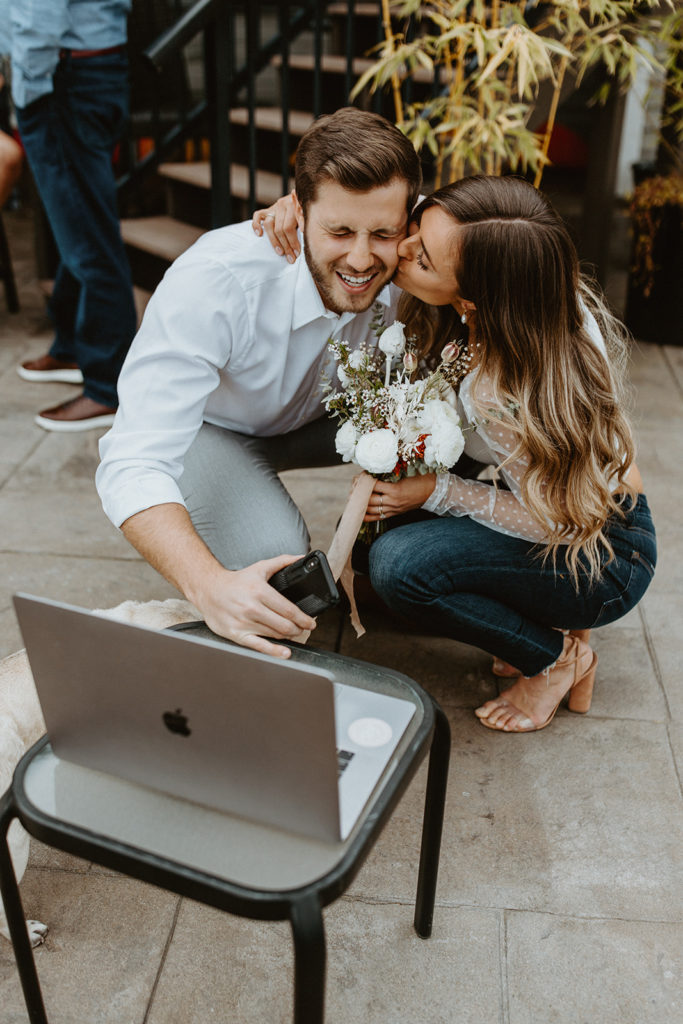 Our vows were *both* written the day before… why are we like this??? lol. Bridger's were perfect– so sweet and heartfelt, summing up the last decade spent together. I keep asking if he wants us to re-read them again to each other so that the words will really stick, but he refuses, saying he'll get emotional all over again. Maybe in a few months I'll try again 😉
We had both of our siblings on a Zoom video set up on my computer just next to our ceremony spot in the backyard. Our guest count went from 40 to basically 4 sitting in the 'audience,' which was so wild to see haha but we wouldn't have changed a thing! Bridge and I both couldn't get over how perfect it was. Of course, it wasn't anything like our original plans, but there's something to be said about only being with your immediate family when you get married.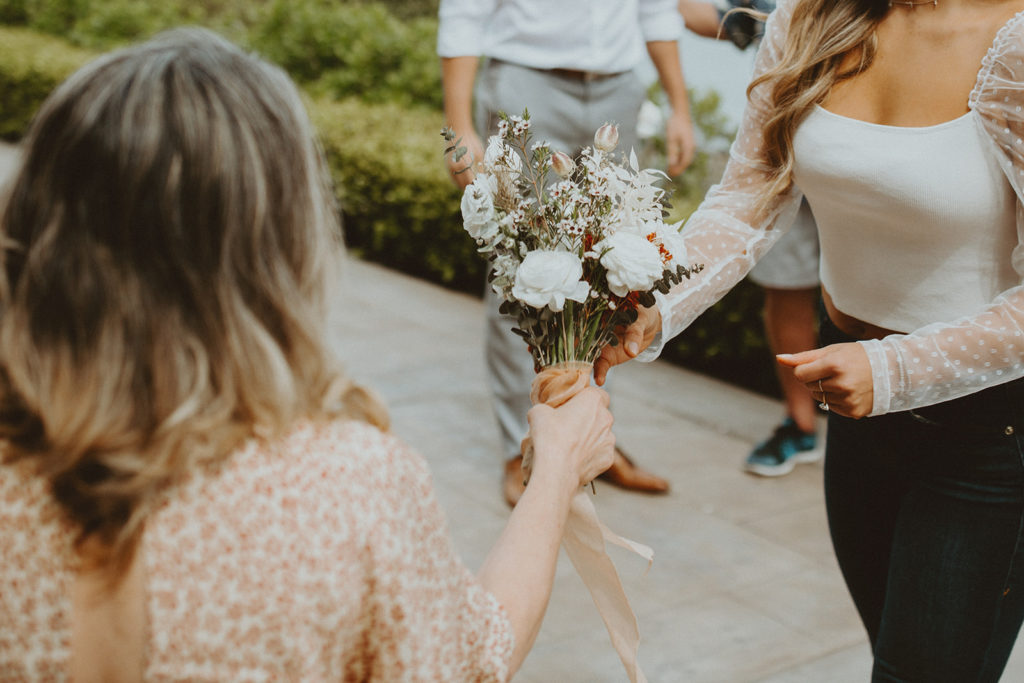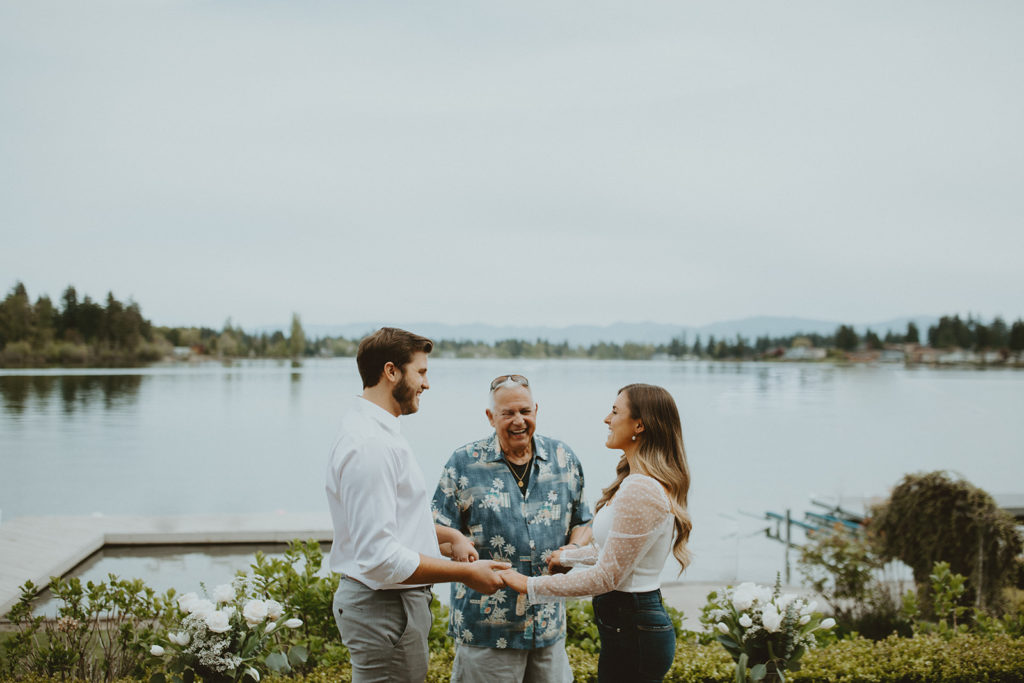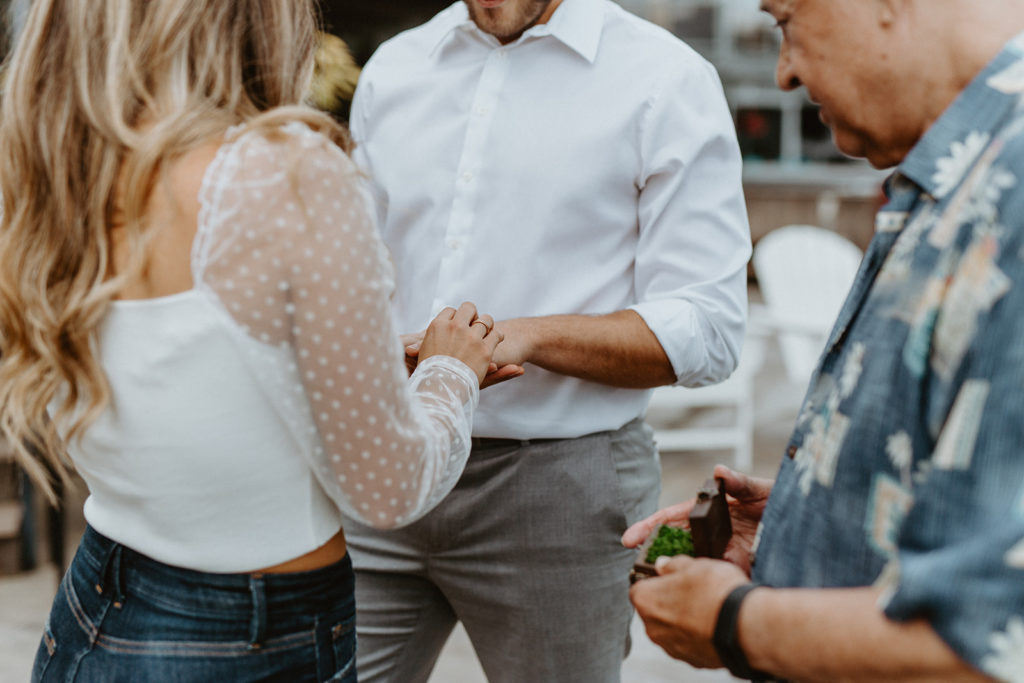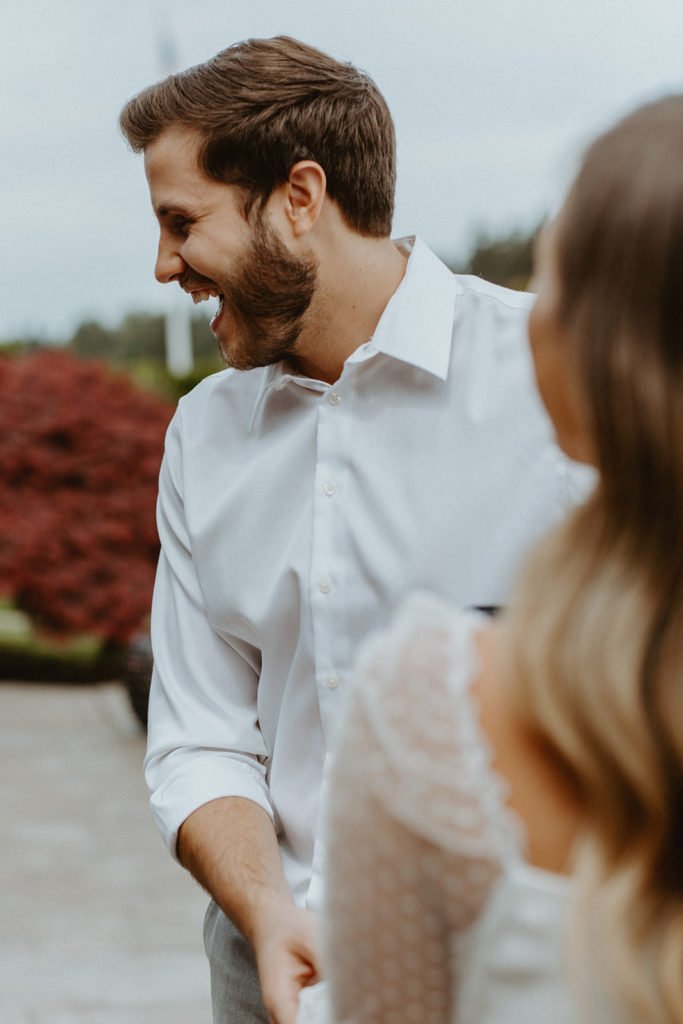 I wore jeans on my wedding and it was a MAJOR vibe. To be honest, I'm kind of excited (and grateful) to have two weddings. One super casual, four people watching, and one more lavish with an actual wedding dress, all the glam, bridesmaids to get ready with…best of both worlds if you ask me!
My jeans are Good American (click here for the pair I wore) and my top is from Petal and Pup, one of my favorite Australian brands!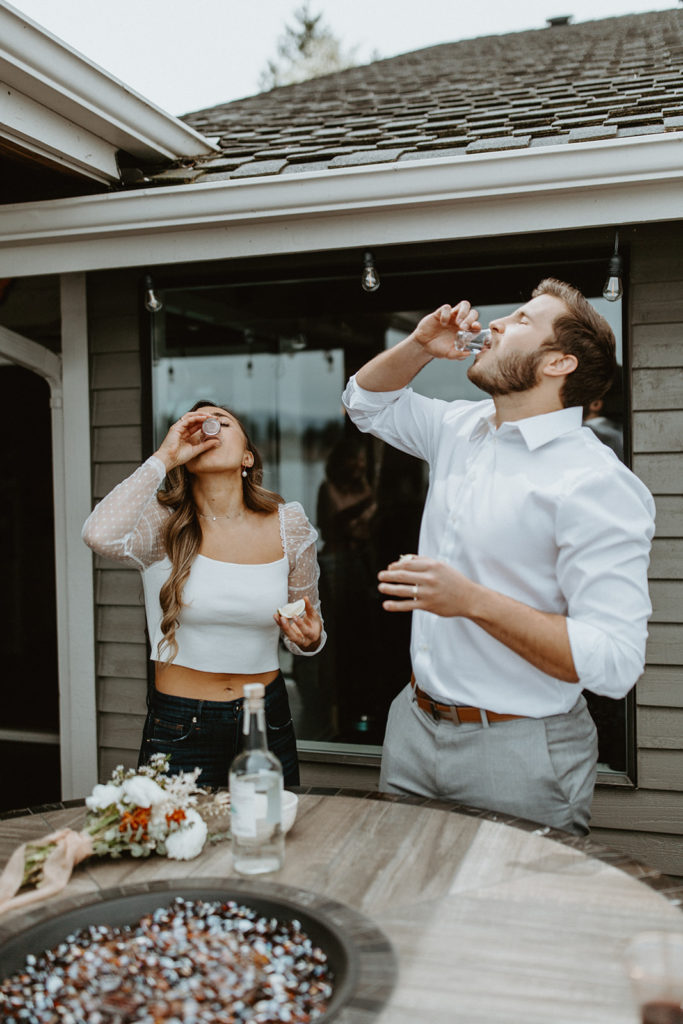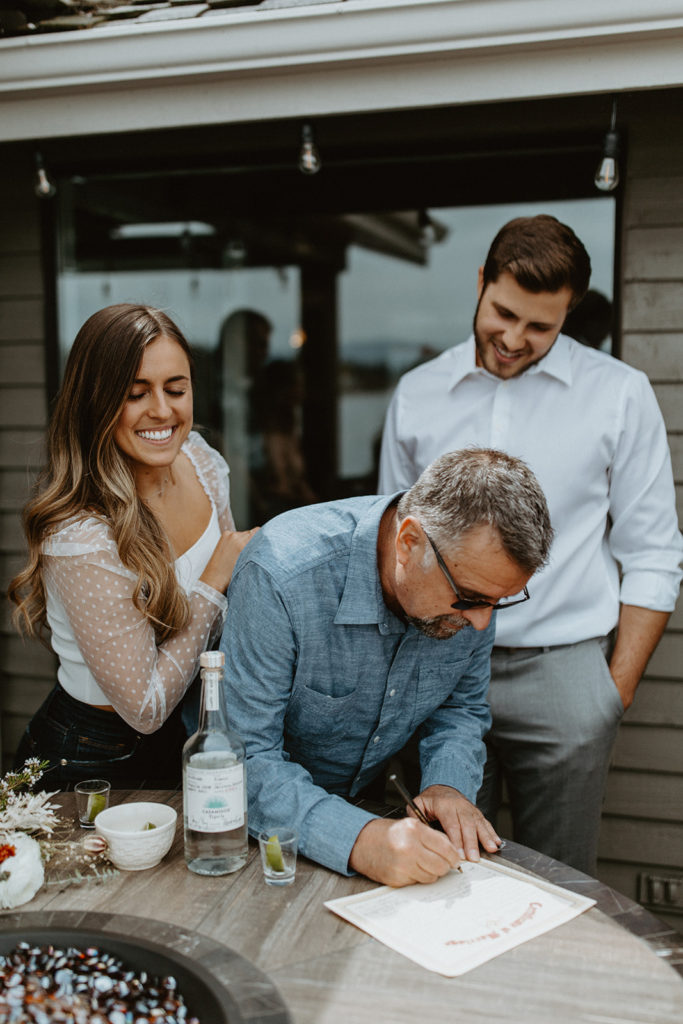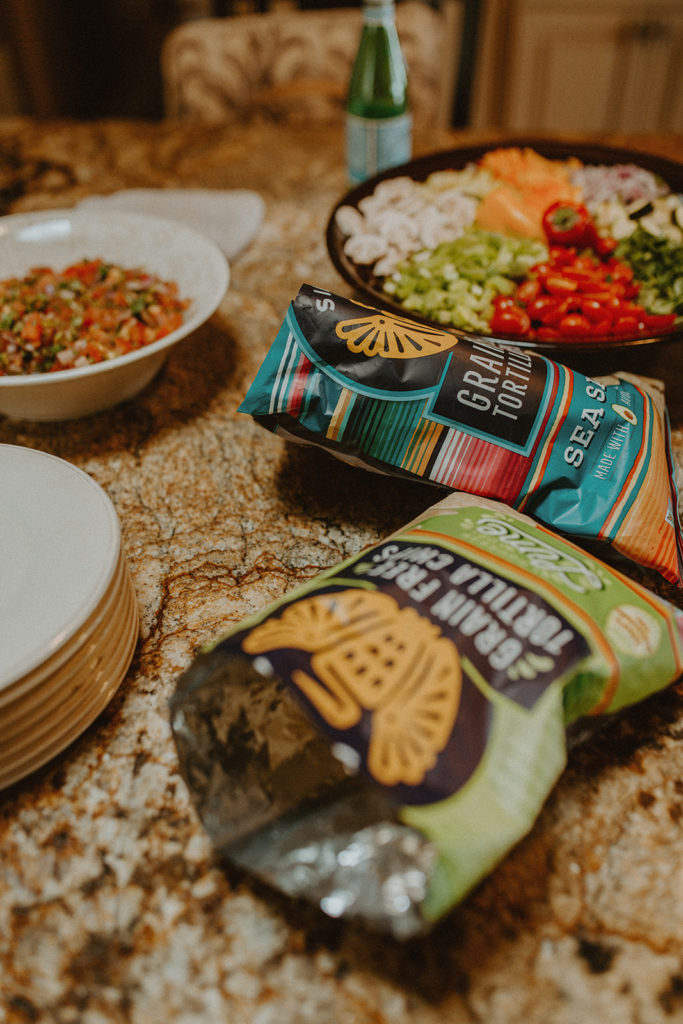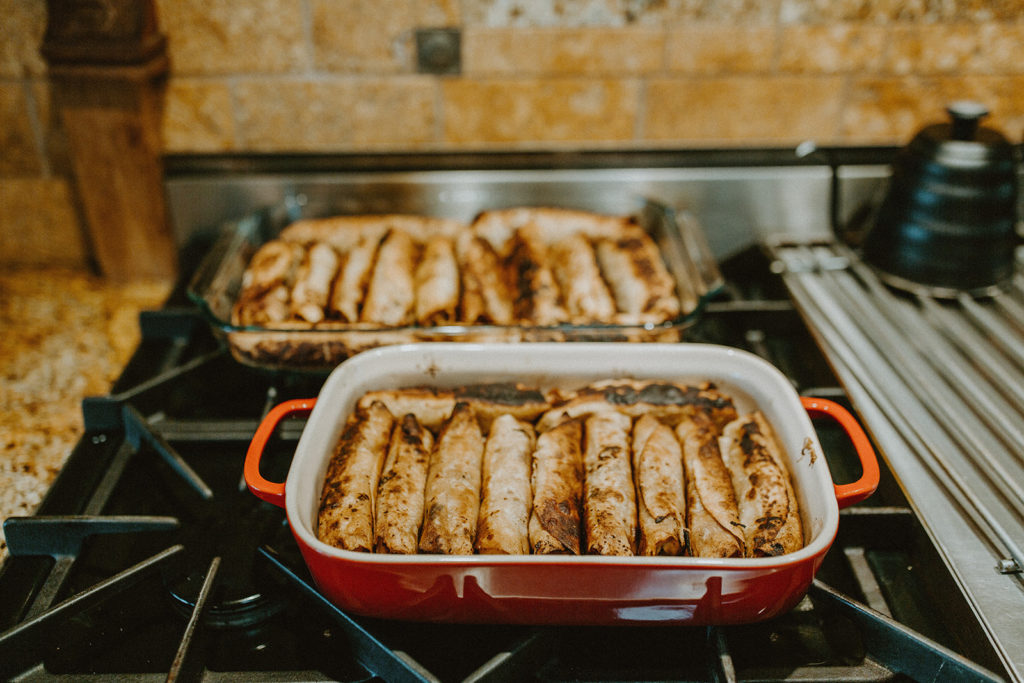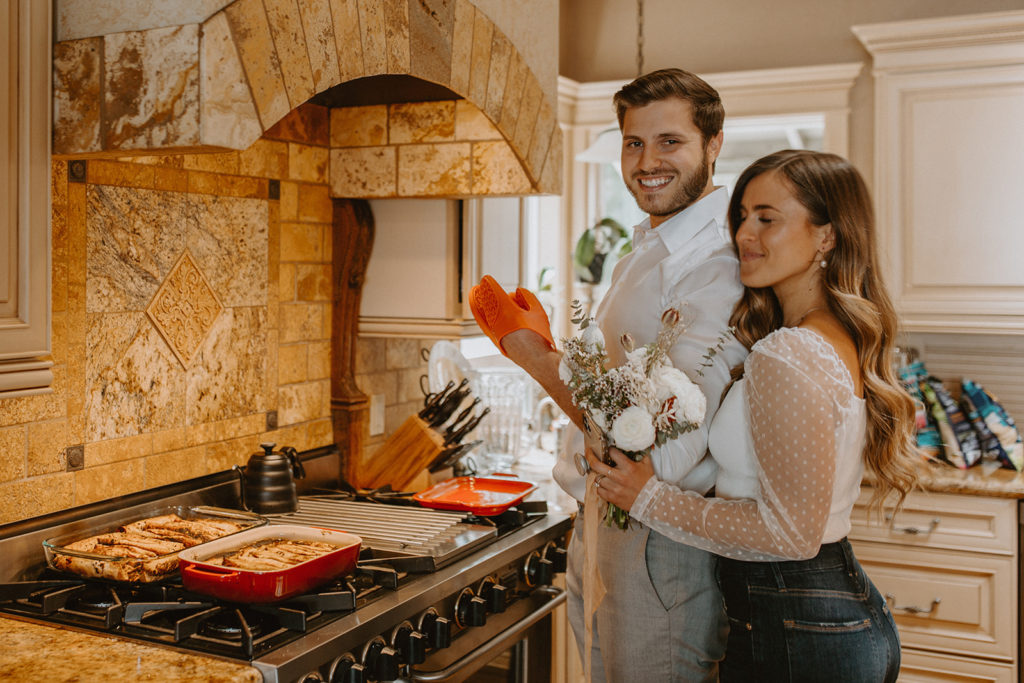 No Cabo wedding themed wedding is complete without a shot of tequila (Casamigos, obviously). We hung out, ate tons of chips & guac around a big outdoor table, shared stories from when Bridge and I were in high school, dug into the flautas, cut the cake, took Polaroids. If you could describe a perfect day, this was it.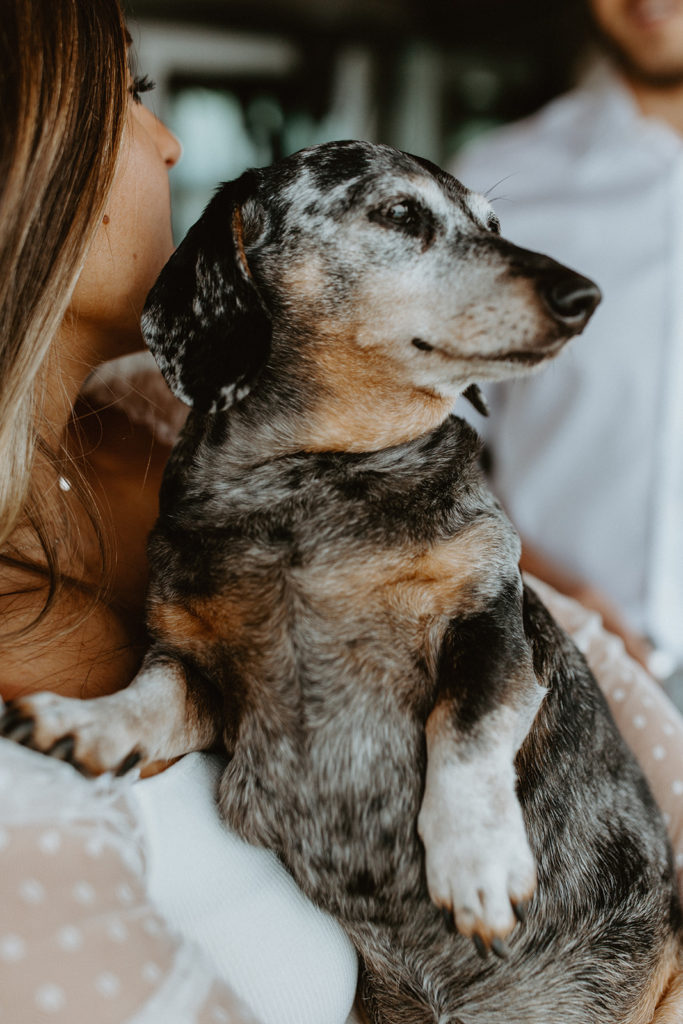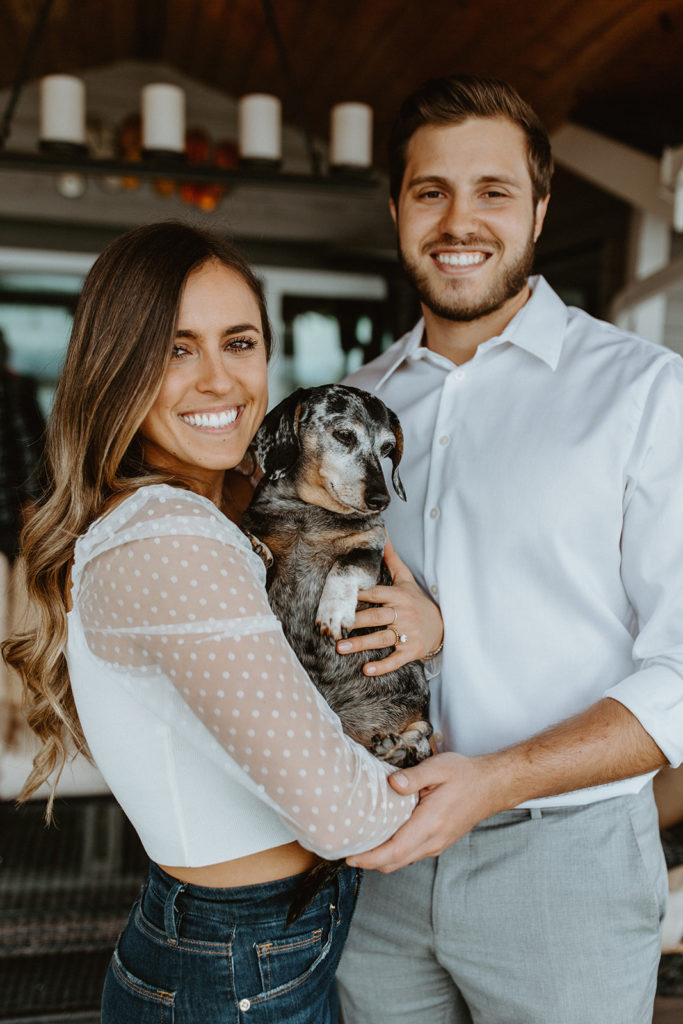 Can we also take a minute and appreciate the fact that Ellie got to be at our wedding!! Huge, huge wins, I'll take it!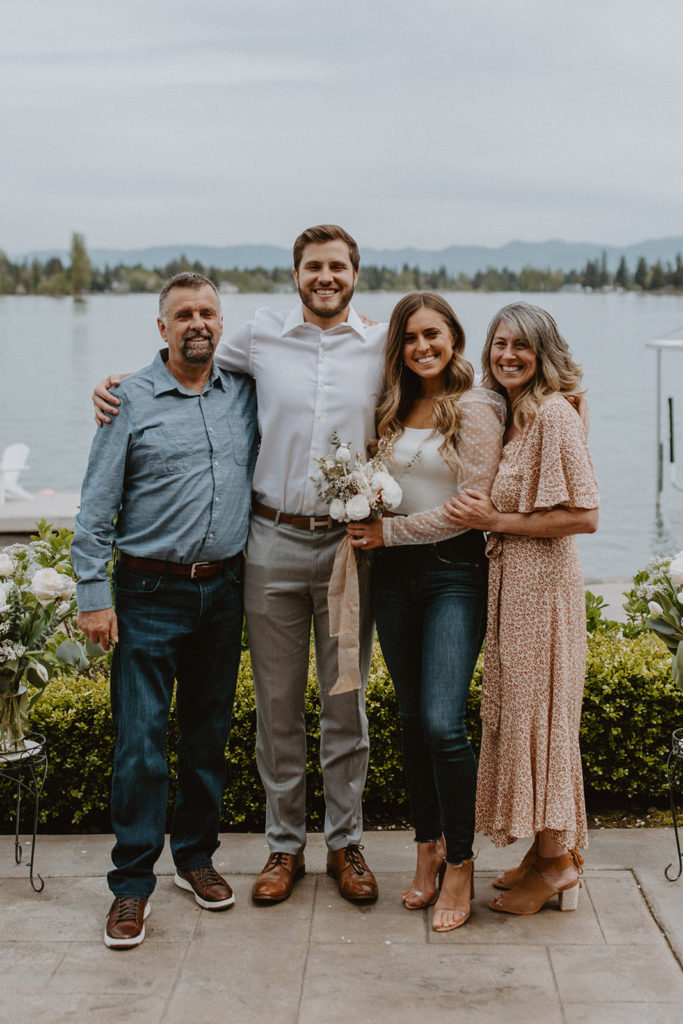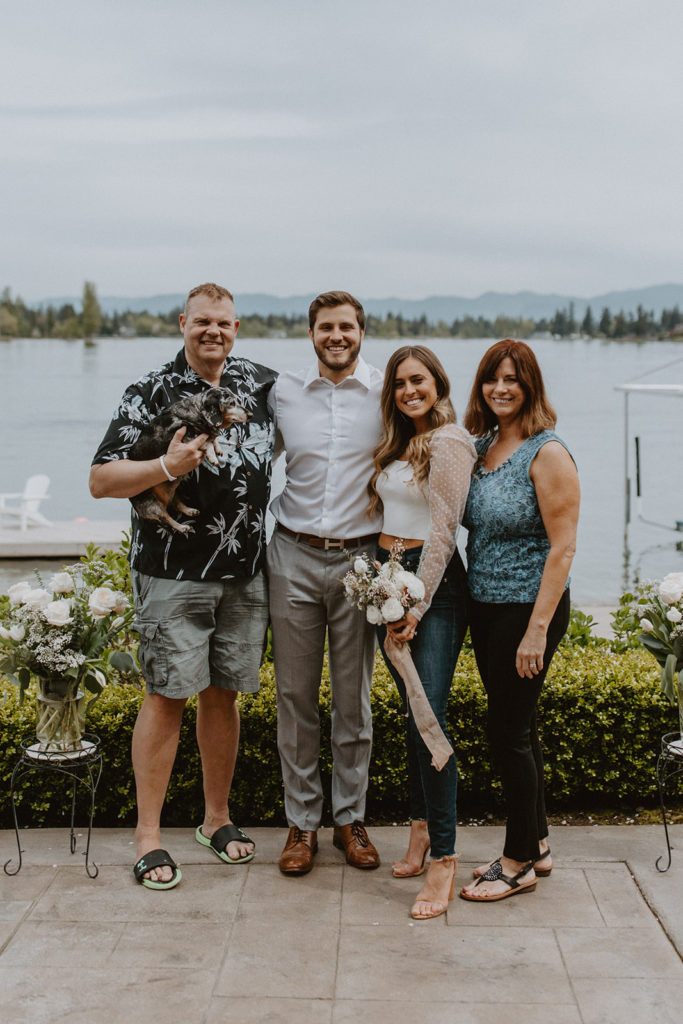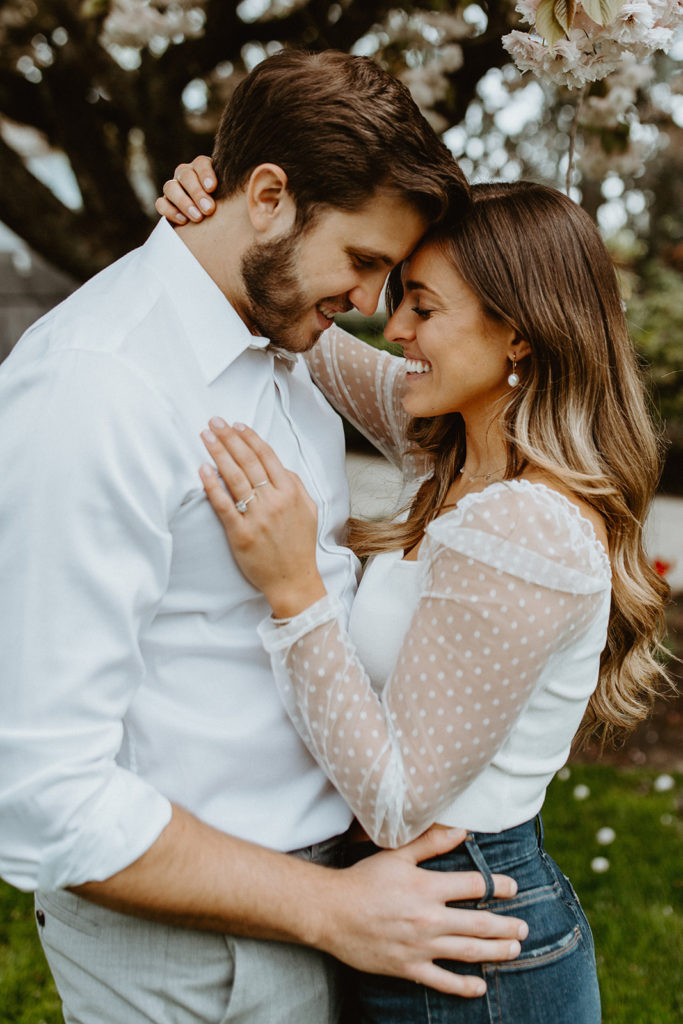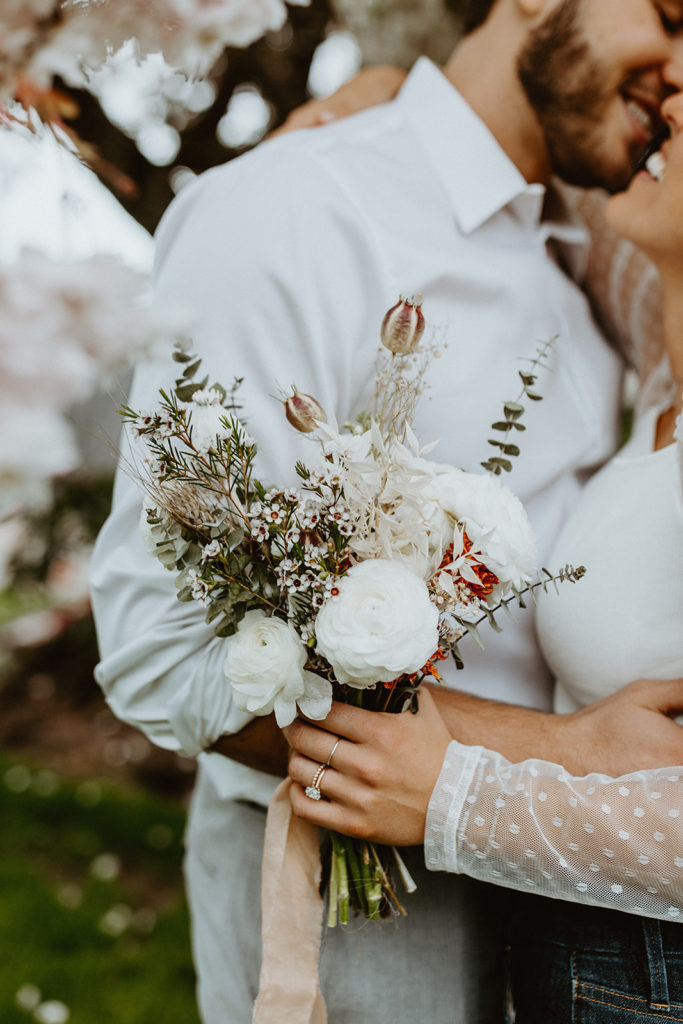 Honestly, we couldn't have asked for a better wedding day and we're so lucky we get to have ANOTHER next year to celebrate one year of marriage. I got to marry my best friend on April 26, 2020 and it was the best day of my life.
It's been a little bit over two weeks since we got married and I can't say too much has changed, but we're so excited for our next chapter as husband and wife 🙂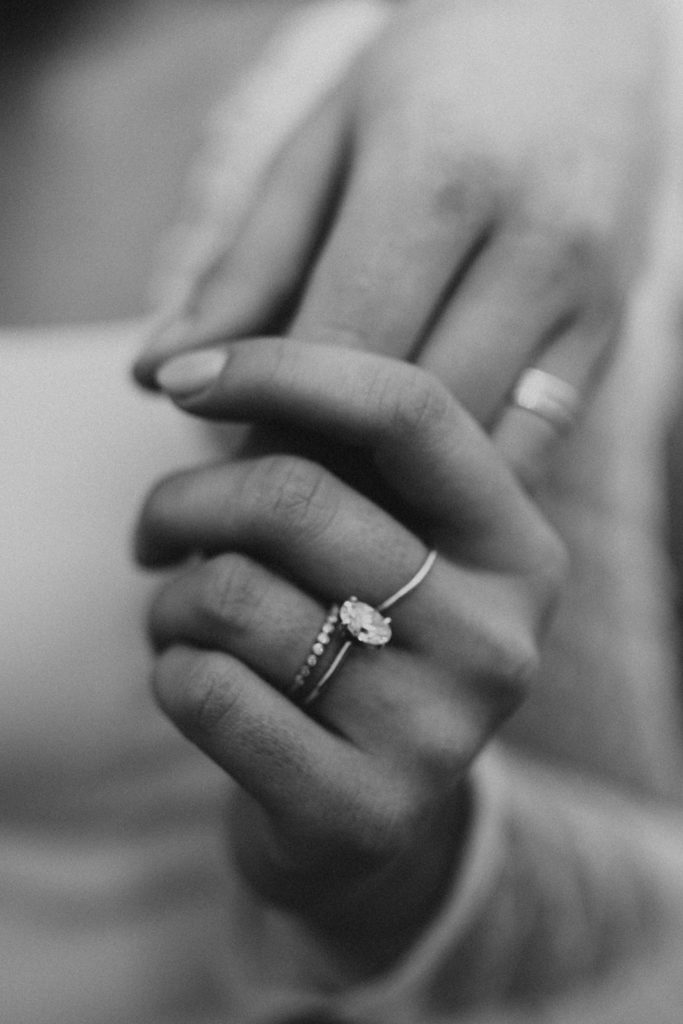 Thank you so much again for all your continued support– we love you guys so much!
All photos are by my good friend Marci– check out her Instagram and website here. She is INCREDIBLE! Custom bouquet by Petals By Piper.
xx Rachael and Bridger