It's HERE! From the very first day of working out from home at the start of the quarantine, I don't think anyone knew how long it would actually last. Seriously, if you were to tell me I'd be working out in 5-feet of space from our kitchen for 15+ months now, I would've thought you were actually crazy. BUT, we made it work and I've honestly never been in better shape in my life!
A lot of you have been working out with me for months now, maybe even a couple years. Nothing brings me more joy than getting to train and empower women through fitness by teaching them it's so much more about how you FEEL as opposed to how you look. Trust me, I've gone through the stages of feeling so self-confident about my body. I've gone through all the diets, all the different types of training, and it wasn't until I started incorporating sustainable lifestyle habits and healthy nutrition & fitness routine that I felt my confidence start shining through.
Community has always been such a big part of my brand, but I didn't necessarily have it going through my own fitness journey. Good Sweat was born to give women that sense of support that would motivate them to move their body everyday and help them look forward to their workouts. We've been building this community since I launched my very first fitness guide back in 2018 (click here for Good Sweat Vol. One), and I can honestly say this community has never been stronger or more tight-knit! They got me through months and months of not interacting with another human face-to-face. They always showed up for our Live Workouts on Instagram. They've had meetups with friends they've met inside our private Facebook group, all across the country (and worldwide, crazy!).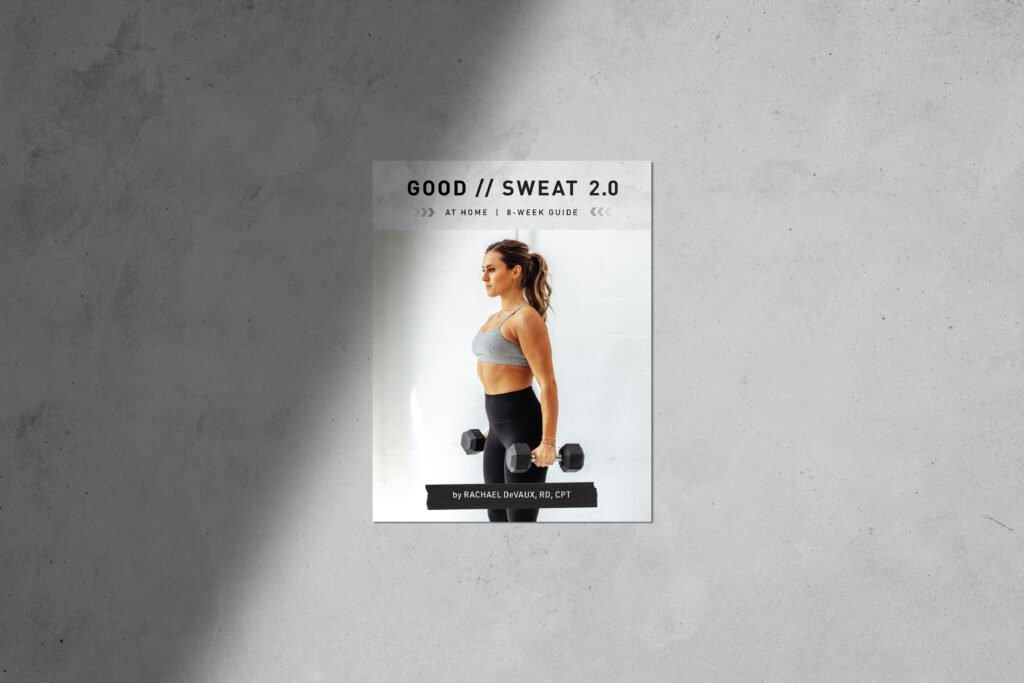 Which brings me to Good // Sweat At-Home. I started programming this 6-week training guide once I realized how big of a need this was for people in such a tough and lonely time at home. It was so important for me to provide as many workouts + healthy recipes as possible for people to feel their absolute best, even during a time when there was so many unknowns. Shortly after, I launched Good // Sweat OVERTIME, a 4-week extension, creating 10 full weeks of killer workouts.
Thousands of women (and lots of boyfriends, fiances, husbands, dads, etc.) joined our community and kept coming back for more! I've recorded and posted more than 100 LIVE workouts on Instagram. Of course, with the help of Bridger 😉 and the more I got asked to create more workouts the more I knew I needed to create a Good // Sweat At-Home 2.0!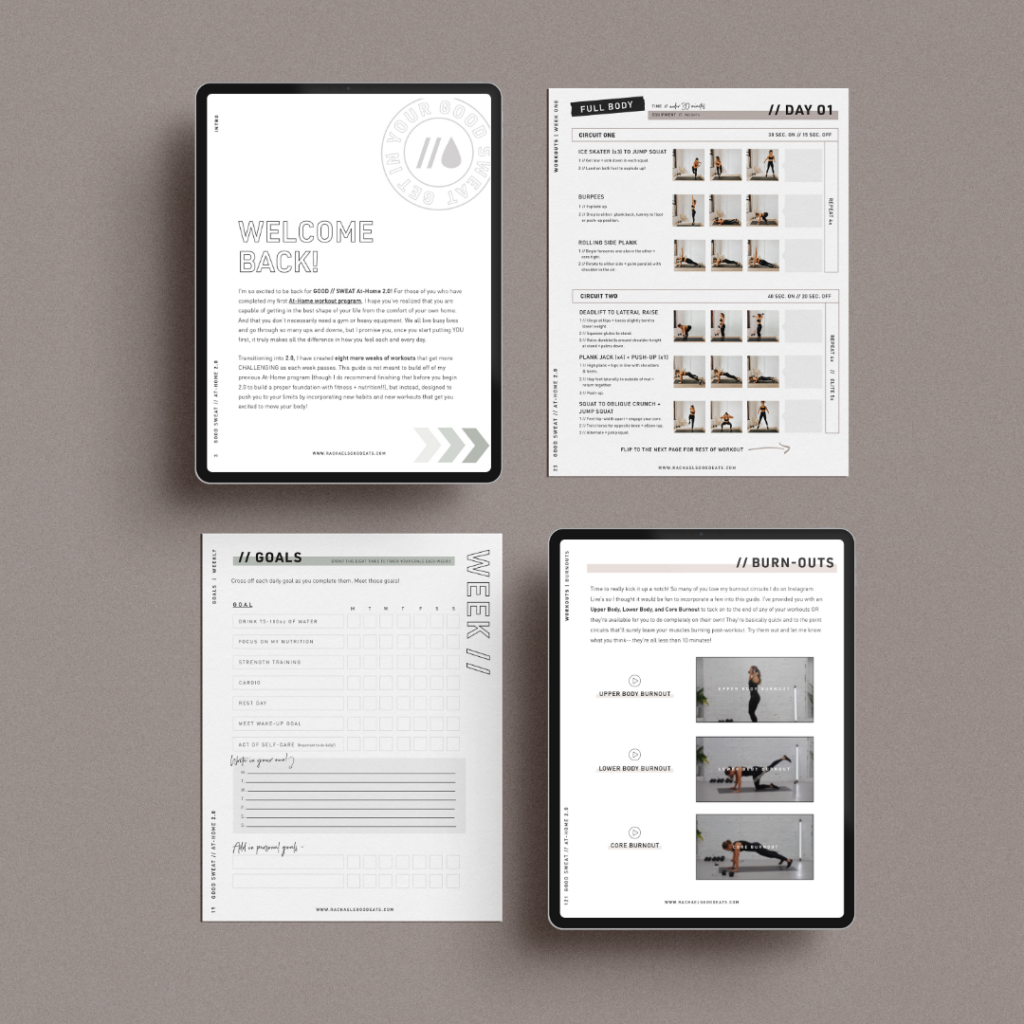 I took ALL the feedback from you guys with my previous ebooks and sat down to create something that would bring so much VALUE to the user. I worked with Kailey of Of One Kind, my ebook guru– this is our 6th one we've put together and they just keep getting better and better each time– and we added a handful of new bonus features to 2.0. PLUS, we created a brand new website to launch simultaneously to house all my ebooks, and I'm fully obsessed with it! It was my goal to make the experience much more seamless at checkout for the user, so I opted for a separate Shopify site outside my blog. Let me know what you think 🙂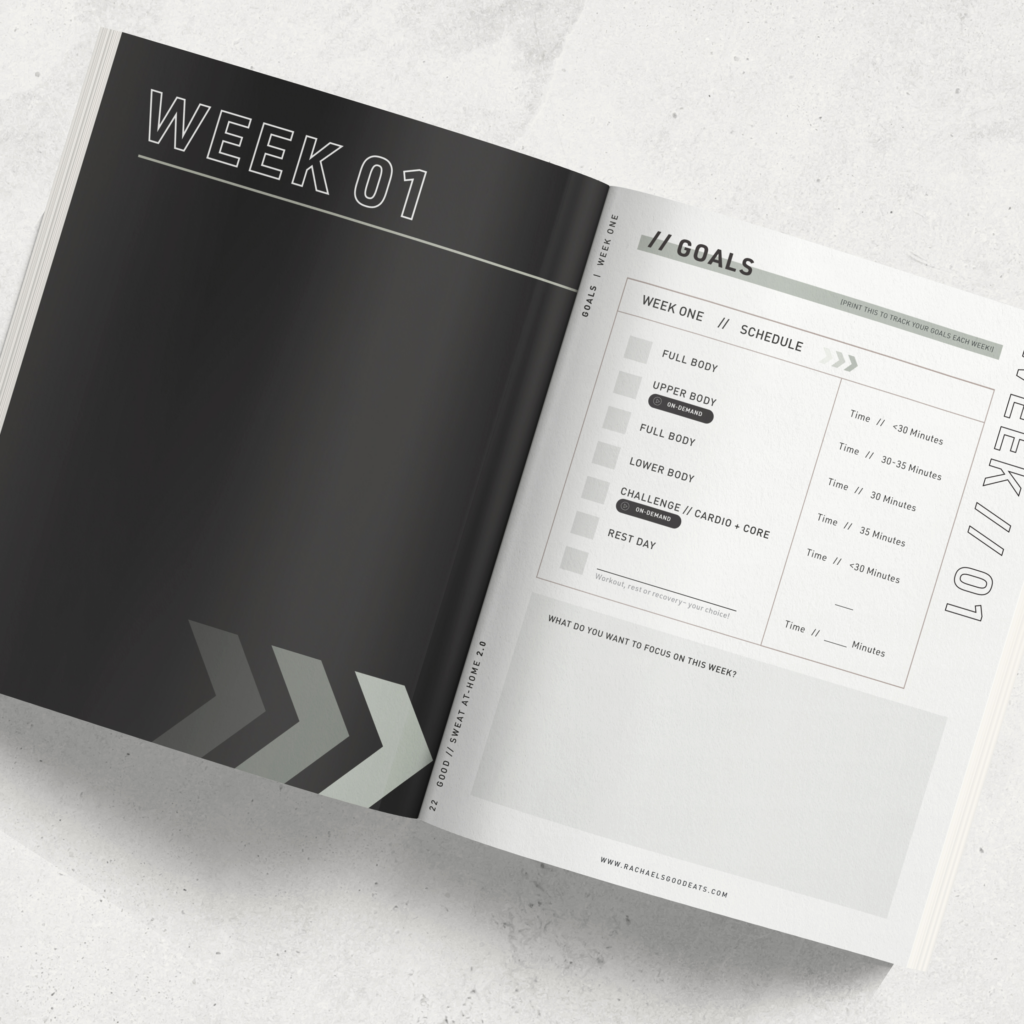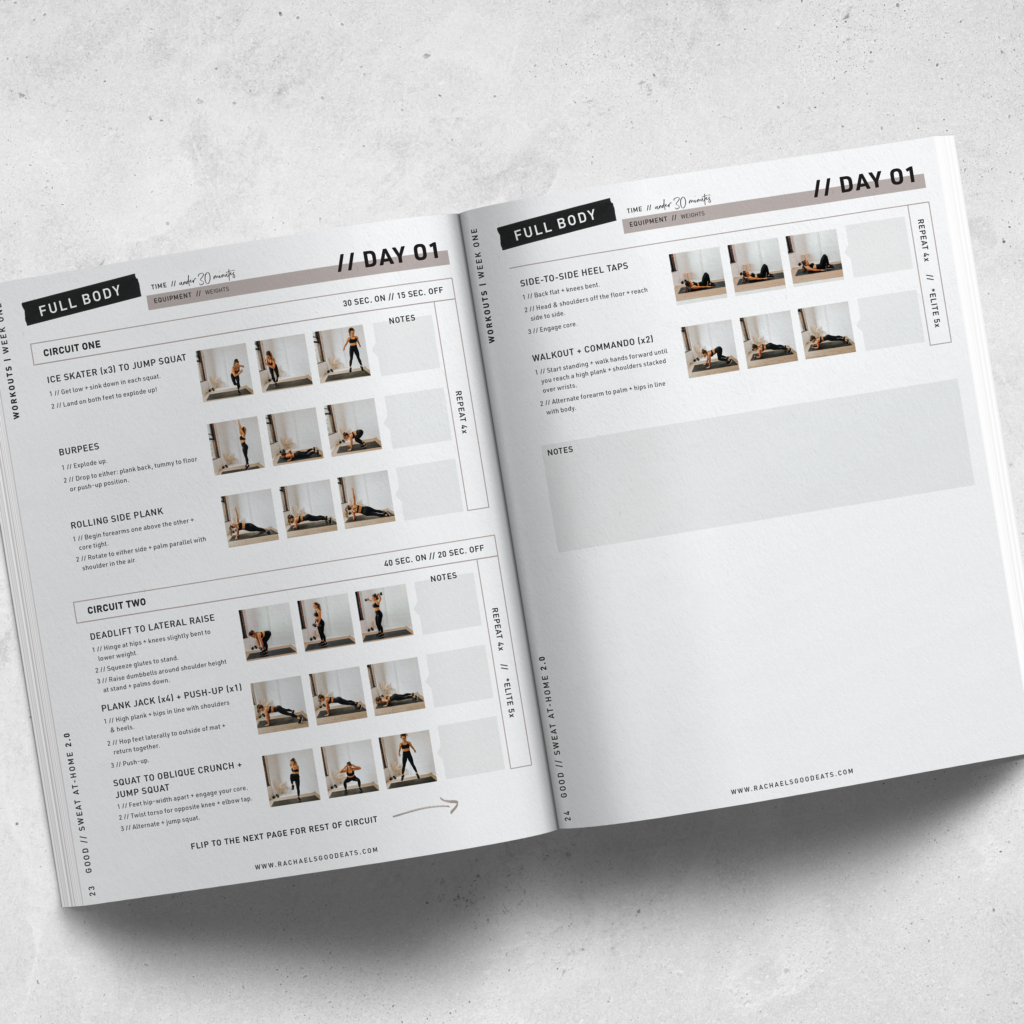 Another feature with these brand new workouts were exercises that utilized select pieces of equipment. Of course, they had to be compact, easy-to-use and have the ability to take anywhere on-the-go. That's one of the reasons why Bridger and I created Recreation Sweat; to give you the tools + equipment to feel confident training on your own and without heavy equipment. If you don't have these pieces, no problem! You can definitely make it work using modifications I give you throughout the book and taking advantage of the Exercise Substitutions on pg. 125. Get ready for 50+ new exercises throughout!
You do not need to complete my previous At-Home guide before starting 2.0 aka 2.0 does not build off of the first guide. However, if you're unsure of where to start, I recommend beginning with the first At-Home guide to build a proper foundation & get used to the formatting. Work your way up through OVERTIME, then move on to At-Home 2.0. Take advantage of all of our saved Live workout videos within the private FB group you get access to with the ebook (check your Resources page within the book), as well as my full nutrition breakdown in the first At-Home guide. I know you're going to love these workouts!
To share some additional features inspired by you guys + more included in 2.0:
+ 40 brand new workouts (5 workouts per week)
+ Weekly challenges and burnouts
+ 50+ brand new exercises
+ Modifications for every fitness level
+ Stretching routines + video demo
+ Access to our exclusive Facebook community
+ Live On-Demand video workouts
+ Time (range) it takes to complete each workout
+ Weekly planner & entire 8-week workout check list
+ My personal tips on staying motivated
+ Goal setting printouts
+ Pep talks from me throughout the 8 weeks
I can't wait to start sweating with you guys and working our way through GOOD // SWEAT 2.0 together in the Facebook group!! Be sure to get your copy HERE and make sure you're fully prepared before we start our very first 8-week community challenge June 14th! Let's do this!! Tag me @rachaelsgoodeats in your sweaty selfies!
Your Trainer, Rachael xx