*This blog post is sponsored by Affirm and as always, my opinions expressed are always my own 🙂
I know I'm not the only one who loves to grill year-round! It's easily one of my favorite ways to make a big dinner or grilled proteins for the week ahead. But to be honest, I've been struggling in this Seattle weather to do so lol. If you live in the pacific northwest, you know what I mean!!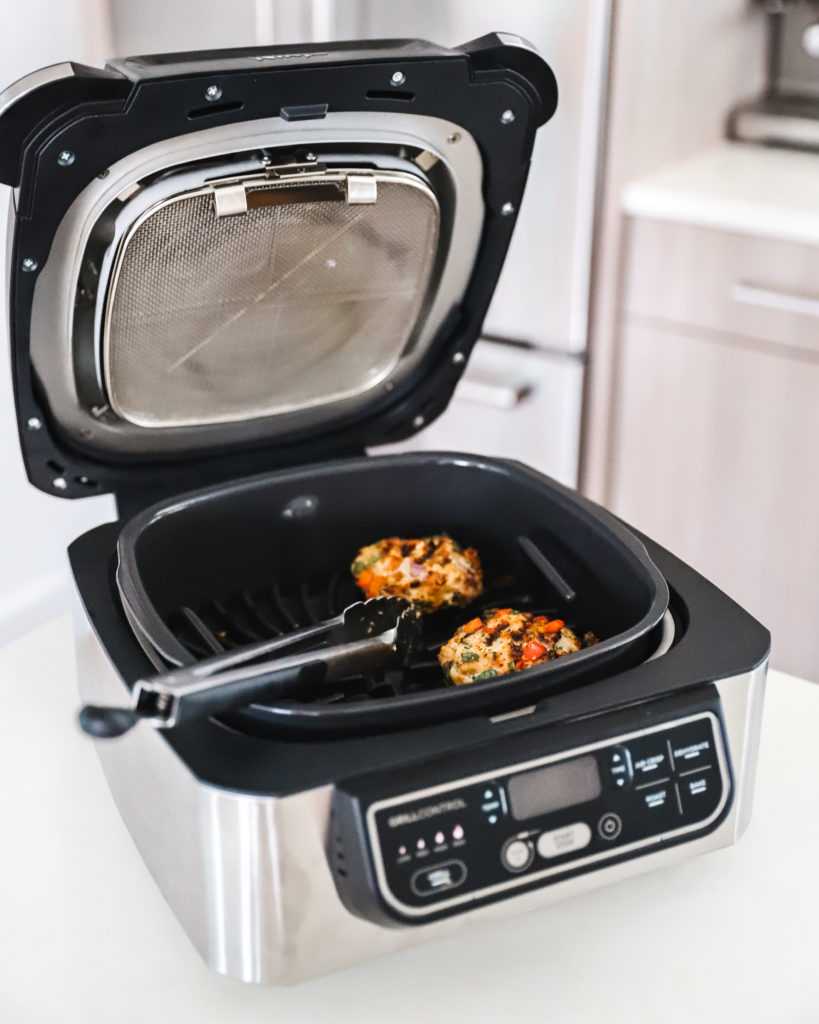 A few weeks ago, we got this Ninja Foodi Pro Grill and let me just say, wow. It is LEGIT. No longer do I have to stand in the cold flipping burgers because this thing truly does it all. It's way more than just a small kitchen appliance that mimics an outdoor grill. You can air crisp, grill, bake, roast and even dehydrate with a wide temperature range of 105-500 degrees F. It's also virtually smoke free– such a bonus with the grill being indoors. So, plan on roasting up some fingerling potatoes to go with these incredibly mouthwatering turkey burgers. Sharing the recipe below! 😉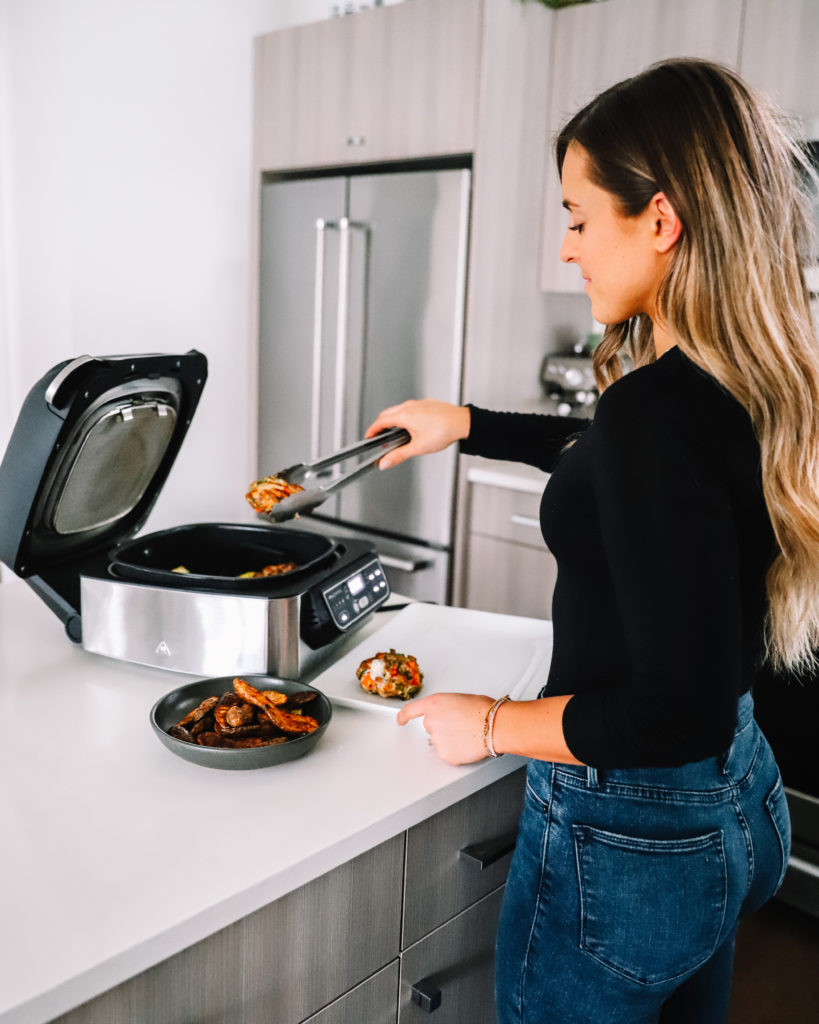 I'm also a fan of grilling because it's a great, easy way to cook that promotes healthy options that align with any New Year wellness goals you might have. I love a good balanced meal with quality protein, lots of veggies and a complex carb (in my case, potatoes are my weakness). Throwing everything on the grill really is an easy way to make food full of flavor. And with this Foodi Pro Grill, all you have to do is press a button and you're grilling in no time! It preheats in less than 10 minutes and cooks SO QUICKLY. You'll be surprised.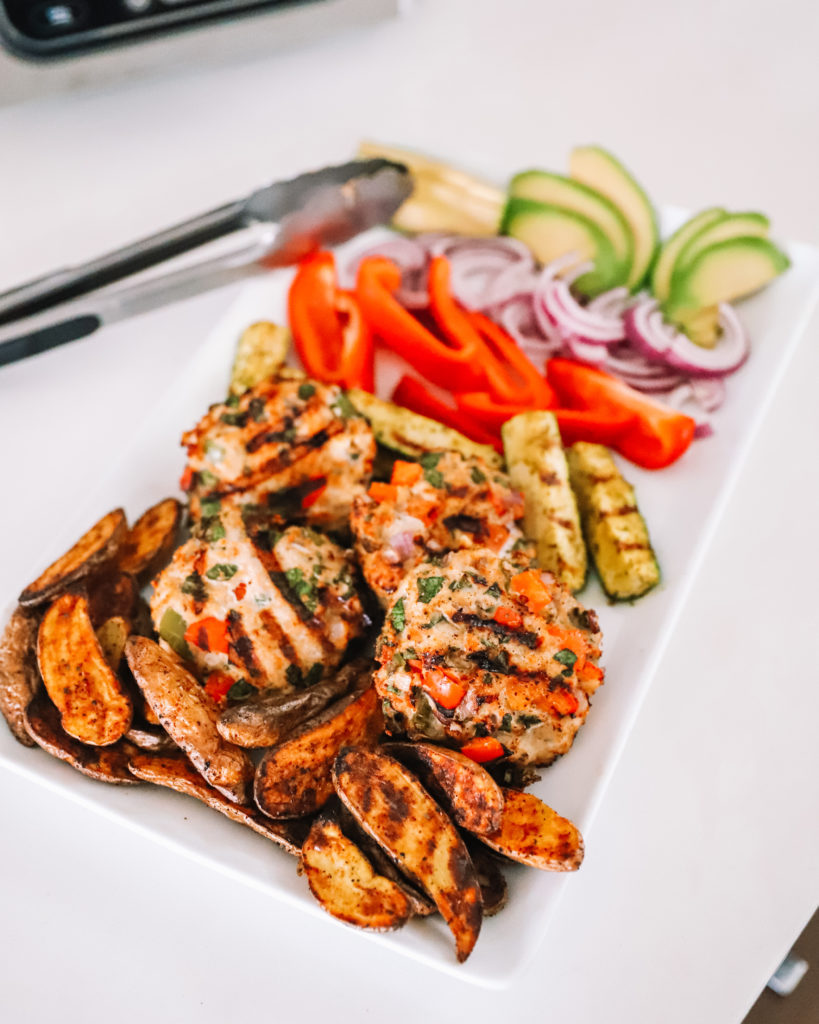 I made our classic go-to grilling dinner and it was nothing short of delicious! Crispy fingerling potatoes, grilled organic turkey burgers (filled with all the herbs and even snuck in ½ cup spinach and a bell pepper!) and grilled zucchini. All the toppings on the side, of course.
Speaking of New Year's goals, if you really want to invest in the Ninja Foodi Pro Grill but want to stay on track with any financial resolutions, I highly recommend using Affirm. Maybe you've seen Affirm while online shopping, but if you're not sure what it is, I'll explain really quick. Affirm allows you to make purchases and then split your payments over time. This way you can stick to your monthly budget while also buying the things you need! It's such a handy tool when making bigger purchases and takes all the stress out of the financial piece of it.
The best part is it will allow you to grab the Ninja Foodi Pro Grill so you can make this recipe ASAP. I'm excited to hear what you all think of this one – I'm convinced the indoor grill makes the burgers just as juicy as any outdoor grill and in a fraction of the time 😉
Grilled Turkey Burgers, Roasted Fingerling Potatoes and Grilled Veggies
Ingredients
Turkey Burgers
1

lb

organic ground turkey

1/2

bell pepper, diced

1/4

red onion, sliced

1/4

cup

freshly chopped cilantro

1/2

cup

finely chopped spinach

2-3

tbsp

goat cheese

1/2

tsp

pink salt

1/2

tsp

ground pepper

1/4

tsp

chili powder

1/4

tsp

garlic powder

1/2

tsp

italian seasoning
Grilled Zucchini
1-2

zucchini, cut into quarter slices

1/2

tbsp

avocado oil or extra virgin olive oil

1

tsp

adobo seasoning
Roasted Potatoes
1

lb

fingerling potatoes

1/2

tbsp

avocado oil or extra virgin olive oil

2

tsp

seasoning of choice
Instructions
Preheat Ninja Foodi Pro Grill on the Grill function.

Combine all ingredients in large bowl and mix thoroughly. Form into 4 patties and set aside. Toss zucchini (or vegetable of choice) with oil and seasonings.

Once grill has preheated, add patties to grill grate and close lid. Set timer to 10 minutes and flip (for grill marks) at around 8 minutes. Add zucchini with 5 minutes left.

To cook potatoes, preheat Foodi Grill on the roast setting. Toss potatoes in oil and seasonings, then add to roasting rack. Set timer for 10 minutes—no flipping required!