I've been drinking almond milk for years now and until just recently, I was buying cartons only from my local grocery store. Ever since making a point to focus more on making ingredients from scratch as much as possible to cut down on packaged items (about a year ago), I've wanted to make my own almond milk. It always seemed so intimidating to me and something I assumed took so much work.
I was so WRONG! It's incredible easy, very gratifying and the taste of the freshly made nut milk makes all the difference in the world.
Plus, grocery store brands of nut milks tend to be filled with all kinds of unnecessary additives like gums, fillers, sugars, carrageenan, and not to mention, being extremely watered down. You'll be able to notice a difference in the first sip after making your own homemade almond milk how thick and full of flavor it is. Making it from scratch also gives you full control over the ingredients going into the blender and allows you to get creative by switching up the flavors.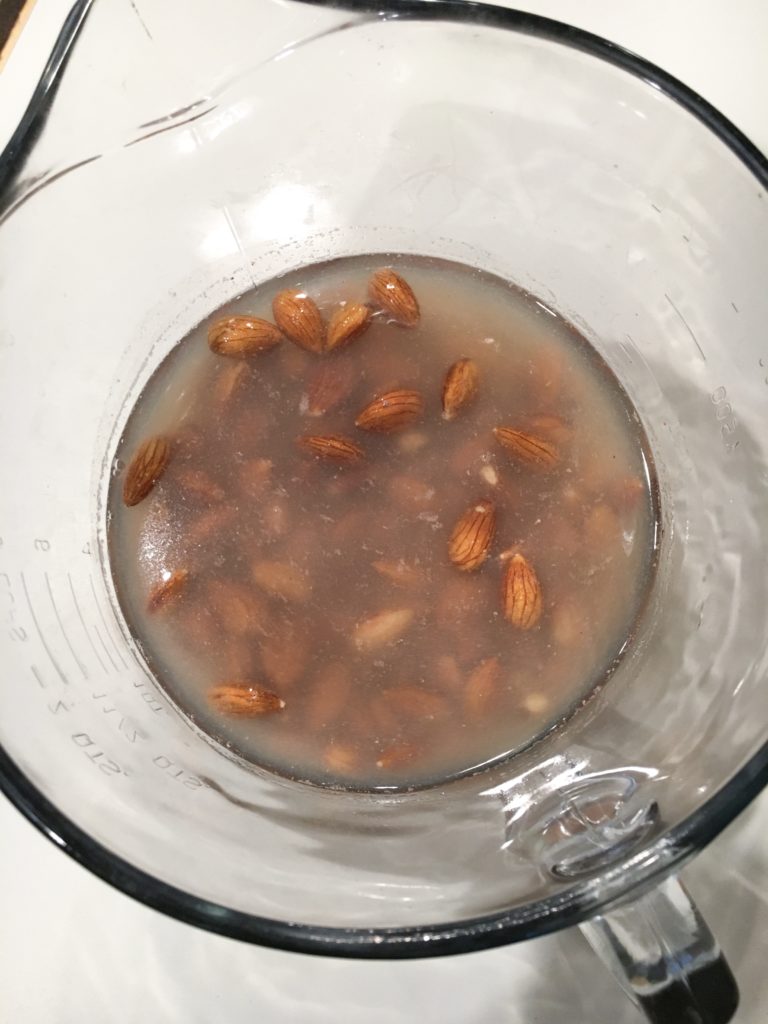 How To Make
The first step in making your own almond milk is to soak the almonds overnight. Nuts, seeds, grains, beans and legumes contain naturally-occurring anti-nutrients like phytic acid, which are protective compounds for the plant, but also interfere with our digestion process. In relation to making plants harder to digest, anti-nutrients also lock up many of the nutrients the plant is able to offer. By soaking the nuts, it neutralizes the enzymes, making the nut more nutritious and easier for the body to digest (I definitely notice a difference with my digestion). It's recommended to soak raw nuts in fresh filtered water overnight, about 12 hours.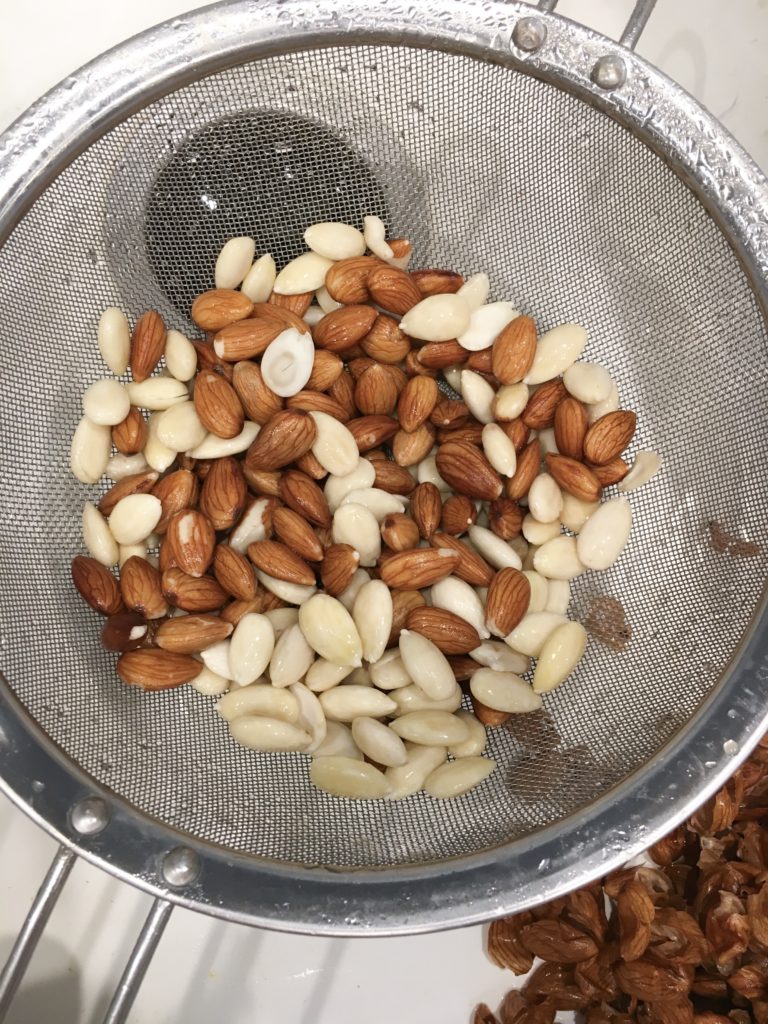 Once soaked, strain and rinse the almonds and discard the water that you had soaked them in. This next step of peeling the almonds is optional, but I think it really makes the finished product so much creamier, and if repurposing the almond meal for another recipe, makes it easier to digest without the skins intact. All you have to do is pinch each almond between two fingers and squeeze. The nut should pop right out, freeing itself of its skin.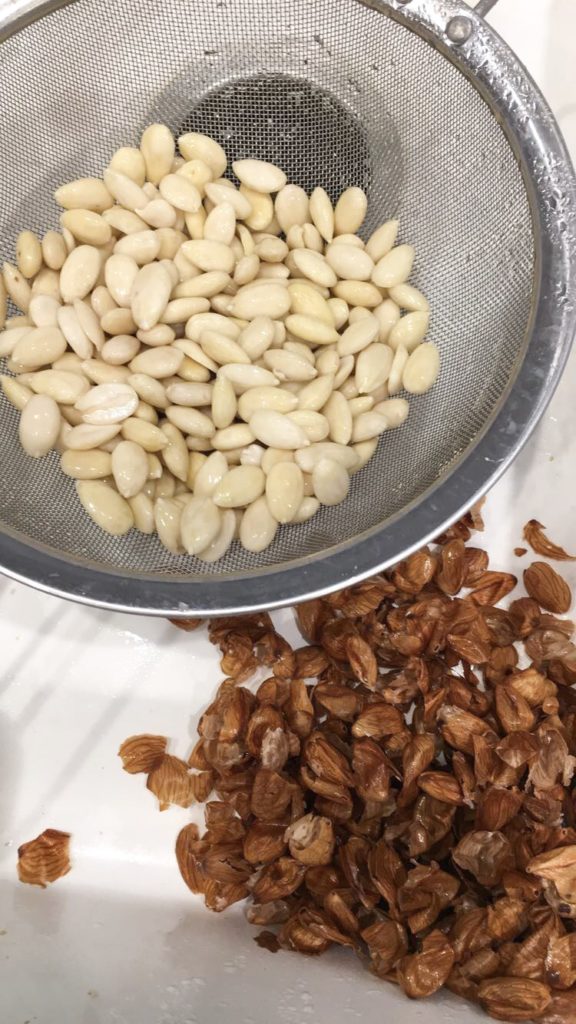 After the batch is peeled (if choosing to do so), add the almonds to a high-powered blender (I use a Vitamix), along with 3 parts fresh filtered water. Blend for about 2-3 minutes on high, then using a nut-milk bag or cheese cloth (I use this one— you can use 'Rachael10' for discount on Ellie's Best nut milk bags), strain the almonds in a large bowl or glass, separating the liquid from the almond pulp. Squeeze out as much moisture as possible from the pulp, then set aside in a small bowl.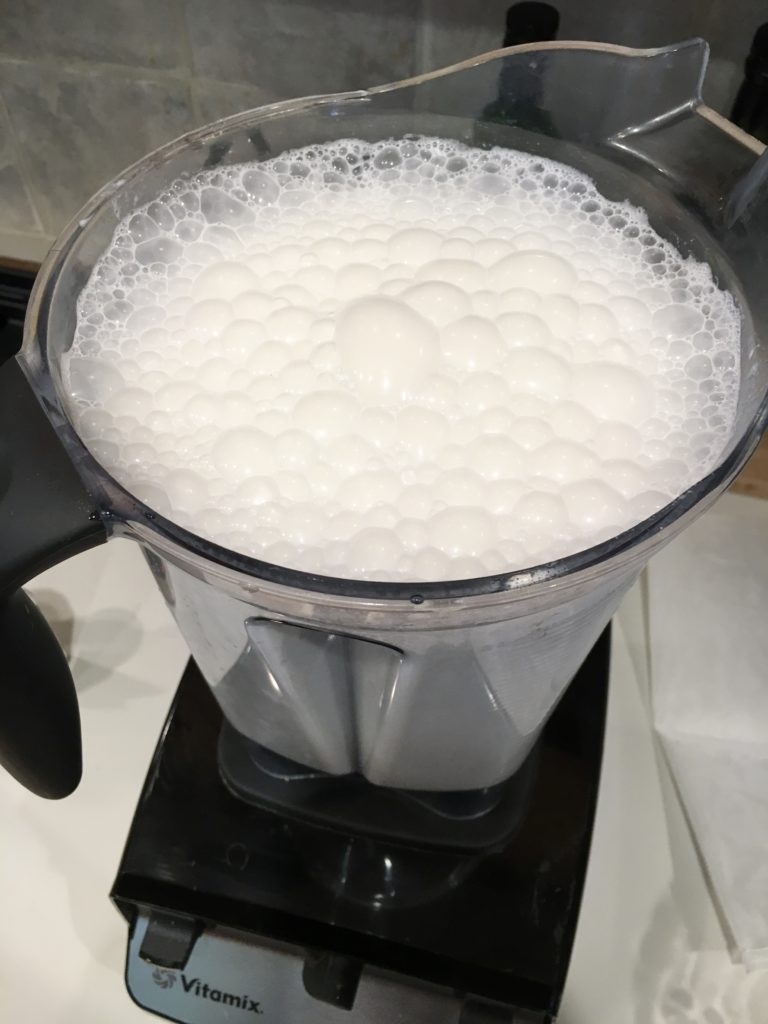 Pour almond milk back into blender along with desired ingredients to flavor, i.e. vanilla, cinnamon, pink salt, pitted dates, maple syrup. Blend for another minute. Store in glass container in the fridge for up to 5 days.
I can almost guarantee you will only want to make your own nut milk from here on out!! Or, at least cut down on the amount you buy from the store like I do– I go through so much almond milk it's insane.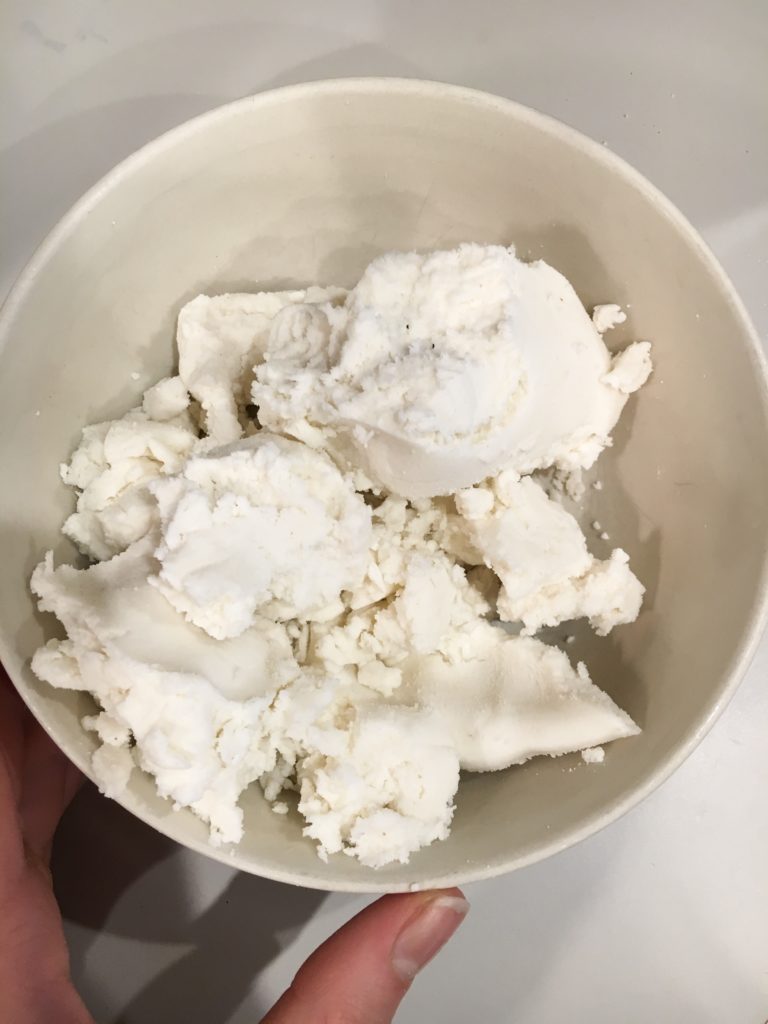 Repurposing almond pulp: spread almond pulp flat on baking sheet to bake in the oven at 200 degrees F for 2 hours. Remove and let cool, then add mixture to a blender to create a fine 'flour' texture. Use this homemade almond flour for baking, in smoothies for an extra boost of nutrients, or in my Cashew Chocolate Chip Cookie Skillet, like I've been doing!

Want to try different flavors? My favorite has been cashew almond milk. Repeat the same steps as above, except replacing 1/2 the almonds with cashews. It's so creamy!
Hemp Milk is even more simple. No need to soak or strain, just blend 1/3 cup hemp hearts with about 6 cups filtered water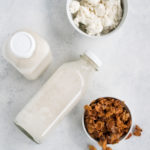 Homemade Almond Milk
Ingredients
2

cups

raw almonds

10

cups

filtered water

Flavors of choice: i.e. cinnamon

vanilla bean, pink salt

High-powered blender

i.e. Vitamix

Nut-milk bag or cheese cloth

Glass milk bottles

I use these
Instructions
Add 2 cups almonds to 3 cups filtered water in a large bowl. Cover with dish towel and let soak overnight, about 12 hours.

Strain almonds and rinse thoroughly, discarding the water that was previously soaked with almonds.

To peel almonds (optional), pinch almond between two fingers and squeeze. The almond should pop right out, freeing itself of its skin.

Add almonds to high-powered blender along with 6-7 cups fresh filtered water. Blend on high for 2 minutes. *The more water you add, the thinner consistency it will be.

Using a nut milk bag or cheese cloth, strain almond milk into a large bowl or glass, separating the liquid from the leftover pulp. Squeeze all of the moisture out of the pulp and set aside in a small bowl.

Pour almond milk back into the blender with seasonings/spices of choice to blend another minute.

Store in glass container in the refrigerator for up to 5 days.