It's only been a few years since I made the transition from having all of my meals prepared for me in the dorms, to having my meals prepared by my sorority's chef and then finally to going grocery shopping by myself and preparing my own meals. The typical list of items I would purchase on the regular are still engrained in my mind so I thought I may be able to help those who are wanting a better idea of what to buy each week in college.
I went to Oregon State University (GO BEAVS), which happens to be a very small college town. It probably took me about 2-3 years to actually love where I went to school simply because I was such a homebody and really just missed my friends/family at home in Washington.
When I first moved into my sorority sophomore year, it was quite the shift after living with my best friend and freshman dorm roommate to 60 girls in the sorority. SIXTY girls. I truly never thought I would end up in a sorority because, I mean let's be real. The stereotypical high-maintenance party girl just wasn't me, whatsoever! Though I'm happy I went through the process, which fortunately led me to meeting tons of new people, I only lasted about 2 ½ years being a member of the sorority. After that, I focused all my time on classes and getting through the required DPD nutrition courses.
Meals were pretty simple in the sorority, lots of pasta to supply the enormous group of girls, salad bars, delicious entrees and breakfasts, etc. We were very lucky with how talented our chef was and the various types of meals she prepared for us.
I remember always, always, always loading up first at the salad bar for lunch and dinner with all the veggies, dedicating about ¼ of my plate to complex carbohydrates (i.e. sweet potato, quinoa, brown rice, beans, peas, etc.) and the last ¼ to a protein source. Snacks usually included carrots and hummus, which were continuously stocked in the sorority, whole grain pretzels, and other snacks I would buy from the grocery store to keep in the public fridge downstairs. This would include things like yogurt cups, seasonal fruit, freshly made salads from our nearest health foods grocery store, nut butters, and others.
I stayed surprisingly fit my Sophomore year, which I owe to being the homebody I am. I rarely went out drinking. I ate healthy and balanced meals, made working out a priority (going 6 times per week), and lastly, I made sure to get a good night's sleep.
One habit that never got old was my nightly ritual of plain popcorn and carrots; 2 items the sorority was never depleted of. I would add about 2 tbsp popcorn kernels into a brown paper lunch bag (without any oil) and microwave for two minutes, or until I could no longer hear popping. Most people would rather eat dirt instead of entirely plain popcorn, but somehow I came to fancy it. I also enjoy coating plain popcorn in coconut oil spray and cinnamon, a sweet treat that's super satisfying or with coconut oil, ground pepper and nutritional yeast, a dairy-free savory food seasoning that gives the popcorn a cheesy flavor. I think popcorn goes great with a small bowl of carrots. It's an oddly, yet wonderful combination you have got to try.
Organic popcorn kernels are cheap, healthy and great alternative to late night chip cravings. Just make sure to avoid the overly processed microwavable bags of buttery popcorn, as well as the movie theater popcorn—extremely high in saturated fats, sodium and even trans fats. Opt for making your own healthier version at home!
Junior year was when I finally had to fend for myself for all of my meals. No dining hall $$$, no chef, just me. Well, living in a townhouse with 4 other girls and one small fridge forces you to get pretty creative with the groceries you buy and your ability to store them on your ONE designated shelf in the fridge…
I tended to go grocery shopping on Sunday's to prepare for the upcoming week and was a frequent flyer at Trader Joe's, Fred Meyer and Market of Choice in town. Sometimes I'd hit all three stores because one didn't carry every thing I wanted. I also made sure to take full advance of the farmer's markets in late spring and sometimes even during the winter months when they offered it indoors. I never had access to a Whole Foods, so I'm not familiar enough to give recommendations.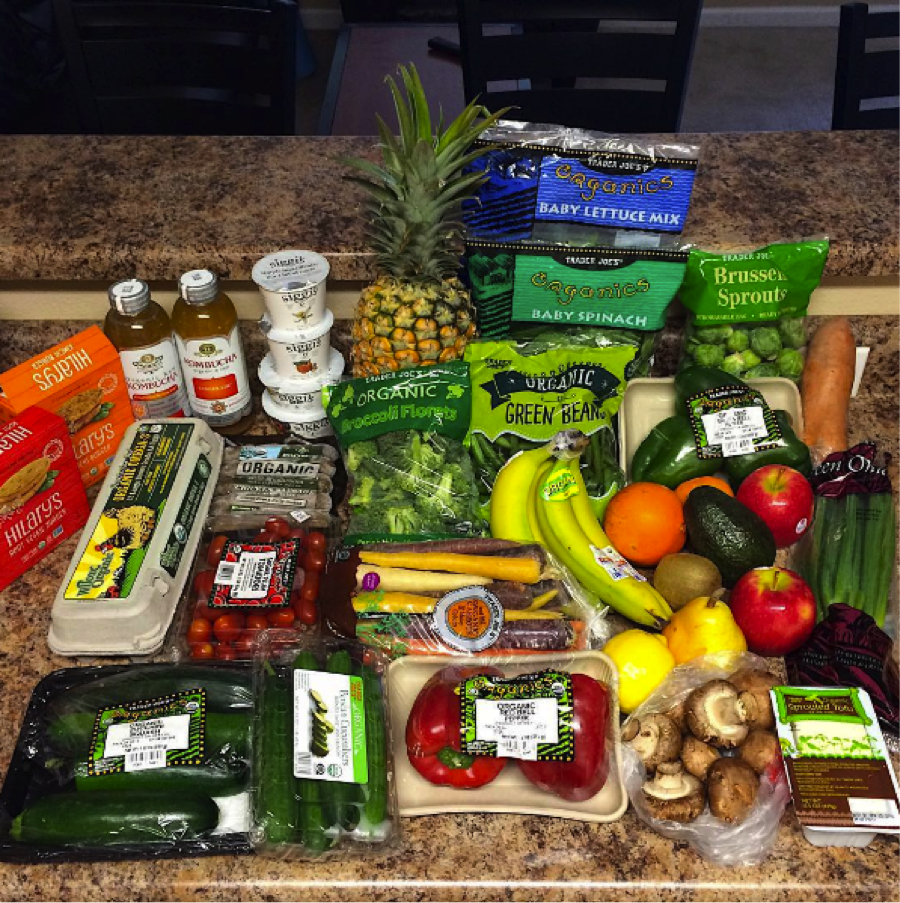 [Photo taken of grocery haul after trip to Trader Joe's and Market Of Choice]
As surprising as it is, I found that Marshalls, TJ Maxx and Home Goods carry an expansive health foods section, which I would (and still do) seek out new finds every other week. They also have killer deals for seasonings, oils, honey and nut butters. I'm surprised to find such a variety of brands I'm familiar with on Instagram show up in these select stores. I've never had a problem with this in the past, but for safe measure make sure to check expiration dates before purchasing.
– I generally buy the same food items each week and repurpose the items or leftovers to make into different meals and snacks
– Trader Joe's usually has the best deals for organic foods and nuts
– Find a grocery store with a bulk section to stock up on your favorites for less
– Buy organic as often as possible to reduce your consumption of chemicals, pesticides and GMOs found in commercially grown food!
I've made a Trader Joe's grocery list I'm very familiar with, in addition to a small grocery list for a major health foods store like Whole Foods for the specialty items not sold at TJs or other supermarkets
Trader Joe's
Produce
Green Beans
Bell peppers
Brussel sprouts
Cucumber
Spinach
Tomato
Avocado
Broccoli
Cauliflower
Zucchini
Mushrooms
Green onion
Tri-colored carrots
Red onion
Lemons/limes
Sweet potato
Asparagus
Apples
Bananas
Berries
Refrigerated
Organic Sprouted Extra Firm Tofu
Crumbled Feta/Goat Cheese
Plain Greek Yogurt
Organic Ground Beef
Organic Chicken Breasts
Chicken Sausage
White Bean Hummus
Canned Foods
Beans- Kidney, black, garbanzo
Tomatoes- pasta sauce
Tuna (no salt added-red can)
Superfoods
Chia Seeds
Ground Flaxseeds
Apple Cider Vinegar
Seasonings/Spices/Oils
Cinnamon
Red Pepper Flakes
Garlic powder
Ginger
Ground Pepper
21 Seasoning Salute
Cumin
Turmeric
Organic Olive Oil
Organic Coconut Oil
Dry Goods
Organic Nut Butters
Nuts
10-minute Farro
Quinoa
Coconut Flour
Baking Powder
Plantain Chips
Organic Rice Cakes
Popcorn Kernels
Steel Cut Oats
Sprouted Bread/Tortillas
RXBARS
Frozen
Mixed berries
Raspberries
Mango Chunks
Vegetables
Riced Cauliflower
Whole Foods/Market Of Choice
Refrigerated
Vital Farms Pasture-Raised Eggs
Siggis Yogurt
Unsweetened Almond Milk
Kite-Hill Cheese
Banza Chickpea Pasta
Kombucha
Frozen
Hilary's Eat Well Veggie Burgers & Bites
Siete Tortillas
Bilinski's Organic Chicken Sausage
Dry Goods
Raw Organic Honey
Bulk Nuts/Trail Mix
Sir Kensington's Spicy Brown Mustard
Jilz Crackerz