As you've probably heard by now, we are officially starting the GOOD // SWEAT Strength 8-week challenge TOMORROW, January 9th!!! Are you joining us? And if not, have you considered if this fitness program is something that would be beneficial for you going into the New Year? I will say YES, this program is for you if:
– You're looking for a fitness plan that will elevate your routine like never before
– You're excited to lift heavier weights
– You can commit to 8 weeks (feel free to extend the program if you want to incorporate additional rest days, or if you want to take classes for 1-2 days per week. I recommend to continue following the program in order from start to finish)
– You want to increase lean muscle mass and decrease body fat
– You've been either working out at home for the past couple years and/or strictly taking fitness classes and want to try something new in a gym setting
– You have access to a squat rack, cable machine, a variety of dumbbells (light to heavy), Recreation Sweat's glute bands, power band, and Gym Bundle (optional)… yes, this workout guide can be modified without either the squat rack or cable machine by using dumbbells, glute bands and power bands, but you will get the absolute most out of the program with all pieces of equipment. If you can get access to a gym for just two months, you will be golden!
– You want accountability when it comes to your workouts. You will get access to our private Facebook group with more than 7,500 of the most supportive women!
– You would benefit by having more confidence both inside and outside the gym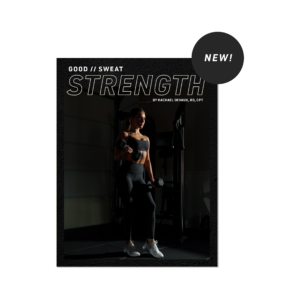 Click HERE to access the guide and learn more about the challenge. It is a digital download that's sent straight to your email. Download the PDF and save to your computer and/or device to keep forever. Hot tip: a lot of users like to print the guide out themselves. We've figured out that Cheapercopies.com has the most affordable pricing, but you can also use Office Depot, Fedex, Office Max. If you want to write digitally on your document, we have found the free app, Markup is the most user-friendly to do so.
If you want to see a change this year, you're going to have to change what you've been doing and try something new. I know, I know. That means stepping outside your comfort zone, which we all need to be more familiar with in order to grow. It's hard, but it's a fact! I guarantee you will look forward to these workouts each and every week. It has a very consistent format that I personally loved as I tested the entire program. There are 120+ exercises in this program, but you will see a lot of the same exercises each week for your 'core' or 'main' lifts in circuits 1 and 2. This is so that you can track your weights accordingly as you progress from week to week. I lay out every single thing you need to know in the intro of the ebook, the weekly check-in's and checklists, and the FAQs in the back of the book. So I can confirm, if you are hesitating even the slightest about being unfamiliar with the equipment or the format of my workouts, know that I got you! I even filmed a tutorial on how to use a squat rack and cable machine inside the guide.
Of course, I know we all love a good incentive to stay accountable throughout these next 8 weeks, so I wanted to sweeten the pot! I will be obviously doing this challenge with everyone committed to G//S Strength, sharing my own experience and reposting your tags through my Instagram page and our private FB page, but I will also be hosting a GIVEAWAY for everyone who stays accountable from Week 01 through Week 08. Those who follow me know I've never really been about a "before and after photo-only" type of transformation, but I think this is a great way for all of us to stay accountable and remain fully invested in each workout. Read more below.
There will be TWO grand-prize winners who will each receive $500 in cash
Requirements include sharing progress photos and/or videos in the form of an Instagram Reel posted to their Instagram page (account must be public at the time of posting). This video will document the time from Week 01 to Week 08 and the progress they saw in their mental, physical, and/or emotional health. Entries need to be submitted and posted to their own Instagram page by March 13th. Tag me @rachaelsgoodeats and use the hashtag #goodsweatstrength in your caption. I want to give everyone one additional week just in case you need to extend it beyond the 8 weeks.
Get creative! 🙂 No minimum or maximum time limit on the IG Reel, but some ideas include:
– Sharing the weights you lift for one particular exercise during Week 01 and then flip to you doing the same exercise with new weights in Week 08.
– One clip lasting 8-15 seconds with text on the screen of what you personally benefitted from by completing this Strength program.
– Photos of your before and after (reminder to take photos in a full length mirror Week 01, Week 04 and after Week 08. Best practice to use the same mirror/lighting and same angles: front, side), mindset shifts, confidence levels, new habits/routine.
– Perfecting your form from from Week 01 to Week 08.
How We Will Choose The Winners: this is not just about physical transformations. Yes, you will notice physical change from this guide, but this is SO much more than that. I am so confident you will benefit from this program whether it's being able to lift heavier weights, perfecting your form, feeling more confident being in the gym, making positive lifestyle changes, seeing changes in your body, the list goes on! There is no limitations on who can win. However, I will be looking out for accountability through tags on Instagram and through our private FB page (not required, of course).
Please comment below if you have any questions, but I am so looking forward to completing this challenge TOGETHER and keeping each other accountable through it all!!
xx Your Trainer, Rach