If there's one thing Bridge and I have mastered this quarantine, it's this spicy skinny margarita (or paloma– whichever you prefer). It's the *perfect* evening cocktail with a hint of sass from the jalapeño and freshness from the grapefruit juice.
I'm not a big drinker if we're being honest. Like rarely ever– it's just a personal preference as I don't always enjoy the way it makes me feel afterward/the next day, aka I'm way less productive, feel like a slug, crave unhealthy foods, it's harder to exercise, you get the picture. But ever since Bridge and I had this cocktail at our wedding tasting in Cabo earlier in February, I've been loving them ever since!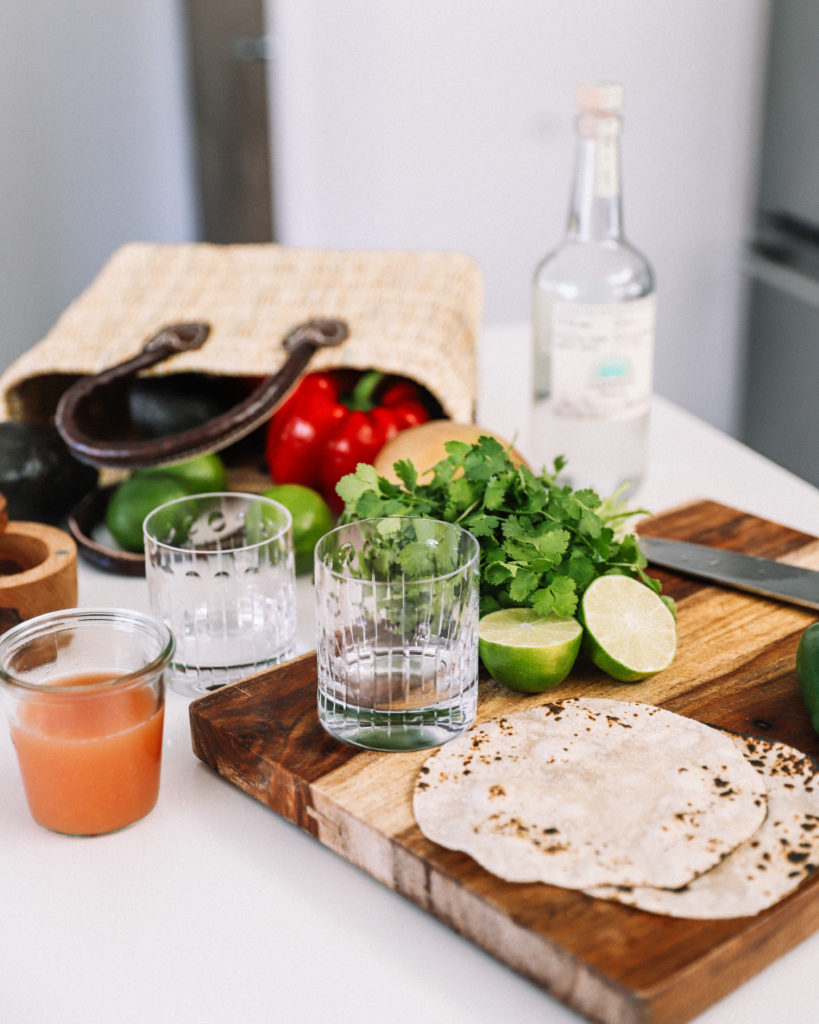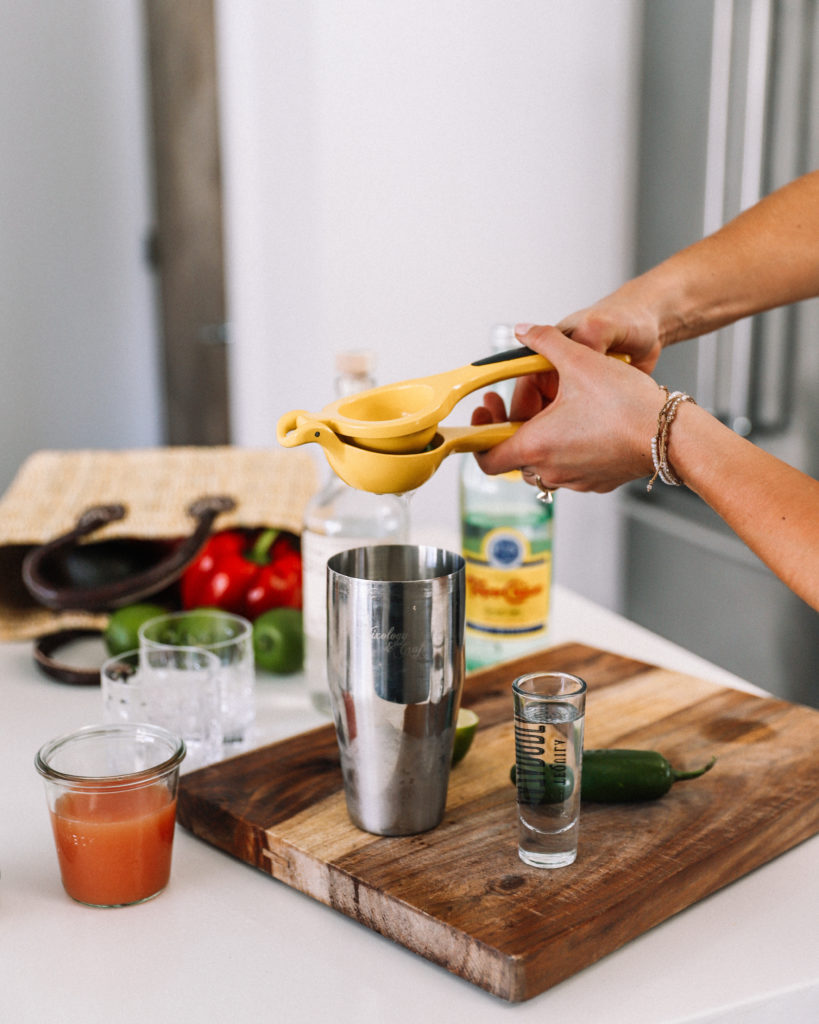 Obviously, there are so many different ways to make a good margarita, but most have sugar in them, which I'm not always a fan of. I've made this one completely added sugar-free and it's deeeelicious! Super light and refreshing.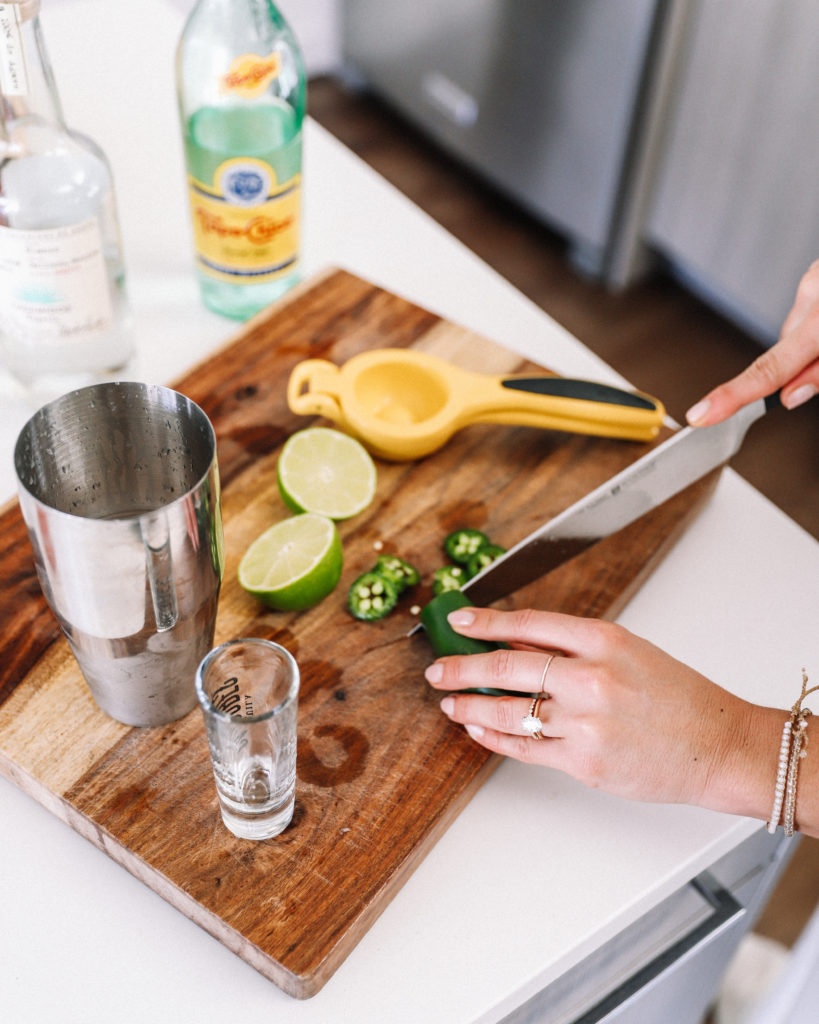 I've recently become obsessed with Casamigos Tequila blanco. It's so smooth compared to other tequilas I've tried, I definitely recommend.
All you gotta do for the marg is pour the tequila, fresh lime juice, fresh grapefruit juice and a few slices of jalapeño in a shaker cup with ice (or you can just stir everything together in a large glass), then shake for 20-30 sec! Pour it over a salt rimmed glass (or clean, your choice) full of ice & top with carbonated water– our fav is Topo Chico– and either 2 more slices of jalepeñ0 or sliced lime for a garnish!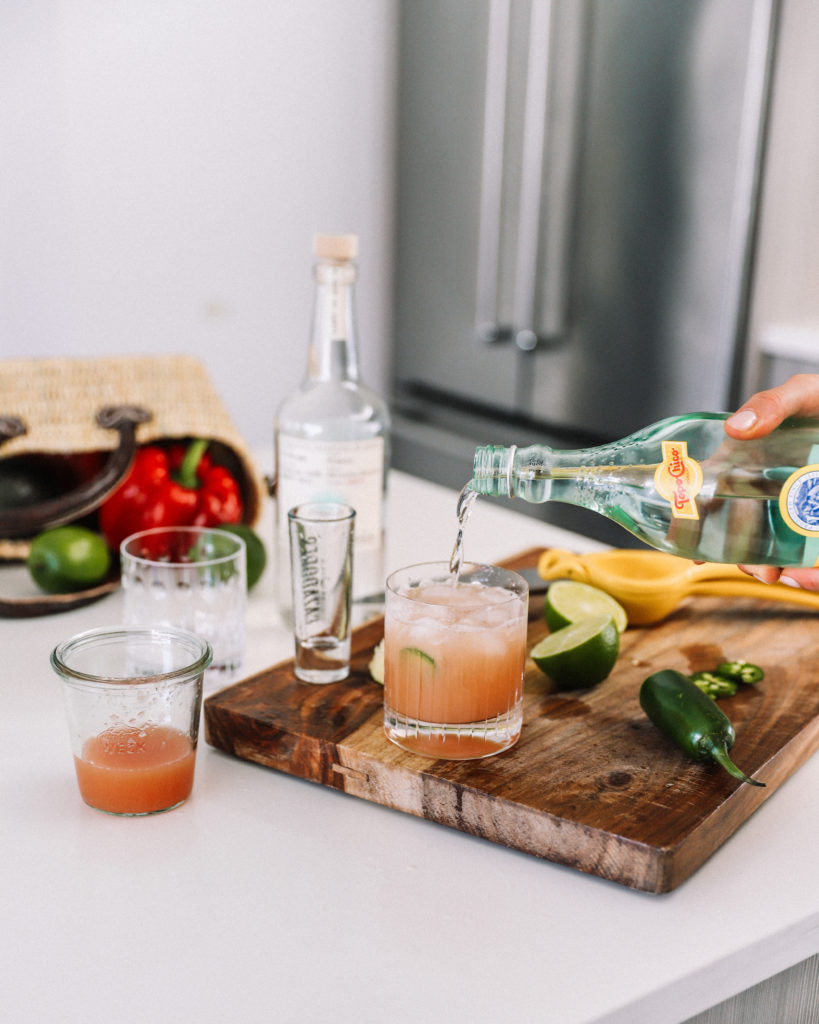 That's it! Try it out and make sure to let me know what you think below 🙂 Feel free to swap the grapefruit juice for blood orange juice instead! xx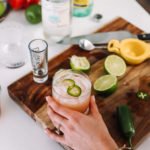 Spicy Skinny Marg
Ingredients
1-2

oz

tequila of choice

(I prefer Casamigos blanco)

3

tbsp

fresh lime juice

(or 1.5 small limes)

2

tbsp

fresh grapefruit juice

2

oz

carbonated/sparkling water

(I prefer Topo Chico)

3

thin slices of jalapeño

(seeds removed)

ice
Instructions
Feel free to salt the rim of your glass-- pour a thin layer of salt on a small plate. Rub the wedge of a lime around the rim, then dip the glass into the salt so that it sticks. Fill the glass with ice.

In a small cocktail shaker or a large glass, add tequila, fresh lime juice, grapefruit juice, jalapeño and ice. Tightly close and shake vigorously for 20-30 seconds, then pour over ice in your margarita glass and finish it off with carbonated water. Add two thin slices of jalapeño and/or a slice of lime for garnish and enjoy! 🙂