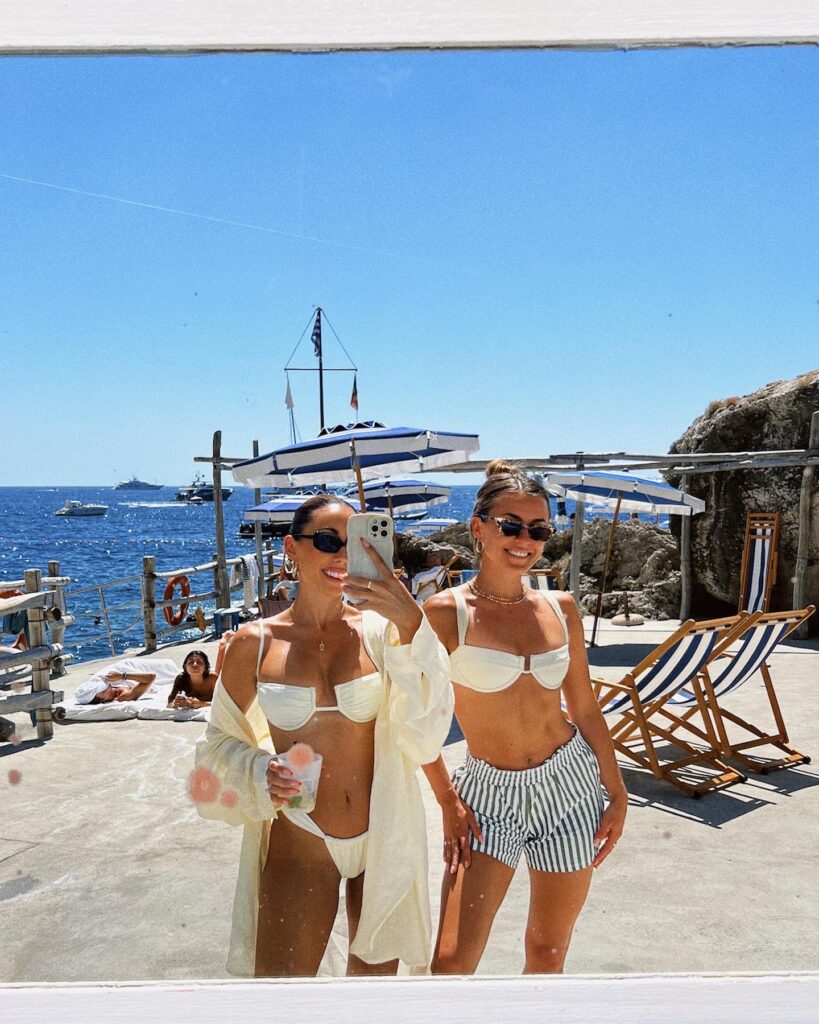 My sister took me on the most memorable trip to Italy and I wanted to share all the spots we went to and recommend. It's funny because I'm usually the planner when it comes to the trips Bridger and I take together. He essentially just has to show up with a good attitude and I'll have all the things laid out and ready to go, including restaurants (obviously). But not this time. My sister, Maddie, has been to the Amalfi coast about 5 times now, so she has a good pulse on where the best spots are. Just like our last sister trip to Bali in 2019 (full itinerary here), she basically made a 'highlight trip' for me by booking her favorites and I can confirm it was a HIGHLIGHT.
We went during peak season the first week of August, but I've never been to Italy before so I haven't seen it when it's not busy. Honestly, it wasn't bad at all and it never negatively impacted our trip in any way. I would just highly recommend if you're going during peak summer months (July, August), that you book everything months in advance to ensure you get reservations. Restaurants, beach clubs and hotels seem to book out far in advance. For example, my sis booked La Fontelina in May when she thought there was a chance we'd be going. It was also hot & a little humid, but nothing a quick jump in the ocean couldn't fix! *Except the travel day when we arrived in airplane clothes… that was a little unbearable, so bring shorts and a tank in your carry on to change into at the airport.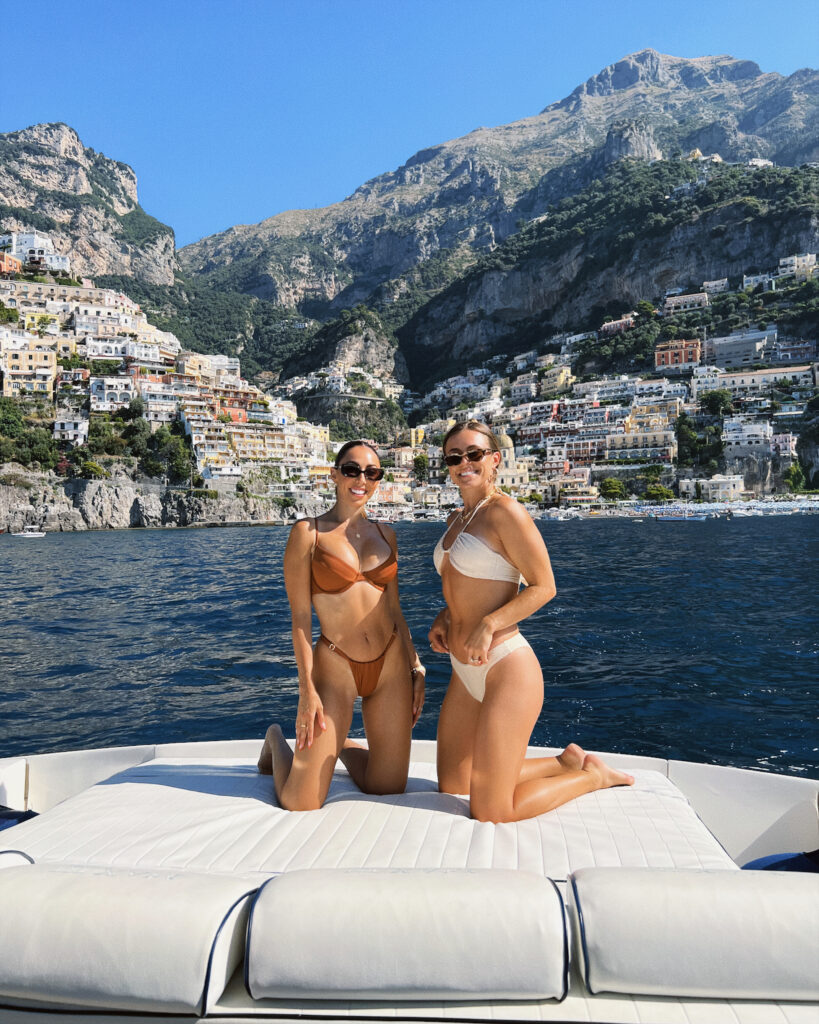 We were gone for 9 days, including travel days, but it felt like we did SO MUCH. I promise you, one week is definitely enough to experience Italy and make tons of mems. 4 nights in Capri, 2 nights in Amalfi and 1 night in Positano. Also, if you're thinking about booking a sister trip, or maybe it wasn't even on your mind… DO IT!
Where to fly into/transportation:
We flew into Naples airport. From there we were greeted after baggage claim by the transportation company we booked through our first hotel. They grabbed our bags, walked us out to the front of the airport and loaded us in our private car to head to the port to get on the ferry to Capri. When we arrived at the port another person from the same company was waiting right outside our car. She grabbed our luggage, handed us our ferry tickets and rushed us along to the ferry. The ferry to Capri was about 1 hour and once we docked there was another person from that same company waiting for us to grab our luggage and bring us to our car to head to the hotel. Full transportation cost was $160 Euros from the airport to the hotel and would highly recommend it. It took all the stress out of where to go and what to do, plus it was very safe.
Alternative option: You can fly into Rome which has more frequent flights and more options if you are traveling from the U.S. (this option tends to be a little cheaper depending on where you are coming from). From there you can take the train to Naples which is about 1 hour and 10 minutes, hire a private car (recommend) or use a taxi from the airport, then the ferry to Capri.
*Our hotel also offered full transfer from Rome airport which is an additional 2.5 hour drive.
Where to stay on Capri:
Caesar Augustus: This is where we stayed and cannot recommend it more. It's absolutely stunning and located outside the main square in Capri in AnaCapri. The hotel gives a boutique family vibe and you will probably be greeted by the son of the owner upon arrival, as he lives at the hotel. It's perched 300 meters above sea level and has views of the whole bay of Naples and the Amalfi coast. They have a pool that overlooks the ocean and their restaurant serves ingredients grown in the garden on property which you can go visit. They have a separate breakfast restaurant room with the most amazing (and included) breakfast buffet with anything you could ever want. Amenities include a gym and spa, concierge, double level infinity pool, and is probably the BEST place on Capri to watch the sunset. The views are actually unbeatable! Even if you're not staying at the hotel, I highly recommend going for sunset one evening to experience it. Get the peach bellini, it's the best thing I've ever tasted in my life. Check out their Instagram.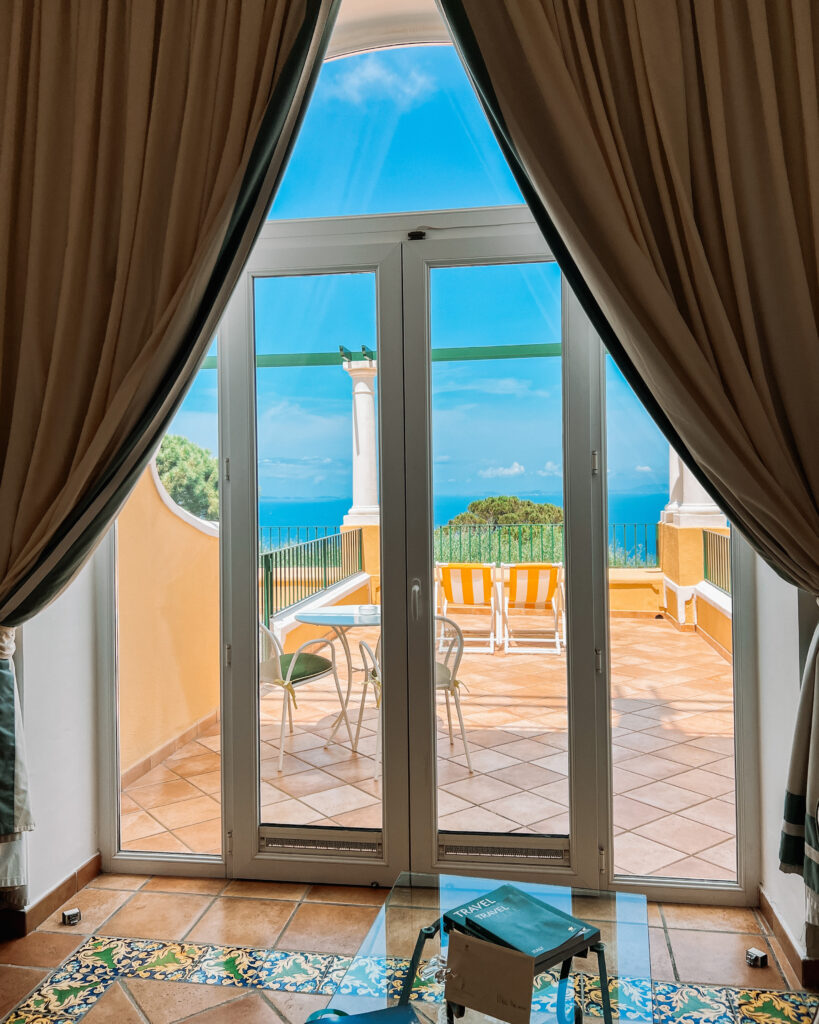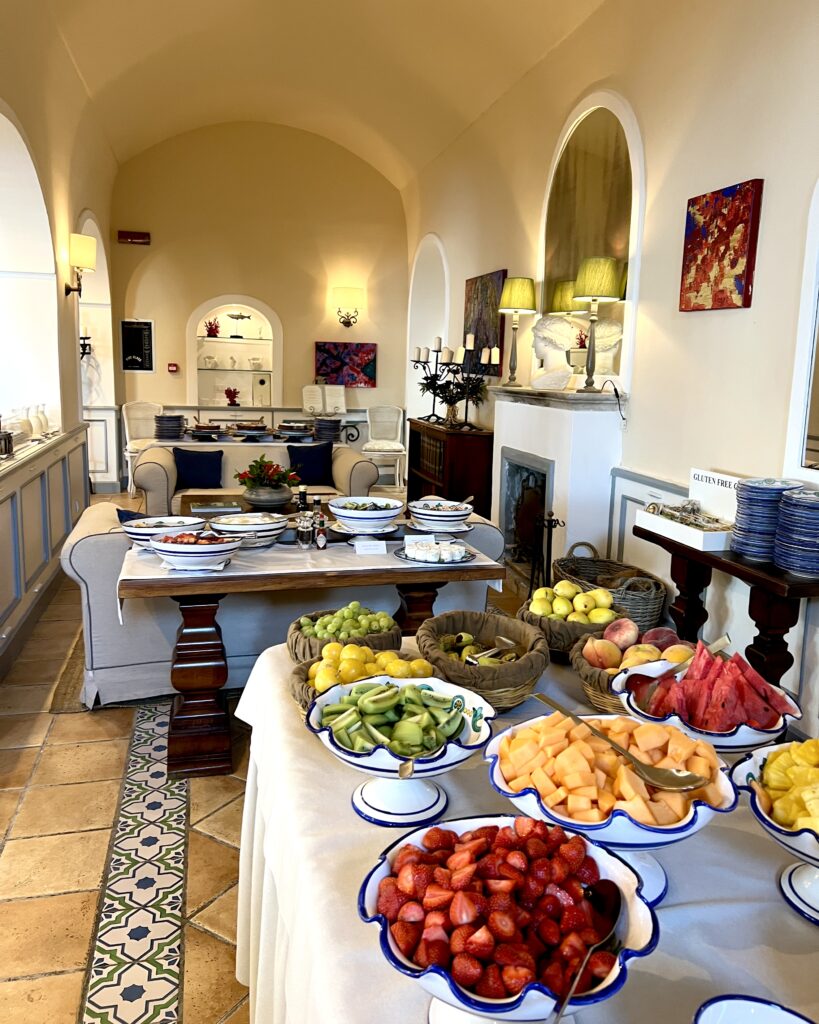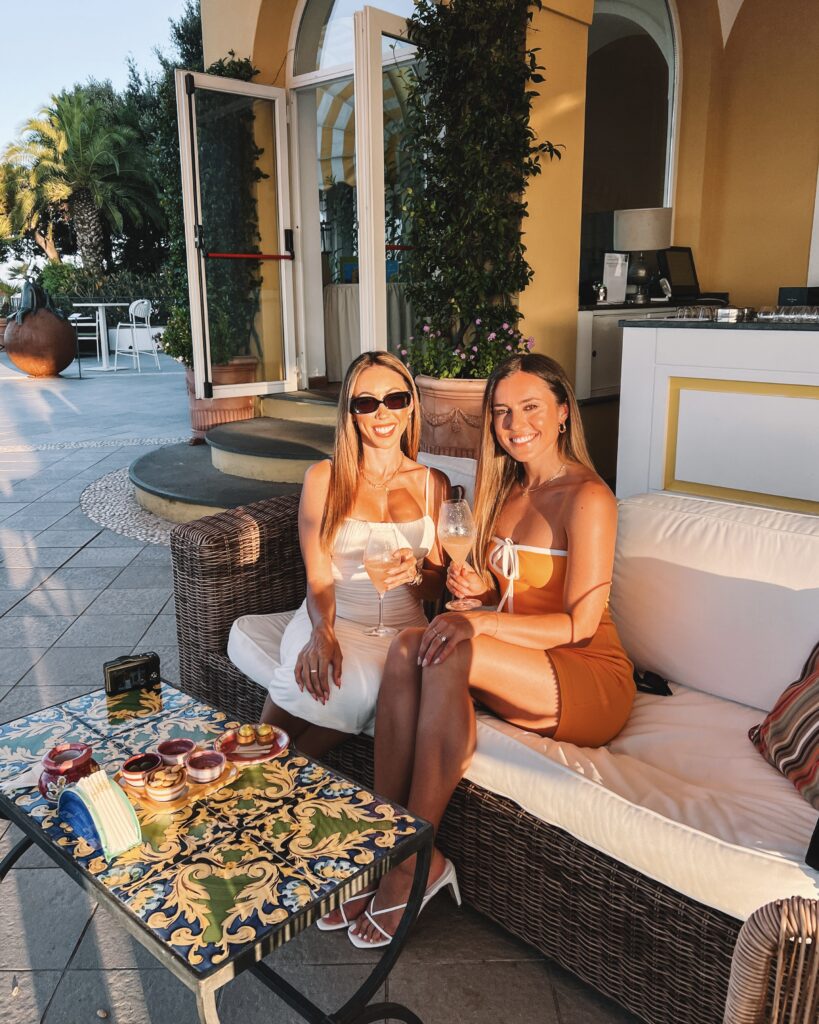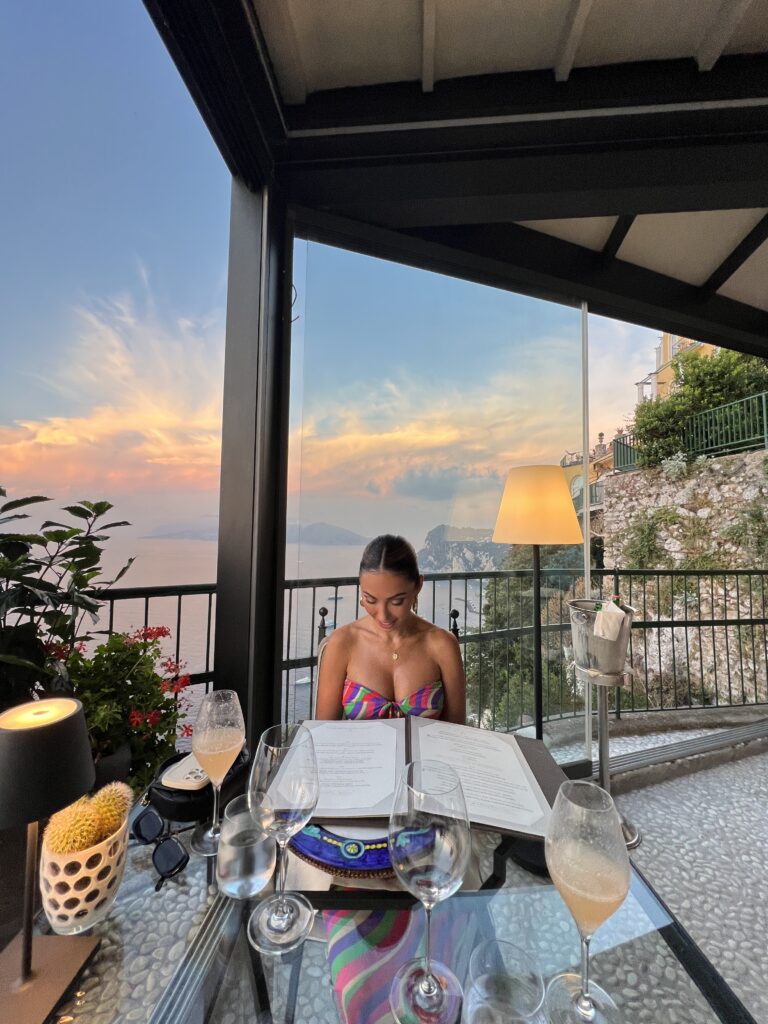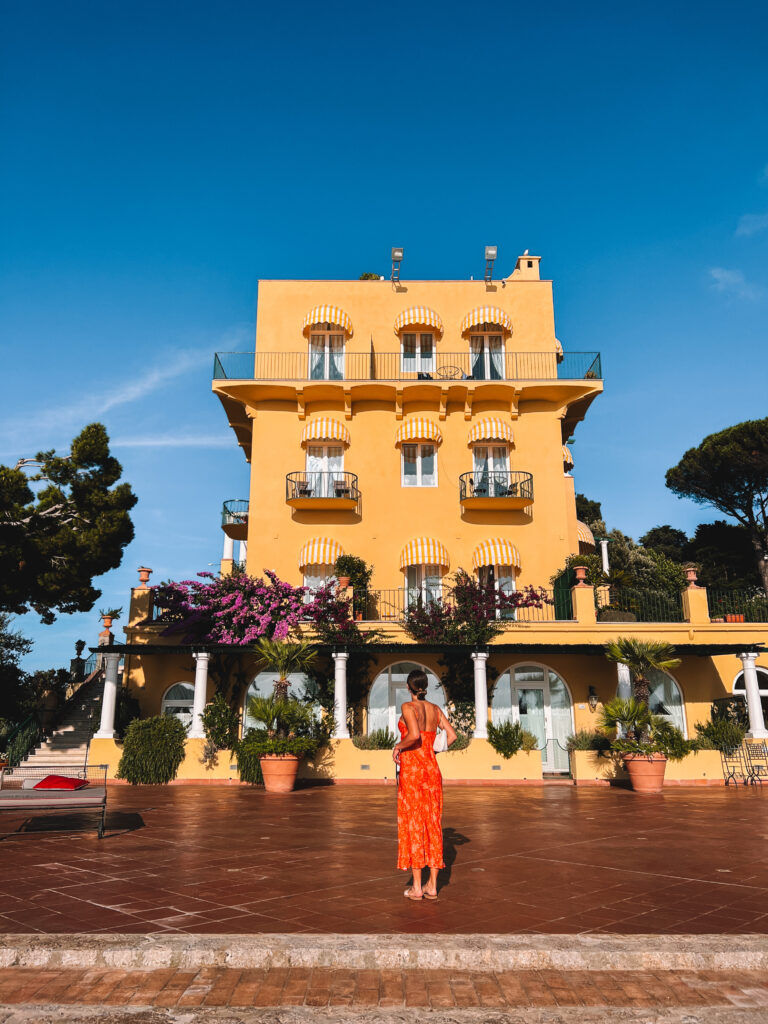 Quisisana: Right in the center of Capri and just steps away from the Piazzetta. Five star service with amazing amenities and views of the Faraglioni – definitely iconic Capri!
Capri Tiberio Palace: Stylish hotel in the heart of Capri
La Minerva: Best boutique hotel
Punta Tragara: Best overall views on Capri
Capri Palace Jumeirah: Five star luxury in Ana Capri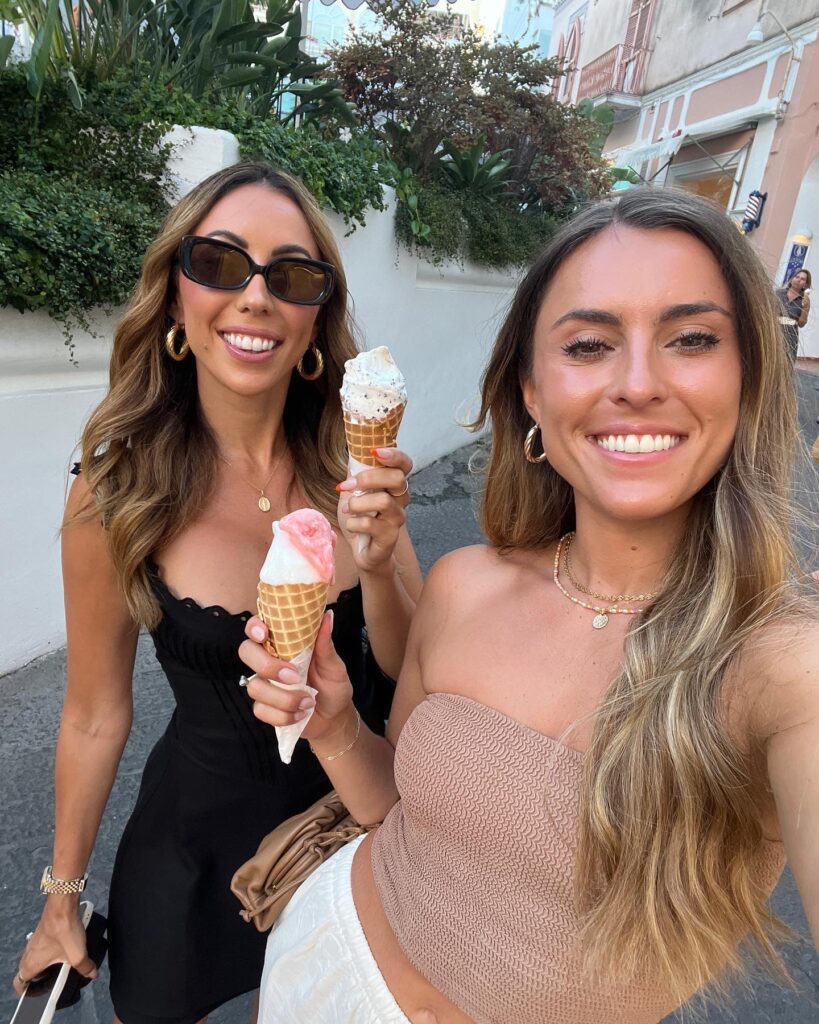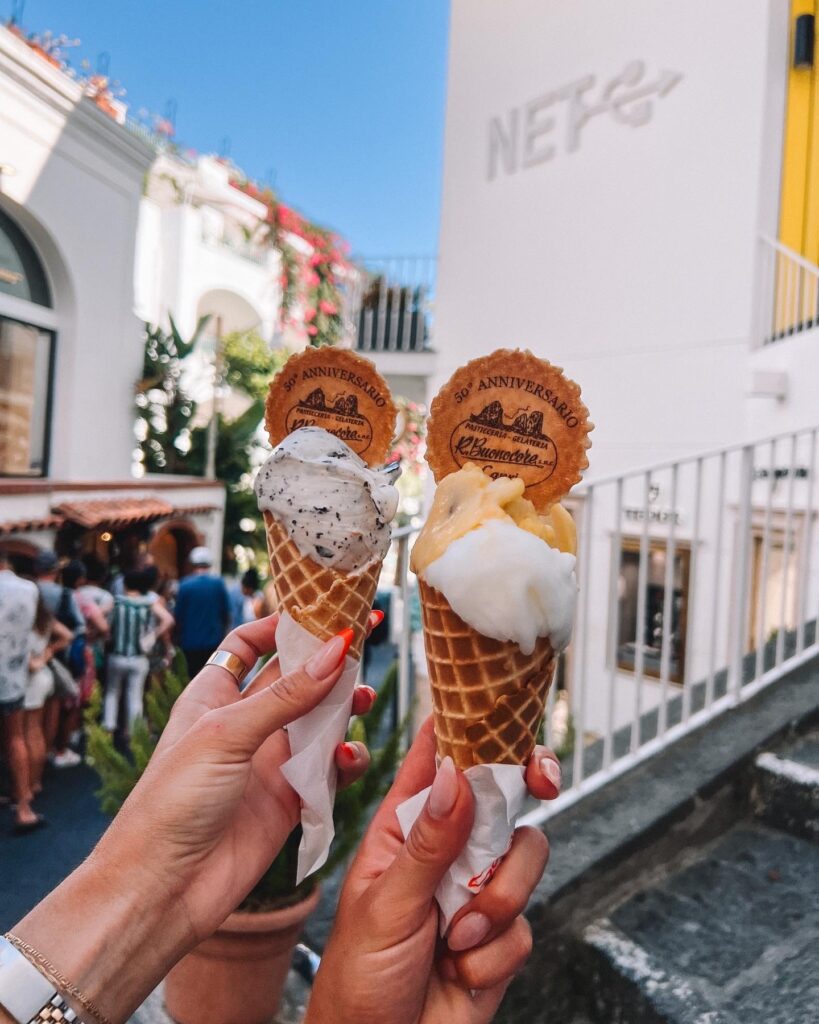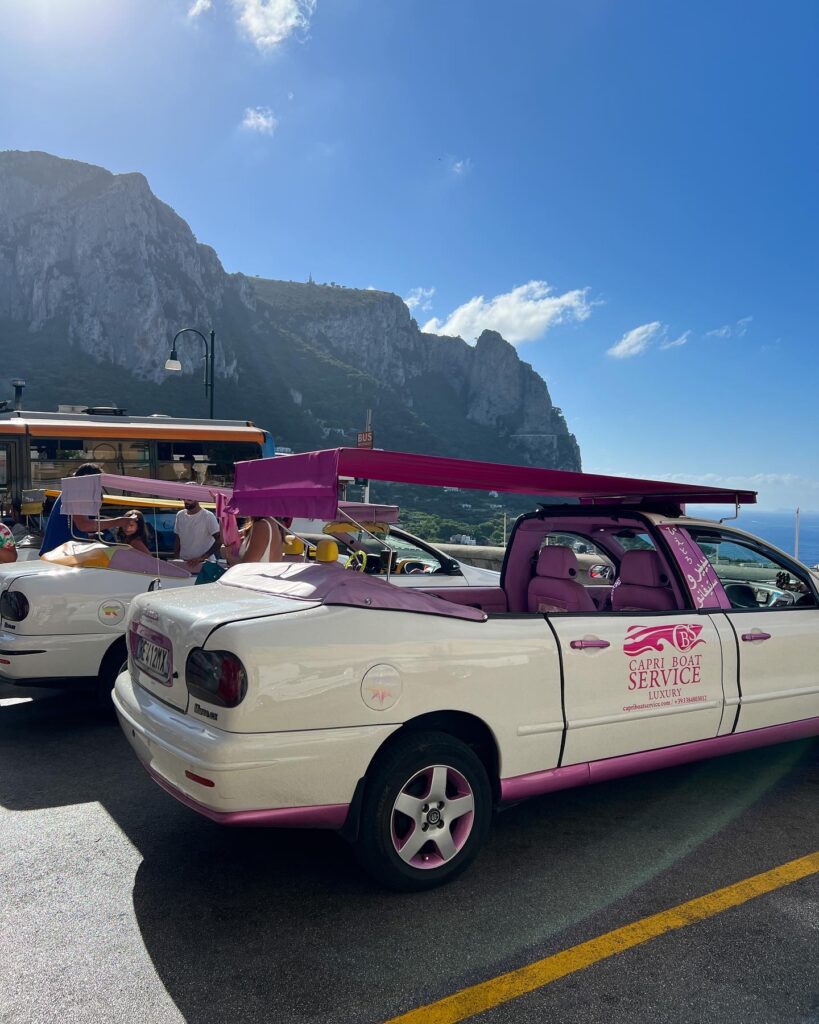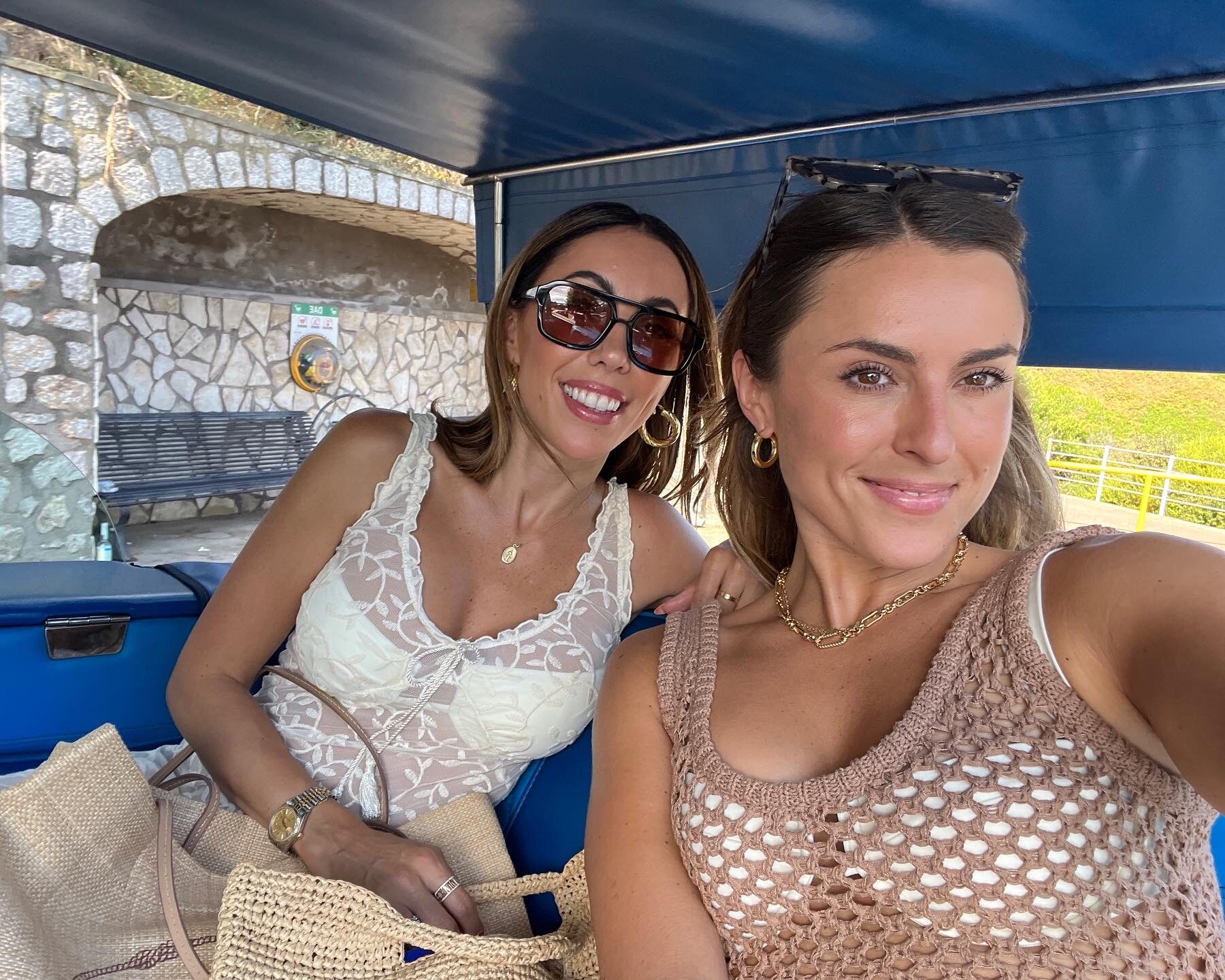 Where to eat on Capri:
Da Paolino: Also known as The Lemon Tree Restaurant. You MUST get lemon pasta and the lemon sorbet served in a lemon!!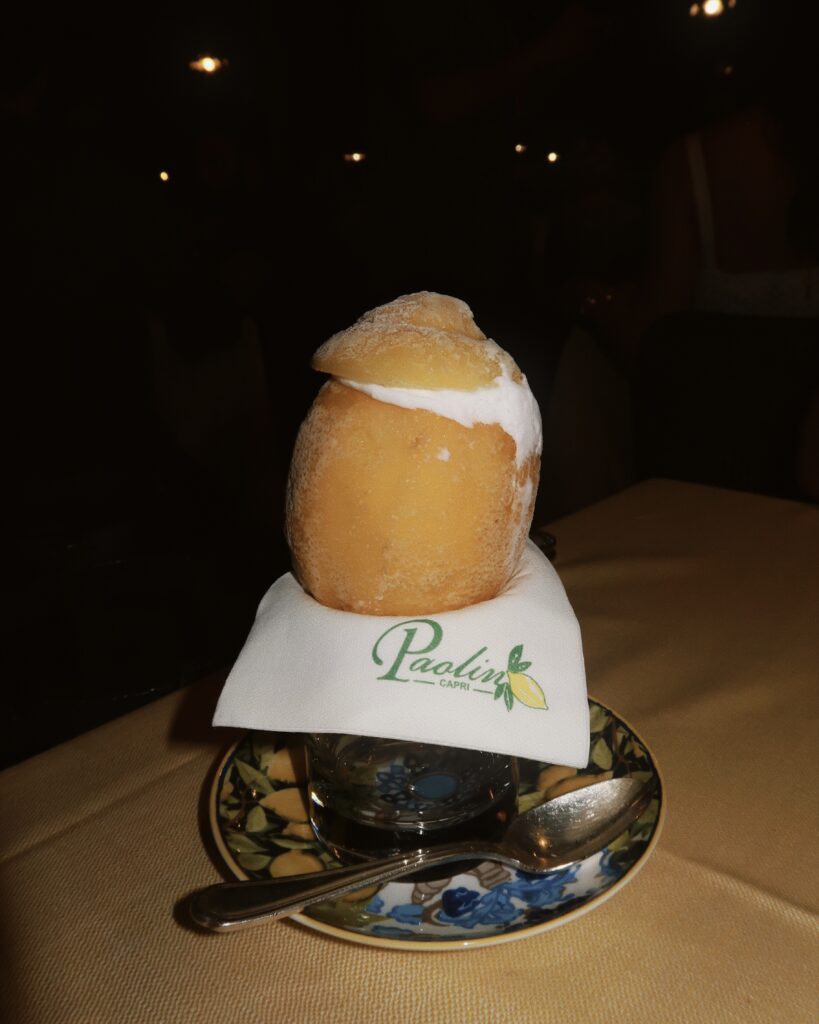 La Fontelina: The go-to lunch spot on Capri. Try their caffé shakerato, zucchini pasta and grilled fish. *You'll need to make reservations far in advance and they require a 3-day minimum commitment (but worth it).
La Terrazza: Restaurant at Caesar Augustus. Everything is made from fresh ingredients from the garden on property. Maddie got the vegetarian tasting menu the last time she went and she gave it rave reviews.
Da Giorgio: Right in the center of Capri. Casual, family style italian.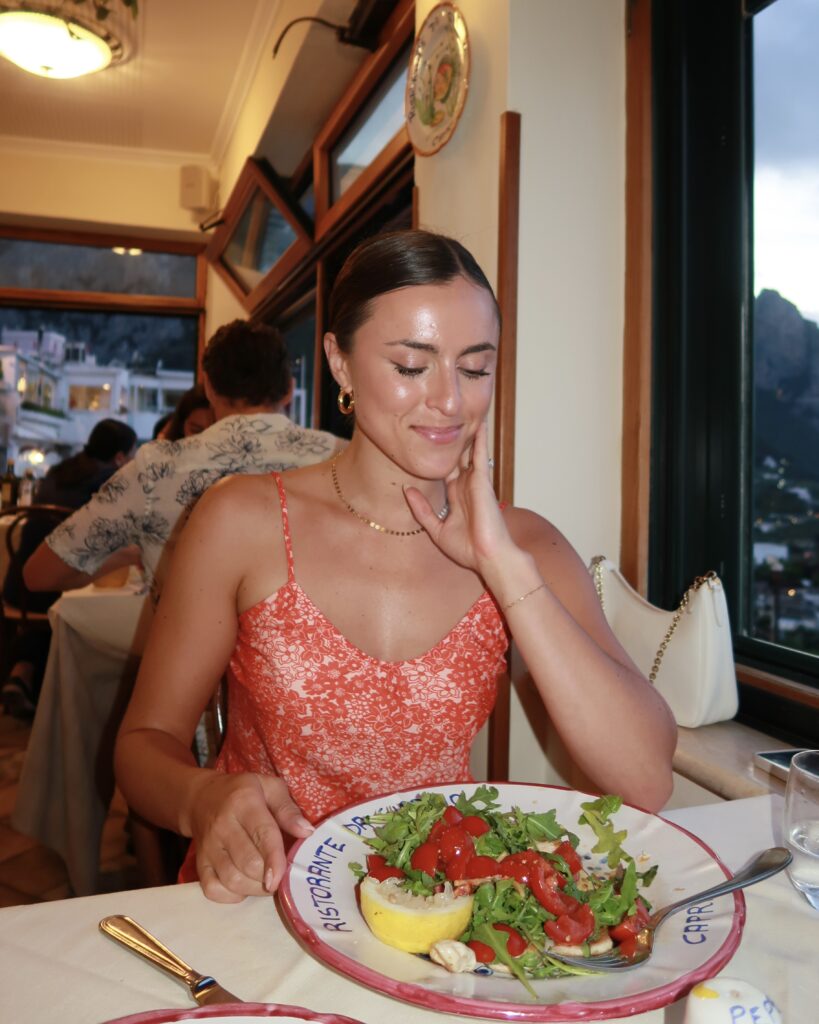 Il Riccio: Beach club seafood restaurant located in Ana Capri right below the Dior Bar. Open for lunch and dinner. They have a "temptation room," which is essentially just a dessert room where you can choose 5 mini desserts for a small amount of euros. Bring a suit if you want to jump in the ocean right below the restaurant. They also have beach chair to rent. The only tough part about this restaurant was getting a taxi on the way home. It's very out of the way so there's not many taxis that will be waiting there to pick you up. You'll most likely have to have the restaurant (or your hotel if you call the concierge) call you a taxi to get picked up. It's very expensive too $$.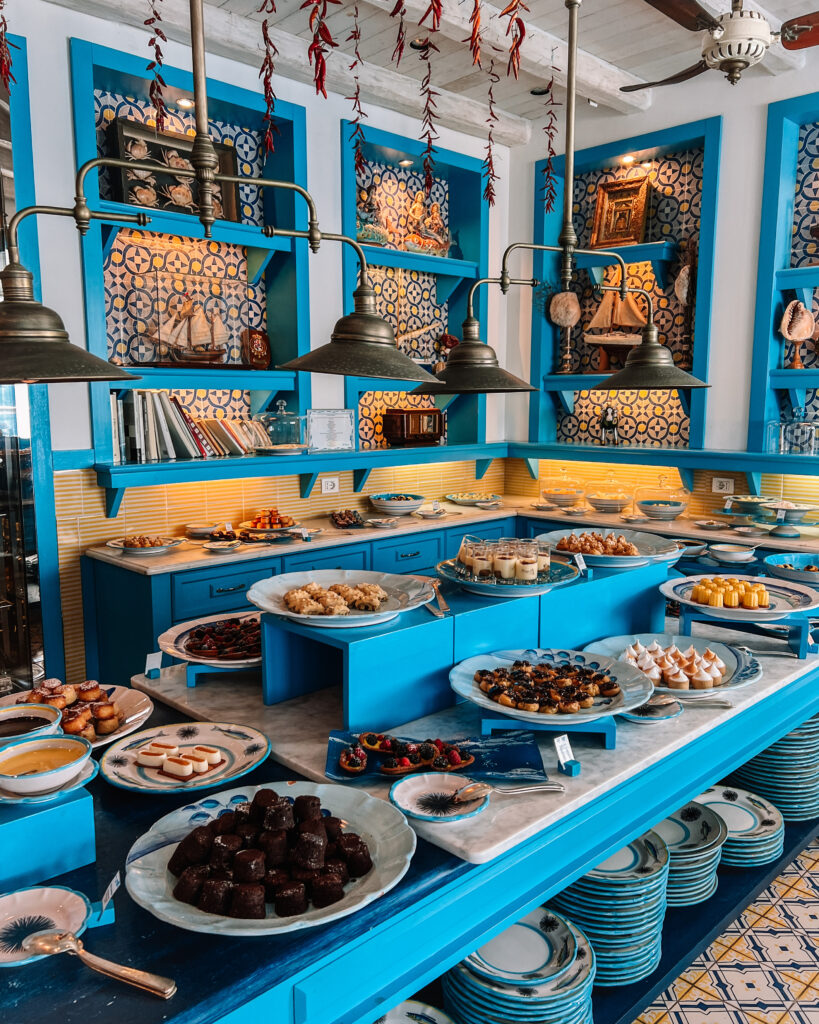 What to do on Capri:
Spend the day at La Fontelina: If you are visiting Capri during the busy season, make sure you book in advance. The restaurant requires a 3-day commitment for reservations and upon request, you can add a reservation for the beach as well (FYI if you don't show for any day of your commitment, your credit card will be charged). You can book directly on their website or request reservations from the concierge at your hotel (this is probably rare, but depending where you stay, your hotel might be able to get you a last minute reservation). It's stunning and I would highly recommend it! Maddie and I got there the minute it opened each day at 9am, which no one does lol. But we left around 2-3pm each afternoon, so we wanted to make the most of it. We took a taxi from our hotel at Caesar Augustus into the square. Walked through Capri town (~30 minutes), then walked down a long path to the water where La Fontelina is. It's a trek on the way up, so make sure you have enough water (I brought my electrolytes!) or you can always get a boat taxi to take you to the port and then get a car taxi to take you back to your hotel. But p.s. a nice little reward for walking up the hill is getting gelato at Gelateria Buonocore! It's the BEST and they have sorbet, too! Or, get a granita from Chiosco Tizzano di Natalia e Antonio Tizza.
Explore the Piazzetta: Walk around the main square in the heart of Capri. Have an Aperol Spritz at one of the outside restaurants in the main square, people watch and hit up the rows of designer stores to window shop or grab some tax-free luxury goods. Most designer brands create products exclusively for Capri, so you won't find them anywhere else.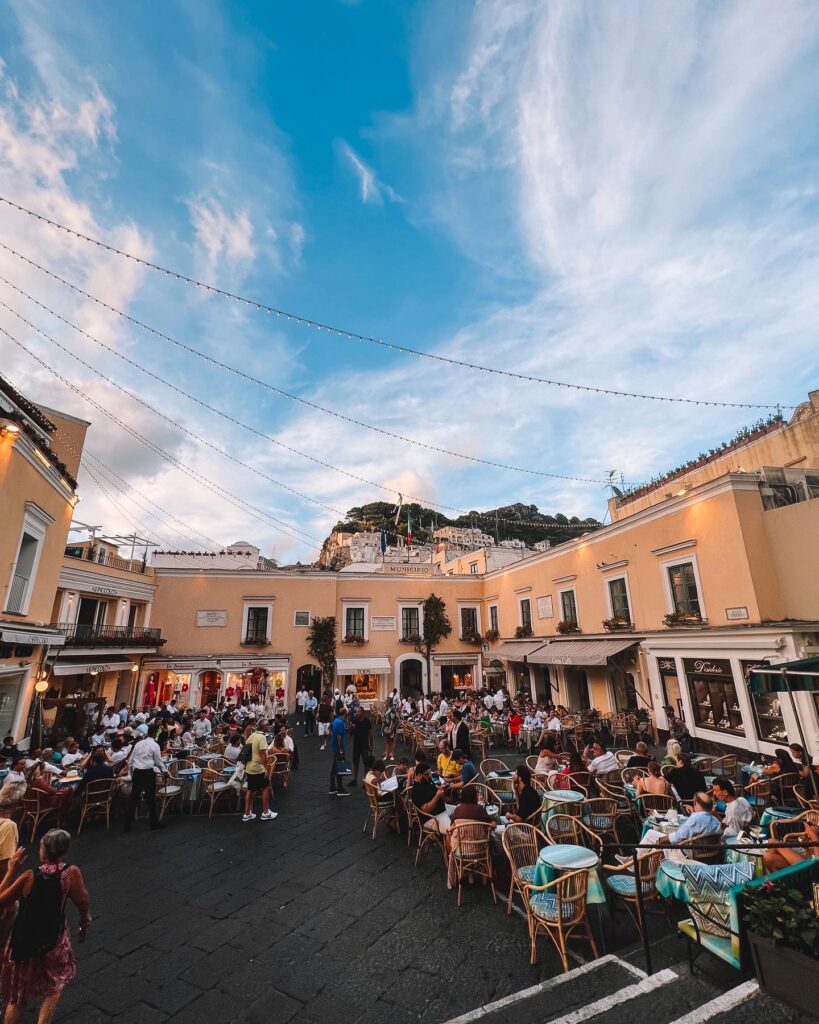 Evening Cocktails: People watching with an aperitivo at the Quisi Bar at Quisisana
Boat ride around the island / see the grotto: we didn't have time for this, but next time I'd love to see the blue grotto next time!
*One thing to keep in mind about Capri is that we realized we spent the most $$ on taxis to and from town. They're anywhere from $20-$40 euros each taxi ride.
Watch my Instagram Highlights from Capri HERE.
Transfer to Amalfi:
We had scheduled to take the ferry from Capri to Amalfi, but I personally get so seasick that we looked into other options instead. We ended up splurging and taking a private boat transfer via Capri Boat Tours and requested to stop in Positano for a 15-minute swim on the way. Obviously, this was definitely a splurge $$, but ended up being such a highlight, plus we got to arrive to our next hotel at their dock. The entire trip took around an hour and a half, including stopping to swim, and I had no issues with getting seasick!
Where to stay in Amalfi:
Hotel Santa Caterina: It's hard to pick a favorite from the three hotels we stayed at because they were all honestly iconic, but this one was special. I loved that it was right on the water, it had an elevator to take you down to the restaurant, ocean/pool, and gym, the service was above and beyond (as the other two hotels), food was amazing, it was a quick 5-minute drive into the town of Amalfi. Ugh, I just really loved this one and would go back in a heartbeat. This is a MUST for your bucket list. I also actually loved staying in Amalfi more than I did Positano, which was surprising to me. Of course, Positano is beautiful and such a site to see, but as for things to do, I think Amalfi was great. Check out their Instagram.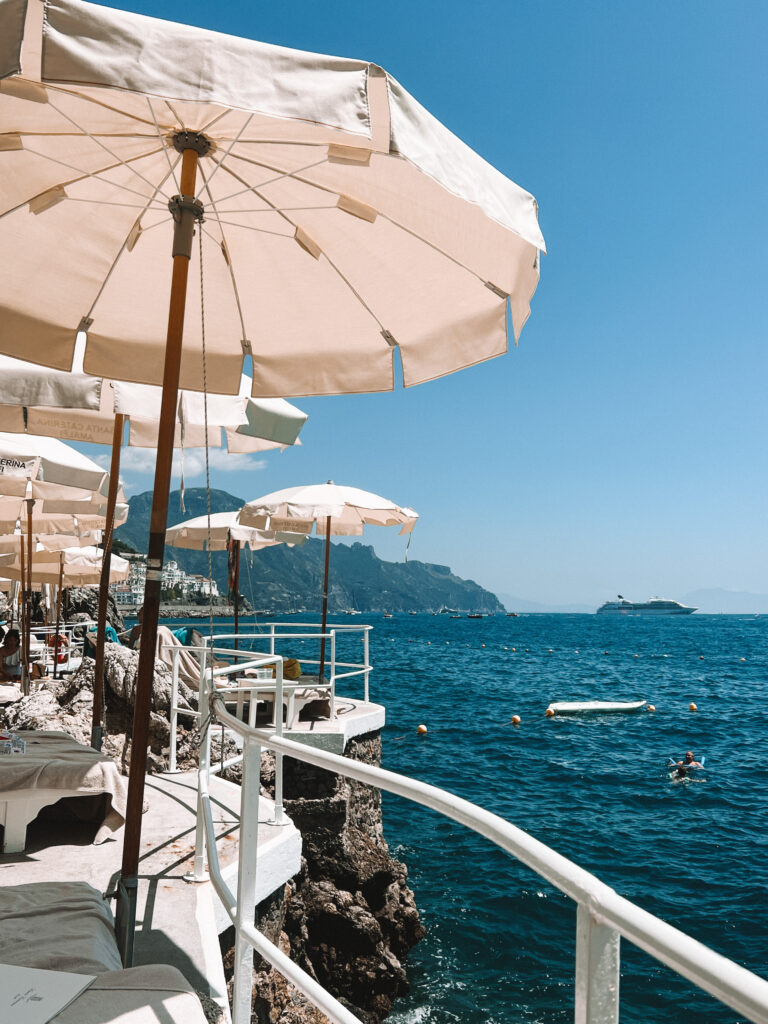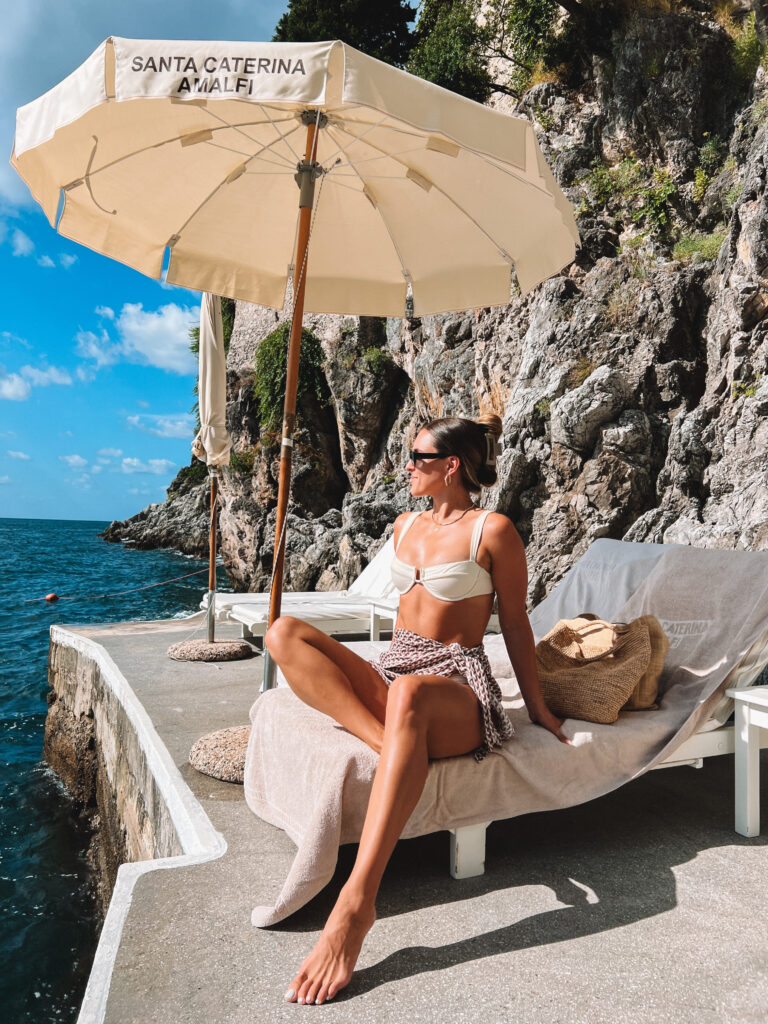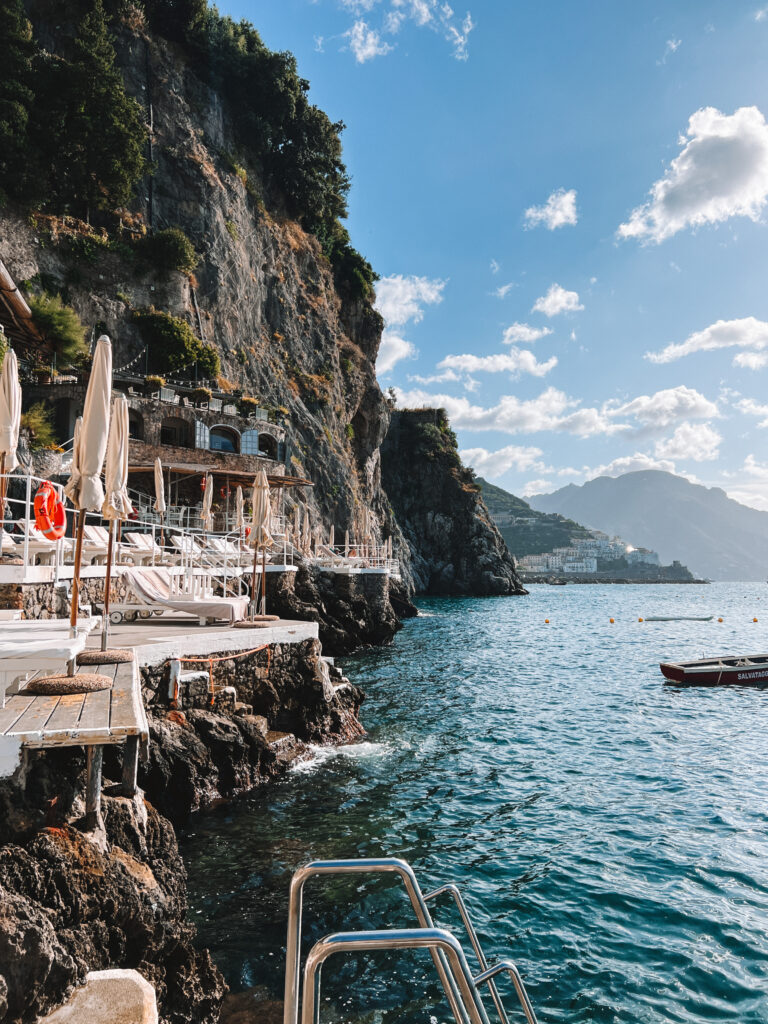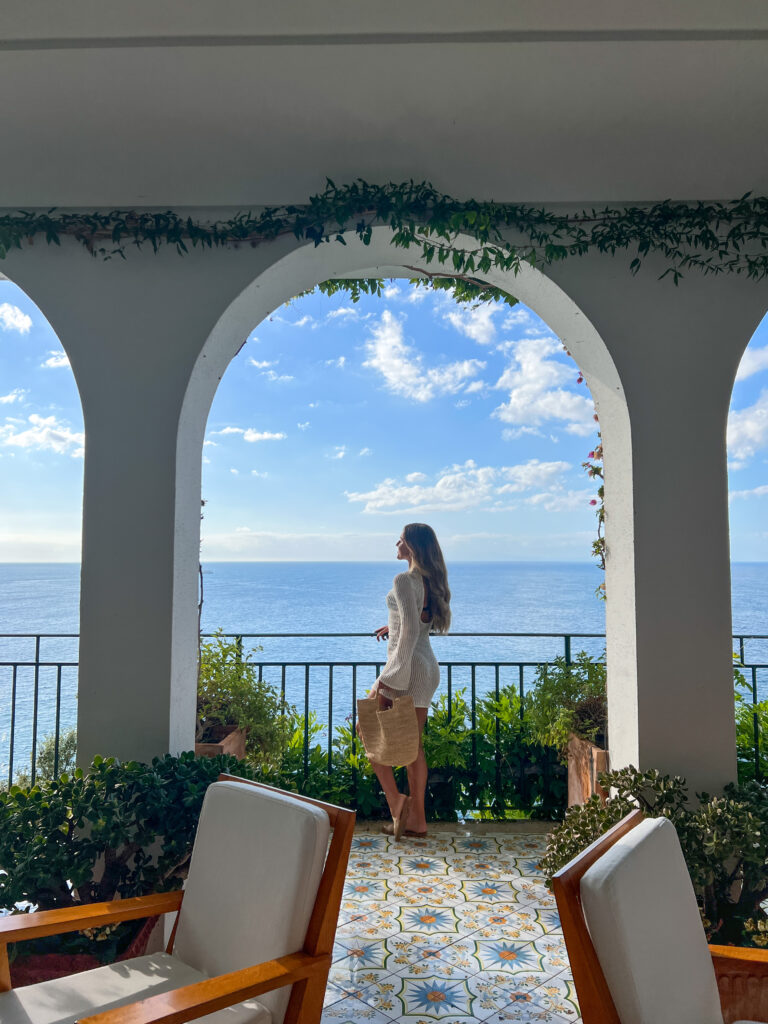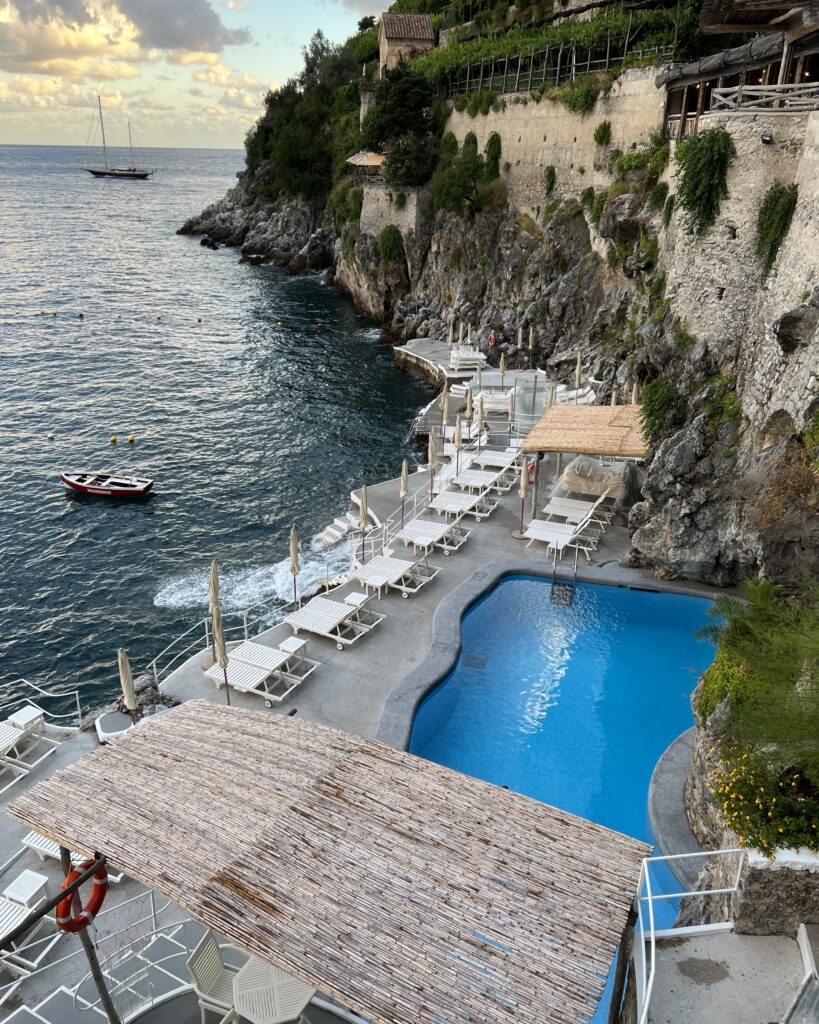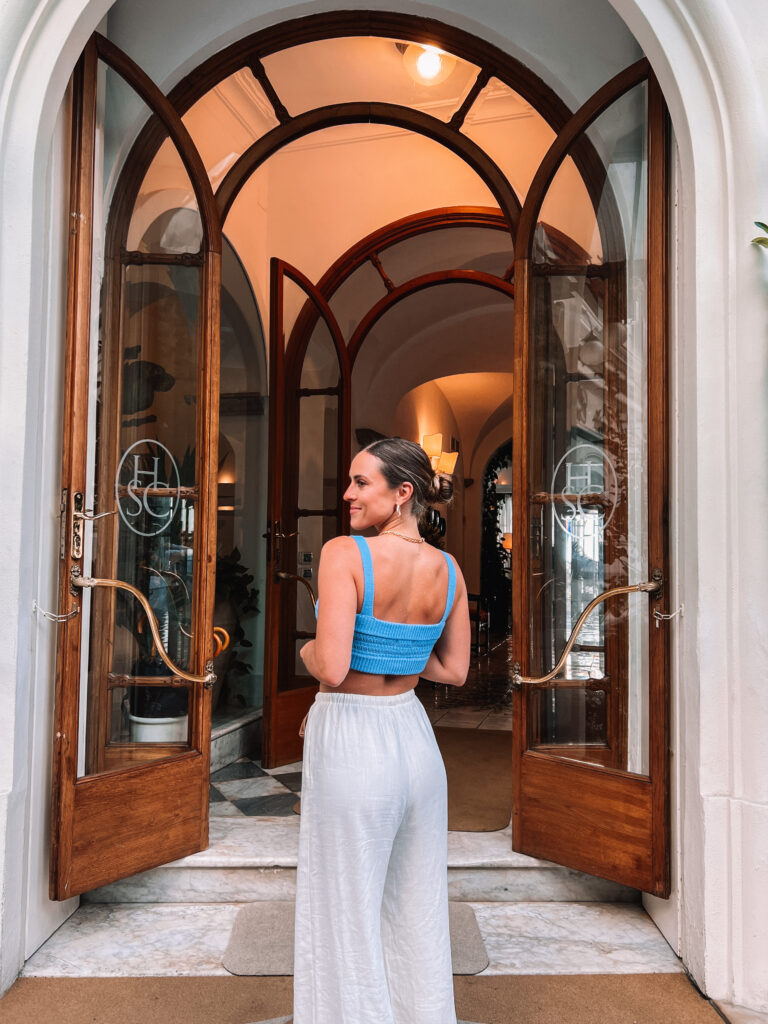 SHOP MY ITALY WARDROBE LIST ON REVOLVE


Where to eat in Amalfi:
De Gemma: Maddie and I ate here in town one night and we loved it! We didn't have reservations but we got there as soon as they opened (around 7pm) and got the best table overlooking the cobblestone pathway below. Everything we had was delicious.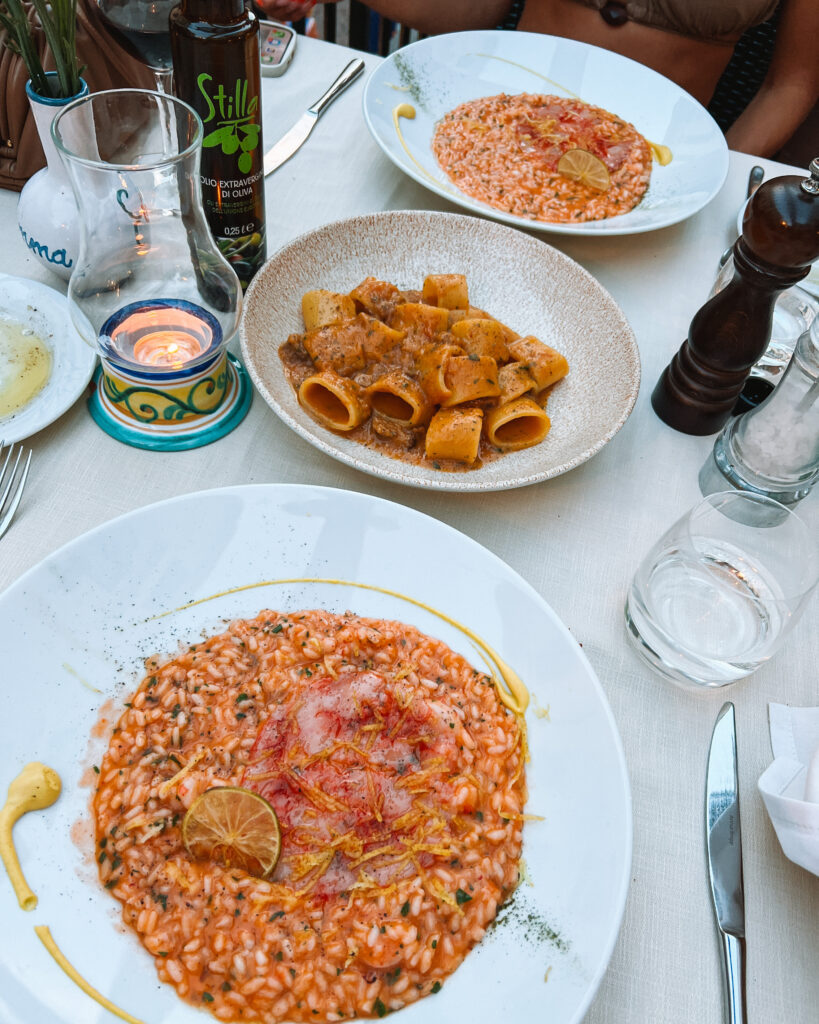 Al Mare at Hotel Santa Caterina: This is the restaurant at our hotel and it was phenomenal. We got the greek salad a few times, margherita pizza, pasta, and they were so accommodating to however we wanted to modify. They added chicken to my Greek salad a few times (protein, always) and you could just tell all the ingredients were so fresh.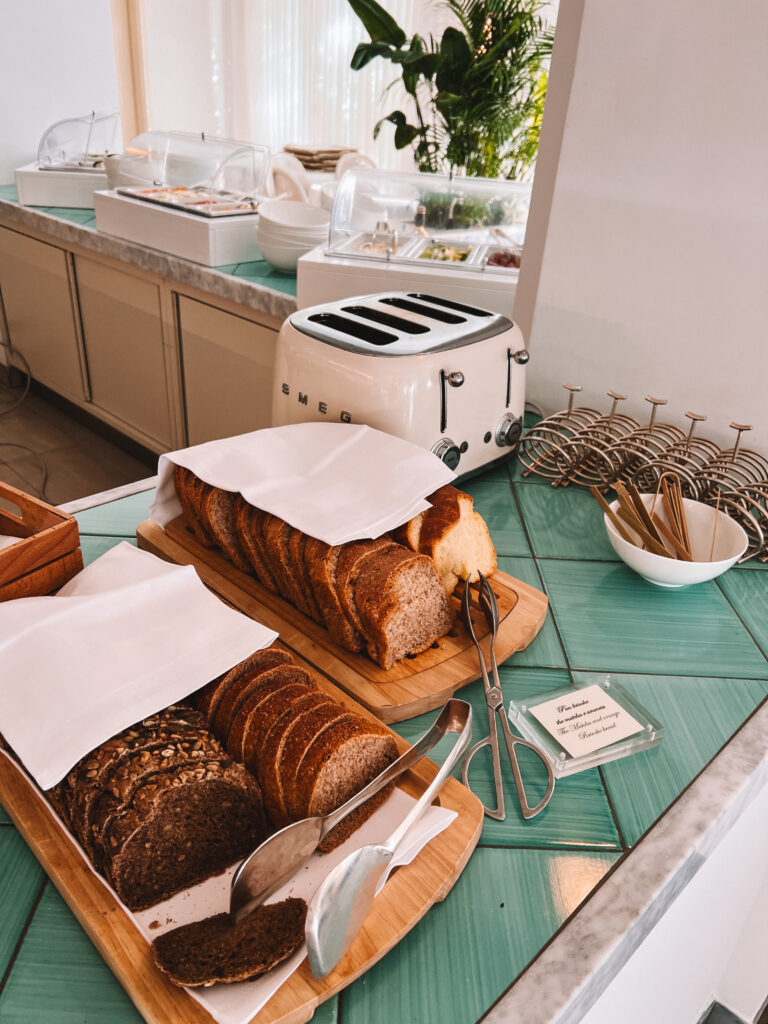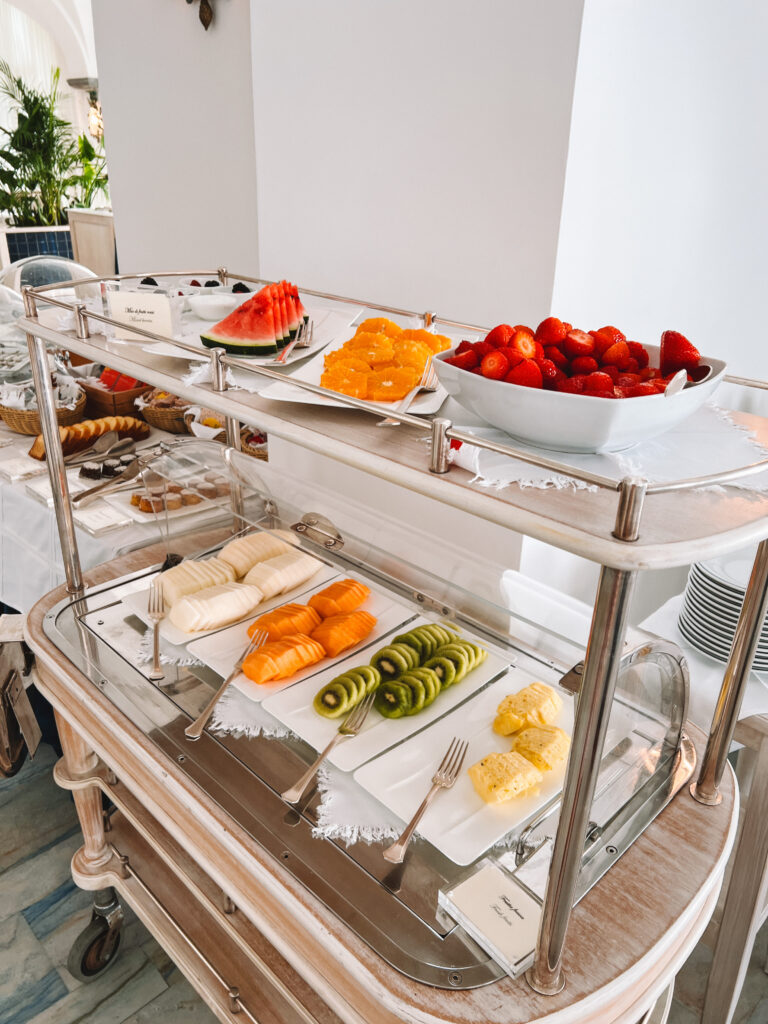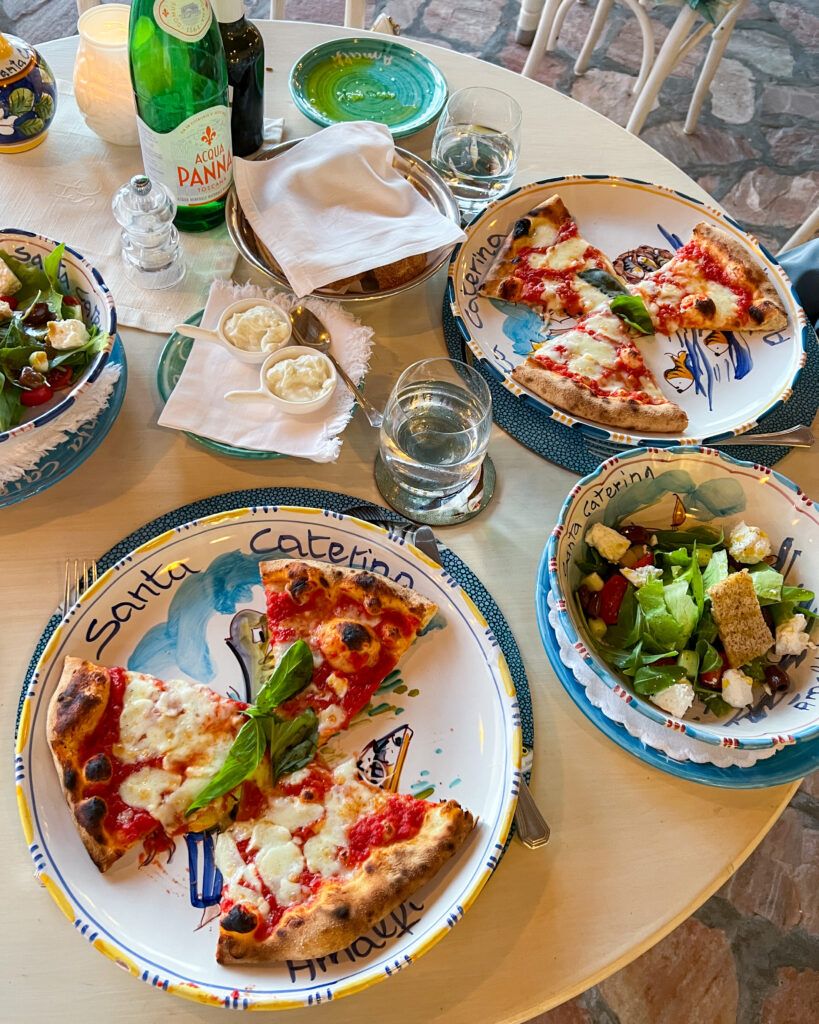 What to do in Amalfi:
Get lemon sorbet in town (in a lemon)
Visit the Amalfi Cathedral in the center of town: you won't miss it!
Shop on Ruga Nova Mercatorum: just past the cathedral there are tons of shops and cafes to walk through.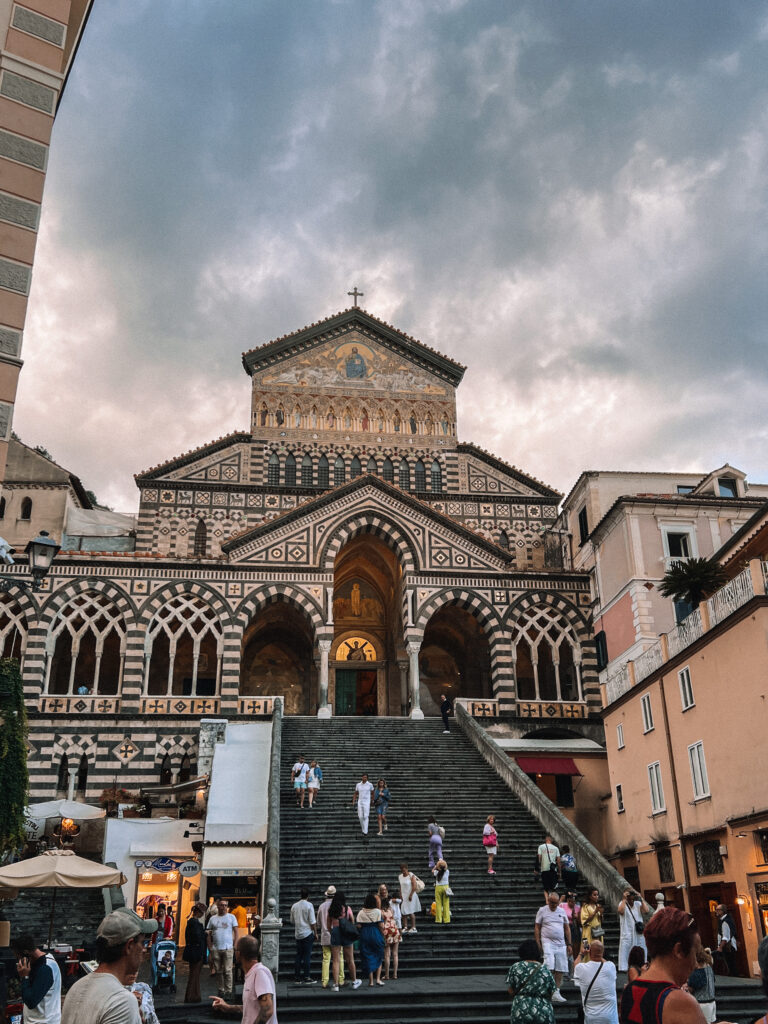 Watch my Instagram Highlights of Amalfi HERE.
Transfer to Positano:
We hired a driver through Santa Caterina to drive us to Le Sirenuse in Positano. The drive took about 35-40 minutes.
Where to stay in Positano:
Le Sirenuse: pronounced: "Lay Seerehnusay." Iconic hotel. Yes, it was a splurge, but it's been on my bucket list for years now and I'm so happy we stayed here. I wish it was longer than one night, but nonetheless, it was very memorable and I'll definitely be back! The service was beyond, we had an incredible room with a gorgeous view of Positano, the pool was such a vibe (get your lounge chairs early), food was amazing, and bonus, they know how to make iced lattes. We left the hotel once to go walk down by the water and eat at Chez Black, but other than that, we enjoyed our last hours at the hotel. The hotel has a gym and a spa that includes a cold plunge, salt room, steam room and sauna. The breakfast room was out of this world. I'm telling you, it was something out of my DREAMS. The afternoon we spent by the pool was very relaxing. They even had a lemon sorbet cart come around and offer everyone a serving. I wish we had 2 more nights at Le Sirenuse. Check out their Instagram.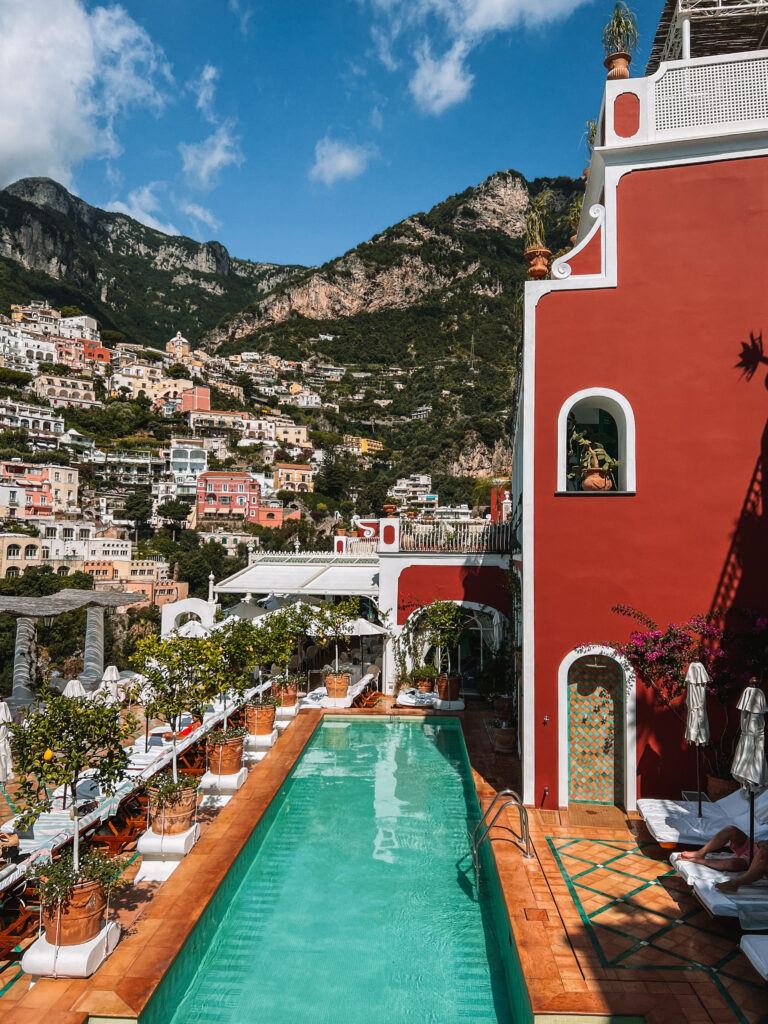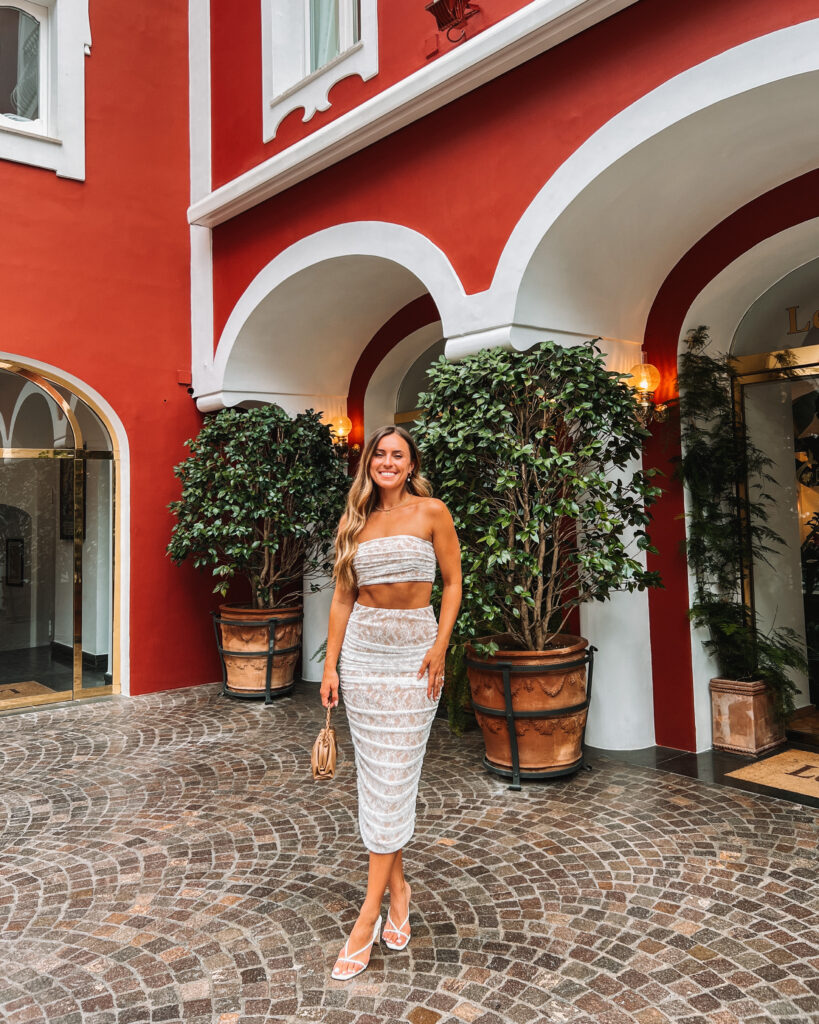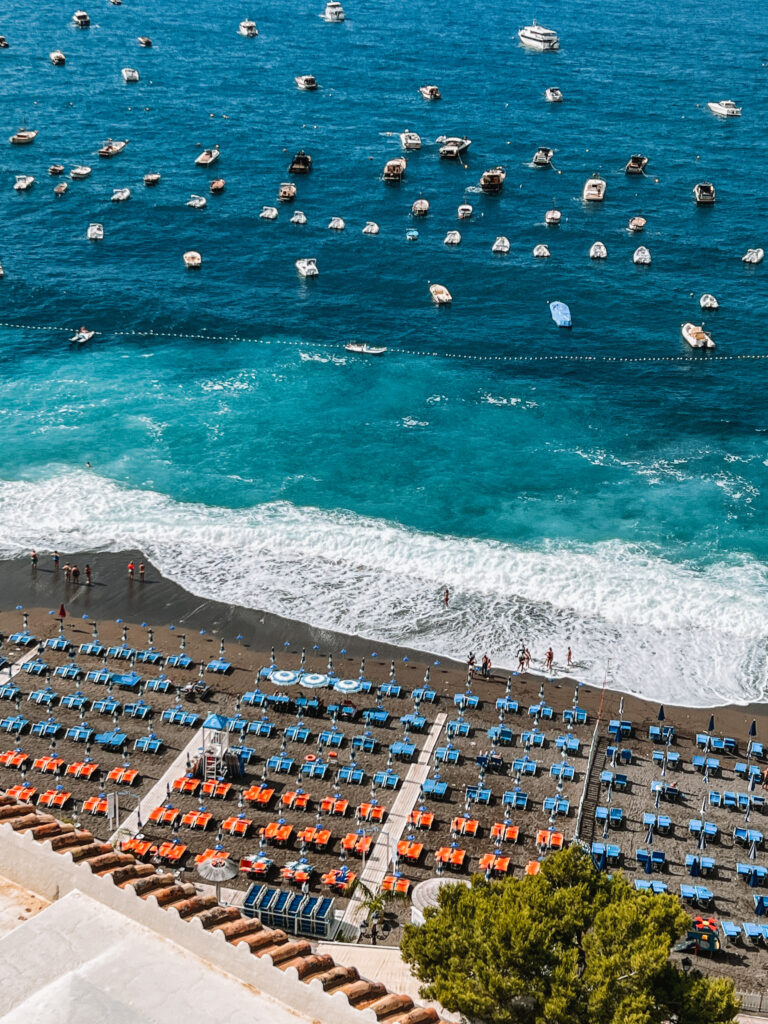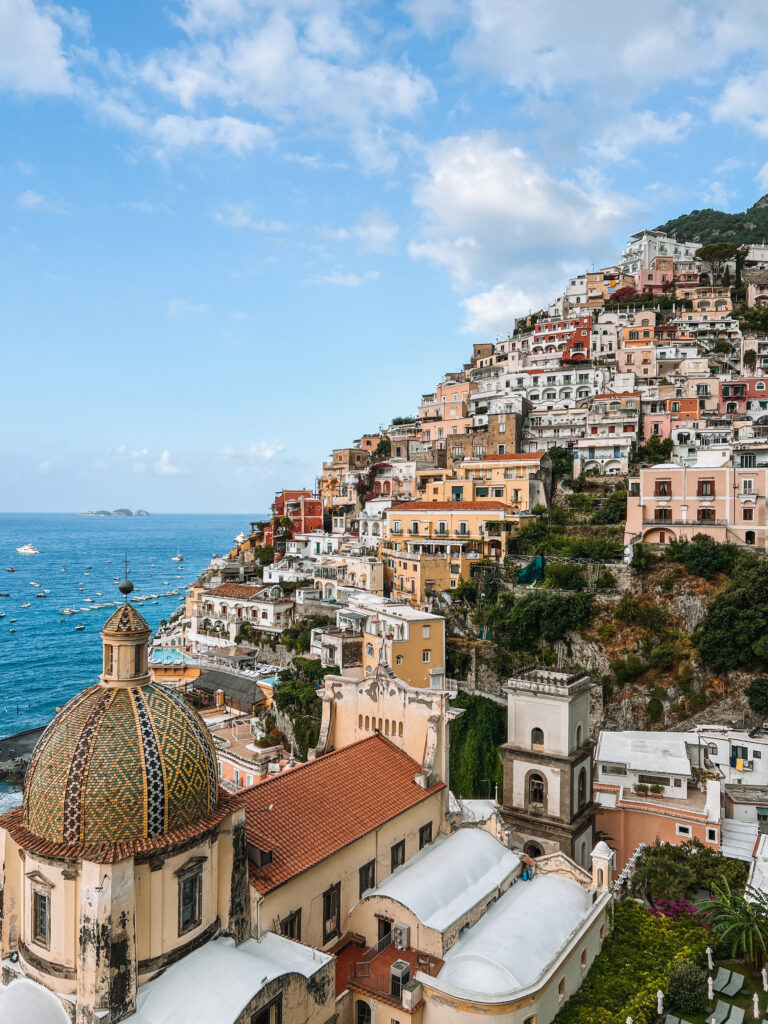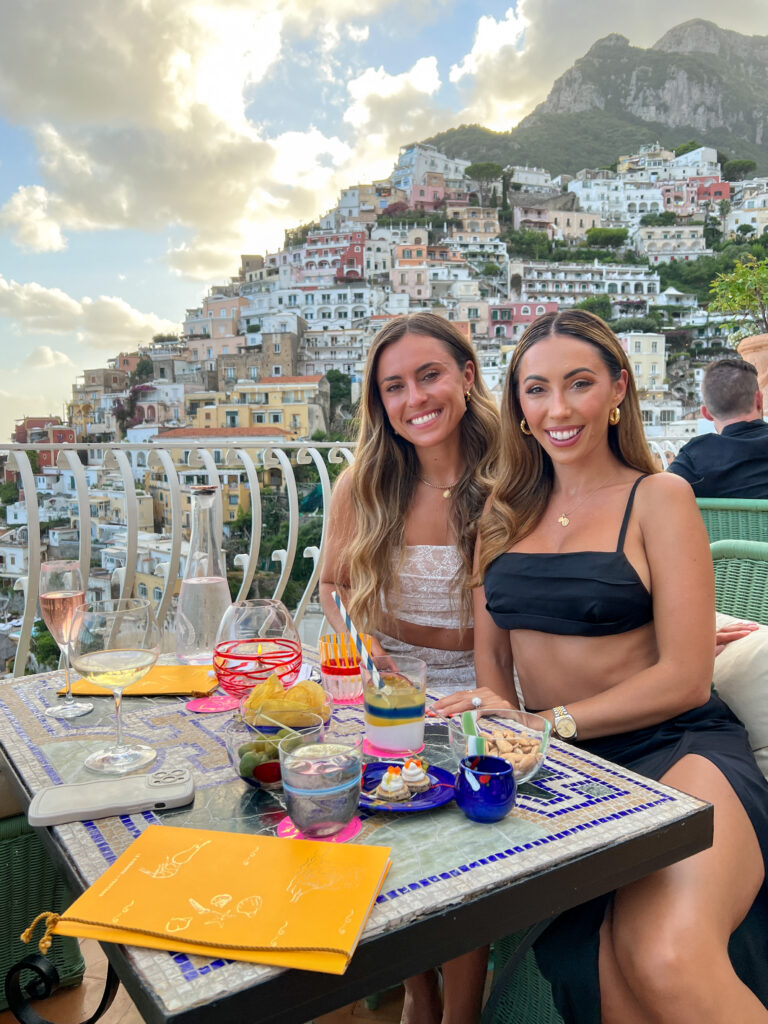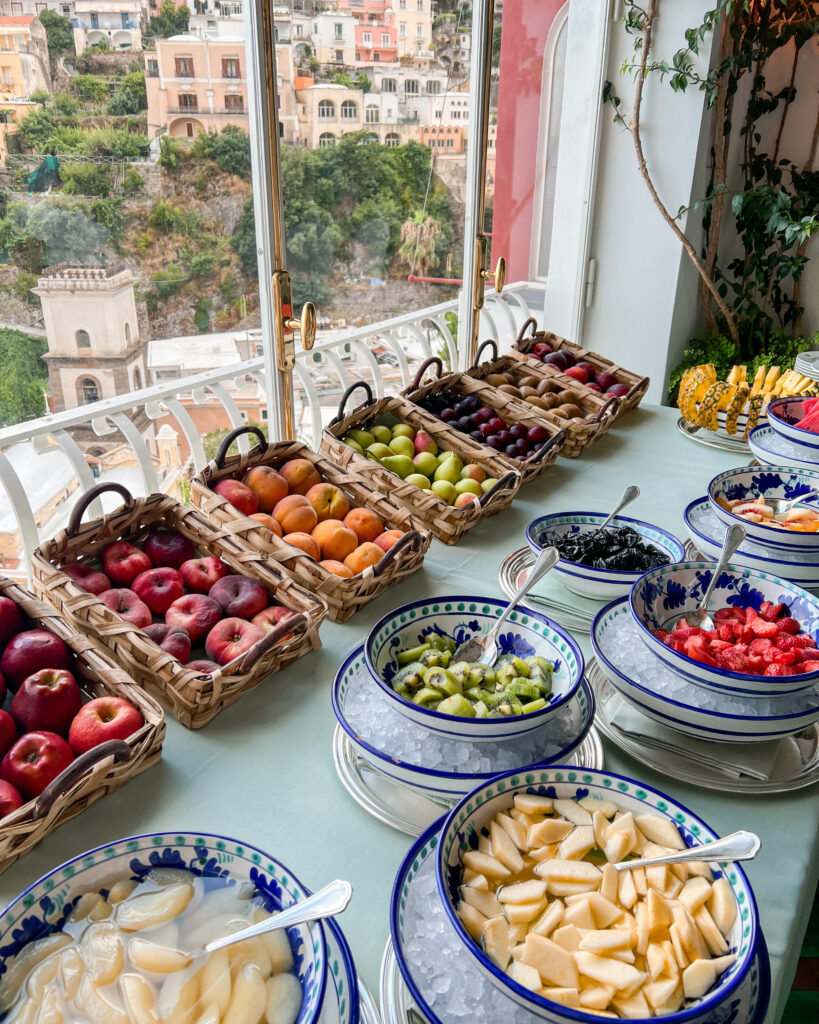 Villa Boheme
Il San Pietro
Villa Tre Ville
Where to eat in Positano:
Pool Restaurant at Le Sirenuse: I'm not sure if you can make reservations if you're not staying at the hotel, but if you can, definitely do it. The lunch was incredible!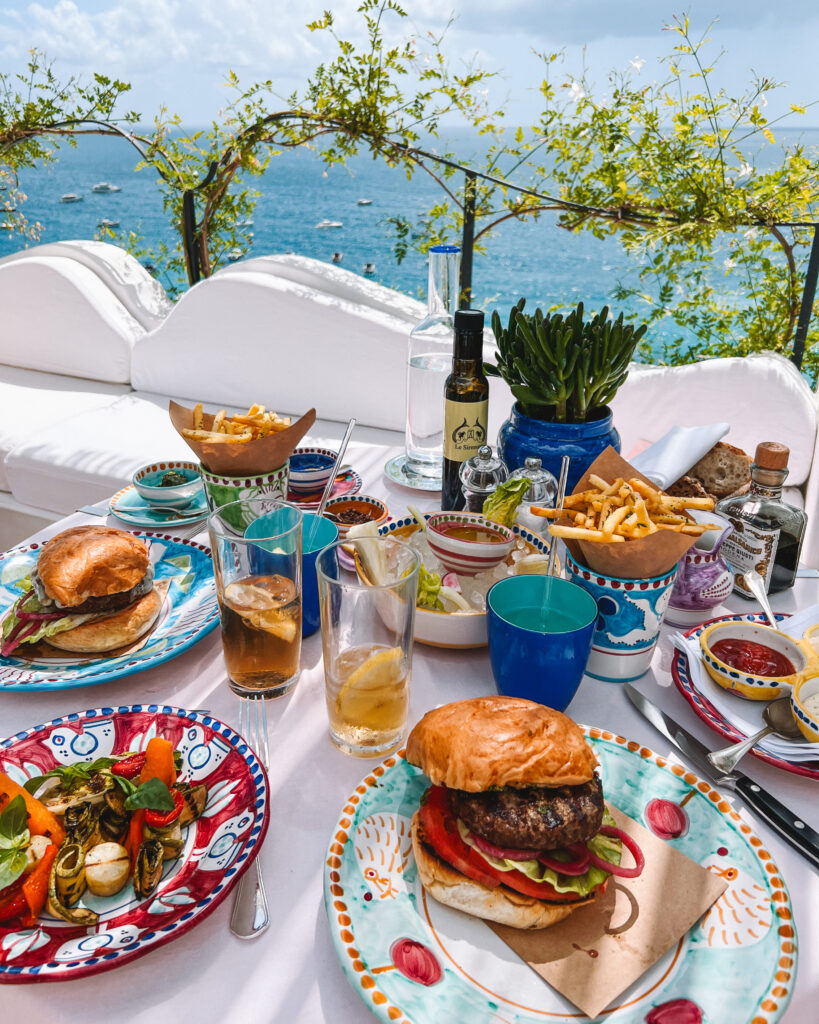 Chez Black: the menu is HUGE and the food was incredible. It's a family-run business and Maddie has known the owner the past few times she's visited. I guarantee anyone you're traveling with can find something on the menu, it was great! Make a resi far in advance.
La Sponda
Ada's oyster bar
Aldo's cocktail bar at Le Sirenuse for drinks and apps during sunset
What to do in Positano:
Rent a boat for the day and go up the Amalfi coast or to Capri. Maddie recommends using Luccibello boat tours. Ask to go to the swimming spot in Positano, just to the right of the main city if you're looking from the boat to the land. It was magical when Maddie and I swam there during our transfer from Capri to Amalfi (and where she fell diving lmao)

Get gelato and walk around down by the beach. Forewarning, it is very touristy and they don't like when you take photos of the umbrellas in the morning.

Rent lounge chairs at the beach and go for a swim in front of the iconic Positano backdrop.

Watch my Instagram Highlights for Positano HERE.
SHOP WHAT I PACKED

Our 7 Night Itinerary:
Day 1: ARRIVAL TO CAPRI
Hotel: Caesar Augustus
Late Lunch: 3:00pm Il Riccio/Dior Bar
Sunset at Hotel terrace
Dinner: 8:00pm La Terrazza di Lucullo
Day 2- CAPRI
Hotel: Caesar Augustus
Daytime: La Fontelina
Lunch 1:00pm La Fontelina
Dinner: 8:00pm Da Giorgio
Day 3- CAPRI
Hotel: Caesar Augustus
Daytime: La Fontelina
Lunch 1:00pm La Fontelina
Dinner: 8:00pm Da Paolino
Day 4- CAPRI
Hotel: Caesar Augustus
Daytime: La Fontelina
Lunch 1:00pm La Fontelina
Dinner: 7:30pm Il Riccio
Day 5- DEPART CAPRI > AMALFI
Private boat transfer: 9am with Capri Boat Tours
Hotel: Santa Caterina
Daytime: Hotel beach
Lunch: Hotel beach restaurant – Al Mare
Dinner: De Gemma in town
Day 6- AMALFI
Hotel: Santa Caterina
Daytime: Hotel beach
Lunch: Hotel beach restaurant – Al Mare
Late afternoon: go into amalfi – Shops, gelato/lemon sorbet
Dinner: Al Mare
Day 7- POSITANO
Hotel: Le Sirenuse
Daytime: Hotel Pool/restaurant
Sunset: 7:00pm Aldo's cocktail bar
Dinner: 8:00pm Chez Black
Let me know if you have any questions below and I'll do my best to answer 🙂 xx Rachael