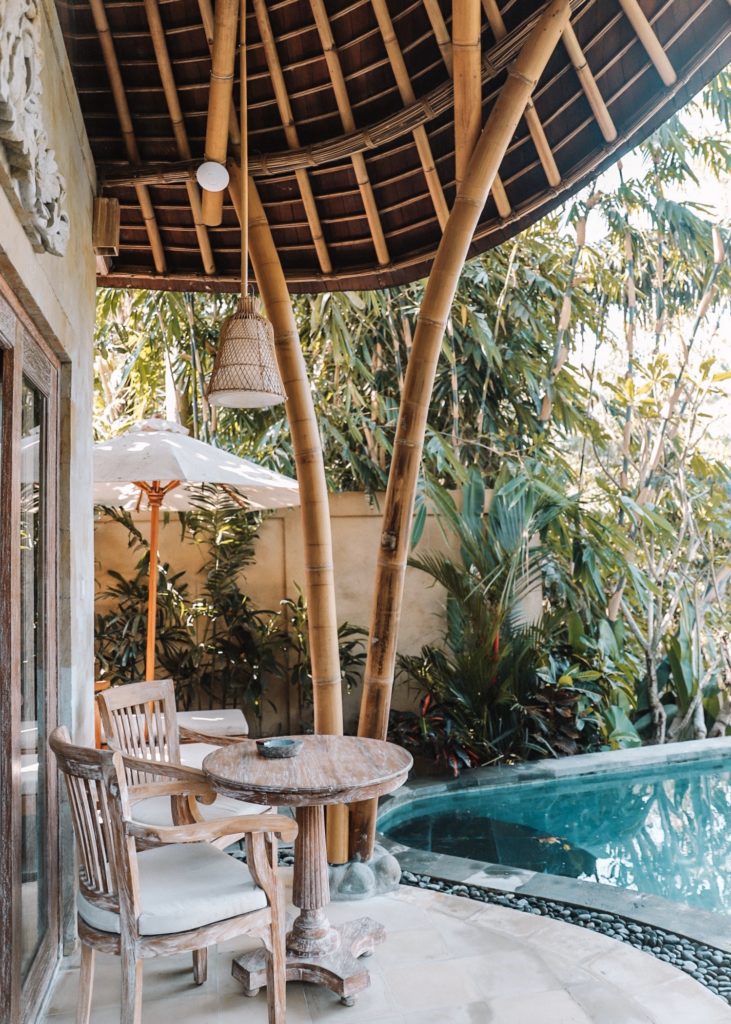 I've created (well, my sister made our itinerary) the most PERFECT 8-day Bali itinerary that I would 100% recommend copying and experiencing the same trip! We had so much fun and I made sure to make a travel diary here. Check it out to get more into detail and see more photos from the trip 🙂
DAY 1: AIRPORT→ CANGGU
-Fly into the airport and get picked up by your driver. Book in advance (info below)
HOTEL: The Slow (1 hour away) – great location, in the heart of Canggu. $150-180 per night. Could also look into villas or airbnb's.
-Sunset at The Lawn or the beach and dinner somewhere on Batu Bolong street
Notes: you'll definitely want a driver during your entire trip, or at least a handful of days to transfer all your luggage between hotels, to visit the rice terrace, beach clubs, airport, etc. We booked ours through Trip Advisor and it cost about $40 per full day. His name was Komang Bagus and he was the best! Click here to book.
Day 2: CANGGU
HOTEL: The Slow
-Get breakfast at Motion Café and order the sweet potato waffle, chia pudding and Gold Juice (the lattes weren't amazing but the food was 10/10—pass on the coffees and go to The Loft right across the street after breakfast for lattes, matcha, etc.). We basically got everything on the menu and it was only $27. WELCOME TO BALI!
-Grab a car and head into Seminyak for Potato Head Beach Club for a couple hours. Get there early so you can score a daybed for up to 6 people (you'll have a spending limit of 1,000,000 Rupiah, which is equal to about $70—don't worry, they have great food and drinks!).
-Get a car back to JI Batu Mejan street to shop. Taxis (or Taski's as they're called) each way cost about $200,000 Rupiah ($14 each), though you can always use your driver instead.
-Go to Mason for dinner, it's very close to The Slow. Again, our dollar goes a long way– we got a full course meal for both of us for $32.
Day 3: CANGGU
HOTEL: The Slow
-Grab a taski or use your driver and head into Seminyak to eat at Kynd Cafe. Get there just as they open or early as possible (7-8am) to get the photo-worthy booth under the, "welcome to paradise" sign. Order everything, you won't regret it!
-When you're leaving, don't forget to stop right next door to shop at their ice cream shop for spoons, straws, clothes, etc. You can also, "pimp your cone" which basically means you'll be having dessert after breakfast and that's OK because you're on vacation. Everything is vegan and delish.
-Walk 20 minutes to Seminyak square to hit the shops.
-Get a car back to Canggu and eat at Shady Shack for lunch. I got the poached egg salad with fresh herbs and a citrus iced tea. Heaven!
-Now it's time for a 60-min, $6 foot rub from one of the million spas you'll see walking back to the hotel. You earned it!
-Chill time before getting ready for dinner. Go to The Lawn to watch the sunset, get drinks & apps, then hit dinner anywhere on Batu Bolong street (we went to Mason again because it was just so good. Get the roasted chicken)
Day 4: CANGGU → UBUD
HOTEL: The Udaya Resort and Spa. $250-375 per night, breakfast typically included and when it is, it's only $20 additional for a floating breakfast…. which is a must. Trust me!
-Wake up extra early (like 6:30am early) to have your driver pick you + your things up from the hotel to make your way to Ubud
-Stop at Lifescrate for breakfast – amazing food and vibe! Also, best dirty chai latte ever, according to my sis.
-Head to Ubud for the rice terrace. It'll take anywhere from an hour and 15 minutes to 2 hours, depending on traffic. If you get there early, which you will if you leave early, it should be pretty empty—cue the photos. You can go on the massive swings, walk throughout all levels of the terrace, etc. It's free to enter, but bring a small bill to donate to the bridge when you cross it down below.
-Once you're done at the rice terrace, drive up the street 5 minutes to tour Bali Pulina, a coffee and tea plantation
-Eat at Alchemy (all raw/vegan) on the way back to town, then check in to The Udaya. They have shuttles that leave on the hour, every hour starting at 10am that can bring you to and from the center of town. This is where you'll get dinner + hit some shops
Day 5: UBUD
HOTEL: The Udaya
-Workout– the gym is small, but it'll do! They also offer complimentary yoga every Tuesday, Thursday and Saturday morning at 7:30-8:30am in their rooftop yoga hut… the space is a dream!
-Floating breakfast at your private pool (put in the order the day before)
-Take the shuttle into town to visit Sacred Monkey Forest Sanctuary. $8,000 Rupiah for adults, $6,000 for kids (~.50 cents). Disclaimer, be careful!! The monkeys can jump on you and even bite. All the signs say to not make eye contact with them haha… it's crazy, but true!
-Walk back up Jl. Hanoman street and eat at Atman Café. Their drinks are great and they have the best coconut vegan, GF bread with raspberry compote! Also, the gluten free, vegan and grain-free porridge is so yum and filling. Very accommodating to dietary intolerances. We also had tons of recs for Clear Cafe right up the street.
-Head back to the hotel to relax before visiting Kaveri Spa on property (you'll have to book pretty far in advance, it's v popular!). I got the deep tissue massage, Maddie got the Balinese massage and we also had a flower bath– definitely recommend! $500,000 Rupiah each massage ($35), $350,000 flower bath ($25).
-Get room service tonight, you deserve a break. Plus the food at the hotel is so yummy!
Day 6: UBUD → JIMBARAN
HOTEL: Rimba Jimbaran. $250-350 per night
-Leave Ubud early (6:15-6:30am) and head to Uluwatu
-Eat breakfast at The Loft or Drifter on the way, then go to Sunday's Beach Club to tan/relax on the beach for a couple hours. $45 per person for a towel, plus beanbags + umbrella on the beach (first come, first serve). So beautiful! You take an inclinator down the cliff to the beach. Plus, they have great healthy food options & the best coconut water I've ever had.
-Check into Rimba, a resort in Jimbaran. Chill and Relax. Get in a workout if you can, the gym is so nice!
-Take the trolley that leaves every 10 minutes from Rimba to Ayana, another hotel within the resort. You'll make your way down to Rock Bar to watch the sunset + get drinks and have dinner at Kisik (don't forget to make a reservation in advance at both places. Also, FYI if you're not staying at any of the hotels on property, they'll seat you around/behind the rock where you'll have zero view… bummer, so it makes sense to stay at Rimba or Ayana [the bigger resort] at least one of the nights.)
Day 7: JIMBARAN
HOTEL: Rimba Jimbaran
-Workout
-Breakfast buffet– good, but wasn't my absolute favorite. They don't have too many options for GF, dairy free.
-Pool time and relax
-Take a car or use your driver (worth it for them to wait for you at every stop, including after dark) to go into town (Uluwatu) for a late lunch at The Loft. Then head to Single Fin Beach Club to hangout, watch the surfers, get a smoothie, drinks, apps, hang by their pool, get a daybed, etc. You have to stay until sunset for the views! One of the best. Get dinner at Drifter on the way back to the hotel.
Day 8: JIMBARAN → AIRPORT
HOTEL: Rimba Jimbaran
-Workout
-Have your driver pick you up + take you to Drifter for breakfast (ok, feel free to branch out from these places but trust me, you will NOT want to miss out on their fluffy gluten-free lemon pancakes, raspberry chia dream bowl, and smashed avocado toast !!!). Buy some snacks in the store for the plane ride/trip home.
-Head back to the hotel and get some pool time for a couple hours before you need to pack up and leave. Snag something off the lunch or room service menu to take with you to the airport.
-Say your goodbyes to Bali and make your way to the airport.
DAYTIME POOLS/BEACH:
The Lawn- Canggu
Sundays Beach Club- Uluwatu
Potato Head- Seminyak
Ulu Cliffhouse- Uluwatu
SUNSET:
The Lawn- Canggu
La Brisa- Canggu
Single fin- Uluwatu (Sunday Sessions)
Rockbar- Jimbaran
HOTELS:
The Slow- $548 (3 nights)
Udaya- $505 (2 nights)
Rimba- $577 (2 nights)