Bali sister trip. Where do I start? Let's just say I started out having zero expectations of this small Indonesian island on the other side of the world… except that I've heard only the most amazing things from people who have visited before. Plus, it's always been on my bucket list. It was a whirlwind trip as my sis, Maddie & I booked tickets a month in advance and I'm so happy we went when we did. September is the last month of their dry season and we had the best weather– high 70s-80s the entire time, with 70-90% humidity.
My sister's been 5x before, including her second time this year so I knew if there was anyone to travel to Bali with, it would be her. She basically gave me a 'highlights' trip of all her favorite things she's seen and done and I can confirm it was THE most incredible experience! Click here for all the deets on prices, stay, travel accommodations, etc.
CANGGU
To start, the travel days were wild. 26.5 hours from Seattle to our hotel in Canggu ("Chang-goo")… definitely the longest travel day I've ever had, but I survived and surprisingly well rested from 9-10 hours of sleep. My secret? Take an overnight flight that coincides with your usual sleep time, bring noise-cancelling headphones, an eye mask, and a sickness mask for when you're sleeping on large international flights (dramatic, I know but so common to see around airports these days). Our flight left at 1am, which, let's be real is far behind my usual bedtime. In my eyes it's 100% worth it to pay a bit more for at least premium economy, if you're able to. We flew Cathay Pacific on the way there and initially only paid for basic economy, but they offer a bidding system in order to upgrade. To be honest, it's weird and very much like gambling, but thankfully we were chosen to get the better seats and that helped for sure. We flew to Hong Kong first (14 hours), had a 4-hr layover, then another 5-hr flight to Denpasar, Bali.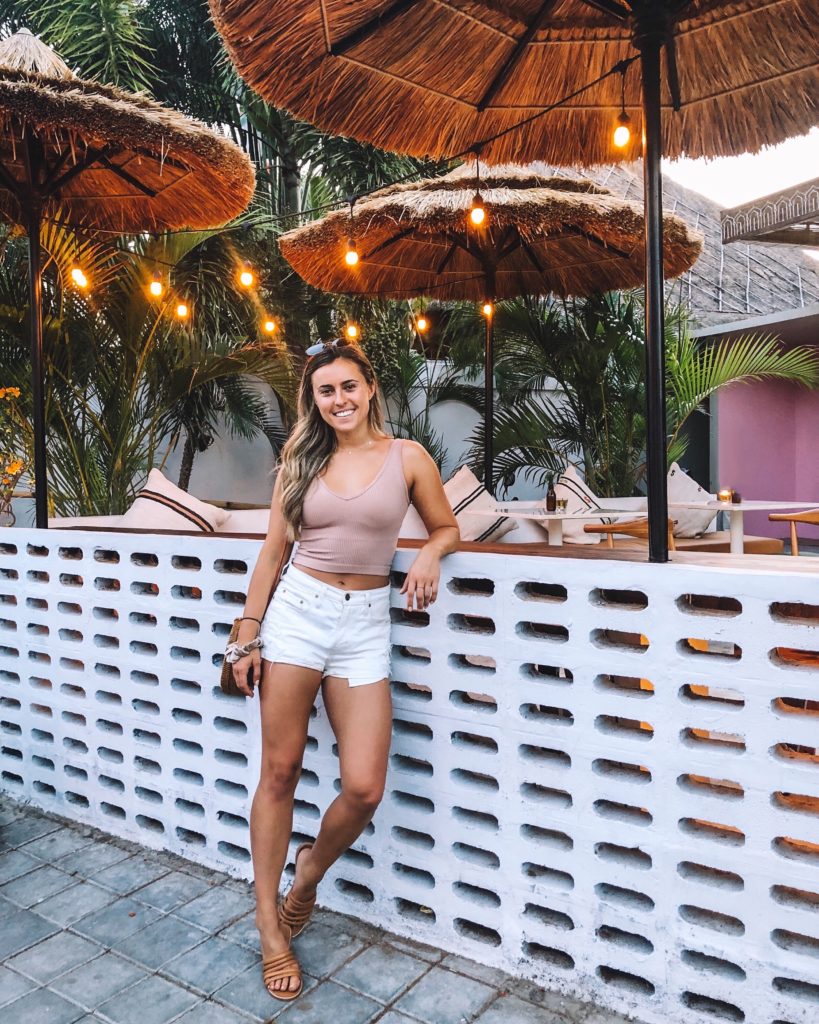 After the long travel day from Seattle to Bali, it was time to get on their timezone. That's always my best tip to beat jet lag. As much as you'd want to take a nap when you arrive at the hotel of your destination, don't. You have to train yourself on the plane + when you land and stick it out until at least 8pm before going to bed. Trust me, it can ruin your schedule for the week if you don't! Thankfully, we managed to beat jet lag this trip.

Our first stay of the trip was in Canggu, a chill but fast-paced little beach town an hour north of the airport. It took me about a day to get used to the chaos of motor bikes literally EVERYWHERE– to be honest, I don't think I could trust myself to drive my own, but that's the most common form of transportation there. It was such a cool place, I didn't realize how much I loved it until we left and went to the next city.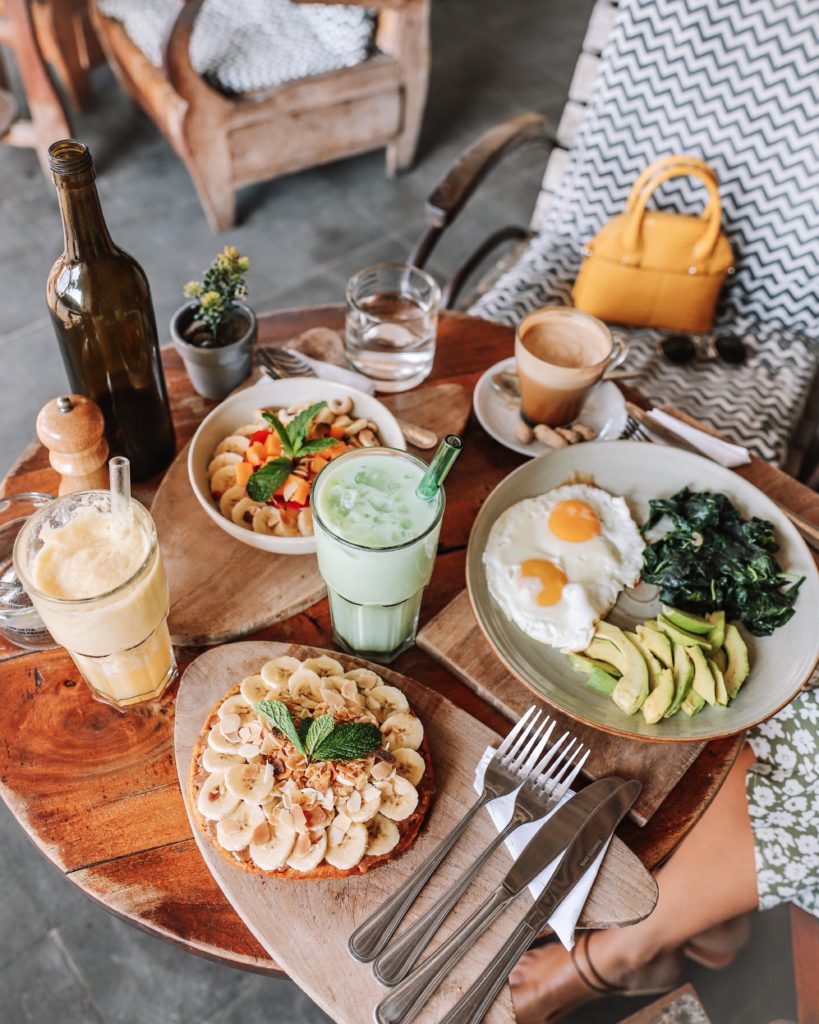 Healthy cafes are everywhere you look. Shops, spas that offer 60-min foot rubs for $6 (insanity!!!), and gorgeous beaches make up the island. One of my favorite cafe's right off the bat was Motion Cafe. It's basically catered to my eating style and I was so there for it– sweet potato waffles, a paleo section, unsweetened options, chia pudding, eggs, greens, you name it. We got 3 drinks and 4 items from the menu and it was $23. WELCOME TO BALI. Seriously, the most expensive part about traveling to Bali is the flights, then once you get over there everything is so cheap/reasonably priced.
The people in Bali are shockingly nice. They laugh at everything and are so genuinely happy all the time. One thing that I loved was having a driver throughout our trip. We found him on Trip Adviser (book here- they're about $40 per day for 10 hours) and the drivers are happy to take you anywhere and wait hours upon hours with your luggage wherever you want to stop to take a swim at the beach, go to dinner, tour the rice terrace, etc.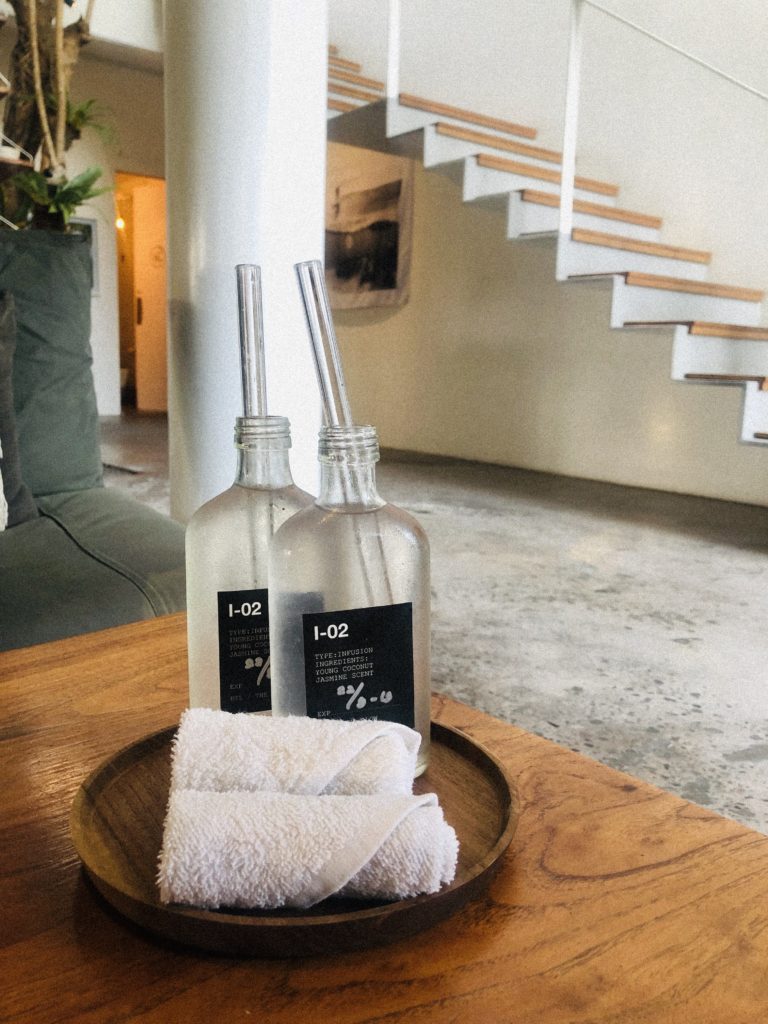 We stayed at The Slow hotel during our first 3 nights. It's such a vibe with a very chill LA aesthetic in a great location in the heart of Canggu. Concrete floors, industrial feel, floor-to-ceiling windows, artisan ceramics, views of the town/greenery (they offer a couple private pool suite rooms– hoping they have availability next time!!). Our first full day I got a little workout in the hotel room, Good Sweat style. I love starting my days with even just 10-15 minutes of exercise or movement. It gives me energy and honestly wakes me up, plus it's nice to keep your routine from home!
Later, we took a taski (taxi) to Seminyak, about 20 minutes away to go to Potato Head beach club. It was so much fun and a great place to tan/get some sun, chill on a daybed by the pool and ocean, get food, relax, etc. Get there early if you want a good spot! There's also a spending limit for the daybeds– $1,000,000 Rupiah, or about $70 US dollars. The food was great, tons of healthy options. I definitely suggest making a stop here.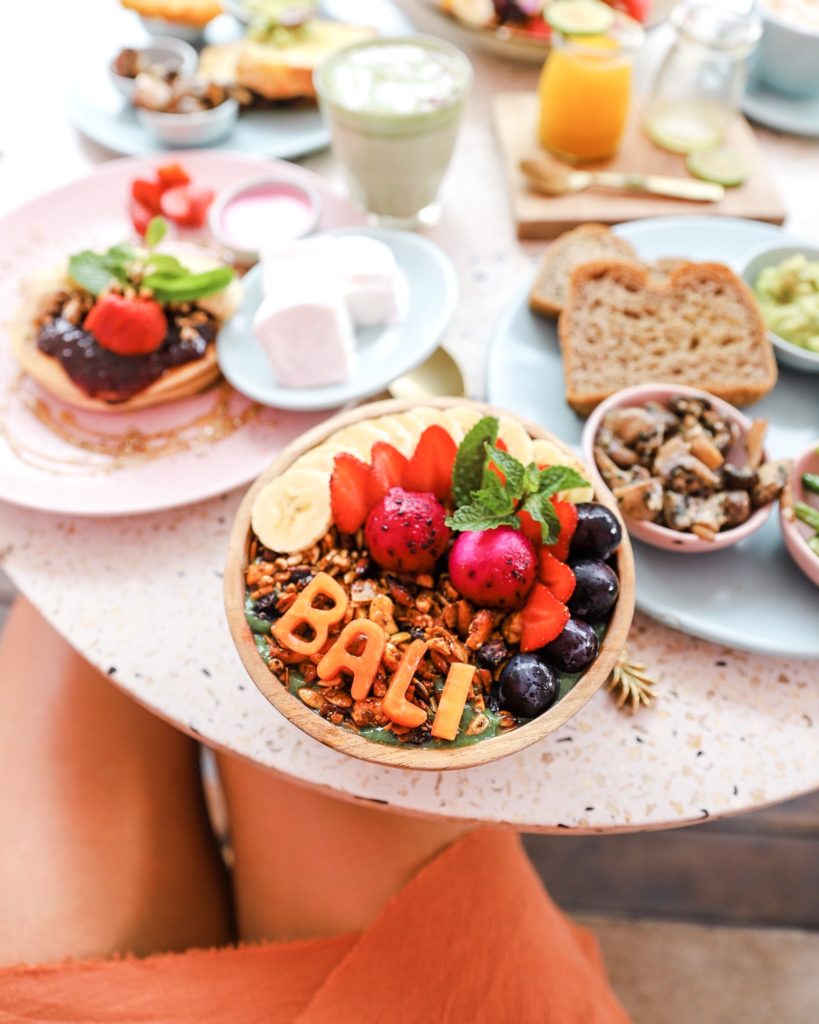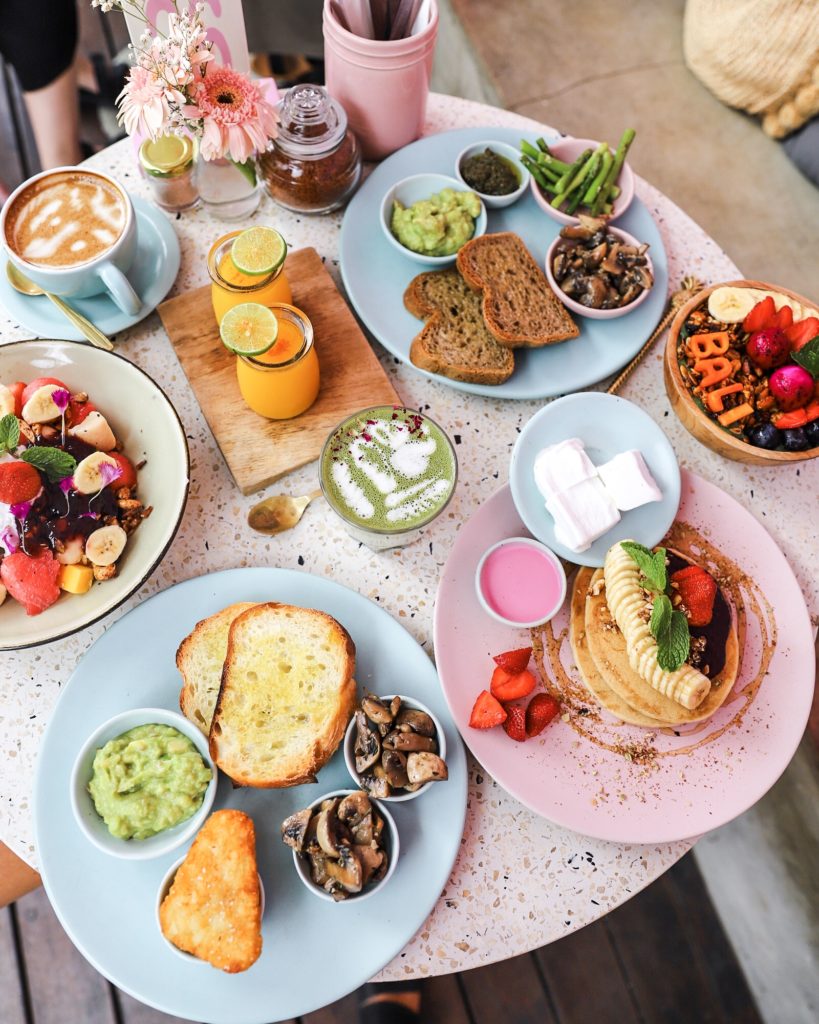 The following day we ate at Kynd Café, a vegan restaurant also in Seminyak. All the food was beyond!!! I mean, we clearly had to get everything on the menu.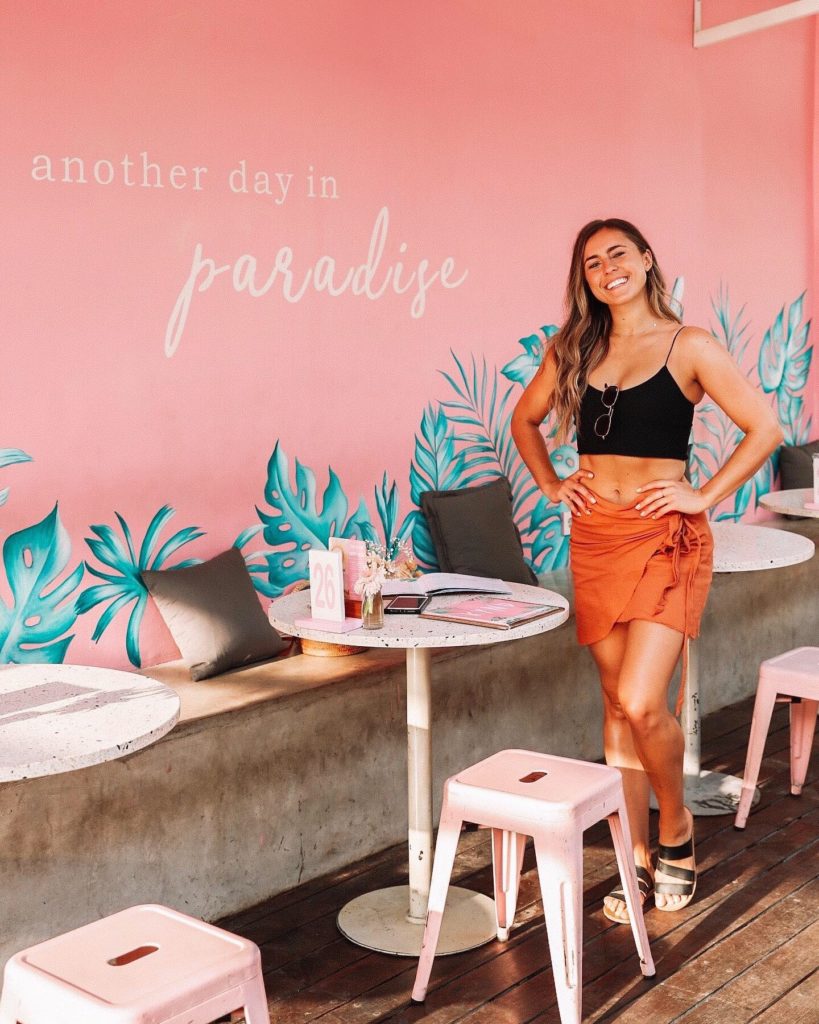 *outfit from Bali– the shopping here is great!
FOOD RECOMMENDATIONS (CANGGU + SEMINYAK):
Beach Garden- Canggu
Cafe organic- Canggu & Seminyak (pumpkin pesto toast)
Cassava- Seminyak
Clear Cafe- Canggu
Crate- Canggu (chai latte & Chia pudding smoothie)
Kynd Community- Seminyak
Mad pops- Canggu (Vegan Ice cream)
Mason- Canggu
Milk and Madu- Canggu & Ubud
Motel mexicola- Seminyak
Nude Cafe- Canggu
Peleton Supershop- Canggu
Potato Head- Seminyak
Revolver- Seminyak
Shelter- Seminyak
The Loft- Canggu & Uluwatu
The Shady Shack- Canggu
Tropikale- Canggu
UBUD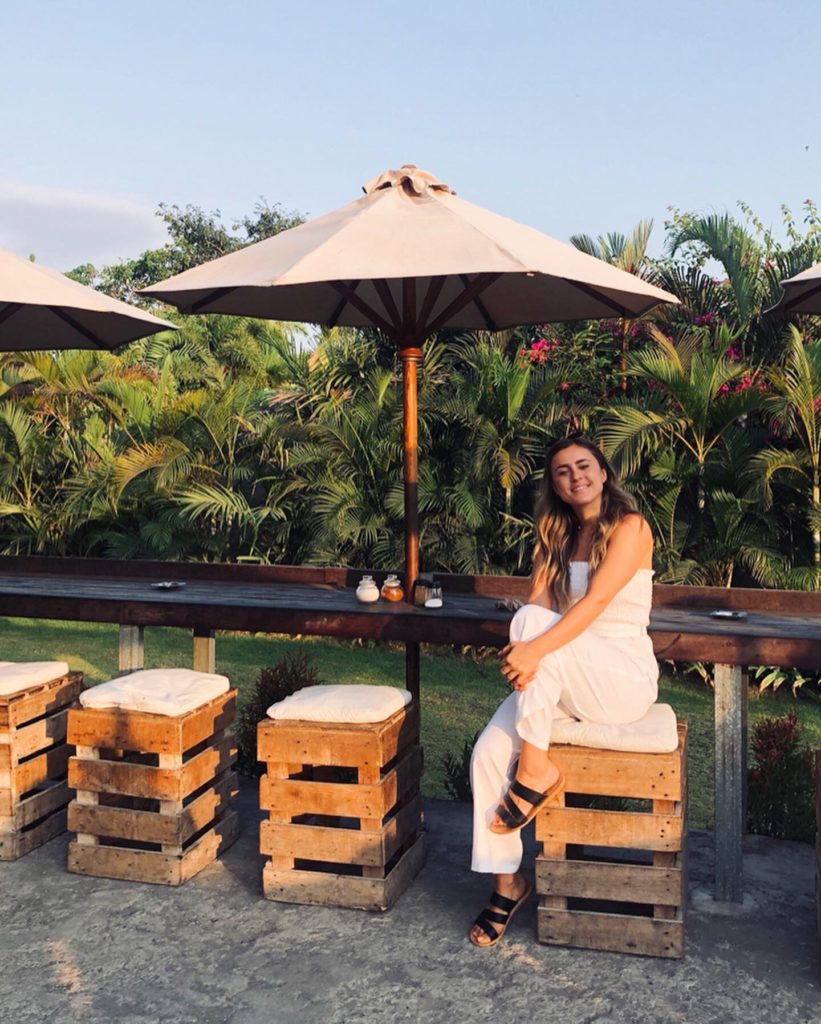 Day three started early with breakfast at Crate in Canggu. The menu was everything– can you tell breakfast is my favorite meal of the day? We each got loaded toasts, mine with GF bread, and headed to Ubud with our driver + luggage for our second stop of our Bali trip.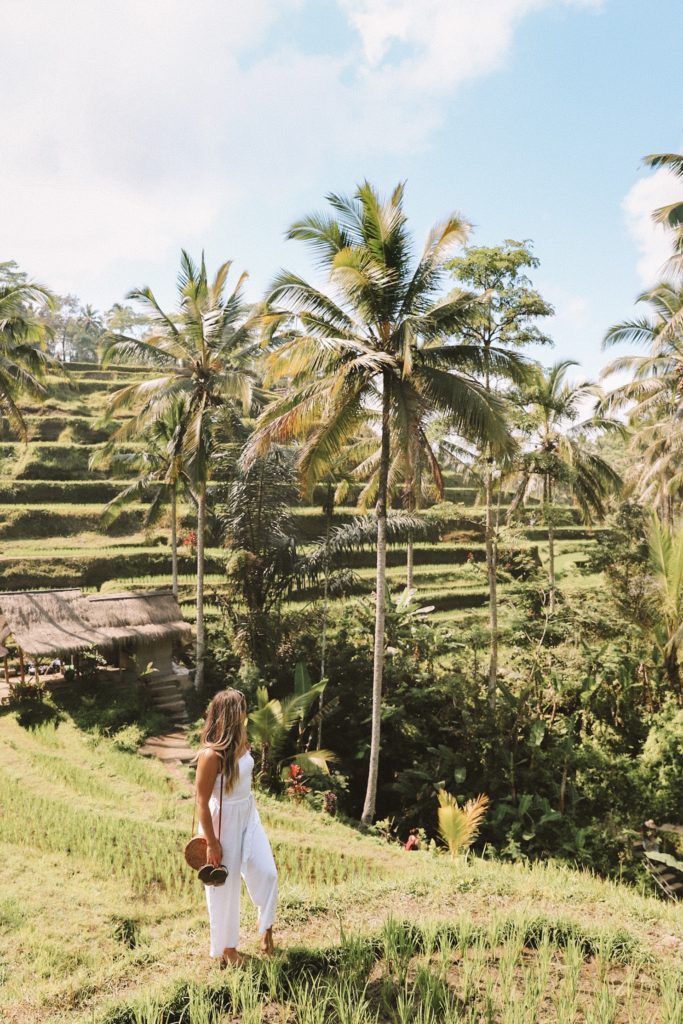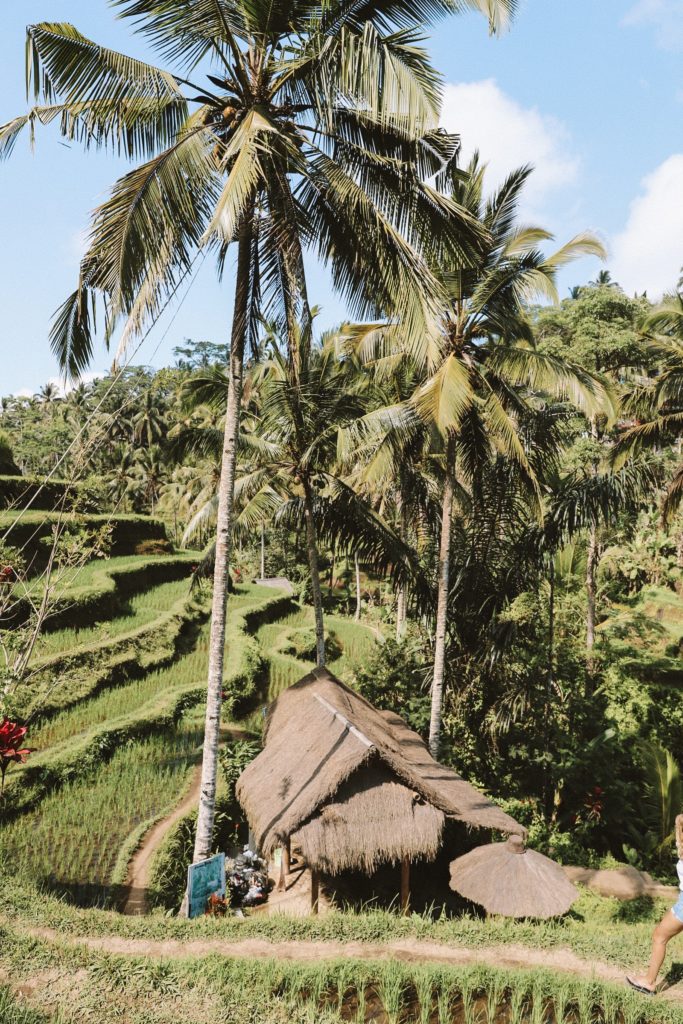 About an hour and a half north into the rainforest, we finally got to Tegallalang Rice Terrace. This has to be one of the best highlights from everything we've done. It was so picturesque and potentially one of the most stunning places I've ever seen. Again, if you're early anywhere in Bali, you'll be sure to avoid the crowds of tourists. We got here around 8:30am when it was still pretty empty and had tons of time to capture all the photos we wanted.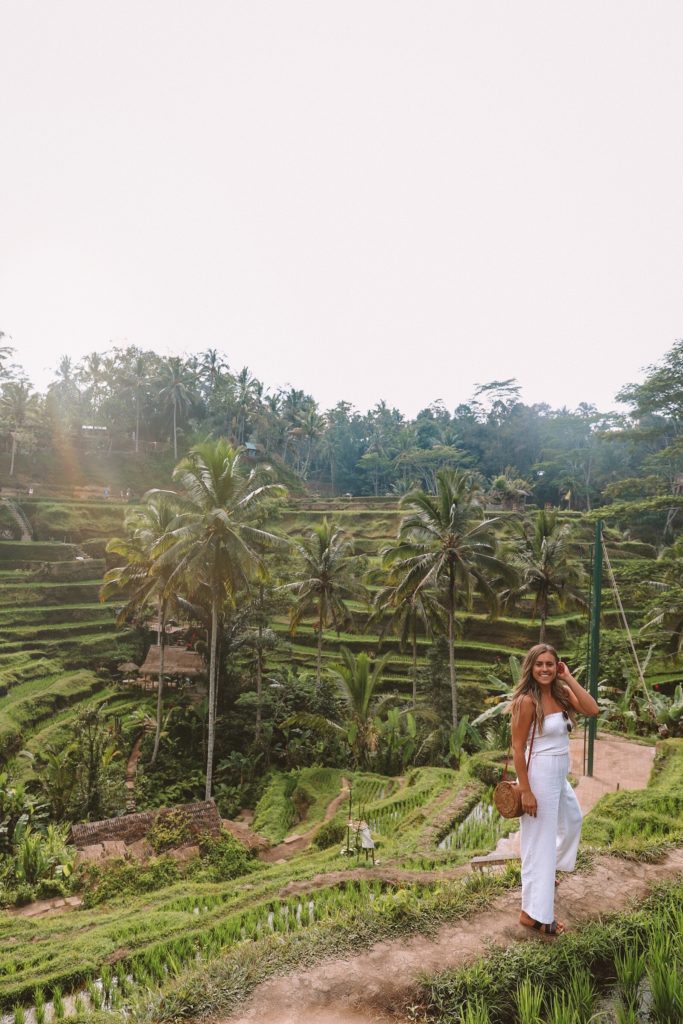 Everything was magical about this place. There's huge swings you can pay to strap into and swing right over the green landscape. You're also free to walk all over the terrace and in between each landing. I'm dreaming about it and want to go back!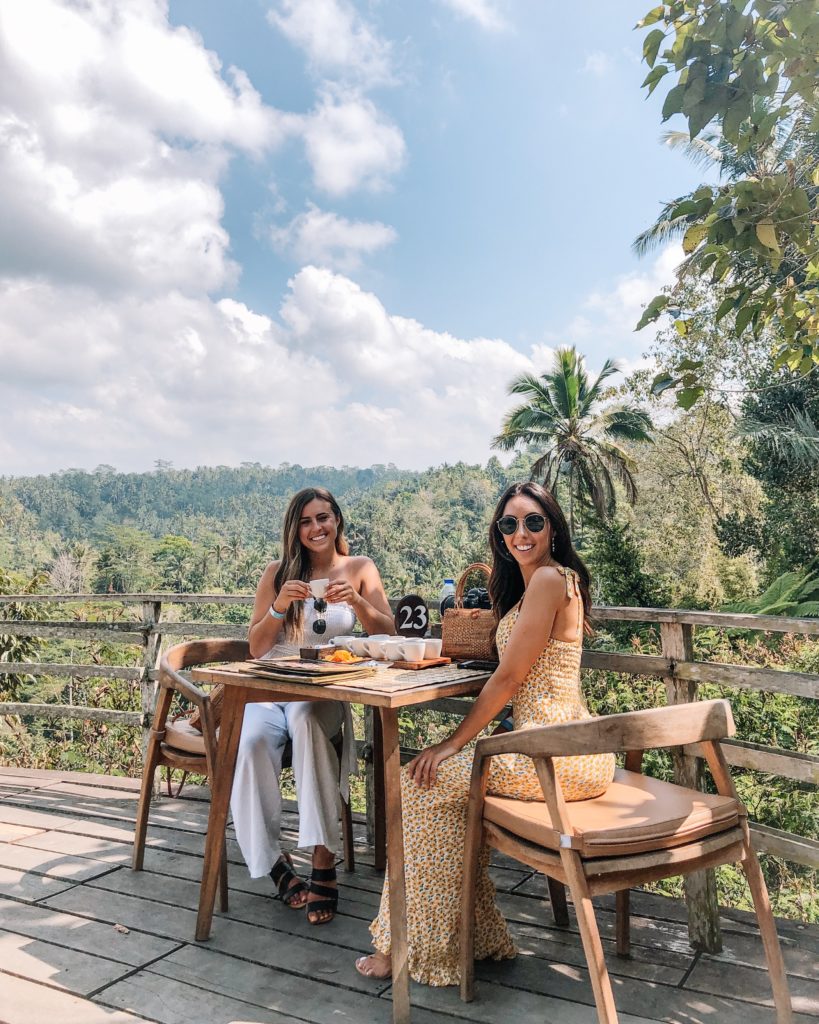 We drove up the street five minutes to tour the Bali Pulina, a coffee and tea plantation. They grow everything on property– vanilla bean, ginger, cinnamon, lemongrass, Luwak coffee (most expensive coffee in the world, click here to find out why). Unfortunately, it was clear that the Luwak's were in the cages and not living in the best conditions 🙁
Checking into The Udaya Resort and Spa was a dream. It's right in the middle of the forest and we had our own private pool outside our room (click here for our full itinerary). It had a small gym, I'm talking room for maybe two people, but also had an incredible bamboo hut on the top floor next to the gym where they host dinners, special events and yoga 3x a week in the mornings. The Kaveri Spa on property was incredible. Maddie got a 90-min Balinese massage, I got a 90-min deep tissue massage and we both shared a flower bath all for $95. Again, can we talk about the prices!!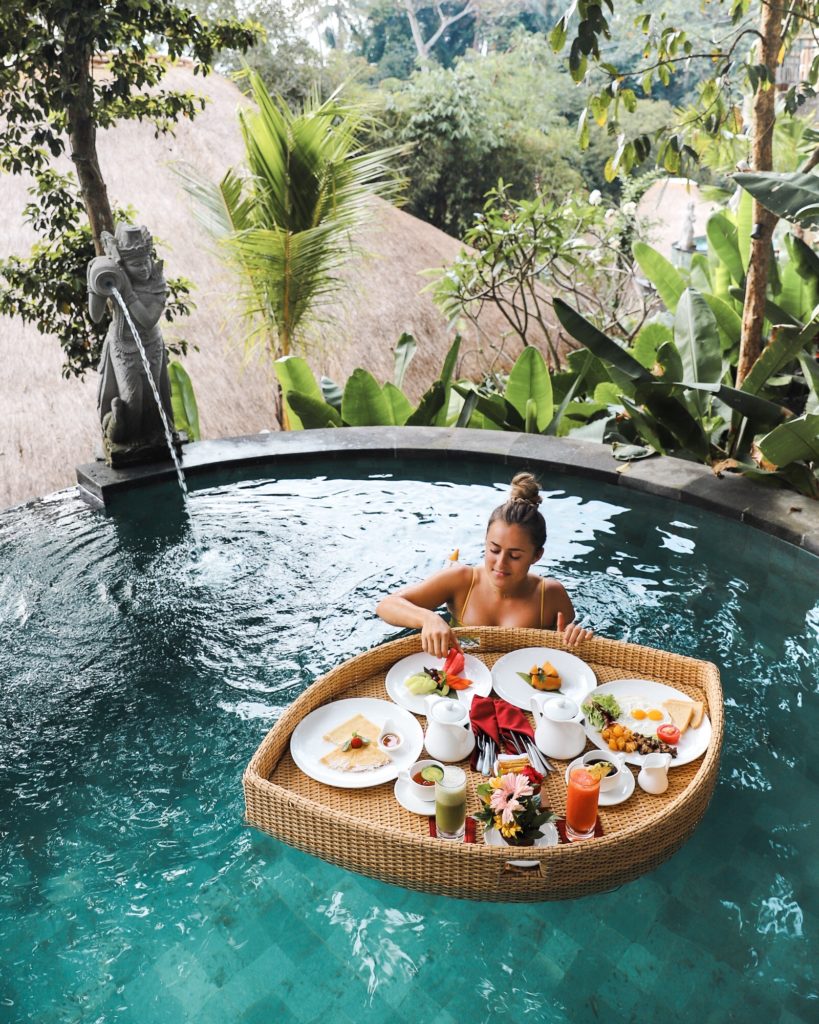 Another must is a floating breakfast. I'm honestly wondering how I'll ever be content with life again after experiencing this. How cool, right?!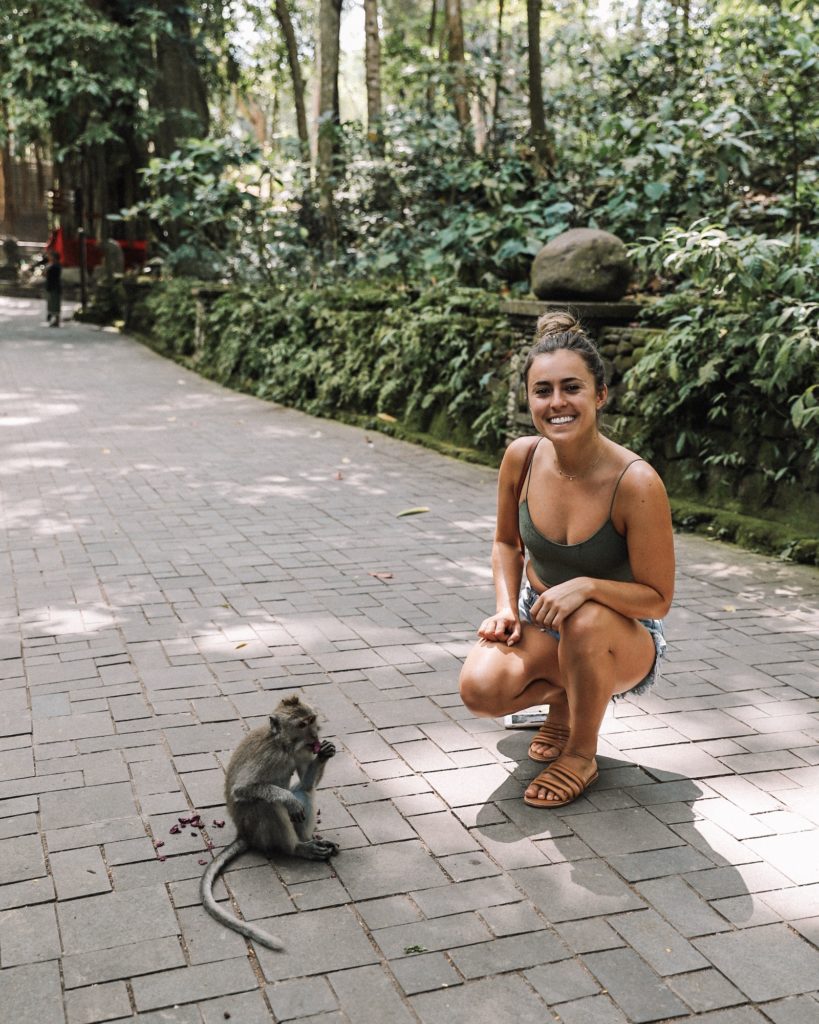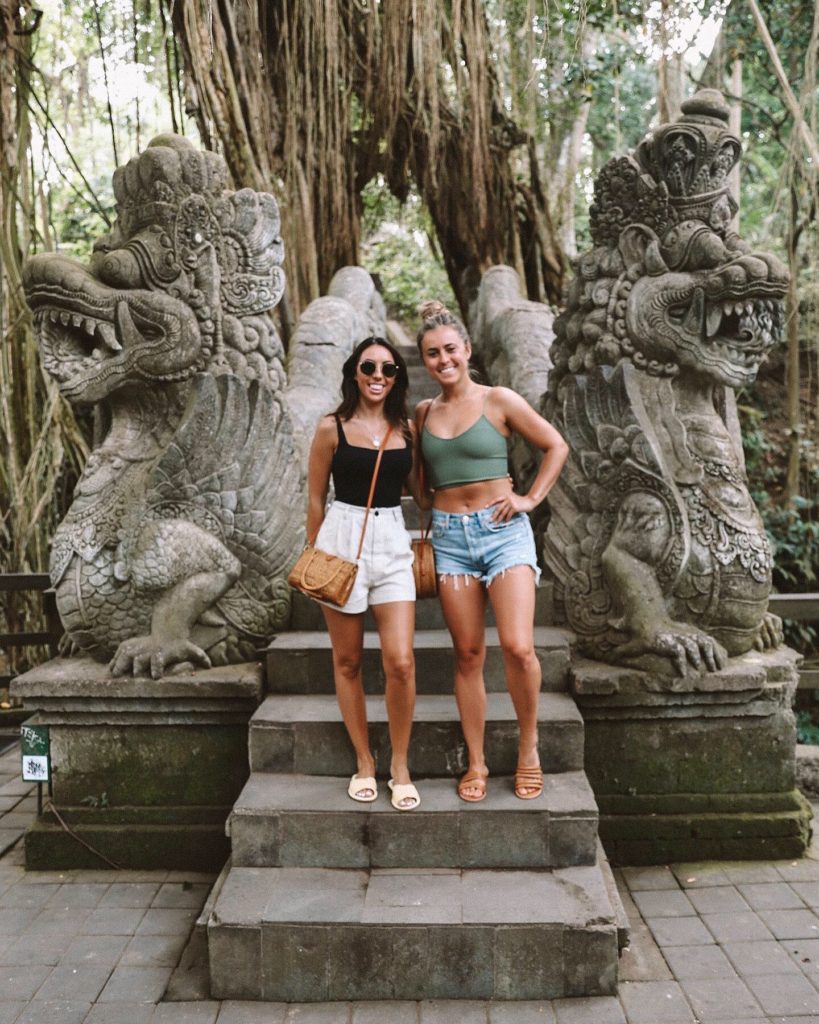 While in Ubud you have to visit the Sacred Monkey Forest right in the center of town. Our hotel offered free shuttles back and forth, which was great because it was about a 10-minute drive into town, plus 20 minutes of walking to get to see the monkeys. They are vicious little ones so you have to be careful by not showing your teeth or making eye contact with them as they take it as a sign of aggression… I wish I was kidding. Don't bring anything that dangles, either– they'll grab it and run! Honestly, if you're scared of monkeys you might want to skip this one, but I think it was fun to visit for a short time 😉
FOOD RECOMMENDATIONS (UBUD):
Alchemy
Atman- vegan, GF, paleo options
Casa Luna- Vietnamese food
Clear Cafe
Earth Cafe and Market
Full Circle
Milk and Madu
Mokska- raw/vegan
Mudra- small & more casual, sustainable
Pica
Restaurant Locavore
Seeds of Life- raw, vegan, casual with amazing vegan desserts
The Elephant
Zest Ubud- sustainable and vegetarian, great views
ACTIVITIES:
Bali Pulina
Campuhan ridge walk- along deep river valley, good rice paddy views. Go early or at sunset
Gunung Kawai temple
Monkey forest
Mt. Batur sunrise hike- can arrange for tour company to pick you up around 2am
Tegallalang Rice Terrace
The Yoga Barn
Tirta empul water temple
Ubud Market
Ubud Yoga House
Waterfalls- ask your driver or hotel for recs
ULUWATU + JIMBARAN
We left the rainforest after two nights to head south 1-2 hrs for the gorgeous white beaches and surf towns. Uluwatu was great– it wasn't huge but has some of the best beaches, cafes and resorts on the island.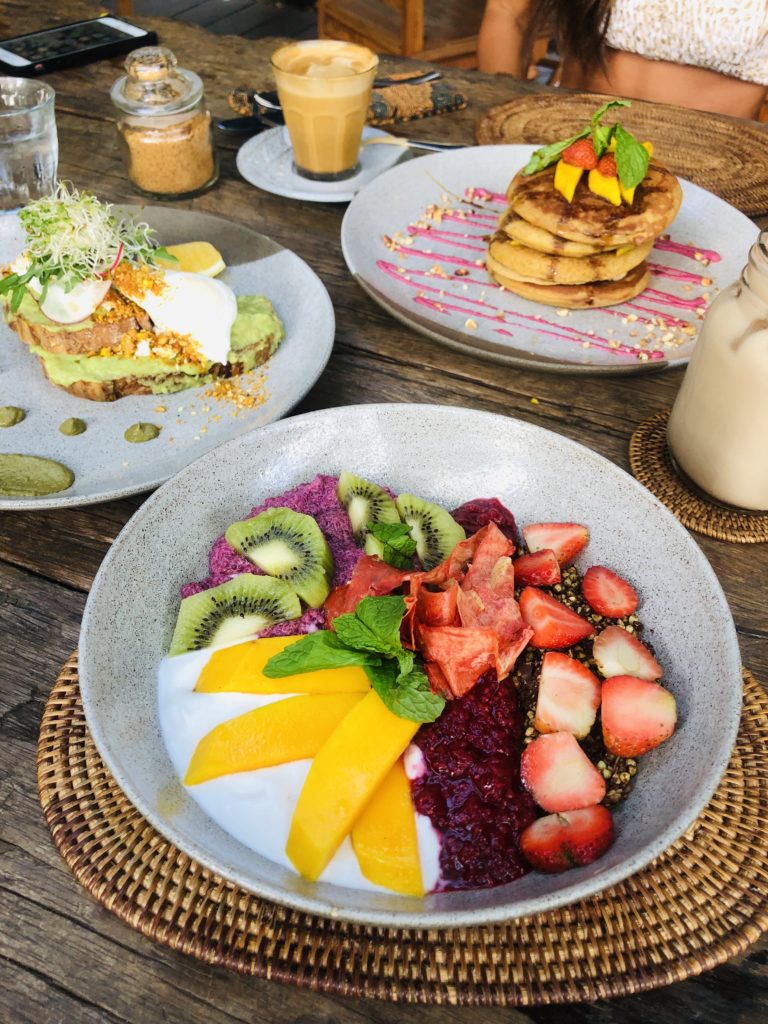 First thing's first, if you're in Uluwatu you have to go to The Loft for breakfast or lunch and Drifter right next door for breakfast, lunch or dinner!!  Some of the best food we had of the trip. All types of healthy options: nourish bowls, chia pudding, coconuts, smoothies, wellness lattes, GF lemon pancakes (!!!), it never ends! I was in heaven.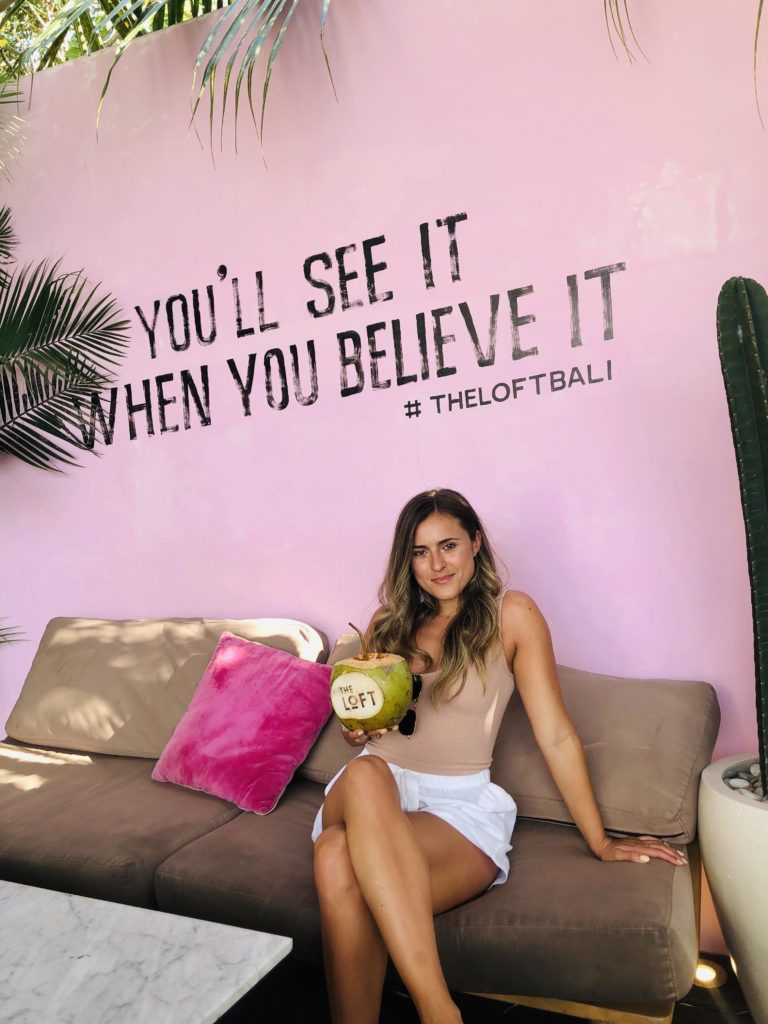 The Loft is super cute. Two locations- one also in Canggu and they have the same vibe. They sell some of my favorite ceramics I found in Bali, Cisco and the Sun. Hot tip: share an extra slightly empty check bag with someone on the way there and fill it with all the goodies you find in Bali! Clothes, kitchen things (straws, mugs, ceramics, bowls), jewelry, you name it.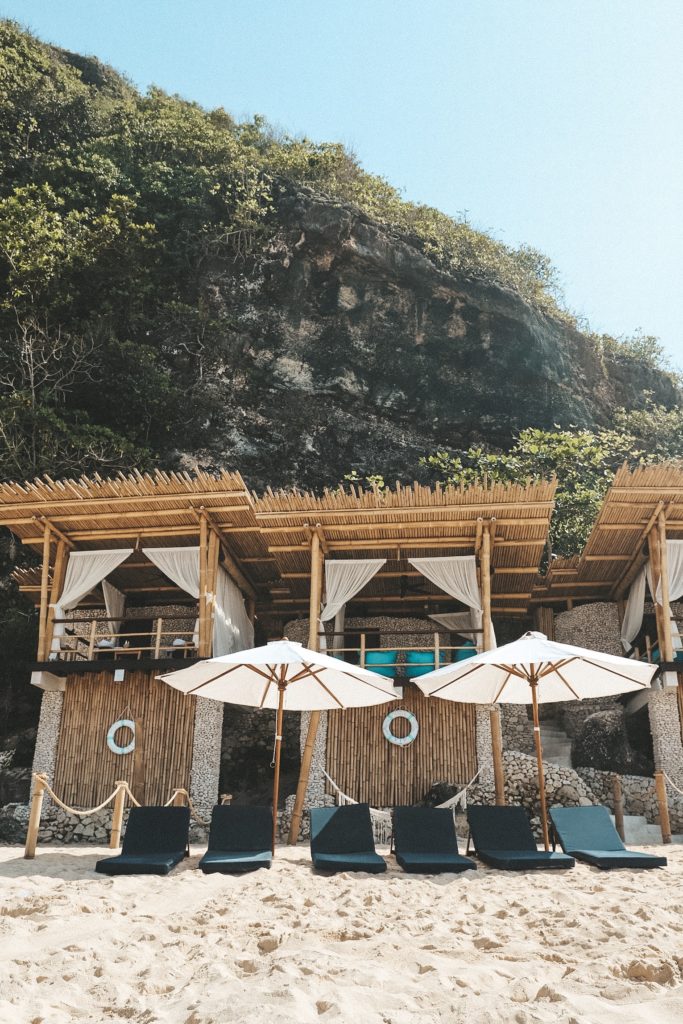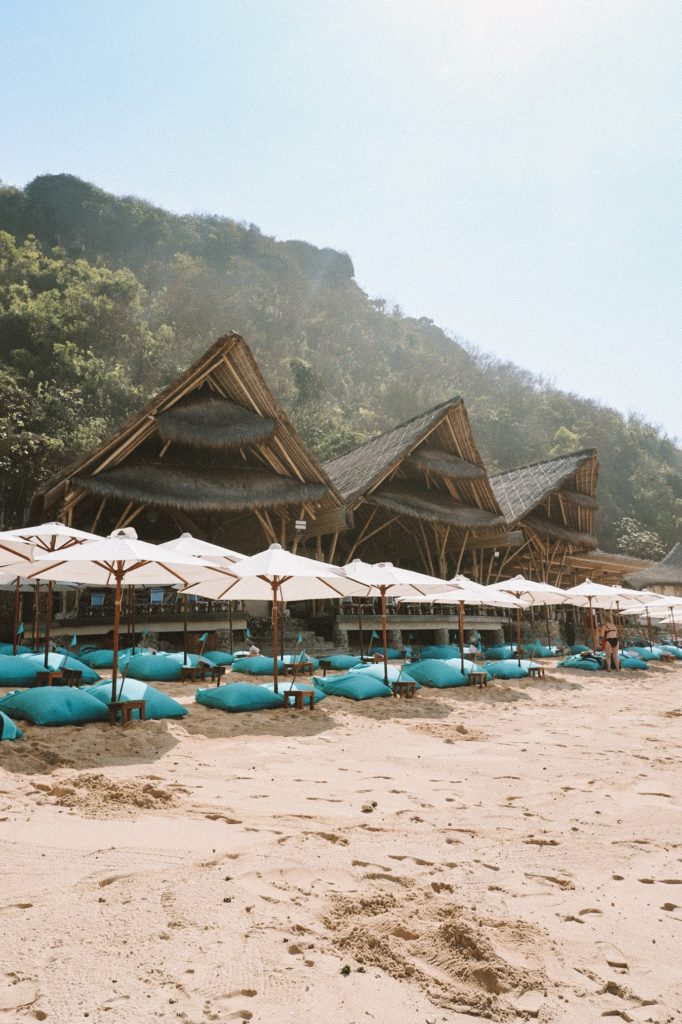 Next, we hit Sundays Beach Club. It was beautiful– you arrive to the hotel at the top of a cliff, pay $45 per person for a towel and a spot on the beach, then take an inclinator down the cliff to the white sand beach. We were there around 9am before anyone else and got the best bean bag + umbrella situation on the beach overlooking the ocean. With your ticket, you're given a $500,000 Rupiah credit for food & drink. They surprisingly have a fire menu– I ordered a watermelon salad with prawns, sauteed greens, a side of avocado, coconut water in a coconut, of course (it was the best I've ever had) and an unsweetened iced hibiscus tea.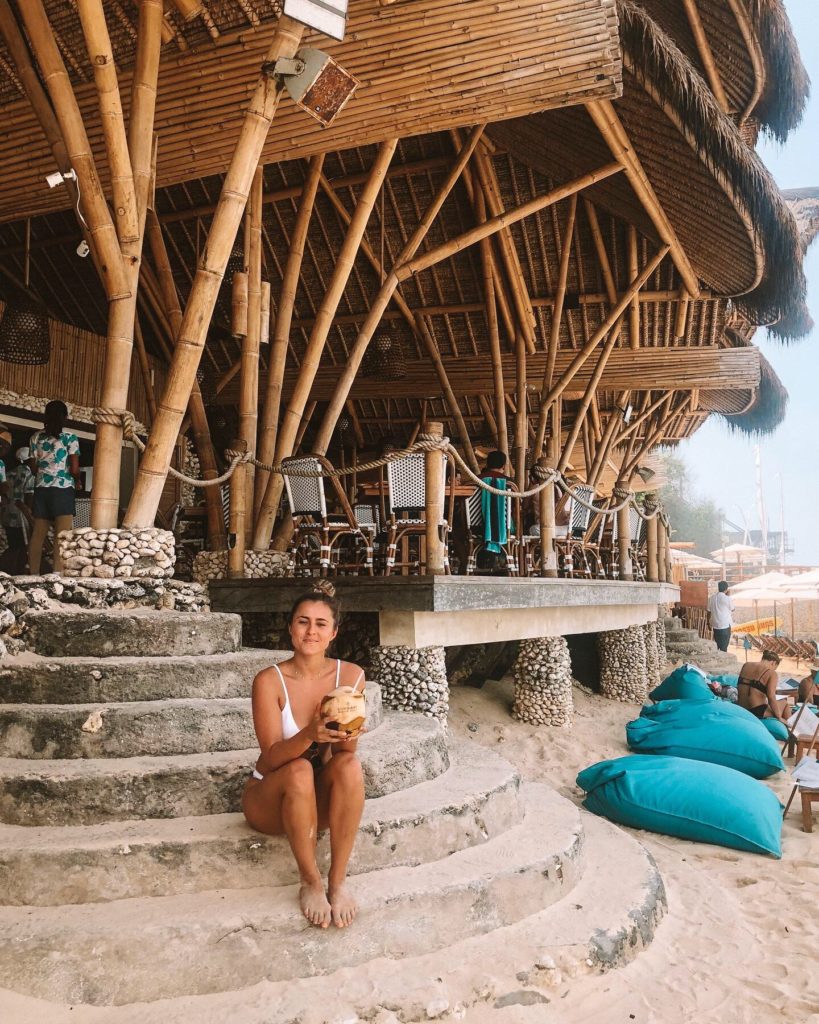 I think we were the only ones on the beach with our umbrella folded down roasting in the sun… I mean come on, I live in Seattle and always feel the need to take advantage of the rays whenever I can. Of course, I'm always prepared with SPF 50.
The last leg in Bali included our stay at Rimba Jimbaran, a five-star resort on the west side. To be honest, we could have taken an additional 3 days just to explore the property. It's massive. Three hotels make up the area and there's so much to do and see– Rockbar in particular.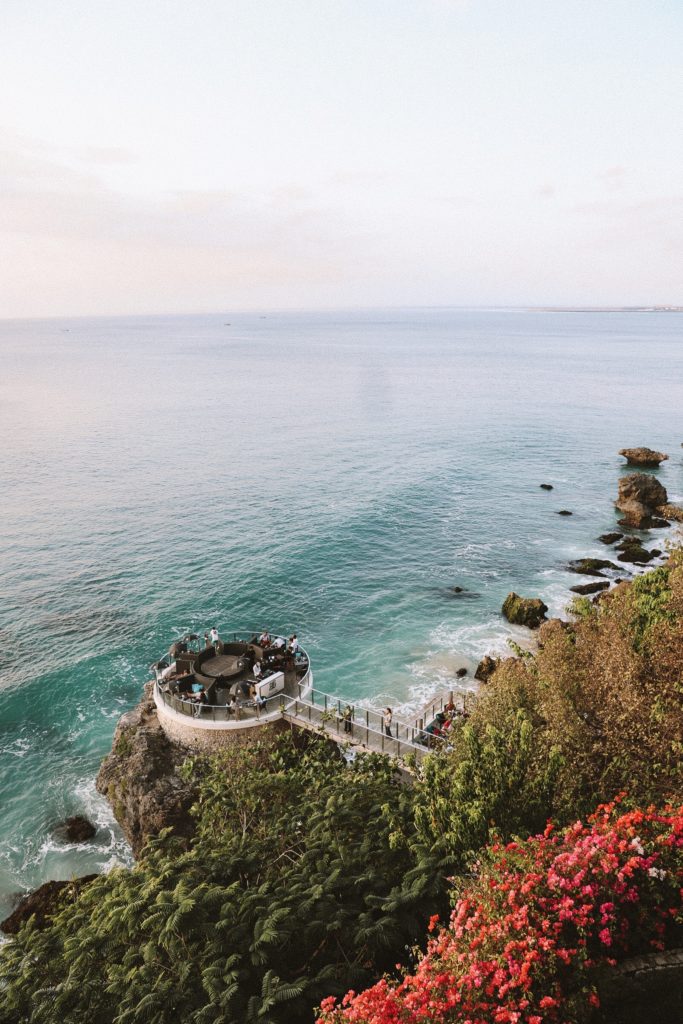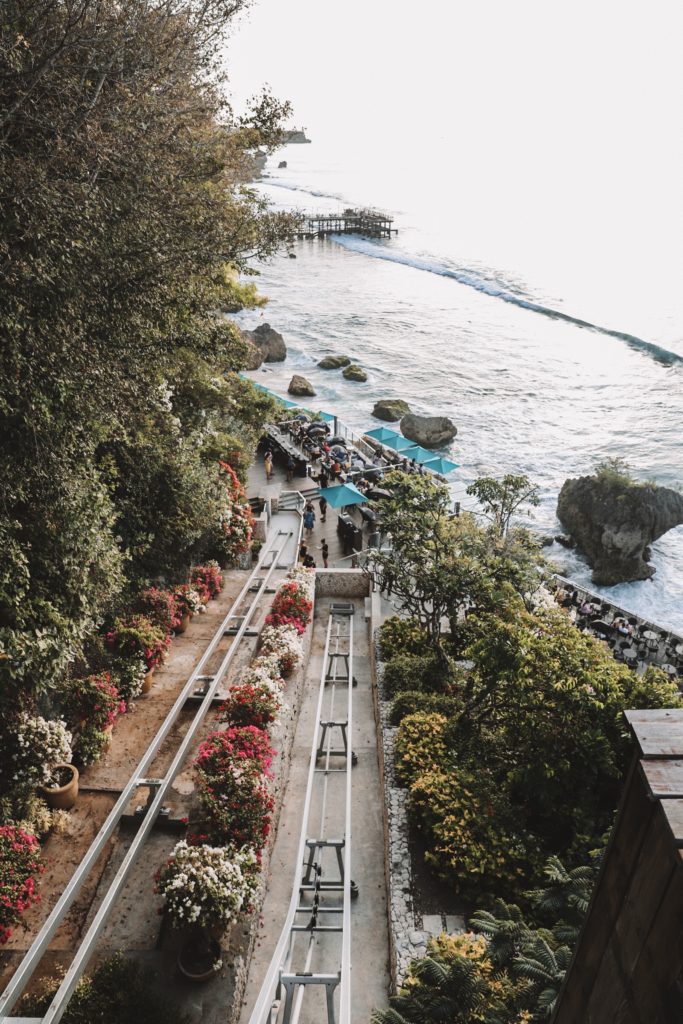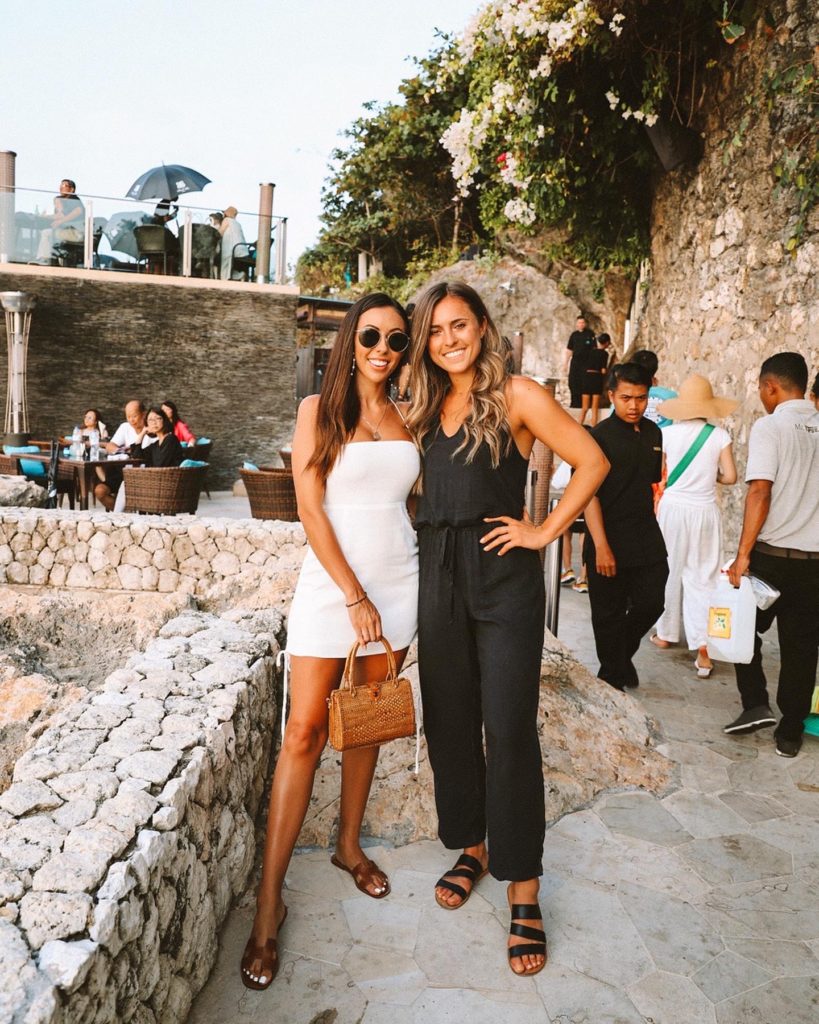 You take a trolley to the hotel next door, Ayana, and ride in another inclinator down the cliff to the most magical place to watch a sunset. Don't forget to make reservations for the bar + restaurant next to the water (FYI if you're not actually staying at any of the hotels they'll sit you around/behind the rock without a view.. could be incentive enough just to stay there).
I wasn't overly impressed with breakfast at the hotel. They didn't have great options for gluten-free, dairy-free, vegan. I would much rather drive into town (Uluwatu) and grab breakfast at a café, but that's just me 😉 I think if I were to change anything about the trip, I'd either stay just one night at Rimba or I'd add one night in Uluwatu at the end to be able to enjoy the resort. Oh, and they had such a nice gym! I was able to workout 3x during our stay, which immediately increases my mood + energy levels!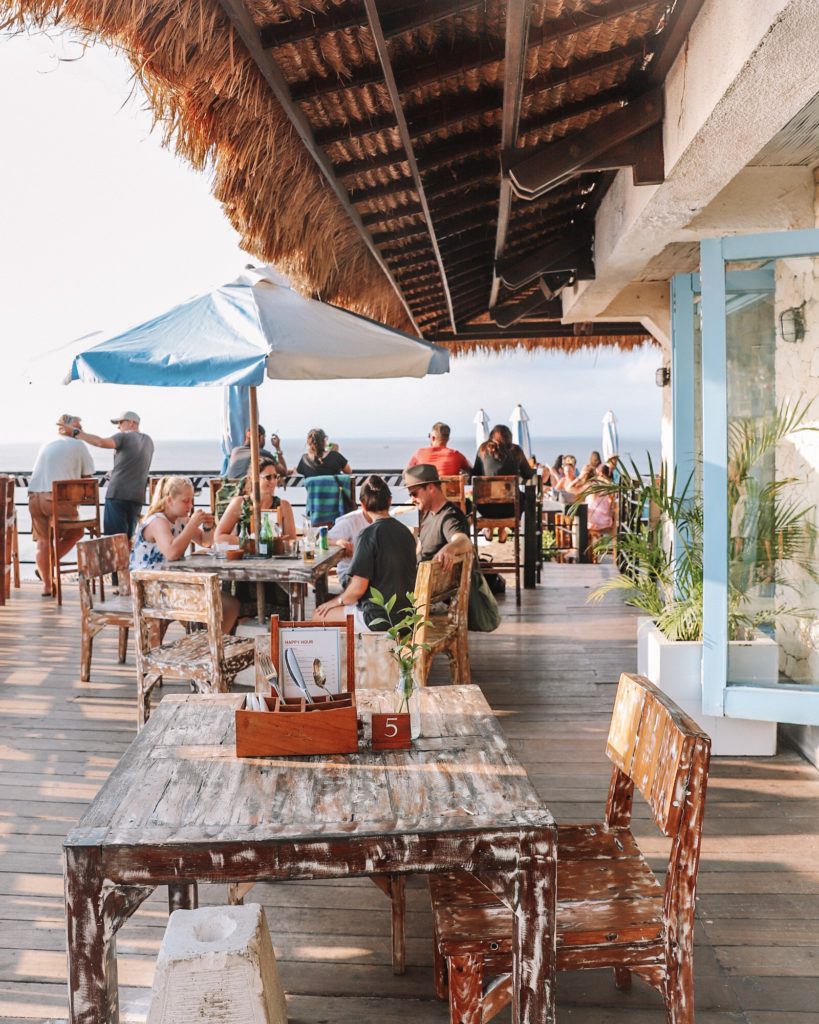 Our last night my sister brought me to about Single Fin, another beach club/surf town with the best views for sunset and to watch all the surfers.

FOOD RECOMMENDATIONS (ULUWATU + JIMBARAN):
Breeze Cafe- great grilled fish
Cashew Tree
Drifter- breakfast, lunch or dinner. GF lemon pancakes!
Drifter cafe- Uluwatu (Veggie coconut curry)
Suka Espresso
The Loft
ACTIVITIES:
Bulgari Hotel
Pdang Pdang beach
Rock Bar- Jimbaran
Sundays Beach Club
And just like that, our sister trip was over. We covered so much ground during those 8 days and I really felt like I got a great taste of Bali- the young & trendy town of Canggu, rainforest feel of Ubud and resort vibe of Jimbaran. I would 100% recommend the EXACT SAME trip to anyone! Click here for the perfect 8-day itinerary 🙂 Thanks to my sissy for showing me the best time!!
xx Rachael