I've wanted to go to New York ever since I was little. It just seemed like such a magical place from all the movies I watched growing up and from hearing what people said after traveling there.
It was somewhat of a last minute trip, as I booked it only two weeks in advance. After passing the RD exam in early July I just felt so free I knew I had to get out of town, relax, experience something new—New York just seemed like the most ideal place. It also gave me another reason to visit one of my closest [Instagram] friends I've gained this past year, Lisa from @thewellnecessities. She's an RD as well, which is how we initially connected. Lisa has always been there to give me advice or share her experience of her dietetic internship while I was going through mine. It was truly the best person to have on my side during that time.
Anyway, my boyfriend and I booked our flight to land in NY Saturday, September 3rd and to depart the next Friday, September 9th to head back to Seattle. Now it was time to search for hotels.
We struggled in the beginning because, newbie over here, I booked our trip during New York Fashion Week, which canceled out quite a few hotels due to availability. Lisa and her boyfriend, Evan were more than kind enough to let us stay with them at one of their parent's houses in Manhasset our first two nights. Honestly, we couldn't have started our trip off better than with them. Keep in mind it was Lisa and I's first time meeting… thoughts on the plane, "am I going to be catfished?" HA kidding. We've face timed many times and snap chat on the reg so I wasn't too worried. Let's just say we became best friends right away. We're so like-minded, have the whole RD food-lovin thing going on and just clicked! The boyfriends got along great too.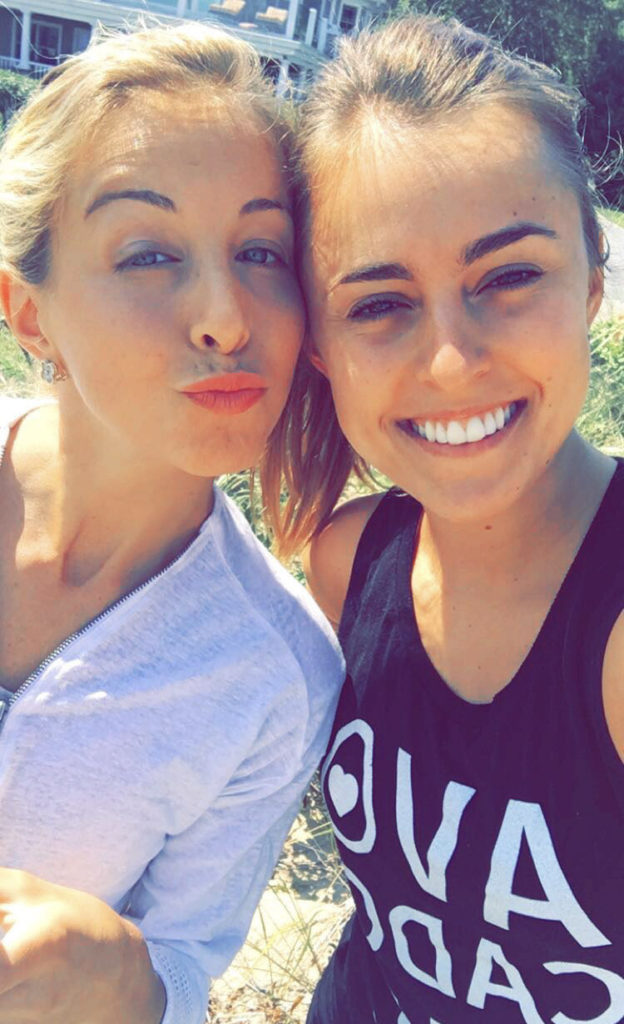 Day 1
On Sunday, September 4th our crew of four hit the gym, went grocery shopping, laid out by the pool, and had several more friends over for a dinner party where we would cook an entire feast. Couldn't. have. been. any. better. It was like we had all been friends for years!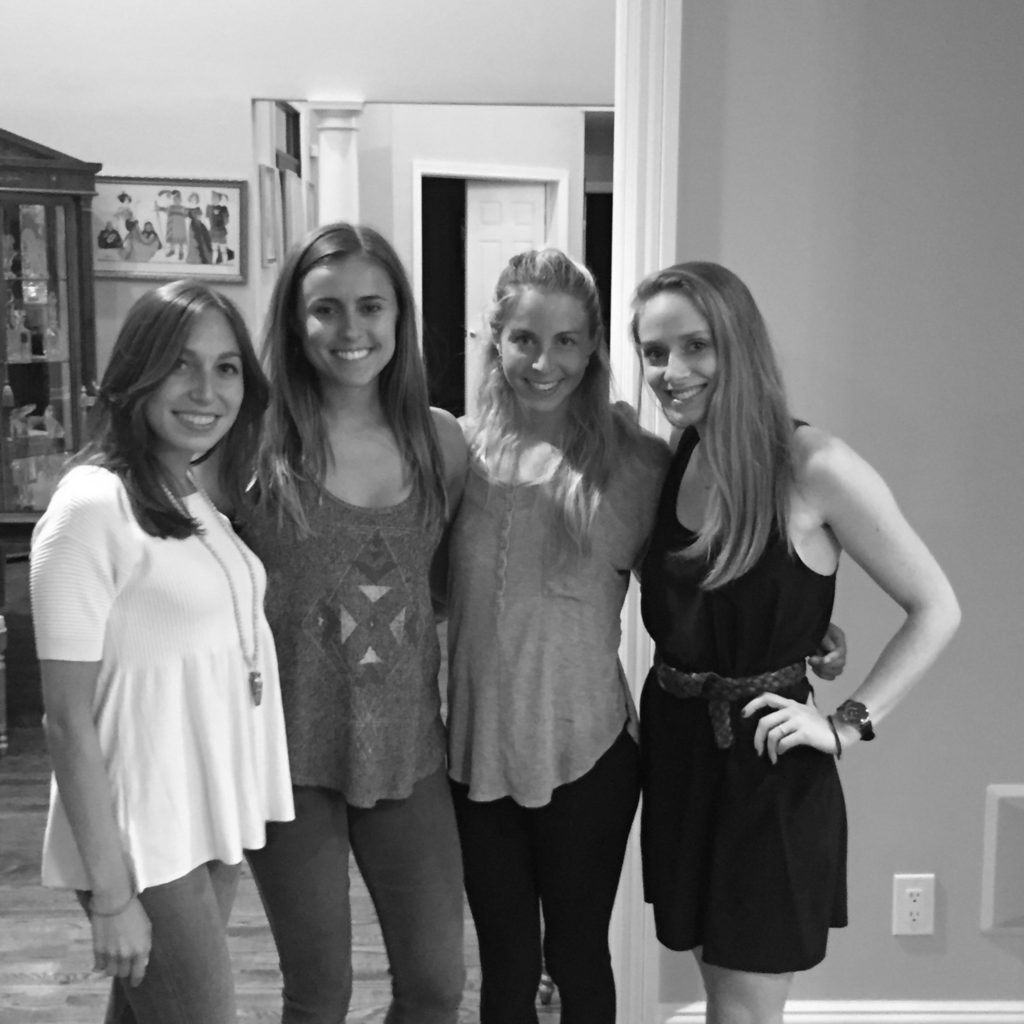 [Photo taken with Jessica Lebovitis, RD, CDN, me, Lisa Hayim, Abby Cannon, Dietetic Intern]
Day 2
On Monday, Lisa and I filmed a Facebook Live event sharing our own personal experiences with how we became RD's (It's still on her page if interested—The Well Necessities on Facebook). Then once we were finished my boyfriend, Bridger and I headed for the train station to finally make our way into the city.
It was about a 40-minute ride with our suitcases to Penn Station right in the middle of the city and wasn't a bad trip at all. I remember just taking in all my surroundings, still in disbelief I was in New York.
We made the executive decision of walking about 18 blocks from the train station to our first hotel—bags in hand—which was Dream Downtown near the Meatpacking District. Super touristy of us, but we'd rather see the city by walking than by taxi or Uber. We made a quick pit stop at Whole Foods on the way so I could load up on vitamins and some green juice since I had been feeling a little under the weather from staying up way past my bedtime the night before.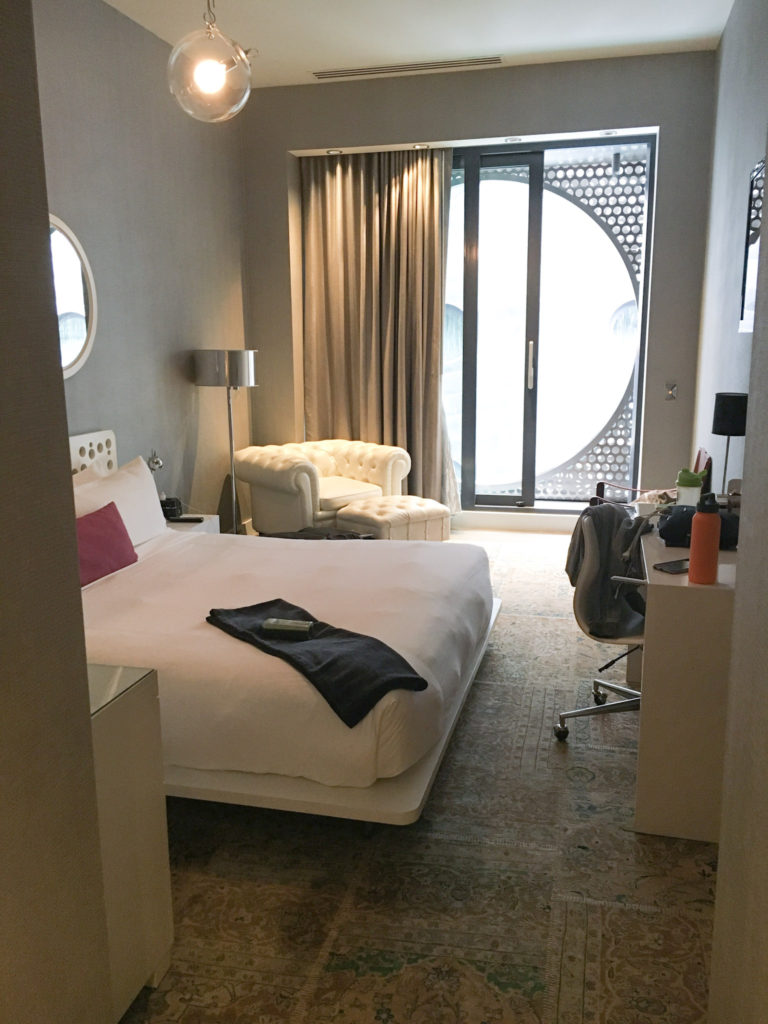 [Photo taken of the Silver King Room at Dream Downtown]
So on to our hotel. WOW. We felt so exclusive even just checking in! We were upgraded to Dream's Silver King room with a balcony overlooking the pool. I wanted to stay there for the rest of our trip, plus a few weeks even… It was an incredible hotel with a very accommodating staff. If you visit, make sure to visit the rooftop bar, PhD for a full city view at night! My entire Dream Downtown hotel review is here.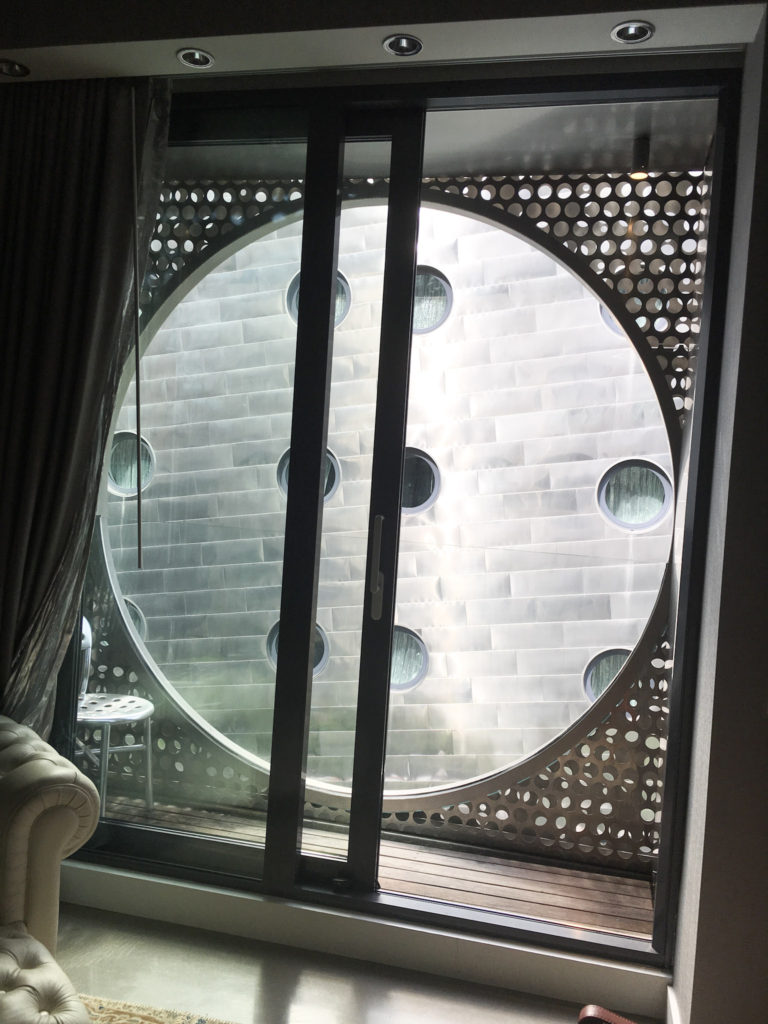 We had reservations that night for Bodega Negra, the Mexican restaurant located inside the hotel, but had several hours to kill before then. We walked literally right around the corner to Chelsea Market (another recommendation I received from people) and loved seeing all the shops and restaurants. It almost reminded me of Pike Place in downtown Seattle, but a little bit nicer. Then, we kept walking down by the water, saw a line of people at the entrance to a building with a bouncer checking IDs, looked at each other and quickly got in line. Where were these people going? Why wasn't there a sign outside? We had to follow. That seemed like the only answer. Spontaneous moves are so necessary on vacation!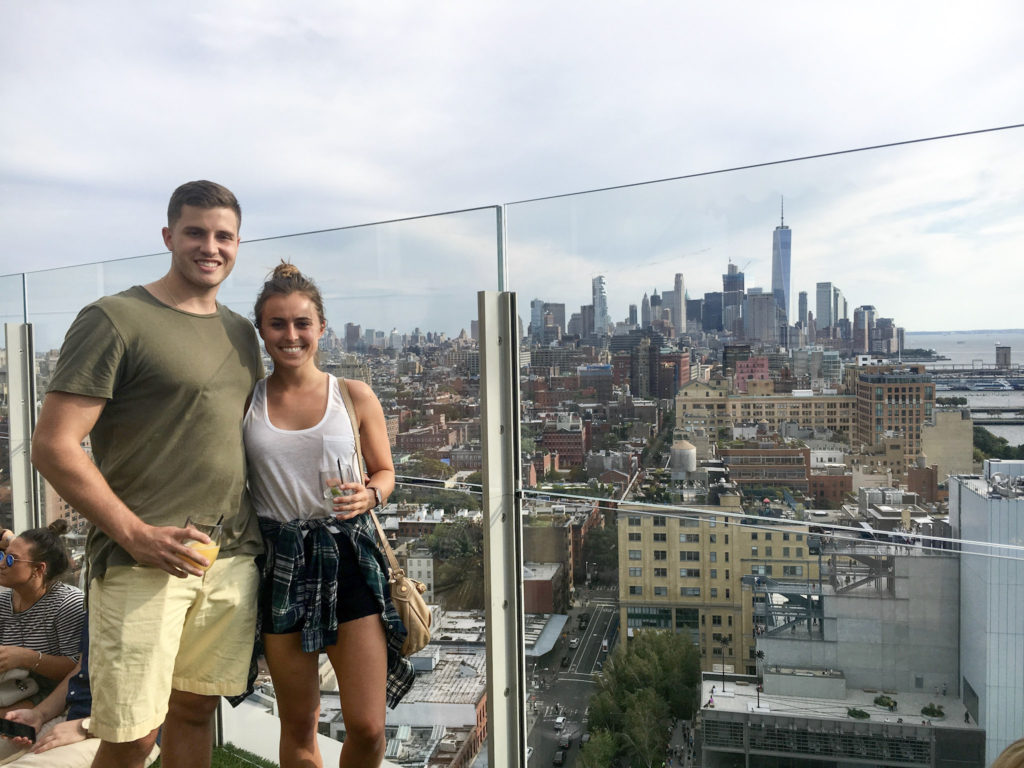 [Photo taken at the rooftop bar of The Standard Highline]
When we got inside, there was a black hallway with pictures of naked cartoons… What were we getting ourselves into? We got in a large elevator, rode it for a lengthy period of time and ended up walking out to a bar that overlooked the ENTIRE city. There was a Jacuzzi and several places to sit down and hangout. We took the stairs up one more floor to the rooftop bar, covered in turf with views I've never seen before. What were the odds that this random line of people on the side of the street would take us to this unbelievable rooftop bar with the best views/vibes around?! It ended up being the Standard Hotel.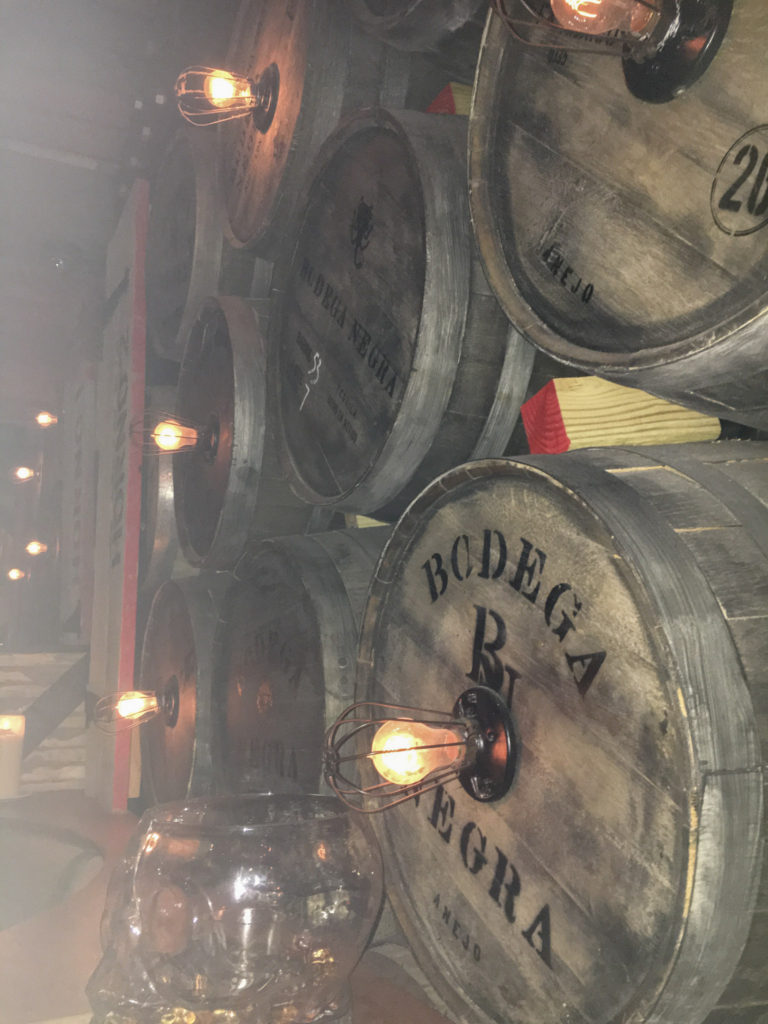 [Photo taken at Bodega Negra at Dream Downtown]
Dinner at Bodega Negra was top quality. It was dimly-lit, romantic, and laid back. Get the Grilled Corn and the Beef Fajitas with mini corn tortillas!!
Day 3
Tuesday, September 5th we took an Uber to Lower Manhatten to eat at The Butcher's Daughter. Quite possibly my favorite breakfast to date. Seriously. The menu easily made me so indecisive; more than usual.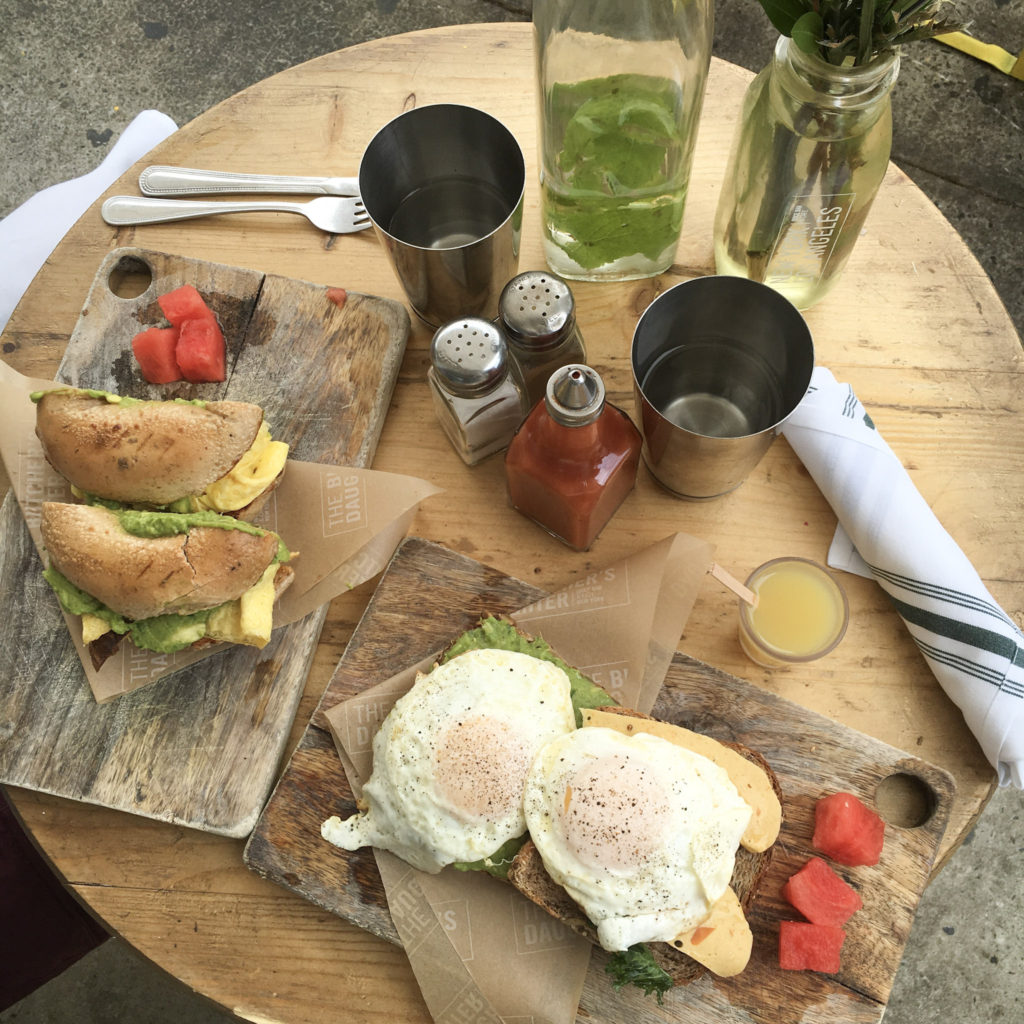 [Photo taken of our breakfast at The Butcher's Daughter]
I went with the Egg Sandwich on toasted 7-grain bread with avocado, tomato jam, kale, cashew cheese and 2 over-easy eggs with a Liquid Vitality Elixir Shot and a Hot Elixer after (still trying to kick that cold). Perfect fuel to walk nearly 3 miles in the city to visit the 9/11 Memorial, Wall Street, Hudson Eats, and more. I ended up getting my very first blowout while we were out and about— stay tuned why below! I know, small town WA girl moment. BTW if you haven't gotten one before, please do yourself a favor and find a Dry Bar near you!
We had lunch at Hu Kitchen, which focuses entirely on unprocessed, ultra-high quality, whole foods. I love what they stand for and was so excited to try. The roasted veggies were my favorite by far. So much flavor! I also got the Paleo Veg Loaf (carrot, onion, org celery, sunflower seed, flaxmeal, org egg, wild mushroom, garlic, oregano, org coconut milk, tomato, basil), which was served cold and later found out I wasn't able to heat it up—wasn't much of a fan for that. We shared the Cookie Dough Truffles for dessert and they were insanely good!
All that walking took a lot out of us so we headed back to our "Hotel of Dreams" for a nap. Later that night we walked to Bare Burger—the ultimate organic burg joint where you can either choose from a large selection of burgers or build your own. We absolutely loved this place. Our waiter was very informative with the menu and other site-seeing tips. Oh! And you have to get the sweet potato fries as an app. So perfectly crisp. I created a Bison burger on a sprouted bun with tomato, red onion, sprouts, pickles, stoneground mustard and ketchup. Simple, nutritious, protein-packed. It was everything.
Day 4
I didn't get much sleep this night because get this, I was preparing to guest on Dr. Oz Wednesday morning!!!! As well as 10 other blogger influencers to help get the word out about Dr. Oz's new season-long health Regimen. Let's just say that this day seemed like a complete dream. I got hair and makeup done, got mic'd up, and was placed in the front row to have a small speaking part on the show (airs on September 14th, 2016).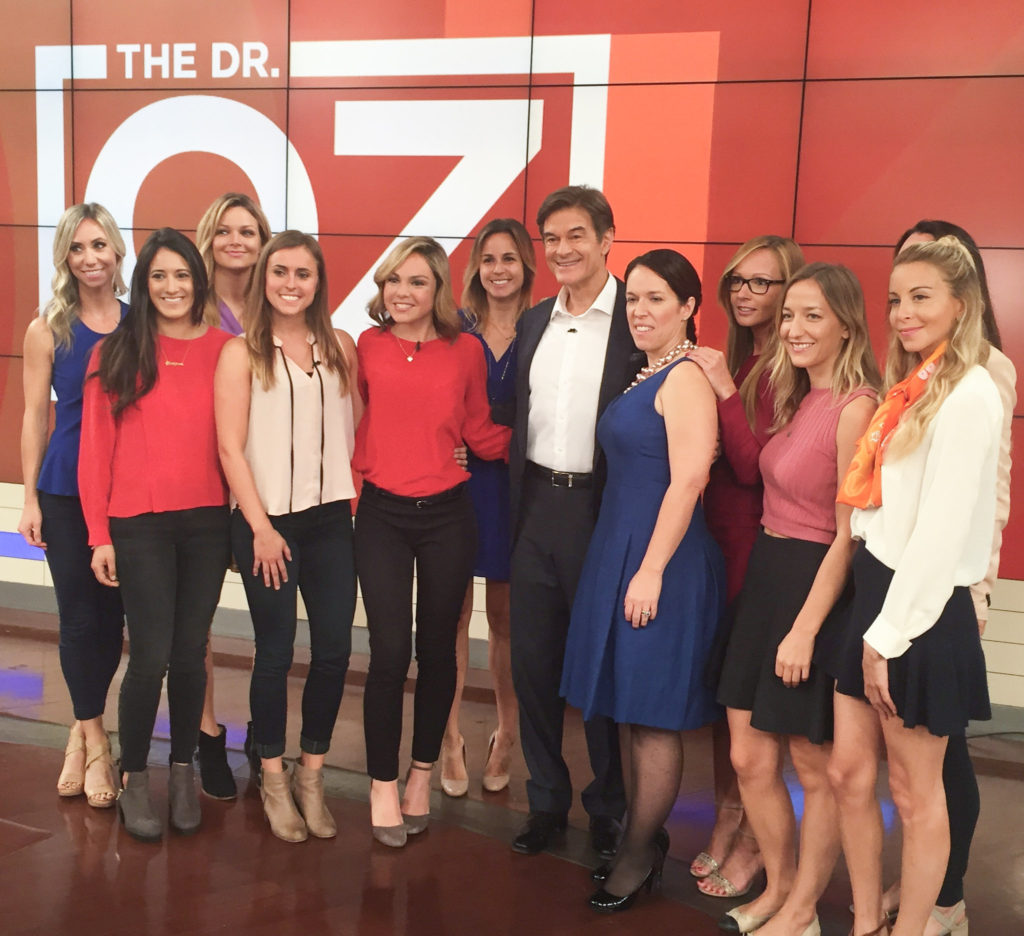 [Photo taken on Dr. Oz set with bloggers and supporters of The Regimen]
Meeting all these bloggers was so fun and finally gave me a chance to network with other like-minded individuals in the city. Seattle seems to be pretty unsaturated with food bloggers, which may seem to be extremely beneficial for me, but at times can be such a bummer when I'd much rather meet up with people for lunch, juice, etc.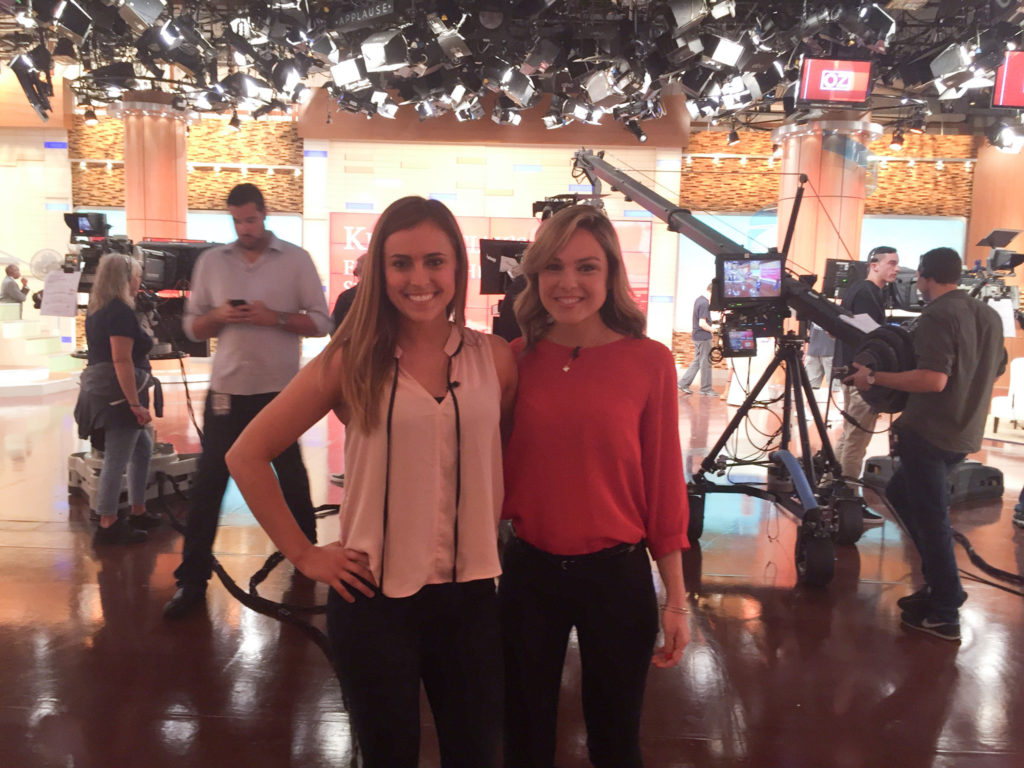 [Photo taken on set with Nicole Cogan of @nobread]
Bridger got to be in the audience as well and watched the entire show. Lisa, bless her little heart, is the one who set this whole thing up and who I got to experience this with. It was such a coincidence I was already going to be in town for the taping of this specific episode, so I'm convinced it was meant to be! Stay tuned for more information on The Regimen in my Instagram and blog posts.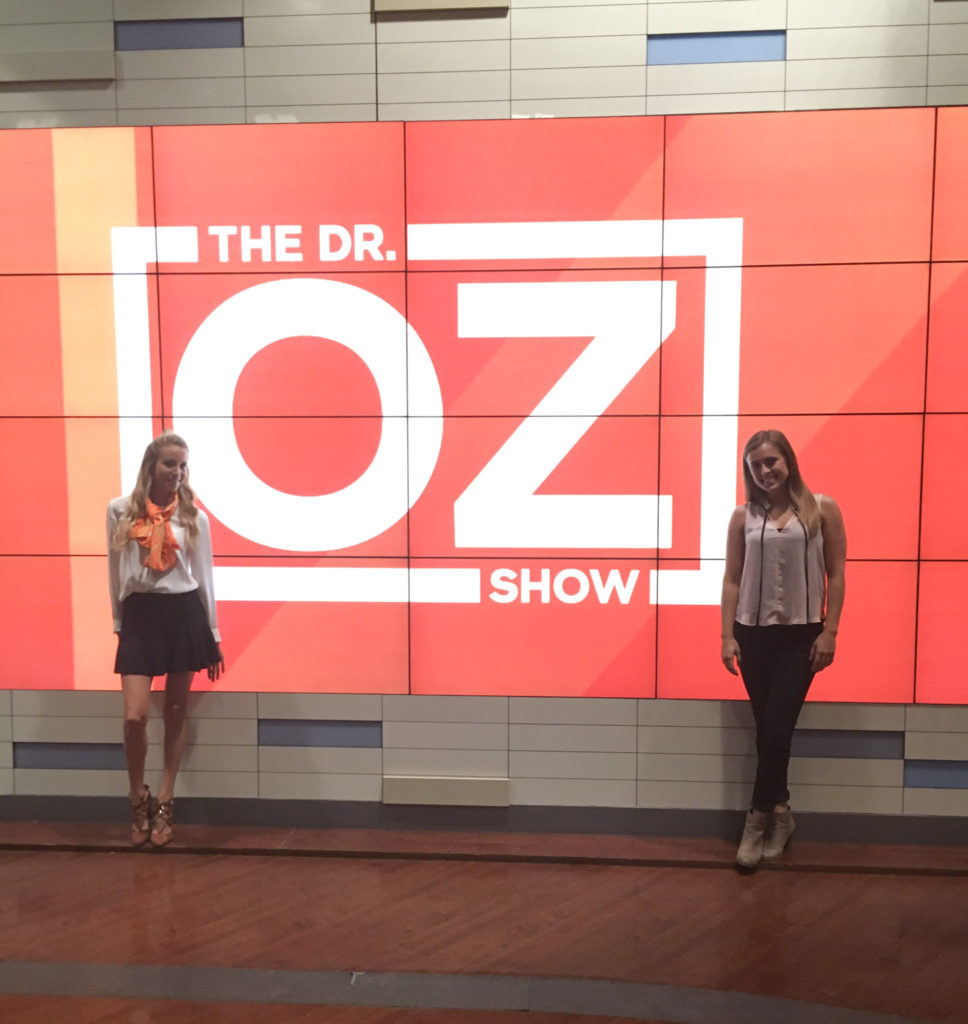 [Photo taken with Lisa Hayim on set]
After the show we got our suitcases and moved hotels to EVEN Times Square South. This hotel is entirely health and wellness based, includes an awesome gym and even offers some workout equipment in the room! We had an amazing view from our room at this hotel, being able to see all the beautiful buildings around us.
Times Square didn't quite deliver as much as I thought it would. Walking through it was stressful. It either smelt like urine or garbage, was extremely dirty, busy (though I already knew this), and obviously just the most crucial tourist spot. I wouldn't be too mad if I happened to never walk through Times Square again.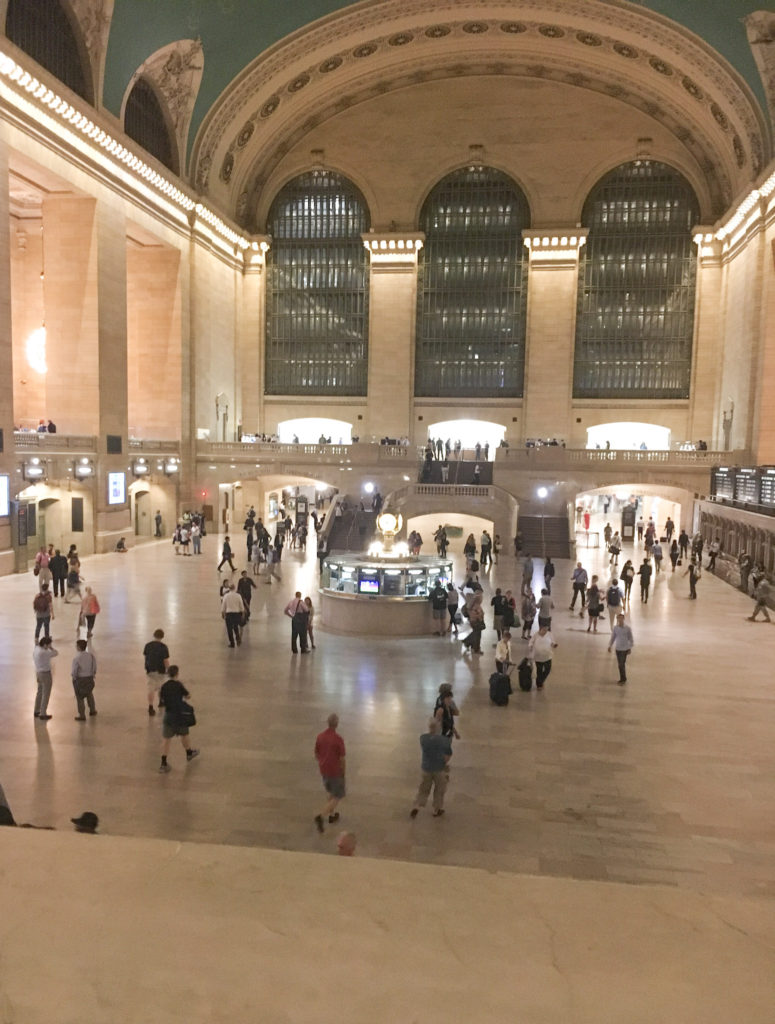 [Photo taken at Cipriani's overlooking Grand Central Station]
Bridger and I had a great afternoon workout at the hotel and ended up taking an Uber to Grand Central Station to eat at Cipriani's Restaurant (recommended by my friend Katy from @savoringtheflavoring). It was such a prime spot for people watching, it had delicious food and the location of Grand Central Station was also on our list of places to hit! We ended up walking the mile back to our hotel to help digest some of our food and see more of the city.
Day 5
Thursday, September 8th we woke up and ran from our hotel to Central Park and continued about 2/3 of the way through the Park. That was one of my bucket list items I've been looking forward to doing for years.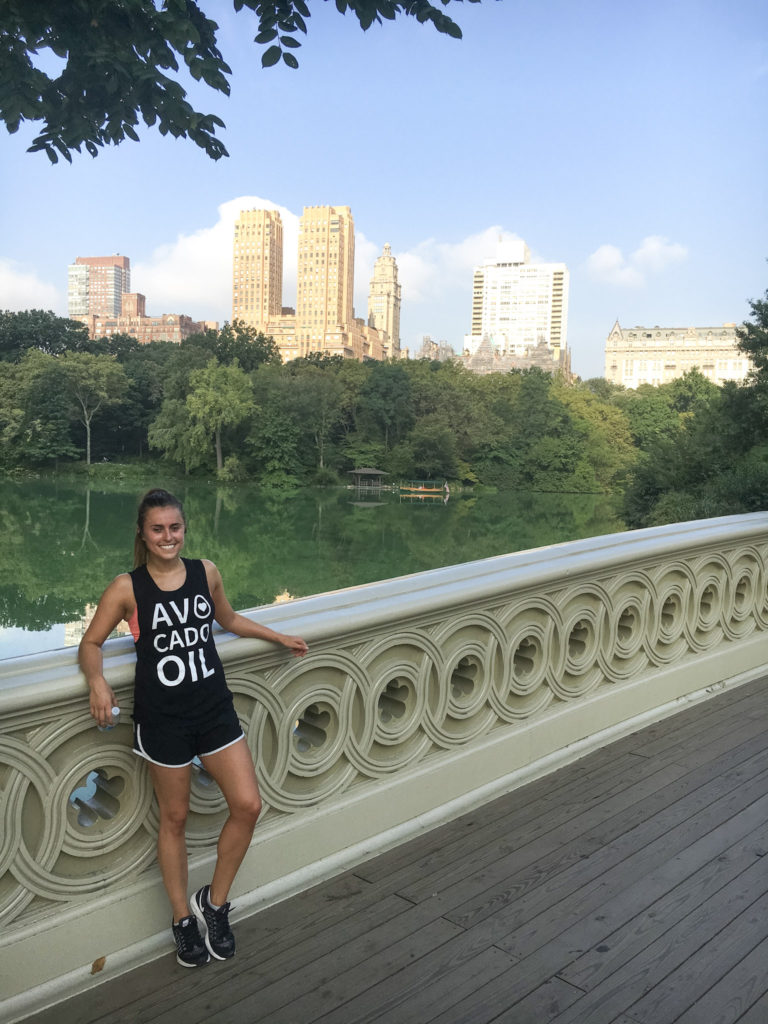 [Photo taken in Central Park]
It was such a beautiful run and to know (once again) that so many movies were filmed there, made it that much cooler. The greenery was such a nice change from the city and the air was so fresh. My boyfriend had to stop a little earlier than I planned on due to hip, knee, and foot pain. No, I'm not dating a 70-year old man, just a past college basketball player. Since our run was cut a little short, it was time for breakfast.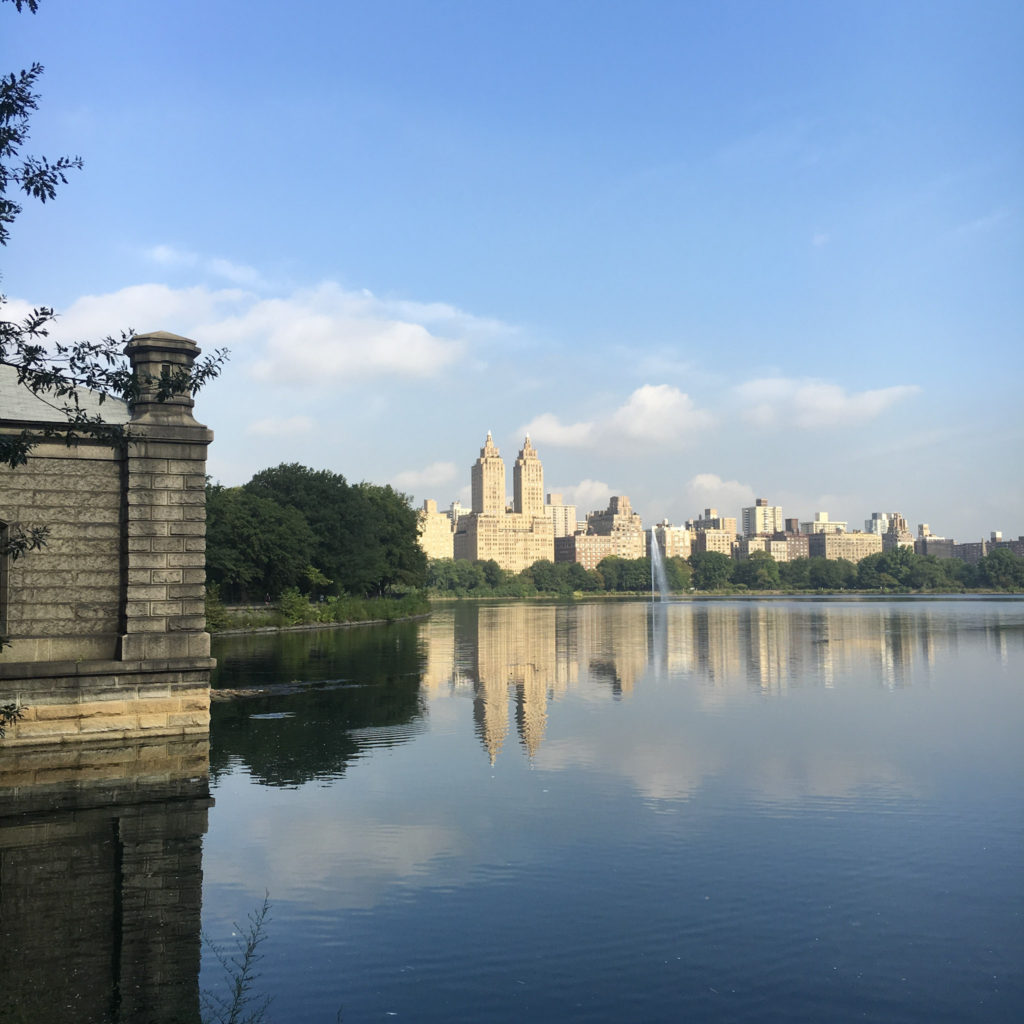 I received quite a few recommendations to try Bluestone Lane – Australian-style Coffee and Café Fare, and it just so happened one was located on the corner right across the street from Central Park in the Upper East Side.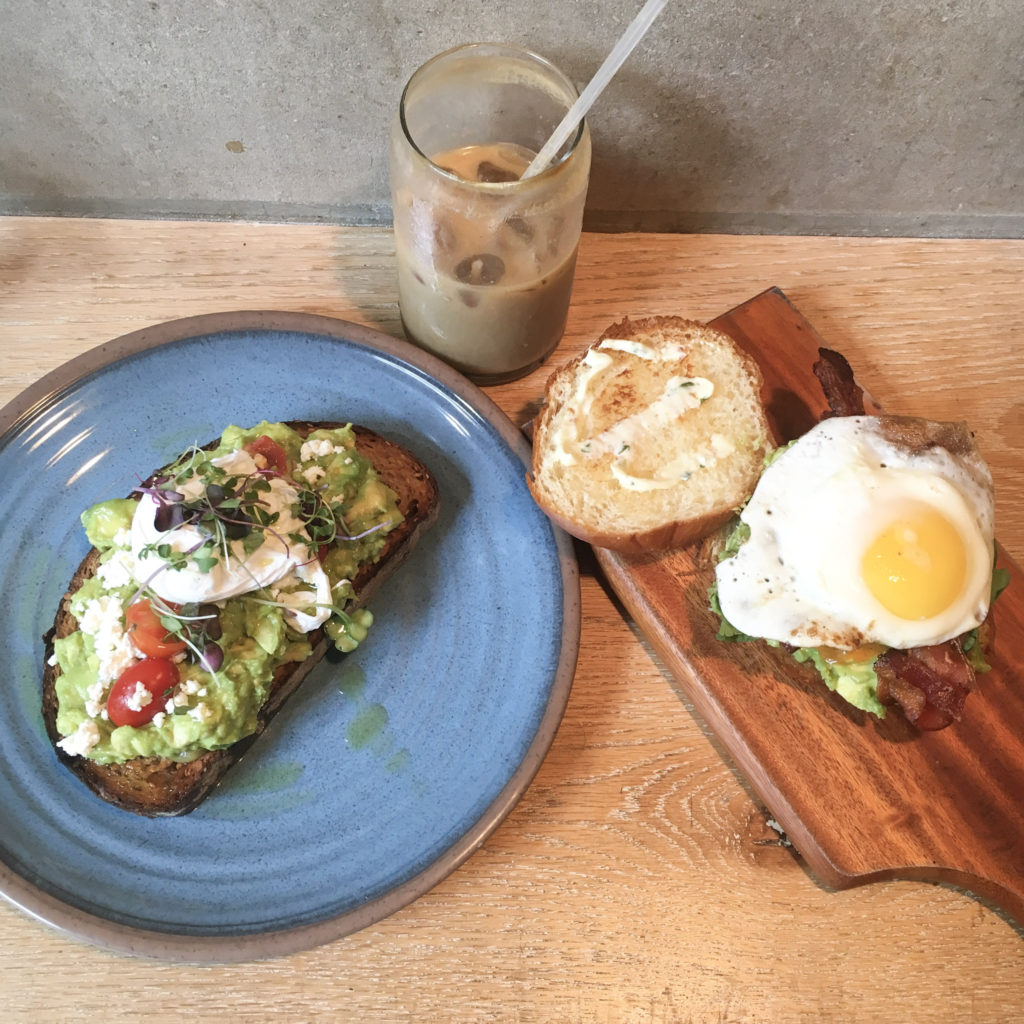 [Photo taken of breakfast at Bluestone Lane]
This place easily ties with The Butcher's Daughter for *best breakfast* on the trip because my Avo Smash Toast was off the charts tasty AF. Paired with tahini, heirloom tomatoes, sprouts, feta and lemon, and topped with a delicate poached egg. Truly the most beautiful and hearty piece of Balthazar toast I've ever had. GO THERE.
We took an Uber back to the hotel because of both injuries and time. One thing I'll never get over is the NY traffic. We even had an ambulance lights & sirens on, stuck behind us for at least 10 minutes completely stopped. I would have so much anxiety driving in the city! It's almost like driving in Mexico with the few rules and excessive honking.
We checked out of our second hotel, and Uber'd to The Peninsula Hotel for lunch with Lisa and several other Instagram foodie friends at Clement, an elegant restaurant located in the hotel. The manager, and also chef, Danielle Marullo was nice enough to guide us through the menu and check in on us every once in a while. It was so awesome finding out she had won "Chopped!" in 2014, one of my favorite shows on TV. I got the Chopped (coincidence??) Kale-Quinoa salad with edamame, carrot, avocado and shrimp in roasted sesame dressing. We shared several desserts—Raspberry Sorbet (best sorbet I've ever tasted), Organic RAW Chocolate Pie made with avocado and coconut flour, and a Pear Tart. All were very delicious and so satisfying.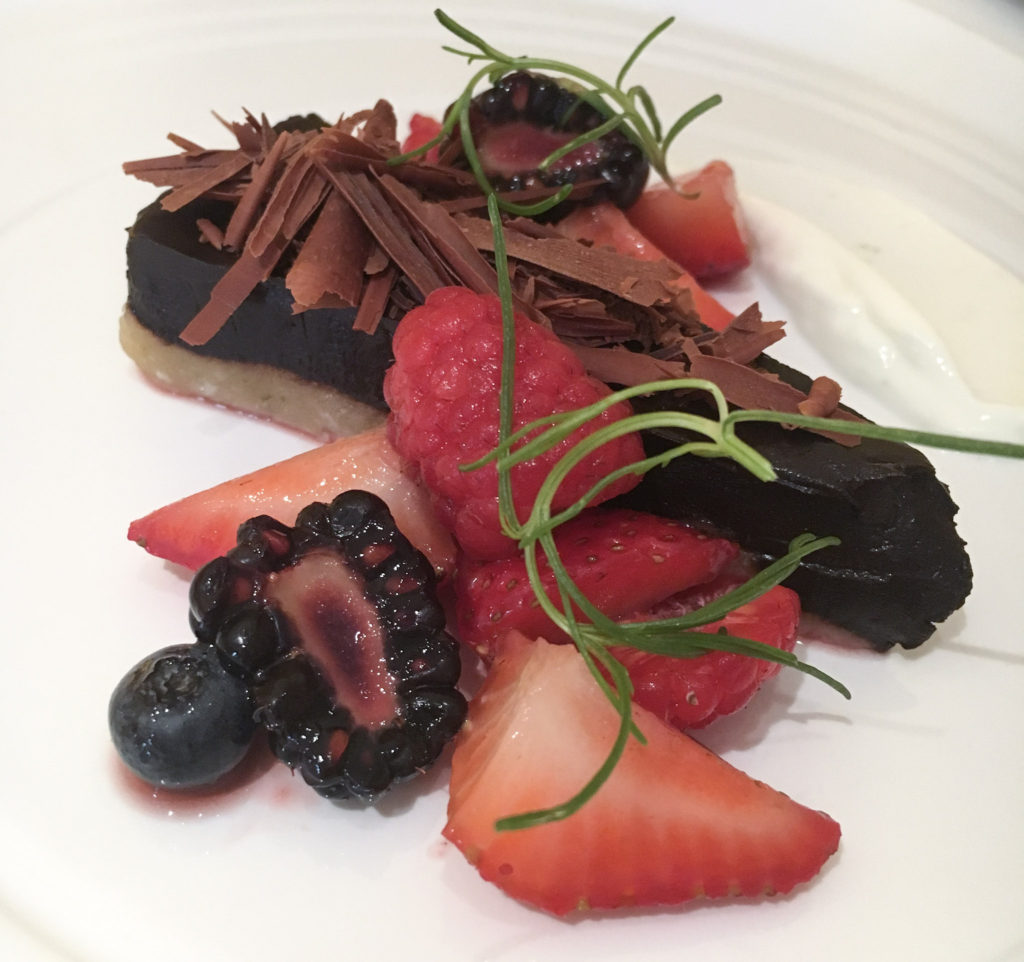 [Photo taken of the RAW Chocolate Pie at Clement at The Peninsula]
Bridger and I had The Peninsula hold our bags during lunch and also after lunch while we ventured to the top of the Rockefeller Center. Definitely worth the $32 per person fee to see the Top of The Rock. We heard from so many people to do this over waiting in longer lines and seeing fewer views at the Empire State Building. The Rock is 70 floors up and to me was the absolute best 360-view of all of New York.
Next on our list was checking in to our third and final hotel, EVEN Hotel in Brooklyn. We wanted a variety of hotels in different locations to really experience all what NY had to offer. We got to the new EVEN location, which was already very familiar to us with it being the same chain hotel as the night before. The location wasn't what I had hoped. Extremely minimal stores, restaurants, shops and not in the best part of town. Bridger and I figured this out while trying to search for somewhere to eat dinner. Pizza was on my mind, obviously because it's Brooklyn, but we couldn't find anything within walking distance! We ended up stopping at the first place we could find that looked appetizing, Brado to have thin crust pizza, a beer and hard cider and watched the first football game of the season.
Van Leeuwen Ice Cream was our treat for the night and was where I got to experience the best [VEGAN] ice cream I've ever had!!! The specialty vegan flavors are made with cashews, coconut and cocoa butter. I got the mint chip and savored every. single. bite. You guys have to go try. I wish I found this place sooner to try more of their mouthwatering flavors.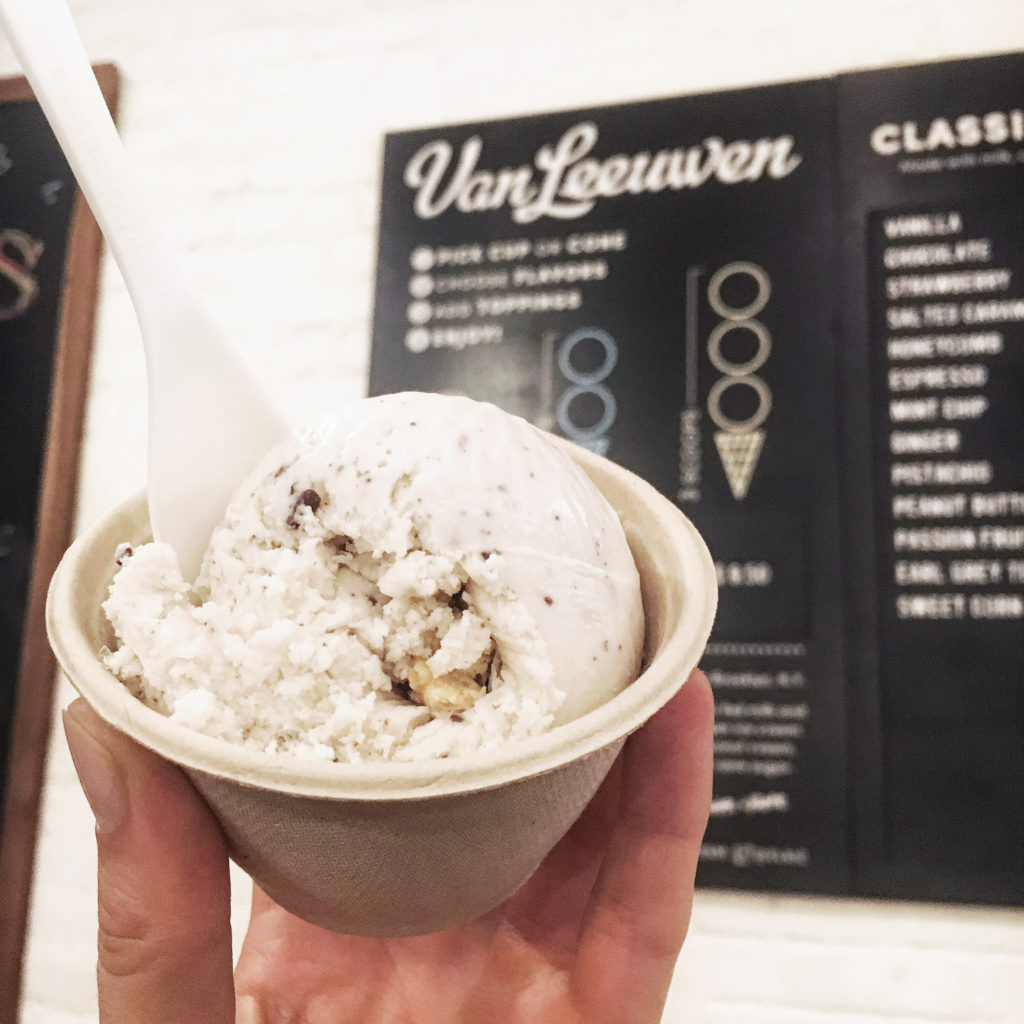 Day 6
Friday, September 9th I got up early to get a good workout in at the hotel while Bridger rested in bed with the cold I gave him. I followed my workout with a yummy breakfast from EVEN's in-house café. It was one of the only places I didn't have to make one single sub on the menu! Now that's really saying something coming from me. I got their Frittata and it was delicious.
After breakfast, we took an Uber to the start of the Brooklyn Bridge, walked halfway across to take photos and capture the views and then headed to Trader Joe's to gather some snacks for the plane ride home.
[Photos taken from the Brooklyn Bridge]
We flew Delta both ways and had zero problems. In fact, it was a much smoother travel experience than I thought it would be. I owe that to my ability to fall asleep on a plane within 2 minutes and to the individual television screens on the back of every seat offering a wide-variety of free movies, TV shows, games, etc.
My first trip to the Big Apple was a major success, I can't stop replaying every day in my head. I plan on visiting countless more times to try new eats and experience new things. See ya soon, New York City!
Highlights of the trip:
Becoming BFFs with Lisa and her boyfriend
Rooftop bar on The Standard
Running through Central Park
Hearing Dr. Oz say, "Rachael from Rachael's Good Eats"
FOOD
Overlooking the city from the Rockefeller
---