So, the whole thing about your home taking years to actually complete is a real thing. We moved into our house in July of 2021 and I can confidently say our downstairs living space (one side of it, at least) is finally complete after it being empty for a year and a half. Initially, I used our downstairs area for my live workouts on Instagram, which I'm sure a lot of you remember. I miss them! Thinking about bringing some more back in 2023 🙂
Anyways, I'm so happy about our new cozy sitting area in front of the fireplace. It turned out better than I had envisioned, and with the help of my design-savvy sis and cousin, it's finished!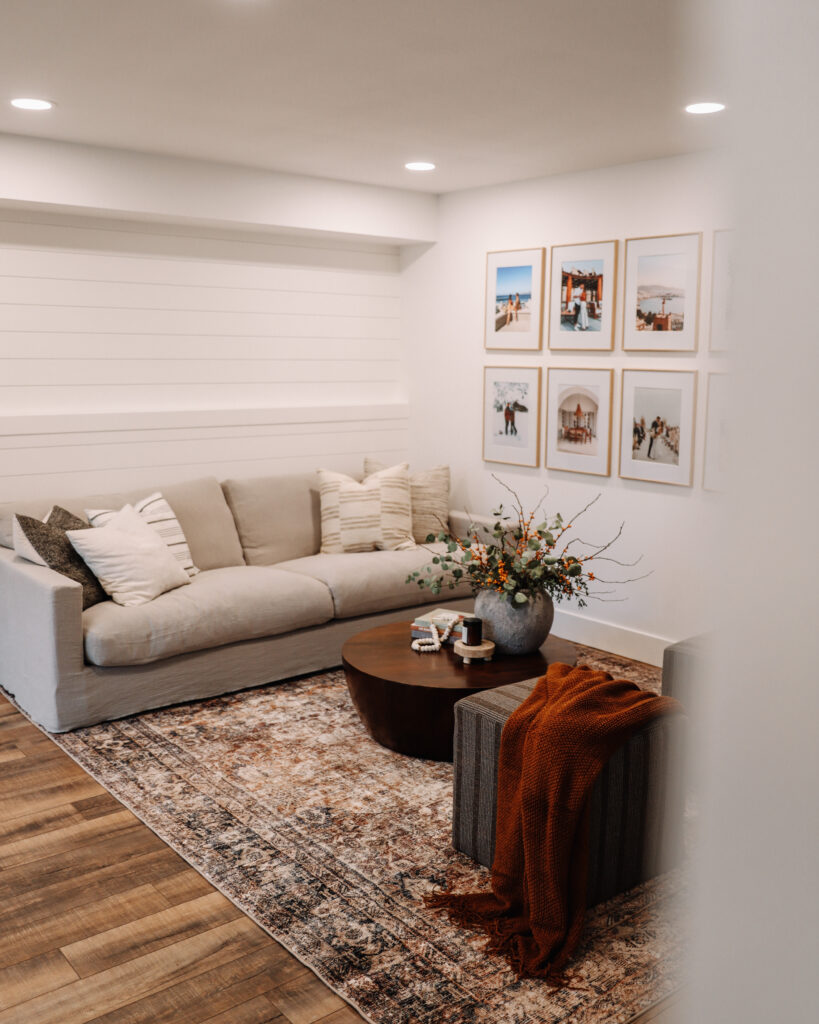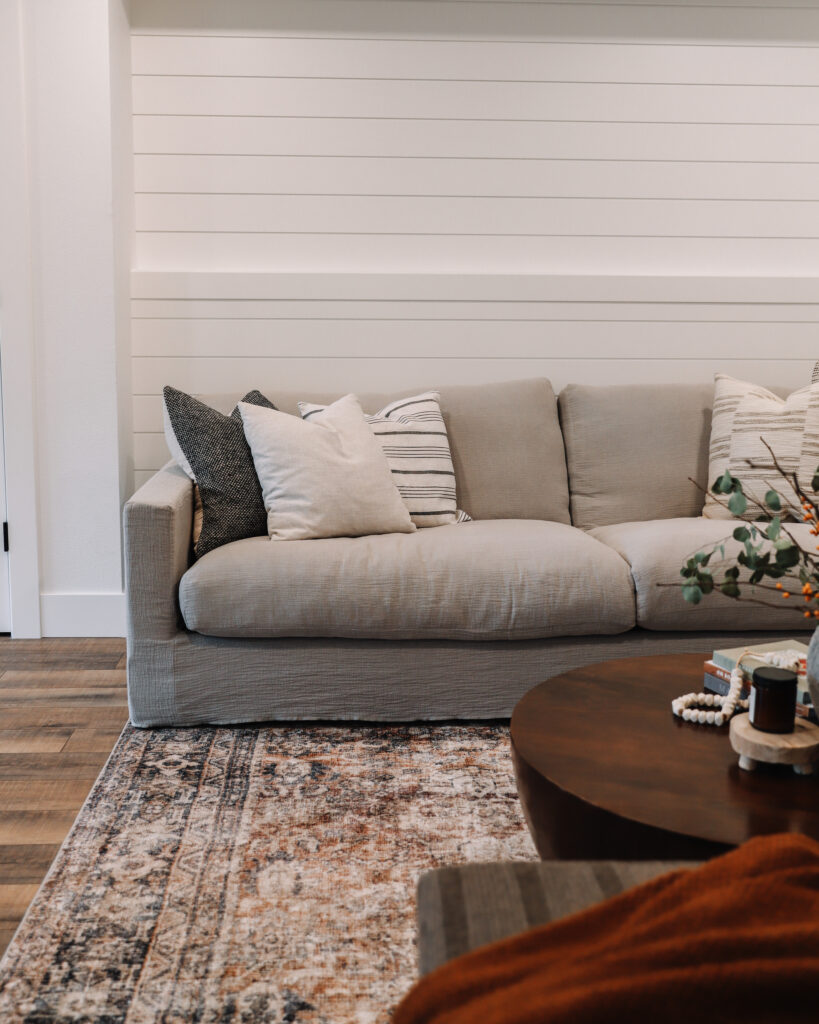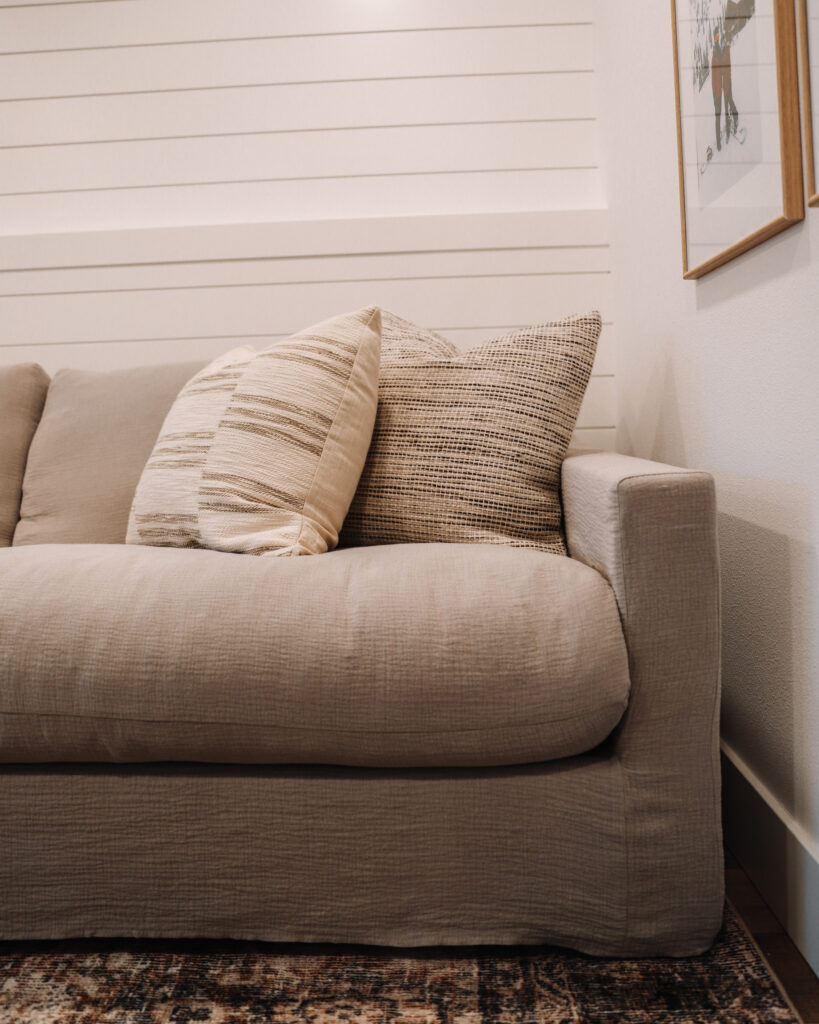 It all started with this sofa from Sixpenny. We have a small cubby along the shiplap wall and the measurements of this sofa fit inside it perfectly. We've had mixed luck with sofas in the past, but this brand always had great reviews, so I went with the Devyn Sofa in Blanched Almond, Washed Cotton Linen, feather down fill. When I tell you it's the nicest couch we've ever had (!!). Super plush and comfortable, even the arm rests are cushioned. The pillows and cushion covers are all removable and have zippers to wash, if needed. They have a wide selection on their site that are in stock and deliver within 2-3 weeks, which is what I went with. If you're looking for a couch or accent chair to fit your space, I highly recommend checking out Sixpenny. They're having a big Cyber weekend sale right now through 11/28 – 20% off everything. Click here. I'm dying to replace our couch upstairs now… maybe next year.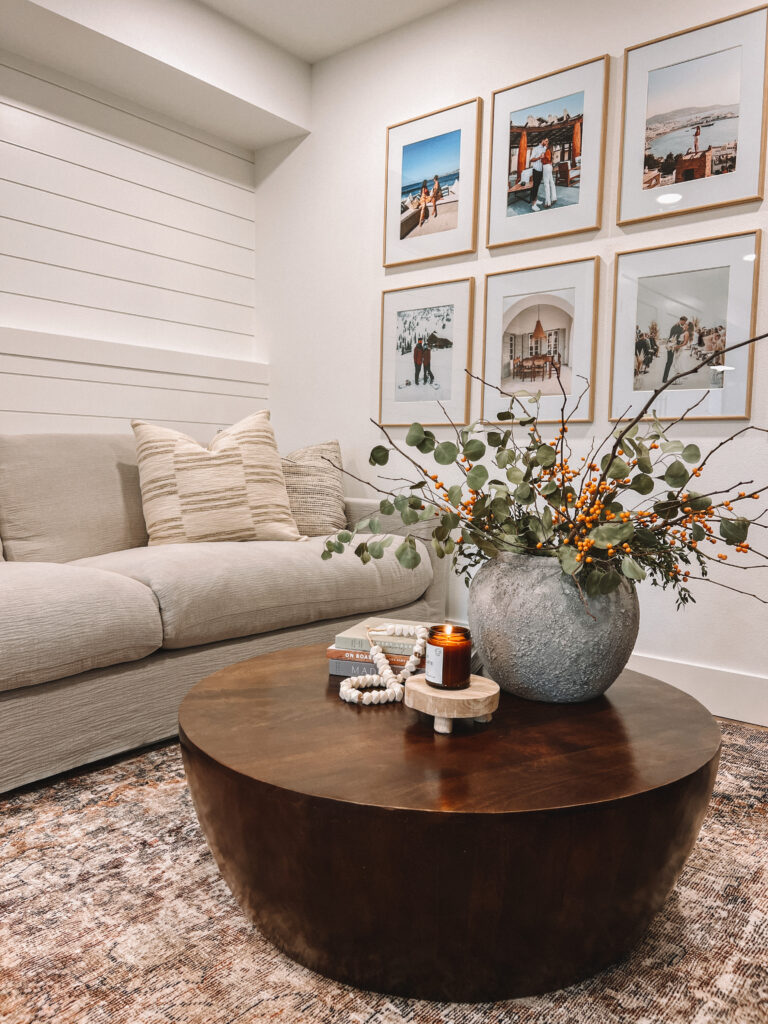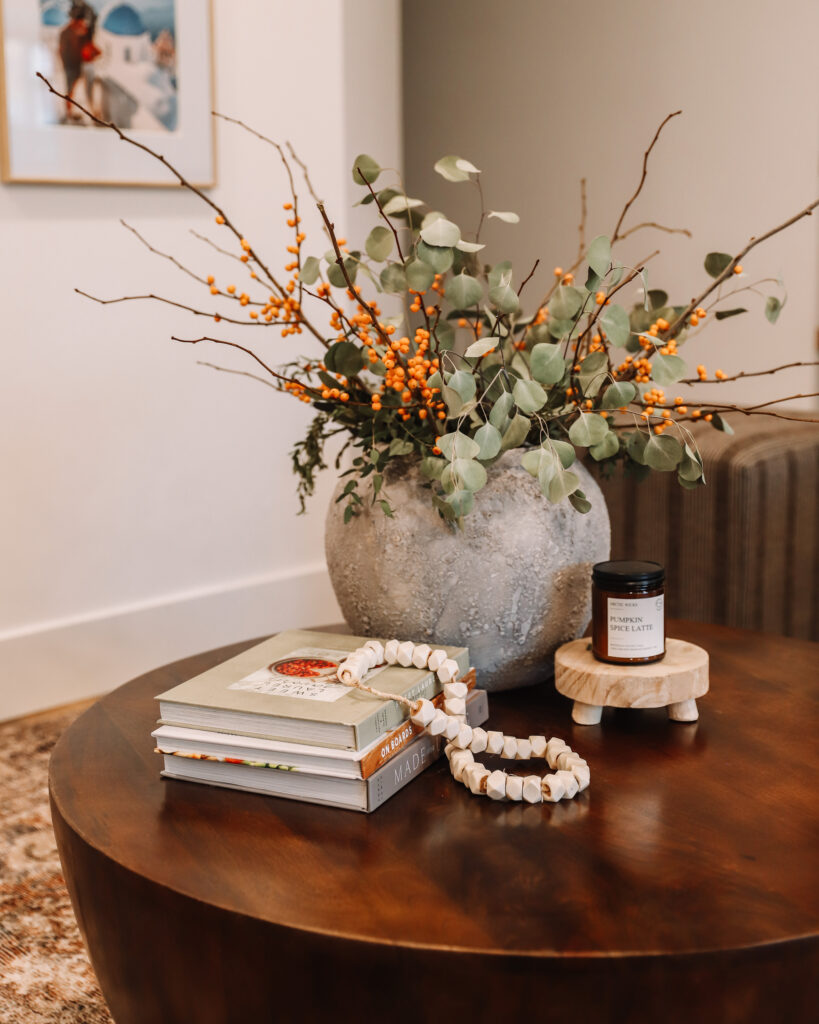 The coffee table was a great find, because I was initially looking at the one from Amber Interiors, but found this one at a much more affordable price and it looked nearly identical. I also love this vase so much. I filled it with greenery from a local supermarket (Met Market in West Seattle), and styled it with a few other books, pedestal and candle to complete the look.
The rug journey can be a long one and honestly, it was one of the reasons why I hadn't started decorating this place in the first place. Rugs always look so different online versus in real life, so it took three tries to get to this one (major sale right now). It has a rich, chocolatey feel, with some burnt oranges, greens, browns and reds. It gives this room a lot of character and ties in more texture to the space.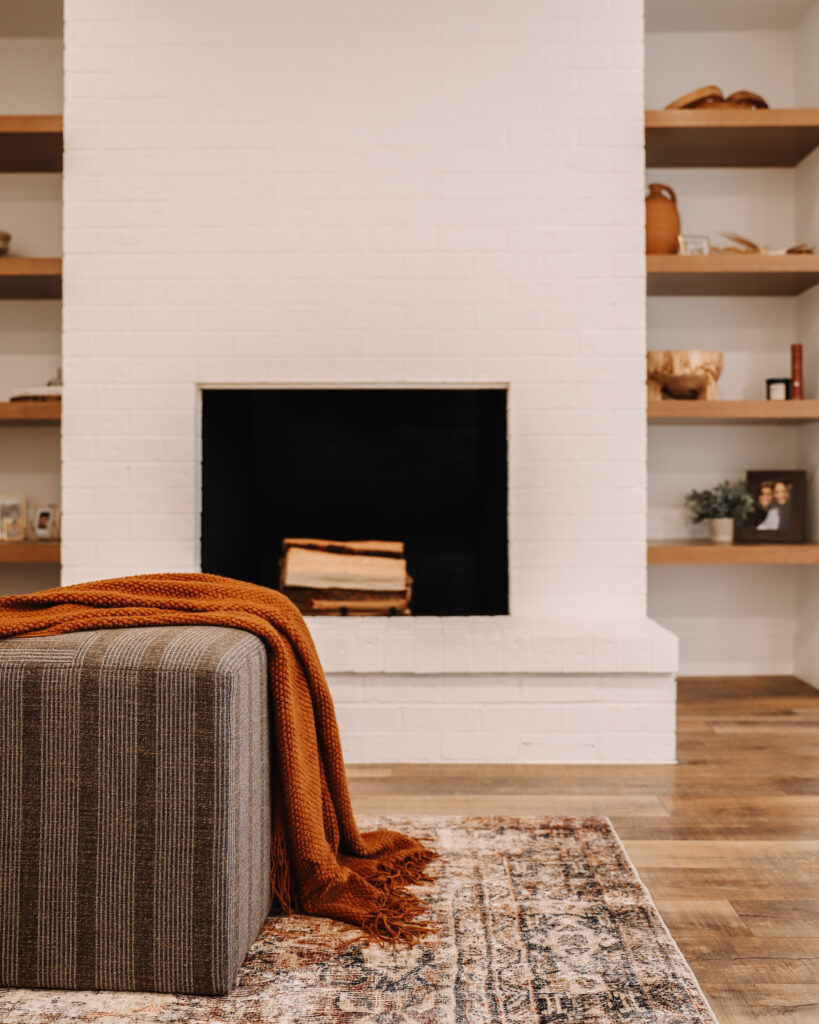 My sister recommended these ottomans for the opposite side of the couch for additional seating and I think they really round out the space. We opted out of a TV in this room so that it stays a relaxing seating and hangout area. I've been going down to the couch to finish work on my computer in the evenings and have been enjoying it so much.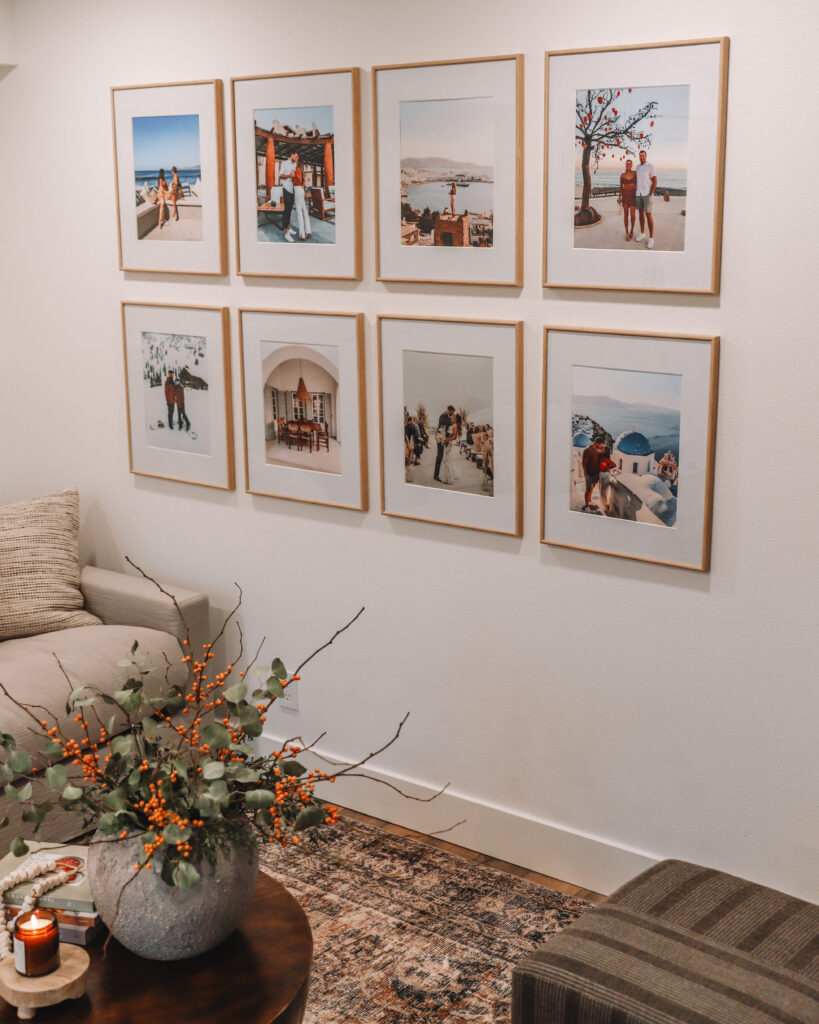 I've always been intimidated by any sort of gallery wall, but I'm so happy I did it! We don't have a ton of photos up in the house, so this is a really nice way to display them. There wasn't really a rhyme or reason in choosing the photos, just great memories and mostly from Cabo and Greece 🙂 I had the photos printed from Artifact Uprising. I've used them multiple times before for bigger prints, our wedding and honeymoon albums, and calendars as gifts. As for the frames, I linked them here and love them! I got the 16in x 20in matted 11in x 14in.

My sister showed me a genius way of hanging the photos so that they're in alignment. You take wrapping paper or a large roll of brown paper and lay it out on the floor with the picture frames over the top, measured out how you like them. I did two rows of four with each row about 2.25 inches apart and each column about 3.5 inches apart. You then trace the frames once they're in the perfect spot using a pen or pencil and add a dot for where the nail should hang (I was able to trace the entire top row of frames starting at the edge of the paper, then about a quarter of the second row underneath with the roll of paper I had). Then, you measure the wall and determine where the center of the gallery should be, taping the paper to the wall where you want them and using a level to make sure it's straight. From there, hammer the nails into the wall through the paper. Once they're all in, rip the paper off each nail, one at a time. Hang your picture frames and they should be good to go 🙂
It feels so good to finally have this space complete. One room left by our wet bar downstairs. Stay tuned! xx