Booking our last minute tickets to San Francisco was probably the best decision my boyfriend and I could've made to celebrate the start of the new year. It was such a beautiful trip packed with yummy food, lots of walking, site seeing, football and of course, Uber rides.
Initially, we looked at tickets to go to the 49ers vs. Seahawks game at Levi Stadium and thought we might as well make a fun New Year's Eve weekend out of it. It turns out tickets for the football game (second row in the end zone) plus flight just so happened to be less $$ than it would be to buy tickets for a Seattle Seahawks game! Just goes to show who the winning team is 😉
Me being the "let's get there the earliest we can so we have the ENTIRE day to explore" planner-type person I am, thought it would be a good idea to catch the 5:50am flight out of Seattle to arrive in SF at 8am. It was not a good idea. Getting up at 3:30am was a little dreadful, especially when dealing with my boyfriend who can sleep all day, every day. Nonetheless, we both zonked the whole flight there. Upon arrival, we took an Uber to our hotel downtown, the Galleria Park Hotel, which turned out to be this amazing upscale hotel in one of the best parts of the city (the Financial District).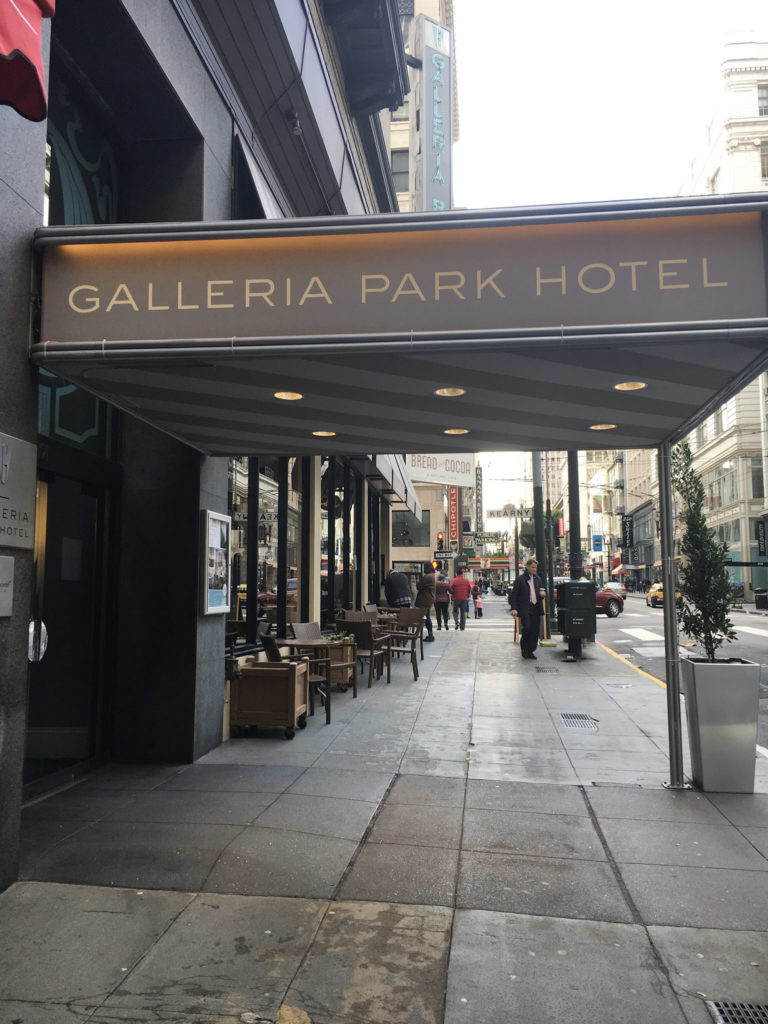 Our room was unexpectedly ready at 9am so we took another nap (not my idea) before putting our tourist-snug shoes on.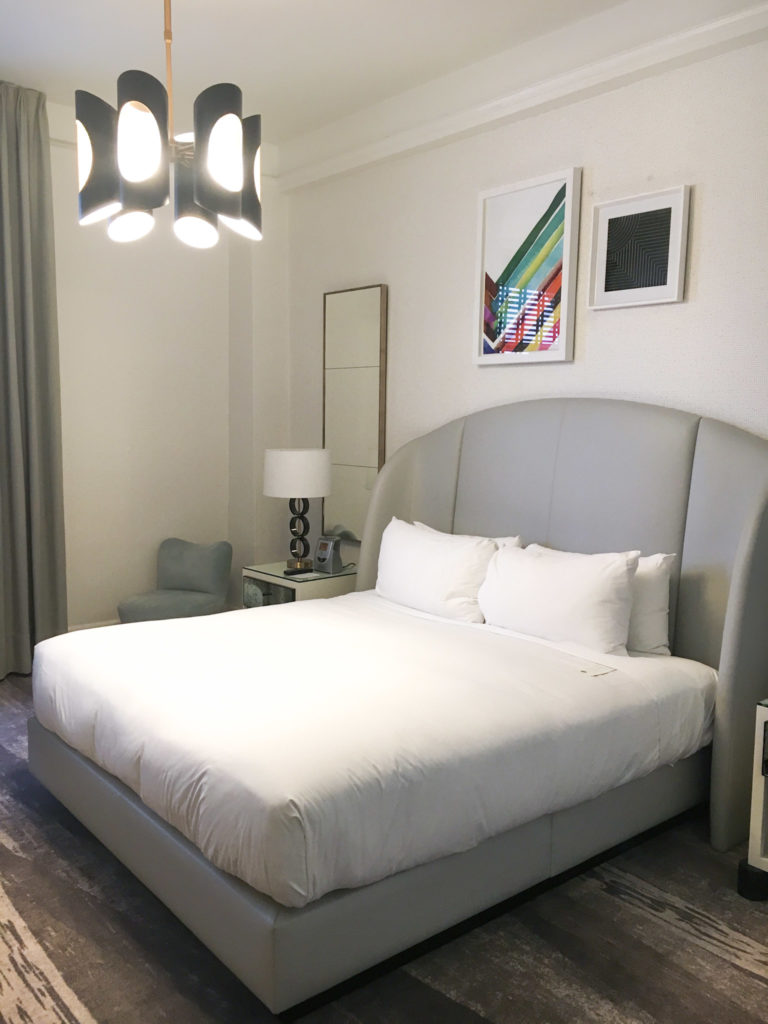 Jane on Filmore was the first on my list of recommended restaurants/cafés to hit and it really, really did not disappoint. Sourdough avo toast with an egg for me—with pickled shallots and jalapenos—and a dragonfruit smoothie bowl for my big strong man.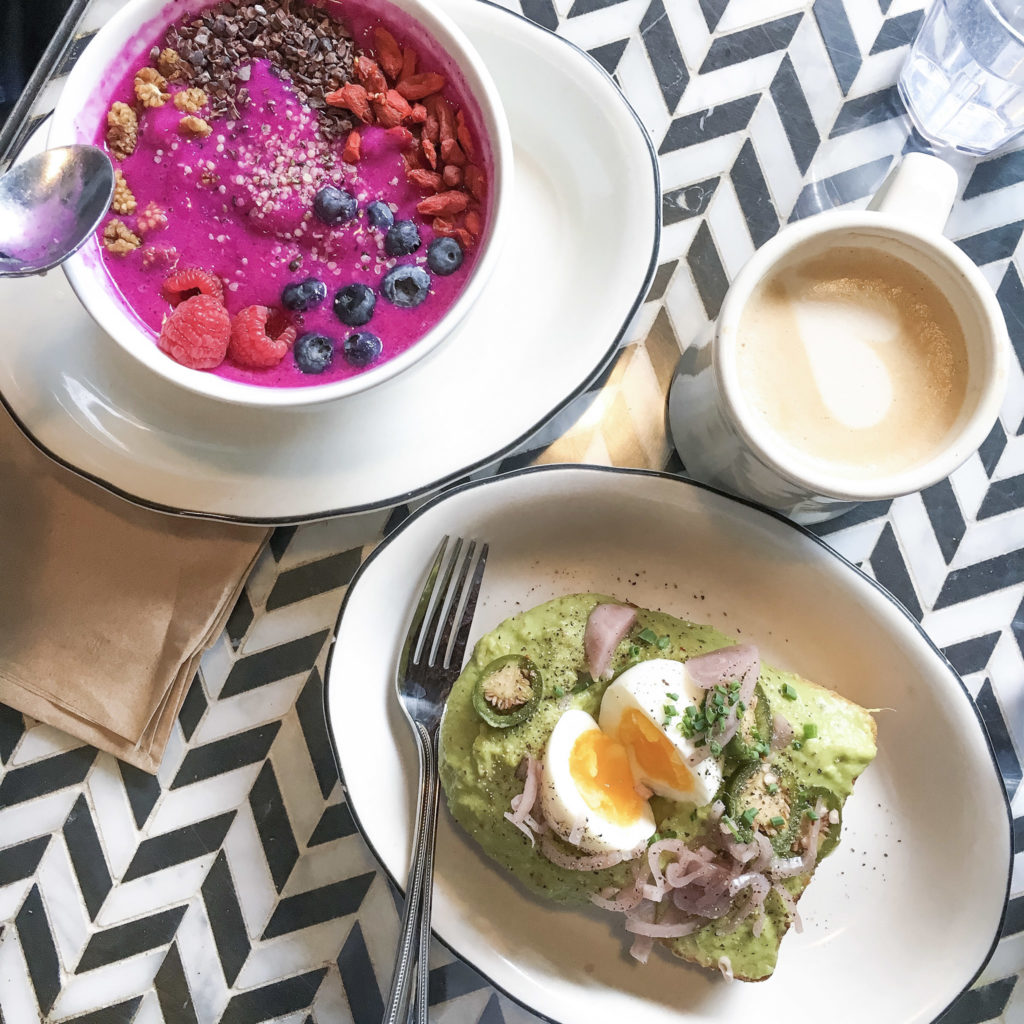 From there, we started walking and taking in what few sounds and incredible architecture the city had to offer. The quietness San Francisco was something we noticed right away. It wasn't anything I've seen or heard before. Nothing compared to the busy streets of Seattle, New York, LA or Boston. I loved it. Dogs were everywhere—on the streets, in stores while we shopped, all over the parks, etc. At that point, I was ready to cancel my plane ticket home and call SF home.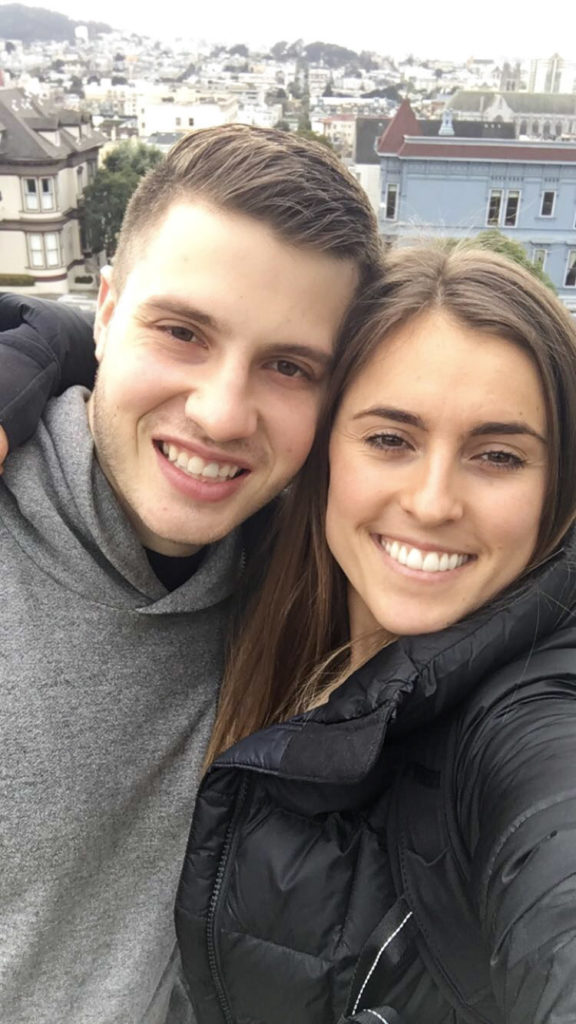 We made our way to the Golden Gate Bridge (Fort Point to be exact) to get a great view of the picturesque bridge in the distance. It must have been our lucky day because not one single fog cloud covered the bridge that day. I've wanted to see the Golden Gate ever since I was little so this really was truly the highlight of the trip for me. Boudin Bakery was next and an unplanned stop. It happened to be showing the Husky game on TV, which Bridger made apparent we weren't missing. No worries because we got to try their sourdough pepperoni pizza, hold the cheese…. amaze!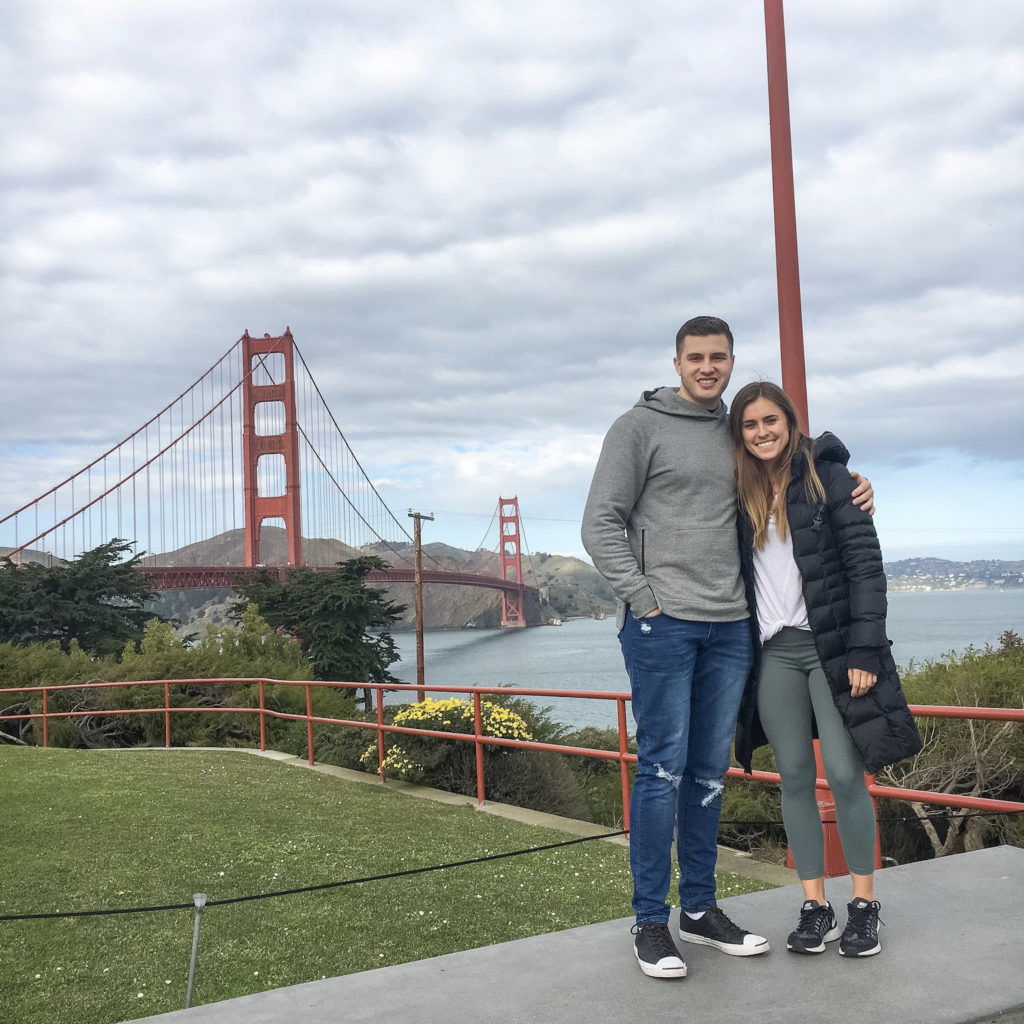 Lombard Street, the most crooked street in the world was several blocks away from the Wharf so that was our next destination. The hills in the city definitely lived up to their name. Some huffin' and puffin' later and we were there. Apparently, this street is much busier on holidays than any other time of the year, so it made sense why the line of cars was ridiculously long.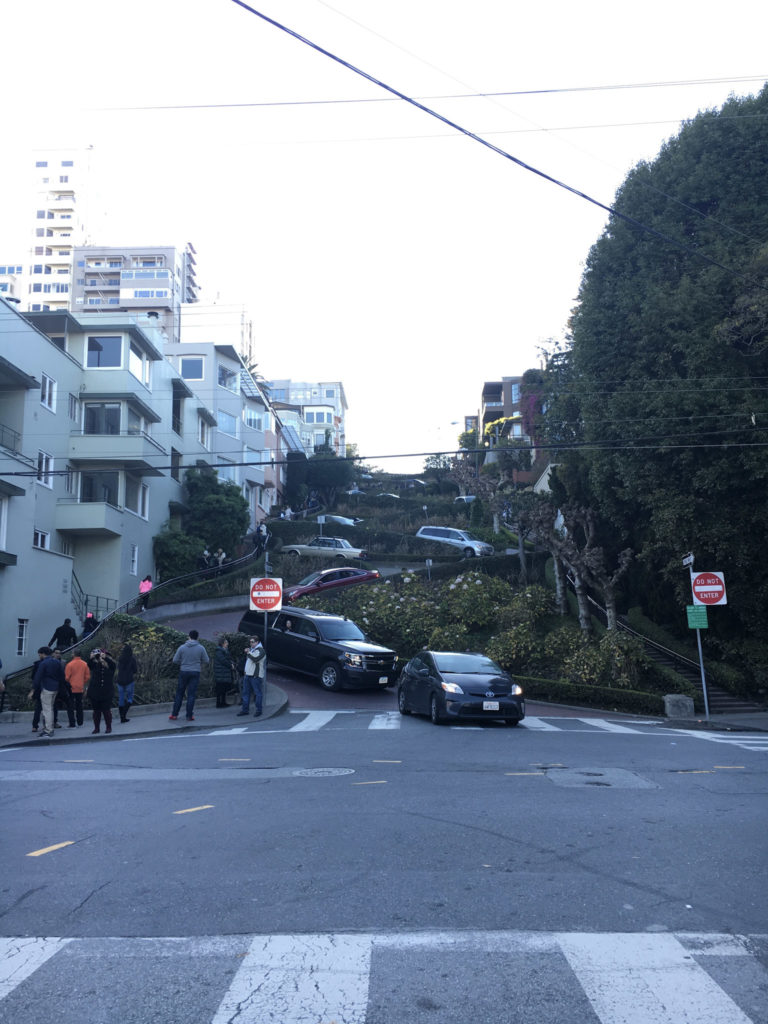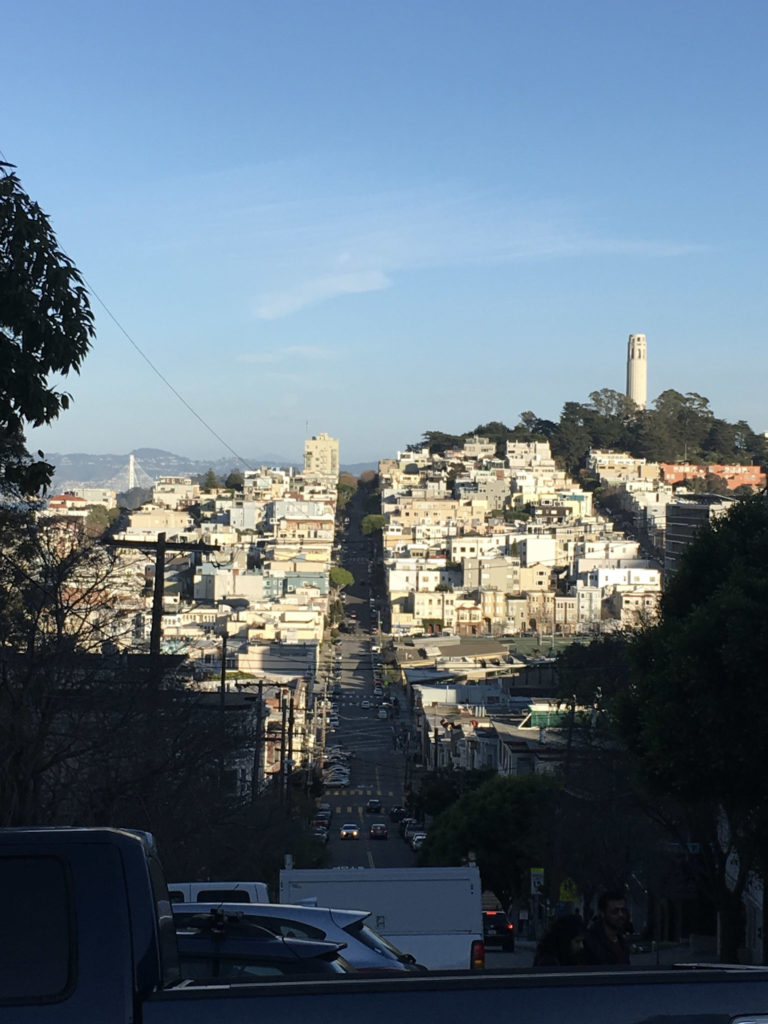 We walked twenty-somethin' or other blocks south towards our dinner res at Gracias Madre before calling an Uber to take us the rest of the way. Gracias Madre was one of the restaurants I didn't make it to during my LA trip earlier this Fall, so it was for sure making an appearance this trip. In contrast to the many recommendations I received for this spot, dinner turned out to be very sub-par. I get that it's an entirely vegan and organic Mexican restaurant (thumbs up to that), but my opinion of the food was that it was heavy and bland. Minus the black beans. The black beans were EVERYTHING. I got the mole enchiladas and wasn't blown away by them at all, though the chips and pico were pretty good for our appetizer. My poor boyfriend, too. Let's say he was in the dark when it came to me picking this restaurant and was a little devastated when I told him they didn't have any meat. Sorry babe 🙂
Keeping in mind this was New Year's Eve, we had our first dinner around 4:30pm at Gracias Madre then decided to go back to the hotel soon after to nap and recharge before staying up until midnight. It hit 8:30 and we were starving again so we eventually made our way to Union Square. The square was incredibly busy with people ice skating, walking, taking photos and, I'm assuming trying to find food as we were, too. We found Daily Grill open and snuck right in to find a table. We shared 5 sides, called it a night and went back to Galleria Park Hotel for a movie in bed and to shamelessly fall asleep 30 minutes before the clock struck midnight.
New Years Day was another long one for us. We got up early to catch the Cal train at 8:15am for the Seahawks/49ers game in San Jose. Those of you native to the San Francisco area may be questioning this move. No, it wasn't sketch at that time of morning. Thankfully, it carried many fans going to the same football game. We got off and took the VTA tram straight to the stadium to get dropped off. Tailgating included cornhole, tortilla chips, and good company with our family friends from home who traveled to this game as well. The Grad's, you guys are awesome. We headed inside to watch the players warm up before the game and interestingly enough, one of our friends had incredible season tickets to the 49ers game. 1st row in the end zone! Bridger and I snuck in with them to watch warm-ups and even got to high-five the Hawks as they ran out onto the field.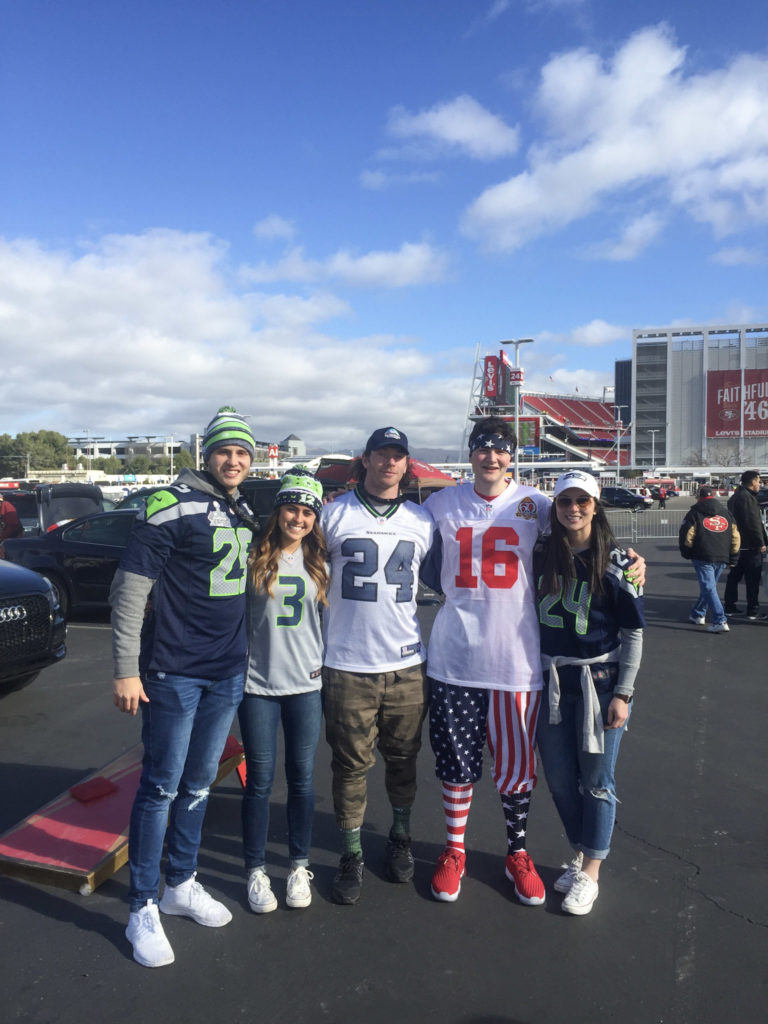 Once the game started we headed to our seats on the opposite side of the end zone in the 4th row. Still, such great seats. Seahawks WON, of course.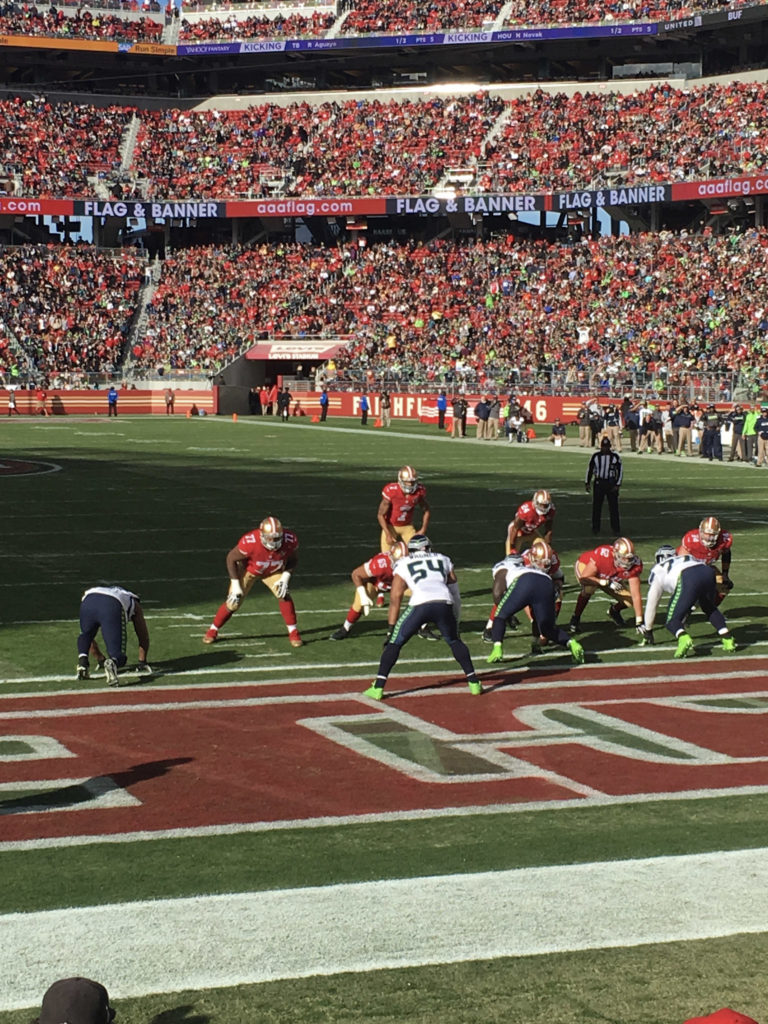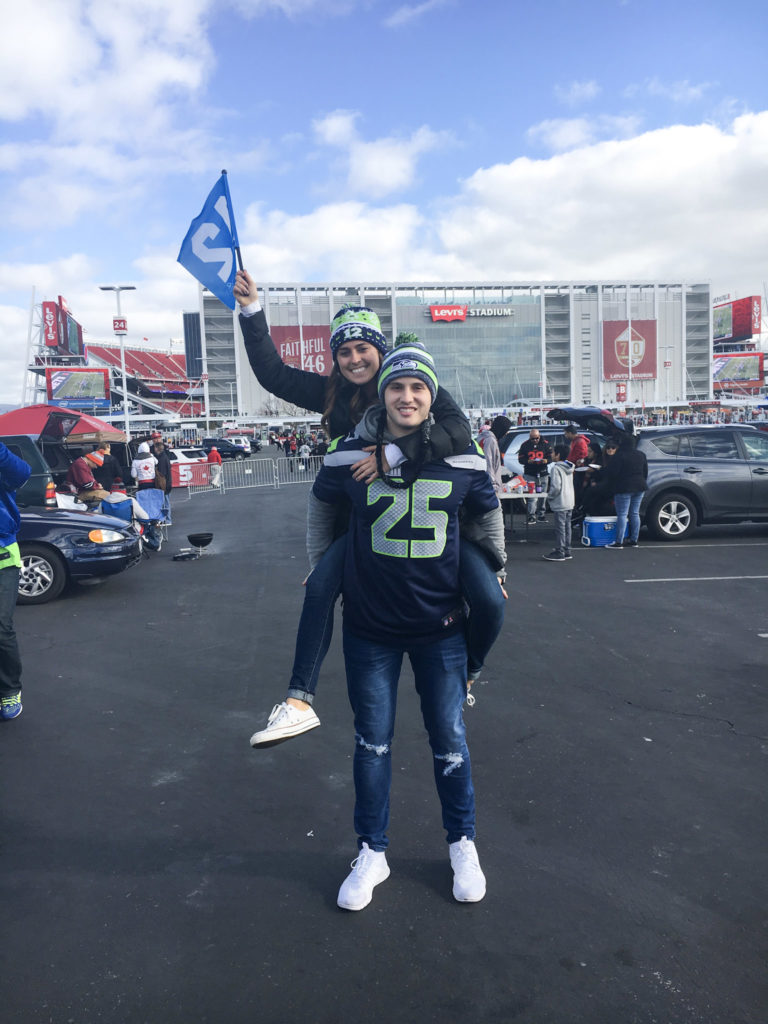 Pizza after the game was a must, then we Uber'd back to the city to our hotel for another relaxing night.
Monday was the last full day in the city, which meant we had to cram as many foodie spots in our schedule as possible. I got up early to get in a workout at the hotel and then was ready for food. First up, Plow, my #1 favorite restaurant while visiting! Breakfast foods with locally sourced ingredients—- to die for. I got the gluten-free almond flour pancake, 2 sunny-side up organic eggs and plow potatoes. Unreal delicious!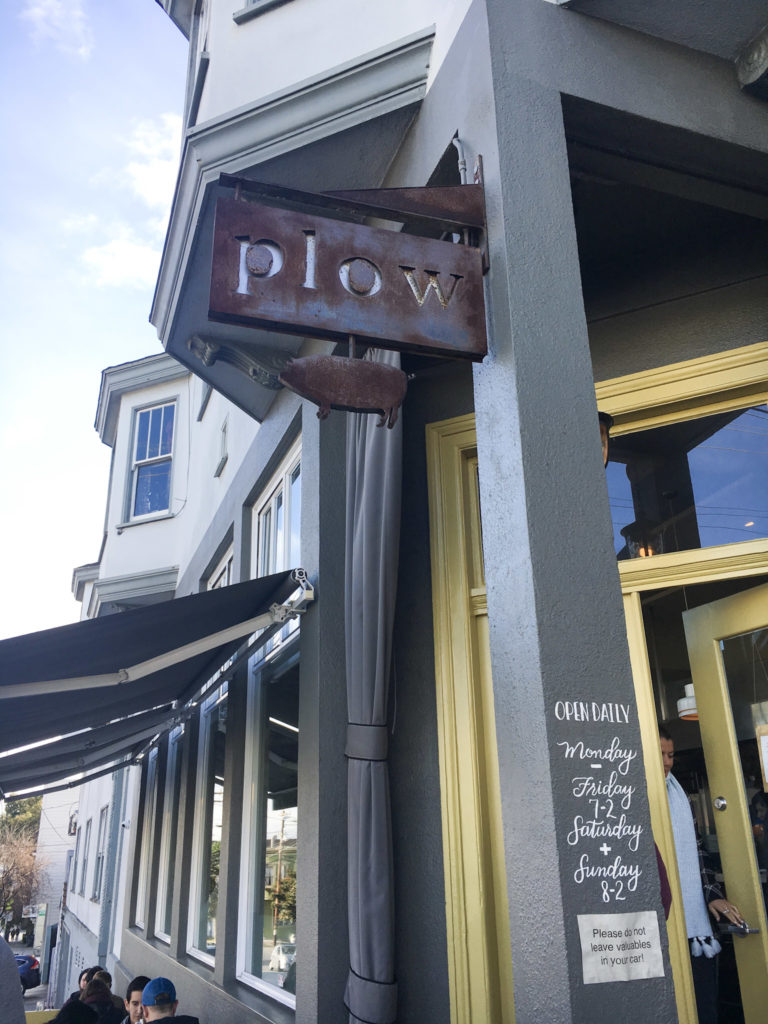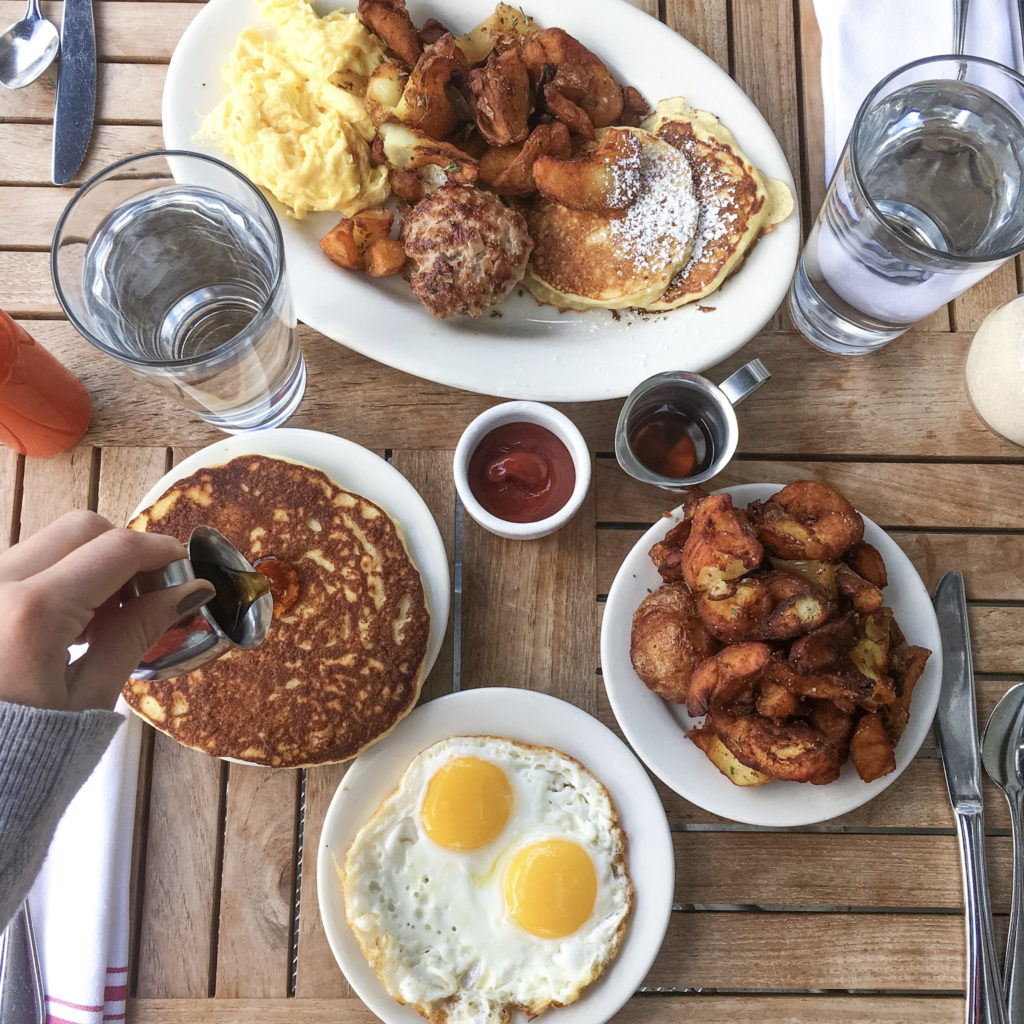 We shopped, we walked, we got green juices, then traveled across town to Seed+Salt for their famous chocolate chip and almond butter cookies. Getting to meet Rachel from Clearly Kombucha was a bonus too! I've been such a fan of that company ever since I started my account 2 years ago, so it was great getting to meet the creative art director of CK.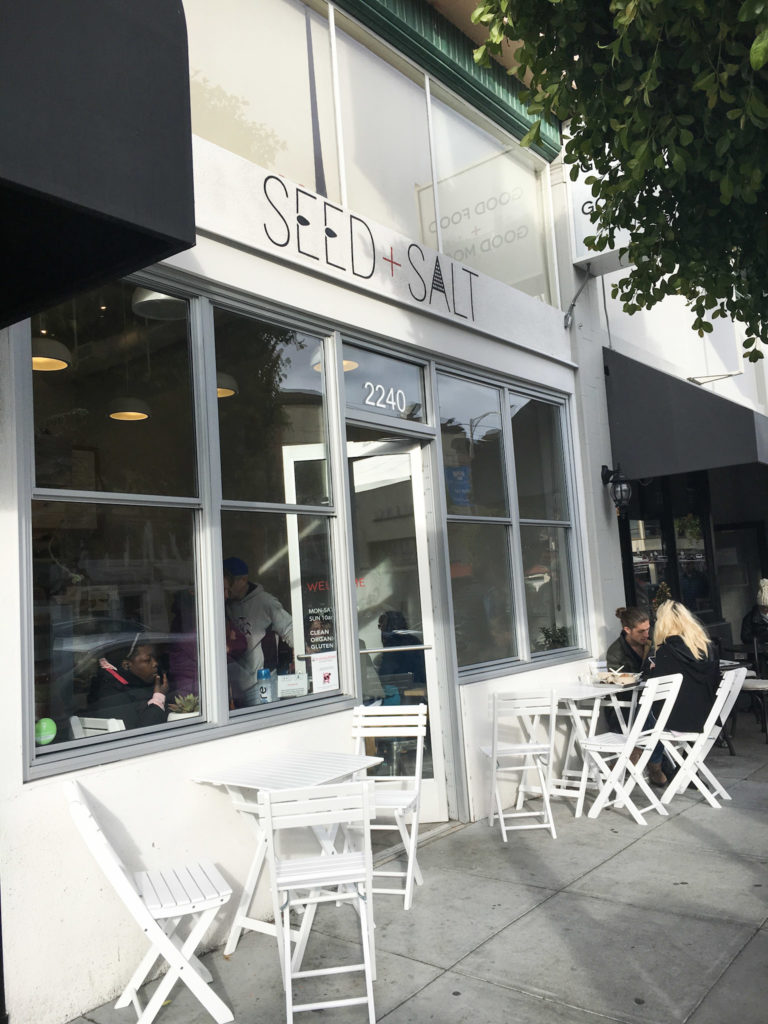 Dinner was Blue Barn, a great restaurant for salads, soups and sandwiches. It was very good. I got the tomato basil bisque and a wild king salmon salad! After dinner my mission was to find Bread SRSLY, locally made gluten-free sourdough bread sold in several markets across the city. I was successful and bought 2 loaves to bring back with me! We took it easy once again that night and ate our Seed+Salt cookies in bed knowing we had to be at the airport around 6:45am the next morning.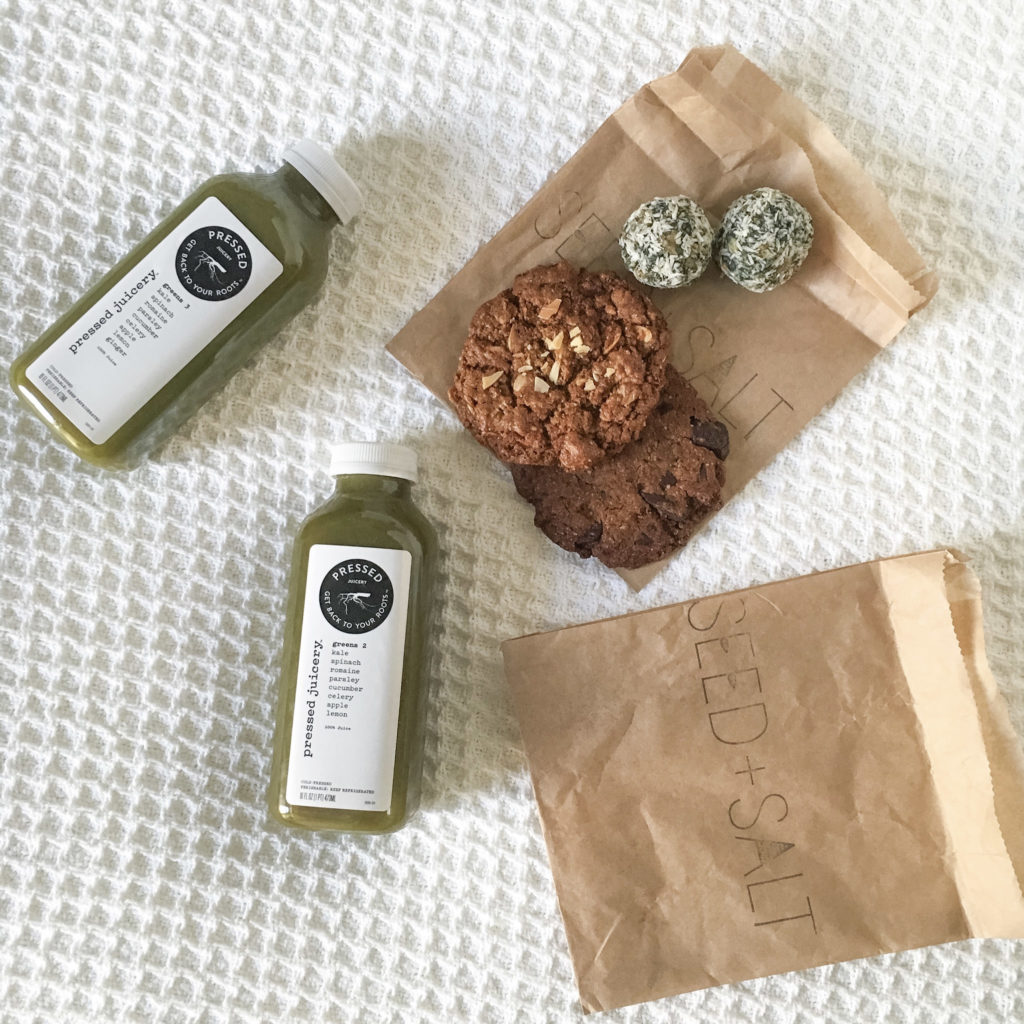 Wednesday we woke up, checked out of our amazing hotel and took an Uber to the airport to head back home to Washington. The plane landed in WA on the snow covered runway to 30 degree F weather.
I cannot wait to schedule another trip back to SF to rent bikes to ride across the bridge to Sausalito, visit Alcatraz and eat more of their delicious food and sourdough bread.
Places to eat/drink:
-Plow (for the almond flour gluten-free pancake and plow potatoes!!)
-Jane on Filmore (avo toast)
-Blue Barn (soup, salads, sandwiches—so good)
-Seed+Salt (COOKIES)
-Boudin bakery for sourdough
-The Mill (didn't have time but had rave reviews)
-Project Juice
-Pressed Juicery