These magical shortbread-like bars weren't meant to happen… but I'm oh so glad they did. My intent was to create a new batch of energy balls for the week and call it good. However, when I got to the end product I tasted the crumbly mixture that was in the bowl I was instantly blown away. I actually thought I had successfully hijacked the Vanilla Bulletproof Bar recipe without even trying to in the first place. A celebration was in order and I immediately recreated the same thing 2 more times in a row to find the perfect recipe.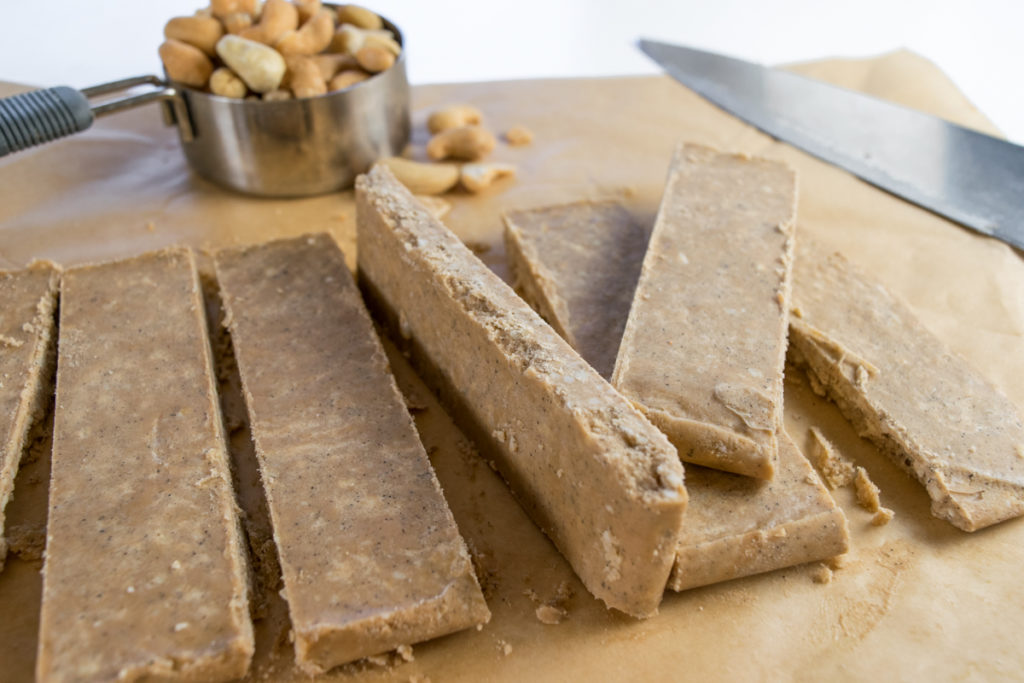 The sweet + salty roasted coconut butter adds such a decadent flavor yet it's only comprised of three simple ingredients– organic coconut, organic coconut sugar and Himalayan sea salt. The ground cashews and vanilla bean give it a fresh hint of flavor and the addition of the Brain Octane supply a quick source of energy from fat instead of sugar.
These bars are very low in sugar and can be made completely sugar-free by replacing the sweet + salty coconut butter with unsweetened coconut butter.
I keep them in the fridge to prevent them from losing their shape, keeping their crumbly texture and lasting for up to 5 days.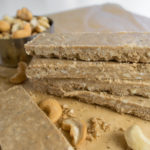 Sweet + Salty Coconut Cashew Bars
Ingredients
1/2

cup

+ 2 tbsp

melted Sweet + Salty Eating Evolved Coconut Butter

1/2

cup

raw cashews

3/4

tsp

fresh vanilla bean

I used this

2

scoops collagen peptides

2

tbsp

MCT oil

I use Bulletproof Brain Octane

1/2

cup

coconut flour
Instructions
Melt enough coconut butter in the microwave or over the stove until it fills a 1/2 cup scoop.

Add cashews to food processor or high powered blender and pulse until you get a somewhat fine consistency.

Pour melted coconut butter and cashew flour into large mixing bowl with remaining ingredients and stir thoroughly.

Cover an 11in x 5in loaf tin with parchment paper, pour mixture over the top and spread out evenly using a silicone spatula. Leave 3 inches of extra space on one side of the tin to prevent the bars from being too thin.

Place in the refrigerator for an hour and a half to harden. Remove the block of bars by lifting on either side of the parchment paper and place on a cutting board. Using a knife, cut into 7 bars. Eat immediately or store in refrigerator in glass tupperware or

Stasher bag

for up to 5 days.

**For sugar-free version, use Eating Evolved's unsweetened roasted coconut butter