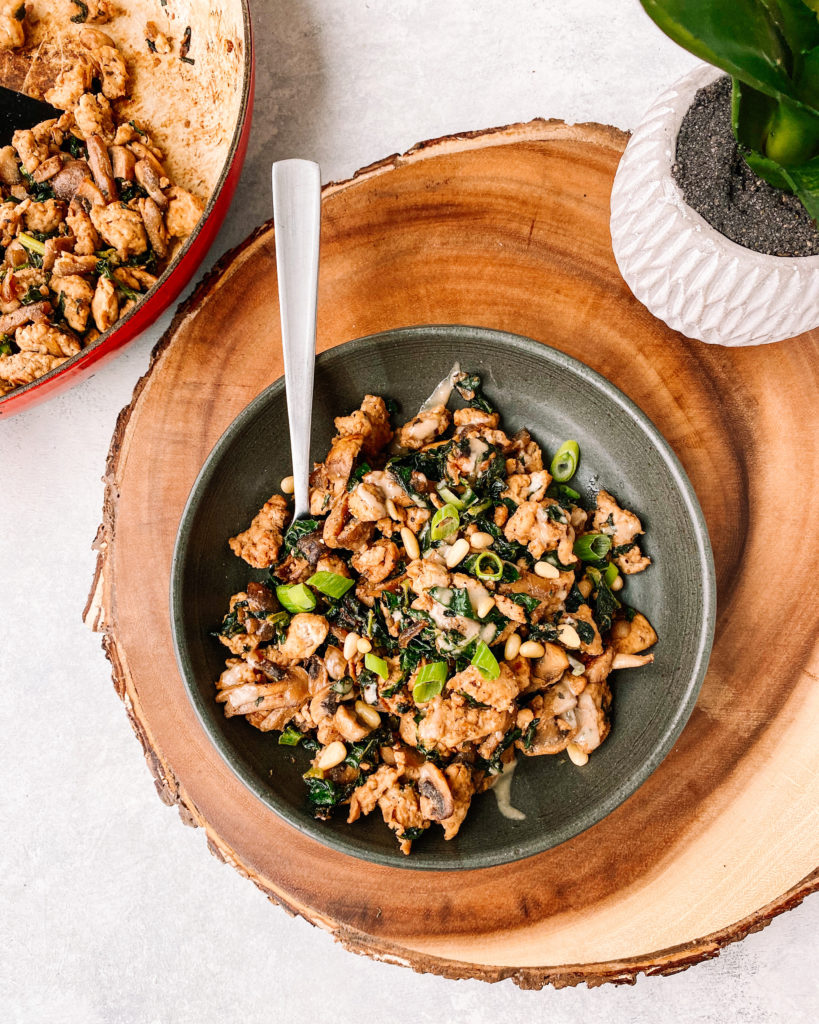 If there's one thing that makes me feel successful in this life, it's when I've hit a winning recipe with Bridger. I mean I think most of us can agree our S/O (or children lol) can be picky when it comes to healthier foods or making sure they're eating their veggies. Thankfully, Bridge is pretty easy going whenever I'm cooking, but I will say I know exactly when I got it right and that's the case with this one!
I love following my friend Kelly from @BeWellByKelly. She's a celebrity nutritionist and really knows her stuff, especially when it comes to recipes! Check out her website for more nutrition info + recipes. She posted this one on her page a while back and I think I've made it 5 or 6 times in the last couple weeks of discovering it. The flavor is just incredible and it's wild how you can't even tell there's kale in it. P.s. I don't even like kale and I'm obsessed with this dish!
It takes just a handful of ingredients and only 20 min in the kitchen and you have the easiest & best dinner, lunch for the next day or even snack! We've eaten it chilled just out of the fridge multiple times because it's that good. Perfect for those of you who need to take lunch on the go to work or school.
The recipe calls for tahini, which is ground sesame seeds and coconut aminos, a low-glycemic, vegan & gluten-free alternative to soy sauce aka a staple if you've never used before! It also contains far less sodium and even includes 17 amino acids, the building blocks of protein in the body.
I modified a bit by adding a few cups of sliced mushrooms, pine nuts and green onion, but all can be swapped or taken out. Try it out for yourself, you'll love it!
OK this is actually convincing me to make this for dinner as I sit here writing this post at 6:32pm salivating at this photo.
Turkey, Kale & Tahini Dinner Bowls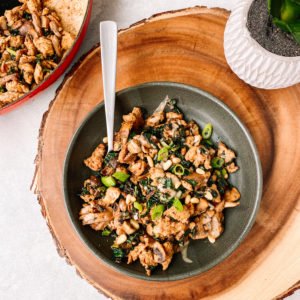 Ingredients
1/2

onion, diced

1

tbsp

minced garlic

2

tbsp

avocado oil

3-4

cups

sliced mushrooms

,

(totally optional- can leave out)

1

lb

organic ground turkey

1

big bunch dino kale, finely chopped

3

tbsp

coconut aminos

3

tbsp

tahini

pink salt & pepper, to taste
Toppings
1/2

cup

chopped green onion

3

tbsp

toasted pine nuts
Instructions
In a large skillet, sauté onion and garlic in oil until the onion becomes translucent, about 3-5 minutes. Add in sliced mushrooms + splash of water to help steam. cook on medium for several minutes, then add turkey to brown, followed by coconut aminos, finely chopped kale and seasonings.

Stir in tahini towards the end and then top with green onion & pine nuts. Enjoy!
what I used to make this recipe