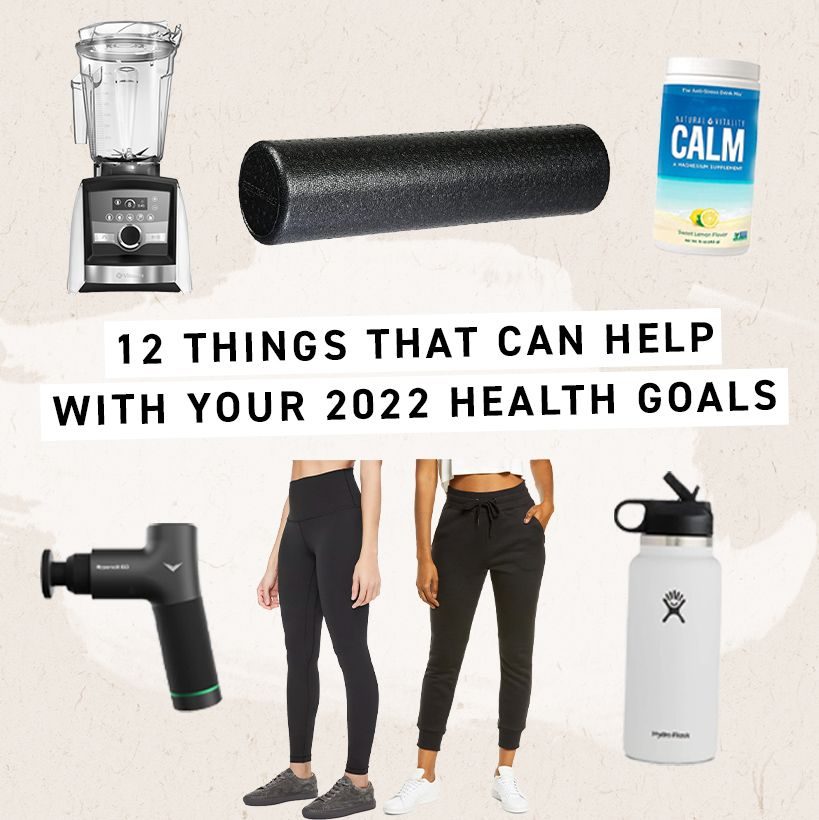 I shared my thoughts around How to Set Realistic Goals on the blog before the new year and now that we're about a week into 2022, I wanted to share some of MY favorite ways to keep up with health goals. I feel like most of us probably have at least one health goal a year…whether it's fitness, mindfulness, or nutrition-related so hopefully you find this helpful. I hear from a lot of you guys the usual health goals – like establishing a consistent fitness routine, learning more nutrition, getting better sleep, and ya know, all those basics – so that's what I focused on with these items. 12 things that can definitely help you real those 2022 health goals! YOU GOT THIS! 🙂

1. Recreation Sweat Mat: First thing's first, whether your current workout mat has seen better days or you don't own one, a mat will set the foundation for your workouts. Keep it somewhere that's easy to access and in a spot where you can easily roll it out to sweat. Your car, your garage, your living room, whatever. Obviously I'm sharing the new Rec Sweat mat which you'll LOVE 😉
2. Hydro Flask Water Bottle: If you've read any of my guides or really any of my nutritional blog articles, you know how I feel about hydration. It's CRUCIAL to overall function of your body. Not to mention what it does for your skin, digestion, etc. I've had this water bottle for years now and it's great for daily life, the gym, or travel. I find that having a dedicated water bottle/hydration goal helps to drink enough daily!
3. Calm Magnesium Supplement: I recently shared the 411 on getting good sleep and similar to water, it's one of the most important parts of a healthy lifestyle. Without it, everything else will suffer. If you have a goal of getting more OR better sleep this year, try this magnesium supplement. It's a natural, gentle method of calming your body before bed and it's a tasty little nightcap!
4. Foam Roller: You can read about how I foam roll and why I do it in this post but essentially it's helpful for your muscles AND it can help to avoid skipping workouts due to soreness.
5. NutriBullet Blender: Whenever someone asks me about a quick and easy tip to being healthier, I recommend smoothies. Making the switch to a smoothie for breakfast or even adding in a green smoothie daily can be a game-changer for your health goals. It's an efficient way to sneak in a ton of nutrients and if you need something on-the-go, you can't beat this blender.
6. Align Leggings: This might be *very basic* but let's face it…it's easier to workout if we like what we're working out IN, yeah? I'm mainly talking comfort level. I'm putting these leggings on the list (which literally feel like nothing and are the MOST comfortable leggings you'll find) because I think having comfy activewear is KEY to getting motivated to start AND to finishing the workout.
7. Vitamix Blender: YOU ALREADY KNOW how I feel about the Vitamix blender <3 <3 It's one of my top cooking and kitchen essentials so if you're looking to cook more this year…which is usually in itself a healthy habit…it might be time for a Vitamix. Also, if you're making a smoothie for more than one person, I'd use this. The NutriBullet is great for busy mornings but nothing will blend a smoothie like the Vitamix.
8. Exercise Mat Tiles: Like I mentioned in #1, a mat is a great foundation (literally) for workouts. If you want even more structure for including workouts in your day, I'd recommend a home gym or ANY small area of your house where you can create a mini-gym atmosphere. We used these mats in our garage aka our home gym. And lemme tell ya, having a dedicated workout space that actually feels conducive to sweat sessions is awesome for keeping up the habit.
9. Speed Rope Bundle: We were super excited to release our speed rope at Rec Sweat recently after I picked up a jump rope goal in 2021. Monday kicks off the 30-Day Jump Rope Challenge Ebook which you can join if you're looking to switch workouts up this year- it's going to be fun challenge, I promise 🙂
10. Joggers: A regular workout routine is great but I also just try to MOVE as much as possible. Bridger and I started taking a ton of walks during 2020's quarantine and we really haven't stopped. One quick tip of mine is to find a few staple athleisure items, like these joggers, that set you up for more movement – whether it's walking to the grocery instead of driving, walking with a friend instead of going to dinner, or taking calls walking or even stretching from home.
11. Hypervolt Massage Gun: Bridger and I use this almost daily on ourselves to recover from workouts…and to be able to survive the next day's LOL. If you have any chronic tightness or discomfort in general, this thing is great for body relief – similar to what you'd get in an actual massage. It's a bit intense but also relaxing!
12. 7-Day Added Sugar Detox: The BEST way to kick off any health or nutrition goals IMO! Or if you have a goal of learning more about nutrition in general, this guide will help since I break nutrition down for you. I find it especially helpful this time of year and post all the holiday treats.