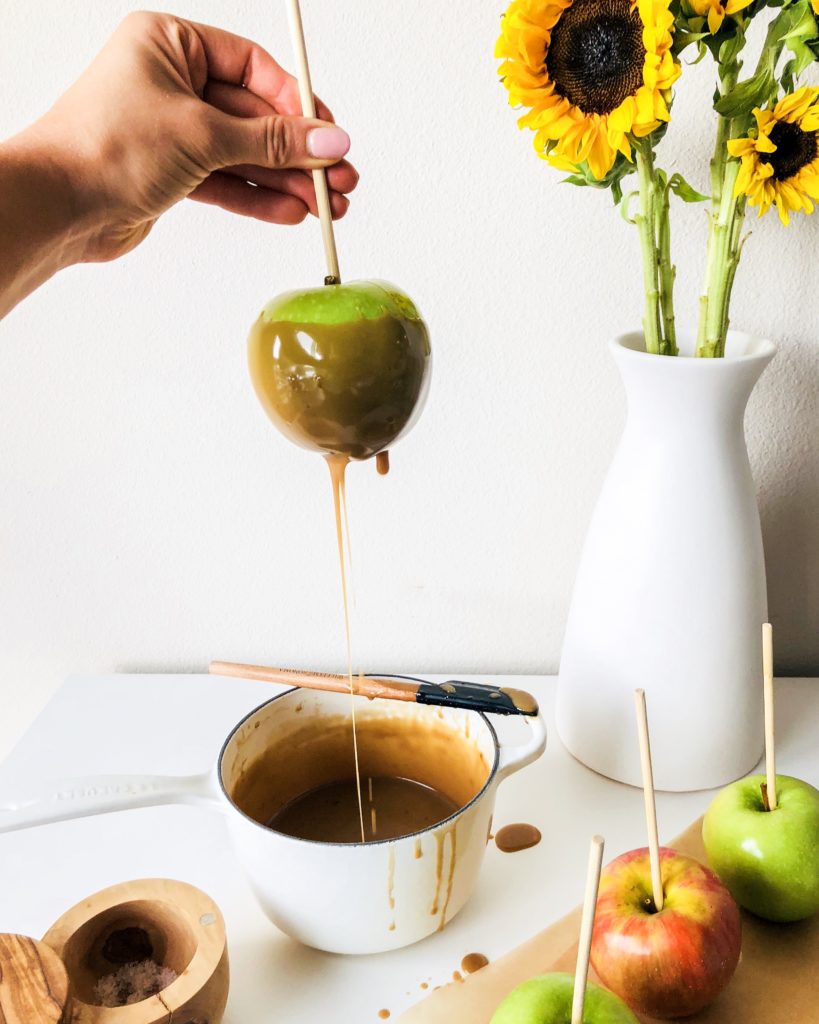 Once the rain hits in Seattle, usually mid-September, it's straight into fall where I'm predisposed to craving all the seasonal items… aka caramel apples always on my mind.
These would be what I would look forward to making at home with my mom every fall or what I'd order at the state fair during my yearly visit. I just couldn't get enough! What's better than a juicy, in-season honeycrisp or granny smith apple tossed in sticky, sugary, caramel goo?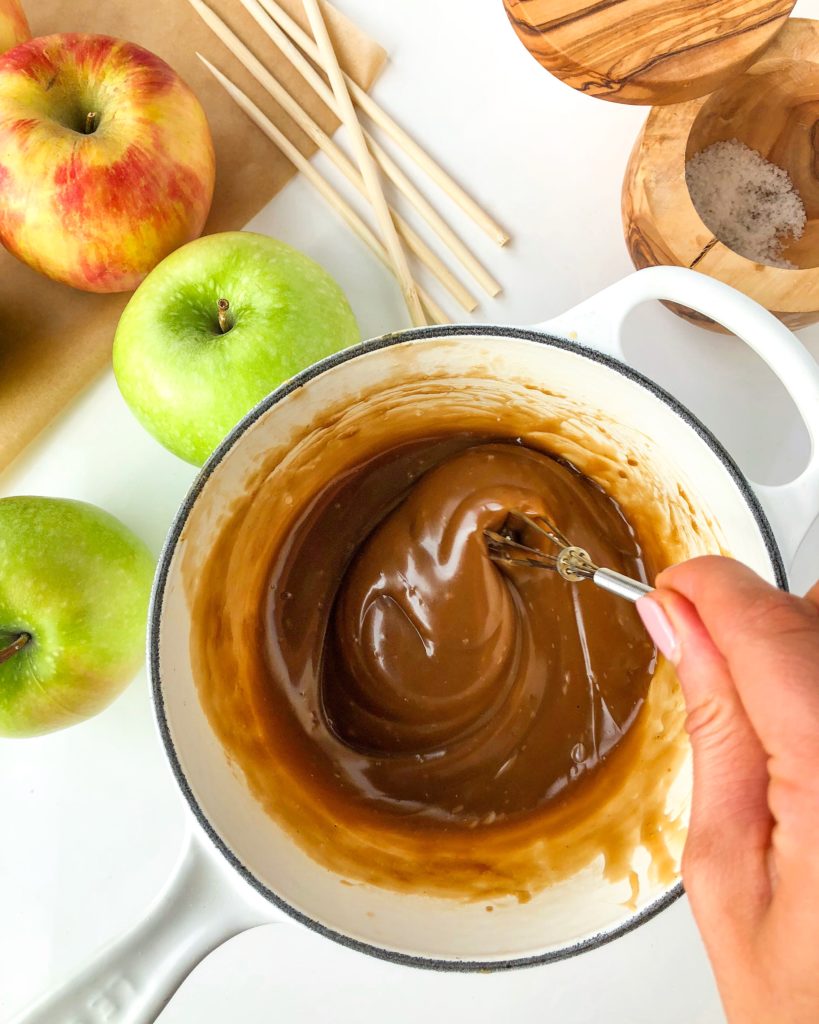 NOTHING.
If you guys are a follower of my page, you know I love healthifying my favorite childhood classics using better, healthier ingredients. I love it! It makes me feel good about eating it, there's typically a dozen fewer ingredients involved, and honestly to me, most things taste better anyways.
Creating this healthier alternative caramel sauce was huge because now the possibilities for desserts needing caramel are endless…. 😉
I hope you all love it as much as I do and please comment below if you make so I know how it goes! xx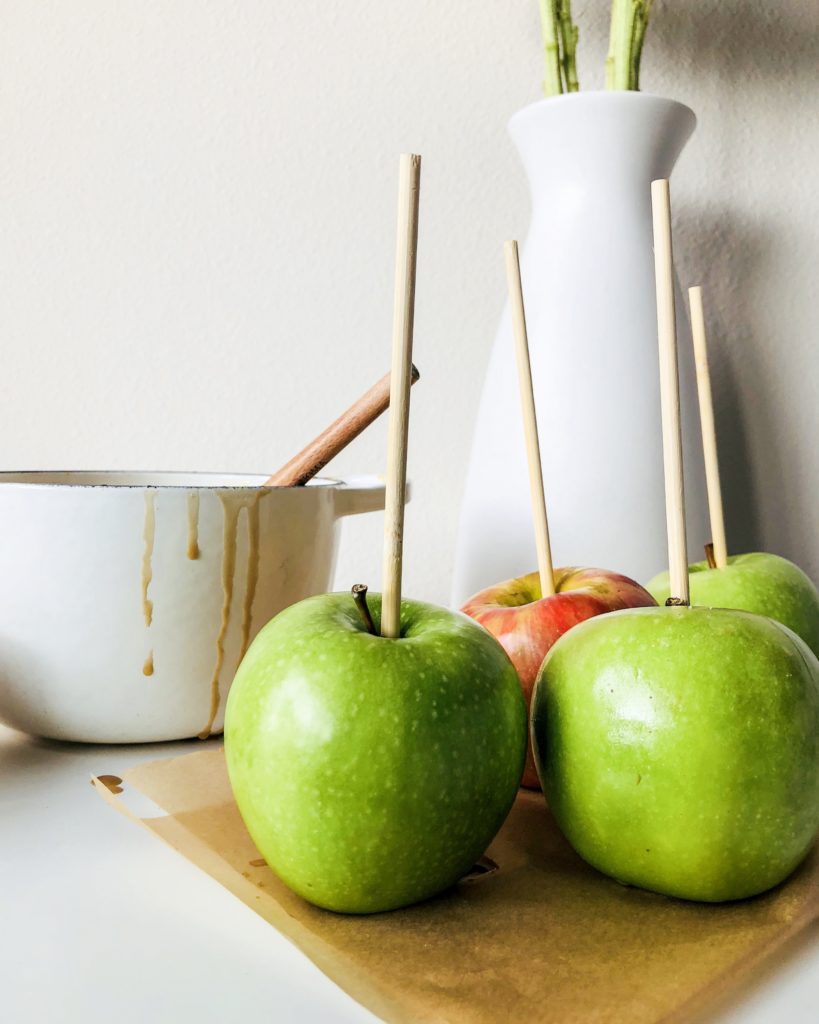 A Few Things To Note–
– I tried this recipe using maple syrup and it did not work
– the thick part of the full-fat coconut cream or coconut milk is preferred! I tried using the liquid part of coconut milk and it did not turn out properly
– I tried at LEAST a dozen things in order to make this caramel stick well to the apples… none of them worked. I was convinced it was the waxy coating on the apples, but after testing out a handful techniques to remove the wax, I came to the conclusion my version of caramel is just too viscous to stick to anything. No worries! Apples dipped in the caramel sauce are JUST as good, if not better 🙂
Techniques I tried to make the caramel stick to the apples:
– let the caramel sauce cool
– keep apples at room temp
– chill apples in fridge for 20 minutes
– wash apples in mixture of water + apple cider vinegar + baking soda for 10 minutes then rinse/wash with boiling water
– wash apples then scrub with paper towel + lemon juice for acidity to remove waxy layer
– roll apples in almond flour then try to dip in caramel
– stick caramel in fridge for 15 minutes to thicken
– peel apple 3/4 the way up (as much as I'd dip into caramel sauce)
– scrub apples with kitchen brush, wash, then dry
5-Ingredient Healthy Salted Caramel Sauce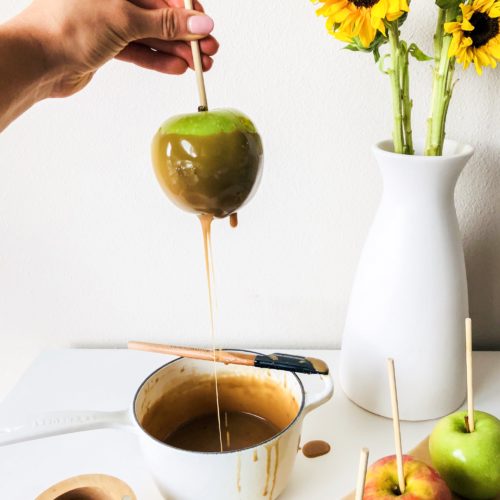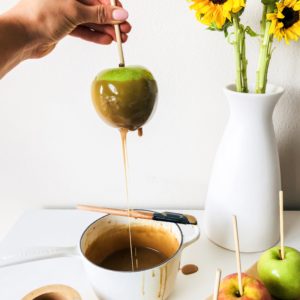 Ingredients
3

tbsp

coconut sugar

1

cup

full-fat canned coconut cream

,

(if using full-fat coconut milk, use as much of thick meaty part)

1

tbsp

arrowroot starch

1

tsp

vanilla extract

1/2

tsp

flakey sea salt
Instructions
Heat a medium saucepan on medium until warm.

Add coconut sugar, then coconut cream (or milk) and arrowroot starch over the top. Whisk together thoroughly.

Turn up heat and bring to boil.

Once gently boiling, turn heat to low, cover saucepan and let cook for 15 minutes.

Remove from heat, stir using silicone spatula, lifting any darker caramel stuck on pieces from bottom of pan.

Add in vanilla and sea salt and whisk vigorously for several minutes.

Can use immediately when warm, or let cool, then store in glass container/mason jar in fridge for up to 2 weeks. Enjoy!