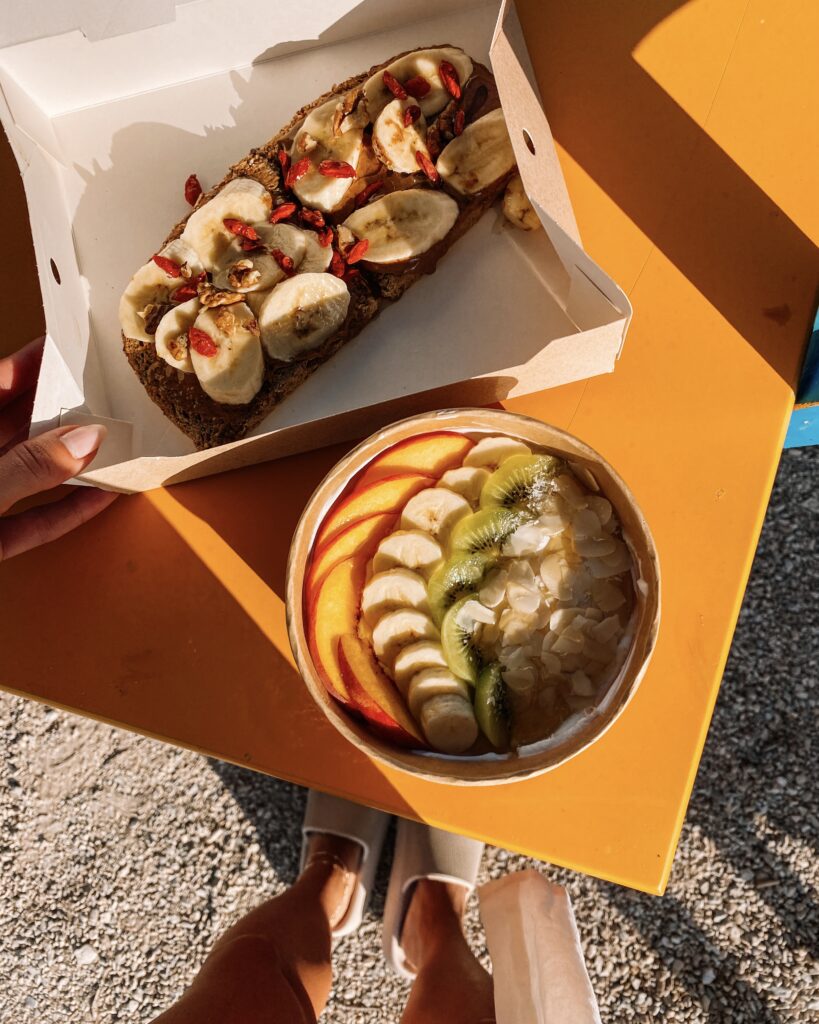 If you're on board this round of the 7-Day Added Sugar Detox with me, getting through Day 3 is actually a major accomplishment. By this point I'm sure you've won many mental battles just by not giving into temptations, so be proud of that 🙂 Once you get over the Day 3 and Day 4 hump it gets easier, but I have a few snack ideas to get you through the mid-week hump.
5 very easy, satiating, added sugar-free snack ideas for you below. And don't forget, I have an entire tab on my website where I add every single recipe dedicated to my recipes with zero added-sugar, though most of my recipes (sans baking) are typically always in this category 🙂
Hard-boiled eggs or Avo Egg Salad. Certainly, hard-boiled eggs are not the most glamorous snack, but nothing curbs a sugar craving like quality protein and fat, which will actually satisfy your hunger. Hard-boiled eggs are so easy to prep in big batches and my no-fail peeling method makes it easy to reach for when the hanger hits. Plus, eggs are literally one big multivitamin, so you can feel good about snacking on a couple of these per day, yolks always included! Click here for my favorite Avo Egg Salad recipe.
Chia pudding. First, double check that your milk of choice doesn't have any added sugars in the ingredient list. Then, 100% make this recipe (omit the maple syrup and choose added sugar-free toppings) and enjoy mid-morning, for a snack during the day, or even dessert with fresh berries on top. I actually have a major craving for chia pudding this week so I will def be snacking on this and making in the morning!
Coconut yogurt and granola. My homemade granola is a favorite on the blog, and for good reason! It's so easy and so tasty and the smell of the granola cooking is unreal! Make sure to omit the maple syrup in the recipe, and snack on it by the handful or pair with your favorite added sugar-free yogurt or nut-milk. The variety of nuts are sure to keep you full and satisfied and keep the hanger away. Coyo is my favorite plain unsweetened coconut yogurt brand.
Veg and dip. Make yourself a cute afternoon snack by peeling and chopping your favorite veg and serving with hummus or mashed up avocado. I love bell peppers, carrots, jicama and cucumbers, and usually add in a few Simple Mills or brown rice crackers. You just don't miss sugar when you're eating delicious food (and with a crunch if you're like me) so make sure you're picking out snacks that you actually enjoy. It can be as easy as your favorite veg and dip 😊
When in doubt, smoothie. My personal favorite way to curb my sweet tooth is a smoothie! It's such a great way to not only sneak in protein, but hidden greens and healthy fats and fiber. Triple threat. My go-to smoothies are pb chip and tropical green.
Almond Butter & Jelly Bars. Ok, I'm stealing these straight from the ebook, but I'm telling you, they are beyond! I just had one for dessert. I love the freeze-dried strawberries in it and they're packed with protein and heart-healthy fats.
Fruit & Nuts. Simple, right? If you're doing my 7-day challenge, you probably know we keep fruit to 2 servings per day during the program. When I first started paying attention to sugars in my diet, I had no idea the amount of fruit I was eating throughout the day. Obviously this isn't the worst habit, because you're getting so many essential vitamins and minerals, but, the sugars do add up. Have you ever heard the phrase that fresh fruit is nature's candy? Well, it really is. Once you're able to tone down the sugars in your diet, your tastebuds will change and you'll quickly realize how flavorful and sweet fresh fruit is. Add a serving to a bowl with raw walnuts that are anti-inflammatory and rich in antioxidants for a delish snack. Or, toast up a piece of bread (ingredients are important here😊), add unsweetened nut butter, sliced banana, and then get creative with the toppings like coconut flakes, goji berries and cinnamon.
Can't wait to hear how you're all doing on this sugar-detox and what you're snacking on to stay happy 🙂