My first trip to Europe was a dream and I want to live it over and over again. I traveled to 4 countries and 11 cities in 10 days by boat and I'm already itching to go back.
The thing is, I've never really been drawn to cruises. I'm not sure if it's the thought of being herded along with the other passengers of the ship, feeling nauseous in the large swells, only having x number of hours to explore each city, etc. It's just never quite been at the top of my list. That was until I had the opportunity to travel with Amadeus River Cruises on an itinerary from Amsterdam all the way down to Basel, Switzerland. Traveling to Europe has especially been a goal of mine for the past year or two, so this trip truly came at such a great time.
Leaving from Seattle, my boyfriend, Bridger and I made the direct flight to Amsterdam via Delta Airlines and arrived one day before needing to board the ship for an 8-day, 7-night cruise. We got so lucky with an entire row to ourselves on the plane. I slept most of the way since it was an overnight flight, but Bridger somehow managed to watch 3 movies and last through the night.
Seeing as neither of us have been to Amsterdam before, we wanted to explore as much of it as we could before leaving the city.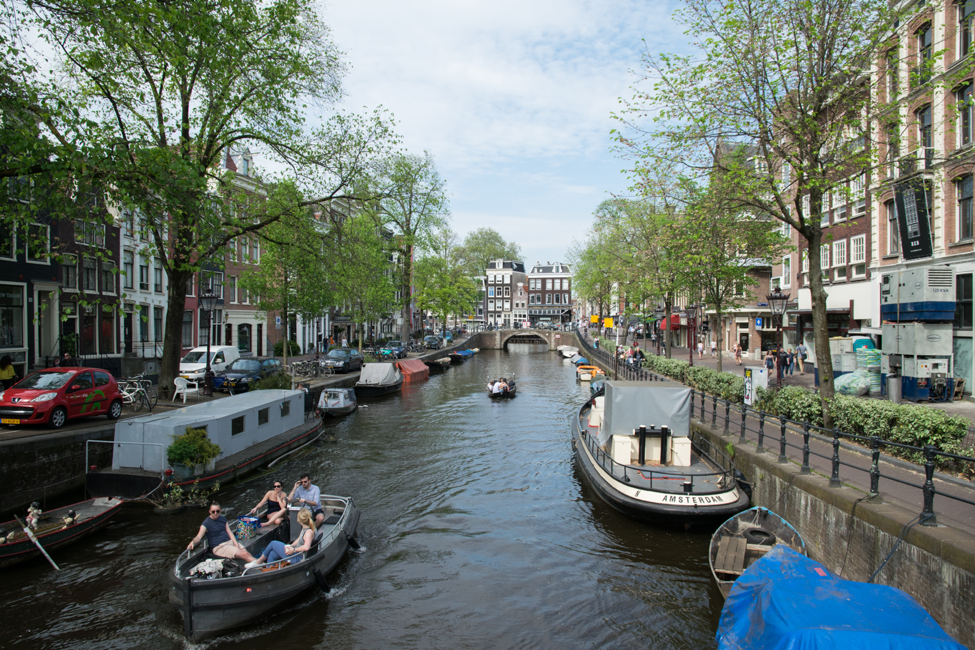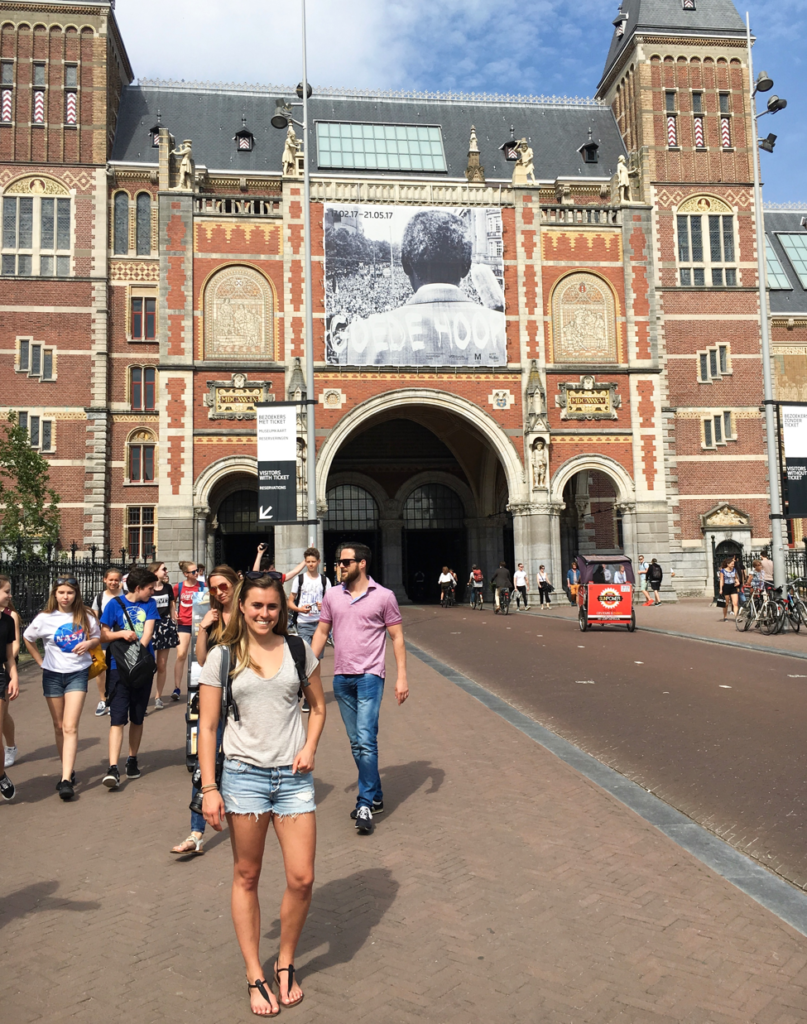 Amsterdam immediately became one of my favorite places I've traveled to and will definitely be back for a longer stay. I initially thought of Amsterdam as the party city of Europe, but I was completely mistaken. The canals, the history, museums, shops, sites, people, etc. were so beautiful and different from anything I've seen before. We stayed in an AirB&B located near the Rijksmuseum and the start of the canals. Everything was in walking distance, which we did a lot of once arriving from the airport.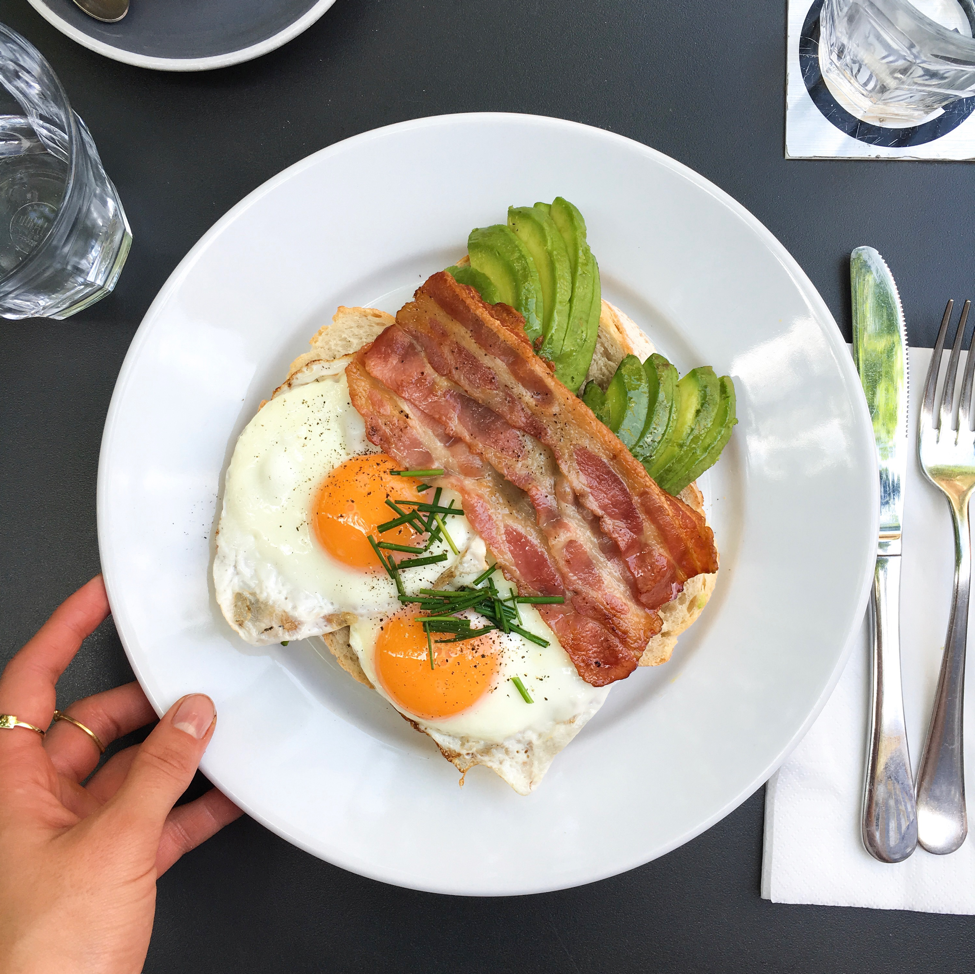 Day 1:
Bridger and I went to Bakers and Roasters for our first meal off the plane (recommended by many) and, of course, I ordered the avocado toast with fried eggs and bacon. Winner. every. time. Maybe it wasn't the most authentic dish of Amsterdam, but hey, I must feed my cravings while away from home (literally). From there, we shopped, we walked, we took pictures at the I Amsterdam sign, we walked passed the Anne Frank house (unfortunately, we didn't buy tickets in time to secure a spot and although we knew we could wait in line after 3pm to get in, we didn't want to waste 3 hours of our extremely short trip in line). The Anne Frank Museum was the one thing I wish I could've experienced— it'll be part of our next trip for sure!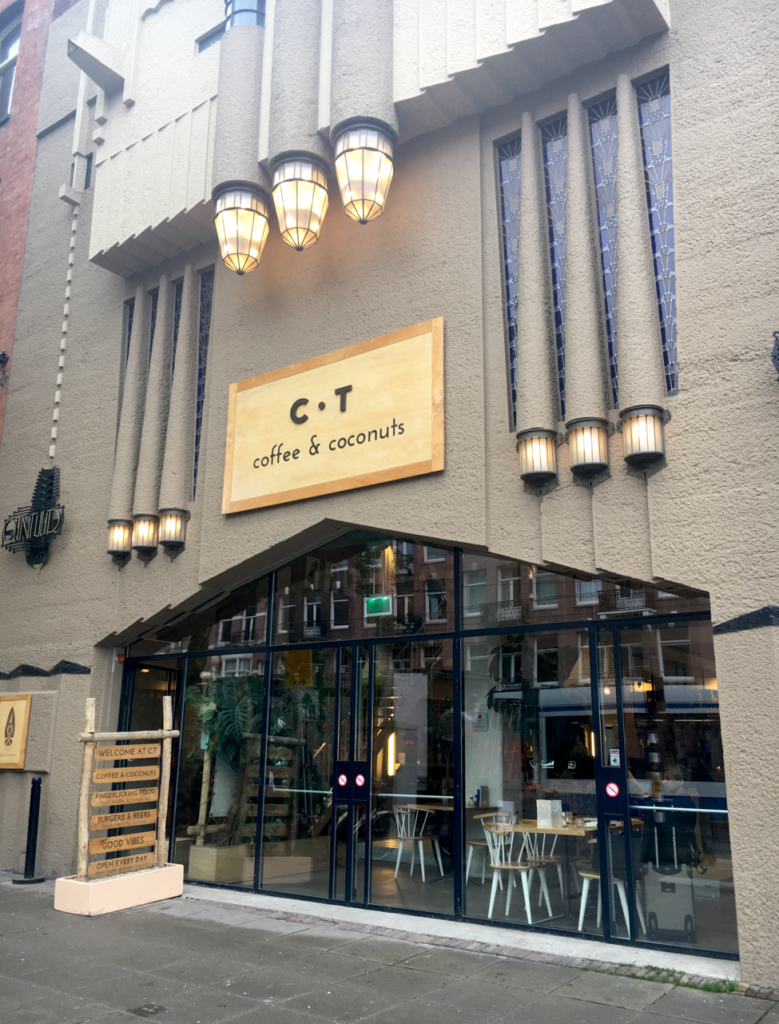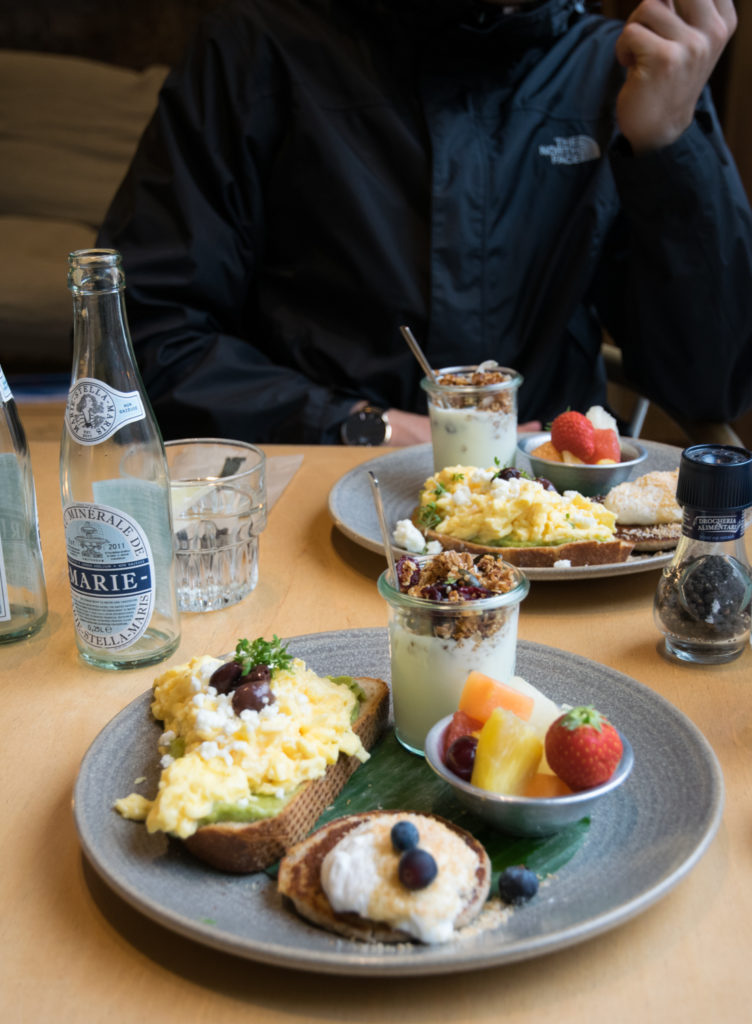 Day 2:
The second day in the city we woke up to light rain and grey weather, nothing we aren't used to living in Seattle. We walked 30 minutes to breakfast at one of the cutest café's, CT Coffee + Coconuts. Good vibes, bean bag chairs on the upper floor, light & bright décor. Bridger and I both got the CT Full Breakfast, which included avocado egg toast, coconut yogurt with muesli, fresh fruit and a gluten-free almond and buckwheat flour pancake with coco whip. We were in heaven. Plus, with every successful healthy café or restaurant run, Bridger becomes more tolerant of our wild goose chases in foreign cities 😉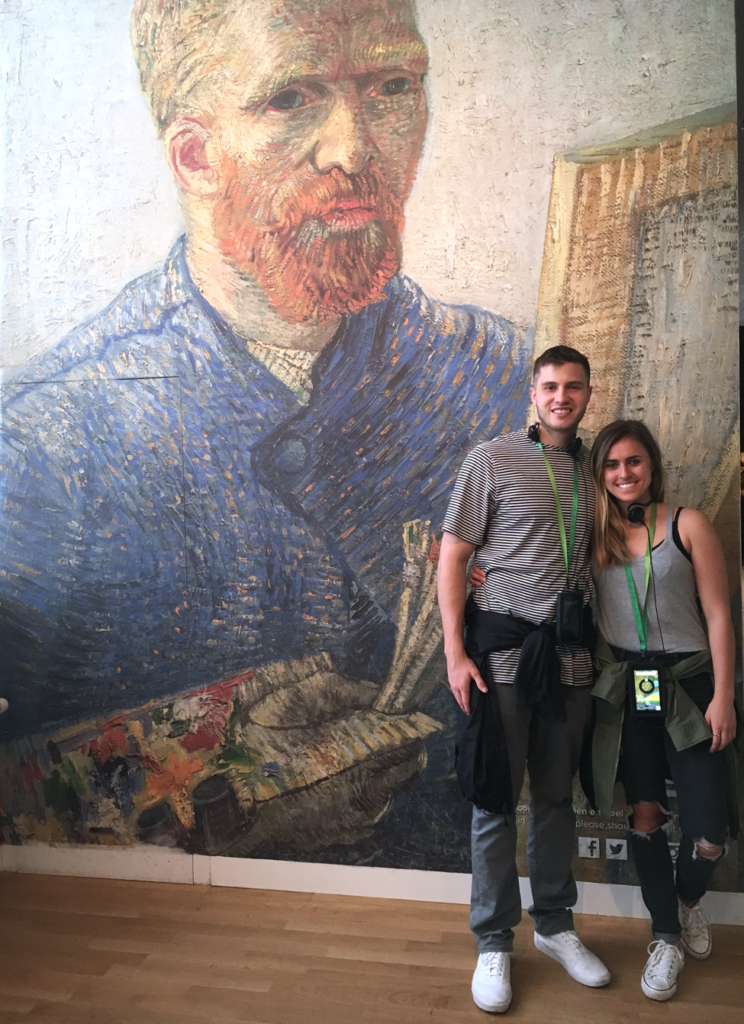 After breakfast, we made our way to the Van Gogh Museum—an activity I'd easily recommend to anyone traveling to Amsterdam. That was actually the first museum I've ever been to (I think I can only go downhill from here…?). The next stop on our (my) agenda was dedicated to finding MATCHA.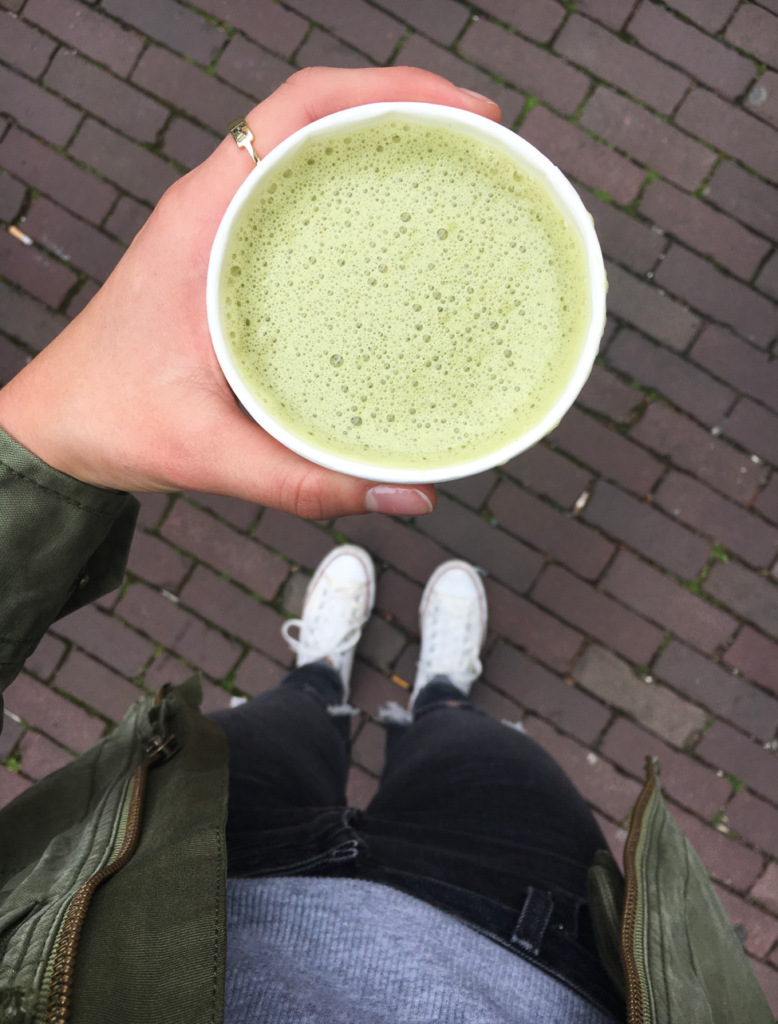 I had stopped in many shops & coffee stores (there's a big difference) up until that point, disappointed that 'matcha latté' wasn't a familiar term. [My stomach has a very hard time digesting coffee, so this has been my outlet for the past six months]. The one place I heard that carried matcha was Lavinia Good Food and I decided their matcha latté was one of the best I've ever had.
We boarded the Amadeus Silver II Ship later that morning, the cruise boat that would take us from Amsterdam down the Rhine River to Basel, Switzerland.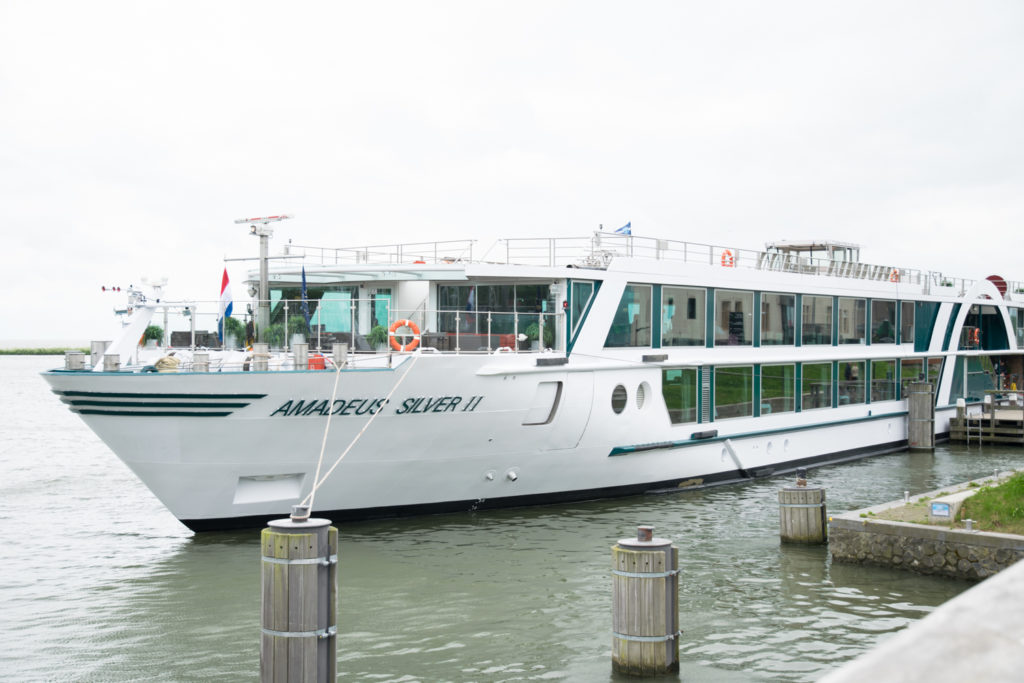 It was a decently sized ship for being able to travel by river. It fit about 160 people, consisted of three floors, plus an entire sun deck on the top, had a large restaurant, a bar, a very small exercise room, a private lounge, and a shuffleboard and life-size chess table on the sun deck (surprisingly, we got great use out of these two). The bedrooms mimicked a 5-star hotel room with lots of storage space inside the bathroom and closet and included either a small balcony or a floor-to-ceiling window that opened halfway to the outside. I was very impressed, to say the least.
Bridger and I, and the other members to our group (about 12 people) were immediately treated to a canal cruise on a smaller boat with a tour guide that showed us the sites around Amsterdam. I was slightly bummed when they announced there was going to be a cheese tasting (I'm intolerant to cow's milk), but fortunately, Amsterdam has some of the best goat cheese I've had in my life! This canal tour was one of the highlights of my whole trip. We learned so much more about Amsterdam and saw parts of it we didn't see the day before. The first night aboard the cruise we stayed in Amsterdam and had time for one last exploration of the city after dinner. I had been told by several of my followers that café Winkel 43 was THE place for the famous Dutch apple pie—I agree!! We (purposefully) walked through the Red-Light District on our way back to the ship to see what it was all about. Let's just say it was quite the tourist attraction— we saw families, guided tours, and elderly walking the window shop doors. It was an experience, for sure.
Day 3:
Waking up to a full breakfast buffet / menu was a pleasant start to the day… mainly until I saw an entire table devoted to freshly made breads, rolls and pastries, and a buffet loaded with foods I don't usually eat on the day to day. Basically, I projected myself gaining about 12 pounds over the course of the trip. I checked the daily breakfast menu to see only 4 options—omelette, blueberry pancake and two others I can't recall because I'm sure I disregarded immediately. At that moment, I knew it was going to be a challenge eating healthy the rest of the trip.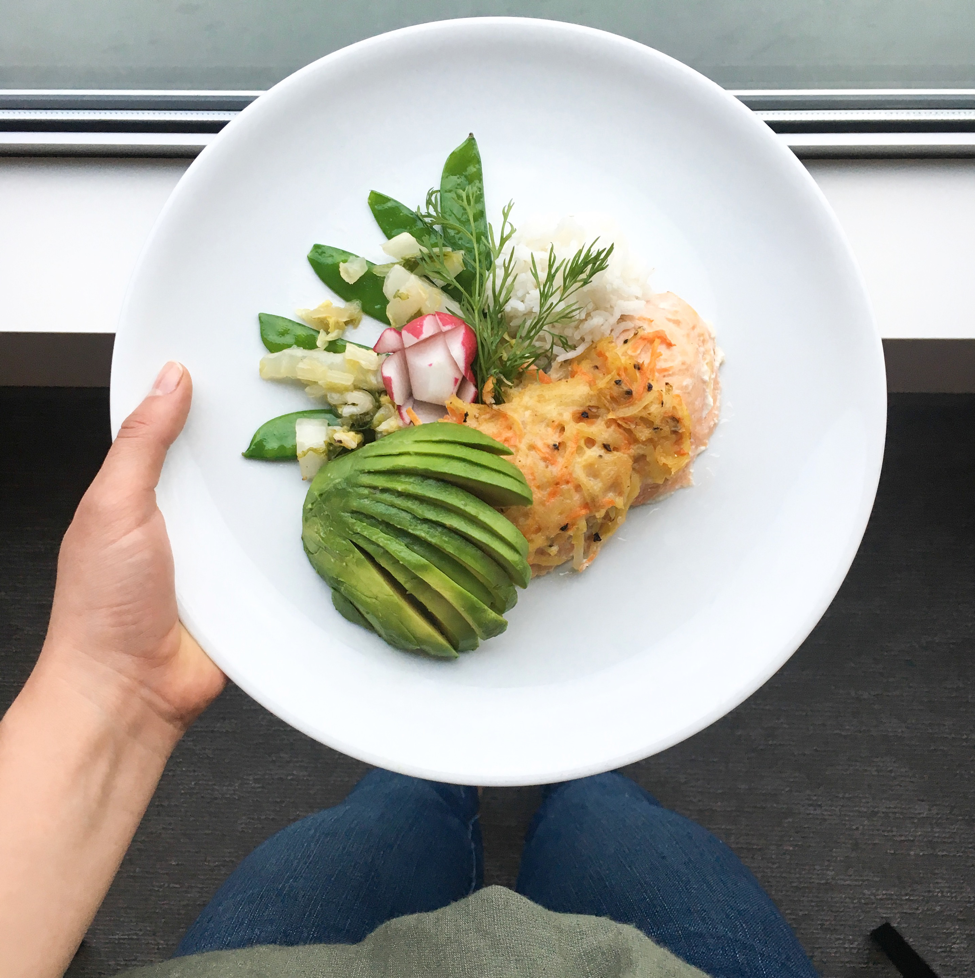 Fortunately, Bridger reminded me of my 'modification abilities' and being able to 'always make things work,' which gave me a small sense of relief. Both because Bridger is always thinking on the bright side and because he's right, I really do always try to make things work by finding the healthiest options with what's offered. I spoke with our waiter and asked if they had avocado and fried eggs (my typically morning routine). They did, and from that point on, the waiter knew my affinity for avo and added it to every one of my plates after that. He got me. I quickly realized how accommodating the kitchen staff on board was, especially when it came to my lactose-intolerance. All the meals delivered to me on the cruise were modified based on my dietary restrictions. They brought me salads sans dressing, sub olive oil and balsamic vinegar, the cream-based soups were swapped for broth-based, I was given fresh berries for dessert instead of cakes, sorbet, or anything else that was on the menu. The chef was amazing and every single dish was top-notch.
After breakfast, the group and I toured more of Amsterdam by bus, visited 2 different museums, walked the canals, (I ventured off to get another matcha from Lavinia), then met back up with the cruise ship in Hoorn, a small town north of Amsterdam. From there, we cruised the [sea] until arriving in Cologne the next day.
Activity Recommendations for Amsterdam, The Netherlands:
Buy tickets at least a month in advance for the Anne Frank House tour
Buy tickets for the Van Gogh Museum. You'll have to commit to a certain time block ahead of time just FYI
Rent bikes and ride through Vondelpark (be careful—biking is a big deal)
Take pictures in front of the I Amsterdam sign located in the museum district
Canal cruise
Go to De Negen Straatjes (The 9 Streets) for great shopping
Food Recommendations for Amsterdam (Places I went + recommendations from my followers):
Bakers and Roasters
CT Coffee + Coconuts: 3 stories filled with plants, big bean bag chairs, great menu–the pancakes were amazing
Lavinia Good Food: matcha latté
Winkel 43: famous Dutch apple pie
Food Hallen: people referred to it as the Chelsea Market of the city with lots of different restaurants. Not touristy
The Avocado Show: everything on the menu includes avocado
Omelegg
MarQt: great healthy grocery store. They carry the almond and coconut based yogurts I brought with me on the cruise boat, made by Abbot Kinney (the coconut was delicious!)
Dignita
SLA: make your own salad
Cold pressed juice: best.. well, juice
Hummus bistro or Sir Hummus for hummus
Little Collins
Cedar's
Stroopwaffle: the best when made on the spot from a food cart/truck
Teds
Betty Blue: café near Waterlooplein
Café Walem: open-faced sandwiches
De Kas: massive glass building great tasting menu farm-to-table food
Blend
Alchemist Garden
Zest for Life
Greenwoods
Roots Amsterdam
The Pancake Bakery
Pluk: coffee
Back to Black: coffee
Day 4:
I got up early, per usual, and had planned to get in a good workout before I started my day. Little did I know, keeping a daily exercise routine during the river cruise was a lot to ask. At that hour, the small exercise room equipped with 3 bikes, 1 rower, 3 sets of low-weight dumbbells, a Swiss ball, and floor-to-ceiling mirrors was in use by several of the older ladies on the ship. No worries. I hit the sun deck for some laps instead. Not until about the 15th lap did I see one of the guys we had been hanging out with during the trip walk up to meet me, looking tremendously exhausted I might add. He kindly informed me that the "thuds" I was making from running on the deck was keeping he and his girlfriend awake… Welp. That surely ended any exercise program I would've been able to do the next 5 days on the ship. He assured me the noise was coming from the other man exercising on the deck, but I didn't buy it. Thankfully, the fitness room became available shortly after and I got in a short circuit workout.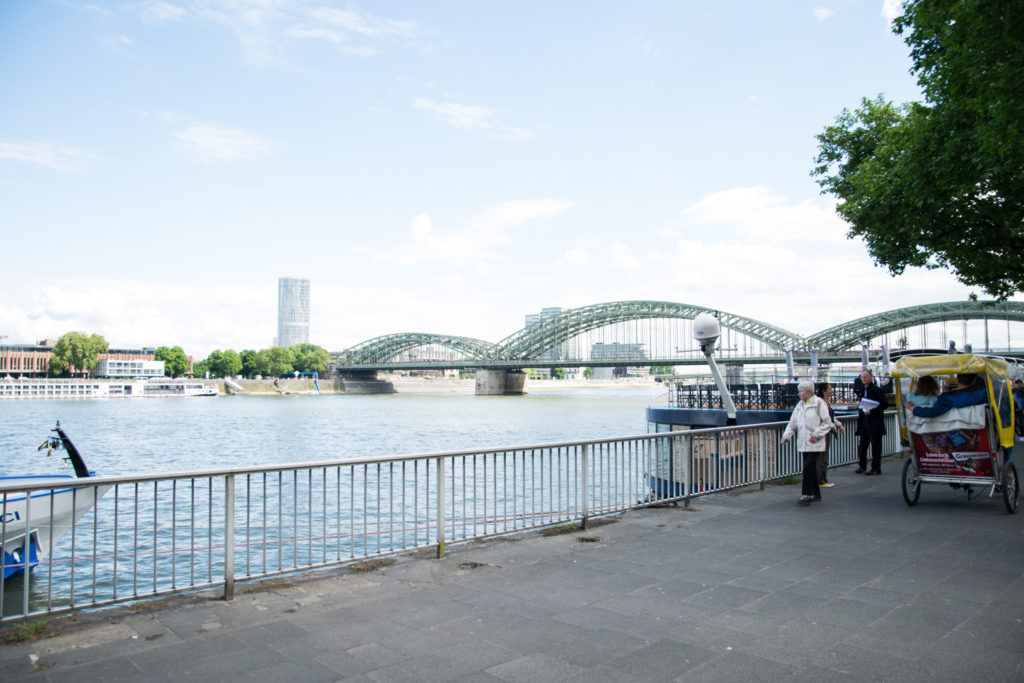 Cologne was the next stop on the itinerary and such an incredible city. We had only a few hours to tour before shoving off to the next stop, so we had to be deliberate in the sites we wanted to see. Stop #1, the Cologne Cathedral. Words can't describe how beautiful the gothic architecture was of this building. It was so picturesque even when I was standing just 5 feet in front of it. I learned this after the fact, but my grandfather and his division helped liberate Cologne in 1945.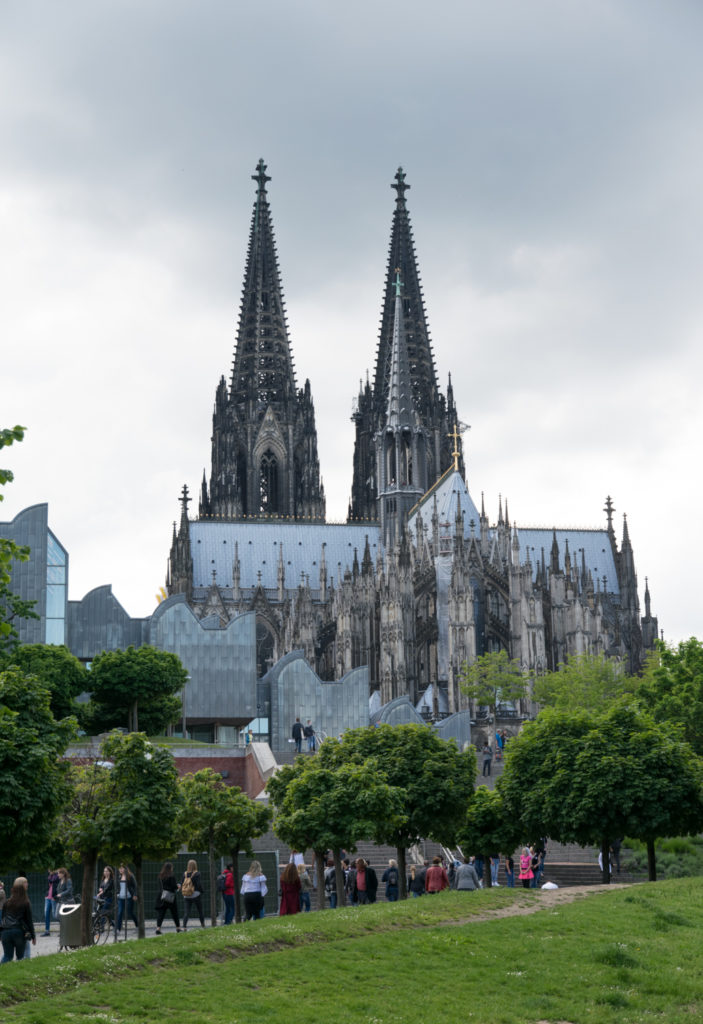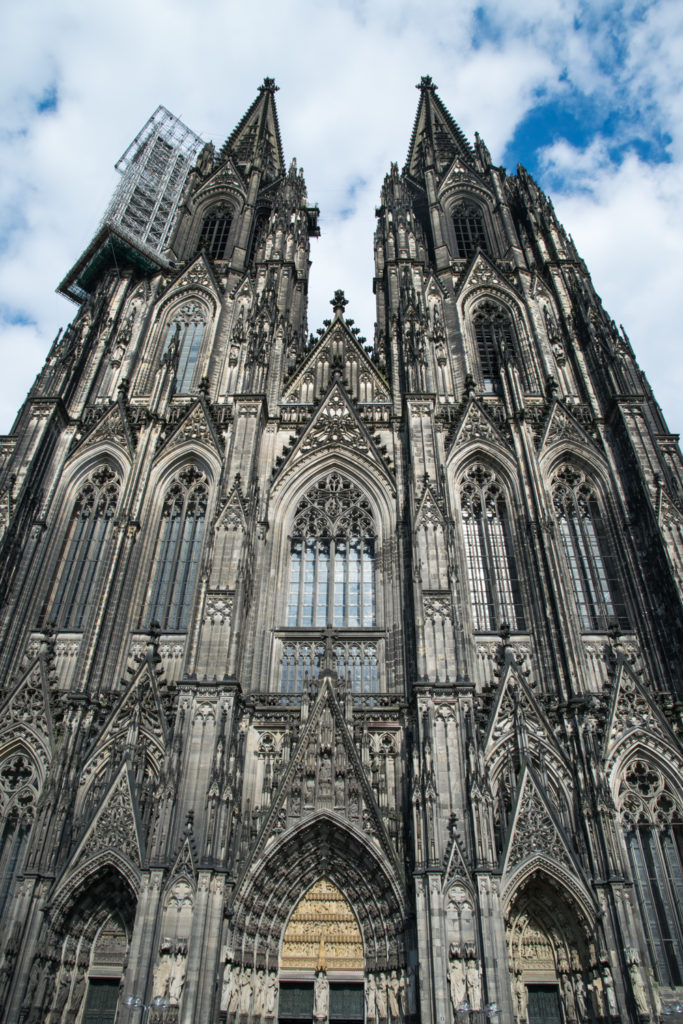 *Cologne Cathedral
The Cathedral took 632 years to build and was partially destroyed by 14 bombs during World War II. The windows that we saw were originals back from when it was built and they only survived because they were removed by the people of the city and brought outside the city just before the war, and reinstalled once it was over. It was the tallest cathedral in the world upon completion, but currently remains the fourth tallest cathedral in the world.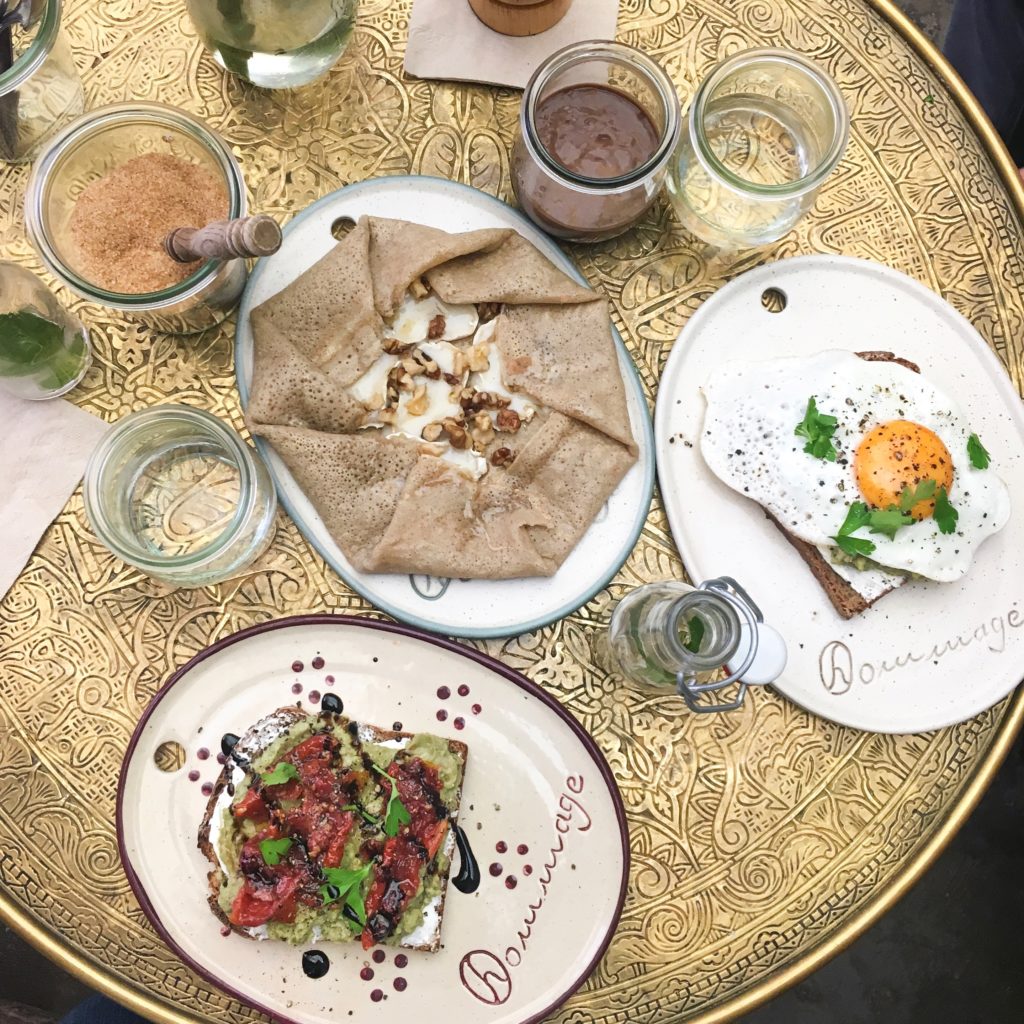 Hommage, a healthy café was just 2 miles from the cathedral, so naturally, I opted out of the beer tasting excursion and hauled Bridger along with me. It was so quaint and cute. I wanted everything on the menu, but we settled with the avocado bread with a cheese spread, smashed avocado, fried egg and sundried tomato, a galette filled with goat cheese, honey and walnuts, and a chocolate avocado smoothie. Had time allowed, I would've given into their lemon pound cake, vegan cheesecake, crepes and juices.
That night was the showcase dinner, something special our cruise director put together for our small group to show off our chef's culinary capabilities. It may have been one, if not the best, meal of my life. The chef created healthier alternatives sans dairy just for me to enjoy, which was very special. Salmon carpaccio with dill relish, grilled shrimp over couscous and veggies, lemon sorbet with rosemary and gin (arguably my favorite dessert all trip). Picture eating this extraordinary meal while the sun was setting over the Cologne Cathedral in the distance as we continued our way down the river.
Day 5:
Waking up in a different location every day without having to unpack made for such an enjoyable and easy trip. It really took the thought out of having to plan out the minor details and worrying about unpacking and packing up in each city we visited. Not to mention the housekeeping staff who cleaned our room + made our bed each day, left the daily itinerary, two water bottles and any other requests we had each day in the room.
The weather was also on our side the entire week we were on the ship. I packed for rain based on the forecast, but the weather was in the 70s/80s most days.
Shuffleboard kept us busy on the ship when we had any down time (yes, we surprisingly utilized way more than the older crowd on board). But at the same time, I didn't feel as though we were on the ship too long at any given point between cities, which was nice. It was this afternoon that Bridger, Jeff, Marie, Jess (friends we made on the ship) and I wanted to get in a sweat, so we took to the back of the upper deck and did 4 rounds of 25 lunges, 25 burpees, 25 airs squats and 25 pushups. We couldn't have asked for a more scenic view during our workout traveling down the Rhine River!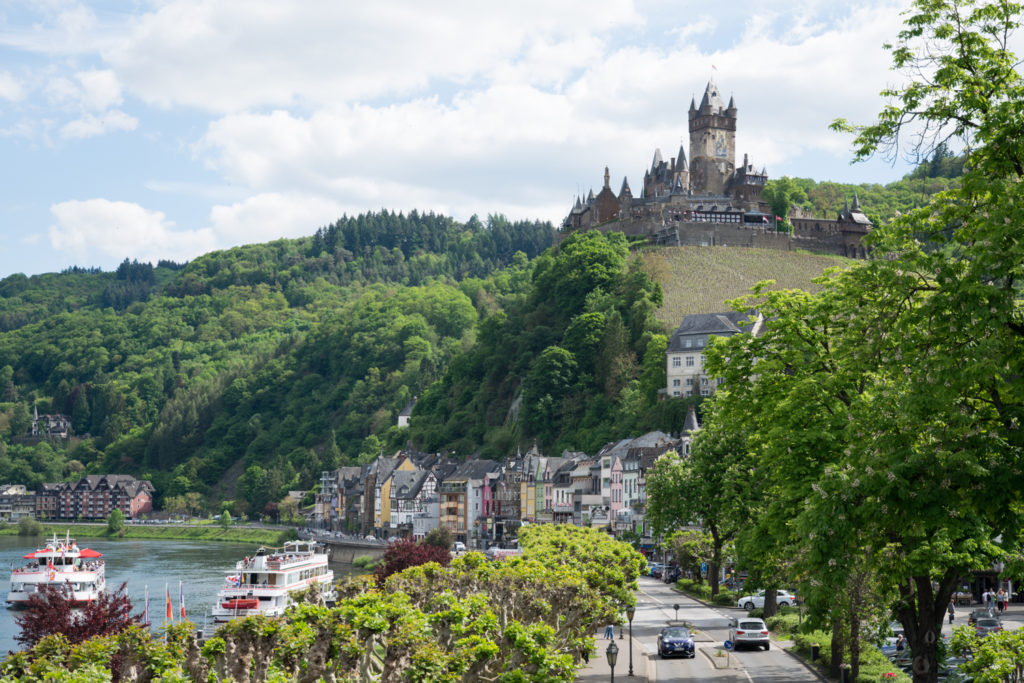 We toured Cochem, Germany, which included a guided tour inside a castle. Up until this point we all seemed a bit star-struck by the medieval castles and ruins (this soon changed after we went through "castle country"). After the castle tour, we had a wine tasting. I'll be the first to admit I'm not the fondest of wine at this point in my life, and I rarely drink, but I can enjoy a glass of white wine every now and then. Coincidentally, Germany, the Rhine especially, is well-known for their Riesling wines, which was the wine we got to try that day. Understanding the history behind the families who have grown grapes for hundreds of years was so fascinating. Following the tasting, some of us went looking for dinner but most of the restaurants weren't so accommodating when it came to letting us in the restaurant due to the closing hour. The restaurant we so happened to pick wasn't so supportive of my dietary restrictions (no dairy) when it came to ordering so I decided the ship was the safest place for a meal.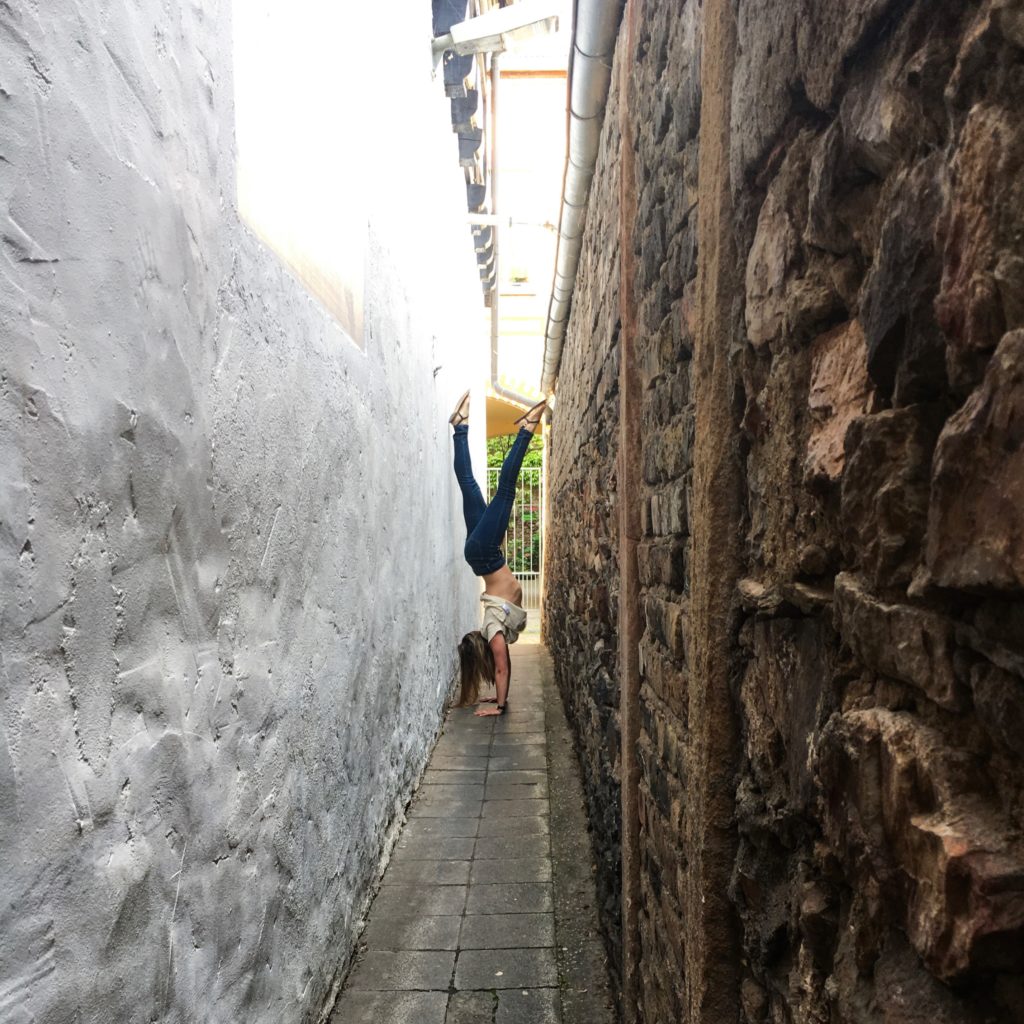 Day 6:
Koblenz and Rüdesheim were next on the itinerary. Koblenz was a beautiful little city to wake up to. I got up very early with several other of our friends on the boat who are very into CrossFit and who made a point to scout out CrossFit gyms at every location we stopped at.  Since I hadn't tried CrossFit, what better time than in Germany? From my current understanding, CrossFit is broken down like this: warm-up 5-10 minutes, skills work 10 minutes, the actual workout 20-25 minutes, cool down 10 minutes. The specific workout we did this day consisted of 30 sec on, 30 sec off, five times through of kettlebell swings. Next was 20 minutes AMRAP (as many reps as possible) of Cindy (there are a standard group of CrossFit workouts named after girls), which included 5 pullups, 10 pushups and 15 air squats that was to be repeated until the 20 minutes were up. I loved it! The coach was awesome and paid much attention to form. The three locals in the class were kind for letting us join their workout, and we all got a great sweat out of it.
Unfortunately, I didn't have time to explore the city, except my only mission to find a matcha latté. (If any of you reading this are as into matcha as I am, I'm sure you can identify with me in these situations). I discovered one shop that did, and was THAT girl who jogged with a backpack and latté to make it back on the ship before it shoved off.  It was funny having to explain to the people we were with that matcha to me is like coffee to most.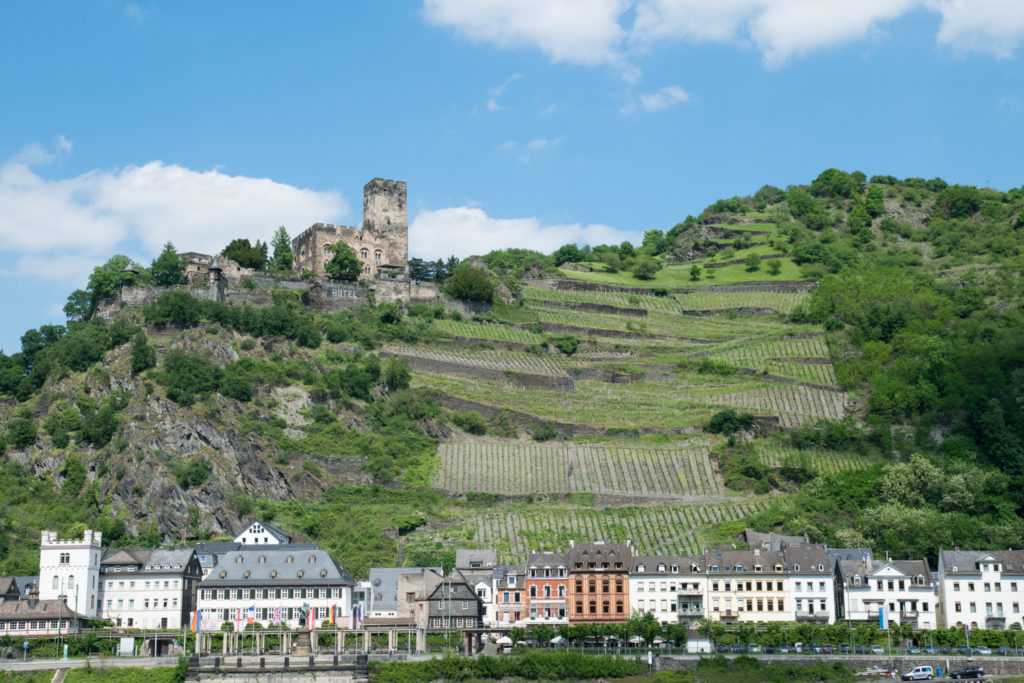 The stretch between Koblenz and Rüdesheim was one of the most beautiful parts of the Rhine Valley, otherwise known as 'Castle Country.' Dozens of castles, steep vineyards, little villages. It was all so picturesque.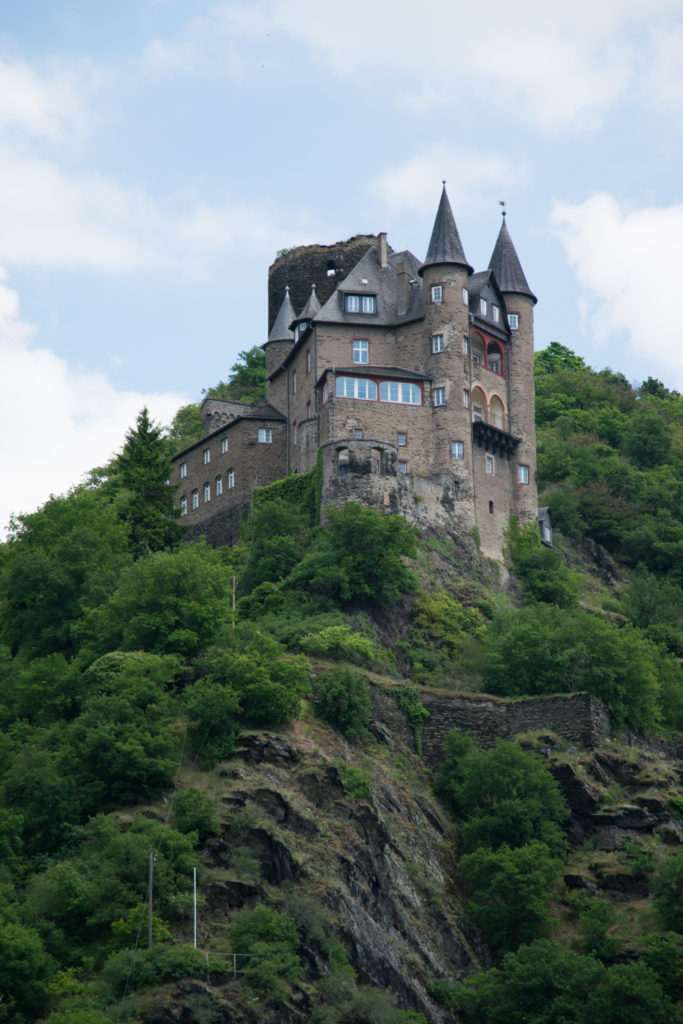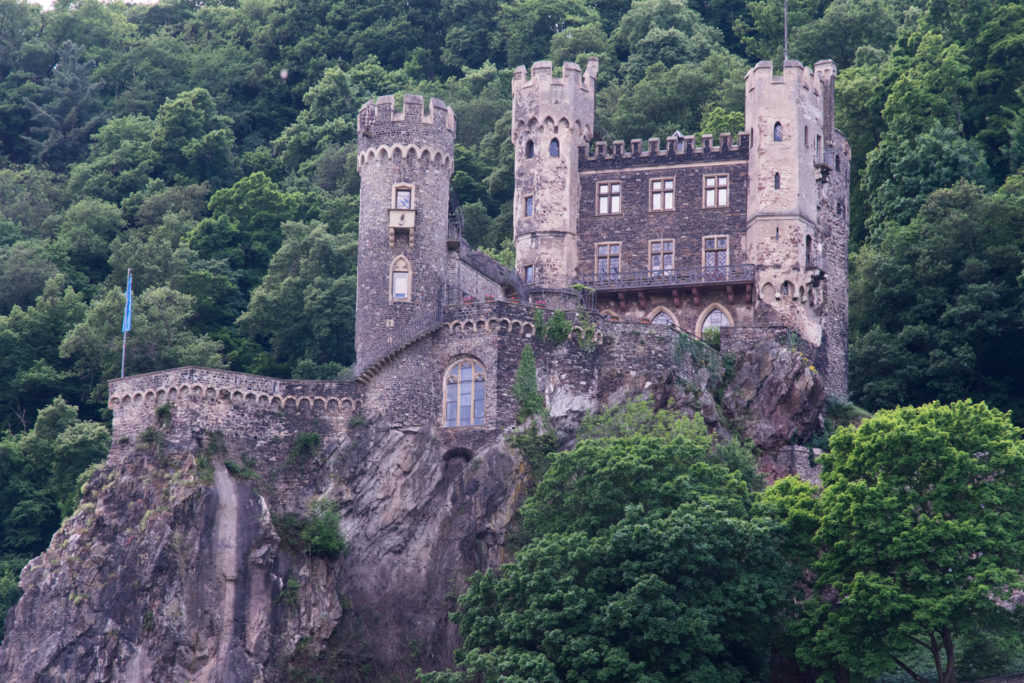 Rüdesheim is a small winemaking city with narrow cobblestone alleyways, various restaurants and tiny bars. We didn't spend much time there since the shops were closing for the day, but it was nice to walk around.
Two of the people in our group had birthdays on the same day, which was great because we got to celebrate with them. And seriously, what better way to celebrate your birthday than by cruising by castles along the Rhine River through Germany?? Answer: there is no better way. Sign me up!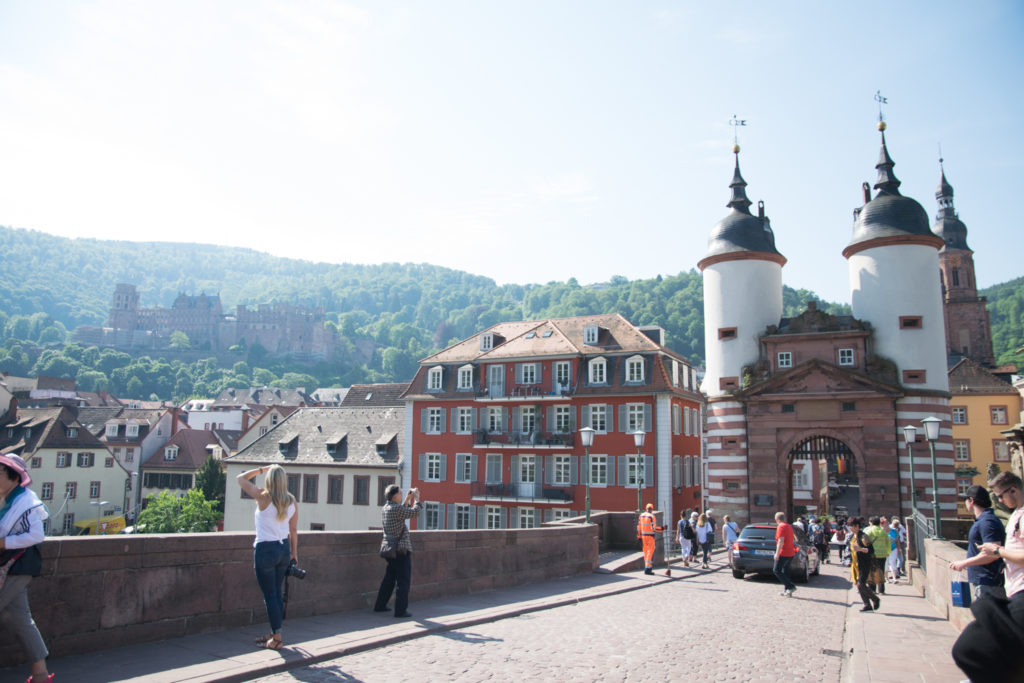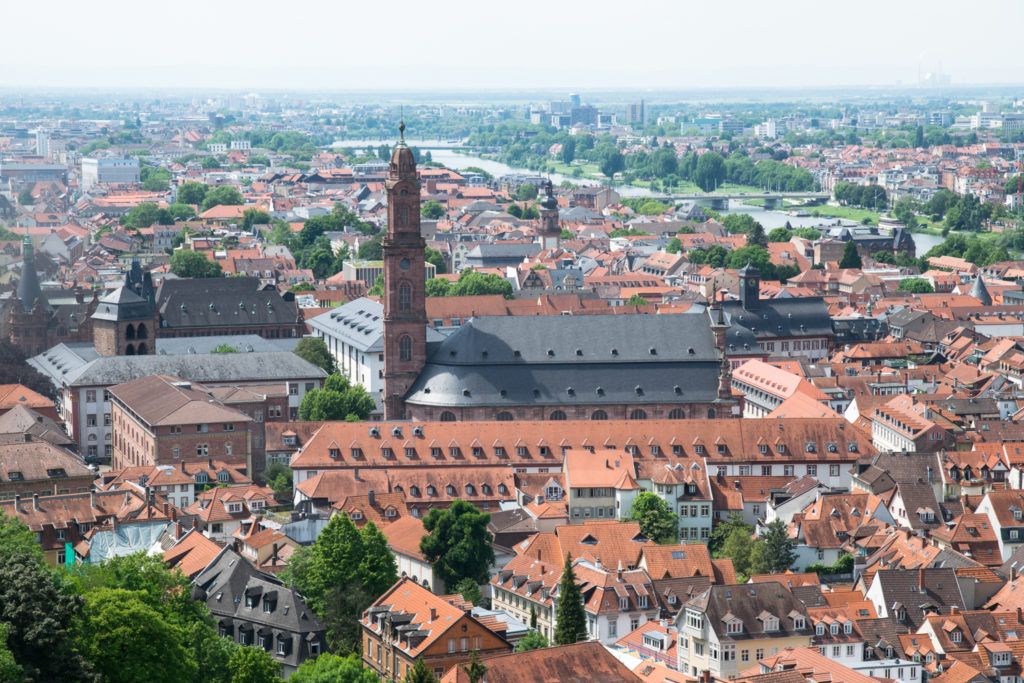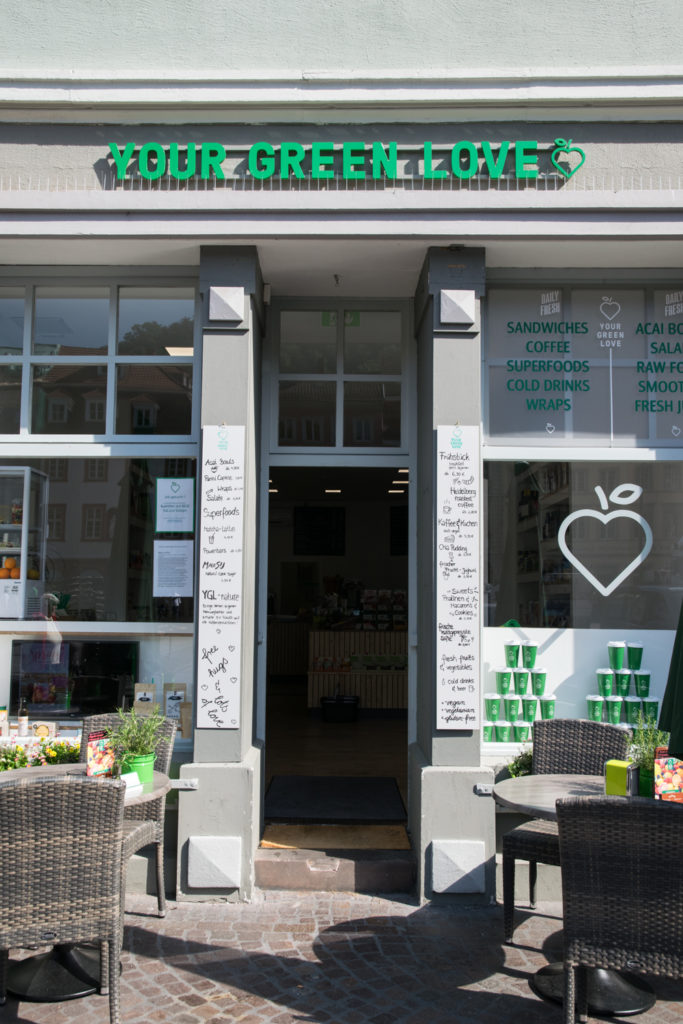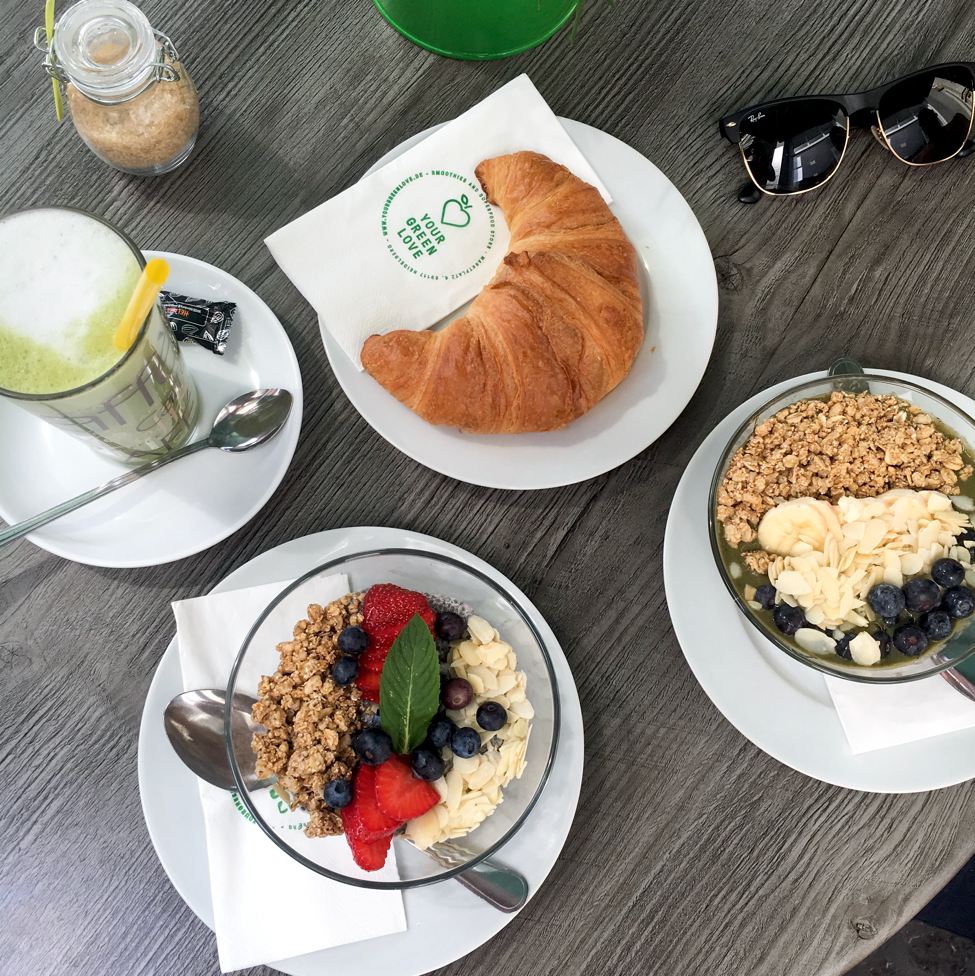 Day 7:
We arrived in Mannheim early morning and took a small charter bus along the Autobahn to Heidelberg, Germany. Located right along the river, this city has a beautiful red-roofed landscape and a massive castle overlooking it. I spotted the healthiest café of the entire trip here—Your Good Love. It had quite a large menu that included everything from fresh juice, pastries, chia puddings, acai bowls, and sandwiches to coffee and matcha. I was in heaven, and just so happened to be lucky enough to visit because they just opened 2 months prior. Chia pudding, smoothie bowl, matcha and a croissant was Bridger and I's appetizer before meeting the others for lunch at an authentic German restaurant where we ordered all the food: sausage and sauerkraut, wiener schnitzel, fries, pretzels, etc. After our bellies were full, we rode the funicular (tram) up to the Heidelberg Castle from the main city (about a 3-minute ride). This castle was the biggest I've seen. Once we crossed over the bridge to get in, it was like a small village. It housed the largest wine barrel in the world, with a capacity to hold 55,345 gallons of wine.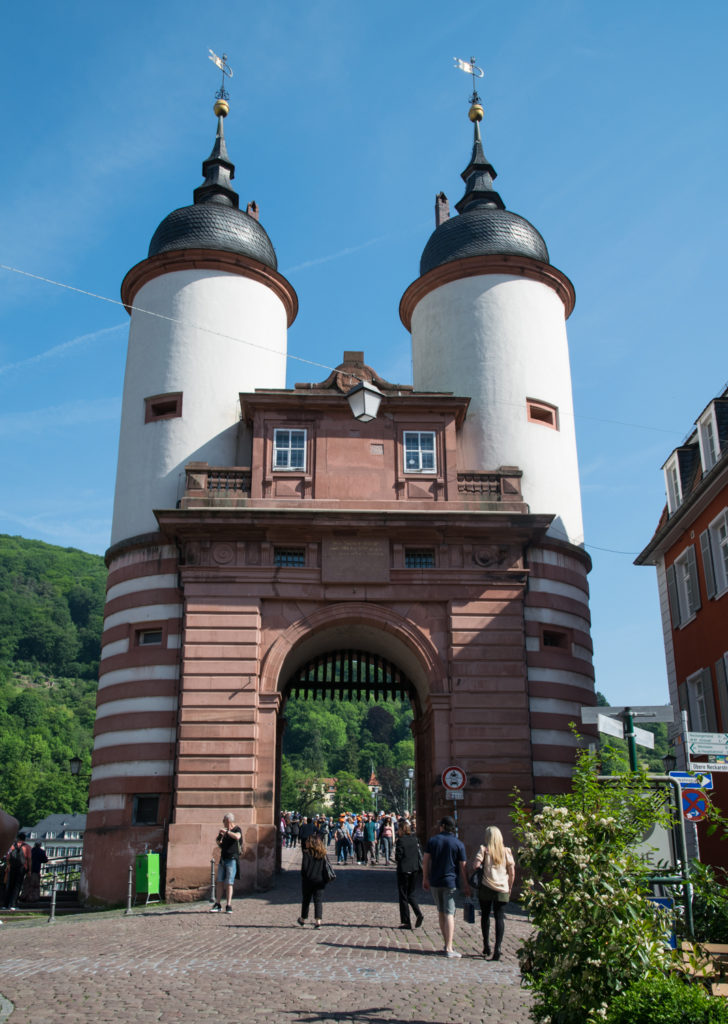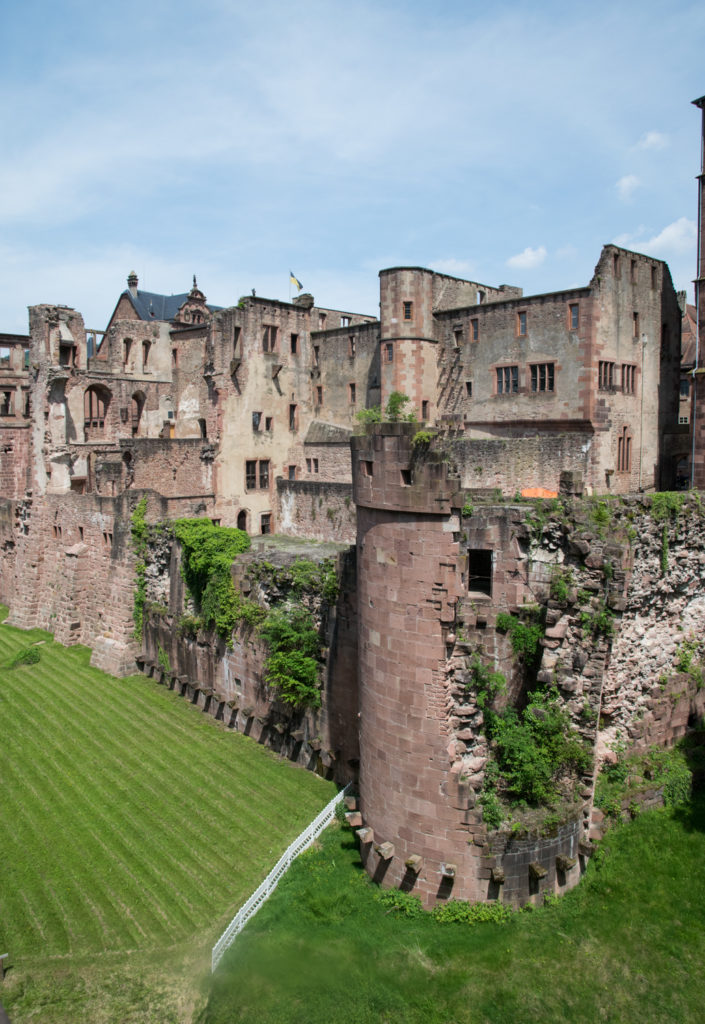 I remember feeling very dehydrated at this point, probably due to the length of time we were walking in the sun + staying up late celebrating the birthdays the night before. I guzzled down as much water as I could before we made our way to Speyer, one of Germany's oldest towns, to meet back up with our ship. The crew set up a Pirates themed dinner aboard the ship (the older crowd on the boat got a kick out of it)!
Recommendations for Heidelberg:
Your Good Love café: fresh juice, pastries, chia puddings, acai bowls, sandwiches, coffee, matcha
Heidelberg Castle
Day 8:
Strasbourg was hands-down one of my favorite stops of the trip. France in Spring is gorgeous. We took a short bus tour around the city, walked through a fresh market, took pictures in front of the cathedral, and walked the streets, taking in all that Strasbourg had to offer. It was exactly how you'd imagine France: a man playing an accordion in the street, bicyclists passing by on cobblestone streets. Such a magical place.
I tried my first ever macaron, got yet another soft pretzel from the market (so dangerously good), and walked through many, many bakeries. I would go back in a heartbeat!
We got back on the ship after 4 hours touring Strasbourg and had only one stop left of the cruise, Basel. We utilized the hot weather by sitting on the upper deck while we went through our last several locks. Over the course of the 8-day cruise, the Amadeus Silver II went through a total of 18 locks.
Day 9:
The last day on the ship we arrived in Basel, Switzerland. Bridger and I grabbed a train from here to head back up north to Dusseldorf, Germany to meet a few of our friends from home.
I'll admit Basel wasn't my favorite city of the trip. We somehow managed to arrive on a National Holiday, which left most shops closed, I couldn't pinpoint any healthy restaurants, the language barrier was awfully difficult, Switzerland is absurdly expensive, and the staff at the restaurant we chose to eat at wasn't accommodating, whatsoever. Perhaps I would've felt differently if we had shown up on another day, but I was glad to only have a few hours to kill before catching the train.
Bridger purchased first class train tickets to Dusseldorf (bless his soul)—we had more legroom and there was AC, which made for a comfortable 5-hour trip back along the same river we cruised down just days before.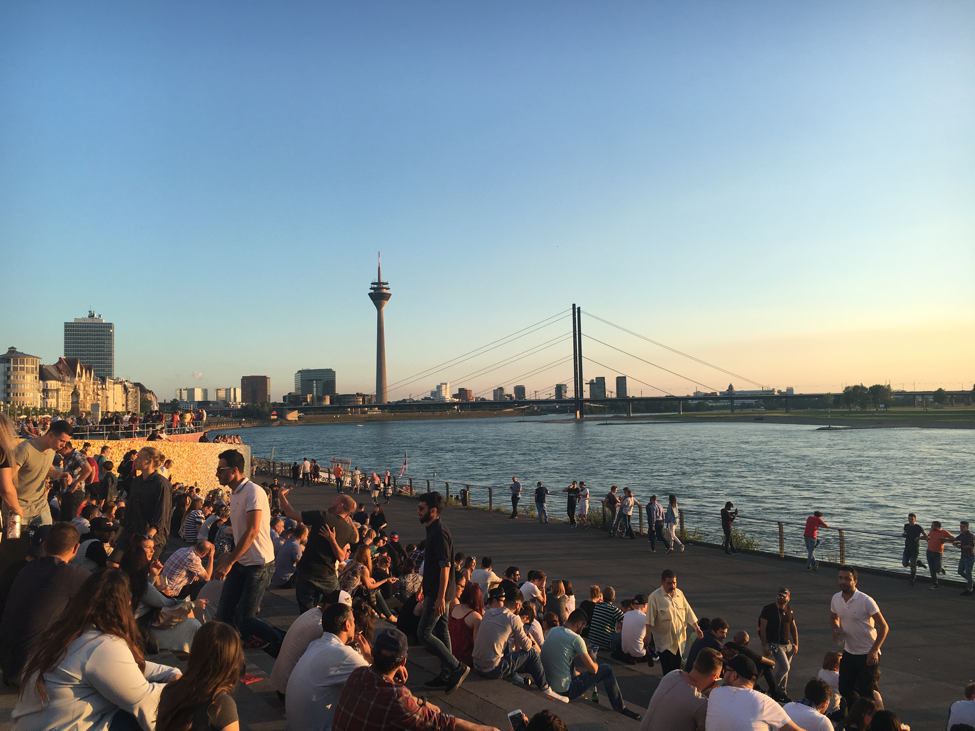 We settled in our Dusseldorf AirB&B then met our friends for dinner on my last night in Europe.
Day 10:
The next morning, Bridger and I took the streets of Germany with our luggage and walked in the direction of the airport. Since Dusseldorf lacks Uber (tends to be the easiest and cheapest form of transportation in most places around the world), we thought we'd try finding a taxi, bus or tram to get us there quick. I'm sure we walked at least a mile, bags in hand, before hopping on a bus to be dropped off near the airport.
The travel time getting home was much more exhausting than the flight over. I flew from Dusseldorf to Atlanta (9 hrs 10 mins), had an hour and a half layover, then flew 4.5 more hours to Seattle. Restless leg syndrome was so real by the end of the trip! I made sure to get up every few hours to stretch.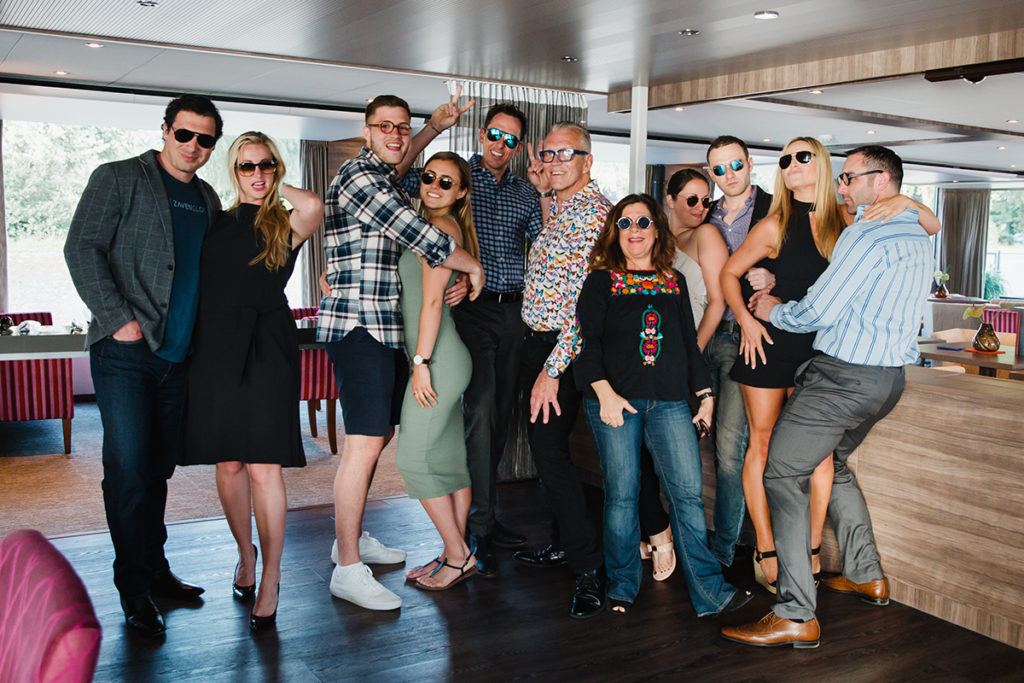 All in all, this was a trip of a LIFETIME. I got to experience new culture in different cities, make new friendships and travel Europe with the love of my life. When can I go back???
My favorite cities of the trip include:
Amsterdam, Dusseldorf, Cologne, Koblenz, Heidelberg and Strasbourg.
How I stayed healthy during the trip:
I'm someone who lives for a daily routine. Every morning at 6am I start my day by going to the gym, then making a hearty breakfast at home afterwards. I knew even before this trip that I wouldn't be able to continue my daily exercise routine, and especially my everyday eating habits, which I accepted. But to be honest, if I were to go on this trip even a year ago I would've prepared quite differently and my suitcase would have been at least ¾ of the way full of prepared snacks. It's taken me quite a while to finally be comfortable with living a life unplanned as to what my next meal will be. For so long I was strict with what I'd allow myself to eat away from home and almost felt a sense of anxiety if I didn't know if/what food would be available wherever I went. Coming to the realization that life shouldn't be wasted on worrying about which boundaries to stay inside of has lifted so much stress from my life. I now focus on eating a diet rich in plants (a variety of colors for different nutrients), wild fish, organic meats, healthy fats, and low sugar– which is enough structure for me to live a happy life.
Although my suitcase wasn't completely packed with food, I still brought my favorite necessities like:
Primal Kitchen Collagen Bars
Vital Proteins Collagen Peptide packs
RXBARS
Bulletproof Brain Octane
Brazil nuts
Roasted sunflower seeds
Eating Evolved chocolate
Life is all about balance, even on vacation. You have to pick and choose what you want to indulge in. On this trip I began each day with a breakfast high in healthy fats, fiber and protein to keep me energized and sustained until lunch. This usually consisted of several eggs, veggies, 1/2 an avocado and a few Brazil Nuts. In no way was I going to deprive myself of the European cuisine during this vacation, I just made sure not to go overboard. I ate as healthy as I could on the boat for the most part (the chef was too amazing, I had to indulge a few of the nights), and let myself eat whatever the different cities had to offer while we explored, such as goat cheese, soft pretzels, wiener schnitzel, german sausages, pizza and macarons. If you make the choice to eat a wholesome diet the majority of the time, your body will be more forgiving when you do decide to treat yourself on certain occasions.
Exercise
I utilized the small gym on the ship 3 out of the 7 days doing my own programmed circuit workouts, I jogged on the sun deck one day (that was a fail—read above), took my first ever CrossFit class in Germany and completed one circuit workout on the sun deck. The rest of the time was dedicated to walking through the cities. As a personal trainer, working out is a huge passion of mine and has become my morning ritual. It helps energize me for the day and keeps me in routine, which is why it doesn't take much effort for me to want to be active on vacation.
More Facts About Amadeus River Cruises
This cruise was only 60% full with guests, most of which were above 60, but Bridger and I made friends with a younger crowd of corporate event planners, CrossFitters and travel agents on the ship. I can see why the older individuals are drawn to these types of cruises, but at the same time, I also see river cruises becoming very popular for millennials wanting to travel across the world without having to plan every detail or switching hotels every several days. Initially, thoughts of a river cruise didn't seem interesting to me, at the slightest. After taking a cruise down the Rhine River, I am so happy I could experience it and can't wait to go on another cruise in a new location! It was truly a 5-star hotel and restaurant on water and I couldn't have been more impressed with the entire trip.
Amadeus River Cruises include local cuisine, free flowing local wine and beer with lunch and dinner, wifi, incredible hospitality from the staff and crew, bikes on board to take with you to explore the cities, planned excursions, etc. Amadeus is the only company operating river cruises on the European waterways to be awarded the "Green Certification" seal of approval for their sustainable tourism.
Their itineraries include 8, 10 and 15 day-long cruises.
*Feedback Wanted*
I'm so excited to announce that I have the opportunity to host a river cruise similar to this exact trip through Amadeus River Cruises next year in a location TBD (most likely somewhere in Europe). I need you to let me know if you'd be interested in traveling with ME! I will be planning the entire menu with the chef, hand selecting the cities we would stop at, the activities we would do on and off the ship (including workouts), etc. We will be catering to healthy individuals wanting to explore new destinations around the world and getting to spend time with like-minded individuals. Comment below if this is something you think you could do and if there's enough interest, I can get started planning!!!
If you have any questions or feedback of the trip, please leave below in the comment section!
---