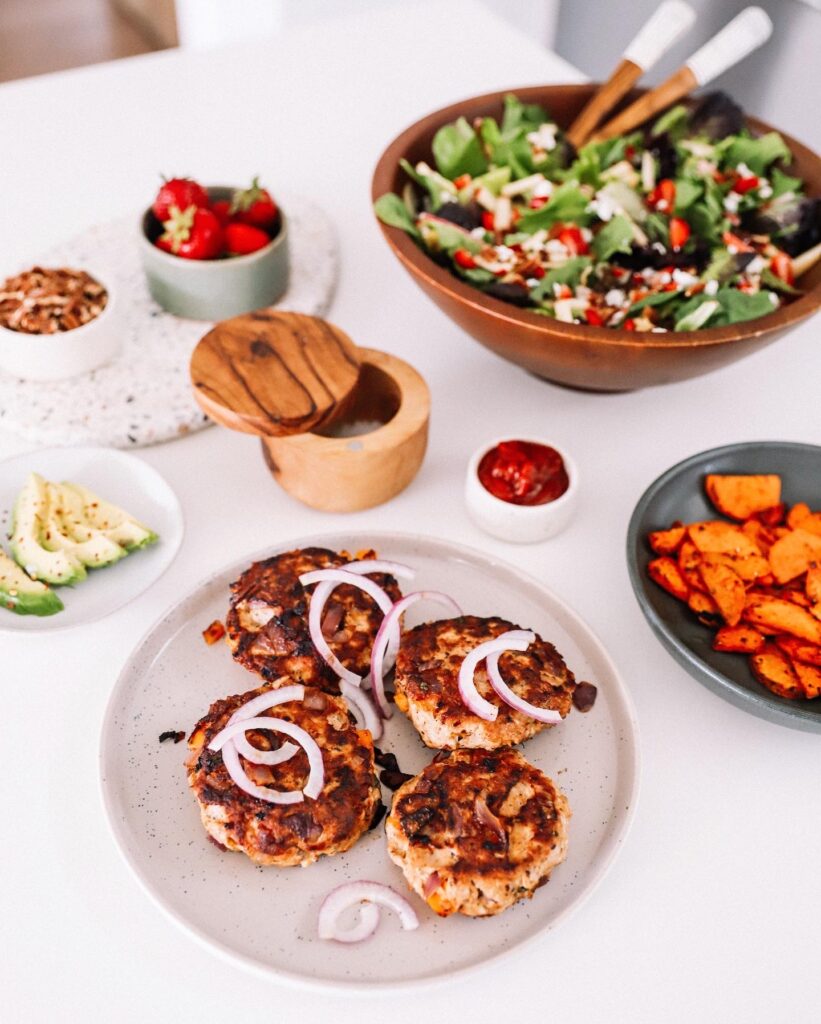 So these turkey burgers have been in rotation the last 6 years or so and honestly, I don't think I'll ever get tired of them. They pack so much flavor, they're super healthy, you can sneak in veggies, and they're great for making a bunch at the beginning of the week or prepping double for dinner so you can have leftovers the next couple days. Win-win-win!
If I ever don't know what to make for dinner or can't find inspo, I feel like I'm always falling back to these guys and I'm not mad about it. Throw some buns on it, make a lettuce-wrapped burger, or just have it over a salad 🙂 It's good any way ya have it!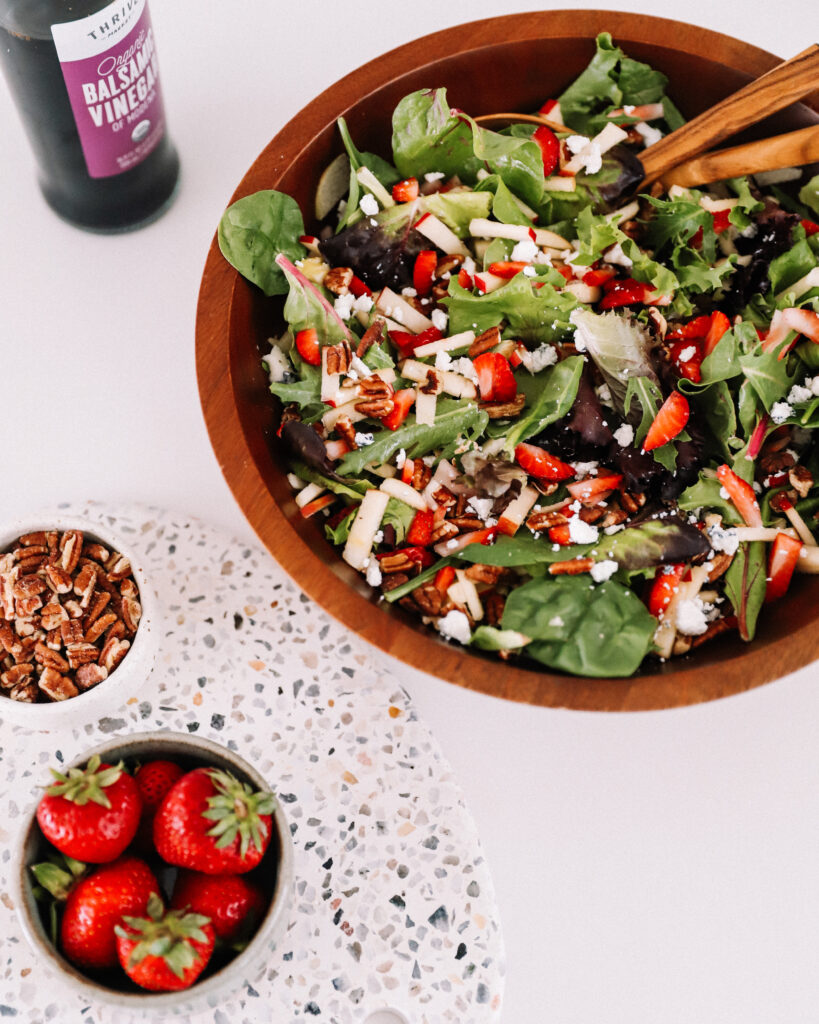 Recently, Bridger's been obsessing over this salad I've been making with many of our dinners and I need to take advantage so I don't think it'll stop anytime soon, at least for the rest of the summer. It's SO GOOD. You gotta try it or make it for your hubs to see if they'd like it!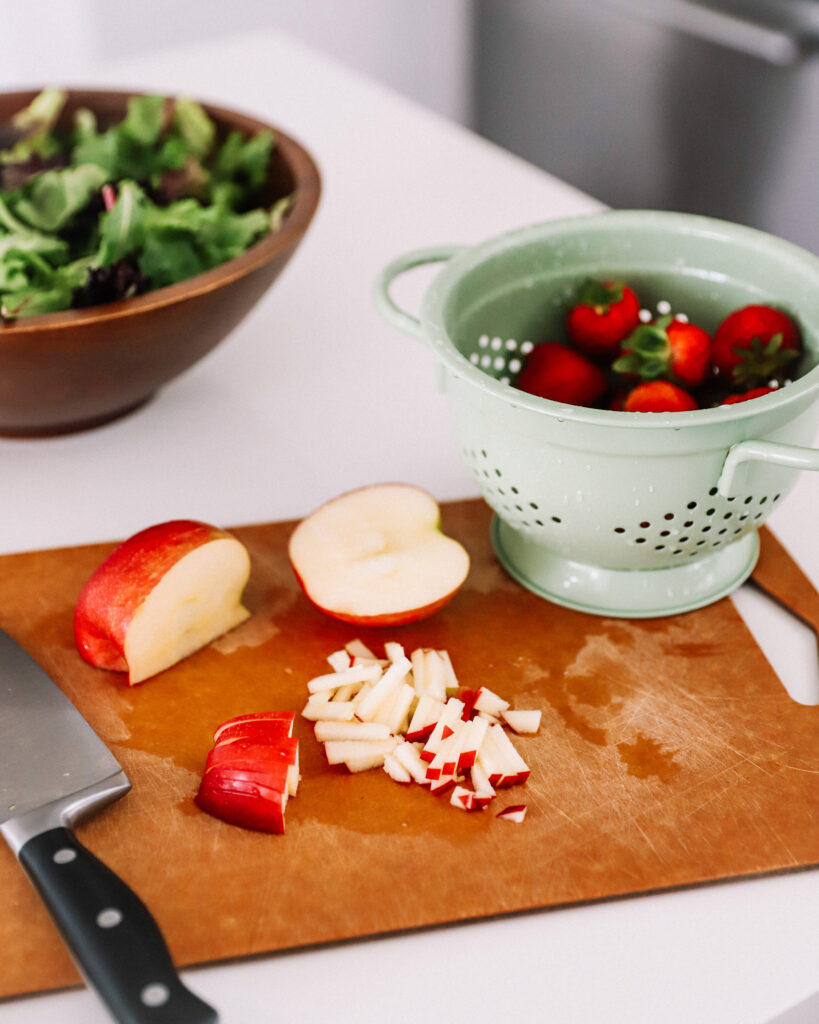 Here's the deal. You have to cut everything like matchsticks. It makes a huge difference, trust me. Next, add the crumbled goat cheese– Humboldt Fog is the best– then crushed pecans, or whatever nuts/seeds you prefer, and drizzle balsamic vinaigrette over the top.
As for the burgers, they're the easiest to throw together. You just gotta mix everything in a large bowl, form into patties and either sear in a skillet or grill. Top with sliced avo, red onion, add some sweet potato on the side and that's my dreamy summer dinner! Hope you love it!
xx
SHOP WHAT I USED TO MAKE THIS BELOW:

Bridge's Favorite Salad Plus Our Go-To Burgers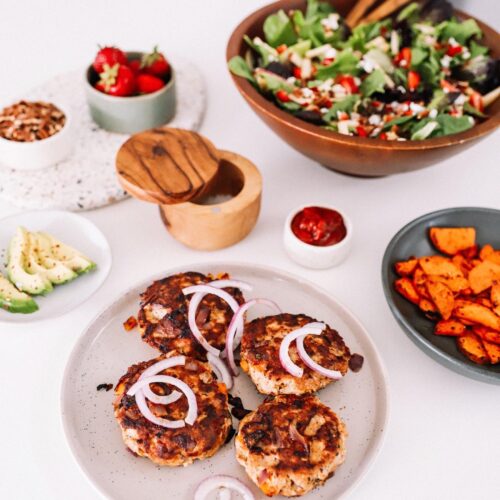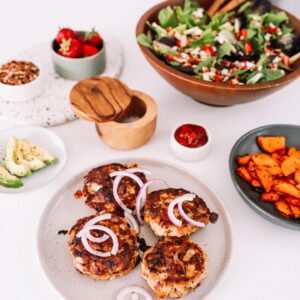 Ingredients
Turkey Burgers
1-2

tbsp

avocado oil

1

lb

organic ground turkey

1

small

bell pepper, diced

1/3

cup

diced red onion

3

tbsp

sun dried tomato, diced

Few

tbsp

freshly chopped cilantro

3-4

tbsp

feta cheese

,

(totally optional)

pink salt, to taste

ground pepper, to taste

seasonings of choice-- I typically add 1/2 tsp cumin and 1/4 tsp chili powder
Bridger's Favorite Salad
4-5

big handfuls

organic mixed greens

5

strawberries, cut into matchsticks

1/2

honeycrisp apple, cut into matchsticks

1/4

cup

crumbled goat cheese

,

(preferably Humboldt Fog)

1/2

cup

crushed pecans (or walnuts)

balsamic vinaigrette on the side
Instructions
Turkey Burgers
Mix all ingredients together in large bowl, excluding the avocado oil. Form into 4 patties.

Heat avocado oil in a skillet until hot but not smoking. Add turkey patties and cook until browned on either side, medium heat, 3-4 minutes each. Cover with a lid, turn to low heat, and cook until fully the centers are no longer pink.

Feel free to add your favorite side! Ours is usually thinly sliced, sauteed sweet potato (peeled), and seasoned with pink salt and pepper and cooked until golden.
Salad
Layer all ingredients in a large bowl and you're ready to serve! Save the balsamic for last. Enjoy! 🙂