If you missed what I made for Superbowl treats this year… don't wait til next year to make them, do it now! Trust me. They melt in your mouth and taste even better than the classic Reese's Chocolate Eggs– you know the ones that come out around Easter? Those were hands down my favorite candy growing up, anyone else??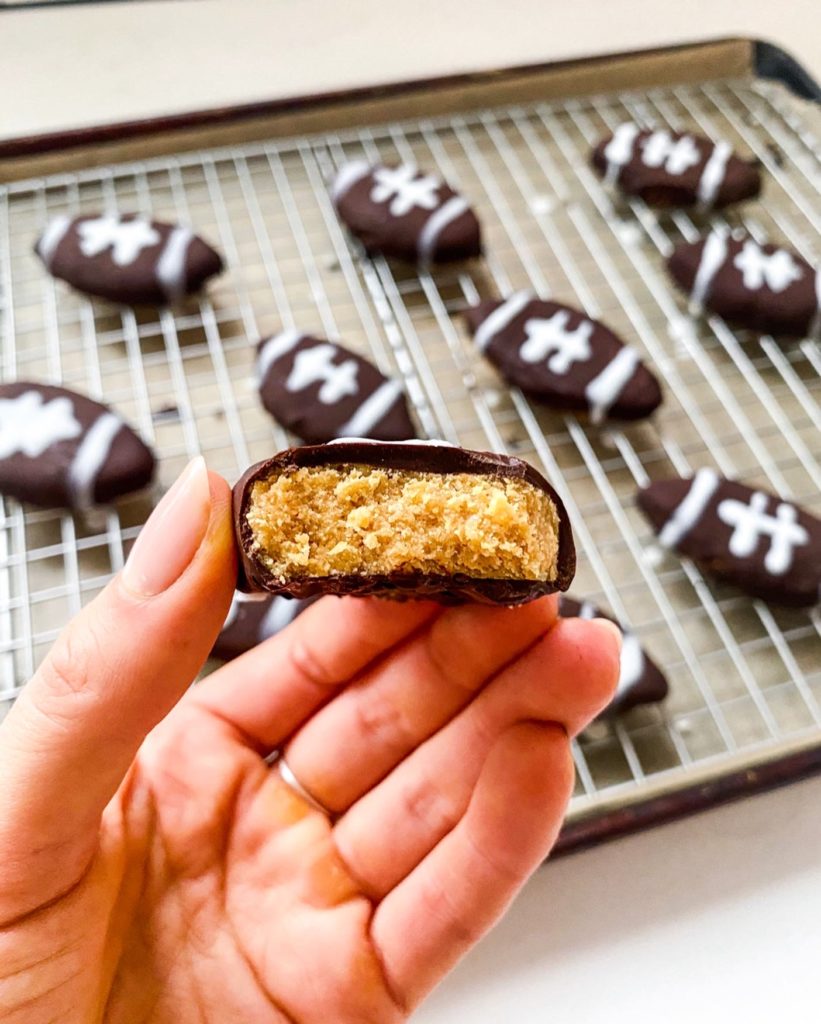 They're just the ideal chocolate peanut butter combination and I've never been more here for it. I made the OG copycat recipe years ago, but figured it was time to recreate into something else. And ok, they did not disappoint 😉 Just 7 easy ingredients and topped with coconut butter for the laces (so cute, right!)
Try these out for the next football game you go to or just make the original eggs since Easter is comin' up next!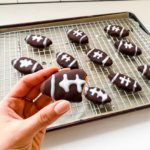 Copycat Reese's Chocolate Eggs, Football Edition
Ingredients
PB Filling
1/2

cup

creamy salted peanut butter

(or sub any nut or seed butter)

2

tbsp

maple syrup

2

tbsp

melted coconut oil

1/2

tsp

vanille extract

2

scoops (or 3 tbsp)

collagen peptides

(completely optional. Can leave out if not using)

5-6

tbsp

coconut flour

(or sub 10 tbsp almond flour)
Outer Chocolate Layer
1

tbsp

coconut oil

1.5

dark chocolate bar

(or sub 3/4 cup chocolate chips)

2

tbsp

coconut butter, melted then cooled
Instructions
Whisk together creamy peanut butter, maple syrup, coconut oil and vanilla extract in a medium-sized bowl. Pour in collagen, if using, and coconut flour and stir thoroughly. Form dough into 2-inch footballs and lay flat on parchment paper. Dough should make around 10-12. 

Once all dough has been shaped, place in the freezer for 15 minutes to harden.

To make outer chocolate layer, melt coconut oil and broken up chocolate bar in bowl by microwaving in 30-sec intervals and stirring.

After the footballs have hardened, remove from freezer and use two forks to dip in melted chocolate and back onto parchment paper or cooling rack. chocolate should harden immediately. Then using a spoon, gently drizzle coconut butter on as laces. Place back in the freezer to harden for 15 minutes. Enjoy!

*Store in airtight container in the freezer for weeks/months.
what I used to make this recipe