This blog post is sponsored by Chex Cereal™. All opinions and words shared are my own. 🙂
Bringing you a brand new Halloween-inspired snack to make this month! Switching from my last savory version of Chex mix with my favorite college snack, this one brings out more of the sweet flavors and is perfect for this time of year. I already know I'm making it for my next fam/friends gathering because it's pretty quick to make and is just a handful of ingredients.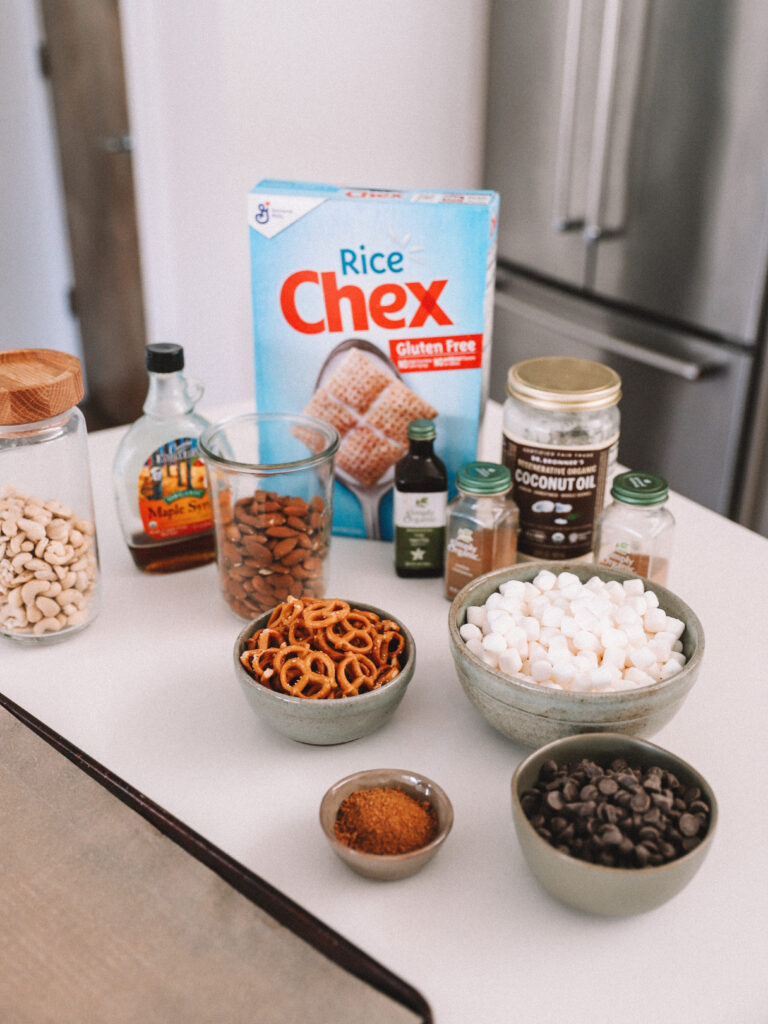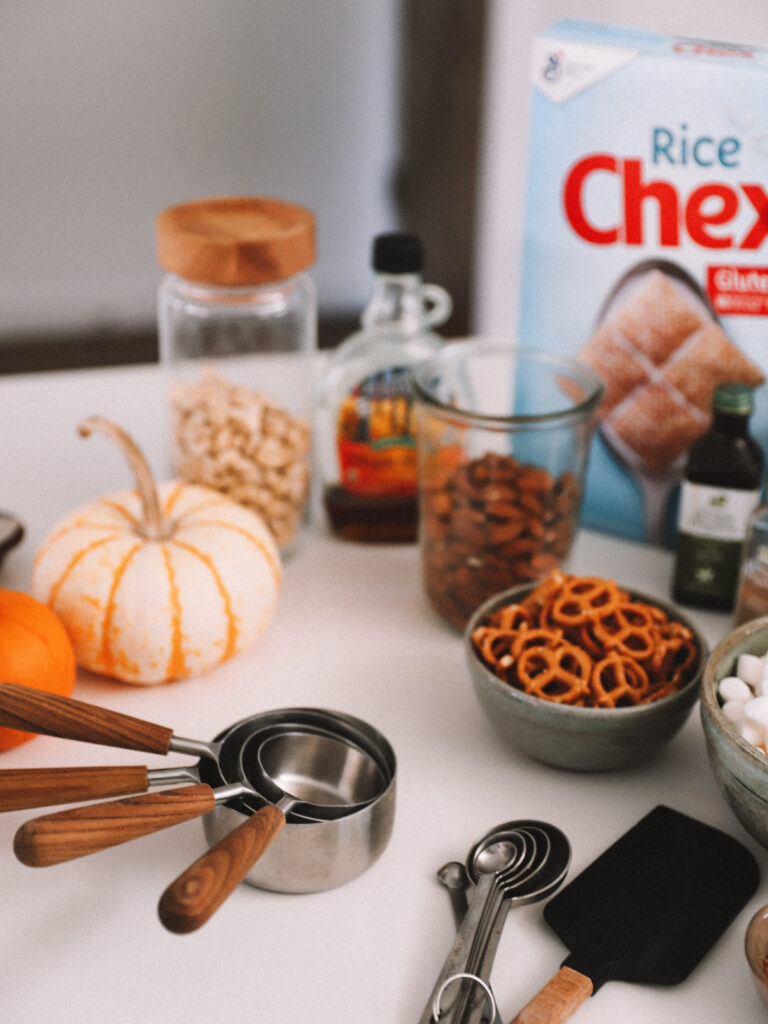 As always, you know I got your back with gluten-free, dairy-free and low-sugar recipes… this one is no different 🙂 I love recreating some of the foods I used to have growing up into better options.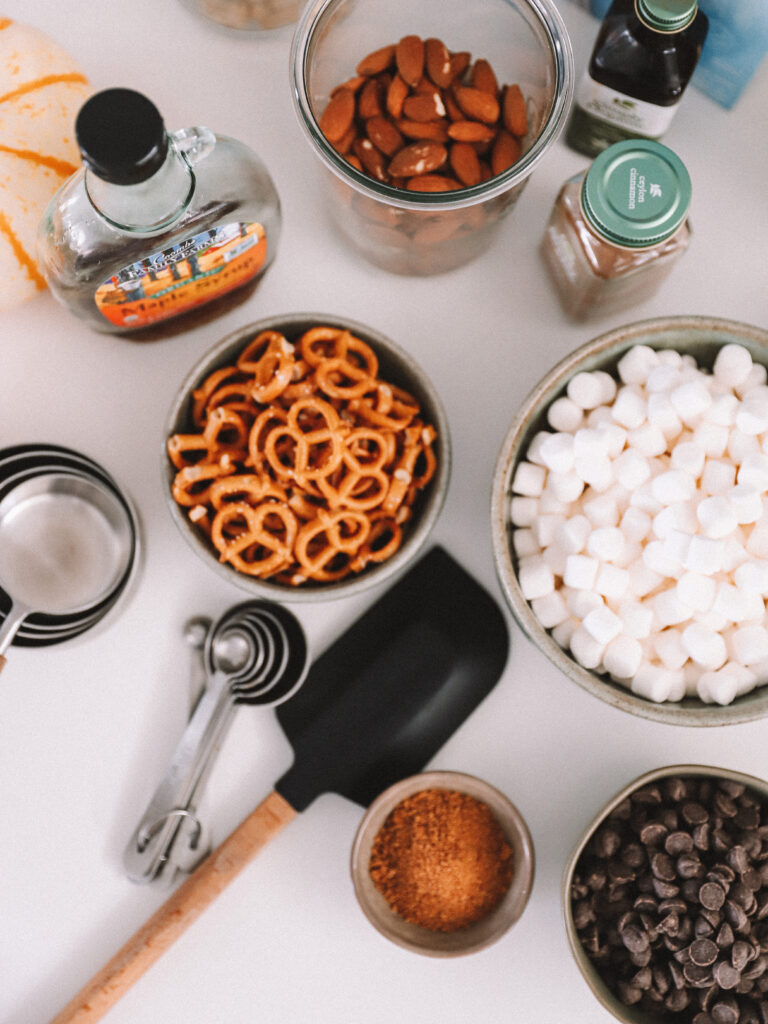 I've partnered with Chex again to bring you the GOODS. I feel like their Rice Chex is so versatile and can be used both sweet and savory. It's basically a blank slate you can do anything with, which is v ideal!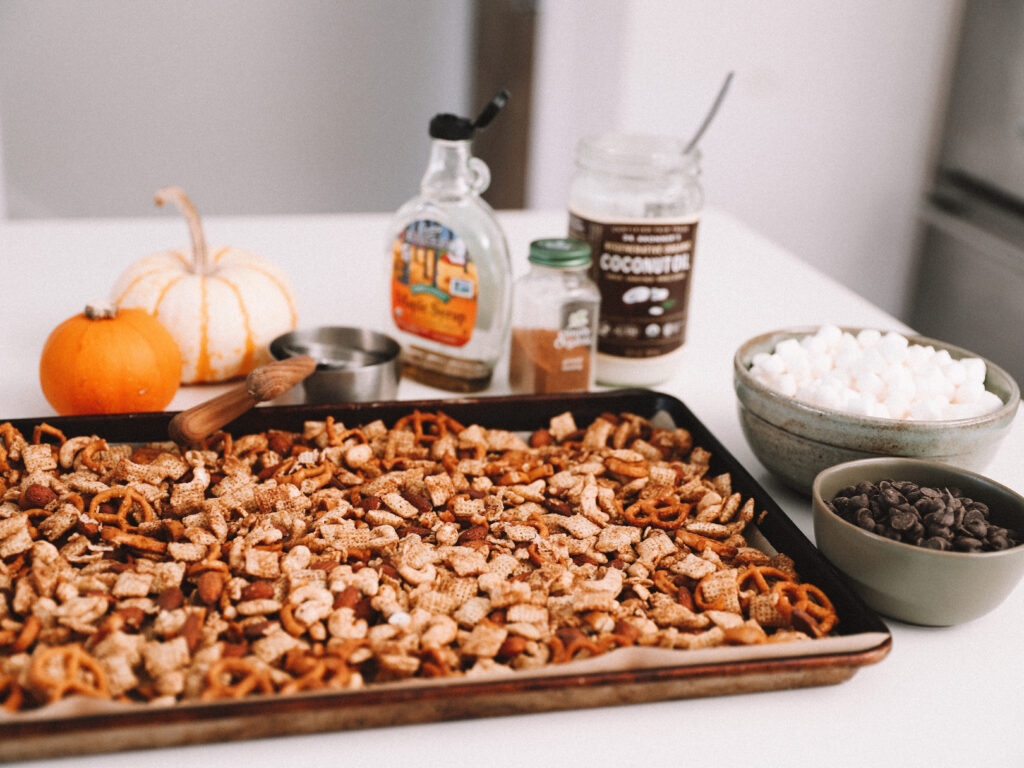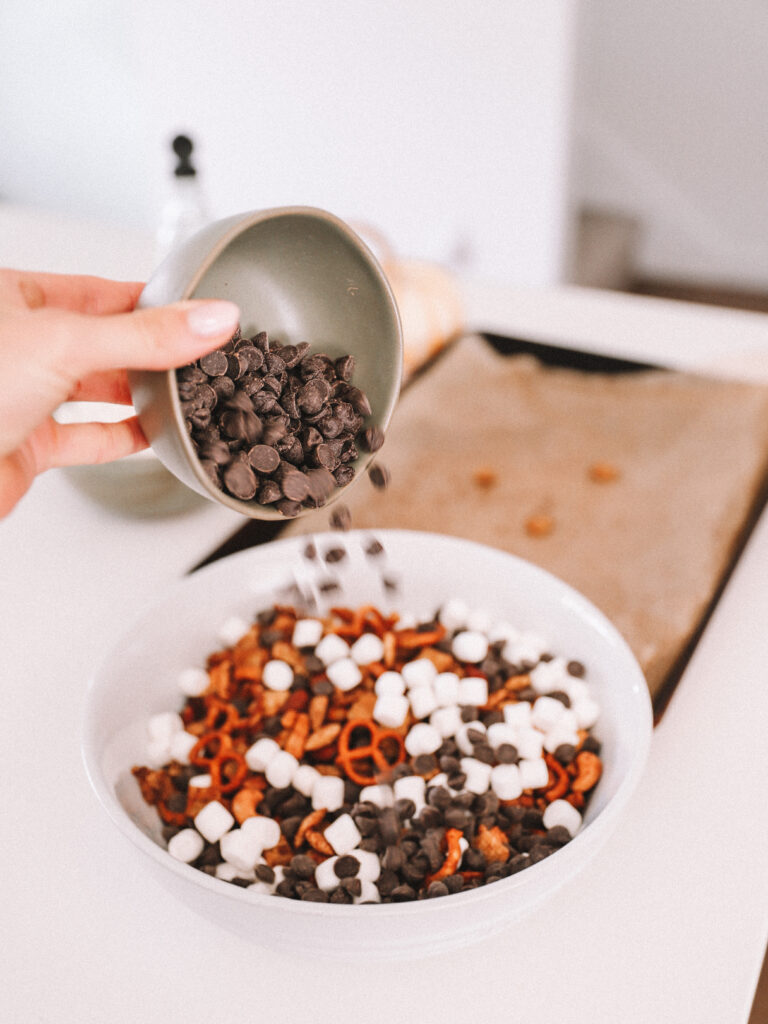 With this recipe, think of all the best yummy flavors of the fall season – cinnamon, nutmeg, maple syrup, coconut sugar – this one is SO cozy and comforting, not to mention that Bridge is fully on board for it. Like he already requested I make another batch next week. I roasted the Rice Chex™ with almonds, gluten-free pretzels and cashews– feel free to use whatever nuts or seeds you have on hand in your kitchen– and then once it was cooled, I threw in some mini marshmallows and dairy free? chocolate chips to make things extra festive. Whether you're getting together with a few friends for Halloween or staying home and watching scary movies, this Chex recipe is a must-make! I also love it because it's not overly sweet, which is always hard to find these days, hence why I prefer making things from scratch at home. The coconut sugar gives it a nice sweet coating after it's roasted—sooo delish.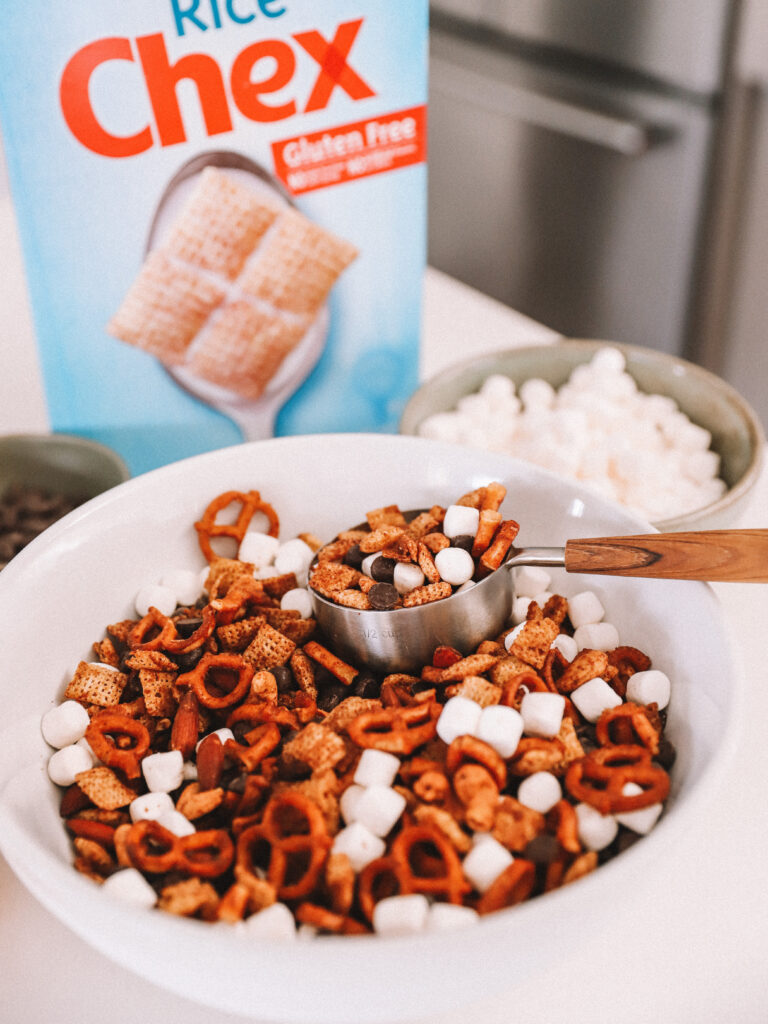 Best part about this recipe? It comes together super quick, just mix all the ingredients together, toss in the oven for 40 minutes, flip a few times, then let cool!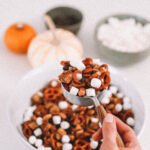 Fall-Inspired Sweet Snack Mix (Allergen-Friendly)
Ingredients
4

cups

RiceChex™

1.5

cups

pretzels

(I use gluten-free)

1

cup

whole almonds

(preferably raw)

1

cup

cashews, raw

1/2

cup

coconut oil, melted

2-3

tbsp

maple syrup

1

tsp

vanilla extract

2

tbsp

coconut sugar

1/2

tsp

cinnamon

1/4

tsp

nutmeg

1

cup

mini marshmallows

1/2

cup

mini dairy-free chocolate chips
Instructions
Preheat oven to 300 degrees F and line a baking sheet with parchment paper.

Combine Chex, almonds, cashews and pretzels in a large mixing bowl and mix together.

Melt coconut oil, then pour over the top of the mixture, followed by maple syrup, vanilla extract, coconut sugar, cinnamon and nutmeg. Gently mix together until all ingredients are well-covered.

Pour entire mixture over parchment paper and spread out evenly. Bake for 40 minutes, tossing every 15 minutes.

Once done, let cool for 15 minutes.

Transfer to a large bowl, then add in mini marshmallows & chocolate chips. Enjoy! 🙂