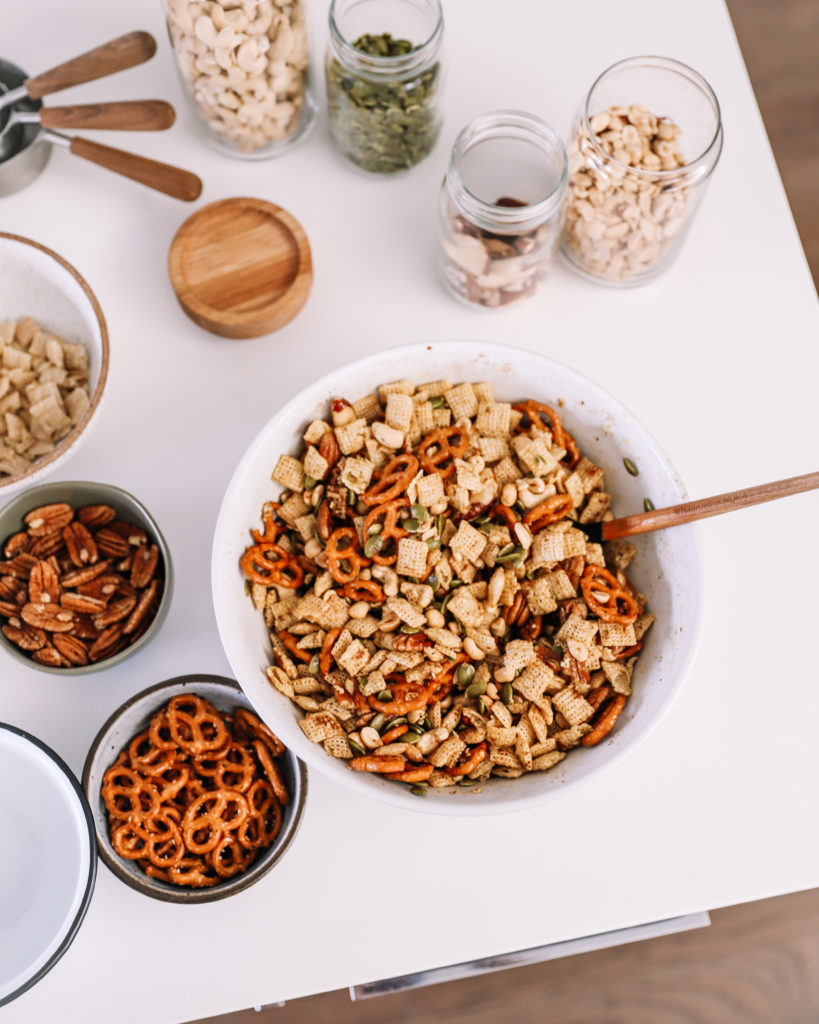 This blog post is sponsored by Chex™. All opinions and words shared are my own 🙂
I'm not sure what it is about this quarantine situation, but I've been dreaming about this particular snack I used to have years and years ago in college. I was doing the math and I can't believe it's already been nine years since I was a freshman at Oregon State… seriously, where has the time gone?!! Anyways I have to fill you in on this snack. My freshman roommate's mom would literally send her back to school with gallon-size ziplocks of this stuff and we just couldn't get enough. I think I can honestly say it powered me through one too many finals weeks.
Since then, I've been more aware of how food makes me feel and have made the transition to a completely gluten and dairy-free diet. I've come to realize that after years of feeling crummy from eating foods with these ingredients, it isn't worth it to me to feel that way anymore. But that doesn't mean I still can't enjoy my fav's like this roasted Chex™ mix!! Thankfully, they make a delish Rice Chex that's gluten-free and is what I used for this recipe, in addition to my other highly addictive Muddy Buddy recipe (you can find that here) during the holidays 😉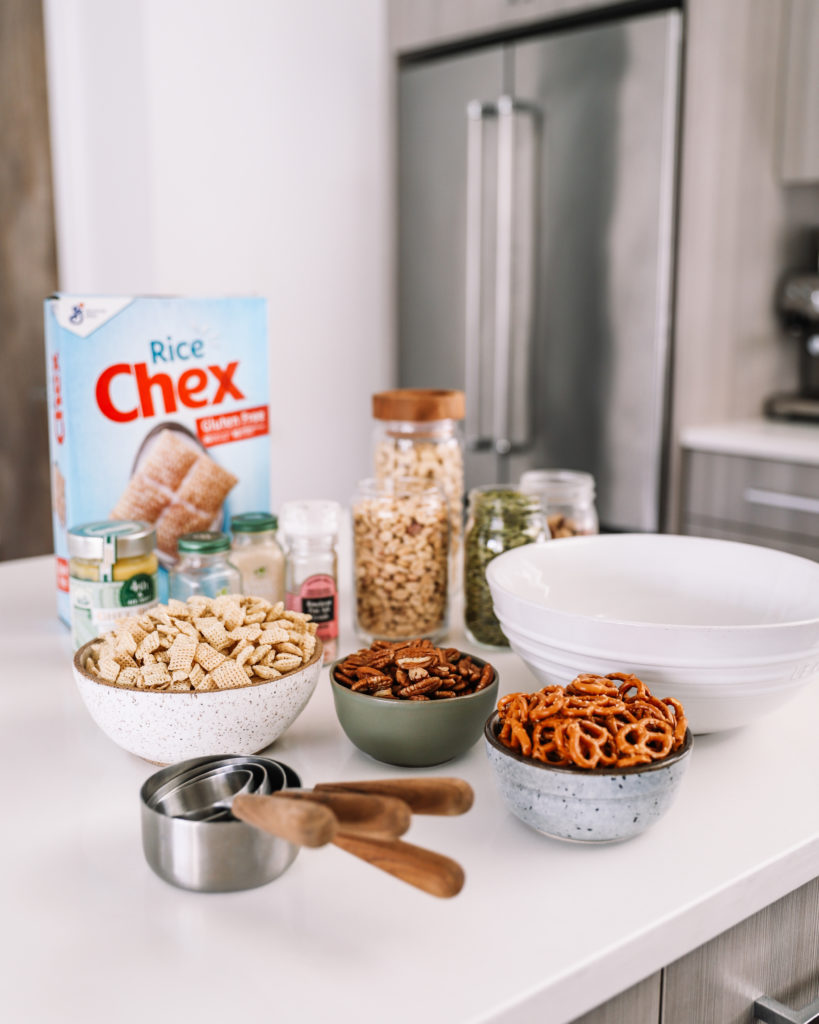 Plus, I'm happy to partner with Chex™ not only for this super yummy & easy gluten-free recipe, but to share that May is Celiac Awareness Month. Celiac disease is a genetic autoimmune disease that affects 3 million Americans. It's triggered by consuming a protein called gluten, which is found in wheat, barley and rye. I hope that by sharing this recipe, it helps brings awareness to those with Celiac disease and the importance of having gluten-free options. Being gluten-intolerant myself (not celiac), it's sometimes hard to eat the same classic snacks I had growing up. But hey, that's what I do now; remake recipes with better & fewer ingredients 😉 Whether you're GF or not, I know you'll love this simple recipe!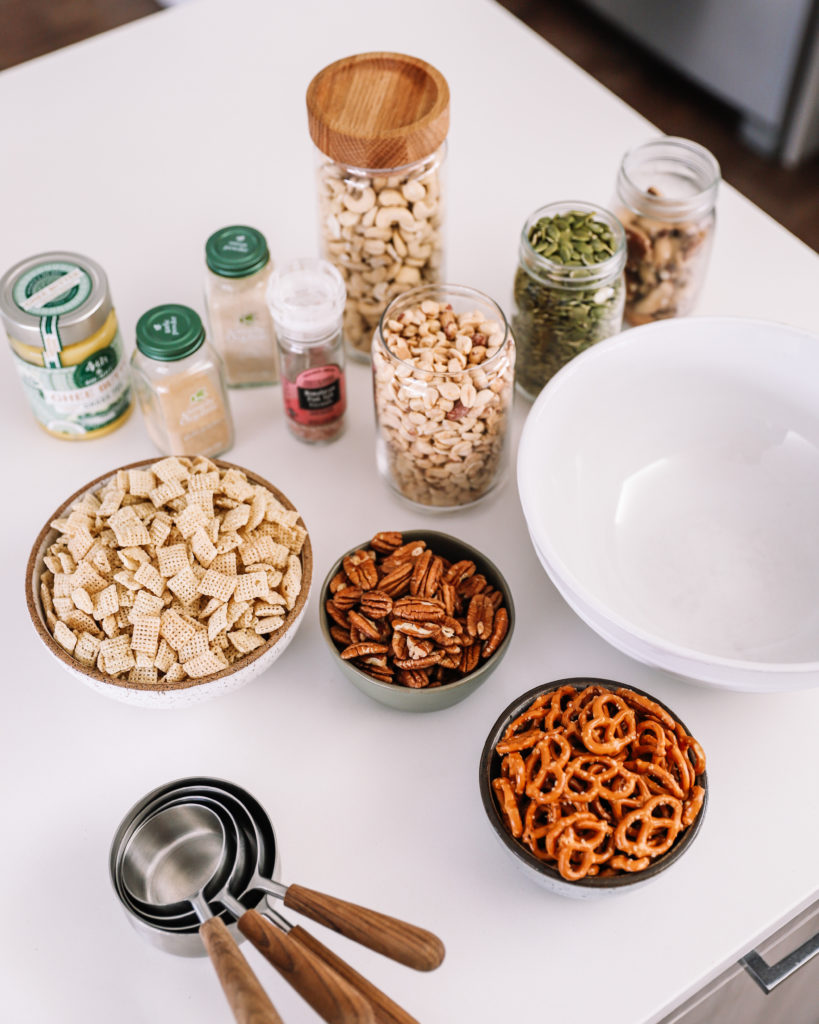 For this recipe, I went with plain Rice Chex™ because it's pretty neutral, so you can easily turn it into anything – sweet or savory! I kept the rest of the ingredients simple by using a handful of my favorite nuts and seeds– cashews, Brazil nuts (high in selenium), pecans, peanuts, pumpkin seeds—as well as ghee, which is basically butter with the lactose removed. If you're not a fan of ghee or are allergic to dairy, I suggest using refined coconut oil or avocado as your liquid.
This recipe is perfect for having on hand for snacking and keeps really well in any sealed container or reusable bag. It will even last for weeks/months sealed tight in the freezer! Bridge and I are kinda addicted, which I think you'll understand why once you make it for yourself.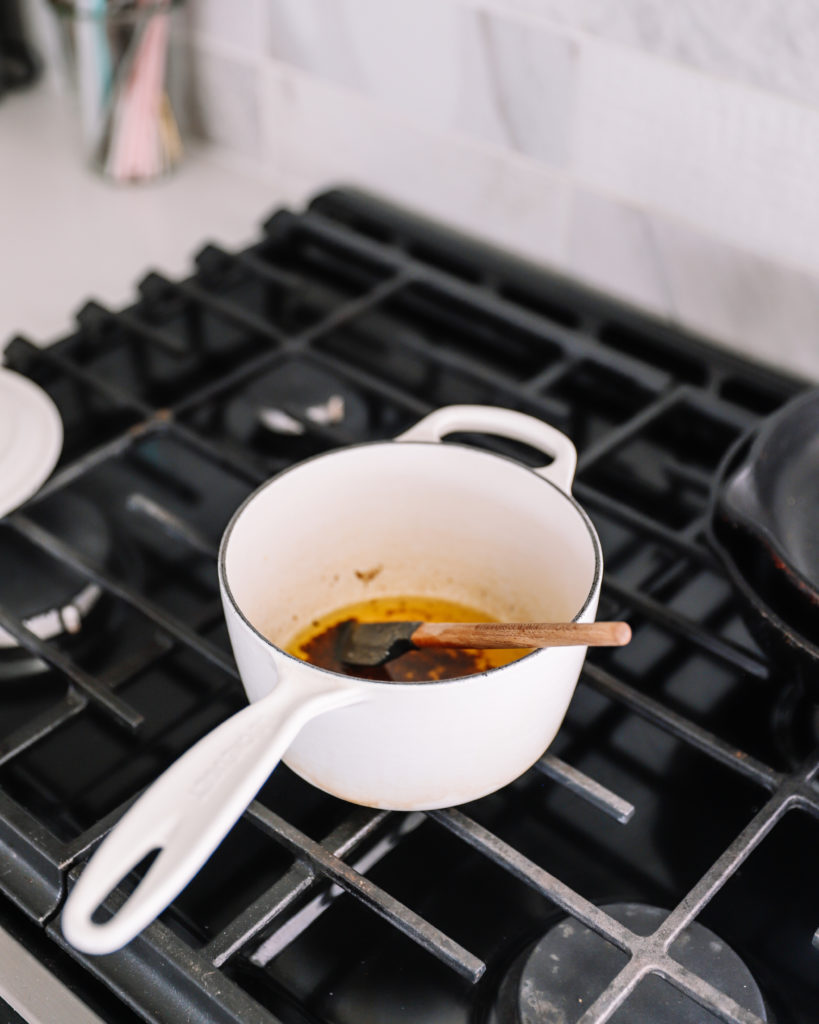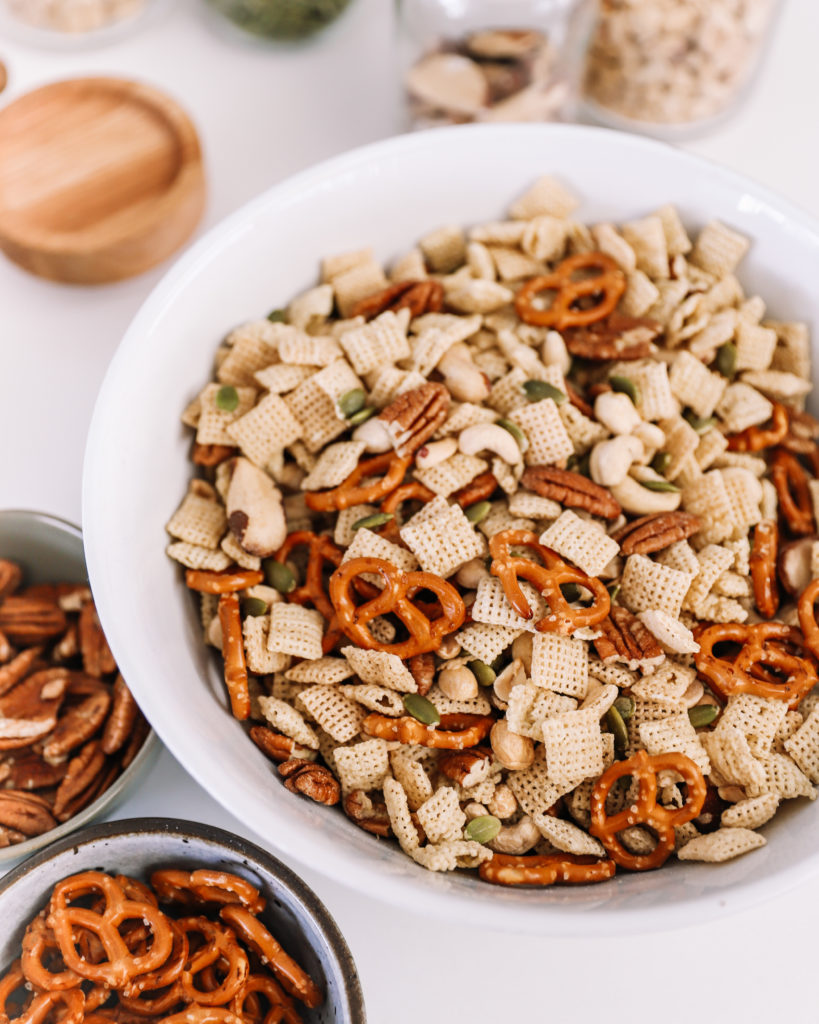 The steps are so easy for this one—all you have to do is melt your liquid in a small saucepan, remove from the heat, pour in the spices & Worcestershire sauce, and then combine all ingredients in a large bowl.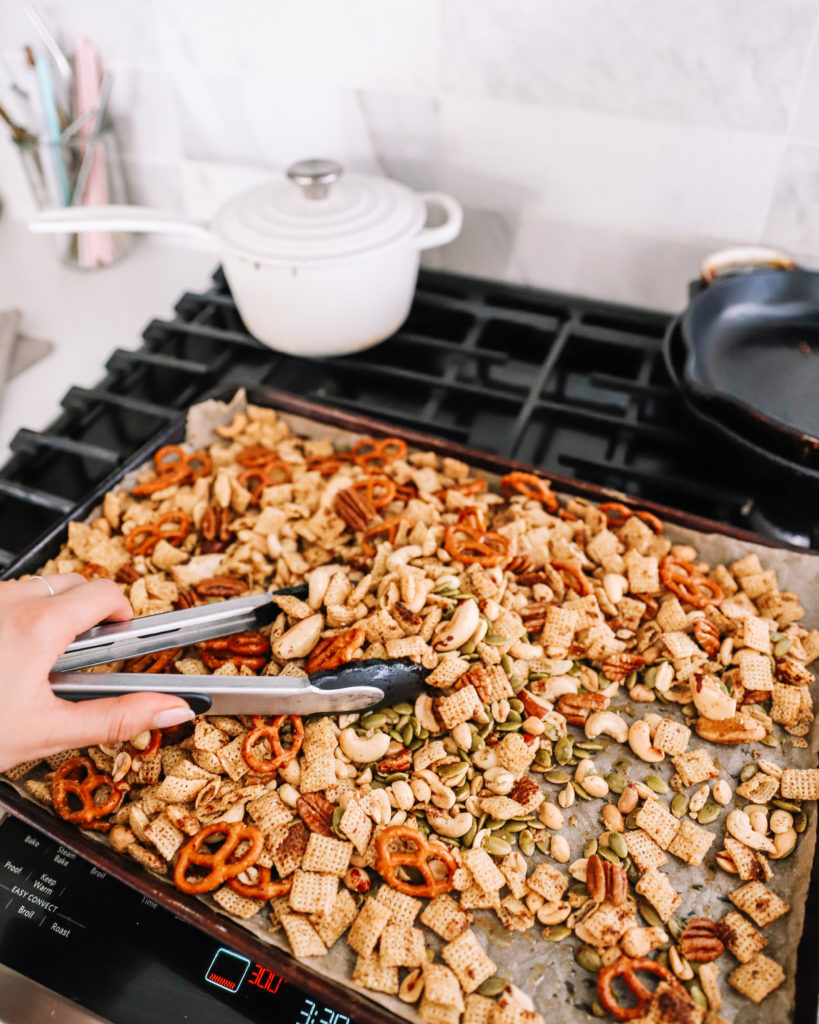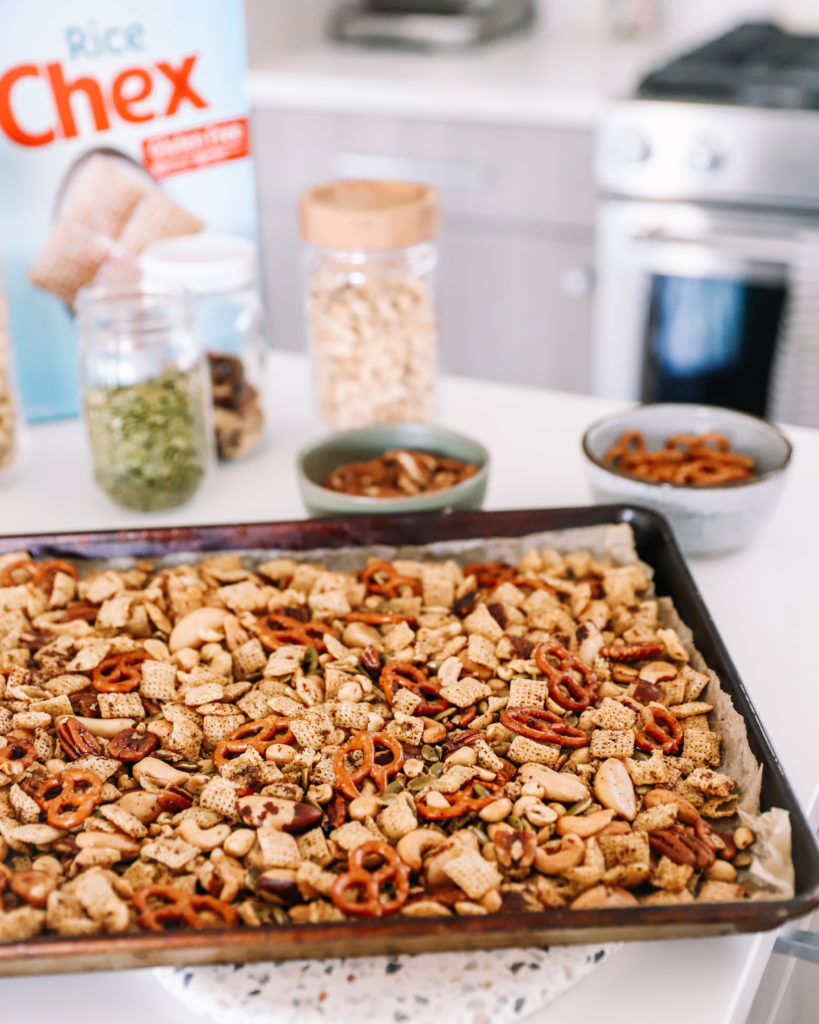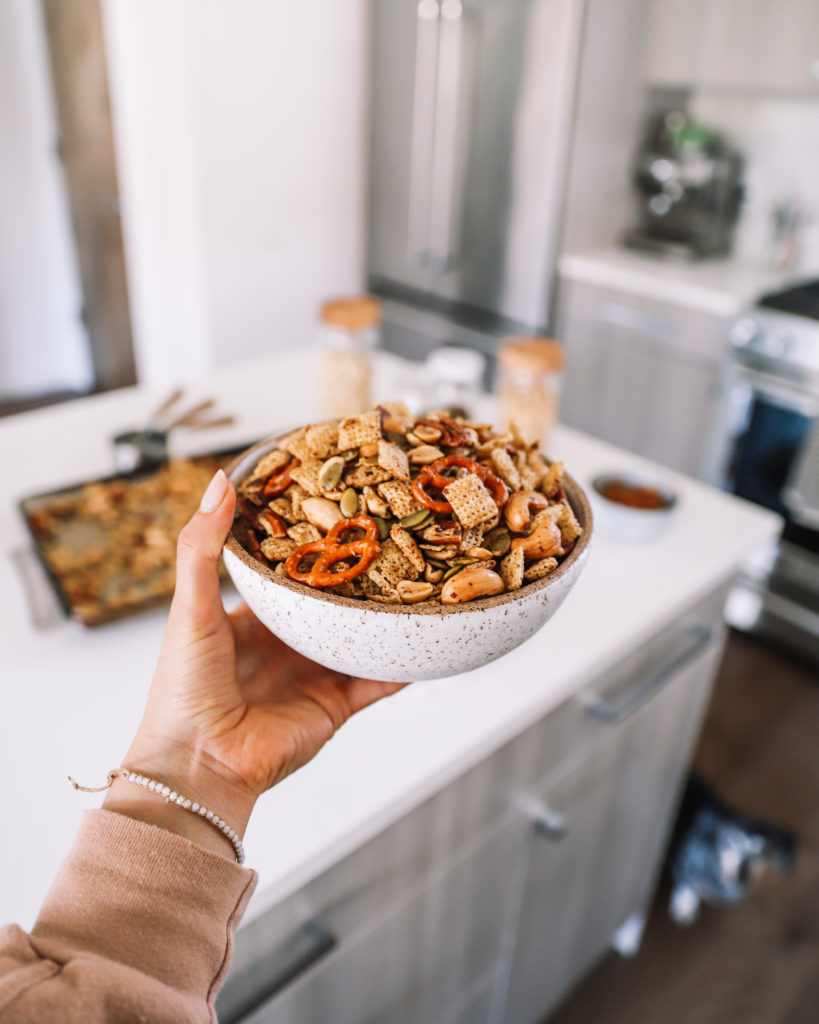 Toss it in the oven for 45 minutes, stirring every 15 and you're golden! Make sure you give it a try and let me know what you think in the comments below. Enjoy!
Roasted Chex Mix (GF, DF)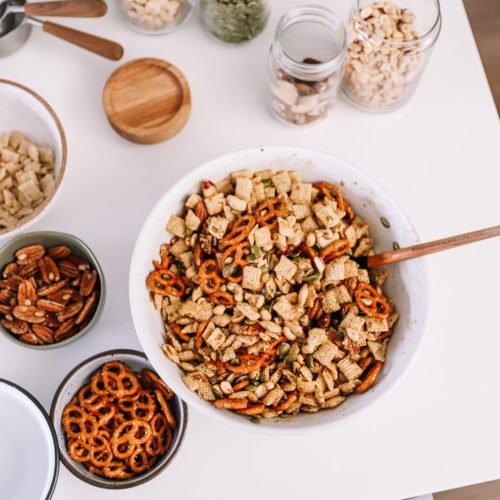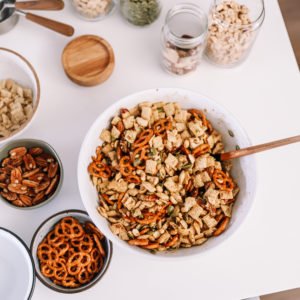 Ingredients
4

cups

RiceChex™

1

cup

gluten-free pretzels

3/4

cup

Brazil nuts

1/2

cup

pecans

1/2

cup

peanuts

1/2

cup

cashews

1/3

cup

pumpkin seeds

1/3

cup

ghee

,

(or substitute coconut oil or avocado oil)

1

tbsp

Worcestershire sauce

3/4

tsp

onion powder

3/4

tsp

garlic powder

3/4

tsp

pink salt or sea salt
Gluten-Free Worcestershire Sauce
1/2

cup

apple cider vinegar

2

tbsp

tamari soy sauce

2

tbsp

water

1

tbsp

molasses

1/4

tsp

dry mustard

1/4

tsp

ground ginger

1/4

tsp

garlic powder

1/4

tsp

onion powder

1/8

tsp

pepper

1/8

tsp

cinnamon
Instructions
GF Worcestershire Sauce
Add all ingredients to a medium saucepan and stir thoroughly. Bring ingredients to a boil, stirring consistently. Simmer for 1 minute. Let sauce cool and store in refrigerator. Shake well before using.
Chex Mix
Preheat oven to 300 degrees F.

Combine Chex™ with nuts and seeds in a large mixing bowl.

In a small saucepan over the stove, heat ghee on low heat until liquid. Stir in Worcestershire sauce, seasonings and stir. Remove from heat and pour over the top of the dry ingredients. Stir gently until thoroughly combined.

Line a sheet pan with parchment paper. Pour entire mix over the top and spread out evenly.

Bake for 45 minutes, stirring every 15 minutes.

Let cool for 5-10 minutes before digging in.