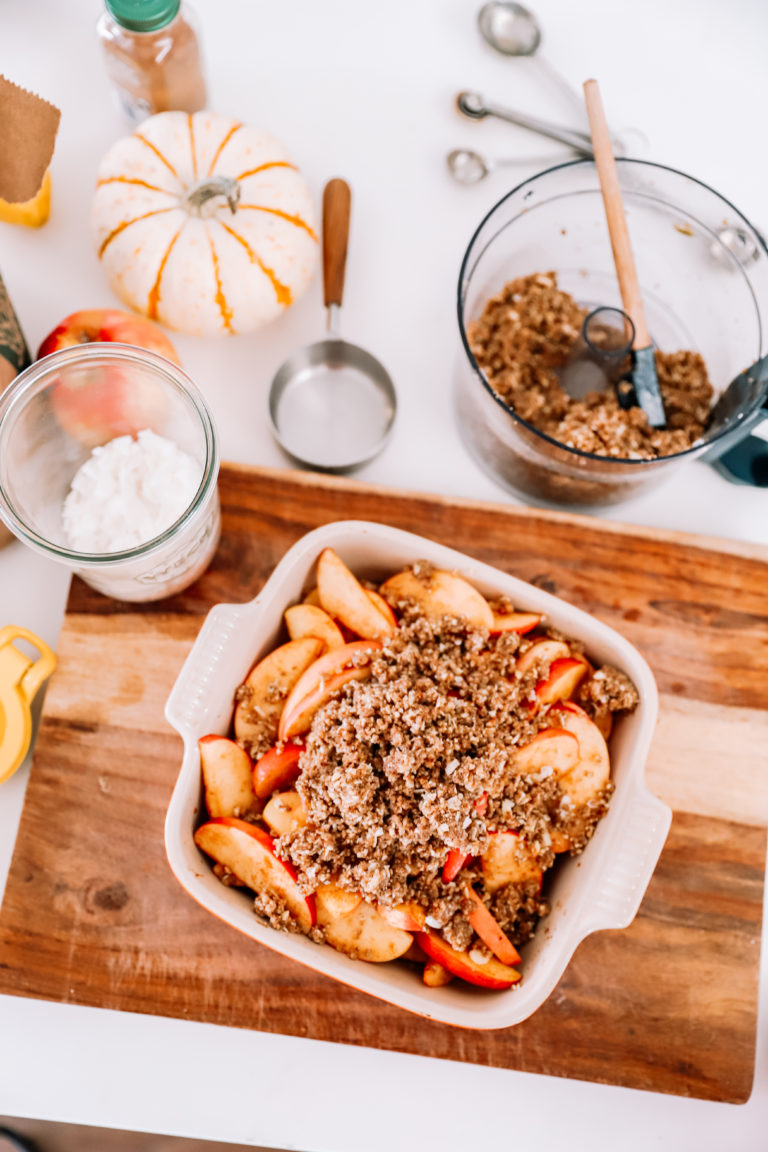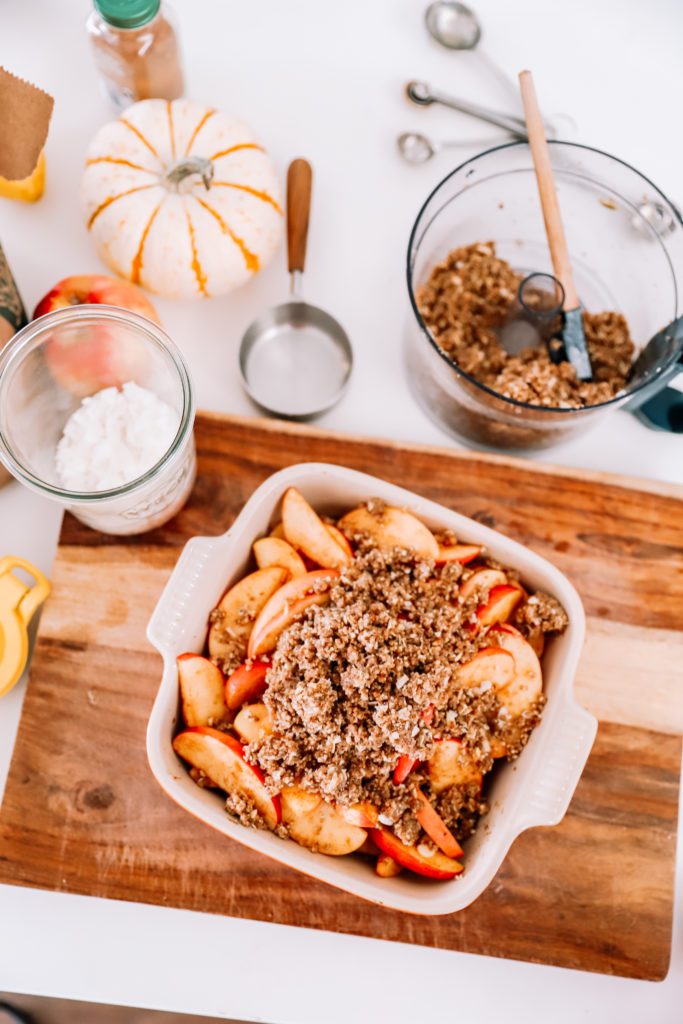 If you're a sucker for a good, comforting, fall treat then you HAVE to make this paleo apple crisp. It's gluten-free, dairy-free, grain-free and refined sugar-free. It's funny how the things you used to have growing up can be made with such better ingredients (and just a fraction of the added sugar) and still taste well, amazing.
Slowly, but surely, I'm getting better at baked desserts. And I can honestly say this is one of my favorites! I made a similar Paleo Peach Cobbler earlier this year, but this one has a few tweaks.
It's insanely delicious and something that can utilize all the seasonal apples at the moment. I highly recommend investing in a food processor for simple granolas, crumbles, sauces, dips, bliss balls, etc. I use a Cuisinart 9-cup processor and would recommend it, though I haven't tried many others.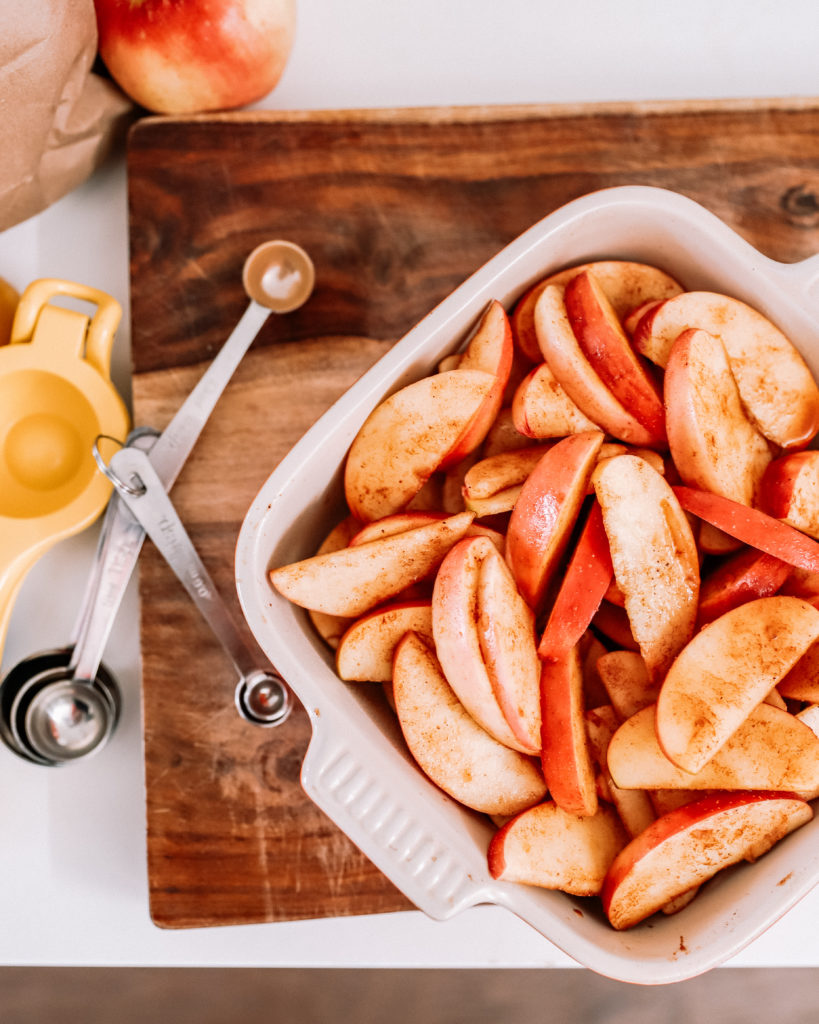 The steps are super easy here. I sliced up 4-5 large apples pretty thin. Then tossed with cinnamon, nutmeg, vanilla extract, lemon juice and maple syrup. Pour in the baking dish (I used a 7×7, I believe), making level.
Now it's time to make the crumble–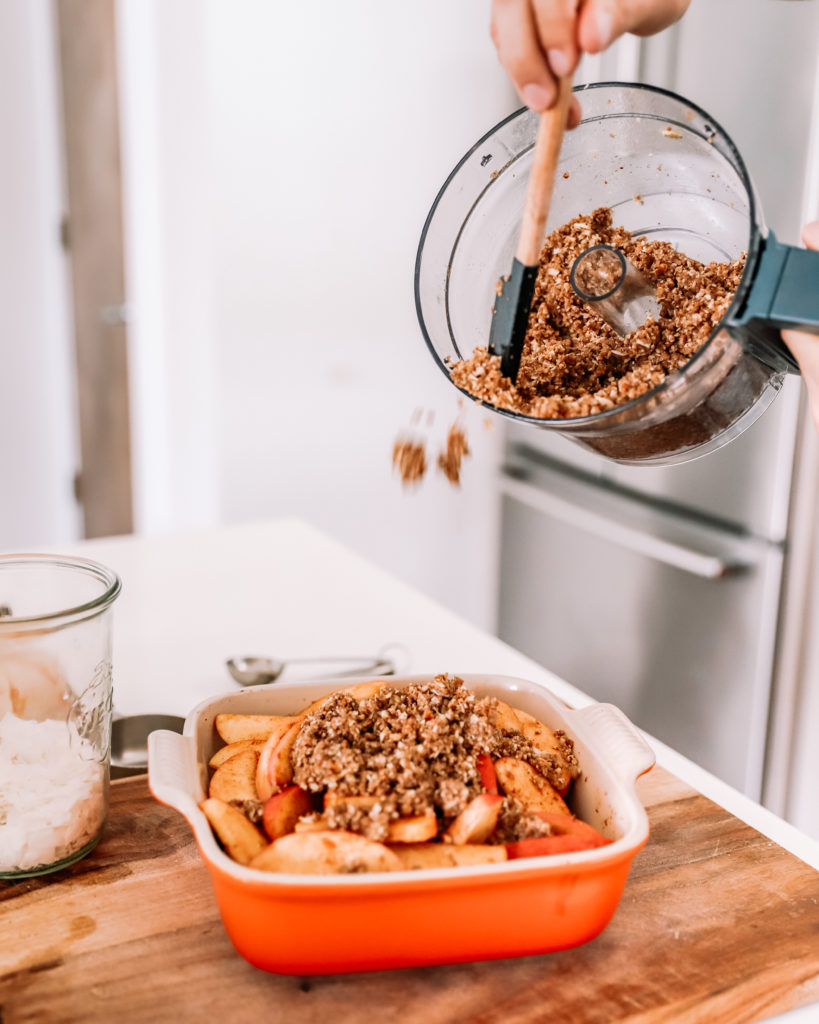 If you've been following my recipes for a while, you know my eating style is gluten-free and dairy-free (I've figured out I'm intolerant by how my body reacts) and that's exactly how I love to create my recipes. This crumble recipe is EVERYTHING. Full of healthy fats, fiber, protein from nuts + seeds and the flavor is so yummy you'll want to eat it with a spoon!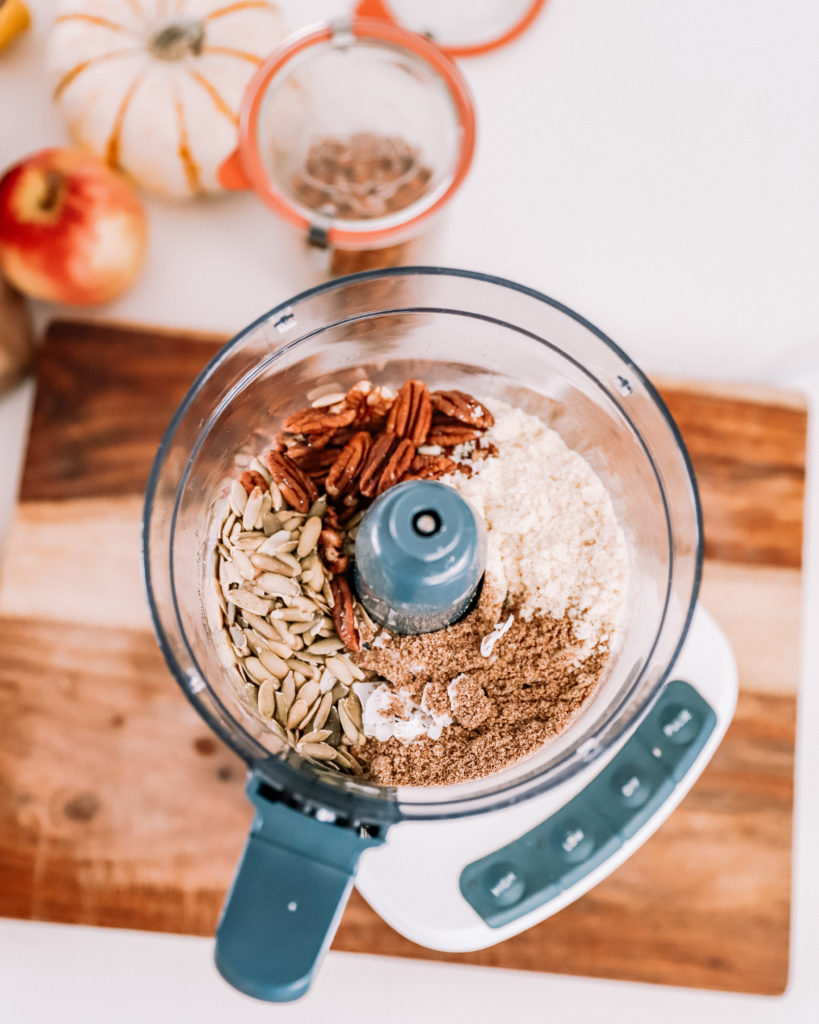 Once you've pulsed all the topping ingredients in the food processor (more than welcomed to chop all nuts + seeds by hand on a cutting board, then mix with remaining ingredients in large bowl), you can throw the mixture over the apples, even filling in some of the gaps along the outside. Pop it in the oven at 350 degrees F for anywhere from 45-55 minutes, depending how you like your apples (slight crunch to very soft). You'll know it's almost done when the crisp topping gets brown and the apples start to bubble.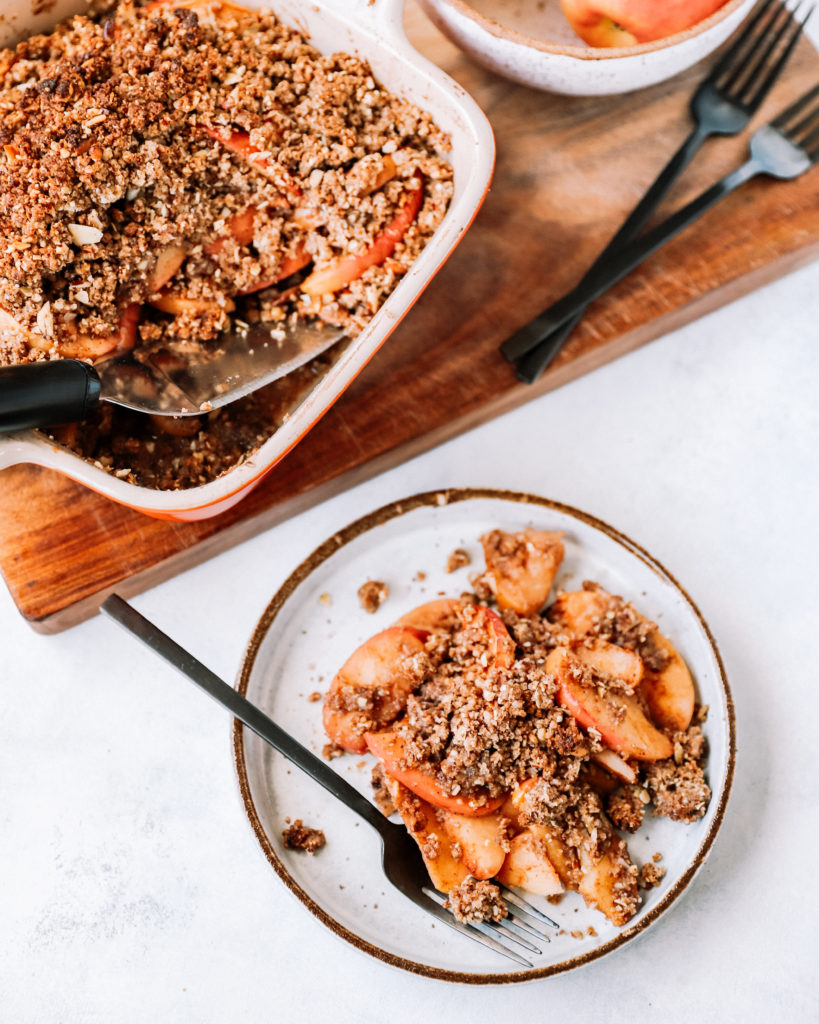 Wait as long as you can for the crisp to cool… trust me, I burned my tongue trying to go in too quick, but I know we've all been there.
I hope you love this recipe and can't wait to hear what you think!!
p.s. Not to toot my own horn, but Bridger even said this was the best apple crisp/crumble he's ever had. Win!!
Healthy Apple Crisp (GF, DF, paleo)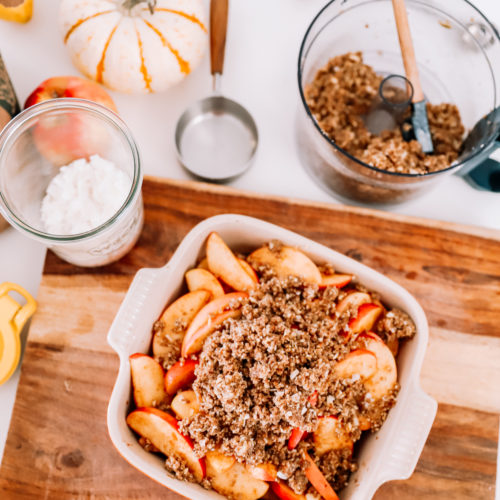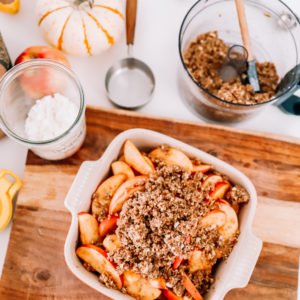 Ingredients
Filling
4-5

large

apples, thinly sliced

1/2

lemon, squeezed

1-2

tbsp

maple syrup

2

tbsp

melted coconut oil

2

tsp

cinnamon

1/4

tsp

nutmeg

1

tsp

vanilla extract
Crumble Topping
1/2

cup

almond flour

3/4

cup

pecans

1/2

cup

coconut flakes

3

tbsp

pumpkin seeds

1/4

cup

almonds (raw, whole or sliced)

3

tbsp

ground flaxseed

1/4

cup

coconut oil

2-3

tbsp

maple syrup

1

tsp

cinnamon

1/4

tsp

nutmeg

1/4

tsp

ginger

1

tsp

vanilla extract

pinch

sea salt
Instructions
preheat your oven to 350 degrees F.

mix together filling ingredients in large bowl. spray square baking dish (7×7-inch) with coconut oil then add filling mixture.

in a food processor, add crumble ingredients and pulse together until it reaches a crumble texture. pour over the top of the apples, filling in the corners & sides.

bake for 50-55 minutes, or until crumble is starting to brown + apples are bubbling.

let cool for at least 10 min then serve, preferably with coconut vanilla ice cream.
what I used to make this recipe