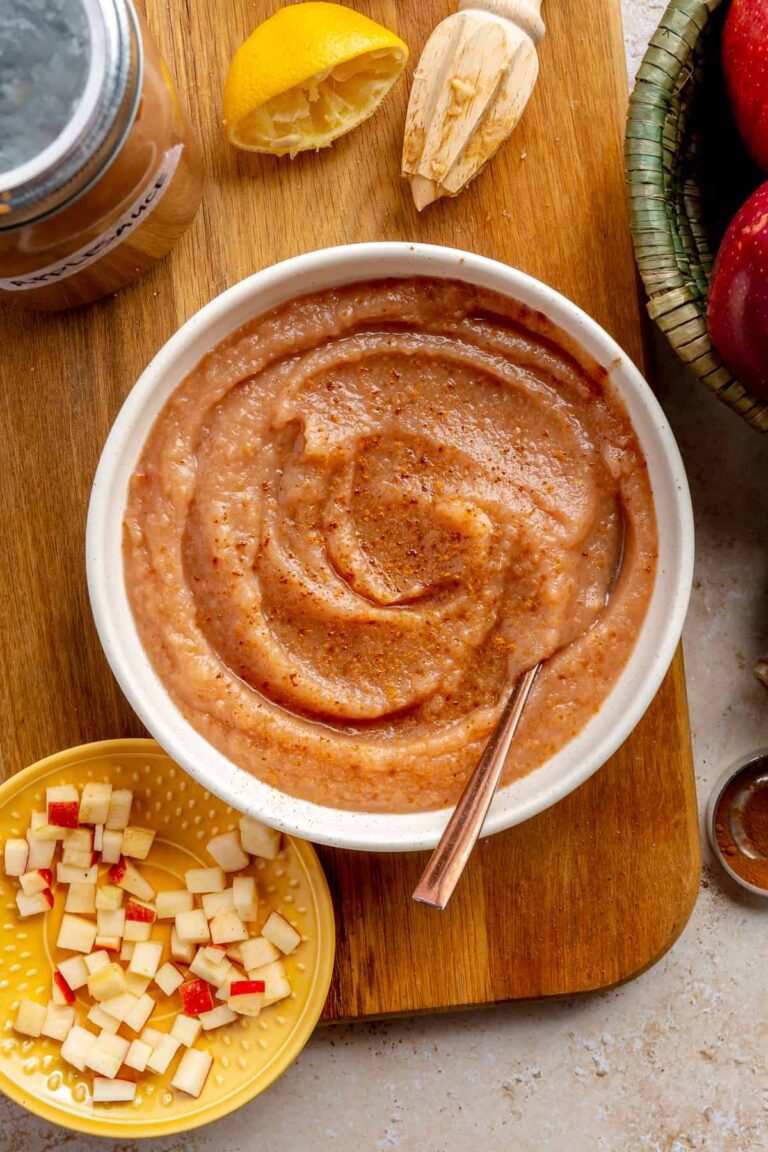 One of my favorite childhood memories is growing up on a small farm with not just the cutie farm animals, but all the different kinds of fruit trees. As soon as apple season hit, my sister and I would pick tons of apples and make countless recipes with them. This homemade cinnamon applesauce is one of those recipes, and probably my favorite! From the sweet-smelling combo of the apples, cinnamon & cloves, and the slightly citrusy taste of the lemon, it makes for a great breakfast, snack – or even, dessert.
I know we tend to think of applesauce as more of a kid-friendly snack (which, yes, it is!), but I'm confident us adults should be reminded of how good it is every fall. Each time I make this, the house smells heavenly, and whether Bridger & I eat it as a fresh batch for breakfast, or as a snack the next day, it tastes like comfort. It's seriously giving cozy, nostalgic, Fall vibes!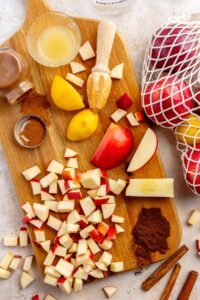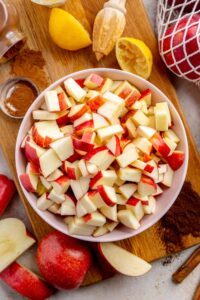 BASIC IS GOOD
Okay, hear me out. Basic is good. While it can be easier & more convenient to reach for more of those processed, packaged foods (I get it!), I promise you will notice how much better you feel when you go back to the basics and make the shift to eating more whole foods. That's why I love this simple, sweet recipe. So much so, I had to give it a spot in my very first cookbook, Rachael's Good Eats, where I also share more of my personal food philosophy 🙂
Don't get me wrong, I definitely love indulging my sweet tooth every so often, but don't really love the way sugar can make me feel. It makes me so happy to be able to share this recipe with you guys because it's completely added sugar free (the apples & cinnamon are sweet enough, trust me) and just so easy to make (did I mention it's only 4 ingredients?!).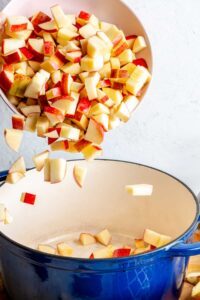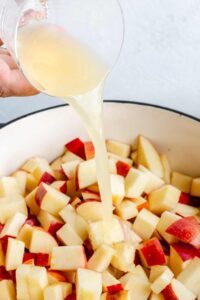 WHY DO YOU PUT LEMON JUICE IN APPLESAUCE?
You'll find that lemon juice is common in most homemade applesauce recipes. There's actually a couple reasons for this. Lemon juice is highly acidic which helps bring out the brightness of the apples while balancing out the sweetness. Also, fun fact: lemon juice acts as a natural preservative which will help keep your applesauce fresh (just like it helps to prevent fruit salad from browning).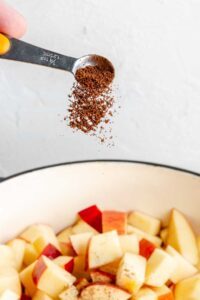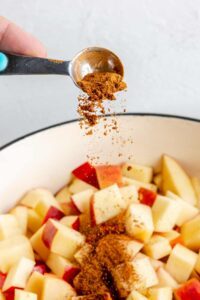 INGREDIENTS YOU'LL NEED:
 

8-10 small to medium apples

Juice of 1 lemon

1/2 cup water

1/2 tsp cinnamon

1/4 tsp cloves
Of course, some of the ingredients are up to your own preference, like the cloves. But I guarantee you will love this combination and it might even become your new family staple!
HOW TO MAKE HOMEMADE CINNAMON APPLESAUCE
Peel apples and dice into cubes, removing the core. I like keeping the skin on about half of the apples (or all, for more fiber), so I won't peel all of them. In a large pot, combine the diced apples with the remaining ingredients. Turn heat on medium, cover and bring to a boil. Reduce heat to low and let simmer for 20-40 minutes. Once the apples are soft, use a potato masher or fork to mash the apples to your desired consistency. For a chunkier applesauce, don't mash all the way. If you prefer a smoother texture, use an immersion blender. 
When serving, feel free to add a sprinkle of ground cinnamon on top for a little extra flavor! Store in an airtight container in the fridge for up to one week.
RECIPE SUBSTITUTIONS & QUESTIONS
I like to use Gala apples for this recipe, but any variety will work! I also prefer to leave about a quarter or half of the skins on (for added fiber & nutrients), so I don't peel all of them.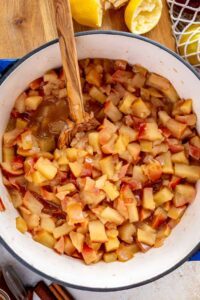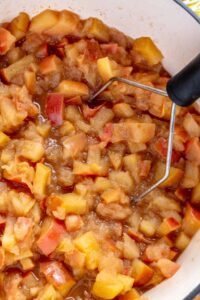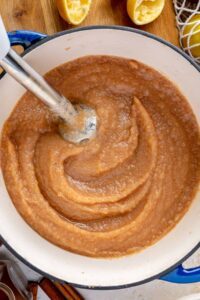 IS APPLESAUCE WITH CINNAMON GOOD FOR YOU?
Don't mistake the delicious sweetness of applesauce for being unhealthy. Cinnamon applesauce is a great snack to have on hand for a couple of reasons. Apples have quite a few benefits for your health: they're rich in fiber, especially when you leave the skin on (which is helpful in aiding digestion and keeping you fuller for longer), they're high in antioxidants (especially the peels), which may help reduce the risk of many diseases, and they're mostly made up of water, making them a refreshing & hydrating snack. Cinnamon adds to the cozy, warm flavors of the applesauce and also provides a boost in antioxidants for more disease-fighting benefits. And of course, when it's homemade, there's no preservatives or unnecessary added sugar!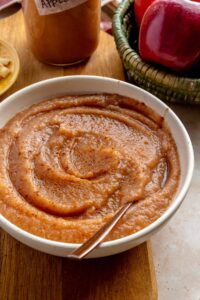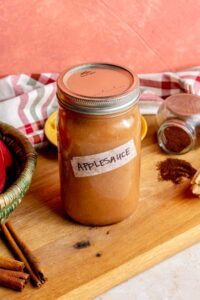 Sometimes after I make a big batch, I'll store it in a glass container (like a mason jar), tie some twine around the lid with extra cinnamon sticks, and gift it to friends & family.
If you can't tell, this is by far one of my most favorite (and easiest) Fall recipes. Give it a try while apples are in season and let me know what you think!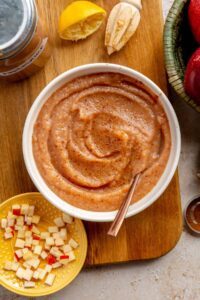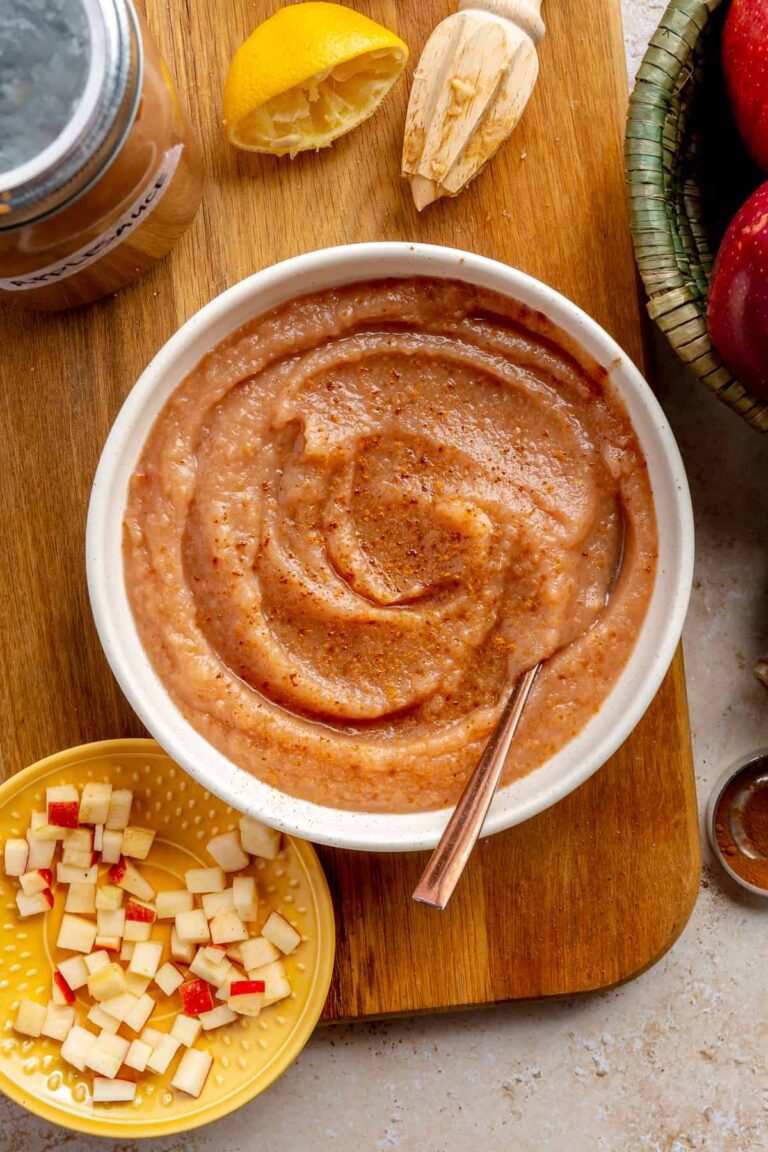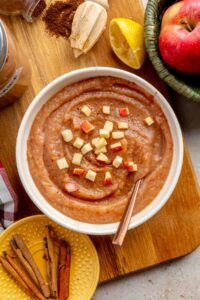 Homemade Cinnamon Applesauce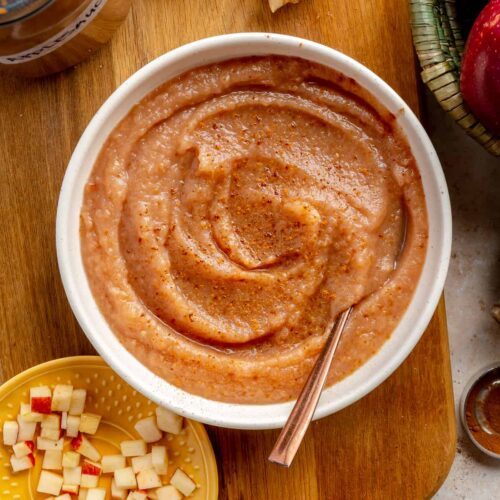 A seasonal favorite! Plus, there's no added sugar, will make your house smell amazing and tastes delicious 🙂
Ingredients
8-10

small to medium apples

Juice of 1 lemon

1/2

cup

water

1/2

tsp

cinnamon

1/4

tsp

cloves
Instructions
Peel all apples and dice into cubes, removing the core (I like keeping the skin on about half of them and peeling the rest).

Add to a large pot with lemon, water and spices. Turn heat on medium, cover and bring to a boil. Reduce heat and let cook for 20-40 minutes.

Once apples are soft, use a potato masher or an immersion blender to mash the apples. If you prefer applesauce on the chunky side, I wouldn't use the immersion blender. However, if you like it smooth, I would definitely recommend!

Store in an airtight container in the fridge for up to a week.