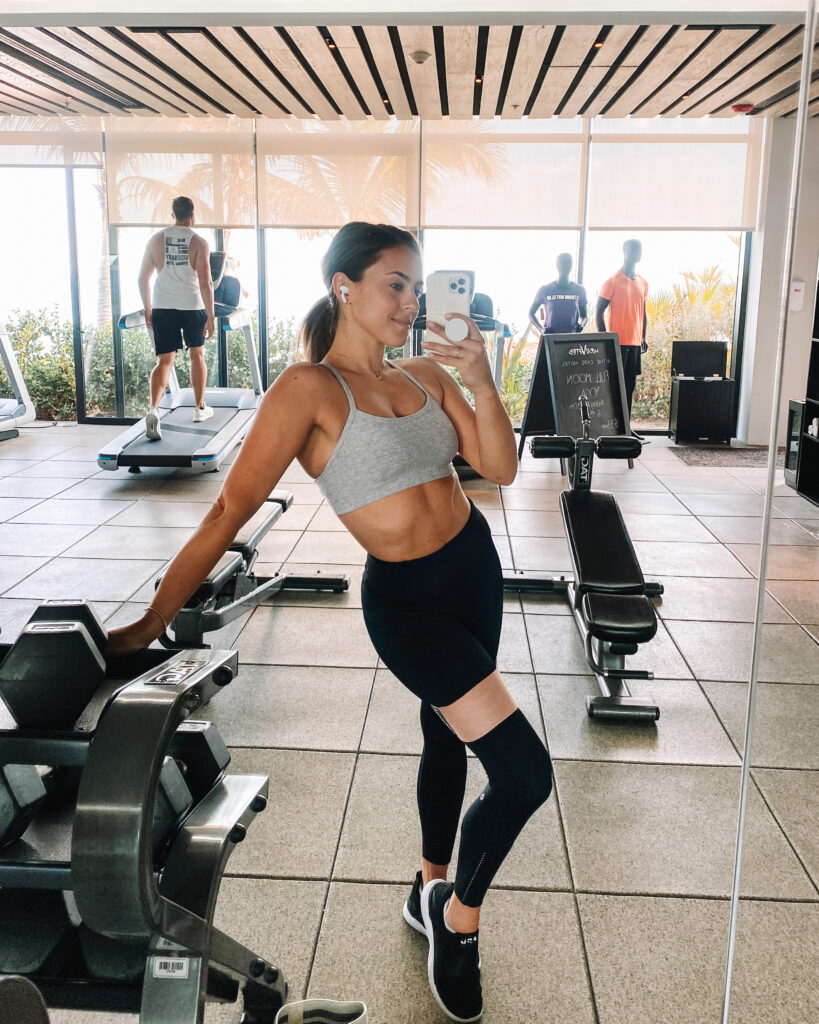 When it came to getting in shape for my wedding back in April, I have to be honest, I didn't change TOO much from what I was already doing with my day to day lifestyle. I can confidently say that I'm in such a good place with both food & fitness that I didn't do any crazy diets or stick strictly to cardio leading up to the wedding.
I get this question all the time, but how did I get to this place?
It's a journey, let me tell you. Everyone is on their own health & fitness journey and it's ever changing and evolving. These past two years I finally felt like my workouts have really stuck and I've gotten in the best shape of my life! Mostly thanks to my At-Home workouts during quarantine, and of course, eating a diet filled with tons of nutrients, a variety of fruits and vegetables, and making sure to get in a proper balance of quality protein, complex carbohydrates and healthy fats.
Listen, those diet programs or companies that tell you to go on a juice cleanse or eat all your meals/protein shakes from packets will teach you NOTHING in life. As a dietitian, I do my best to show that eating a diet filled with nourishing foods from the earth can supply our bodies with so much nutrition and FUEL we need each and every day to function at our best. So, before you "crash diet" two to three weeks before an important event in your life, just know that it's not sustainable and the weight will most likely come right back because you didn't actually learn anything about nutrition. It's essentially a band-aid that may give the short-term results you want but doesn't actually share the why. That also goes for anything wanting you to completely cut out major macronutrient groups like carbohydrates. Carbs give us FUEL! It's just important to choose the right carbs so you're not left with low-energy, low blood sugar, and a crummy mood. I prefer carbs like sweet potato– rich in vitamin a, c and potassium– and fiber-rich fruits & veggies like berries, beans, avocado, and broccoli.
Anyways, I followed my own 7-day Added Sugar Detox program along with so many of you (I love our community challenges!) every other week leading up to our wedding for about 2 months. I felt SO confident with how I felt, the bloat was gone, my sugar cravings were next to nothing and I didn't feel deprived of my favorite foods whatsoever. Thousands of you guys have found success with it and it makes me so happy!! Click here to check out my How-To guide in reducing added sugars in your diet (also, there's no cutting out things like carrots, beets or fruit!).
So, that along with reducing snacking after dinner, choosing protein when I get hungry between meals (sometimes I just throw a scoop of my favorite protein in a shaker with water and I'm good to go with 20g of protein that will keep me full and satiated! Or something quick like a Chomps turkey stick), getting enough SLEEP, drinking tons of water, filling the majority of my plate with veggies (more variety = more nutrients), and not overeating, which I tend to do a lot of the time, all helped in making me feel 100% on my wedding.
As for fitness, I recommend a combination of strength, resistance training and cardio for those wanting to up their exercise game a little bit more. This is exactly how I program my GOOD SWEAT workouts, more in particularly, my GOOD // SWEAT At-Home workout programs. So to be honest, I did a LOT of these workouts, especially because at the time I was testing all of the workouts for my 2.0 guide. And it's nice to know now that I didn't need a big gym with a lot of heavy equipment to get a good workout. All I used were a non-slip resistance bands, a Power Band, sliders, jump rope, weights, and a treadmill on occasion. I say it all the time but all you need is 5 feet of space to get a killer workout in and I couldn't be more confident about my At-Home programs to whip your body in shape!!! Make sure to join our private Facebook group if you snag the guide– it's definitely one of my favorite parts of the guide. The community is AMAZING and so motivating. You will love the support!
On the week of the wedding, we flew down to Cabo 5 days before the wedding. I always love starting my day out with a good training session, so I worked out most days, even if it was only for 20 minutes. I tried to eat a lot of the same foods I normally have at home like lots of greens and always one or two veggie sides at every meal. Of course, I allowed myself treats here and there if I wanted it but I also think about how those things will make me feel after so it's a good give and take. I'm pretty in tune now with which foods will make me upset or not and honestly, I just crave lots of clean foods on the regular anyways after years and years of eating that way!
Hopefully that answers some of your questions, but I'll give a short list here of what helped me prep or get in 'wedding shape' 🙂
+ GOOD // SWEAT At-Home workouts
+ 7-day Added Sugar Detox
+ reducing snacks after dinner
+ training 5-6 days a week with at least 1 rest day
+ proper recovery: consuming protein within 60 min post-workout, stretching, foam rolling, rest days
+ getting enough sleep every night: 7-9 hours (plus I love a good quick nap in the afternoon!)
+ filling my snacks with quality protein
+ drinking tons of water: 100+ ounces a day
+ filling most of my plate with veggies
+ managing portion sizes at mealtimes / not overeating (try using a smaller plate, not filling your plate to the brim for your first serving, measuring out your food in measuring cups, i.e. 1/2 cup sweet potato, fist-size for protein)
*give yourself grace, no one is perfect with their health & fitness routine every day, but the important thing is that you are consciously making an effort to make the healthier choice! 🙂
xx Rachael