It seems as though the past few trips I've taken have been incredibly spur of the moment and I'm surprisingly very okay with that. Traveling is becoming more and more something I want to dive right into, even if it's only a 2-hour flight away, like my latest trip to LA.
It's been about 12 years or so since I've been to Hollywood (Universal Studios), so I couldn't wait to visit again and experience the wide variety of juice bars, the ever-dreaded LA traffic and the opportunity to meet up with several of my friends.
I received an invitation from Ritual through email to attend their next wellness talk by speaker, Vicky Vlachonis at Soho House in West Hollywood. Vicky is an integrative practitioner, an osteopath, has worked with several celebrities like Gwenyth Paltrow and Cameron Diaz, and was going to touch on uncovering the true source of pain and living your passion through nutrition, exercise, mindfulness and other wellness modalities… which interested me right away.
I've never been a fan of Western Medicine simply because it relies heavily on medication and surgery to treat any given symptoms. You know when you go to the doctor and they immediately write you prescription after prescription instead of trying to find the underlying or root cause of the problem? I don't roll with that. I believe in preventing disease from the get-go and using natural approaches to cure any symptoms. This is what you would call integrative health and medicine. It's where the relationship between the clinician and patient is much greater and the focus is on treating the person instead of treating the disease.
Anyways! I turned this invite into an excuse to make a quick trip down to LA. I flew in to LAX where my friend, Kennedy picked me up and took us straight to Soul Cycle, which is basically a party on a bike in a cycling class. It. was. amazing. So challenging and nothing what I was used to doing for exercise. I wore my Garmin Vivosmart HR watch during the class and it turned out I burned 600 calories in 45 minutes. Crazy good workout!
We went back to my friend's apartment to get ready before going to lunch at THE Blvd Beverly Wilshire restaurant….. I know, how swanky of us right?? The restaurant was closed for about a month for renovation and got a complete menu revamp, so I was lucky enough to be in town the day after their reopening.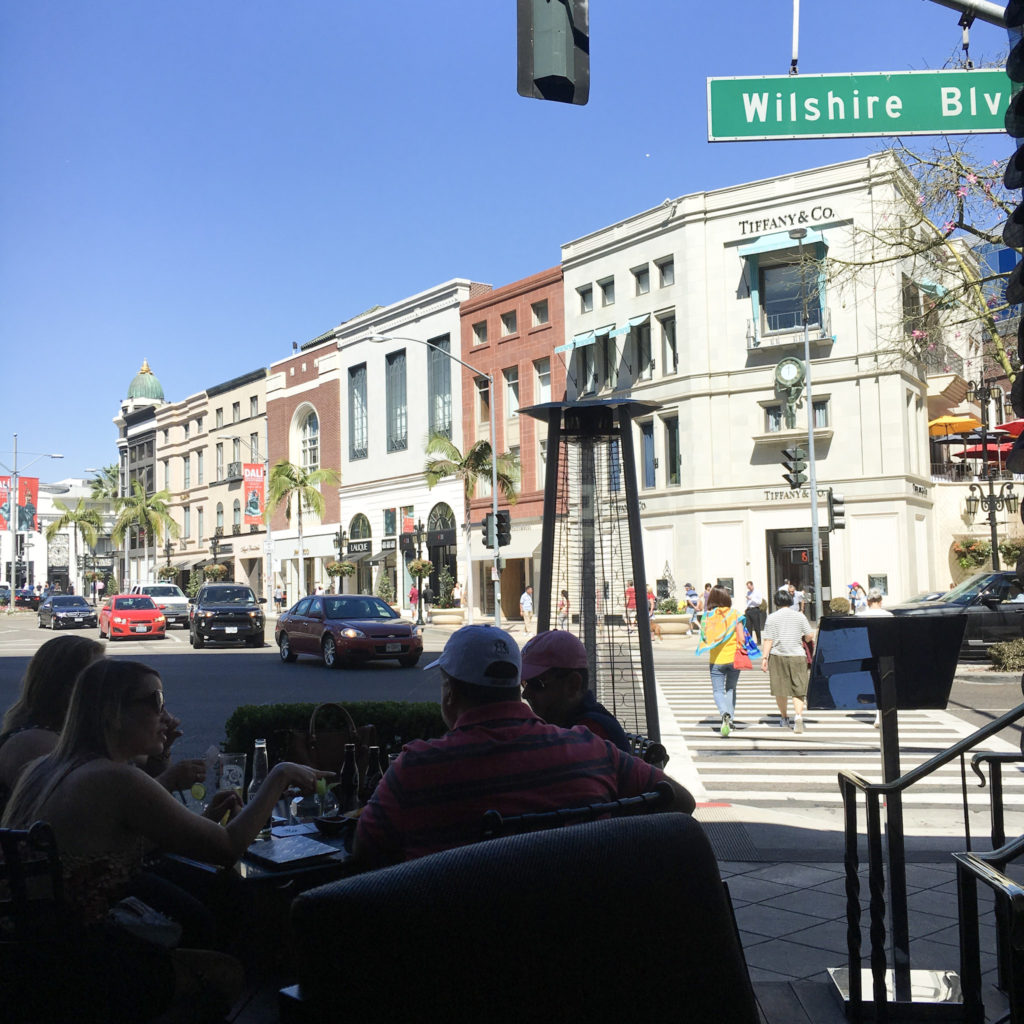 [View from our table in THE Blvd restaurant at The Beverly Wilshire Four Seasons Hotel]
First off, let me just say I am no where near a FFRF (frequent fancy restaurant flyer), so this experience was a little out of this world for me. The service was incredible, the atmosphere very elegant, and the food… the food was amazing. We both shared the Roasted Beet Salad and the Roasted Cauliflower and Curried Garbanzo Bean Salad to start. Ugh so mouthwatering to say the least. I would have never thought to pair grapefruit, pistachios, roasted beets, pomegranate seeds and avocado puree together, but it completely worked.
[Roasted Beet Salad at THE Blvd Beverly Wilshire]
For our mains, we both decided on the Mediterranean Flatbread with loads of roasted veggies, goat cheese, extra virgin olive oil, and fresh basil. I've enjoyed a ridiculous amount of flatbread in my day and this was easily catapulted to the top of my list of favorites. It was so light, but at the same time loaded with flavor and was so brightly colored. I love how THE Blvd focuses on Farm To Table ingredients by utilizing fresh produce, meats and fish from indigenous farms and markets that support the community.
[Mediterranean Flatbread at THE Blvd Beverly Wilshire]
Once we finished the flatbread, Kennedy and I thought we were all finished and were about to get the check to head out when the executive pastry chef, Chris Ford came out with a gorgeous glass box full of 6 extremely decorative desserts. He introduced himself and gave a very detailed description of their new seasonal desserts. Since we were so full, I asked our server to pick two desserts from the box for us so we could nibble at them. I was unable to find the selection of their desserts online, but just remember one thing when visiting THE Blvd, get the green avocado dome! The center will surprise you with the most decadent chocolatey flavor.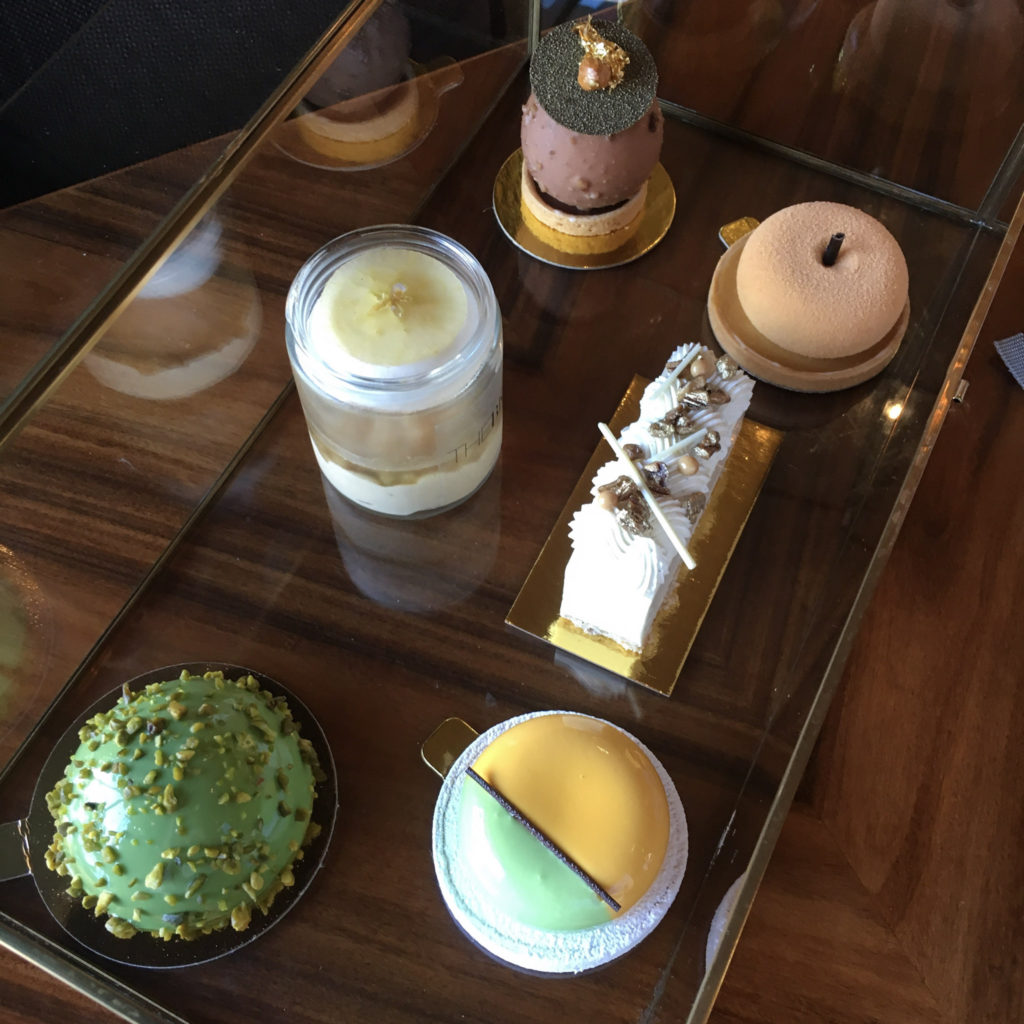 [Seasonal selection of desserts at THE Blvd]
From there, Kennedy dropped me off at Abbot Kinney to do some shoppin'. I got to walk past my favorite breakfast restaurant from my trip to NY, The Butcher's Daughter, along with many other cute shops. I wish I could have stayed another morning to be able to eat there!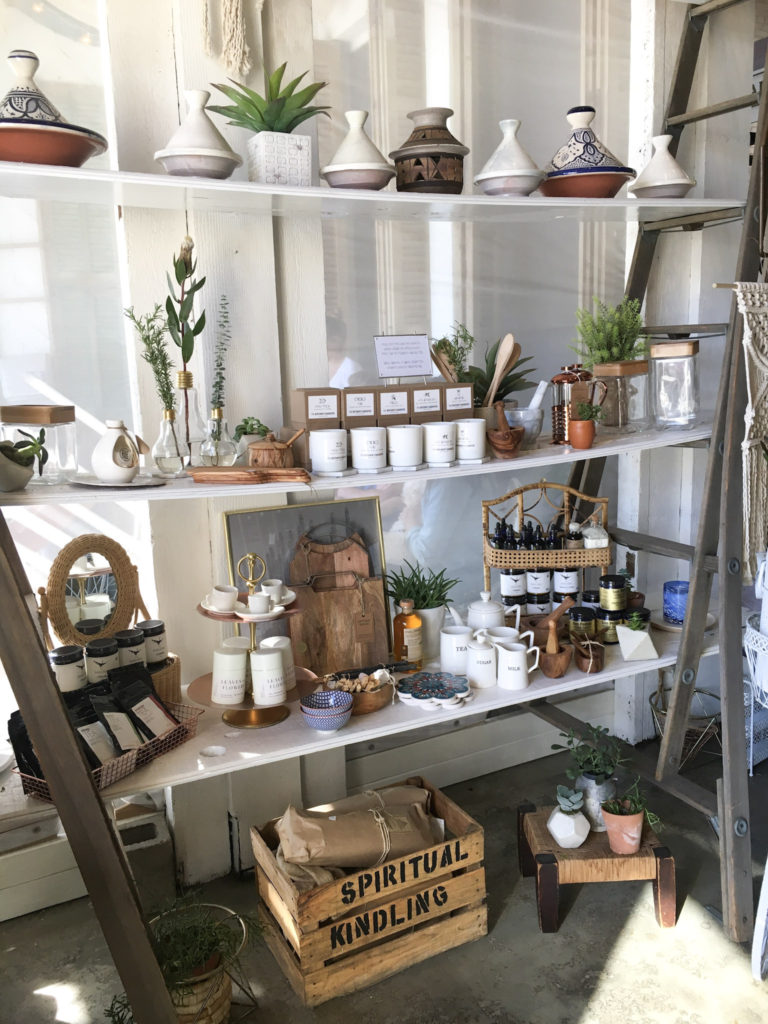 [Photo taken inside The Butcher's Daughter, Venice, CA]
That night we made the executive decision to attend a pilates reformer class (Studio MDR). If any of you haven't tried this form of pilates, I highly recommend! The instructor was incredible. We broke a sweat right away, and me not knowing at all what to expect going into the class was shocked at how challenging it was! I mean, yes, I had just taken my first ever Soul Cycle class earlier THAT morning so I'm using that to blame my shakey legs at the time. But nonetheless, it's a great workout. It works muscles many of us aren't used to using. It even motivated me to find a similar class near me back at home in Washington!
Café Gratitude [easily] made the cut for my few select restaurants to hit while in LA. It was obvious. I see people go ALL the time through Instagram and almost feel like I know the menu from all the mouthwatering photos I see, ha! I got the Magical—house made black bean patties, tomato, red onion, (hold the chipotle ketchup), cashew macadamia cheddar, gluten-free amaranth and millet bun, and roasted garnet yams. To die for. The bun was delicious and all the flavors meshed so well together.
I got up the next morning and took an Uber about 40 minutes to Erewhon in Beverly Hills. Erewhon is the grocery store of all grocery stores. It is basically a condensed version of Whole Foods, but has everything you'd ever want. My oasis. A place I don't have the opportunity to be exposed to in good ol' WA. Long story short, it's unreal. Go visit.
I met one of my Insta foodie friends (@eatcleanla) there for breakfast and we hit it off right away! It's amazing the amount of people I've had the chance to meet through creating my food account on social media. It's a great group of people—the ones who can bond over really good aisle selections at the grocery store are my kind of people, for real.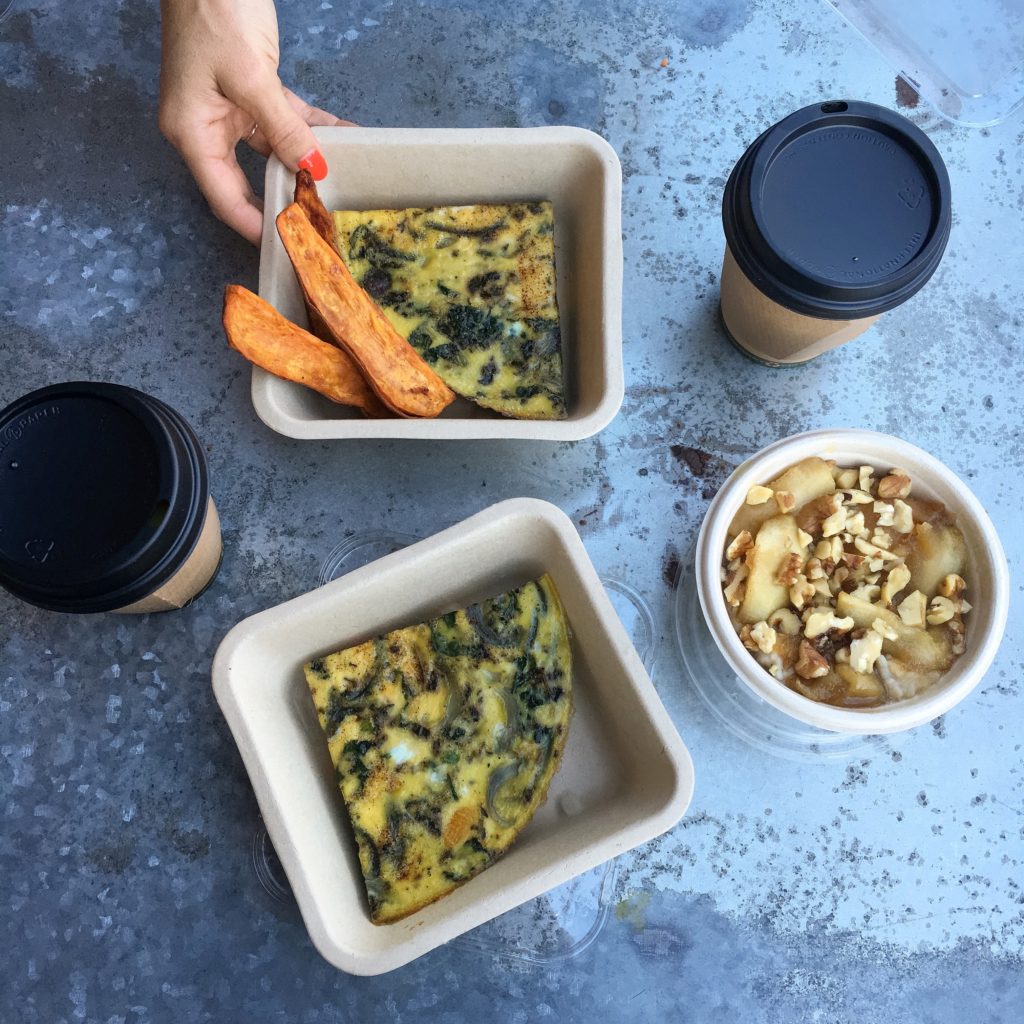 [Photo taken at Erewhon]
From there, I Ubered straight to Soho House in West Hollywood to be able to make the health & wellness talk by Vicky Vlachonis.
Walking into the building, I immediately felt exclusive. I mean, to think celebs came here all the time and now I was standing inside? So surreal for this little WA-raised girl!
Have you ever been in a room where an individual was so radiant that everyone in the room couldn't help but stare? Vicky was this person. Not only was she gorgeous, but when she greeted you it felt like she had met you before and was ecstatic to see you again. I could have easily listened to her speak for hours. She was so intelligent and it was obvious she had countless stories to share. I was dying to hear more. It would be so amazing to see her again.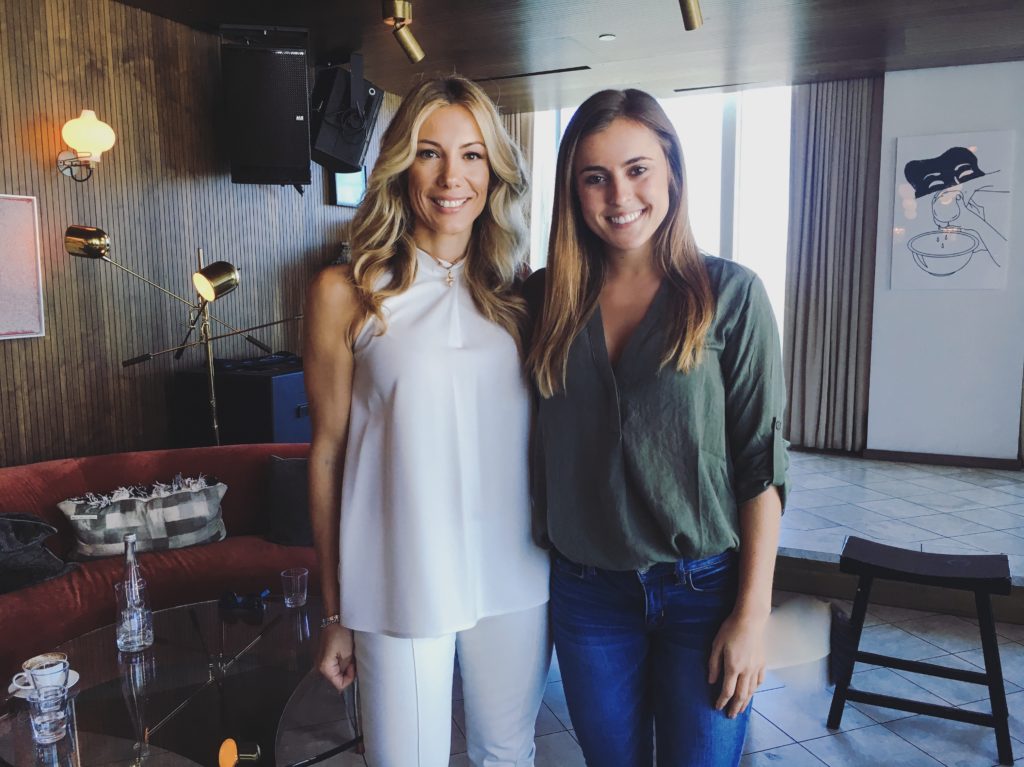 [Photo taken at Soho House West Hollywood with Vicky Vlachonis]
Once the meeting was over, I took an Uber to Santa Monica where the NOMVA office is located. This is where Kennedy works and gave me a chance to meet the NOMVA team. NOMVA packs are a combination of whole, organic fruits and vegetables with probiotics blended together. I'm pretty obsessed with their packs and wish they were sold near me at home.
We left the office and I headed south to Hermosa Beach to see my very good college roommate BFF who now lives in CA. We were able to get lunch, walk the beach and just hang out. It was perfect! 🙂
That night my friend dropped me off at The Point in El Segundo to get dinner at another one of the restaurants on my list, True Food Kitchen. OMG. Another winner for SURE. I could've eaten at this place every meal during my stay, it was absolutely delicious! I got the Ancient Grains bowl with miso glazed sweet potato, turmeric, charred onion, snow pea, grilled Portobello, avocado, hemp seed and tofu. There wasn't a bite left when I was done with it! Okay, maybe a few bites because I knew I had to leave room for Pressed Juicery Freeze right next door.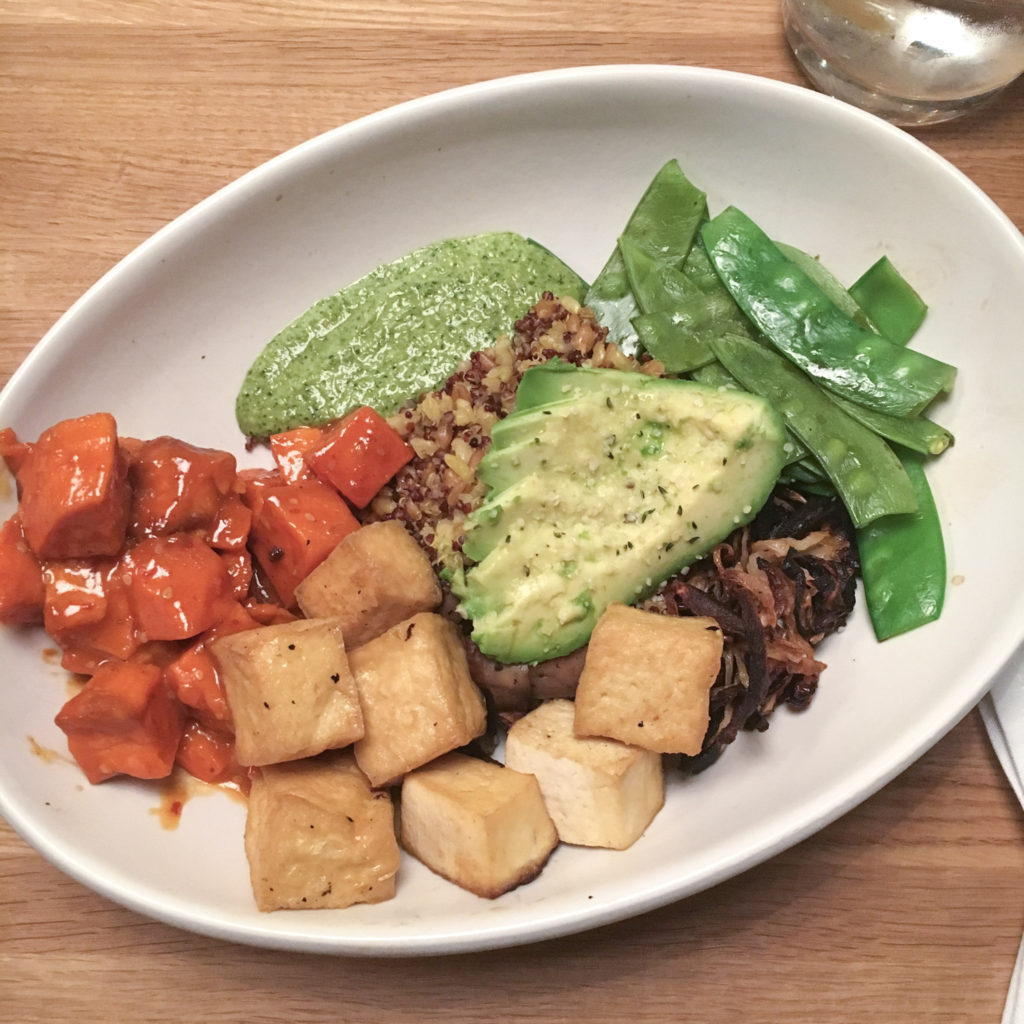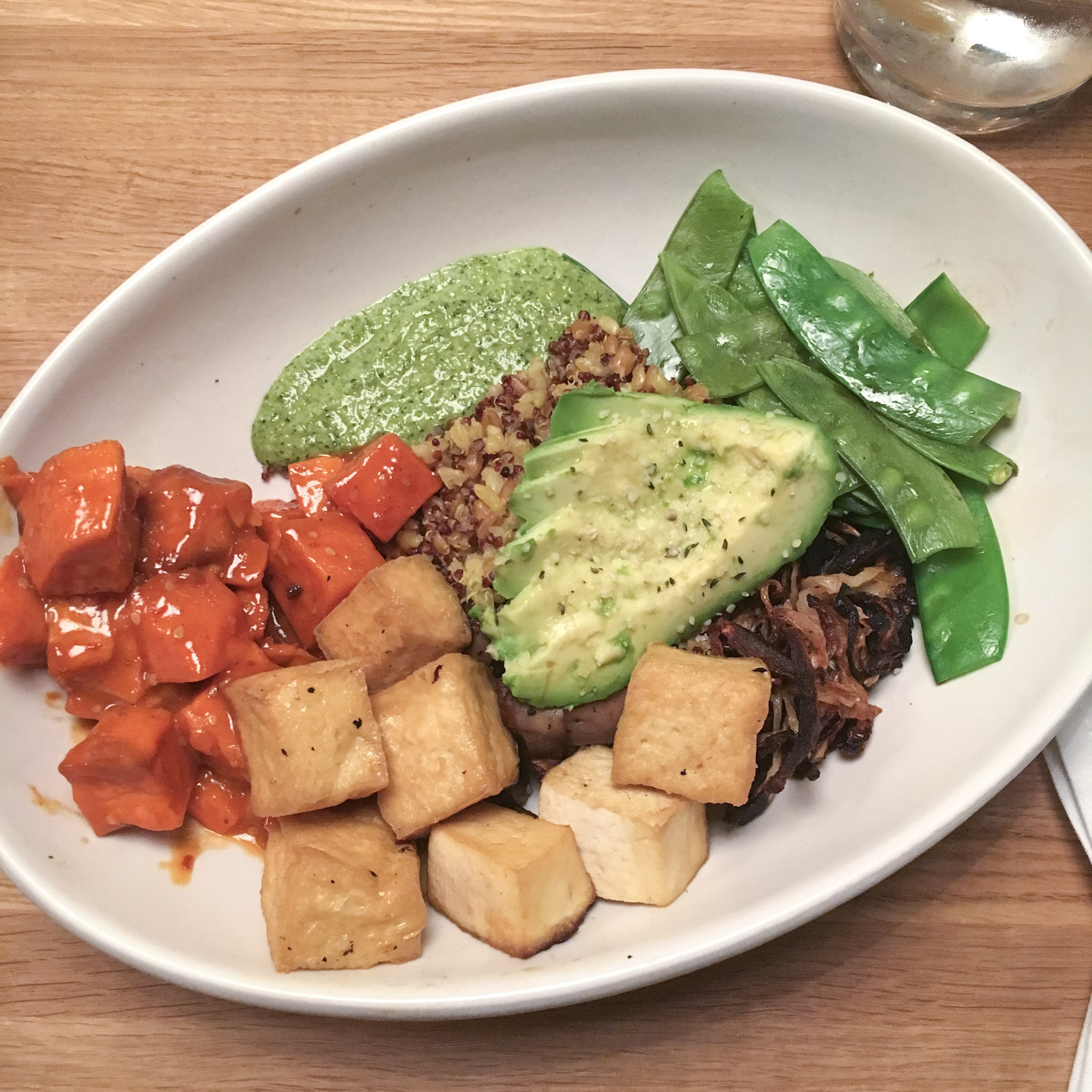 [Ancient Grains Bowl with tofu at True Food Kitchen]
Pressed Juicery offers a healthy soft-serve made entirely of whole fruits, nuts and vegetables. You probably think it tastes funky huh? No way!!! Completely satisfying and you can even load up on all the toppings like chocolate chips, coconut flakes, sea salt, berries, sauce, etc. I'm so happy I got to try "the freeze" and True Food Kitchen while I was visiting, it helped make my trip amazing!
Unfortunately, this was my last night in CA and I was headed for the airport in the morning. Before we went to sleep, Kennedy mentioned how she wanted me to put her through one of my circuit workouts early the next morning– it was ON. This got me so excited because I probably wouldn't have woken myself up early otherwise. I love being around people that motivate me and enjoy doing the same activities I enjoy.
Let's just say the next morning I had BOTH of us sweating our butts off! It was leg day (my favorite) and I'm pretty sure we were still sore from our two workouts two days prior. It was a great start to my morning before I had to sit on a plane for 2 hours!
I couldn't have had a better jammed-packed trip to LA. I already can't wait to go back!