My limited-edition collaboration with DEUX is here and I can confirm, it's OUT OF THIS WORLD. I'm so excited to introduce our Salted Peanut Butter Cup Cookie Dough and I'm dying for you to get your hands on it. If you're new to DEUX, you can enjoy this insane better-for-you cookie dough straight from the jar, or you can use it to make cookies / bake with it in the oven.
I'm so honored for the opportunity to collab with DEUX. It's a brand I've loved for a long time and they're making a huge impact in the better-for-you treat space. I knew I needed to make the most of this opportunity by bringing my literal dream flavor to life, and it turned out a million times better than I could have ever imagined. This Salted PB Cup is the perfect balance of sweet and salty, with the roasted peanut chunks, flaky sea salt, and dark chocolate chips. Everything really comes together and brings it to the next level…plus it melts in your mouth. It's also formulated with ginseng, so indulging is a guaranteed mood boost. Before I go, I feel like you should know that it's 48% less sugar than a Reese's PB Cup, so… officially dietitian approved. It is unreal and I'm so excited that you guys get to enjoy this with me after we did rounds and rounds of samples 🤭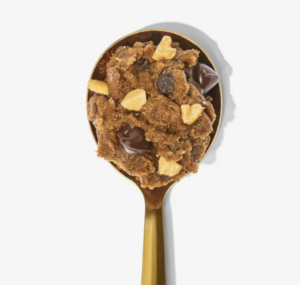 DEUX flavors are vegan, gluten-free, non-GMO and include functional ingredients. This flavor is obviously RGE-approved as it's low-sugar and made with clean ingredients that your body will love. You can eat this functional cookie dough straight from the jar (store in the fridge or freezer) or whip up a quick batch of cookies & they're delish! Just roll into balls, flatten and bake at 350 degrees F for 8-9 minutes. 12 servings per jar.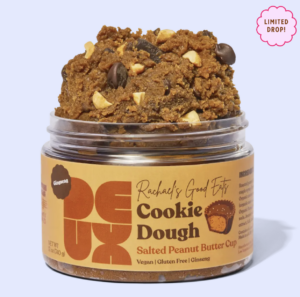 CLICK HERE to order my limited edition flavor, SALTED PEANUT BUTTER CUP and don't forget to use my code GOODEATS10 at checkout to save!!! They ship nationwide and when you order 3+ jars, you get free shipping.