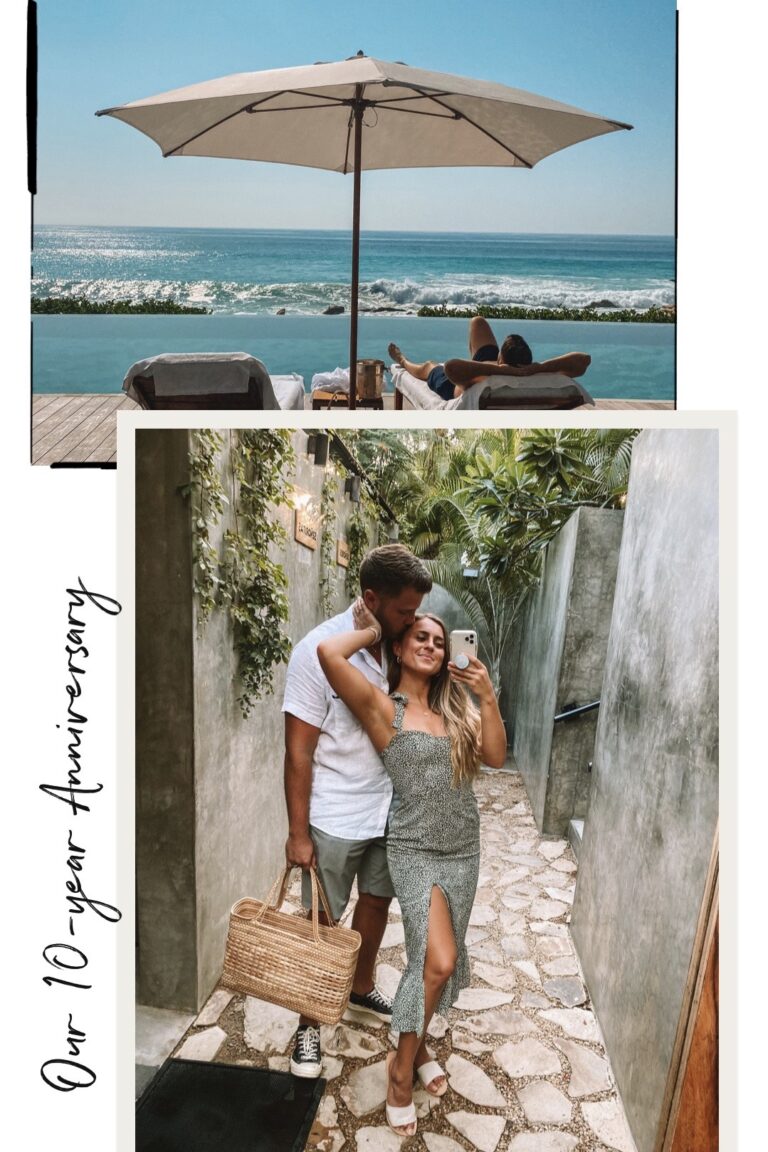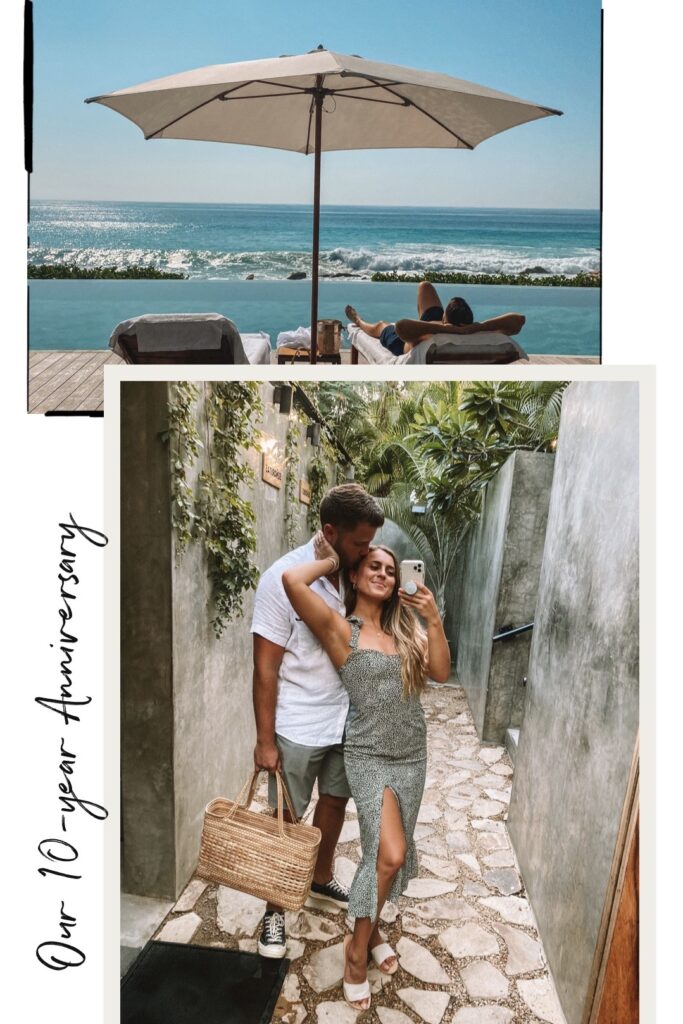 Cabo, what can I say? It's our favorite place and we keep going back! The people, the food, the Mexican heat– nothing beats it. It's where Bridger and I first traveled to together back in 2012, where we got engaged last year, where I helped host a wellness retreat, and where we're planning to have our wedding (delayed due to covid) there in April 2021… which, let me just say is a long time coming after this pandemic of a year lol.
Anyways, since our anniversary is in October and because it was my year to plan it, I thought it would be the best gift (and getaway) if I could pull off a surprise for Bridge. We started trading off each year who plans our anniversary and honestly, it makes things so much easier and puts less pressure on both of us if we know who's taking the lead. Just start off by playing rock, paper, scissors and the winner plans. Try it out!
To go back forever ago, we started dating in highschool when Bridger and I got paired together for a Homecoming dance at our school and have been together ever since. We went to separate colleges 45-minutes apart, which was hard at the time because it felt like long distance. After I graduated, I took about one year to complete my dietetic internship, then moved home to live with my mom around the same time Bridger graduated and moved back home to his parents house. We saved up $$ and moved into an apartment in the city where we lived for 2 years. We saved up even more (click here for the video we made about saving for a home) and bought our first house. Long story short, ten years is something huge to celebrate and after the year we've had with having to postpone our wedding, I think we deserved a little time away in our favorite place.
A DECADE
I surprised Bridge the day before our flight and he had no idea leading up to it. I hid a note inside a pair of shorts stuffed in the anniversary present he thought was the big present. The note dropped to the floor when he pulled the shorts out of the gift bag and read, "pack your bag, we have a T-time @ 8am Monday morning." Mind you, I also got him a few golf shirts, golf socks, linen shirt, etc. for the trip. We left the next morning and it was pretty seamless, even with all the covid precautions. We felt very safe traveling, mostly because Alaska Airlines still has the center seats unavailable on their flights, which is great.
HOTEL
We've been to Cabo about six times now and have stayed at a handful of hotels: Grand Velas, The Cape– our wedding venue, Chileno Bay and Villa del Palmar.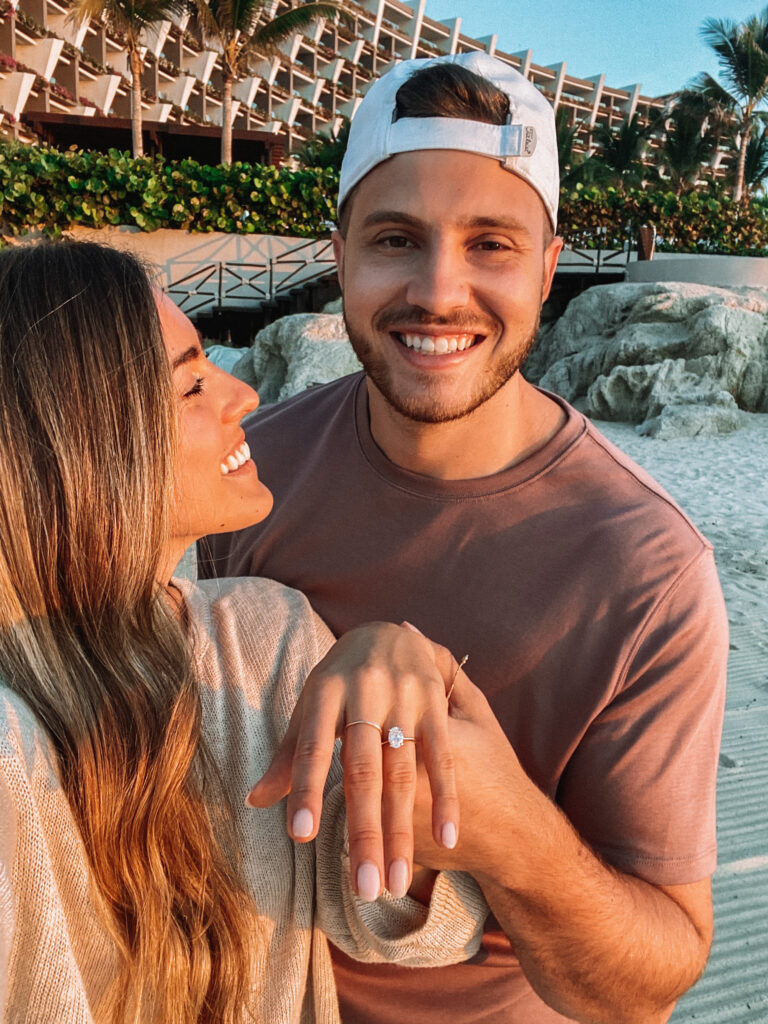 I thought for this trip, it would be perfect to go back to the hotel where Bridger proposed last year because it was so memorable. Here's my little recap post from last year when we got engaged 🙂
It was Grand Velas, an all-inclusive hotel in San Jose. It's an easy 30-min drive from the airport and the service at the hotel is always so great. It was only at around 20% capacity and all guests were required to wear a mask in all public places/common areas, and could remove when you were seated at the restaurants or pool area.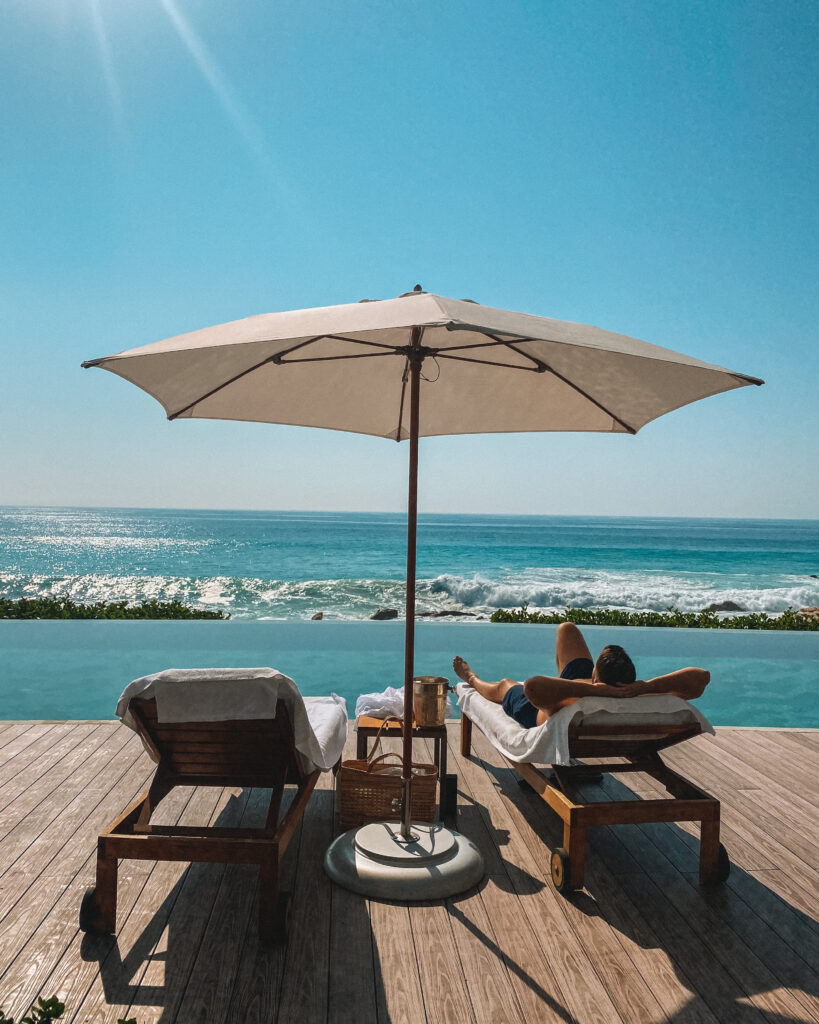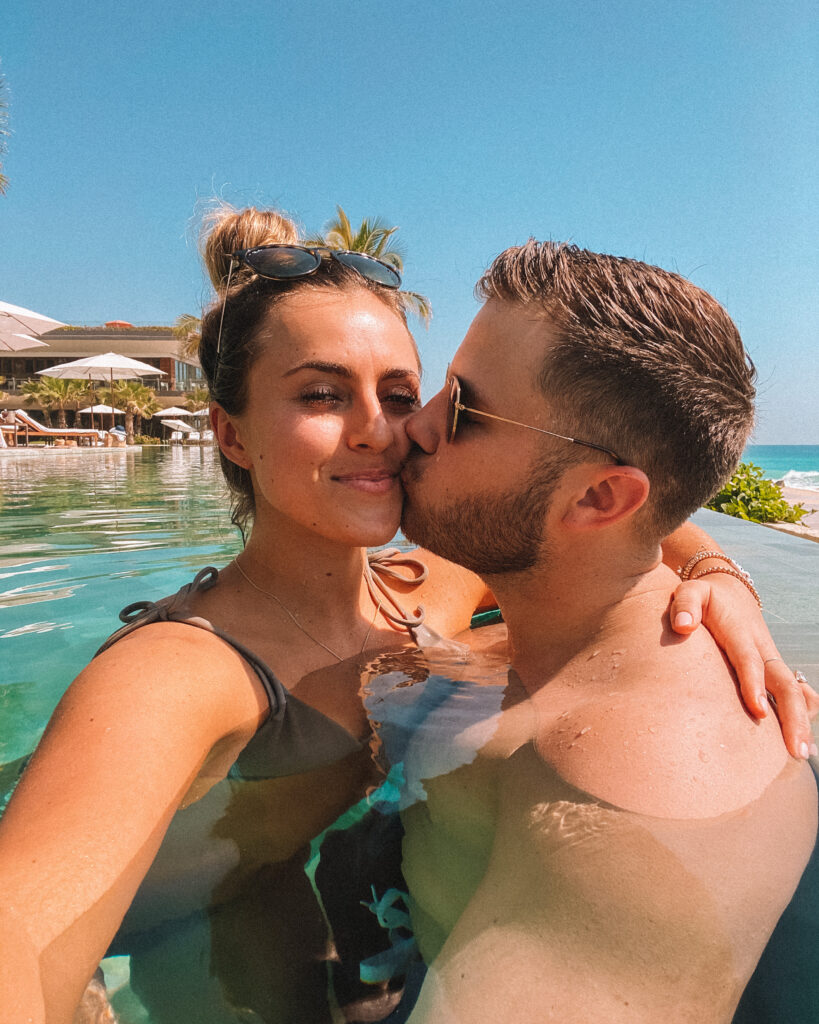 The hotel is right on the beach and every single room has a great view of the ocean. The waves are too aggressive to swim in the ocean, but that was fine– the pool is an entire vibe, especially with all-inclusive everything. They're always great at accommodating for my gluten-free, dairy-free preferences, too!
GOLF
Bridger is pretty obsessed with golf at this point in quarantine so I made us a T-time at the Cabo Real Golf Club, 5-minutes from our hotel during our stay. You're probably thinking I'm the best wife– I am, yes, but I'll only ever commit to 9 holes lol. It's too much of an emotional roller coaster for me lol. I'm more of a, "I'll practice hitting it a few times, but I'd rather be laying by the pool" kind of gal.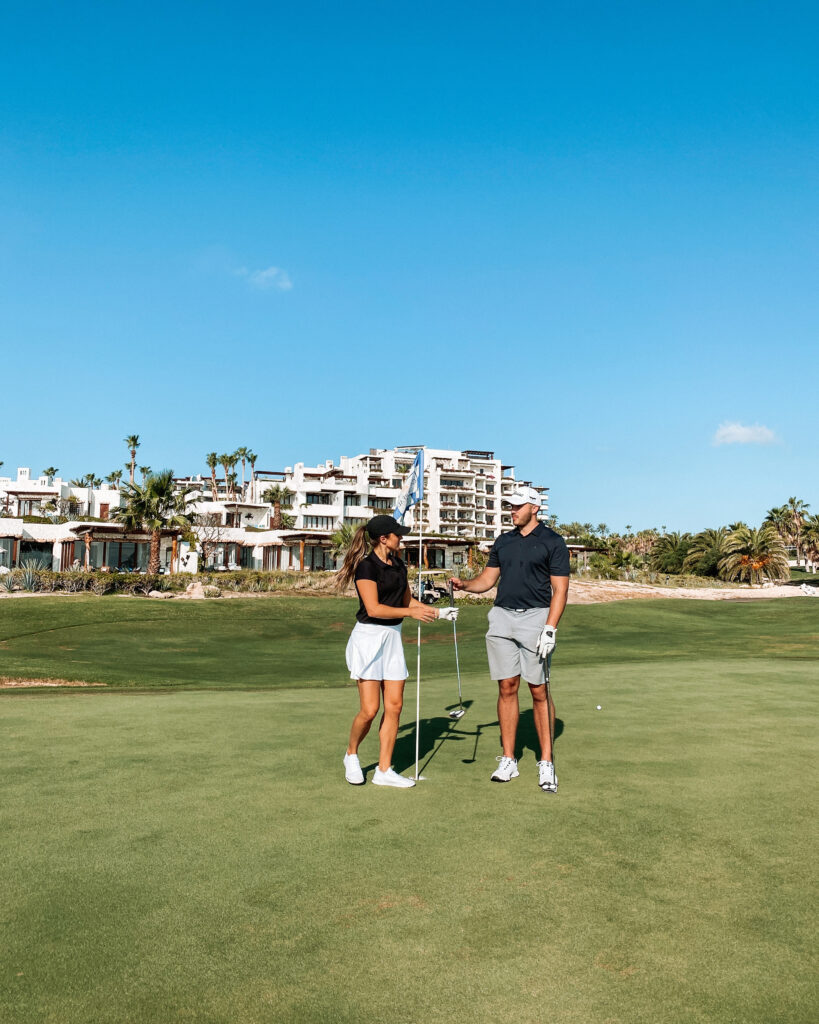 GOLF SKIRT | BLACK T-SHIRT | SHOES
We came, we saw, we conquered. I booked it for the earliest time possible (8am) so we could get back to the hotel and lay by the pool for the rest of the day lol, obviously.
ACRE
We planned on making reservations at Flora Farms, which happens to be our rehearsal dinner venue, but since they were closed on Monday during our trip, we went to Acre Baja instead. They're actually only 5 minutes away from each other, and about 35 minutes from our hotel.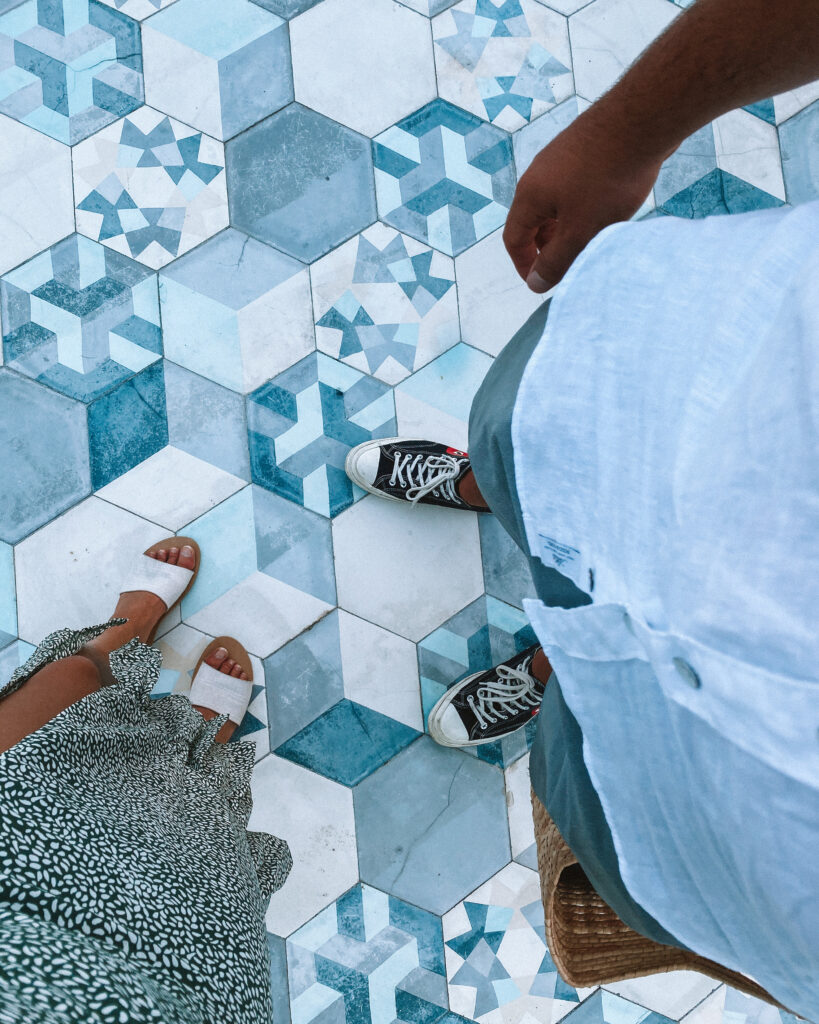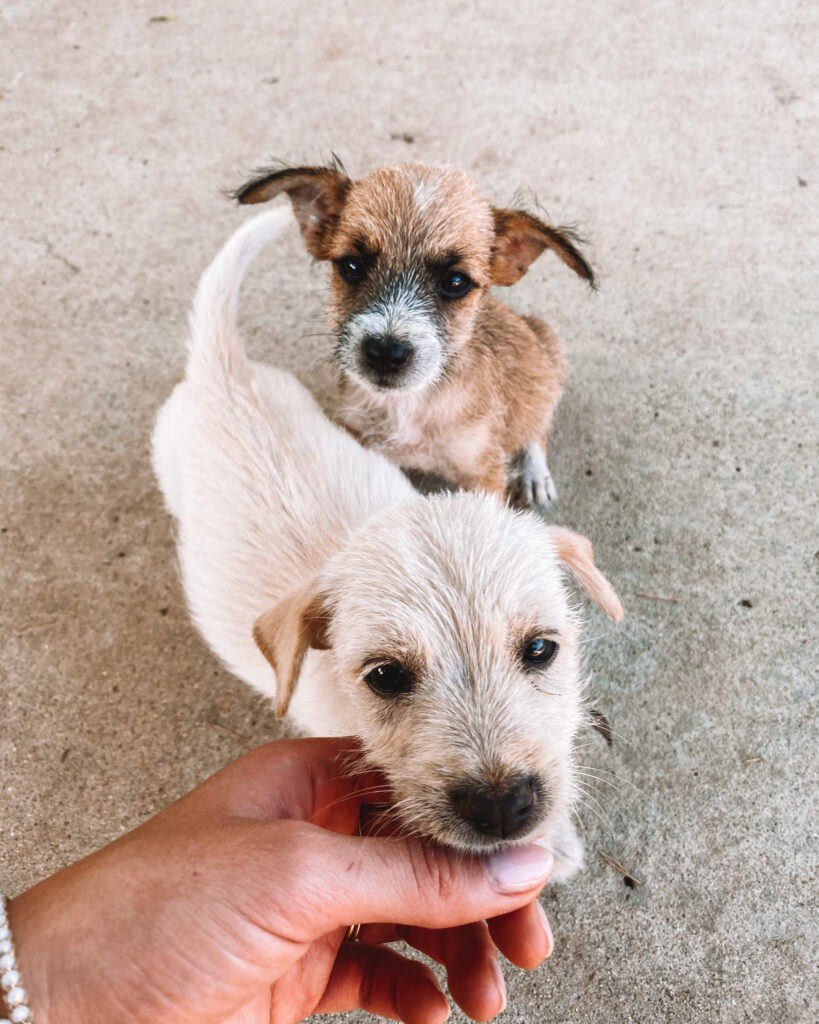 This place was so beyond cool. You walk in on this narrow concrete pathway in the middle of palm trees, cacti, and greenery. The property has a restaurant & bar, a treehouse hotel, mango orchard, dog rescue (Acre Dogs), and more animals– it was gorgeous. We had our reservation at 5:45pm and got there around 5:15 to walk the property and play with the puppies, I die for them!!!! You can donate to their organization here. A girl named Rachael founded it and I really love what she's doing and how many animals she's helped through this org.
I definitely recommend doing it this way and getting there early enough to see everything in daylight and eat dinner through sunset. Another tip is that they also hold your reservation for 2 hours so no need to rush while you're walking around and exploring– which is perfect, because you'll want to take photos everywhere. It was pretty empty while we were there, I'm sure due to covid, so I'm not familiar if it's usually busy or not. I made reservations through Open Table.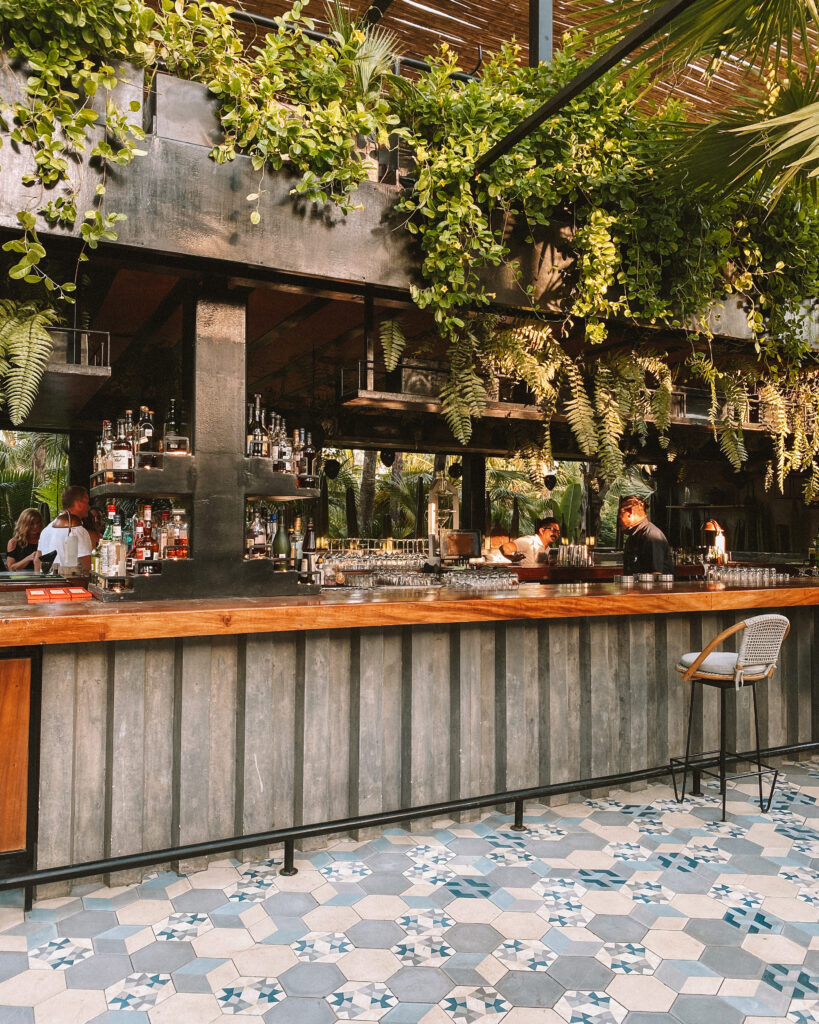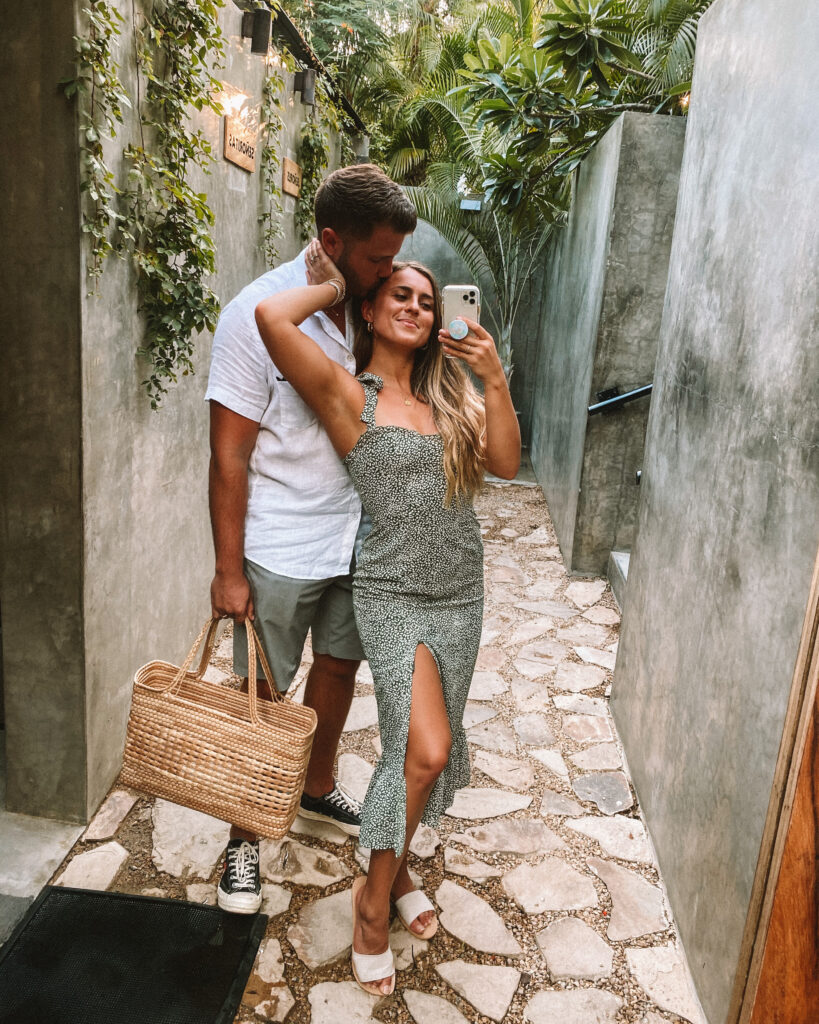 DRESS: PETAL & PUP | SANDALS: WHITEFOXBOUTIQUE | BAG: GRAND VELAS HOTEL BORROWED
If you follow me, you know our trips are scheduled around the food lol, and this place did NOT disappoint. The food was incredible and the service was amazing! Their gluten-free bread/biscuit was out of control and they had tons of things on the menu that were able to be modified or made gluten/dairy-free.
But SOS, bring bug spray!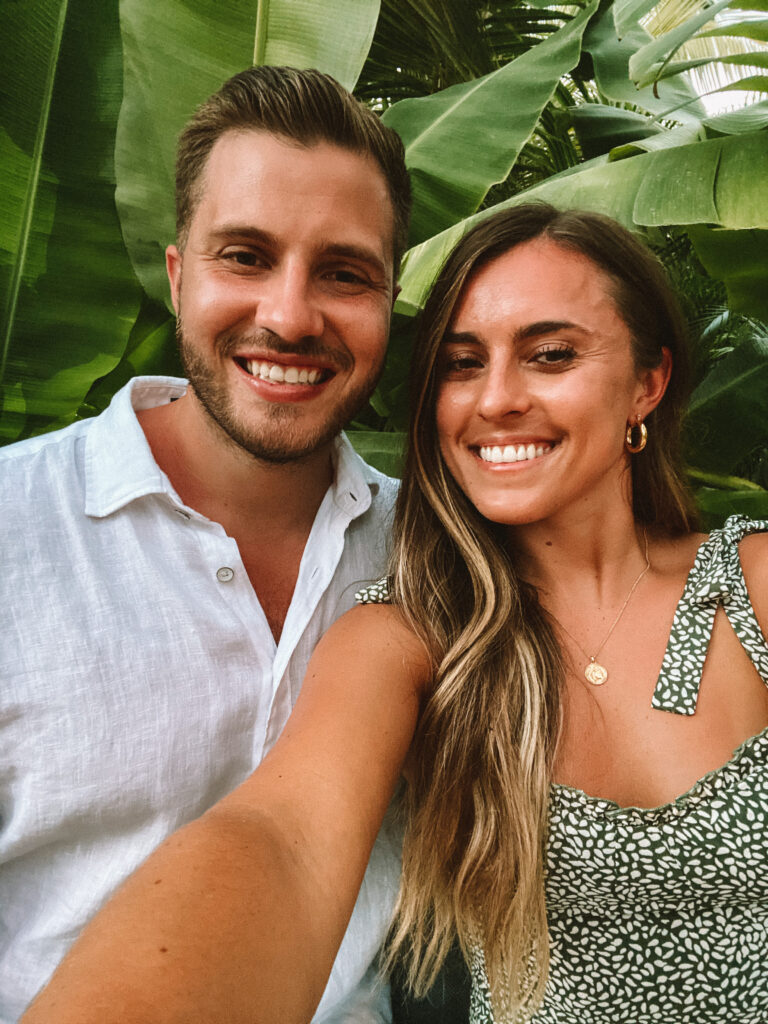 Sooo, quick change of plans. We fell in love with Acre so much so that we contacted our wedding planner, Bonnie from Events By Bliss to see if we could make the switch. Thankfully, Acre had availability so we made the switch to have our rehearsal dinner there! Plus, since the space we're renting now at Acre is bigger, we're able to have our entire guest list attend vs just our wedding party like we had planned for Flora Farms. Can't wait!!!
RECOMMENDATIONS
This was more of a trip recap than a travel guide, as we didn't venture out and do too much outside our resort. Though I would still recommend everything we did! 3 nights was the perfect amount of time to get away and celebrate our anniversary together 🙂
xx Rachael