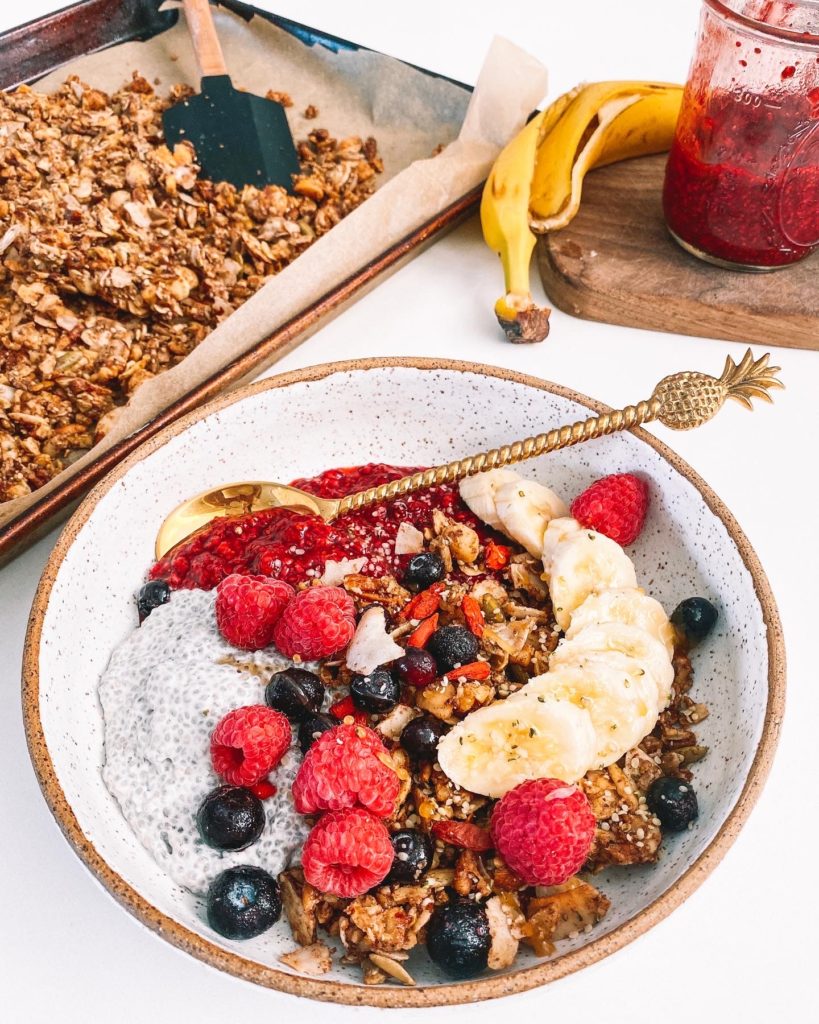 Ok, so today marks a week and a half home from Bali and I'm officially MISSING THE FOOD. It was dreamy in every way. Healthy cafés everywhere. It was almost like we couldn't keep up with eating at the best spots… but isn't every trip that way? For me, yes lol.
This bowl was inspired by a chia breakfast bowl we had one of the last days of the trip and I knew I needed to make it at home. Complete with the simplest 2-ingredients raspberry chia jam, thick and creamy coconut chia pudding and my homemade paleo granola, which I actually can't keep in the fridge because we go through it so fast whenever I make it.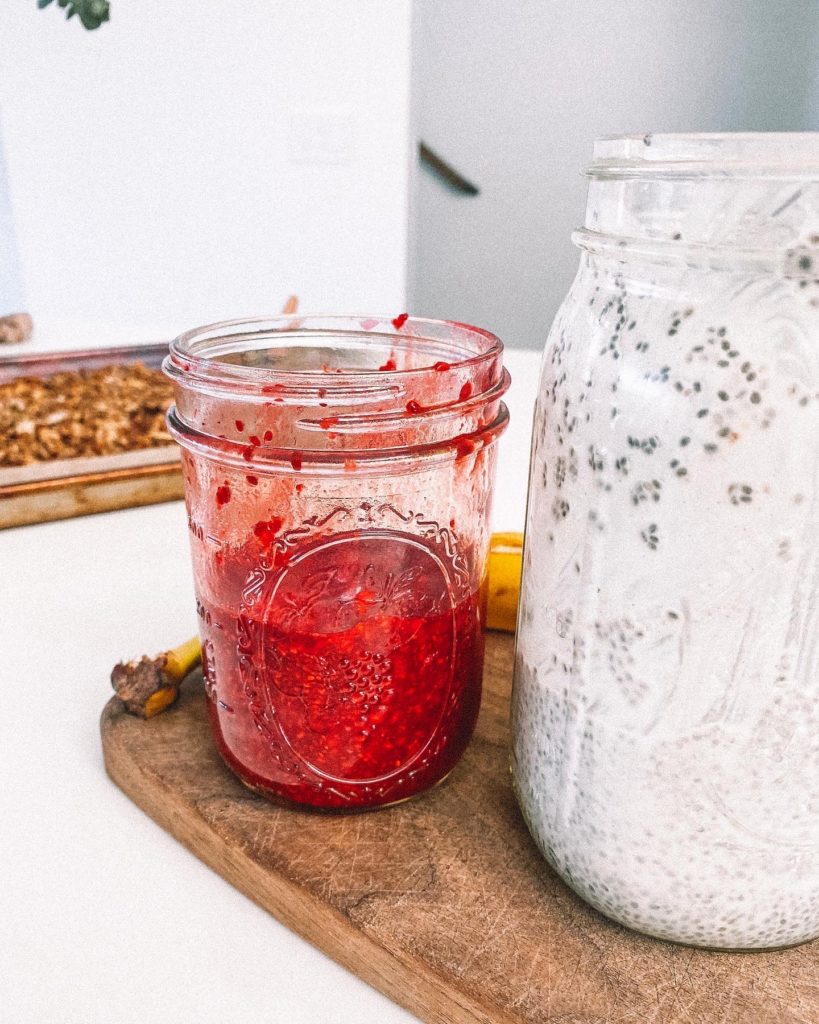 You have to try this out! Great for breakfast, a snack, or even a late night treat. The chia jam & coconut chia pudding last about 4-5 days in the fridge and paleo granola can last months, especially if you put it in the freezer.
Let me know if you try it in the comments below, enjoy!!
xx
Raspberry Chia Dream Bowl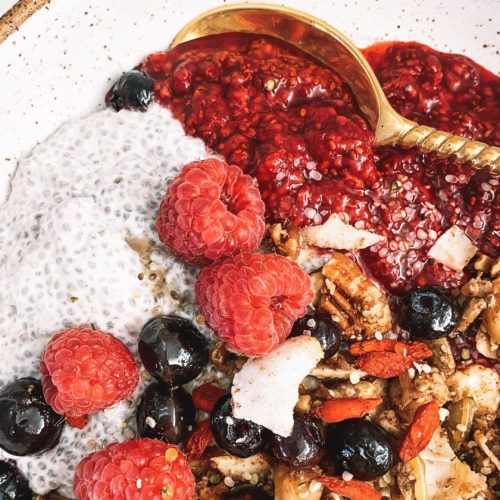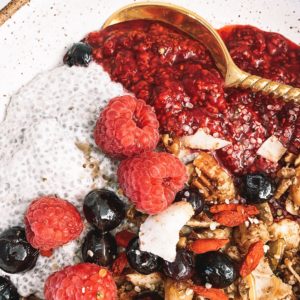 The best combo of raspberry chia jam, coconut chia pudding, homemade paleo granola and fresh fruit. So yum!
Ingredients
PALEO GRANOLA
1/2

cup

walnuts

1/3

cup

pecans

1/3

cup

macadamia nuts

,

(optional)

1/3

cup

coconut flakes

1/3

cup

pumpkin seeds

1/3

cup

sliced almonds

3

tbsp

ground flaxseeds

3

tbsp

hemp seeds

1

tbsp

arrowroot starch

1

tsp

vanilla extract

1/2

tsp

cinnamon

2

tbsp

maple syrup

pinch

sea salt

1/4

cup

coconut oil
COCONUT CHIA PUDDING
One

13.66-oz can

full fat coconut milk

1/4

cup

chia seeds

pinch

cinnamon
RASPBERRY CHIA JAM
10oz

bag

organic frozen raspberries

,

(or 3-4 cups fresh organic raspberries)

2-3

tbsp

chia seeds

splash

honey or maple syrup

,

(optional for extra sweetness)
Instructions
PALEO GRANOLA
Preheat oven to 350 degrees F. In a food processor, pulse only the nuts + seeds one to two times, or enough to chop just slightly. You can also use a cutting board & knife instead and give a good chop of the nuts + seeds before tossing them in a big bowl.

Combine with melted coconut oil, vanilla, maple syrup, arrowroot starch and sea salt. Toss together until thoroughly combined then pour mixture over a parchment paper covered baking sheet, making sure not to spread out completely (bigger chunks of granola = better).

Bake for 12-15 minutes and let cool for 5 minutes. Let cool completely before mixing/transferring granola to storage jar, this will help keep chunks together. Mixture will keep fresh in an airtight container for several weeks.
COCONUT CHIA PUDDING
Pour can of coconut milk into large jar and mix in chia seeds + cinnamon. Store in refrigerator to thicken for at least an hour before serving. Keeps for up to 3-4 days.
RASPBERRY CHIA JAM
Can be done with fresh or frozen raspberries-- I like defrosting a 10oz bag of frozen raspberries in the fridge overnight. Once defrosted, pour berries in jar with 2-4 tbsp chia seeds and mix thoroughly. Cover and transfer to fridge to thicken for at least one hour.
RASPBERRY CHIA DREAM BOWL
Combine chia pudding, raspberry chia jam and paleo granola in a bowl with fresh/frozen berries, sliced banana, goji berries, hemp seeds and a drizzle of raw manuka honey. Enjoy! 🙂
what I used to make this recipe