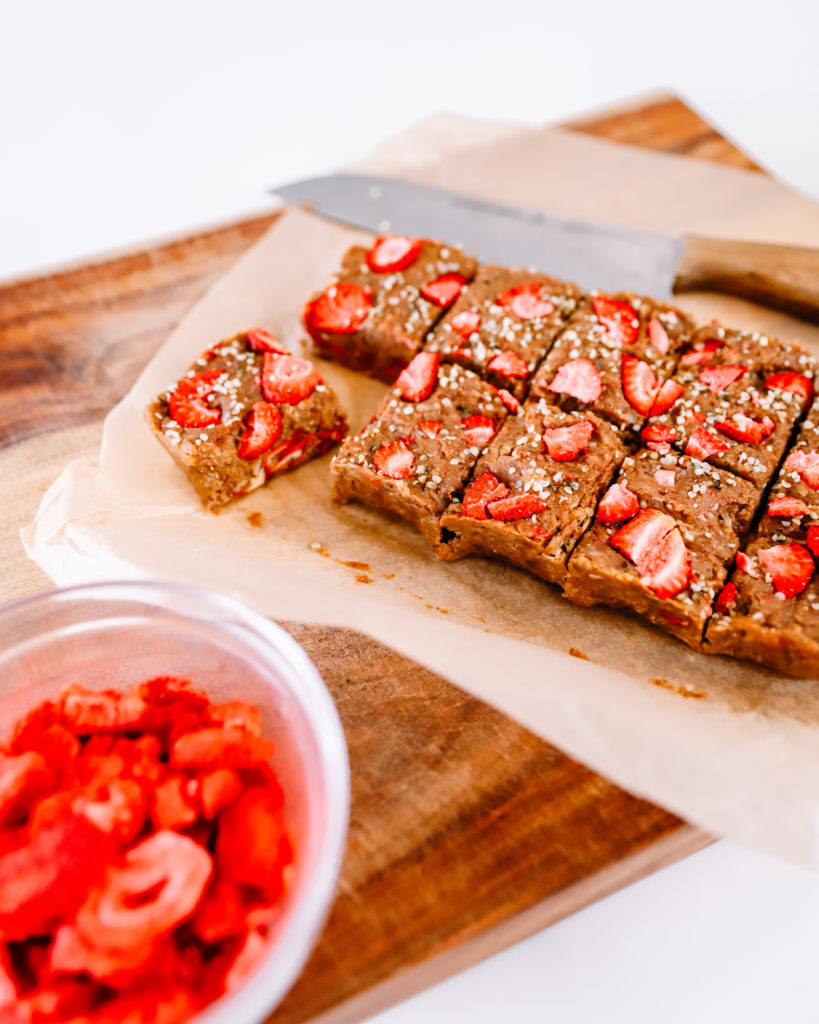 When it comes to food, one of my favorite things to do is develop recipes to solve an issue… got a sweet tooth? I gotchu! My sweets are always dairy-free, gluten-free and refined sugar-free. On the go and need a quick snack? I gotchu! I like focusing on higher healthy fats and protein for satiety. Need some fuel post-workout, but don't have enough time to make a meal? I gotchu with these Raw AB&J Protein Bars I created with Lottie from @runningonveggies for an Adidas workshop we recently hosted.
The main thing I love about this recipe is that they're very easy to modify and make your own! The original recipe calls for GF sprouted oats, but I subbed that for almond flour + unflavored protein powder to make them grain-free as my body feels better when I choose to eat grain-free.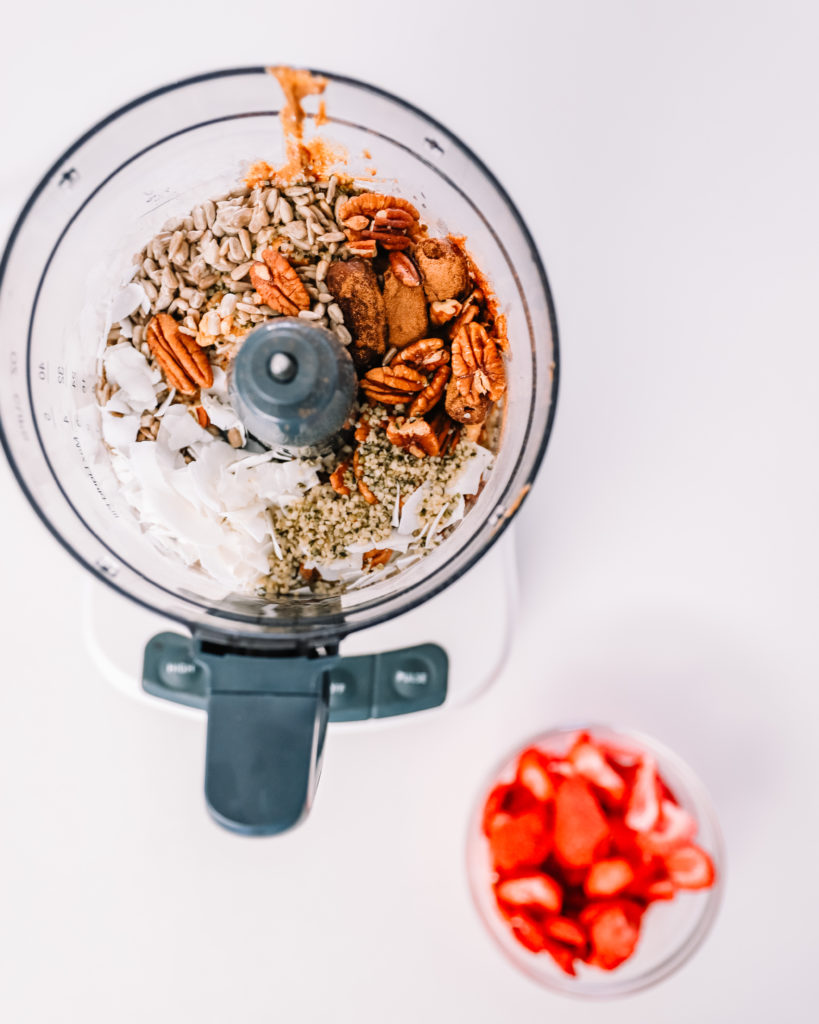 You can customize with different nuts/seeds, freeze dried or fresh organic berries, flavors and seasonings. Basically, all you need is a food processor and you can make any of your raw treat dreams come true. I'm serious! It takes 2 seconds to throw all your ingredients in, give a quick pulse, assess the situation to see if you need more liquids (typically water) or dry ingredients (nuts, almond flour, oats, etc.) and then press into a parchment paper-covered dish or loaf tin. Toss in the refrigerator or freezer to chill for a couple hours, remove & cut into bars.
You're welcome 😉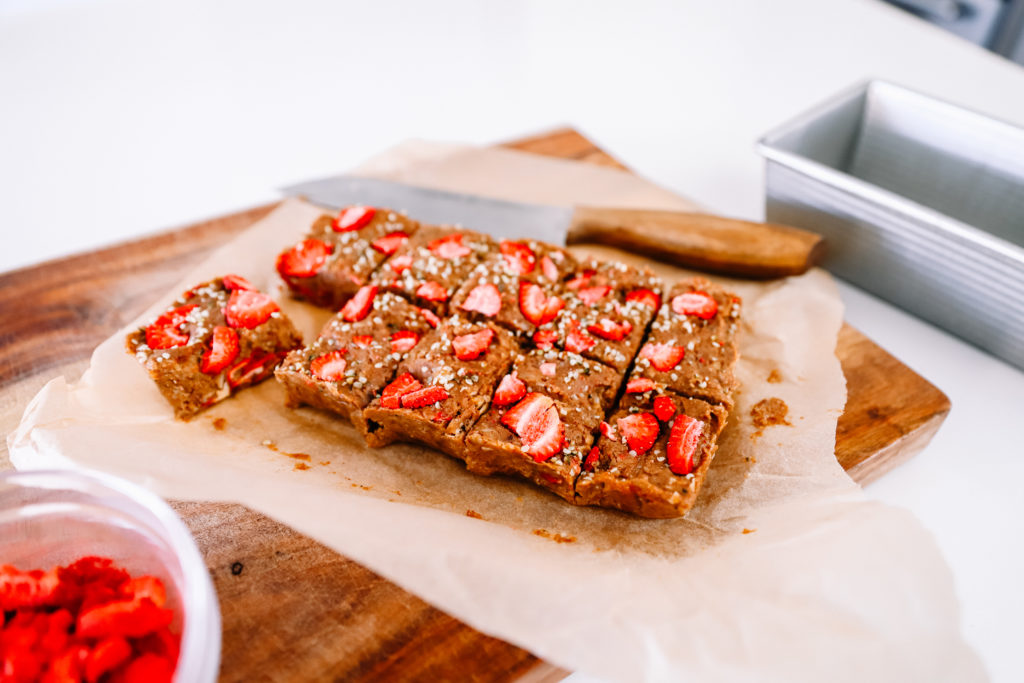 I hope you enjoy the recipe below! Again, if you're good with grains, you can substitute the almond flour + protein powder for oats, and same with almond butter– go for any nut or seed butter you're comfortable with (I see you, peanut butter lover).
This will give you a boost of healthy fats from the nuts/nut butter, quality plant protein from hemp seeds (10g per 2 tbsp!!), nuts and plant-protein powder, if using, and a delicious burst of flavor from the freeze dried strawberries. I picked the strawbs up from Trader Joe's and I love incorporating them into different recipes like raw treats, baked goods, trail mixes instead of dried (*sugar-filled) fruit.
Oh and P.S. they're BEST when frozen!!
Ingredients
1/2

cup

almond butter

4-5

small

pitted dates

,

(soaked in hot water for 15 min)

1/3

cup

sunflower seeds

1/3

cup

walnuts

1/3

cup

pecans

1/4

cup

hemp seeds

1/2

cup

almond flour

,

(or sub GF rolled oats)

1/4

cup

plant protein powder

,

(I prefer unflavored), or sub GF rolled oats

1/2

tsp

cinnamon

1

tsp

vanilla extract

1/4

cup

coconut flakes

1/3-1/2

cup

water

3/4

cup

freeze dried strawberries
Instructions
Combine all ingredients in food processor, minus the freeze dried strawberries– save these for last. Also, less is more with the water! Start out small and add as needed to get mixture to combine.

Pulse, not too long, because you still want those chunks of nuts, but enough to form a dough-like consistency. May need to stop pulsing and use a silicone spatula to push down the sides of the dough.

Add in freeze dried strawberries last and pulse once more.

Prepare a loaf tin or deep dish by pressing down parchment paper into the base.

Press AB&J dough mixture over the parchment paper (smaller the pan, thicker the bars) with a silicone spatula until even. Sprinkle on more freeze dried strawberries and hemp seeds, and gently press down. Refrigerate (or freeze) for 2-3 hours.

Remove and slice into bars. Store in airtight container in fridge or freezer (my personal favorite) for an easy snack or dessert.
what I used to make this recipe