If there's one thing I know, it's that I LOVED halloween candy growing up. Give me a fun-size Snickers and I'm sooo good to go. You just can't beat them! Well… until now 😉
I created a yummy raw (no-bake) copycat Snickers bar that's vegan, gluten-free, dairy-free, grain-free and it's unbelievable, trust me! I've made several other classics in the past like my twix bars, deep dish/cookie skillet, raw Mars bars, copycat Reese's peanut butter cups… and I've been dying to recreate a Snickers for a while now.
Just as you'd expect: a soft nougat-y base layer, ooey gooey caramel center with crunchy peanuts in every bite, and a delish dark chocolate coating around the entire bar. I mean, if that doesn't win you over I don't know what will. The best part about these little guys is that you can cut them into bite-size pieces and keep in your freezer whenever you have guests over, or be the hero at your next holiday party! Either way, I know they won't last long in your kitchen!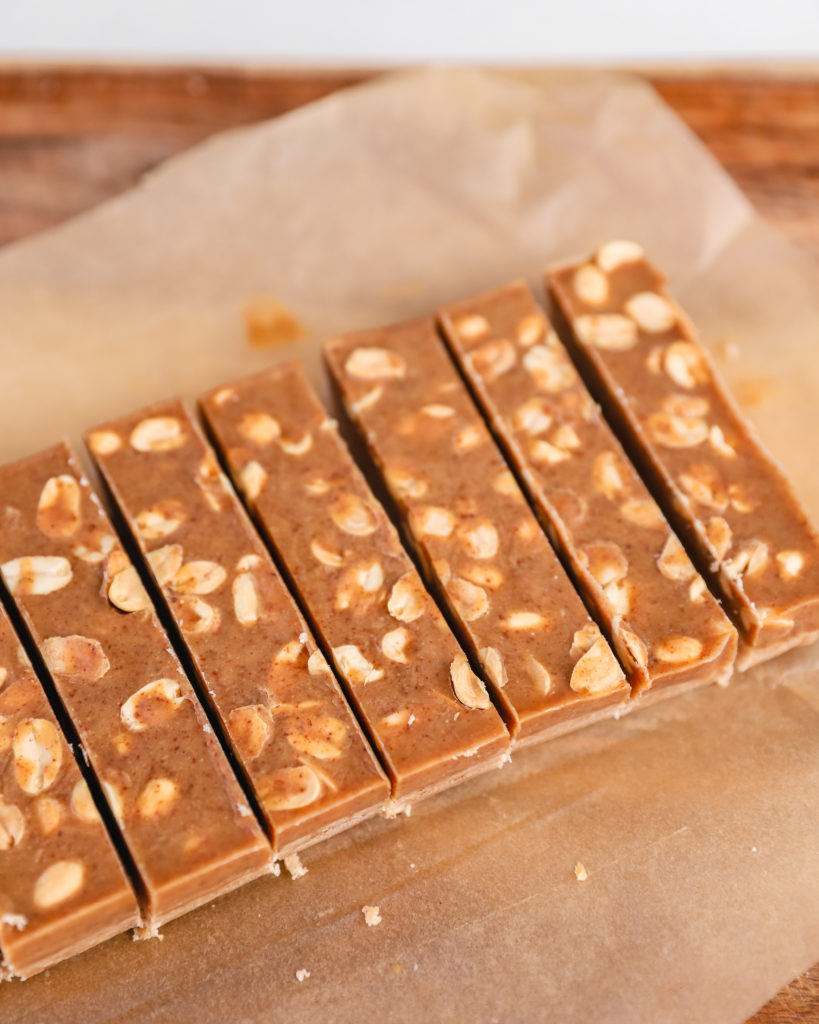 I used an 8×4 loaf-tin lined with parchment paper to create the rectangular mold, then sliced that into 8 bars. From there, I cut them into thirds for more of a "fun-size" feel. Plus, they're rich albeit being pretty low in sugar and completely refined sugar-free 😉
The ONLY thing I regret from this recipe was not packing more peanuts into the caramel layer. Don't worry, if this happens to you, just throw some extra crushed peanuts on top. Just as yummy! (I accounted for this in the recipe below– you should be great with 3/4 cup peanuts pressed in the caramel).
When it come times to pull the 2 layers out of the freezer, you'll want to grab a couple of forks to be able to transfer each bar into the melted chocolate bowl. This will help to flip them on each side and coat in choc. The tough part about this step is that you have to be a bit speedy as the chocolate will begin to harden after the frozen bars roll around in it a few times. Once the bars are completely coated, gently wipe off excess chocolate and transfer to wire dry rack over a sheet pan. Immediately toss on some chopped peanuts + flakey sea salt and watch the chocolate harden like your favorite magic shell ice cream cone! You'll repeat until all the bars are coated, then set back in freezer to harden once more.
*I love using Eating Evolved Signature Dark chocolate for most of my baking. You can find at most Whole Foods, New Seasons, Sprouts, on Thrive Market, etc.! And honestly, you can get creative with how you coat the bars– Option to cover the entire thing, hold off on cutting the first two layers until after you pour chocolate over the top, let freeze/harden (this way there will only be a thin layer of chocolate on the top), drizzle over each bar, etc.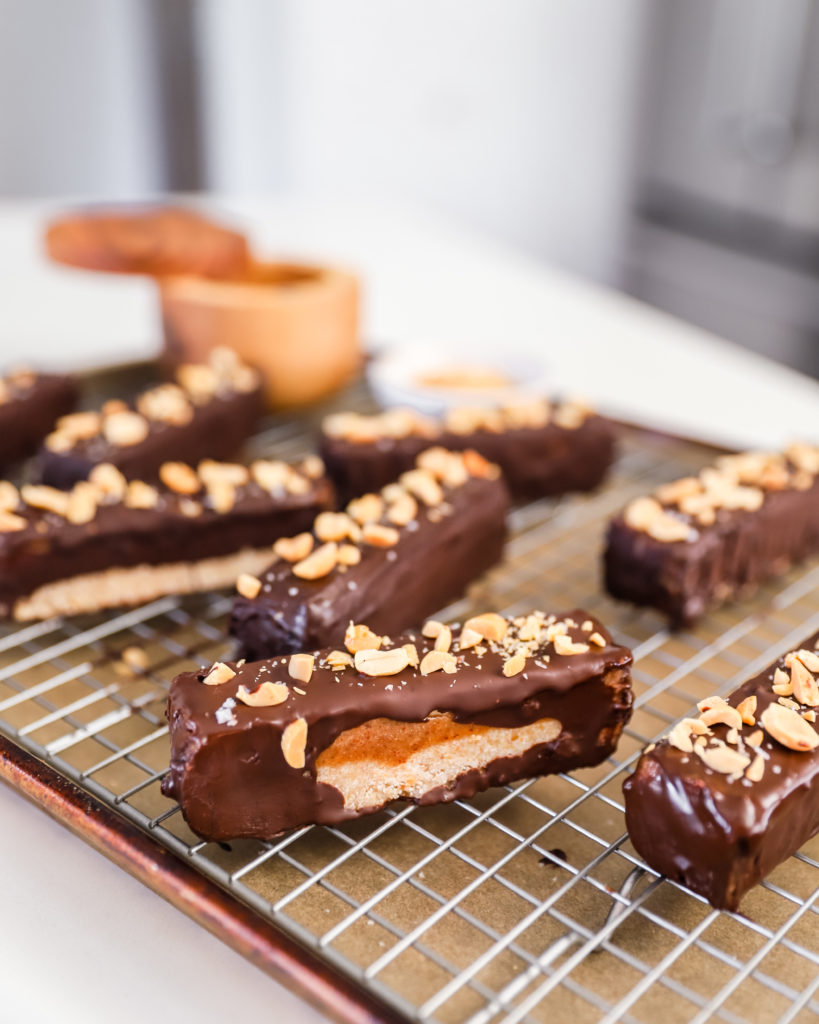 You'll notice this caramel recipe is the same as in my Twix Bar recipe– why change it if it's so good, you know what I mean? But once you add the peanuts it really gives you that crunchy (and melty) Snickers bar flav, and the bottom nougat layer is SO soft I honestly can't get over how close it came to its junk-food counterpart.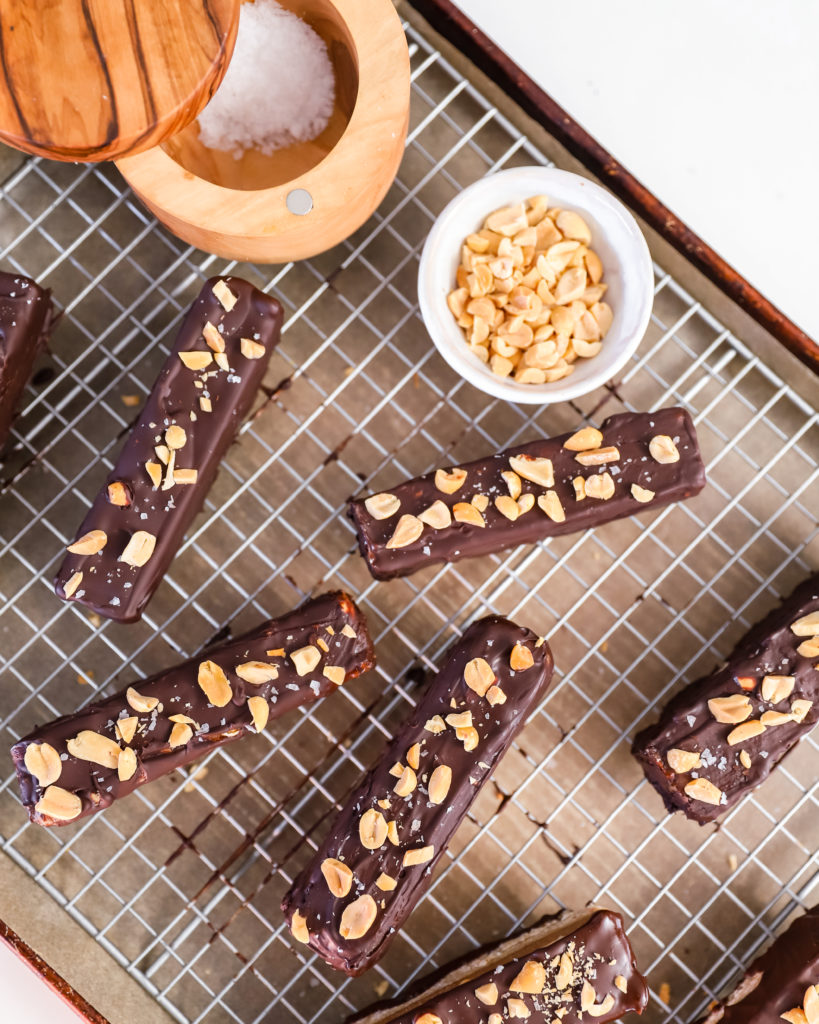 I really think you guys will love this recipe! 🙂 Can't wait to hear what you think!
xx Rachael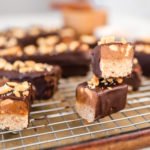 Raw Snickers Bars
Ingredients
Base
6

dates

1/2

cup

cashews

1/2

cup

coconut flour

2

tbsp

maple syrup

2

tbsp

coconut oil

1/4

cup

coconut butter
Caramel Layer
1/2

cup

almond butter

1/4

cup

coconut oil

3

tbsp

maple syrup

1

tsp

vanilla extract

pinch

sea salt

3/4

cup

peanuts
Chocolate Coating
1.5

dark chocolate bars

1

tbsp

coconut oil

1/4

cup

chopped peanuts

1/4

tsp

flakey sea salt
Instructions
Base Layer
Combine all ingredients in a food processor or high-powered blender and pulse until it reaches a dough-like consistency.

Line an 8x4 dish (loaf tin) with parchment paper and spread nougat layer into the base using a silicone spatula. Make sure it's even. Can place in fridge or freezer while you prepare the caramel layer.
Caramel Layer
Similar to my twix bar caramel layer, combine almond butter, coconut oil, vanilla, maple syrup and sea salt in a saucepan over the stove on low heat. Let simmer and whisk until mixture has completely liquified, about 2-3 minutes.

Remove from burner and let cool. Pour over the top of the base layer, then pack peanuts over the top, pressing down very gently with a silicone spatula so the peanuts sink into the caramel.

Transfer to freezer immediately to let harden completely for several hours (or overnight!).
Chocolate Coating
Once hardened, remove from freezer and lift up on the sides of the parchment paper to transfer the block of layers to a cutting board. Using a sharp knife, slice in half, then in quarters, then again in 1/8th's.

Melt chocolate with coconut oil in a deep and wide microwave-safe bowl or over the stove until liquid.

Using two forks (and maybe a spoon to transfer chocolate onto sides), pick up one frozen snickers bar and lay it flat in chocolate bowl. It's up to your chocolate-loving preference here, but I recommend covering about 3 sides of each bar with chocolate. Gently wipe off excess chocolate and transfer to wire drying rack (over a sheet pan with parchment paper in between). Immediately sprinkle with chopped peanuts + flakey sea salt before the chocolate dries.

Repeat with all snickers bars, then place sheet pan back in the freezer to harden. Feel free to cut each bar into thirds for easier snacking!

*Can store in an air-tight container in fridge, or freezer for up to several months. Enjoy! 🙂
what I used to make this recipe