OK, who remembers going to the movie theater and grabbing one or two boxes of those candy chocolate covered cookie dough bites… I hope I'm not the only one. Anyways, I woke up the other day dreaming about them and I knew I had to create. I thought since my OG Cashew Chocolate Chip Cookie Skillet is such a winner– I'm not kidding, I never make any other kind of chocolate chip cookie because these hit the spot every. single. time.– I'd do a spin-off recipe for these little gems.
I'll save you the trouble of reading any further, they turned out INCREDIBLE. Super doughy on the inside with some surprise chocolate chips, and covered with a thin layer of dark chocolate on the outside. I basically used all the same ingredients as my original cookie recipe, except I removed the egg and the baking soda, which make it perfectly fine to eat raw! Plus, it's completely vegan, gluten-free and dairy free 🙂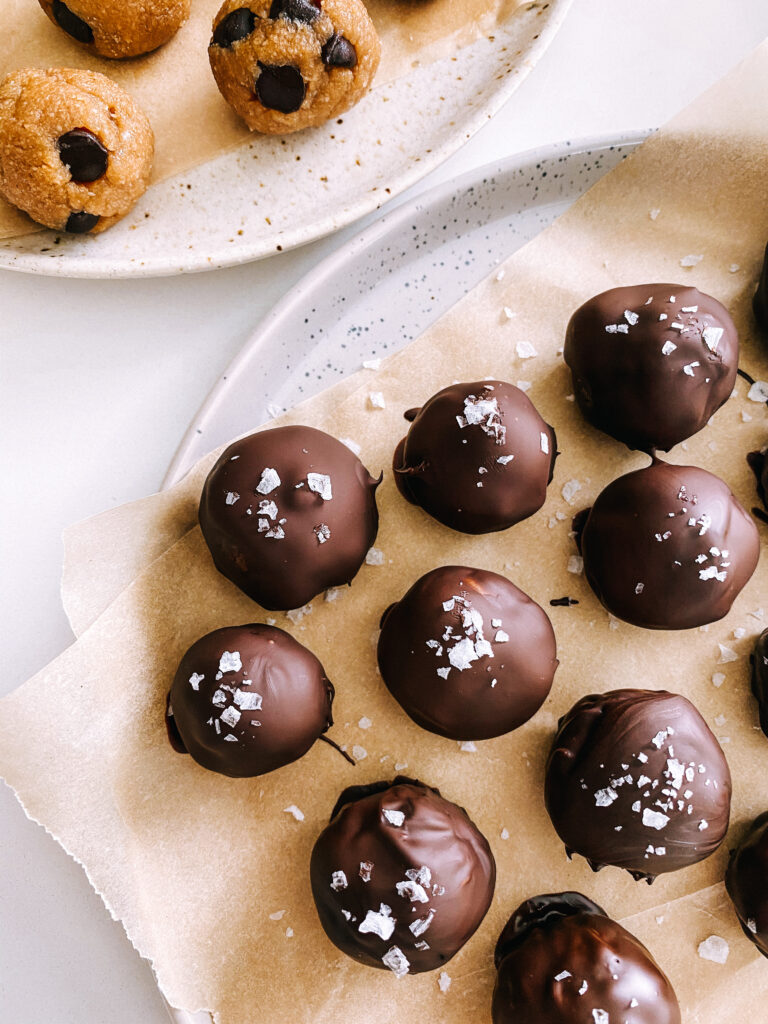 The only trick I have is to make sure the dough consistency is solid enough to roll in a ball. If it's falling apart, I would add 1 tbsp at a time of more almond flour to the mixing bowl in order to get it just right. If you want to sub another flour like coconut flour, I would try using 3/4 cup instead of 1 cup, as it's more dense that almond flour. Then adjust, if needed.
The flakey sea salt is a game changer on top! Something I wouldn't have appreciated back in my childhood days tossing the cookie dough bites back quicker than I could count. I love this kind best!
I know you will love this recipe!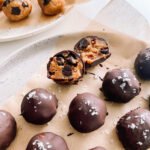 Salted Cookie Dough Bites
Ingredients
1/3

cup

cashew butter (or sub any nut/seed butter)

2

tbsp

melted coconut oil

2-3

tbsp

honey or maple syrup

1/2

tsp

vanilla extract

1/2

tbsp

almond milk

1

cup

almond flour

few shakes

cinnamon

1/2

tsp

flakey sea salt

1/4

cup

mini chocolate chips

1.25

bar

dark chocolate, or 3/4 cup chocolate chips, melted
Instructions
Whisk together wet ingredients in large bowl. 

Add dry ingredients, then start rolling into small, bite-sized pieces (about 1-inch big). Lay on parchment paper.

Once all rolled out, set in freezer for 30 min to harden. 

Melt chocolate, then using two forks, roll each cookie dough bite in chocolate. Let excess drip off, place on separate place with parchment paper.

Immediately put back in freezer to harden for 30 minutes then enjoy! Store in airtight container in freezer.