If you've never been to Zion, let alone Utah, you should seriously consider making the trip because the views are out of this world! My sister lives in Las Vegas, so the travel time isn't terrible, probably two hours and forty-five minutes each way. This was my second time visiting Zion and instead of taking just a day trip like we did last time, we did things a little different and went glamping near town. It was unforgettable!
GLAMPING IN THE DESERT
Let me just say, I didn't know exactly what glamping entailed before this trip with my mom and sister, but my sis has done it before, and she couldn't recommend it enough. I know there are a few different ones near Zion, but we stayed at Under Canvas about 35 minutes outside of town. It's a little, 'out in the middle of nowhere' kind of vibe, which was honestly perfect! There are various tents to choose from when booking, and if you want a tent with a bathroom, of course it's a bit more expensive. They have a restaurant on site, which we were very impressed with—the food was amazing, and the menu convinced us to stay at the glamp ground rather than heading into town for dinner like we had planned. They had beer and wine, appetizers, salmon bowls, grilled chicken, salads, etc. and every night at dusk they offer individual s'mores kits to roast at the fires. I think they also have live music on the weekends, but the schedule is different every week. The mornings include complimentary tea & coffee and they offered a couple breakfast options to eat.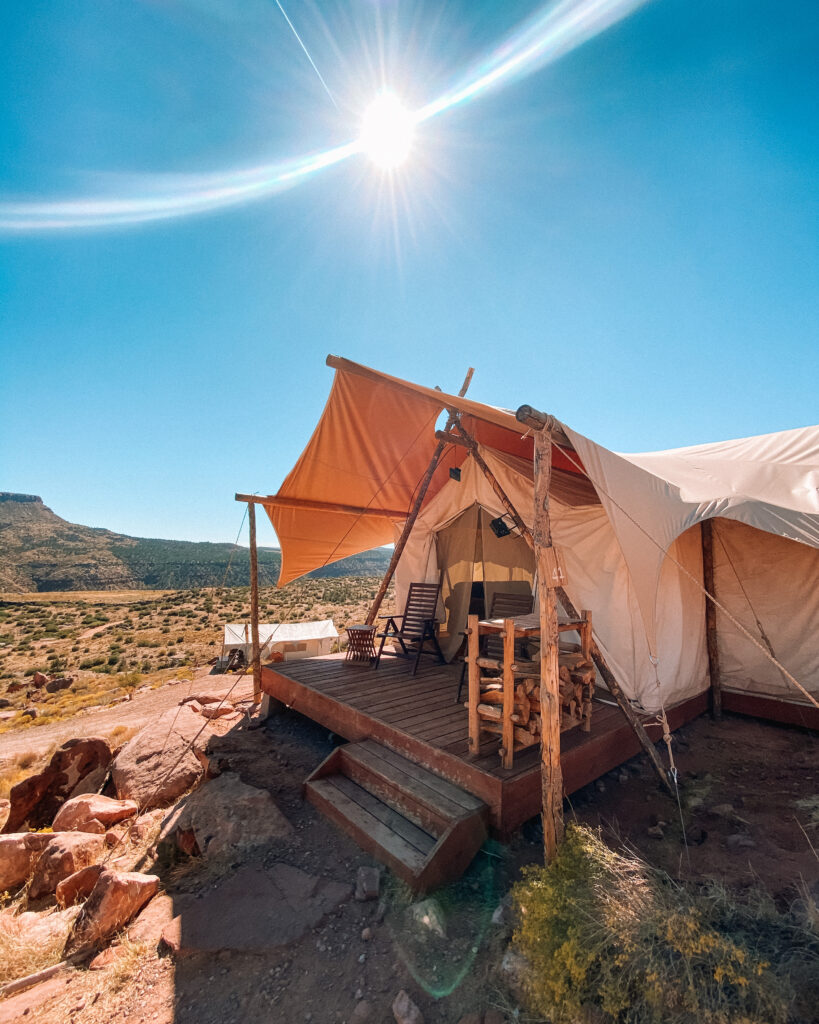 We stayed in tent 41. Highly recommend!! We were located on the upper half of the site and had the best views looking out towards the mountains, the restaurant and the lobby down below. We went at the end of September, so it was still pretty hot (~87 degrees F) throughout the day and even into the evening. The last time my sister, Maddie stayed there it was end of November and very chilly—cold enough to start the wood burning fireplace inside the tent and wear layers of jackets. I was just happy they had misters (water mist) inside the tent so we could cool down. I'm assuming most people who stayed there were out hiking Zion during the day or adventuring out in town then would come back to their campsite later in the day to chill & relax.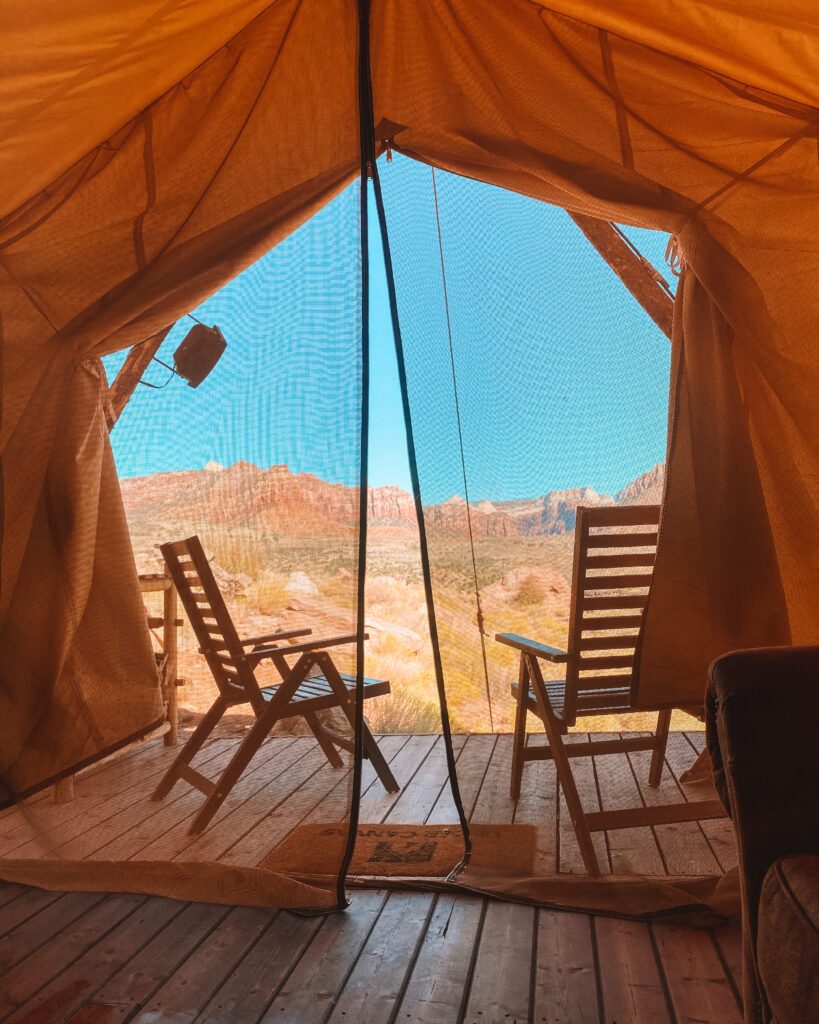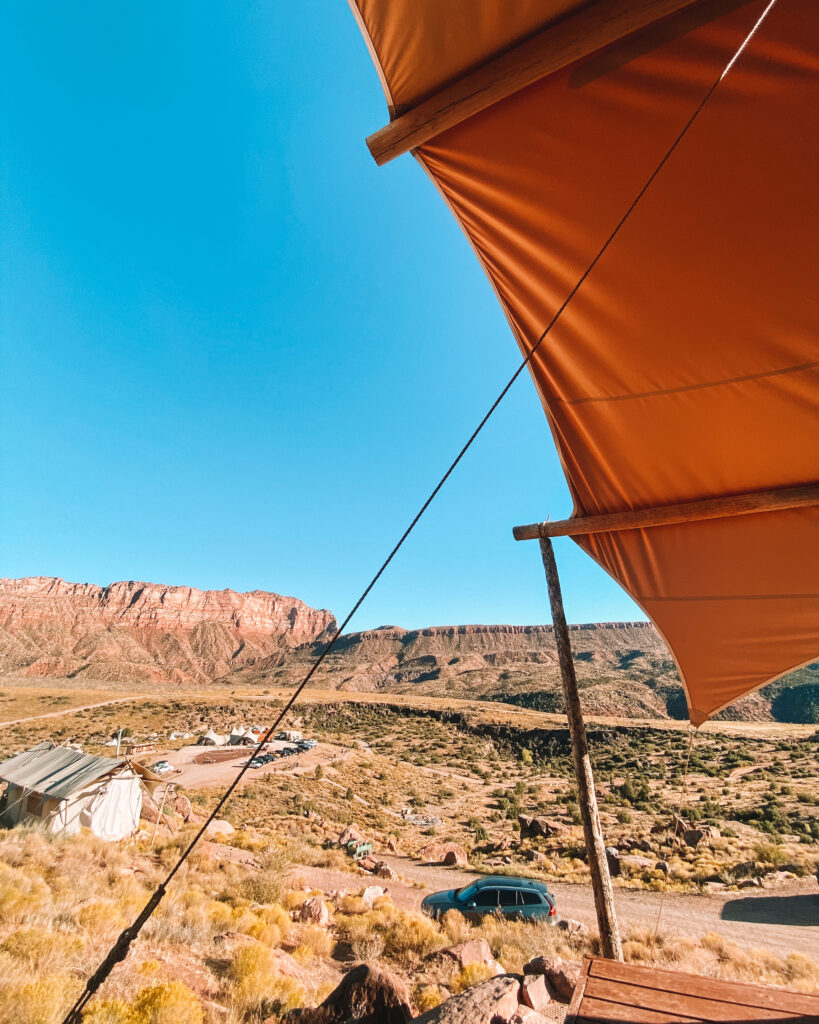 Our tent included a king size bed, a pullout couch (not comfortable lol), toilet, shower, wood burning stove, water misters, several chairs to lounge inside or out on the deck, and phone chargers. They also had a cold/hot water station in the lobby so you could refill your water bottles at any time.
WHAT TO BRING
First of all, I would definitely stay there again, but now I'd know exactly what to bring for an even better experience!
WHITE NOISE: Every night I need to sleep with either white noise or a fan to be able to fall asleep. I brought my travel-size sound machine and it died 10 minutes into trying to fall asleep, so we were left with the piercing silence of the desert haha. It was actually terrible. We could hear every little thing from the wind hitting the tent to people walking in the gravel to their tents, which was not ideal. I think I only got a few hours of sleep. So, if you're like me and need some kind of noise to fall asleep I definitely recommend bringing a sound machine—I linked my favorite here.
REUSABLE WATER BOTTLE: I take mine everywhere with me, especially while traveling, so this is an essential for sure. They have a water station in the lobby where you can refill 24-7. Click for a stainless steel water bottle with a straw!
TRIPOD: Obviously, if you need some good selfies or whoever you're staying with, this is needed! Pics or it didn't happen, right? Click here for the one we brought, it worked great.
LAPTOP: If you're trying to get away from technology on this trip, then disregard, but we love a good movie before bed. Since none of us brought a laptop to watch it on, we used our phone and held it up with the tripod on the bed. Worked perfect, minus the small screen!
SNACKS: This is a given. I bring snacks everywhere with me just in case there aren't any options, or I just need something quick! They had some available for purchase in the lobby area but driving into town was about 35-min away, so it was nice to have a few things I'm used to from home. Things like dry roasted salted macadamia nuts (or any nuts/seeds), Simple Mills crackers, brown rice crackers, paleo pretzels (Quinn brand), quick, grab-n-go bars like RXBARS, Primal Kitchen collagen bars, Vital Proteins collagen bars, etc., granola, fresh fruit, dark chocolate (Evolved Eating is my go-to).
LAYERS: Although it was so hot during the day, towards the early morning it got pretty cold. Make sure to bring a few different options when you stay—shorts, pants, tanks, sweatshirts, flannels, slides, tennis shoes, hiking shoes.
I know the company, Under Canvas has quite a few different locations like in Moab, Rushmore, so if you're close to any of those I would suggest looking into them, especially during covid when traveling is on the back burner J I would definitely recommend it! One night was perfect.
SHOP MY FAVORITES


HIKING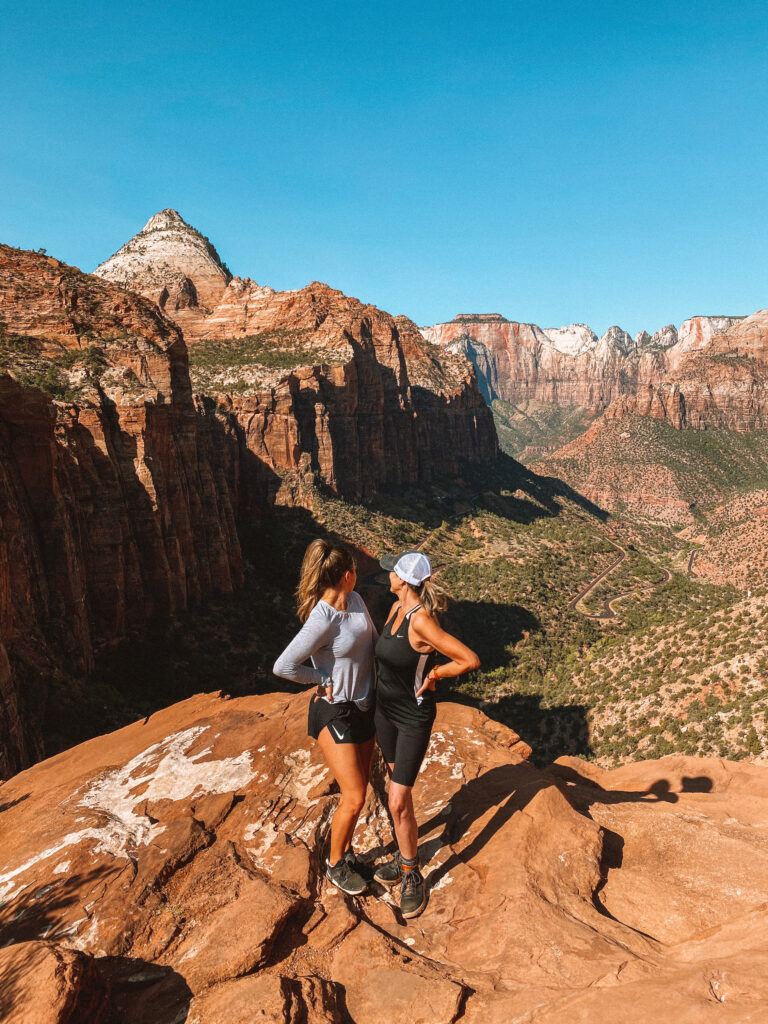 As for hiking, we kept it pretty low-key this trip and only did one hike, Canyon Overlook trail. It was a shorter hike (~1mile), but it had the most incredible views!! Even driving up to the start of the hike was so scenic and something I would recommend doing. It was an easy to moderate level hike. During the hotter temps I would suggest going earlier in the day, but with the sun out. We started around 10am and it timed out great. As for parking, there are only about 8-10 spots right out front of opening to this particular hike. Once they're full, you have to resort to street parking down the road. Good thing is that the hike is pretty short, so people were in and out of the parking lot pretty quickly, so we waited a few minutes and got one.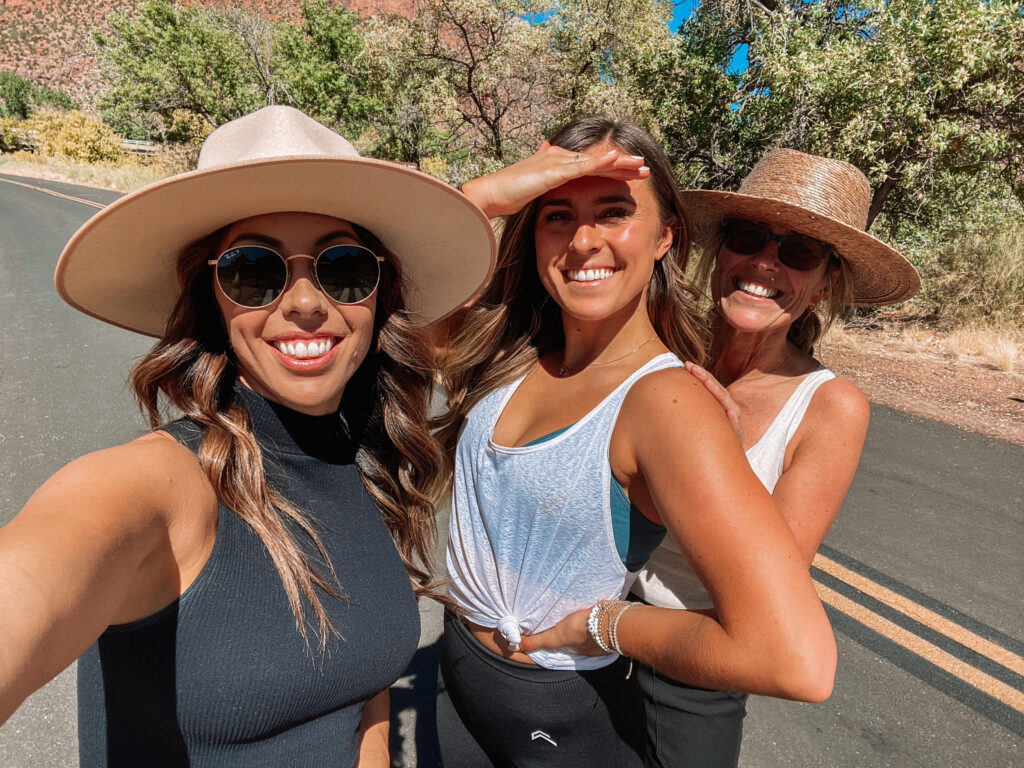 Other hikes include:
Angels Landing: I did this three years ago with my sister, her friend and Bridger. We loved it! 5.4 miles, 4-6 hours, strenuous.
Observation Point: 8 miles, 4-6 hours, strenuous.
The Narrows: I've heard it's gorgeous! But it does require walking through the river, even up to waist height. Up to 12 miles, but can turn around whenever. Overall easy to moderate.
The Watchman trail: 3.3 miles, 2 hours, easy to moderate.
More info here and here on hiking in Zion.
FOOD/CAFÉ'S
Feel Love Coffee: this was new when we went. Hands down, gotta go! Best service, tons of healthier options, smoothies, matcha latte, coffee, vegan donuts, pastries, breakfast, various food options.
Café Solei: loved this little café. They have great food—salads, sandwiches, breakfasts, pastries, coffee, smoothies
King's Landing: this was where we were planning to eat before we saw the menu at Under Canvas. Maddie said it's one of the nicest places to eat in town, with great food options.