I haven't made my infamous turkey burgers in so long, which is why I decided to make a meatball version instead to go over a big plate of spiralized zucchini and my homemade cilantro avocado sauce! It's a crowd-pleaser for SURE.
I also got some more use out of my 10-inch cast iron (from Lodge Cast Iron– you can buy off Amazon or buy at Target for pretty cheap) and couldn't be more in love with a piece of cookware. Cast irons are so versatile and truly get the best sear on anything you cook in it. They're also a lot less intimidating than I initially thought before owning one.
I threw a lot of the ingredients in that I normally use to make my turkey burgers, but I swear they turn out better every single time! Feel free to add an egg to the recipe to help bind the ingredients together– I simply added almond flour and it seemed to hold together enough to spoon into a ball.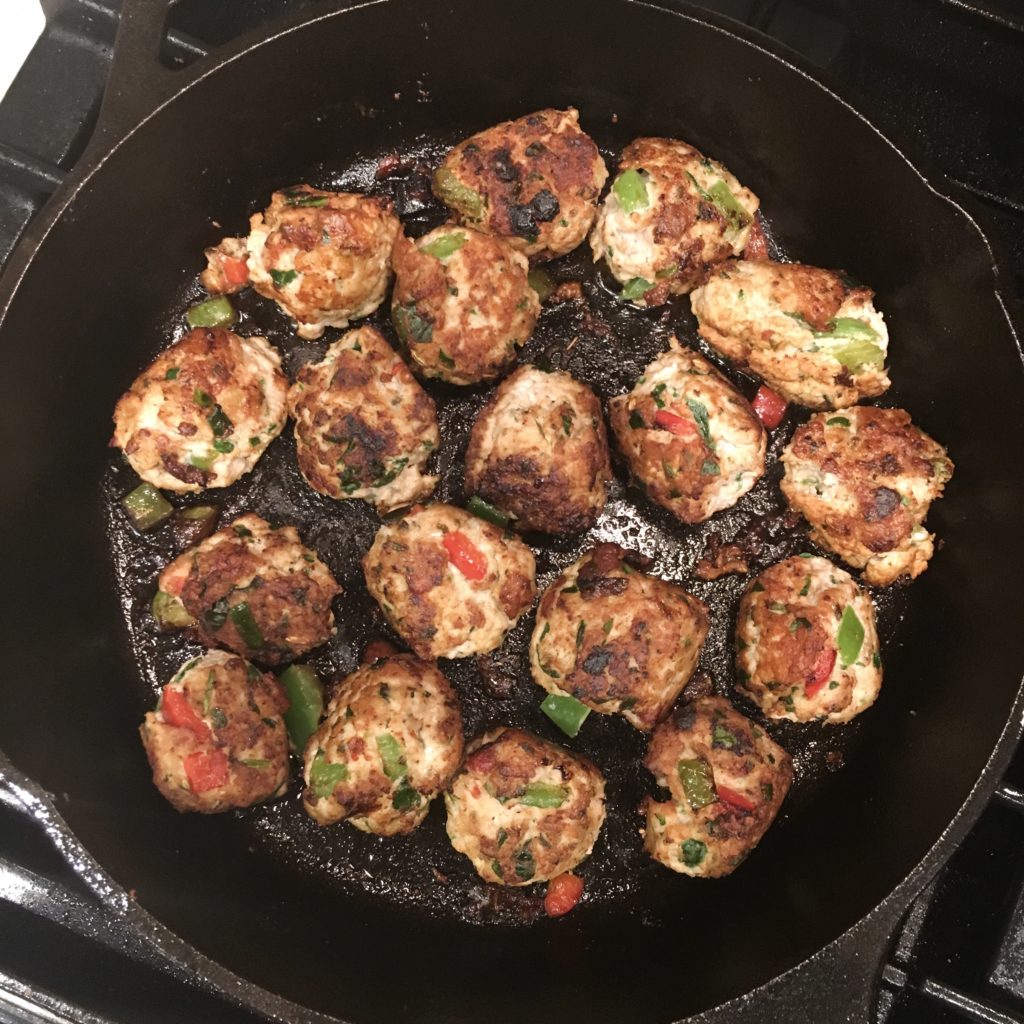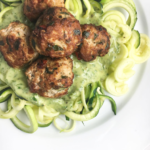 Zoodles Topped With Organic Turkey Meatballs And Cilantro Avocado Sauce
Ingredients
Turkey Meatballs
1

lb

organic ground turkey

1/2

cup

bell pepper, diced

3

tbsp

sundried tomato, chopped

1/2

cup

spinach, finely chopped

1/4

cup

almond flour

1

tbsp

fennel seed

1

tsp

oregano

1

tsp

basil

3

tbsp

crumbled goat or feta cheese

Salt and pepper, to taste

3

tbsp

olive or avocado oil to cook in

1

egg (optional)
Cilantro Avocado Sauce
1.5

cup

fresh cilantro

1/4

cup

olive oil

1

tbsp

apple cider vinegar

1

large

avocado

2

small

limes, juiced

1

tsp

minced garlic

Sea salt and pepper, to taste

2

tbsp

filtered water (if needed to help combine)
Instructions
Preheat oven to 400 degrees F.

Combine meatball ingredients into a large bowl and mix until thoroughly combined. Using two spoons, form mixture into 1-inch balls as evenly as possible. Add egg if mixture doesn't hold together.

Pour oil into skillet to heat on medium. Add turkey meatballs to skillet and let brown on all sides before transferring entire skillet to the oven to cook for 10 minutes. (*option to bake all meatballs for 15-17 minutes in oven at 400 degrees F on parchment paper instead of pan frying)

Add all of the ingredients used to make the cilantro avocado sauce to a food processor or blender to pulse until it reaches a smooth consistency.

Spiralize zucchinis (I use the

Inspiralizer

) and set aside. In a separate pan, spray with olive or avocado oil to heat, then add spiralized zucchinis. Using tongs, toss zoodles until hot (1-3 minutes), making sure not to overcook because they will become soggy.