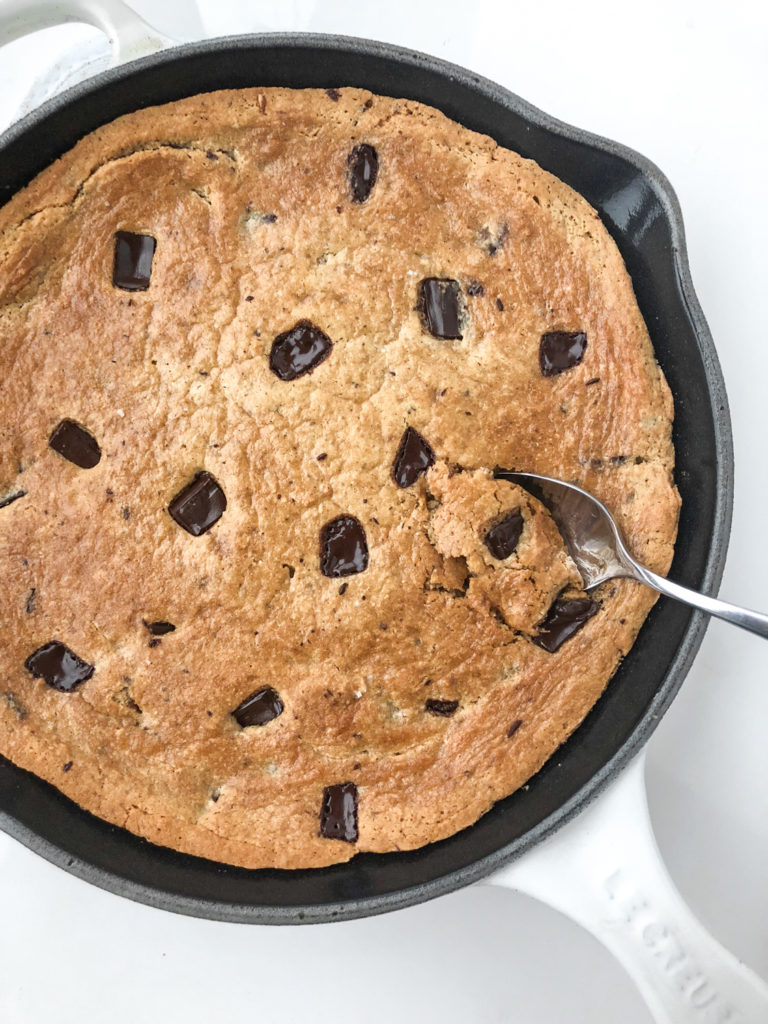 Everyone's a sucker for a good chocolate chip cookie. And if you aren't, I'm not sure we'd be friends. It's such a good dessert and even more so when it cooks inside a skillet! I wanted to recreate the famous 'Pizookie' some restaurants carry for dessert, only with real ingredients, of course. I'll be the first to admit I'm not the best baker, which is why I was so pleasantly surprised when this recipe turned out perfect! It's so decadent, has somewhat of a crust on the outside and is super soft and cakey on the inside. If you prefer more of a crunch to your cookie, add 1-3 extra minutes on the cooking time or bake in a larger skillet to thin out the batter.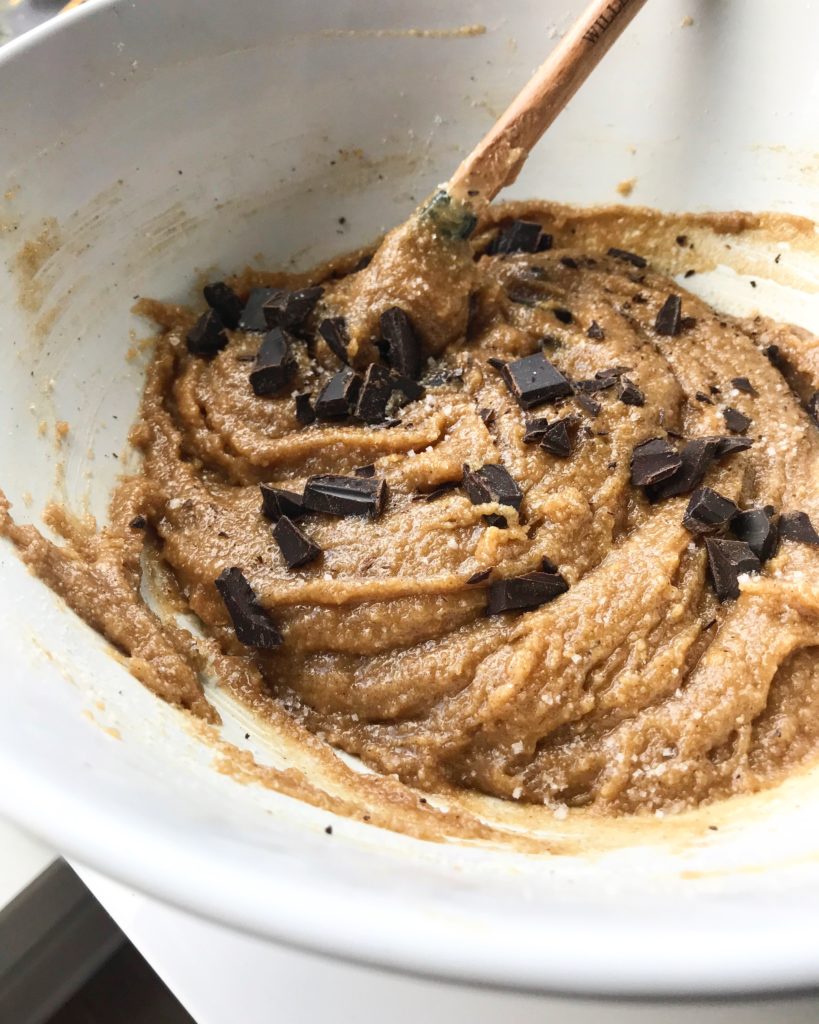 I chose to use cashew butter for its subtle nutty taste and creaminess and used maple syrup as the sweetener. Feel free to substitute almond butter, peanut butter or tahini in place of cashew butter and honey in place of maple syrup.
This is a great dessert to make for the family (or for yourself) and tastes just like the unhealthy version. Completely satisfying, chocolatey, and pairs perfectly with a tall glass of chilled almond milk 😉
I would really recommend trying to follow the measurements to a "T" in order for the recipe to turn out just right. If, for some reason, the batter is too dry before adding it to the skillet, add a bit more almond milk.
I've included the frequent substitutions along with a *Nut-Free* version of the skillet below!
Frequent Substitutions:
-Cashew butter: Almond butter, peanut butter, tahini, sunbutter (may turn green after baking it, but no worries! Still tastes great)
-Almond flour: Oat flour, coconut flour (1/3 cup as it absorbs more liquid), cashew flour, peanut powder, whole wheat flour or GF flour or cassava flour (these are more dense flours and require a little less than 1 cup), hazelnut flour
-Almond milk: Coconut milk, hemp milk, cashew milk, basically anything you have, it's only 1 tbsp
-Egg: Flax egg (1 tbsp ground flaxseeds + 3 tbsp water)
-Chocolate: I recommend 72% cacao or above, choose cacao only if wanting to be dairy free
-Chocolate chips: Blueberries or strawberries
-Maple Syrup: Honey
-Coconut oil: Apple sauce, avocado oil, olive oil (make sure to use high-quality olive oil. My favorite is Kouzini cold-pressed; you can buy on Amazon)
-Cast iron skillet: feel free to use any sort of baking dish, cake round, loaf tin, etc. for this recipe!!
Nut Free Version:
1 egg
3 tbsp maple syrup
1/4 cup apple sauce
1/3 cup sunflower butter
1 tsp vanilla extract
1 tbsp soy milk
1 cup oat flour
1/4 tsp baking soda
1/2 tsp cinnamon
1/2 chocolate bar
1/4 tsp sea salt
Click HERE for my Cookie Skillet Individuals recipe! All the ingredients stay the same, just a little modification to the measurements 🙂
Cashew Chocolate Chip Cookie Skillet by Rachael DeVaux (Rachael's Good Eats) from Sara Mustelin on Vimeo.
SHOP WHAT I USED IN THIS RECIPE

Cashew Chocolate Chip Cookie Skillet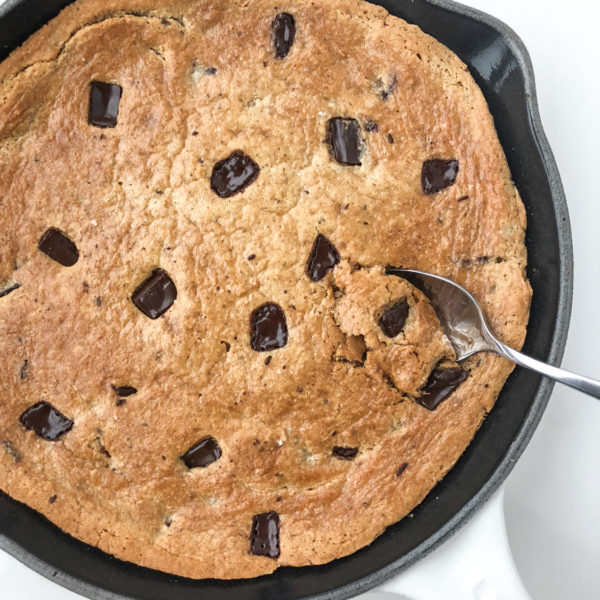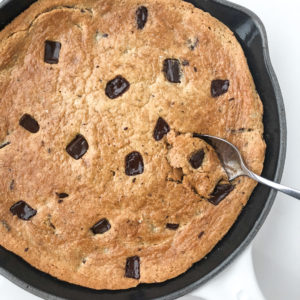 Ingredients
1

egg

,

(or sub flax egg)

3

tbsp

maple syrup

,

(or sub honey)

1/4

cup

melted coconut oil

1/3

cup

creamy cashew butter

,

(or sub any nut or seed butter)

1

tsp

vanilla extract

1

tbsp

unsweetened almond milk

1

cup

almond flour

,

(Bob's Red Mill finely ground almond flour works BEST!)

1/4

cup

collagen peptides

,

(completely optional. I use Vital Proteins. They dissolve right away in the batter)

1/4

tsp

baking soda

1/2

tsp

cinnamon

1/2-3/4

dark chocolate bar

,

(I love Eating Evolved signature dark) or sub 1/2 cup chocolate chips

1/4

tsp

sea salt

8-9

inch

cast iron skillet

,

a baking dish, cake tin, or loaf tin
Instructions
Preheat oven to 325 degrees F.

Whisk egg* in large bowl then pour in maple syrup, melted coconut oil, cashew butter, vanilla and almond milk to whisk again.

*If using flax egg, mix 1 tbsp ground flaxseeds with 3 tbsp water and let sit for 5 minutes before adding to recipe in place of egg.

Stir in almond flour, baking soda, cinnamon and some of the sea salt. Fold in chocolate chunks, leaving several chocolate chunks aside.

Very lightly spray a 8 or 9-inch cast iron skillet (13-inch if doubling the recipe) with coconut oil then pour batter into the base and spread out evenly using a silicone spatula. Place the last several pieces of chocolate over the top, sprinkle sea salt, then place in the oven for 19 minutes on the center rack. Turn the oven on broil and cook 1- 1 1/2 additional minutes **keep a close eye on it because it can burn quickly!
---