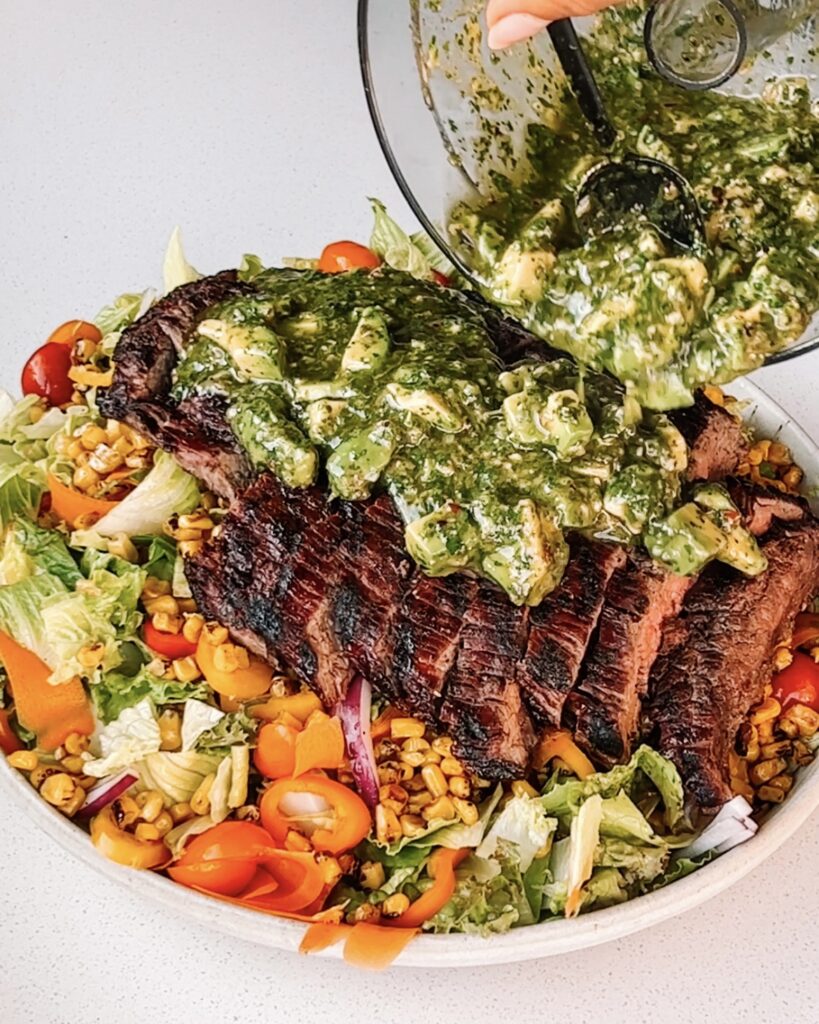 Click here for the Reel I made of this recipe 🙂
Flank Steak & Avocado Chimichurri Salad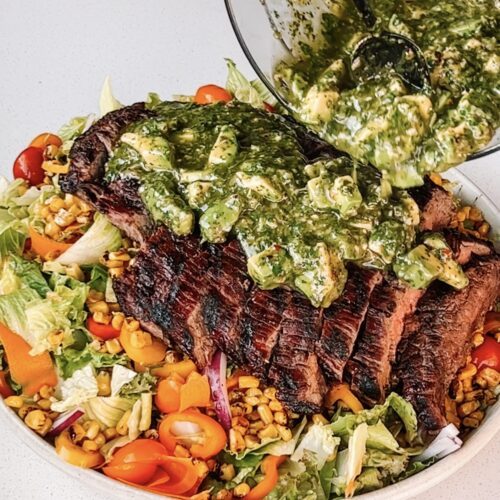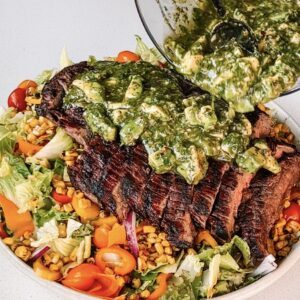 Ingredients
Steak Salad
1

Grass-fed flank steak

sea salt

garlic powder

ground black pepper

1

cup

corn (2-3 cobs), grilled

2-3

heads

romaine, chopped

1

cup

cherry tomatoes, halved

1/3

red onion, thinly sliced

2

carrots, thinly sliced or ribboned

1

cup

baby bell peppers, sliced

1/2

cup

cotija cheese
Avocado Chimichurri
1/2

cup

fresh cilantro

1/2

cup

fresh parsley

1/3

cup

extra virgin olive oil

3

tbsp

red onion

2

tbsp

red wine vinegar

1

clove

garlic

1/2

tsp

sea salt

1/4

tsp

cumin

1

pinch

red chili flakes

ground pepper, to taste

3/4

avocado, cubed
Instructions
Flank Steak Salad
Prep the salad. Add romaine, cherry tomatoes, red onion, carrots and bell peppers to a large bowl. Set aside.

Heat grill to 500 degrees F.

Add the corn, grilling for ~15-20 minutes total, rotating the cobs every 4-5 minutes.

Season flank steak with sea salt, garlic powder and ground pepper. Rub with evoo and grill for 5-6 minutes each side or until cooked to your preference. Remove from the grill and let it rest for 5-10 minutes.
Avocado Chimichurri
Add all the chimichurri ingredients except the avocado to a food processor and pulse until smooth. Once it reaches desired consistency add cubed avocado and spoon together.
Assemble
Thinly slice the flank steak against the grain and add it to the salad.

Cut the corn off the cob and add it to the salad.

Top with avocado chimichurri, cotija cheese, and red chili flakes. Enjoy!