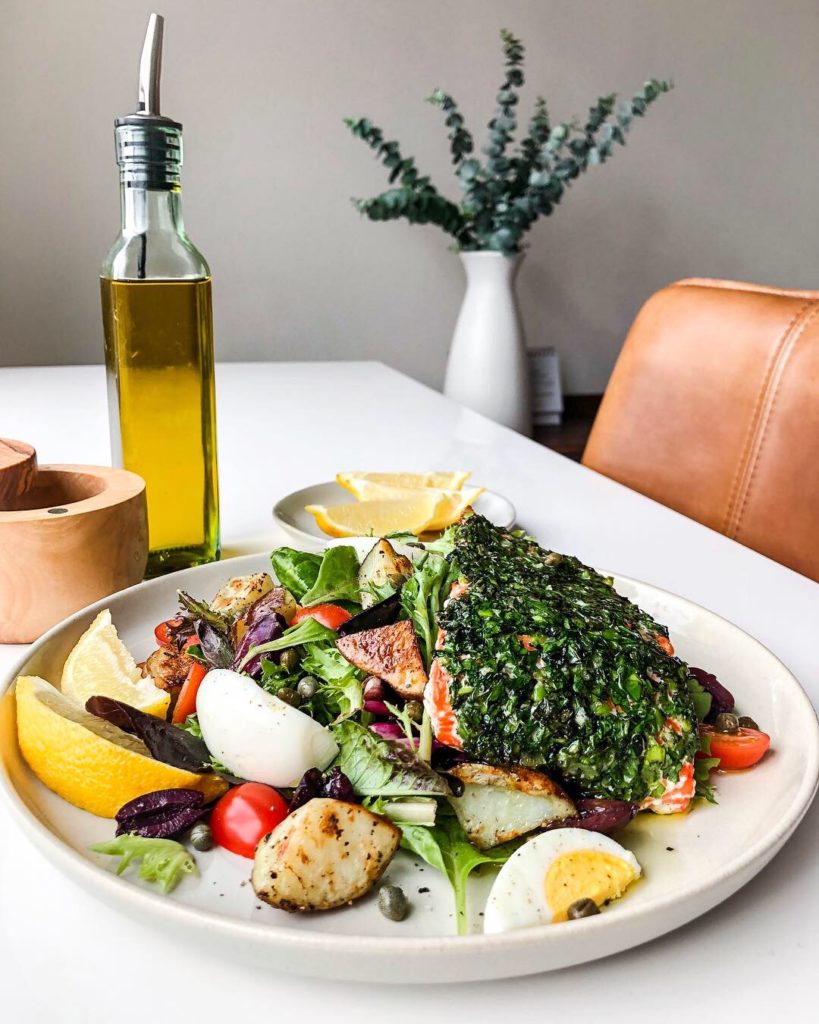 If there's ONE thing I can't quit, it's the wild salmon niçoise salad from on the Nordstrom Café menu. Obviously, if you've had it you know what I mean. Pronounced, Nee-Swaz. it's packed with flavor, antioxidants, healthy fats and crispy potatoes. (Paleo, GF, and dairy-free!)
Anyways, since it's the only item I ever order, I was raving about it to the chef a few weeks ago and he was kind enough to go and print out the entire recipe for me! That's the kind of customer service I can get behind. I just love Nordstrom!
I was so surprised at how easy it was to throw together. Perfect for lunch or dinner! The salty flavor of the kalamata olives and capers pair so well with the…. ok, ok I'm not going to get into the deets, you guys have to try it out for yourselves! 😉
The only thing I changed was the dressing– it calls for a dijon balsamic vinaigrette, but I love a good extra virgin olive oil + fresh lemon juice combo on salads, especially this one. If you're wanting to try the dijon vinaigrette, I left it below xx
Dijon Balsamic Vinaigrette:
Ingredients:
1/4 cup balsamic vinaigrette
3 tbsp dijon mustard
1/4 cup red onion, diced
1 tbsp light brown sugar (I would sub for coconut sugar)
1/3 cup extra virgin olive oil
1/2 tsp sea salt
1/2 tsp ground pepper
2 tbsp fresh basil, finely chopped
Directions: combine balsamic vinegar, dijon mustard, diced red onion, and brown sugar (or coconut sugar) into blender. and pulse until well combined, about 1 minute. With the blender running, slowly add extra virgin olive oil in a thin steady stream, forming a vortex swirling effect until all the oil is absorbed, approximately 2 minutes. The dressing should have a medium brown color and a smooth and somewhat creamy consistency. Season with sea salt + ground pepper, fold in fresh basil and pulse 3 times with blender, about 10 seconds each time in order to fully incorporate. Lasts 3 days in the fridge.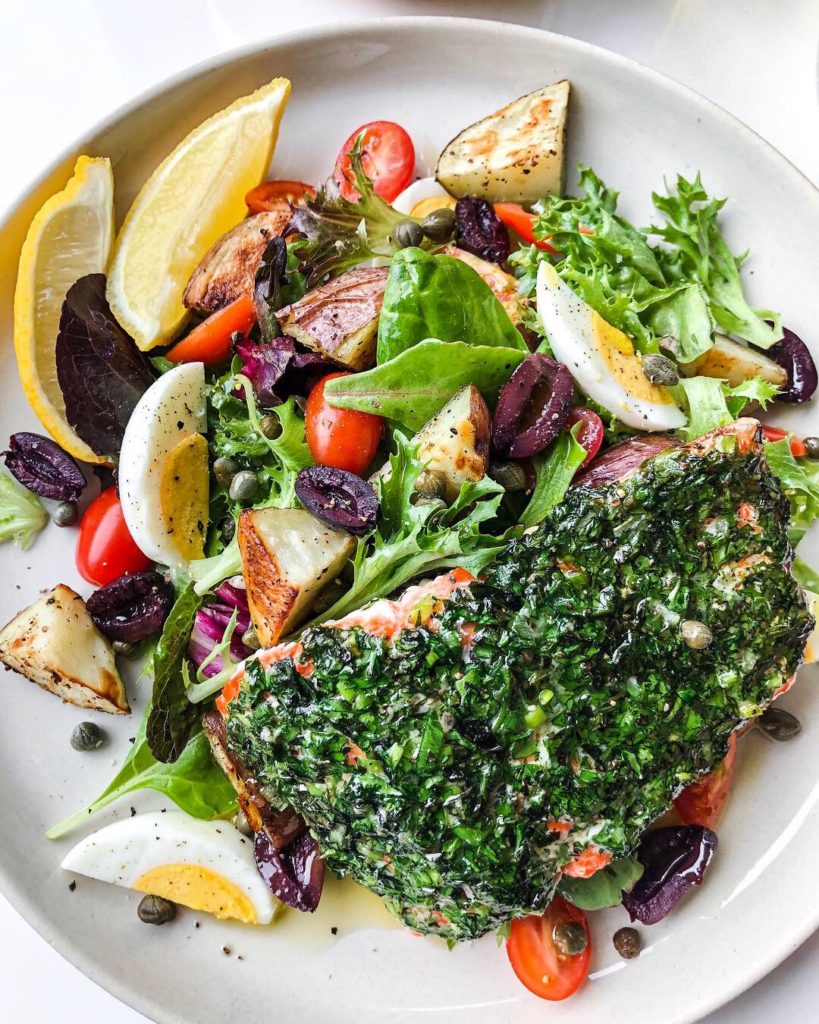 Copycat Nordstrom Cafe Wild Salmon Niçoise Salad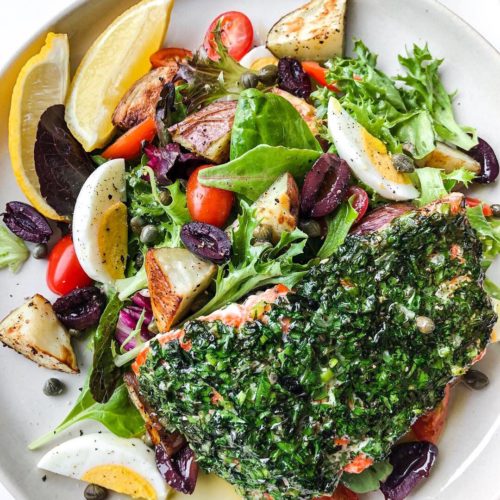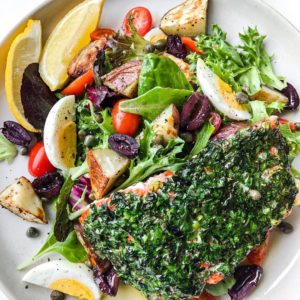 Ingredients
2

6oz

wild salmon fillets

5-7

medium

red potatoes, quartered

2

hard-boiled eggs

1/2

cup

cherry tomatoes, halved

1/3

cup

kalamata olives

1-2

handfuls

fresh green beans

6

cups

mixed greens

1-2

tbsp

fresh capers

1

fresh lemon, quartered
herb crust for salmon
1/4

cup

fresh basil, finely chopped

1/4

cup

fresh oregano, finely chopped

1/4

cup

fresh italian parsley, finely chopped

3

tbsp

chopped green onion

1/4

cup

extra virgin olive oil

pink salt, to taste

ground pepper, to taste
Instructions
Preheat oven to 425 degrees F. Cover baking sheet with parchment paper. Add quartered potatoes & spray (or toss) lightly with olive or avocado oil and pink salt and pepper. Bake for 30 minutes, tossing 10 minutes before done. Once cooked, set aside.

Steam green beans and cut into 2-inch pieces. Set aside.

Heat oven to 500 degrees F.

To prepare crust for salmon, make sure all fresh herbs are finely chopped, then mix together in a bowl until well-combined. Lay salmon, presentation side up, over parchment paper on baking sheet. Top herb mix over fillet and bake for 5-7 minutes, depending on how thick the salmon is.

Layer salad ingredients on plate (or toss in large bowl), leaving the salmon & capers. Drizzle with olive oil and garnish with lemon. Enjoy! 🙂