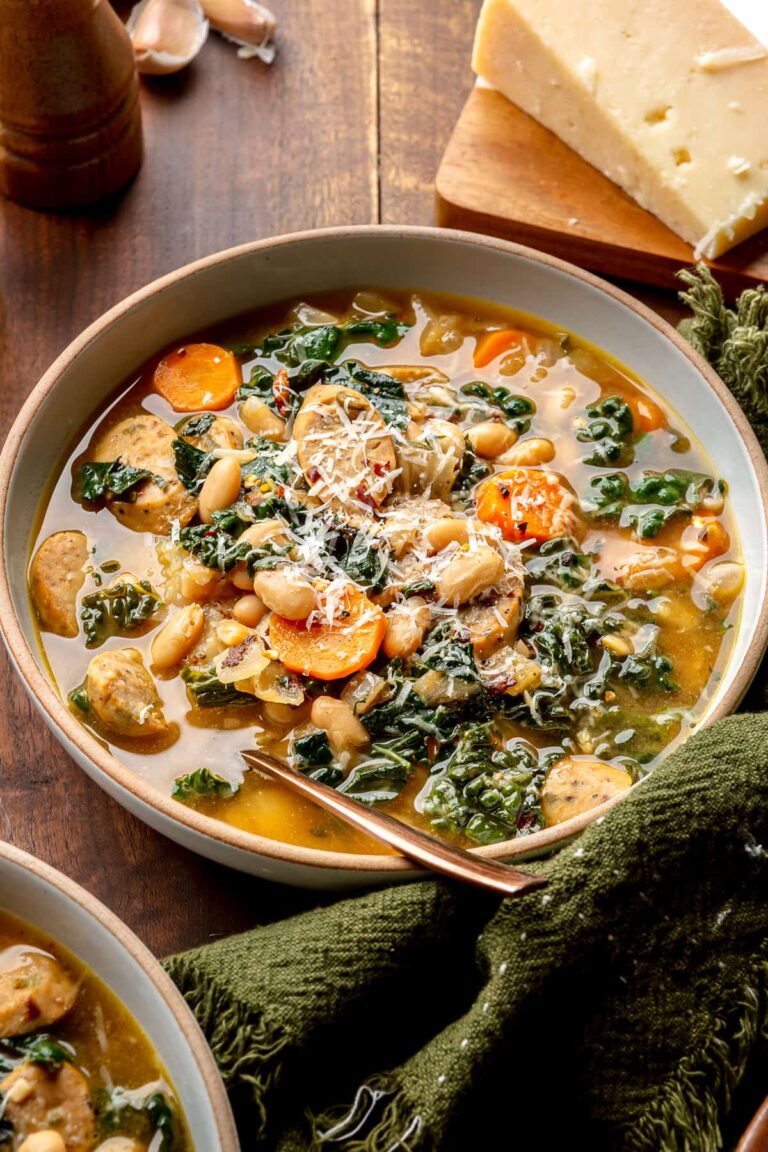 One way I like to show my friends and fam some love is by cooking for them, and one way I love to show my appreciation for you guys is by sharing all of my favorite recipes. It would honestly be a crime not to share this incredible Sausage, White Bean & Kale Soup recipe with you – oh my gosh it is life-changing.
There's really nothing like the feeling of enjoying comfort food while relaxing all cozied up at home – and since we have officially entered soup season, I felt like it was my calling to start a cozy, seasonal soup series on my IG recently. This was the first recipe in that series and I have a feeling it's going to quickly become a go-to for us all, all soup season long!
Get ready for your kitchen to smell absolutely insane.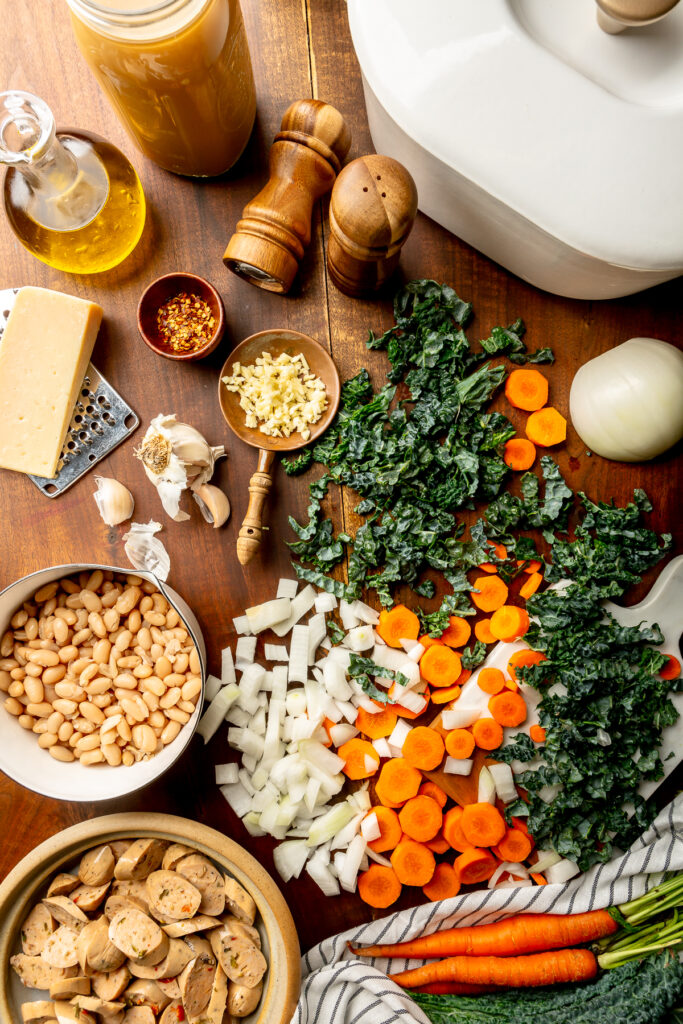 COZY IN A BOWL
This is one of my favorite soup recipes I've ever created. It's bursting with flavor and packed with ample protein and tons of veggies for all the nourishing benefits. In my opinion, sausage brings any meal to the next level – and the beans, veggies, and broth make this soup the ultimate cozy dinner.
I think it's safe to say that each one of us are all too familiar with soup season coming at the same time as sick season – and we could all use extra nutrients to help boost our immune system and prevent any cold or flu that attempts to come our way. Food is medicine too, and I really lean into that concept when creating a new recipe. The carrots, and especially kale, provide an abundant amount of vitamin C (your immune system will thank you for this), among so many other phytonutrient effects. But let's not forget all the healing benefits the onion and minced garlic offer too!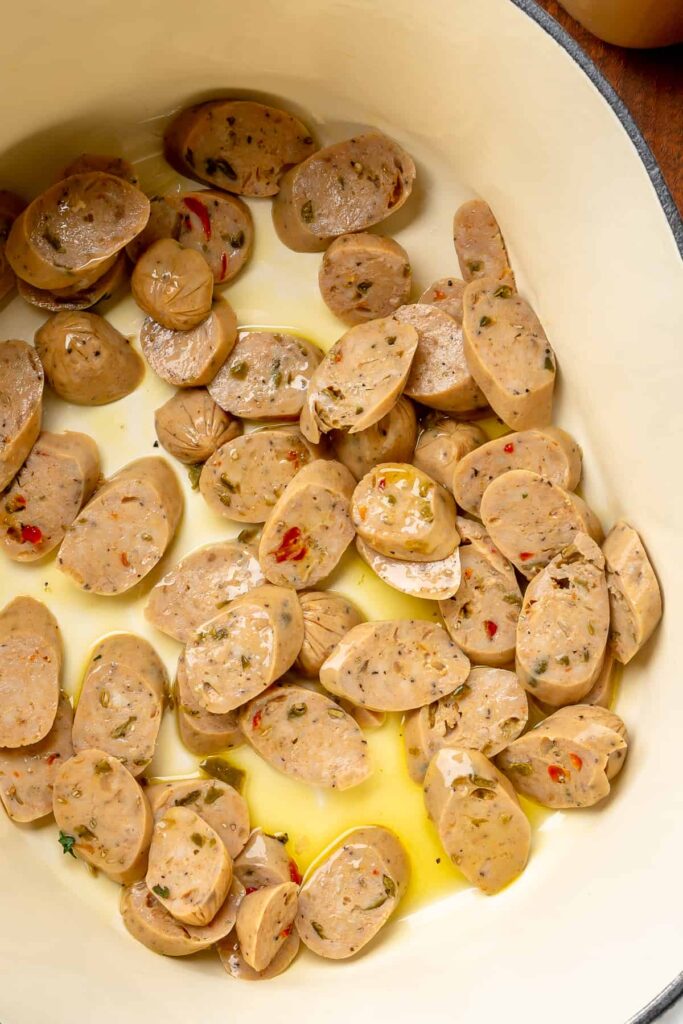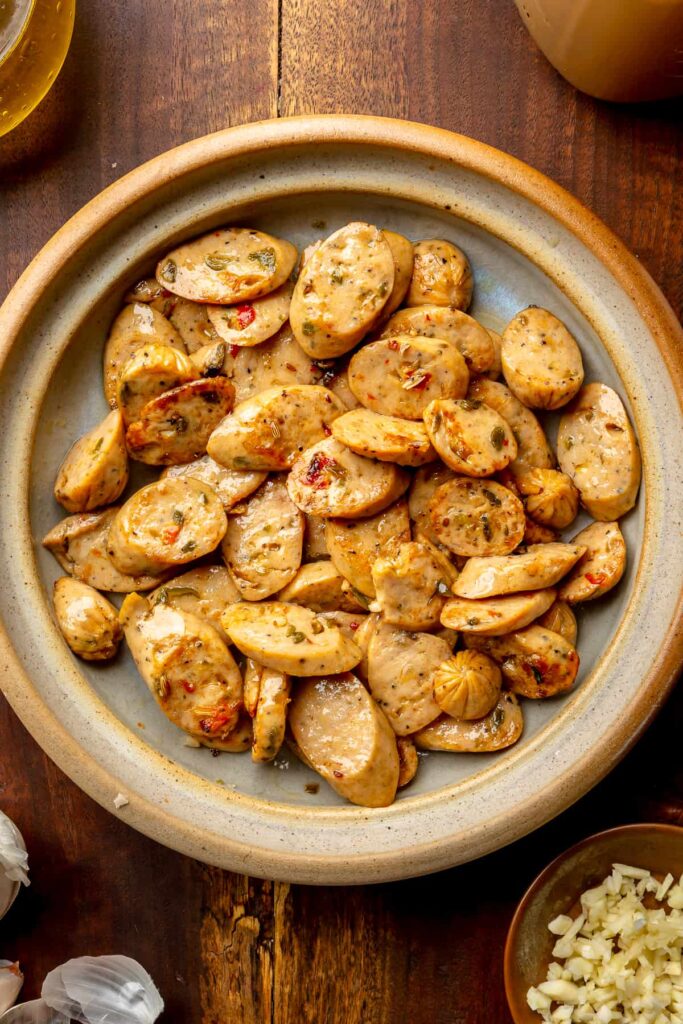 THE SECRET TO SATISFYING SOUPS
Between the bone broth, chicken sausage, and white beans, this soup is loaded with protein which provides energy, helps build and repair muscle, and is essential to satiety. So many soups lack the proper amount of protein, fat, and carbohydrates that comprise a meal, and leave people (ahem, husbands) around the world unsatisfied.
The beans are not only high in fiber, which contributes to satiety, but add a nice texture to the soup. Some of the beans will be emulsified with the broth to give it that thick and cozy feel.
Let me know what you think if you give it a try! Option to double the recipe and spread the love by bringing a batch to your neighbors, friends and family so they too can indulge in this super satisfying and cozy soup.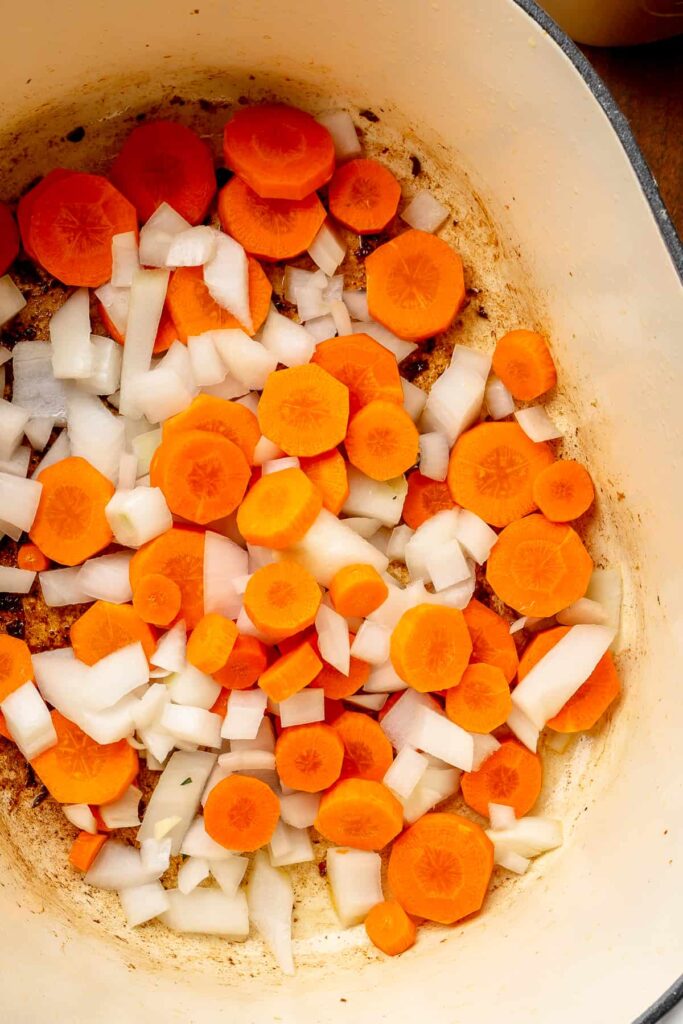 INGREDIENTS YOU'LL NEED:
Olive oil
Italian chicken sausage
Onion
Carrots
Chicken bone broth
White beans
Kale, lacinato or curly
Minced garlic
Sea salt
Red chili flakes
Ground pepper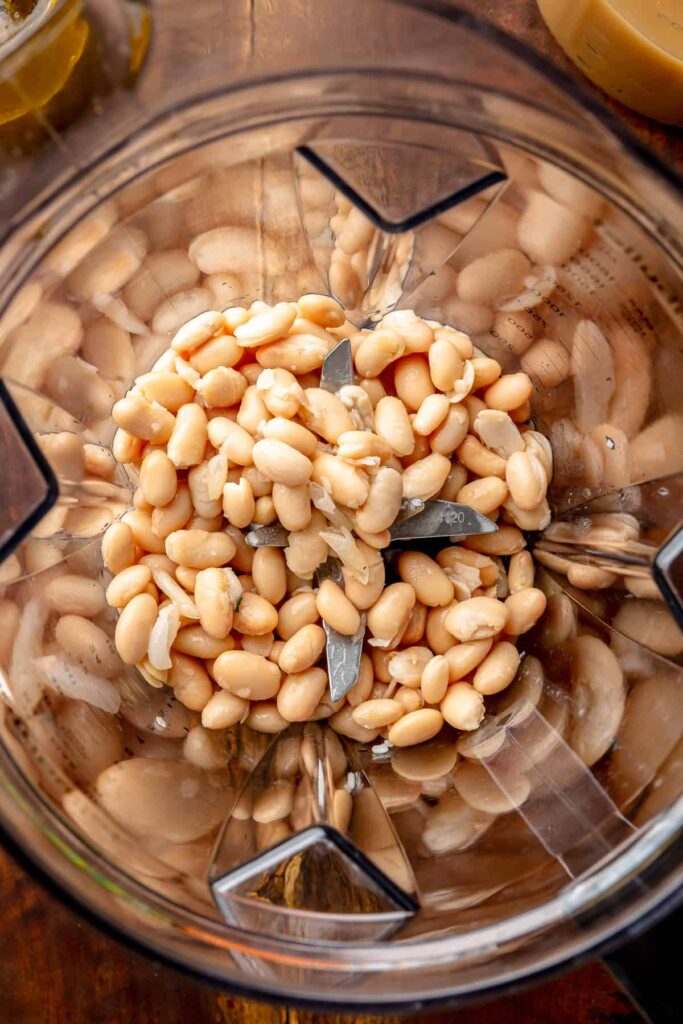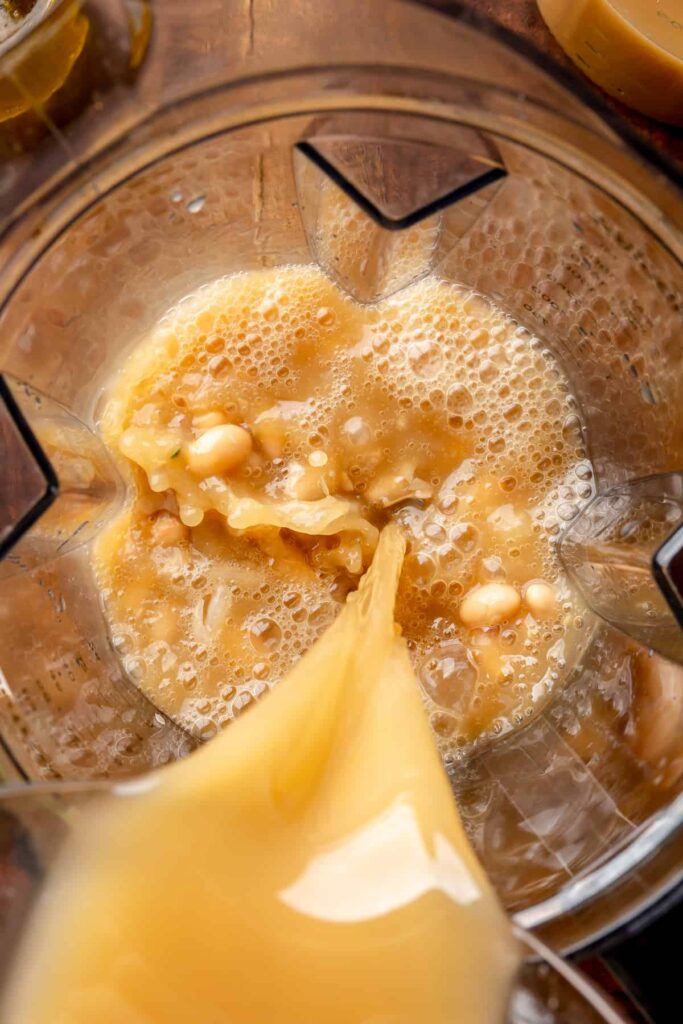 HOW TO MAKE SAUSAGE, WHITE BEAN & KALE SOUP
Start by prepping all of the ingredients. Slice your chicken sausage, diagonally – for easy reference, take a look at the reel I made for this soup. Also be sure to wash, peel and chop your carrots and kale, dice the onion, and drain and rinse the beans.
In a large pot, add 2 tbsp of the olive oil and heat on medium. Once the pot is hot enough, add in the chicken sausage to brown, about 4-6 minutes on either side. When the sausage is done cooking, remove from the pot and set aside.
In the same pot, add 1 tbsp of olive oil, plus the onion and carrot to steam to steam/sauté for 4-5 minutes. Cover with a lid. While the onion and carrots are steaming, add one can of the white beans and 2 cups of the chicken broth to a blender, and blend until smooth – this makes for a deliciously creamy broth. Pour the creamy broth over the onion and carrots in the large pot, and add 2 additional cups of the chicken bone broth, the remaining can of white beans, cooked sausage, kale, sea salt, ground pepper and pinch of red chili flakes. Cover the pot with a lid again and let cook on medium to low heat for about 25 minutes.
Finally, I highly recommend serving this soup with freshly grated Parmesan cheese, red chili flakes and ground pepper on top.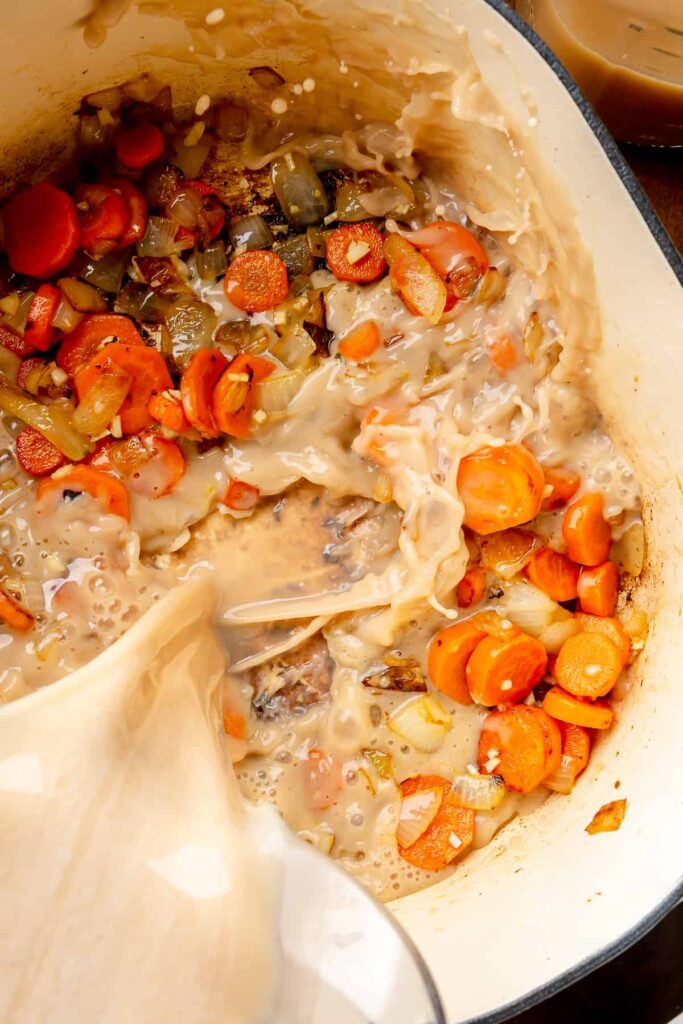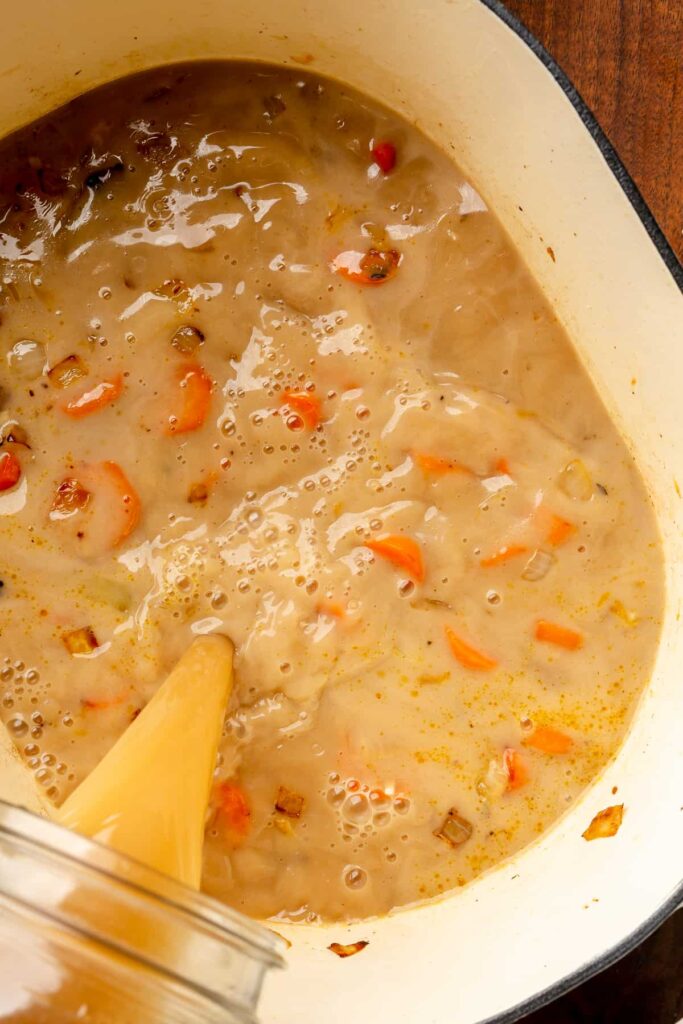 RECIPE SUBSTITUTIONS & QUESTIONS
I used a mild Italian sausage, but you can totally use any flavor of sausage you'd like!
A quick note on the bone broth: this can be homemade (typically, by simmering marrow-rich animal bones – like chicken, beef, or turkey – for hours), however, I typically buy store-bought organic (Kettle & Fire is one of my go-to brands) to save time.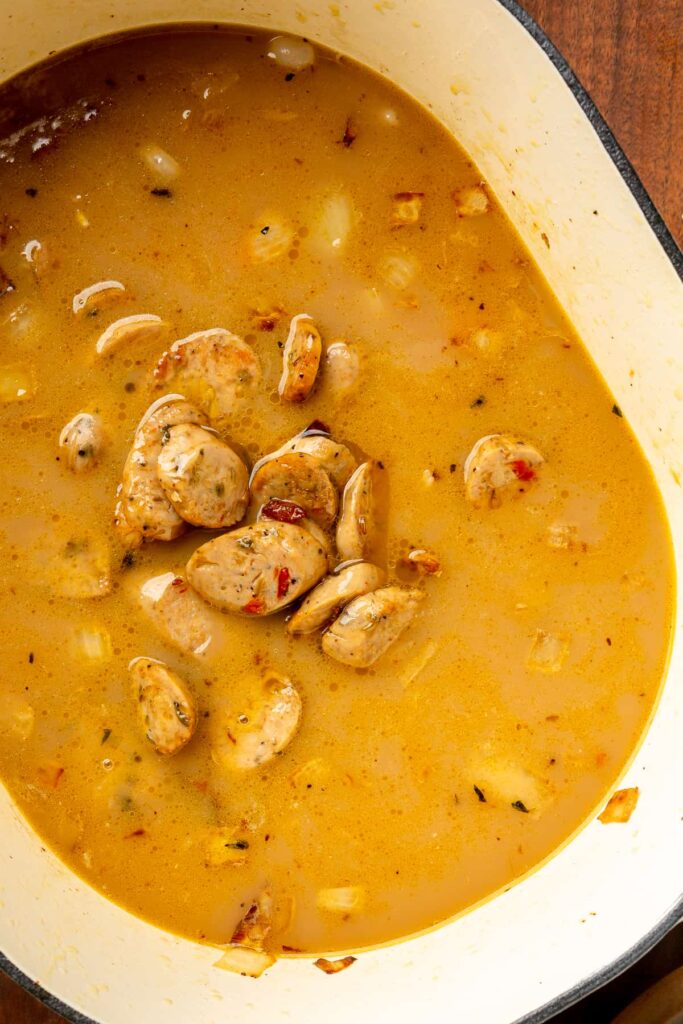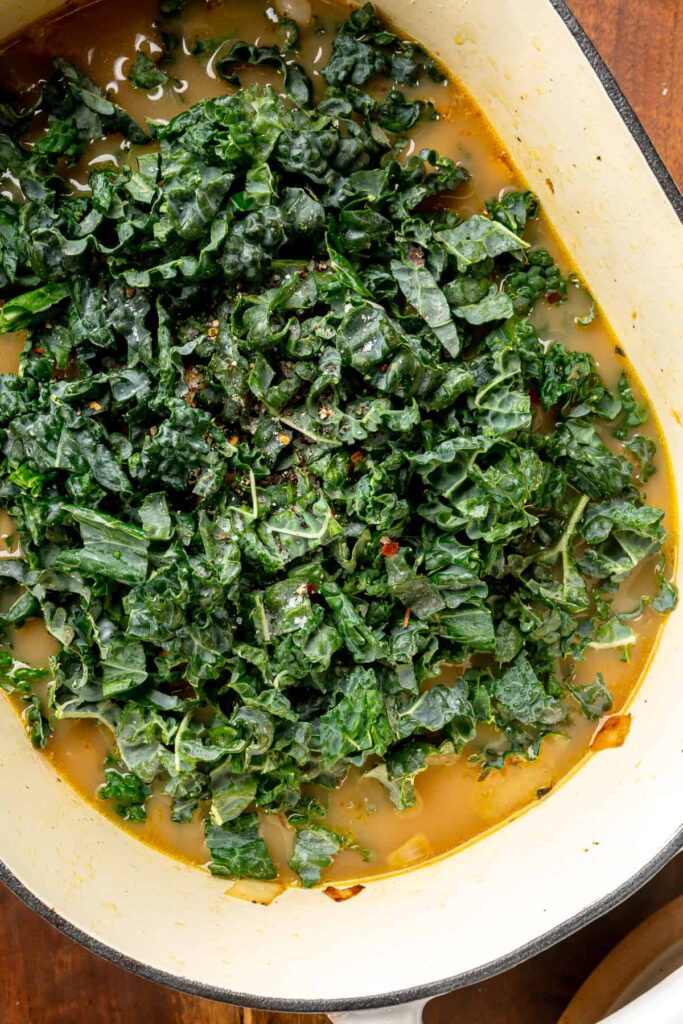 CAN I USE WHITE BEANS TO THICKEN SOUP?
You sure can! In fact, that's exactly what I did in this recipe by blending half of the amount of total bone broth used with half of the amount of total white beans used to make for a perfectly creamy base. While a lot of recipes tend to rely on a roux, cornstarch slurry, or cream/milk, I prefer to combine the beans and broth. Blending the two superfoods not only delivers the same wonderful thick texture, but also keeps the soup nutritiously dense.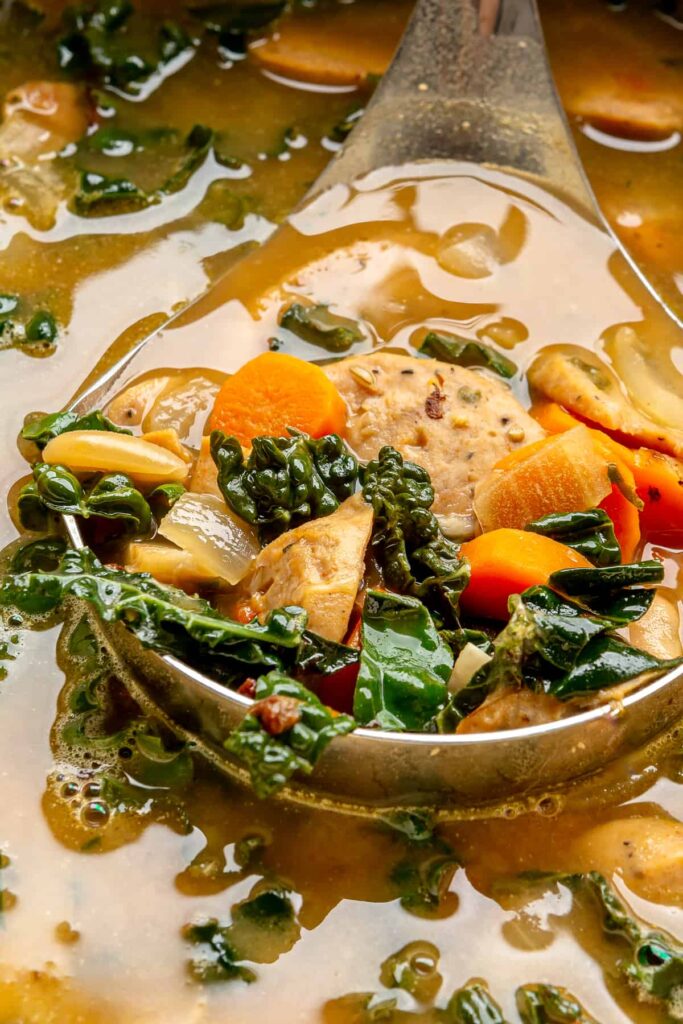 HOW HEALTHY IS CHICKEN SAUSAGE?
Chicken sausage is lean, high in protein and low in sodium and fat, making it a great macronutrient choice. It's also rich in essential nutrients like vitamins B6 and niacin, both of which are important for maintaining good health. I always like to tell people to read ingredient labels cautiously, to ensure the sausage you ultimately choose isn't highly processed or loaded with excess, filler ingredients. But ultimately, yes, it's safe to say that chicken sausage is a healthy choice!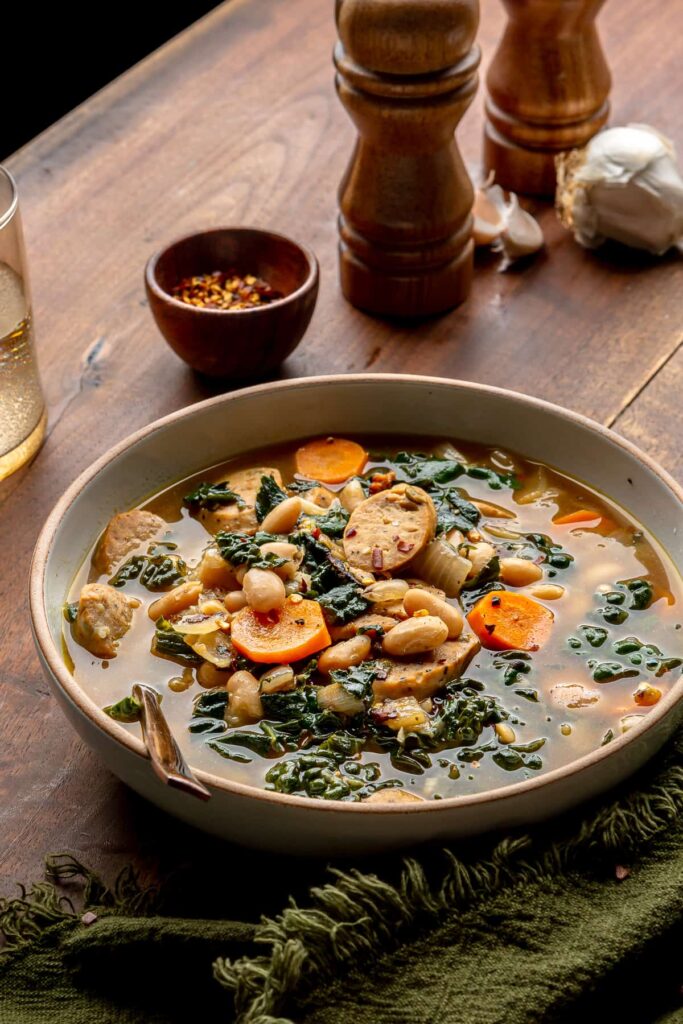 LOOKING FOR MORE COZY SOUP RECIPES?
Roasted Tomato Basil Soup & Grilled Cheese
Shredded Chicken Verde Bone Broth Soup
Looking for more healthy recipes? Check out my New York Times Best Selling Cookbook, Rachael's Good Eats. 110+ easy, laid-back, nutrient-rich recipes.
Click here to watch the reel I made of this recipe 🙂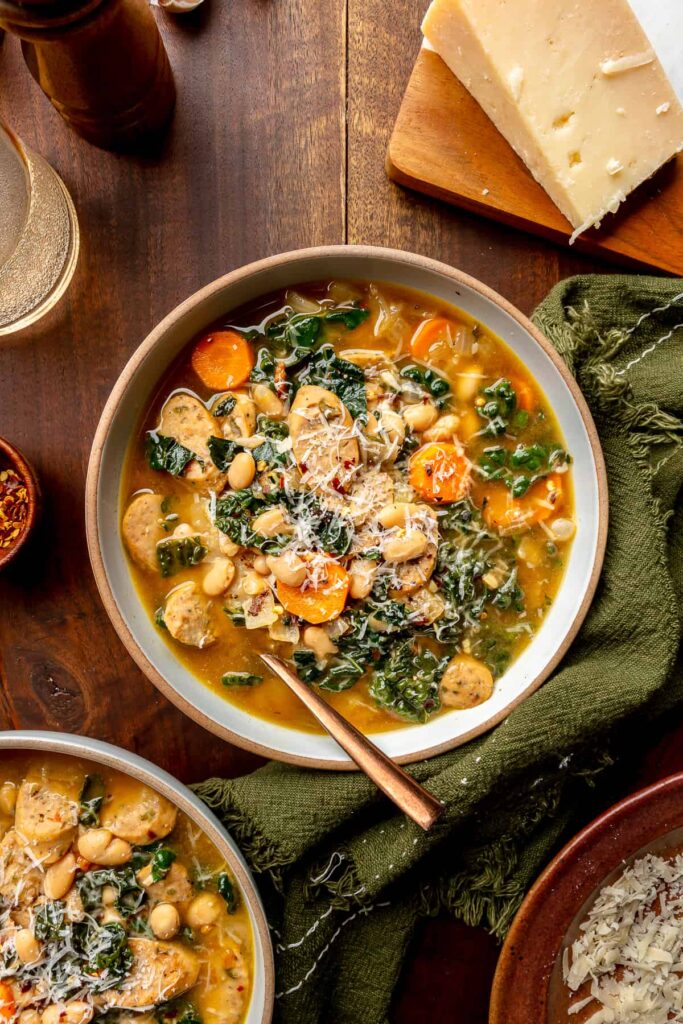 Sausage, White Bean & Kale Soup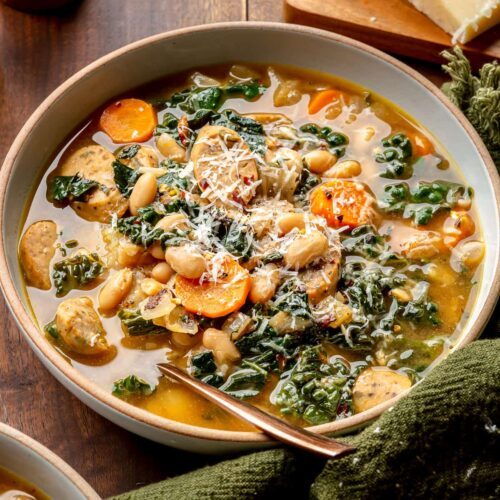 Ingredients
3

tbsp

olive oil

1

pack [4] Italian chicken sausage

,

sliced diagonally

1

medium onion

,

diced

2

loose carrots

,

peeled and chopped

4

cups

chicken bone broth

2

cans white beans

,

drained and rinsed

1

bunch kale

,

lacinato or curly, finely chopped

1

tbsp

minced garlic

1

tsp

sea salt

1/2-1

tsp

red chili flakes

Ground pepper

,

to taste
Instructions
In a large pot, add 2 tbsp olive oil and heat on medium, add in chicken sausage to brown, about 4-6 min either side. Remove and set aside. In the same pit, add 1 tbsp olive oil and the onion and carrot to steam/sauté for 4-5 minutes. Cover with lid.

Using a blender, add one can of rinsed white beans and 2 cups chicken bone broth, blend until smooth. Pour the creamy broth in the large pot along with 2 additional cups bone broth, remaining can of rinsed white beans, cooked sausage, kale, sea salt, ground pepper and a pinch of red chili flakes.

Cover and let cook on medium to low heat for about 25 minutes.

Serve with freshly grated Parmesan cheese, red chili flakes and ground pepper 😍