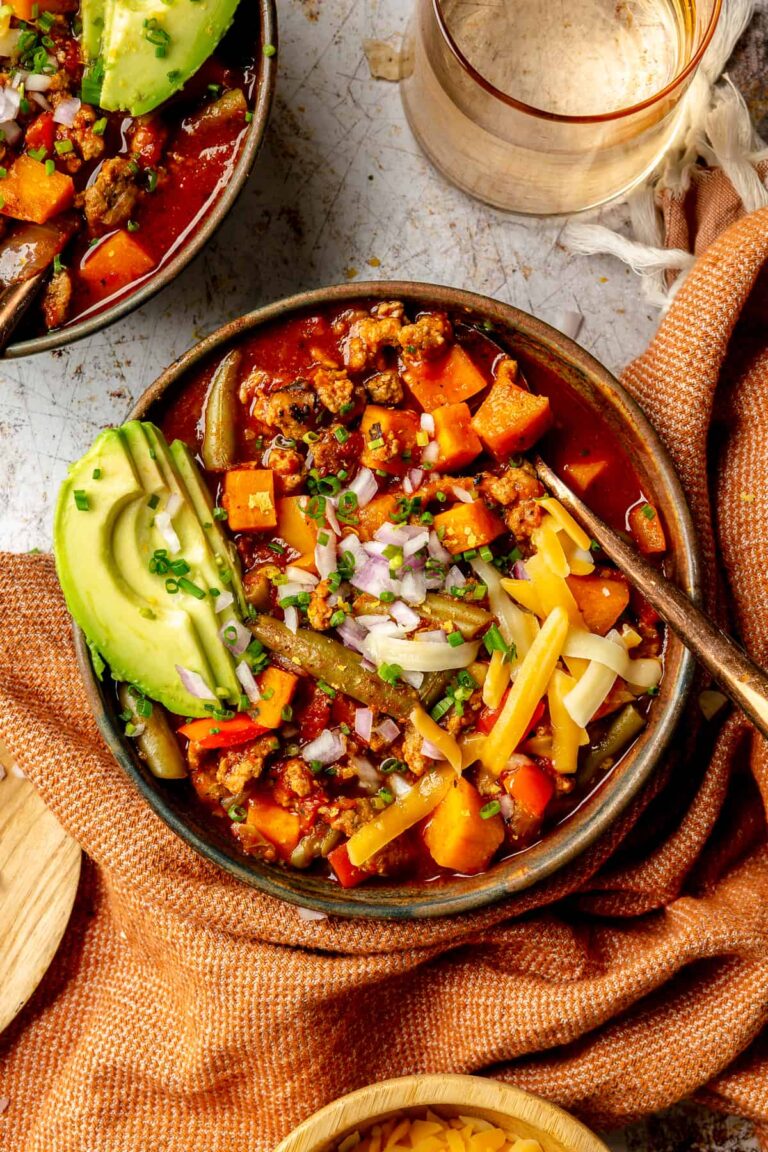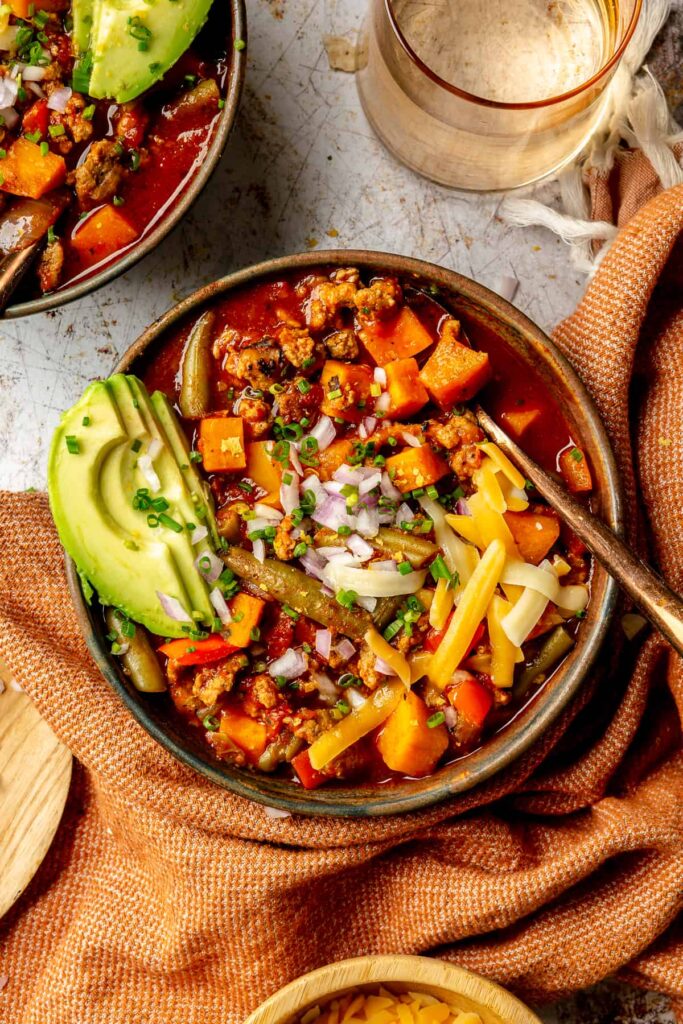 Sweater weather is almost here. Which also means chili season! I know they say soup is good for the soul, but I just want to say, especially when it comes to this Hearty Paleo Chili. While it's definitely bittersweet when the colder weather hits (I live in Seattle, so I get it!), there's just nothing like the smell of a fresh pot of this turkey chili cooking on the stovetop while relaxing in the house with Bridge and the weens. 12/10 cozy vibes!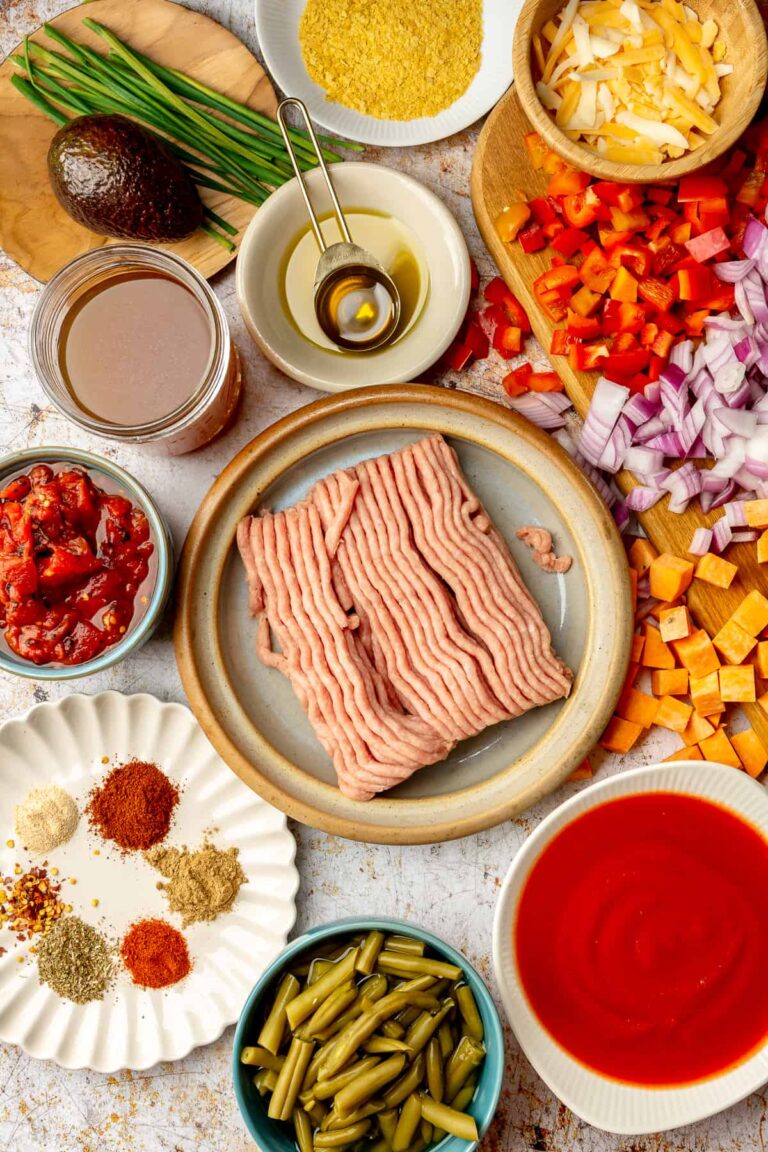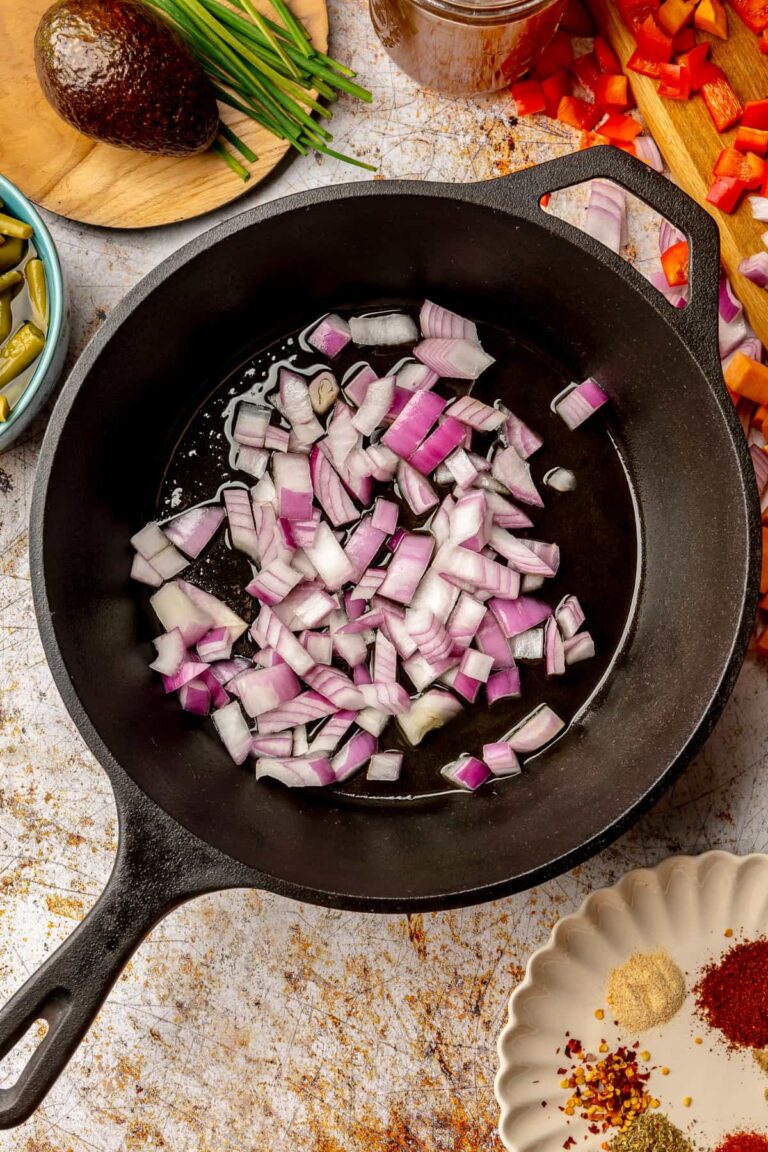 IT'S
CHILI SEASON
This is one of those recipes you'll never get sick of (yet will be so happy to make for the last time of the season before Spring comes back around 😉). It's hearty, loaded with veggies, herbs & protein, and just so nourishing. Not only will you nurture your body with the ground turkey and vegetables this recipe calls for (green beans, tomatoes, bell peppers & more), but using a bone broth helps to provide essential nutrients like protein, calcium, and electrolytes – all of which your body needs to replenish itself when it's feeling run down. I love adding sweet potatoes to this chili for a sweet but (another) nutrient-dense touch – when they're in season, they're hard to pass up!
I'm a big fan of cooking once and eating twice so sometimes I'll double the recipe and store the leftovers in the fridge or freezer so Bridger & I have something filling & healthy to reach for on those busier days. I also love making this chili whenever I do another round of my 7-Day Added Sugar Detox (read more on that here). This recipe made that book, and you'll see why the second you try it. Can't wait to hear what you think!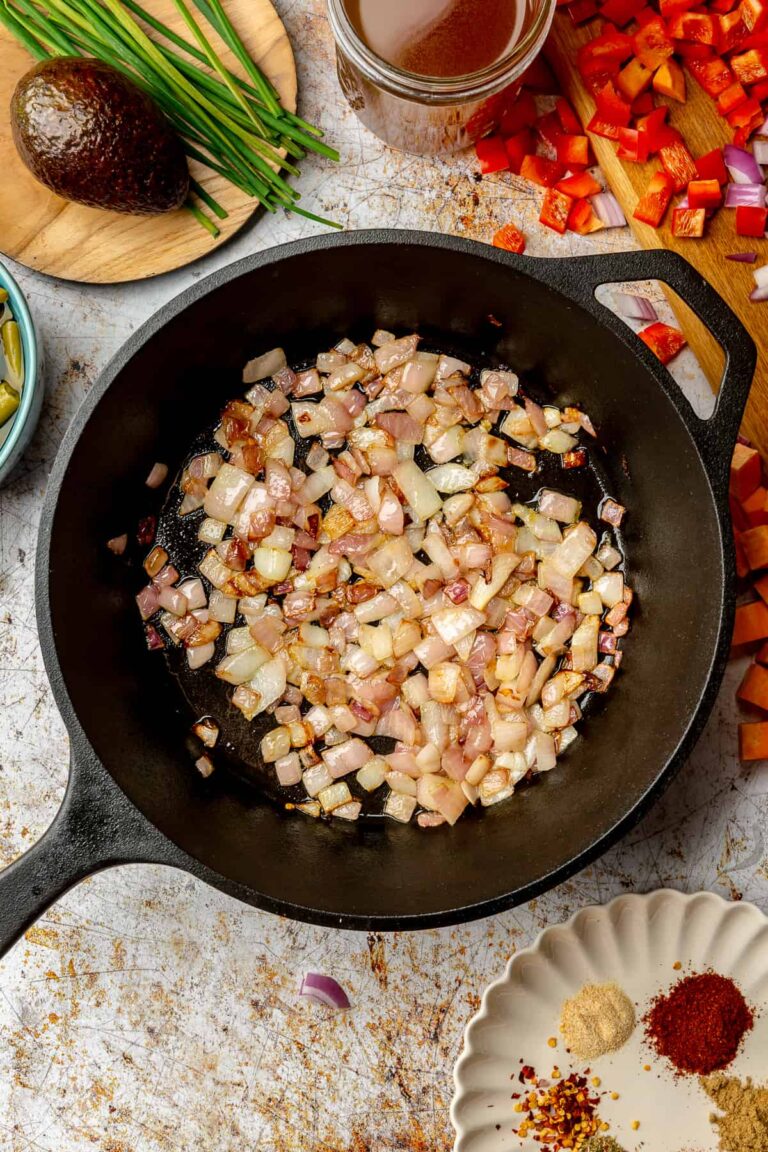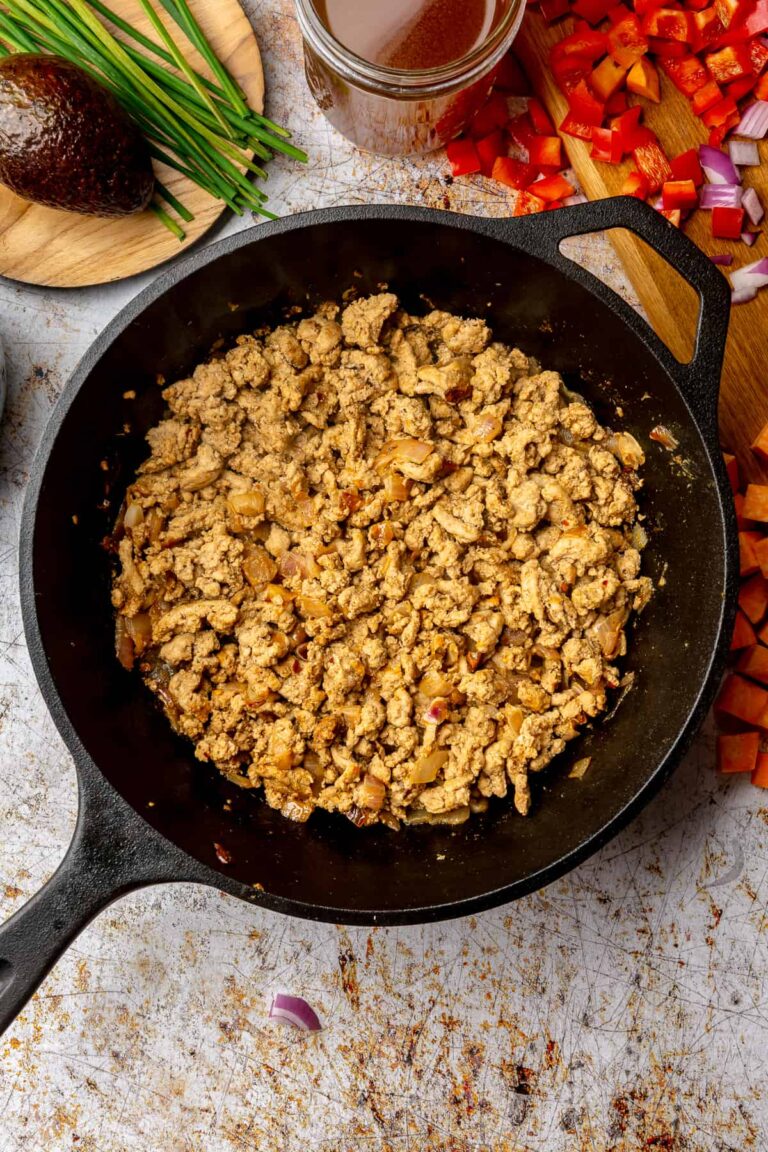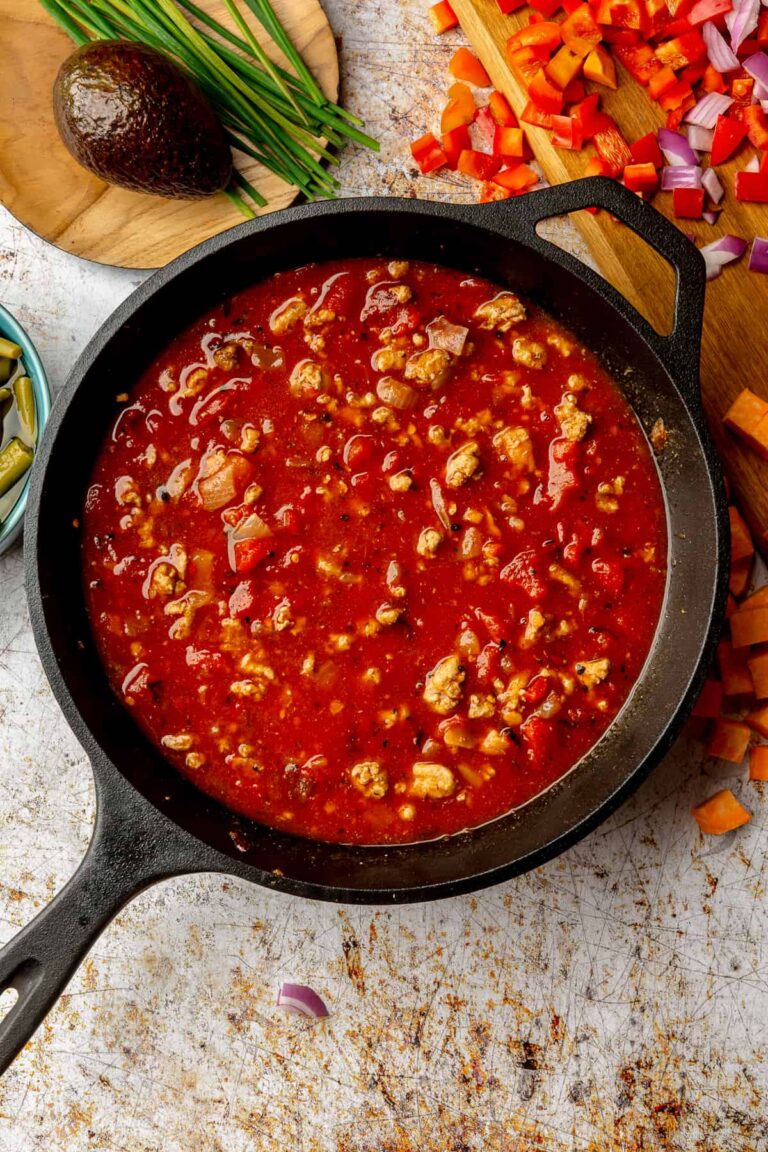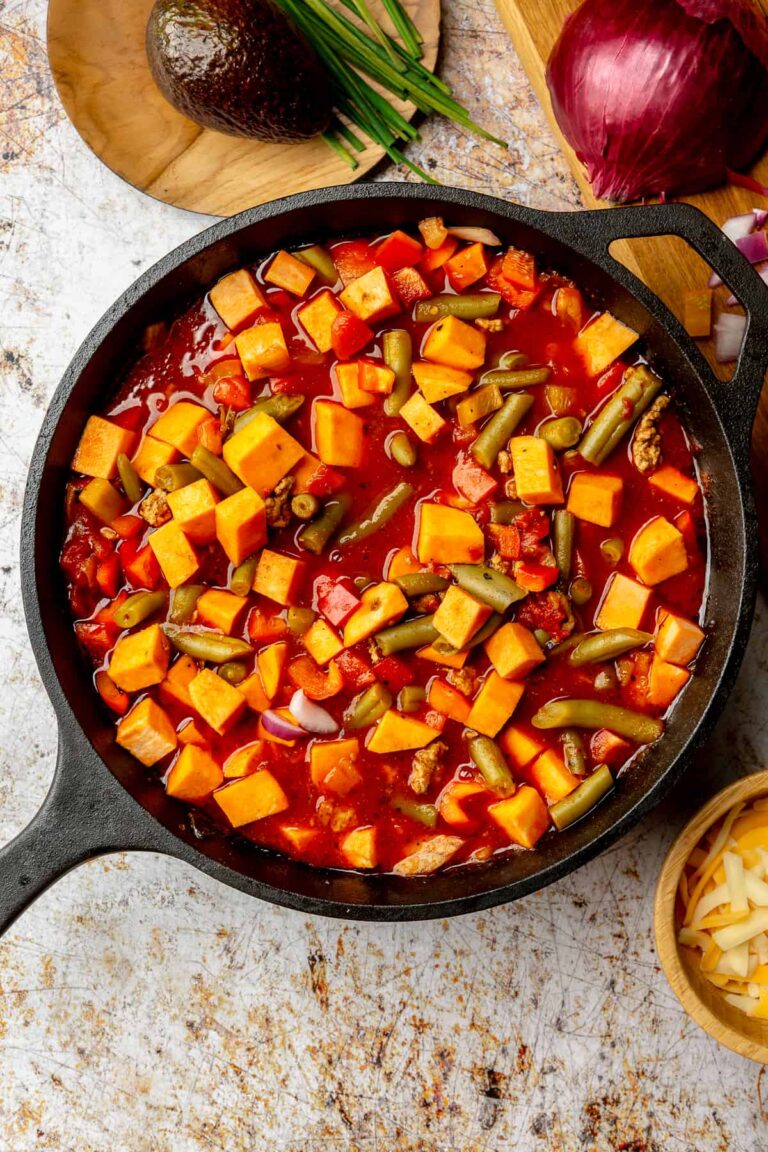 INGREDIENTS YOU'LL NEED:
2 tbsp olive oil or avocado oil

1/2 red onion, diced

1 lb organic ground turkey (or sub favorite protein)

1 15 oz can fire roasted tomatoes

1 15 oz can tomato sauce

1.5 cups bone broth

1 medium sweet potato, peeled and cubed

1 can chopped green beans

1 red bell pepper, diced

1/2 tsp chili powder

1/2 tsp cumin

1/2 tsp oregano

1/4 tsp garlic powder

1/4 tsp paprika

1/4 tsp red chili flakes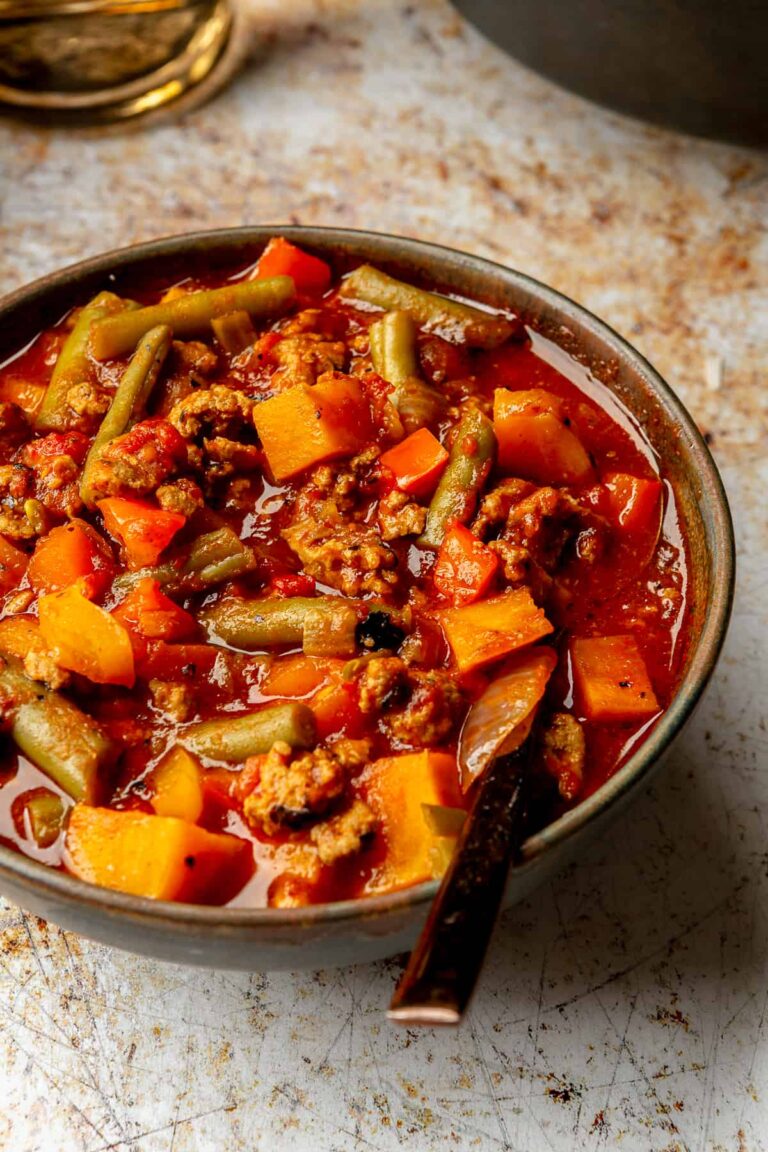 HOW TO MAKE HEARTY PALEO CHILI
Put on your coziest 'fit, throw on a good playlist and let's get cooking! First, cut up and sauté the diced onion in oil until caramelized. Next, add in the ground turkey to brown, along with all of the spices. Pour in the crushed tomatoes, tomato sauce and bone broth. Stir altogether. Cover and let simmer on low-medium heat for 25 minutes (and enjoy the incredible aroma that is about to fill your home!). While that's simmering, wash, peel and chop your sweet potato, bell pepper and beans.
Once done simmering, add in your sweet potato, bell pepper and beans. Cover with lid and cook for an additional 10 minutes. And that's it!
Serve with avocado, nutritional yeast and/or organic cheese & chives. You can also add a handful of chopped spinach once finished for extra greens. We love eating with Siete chips 😊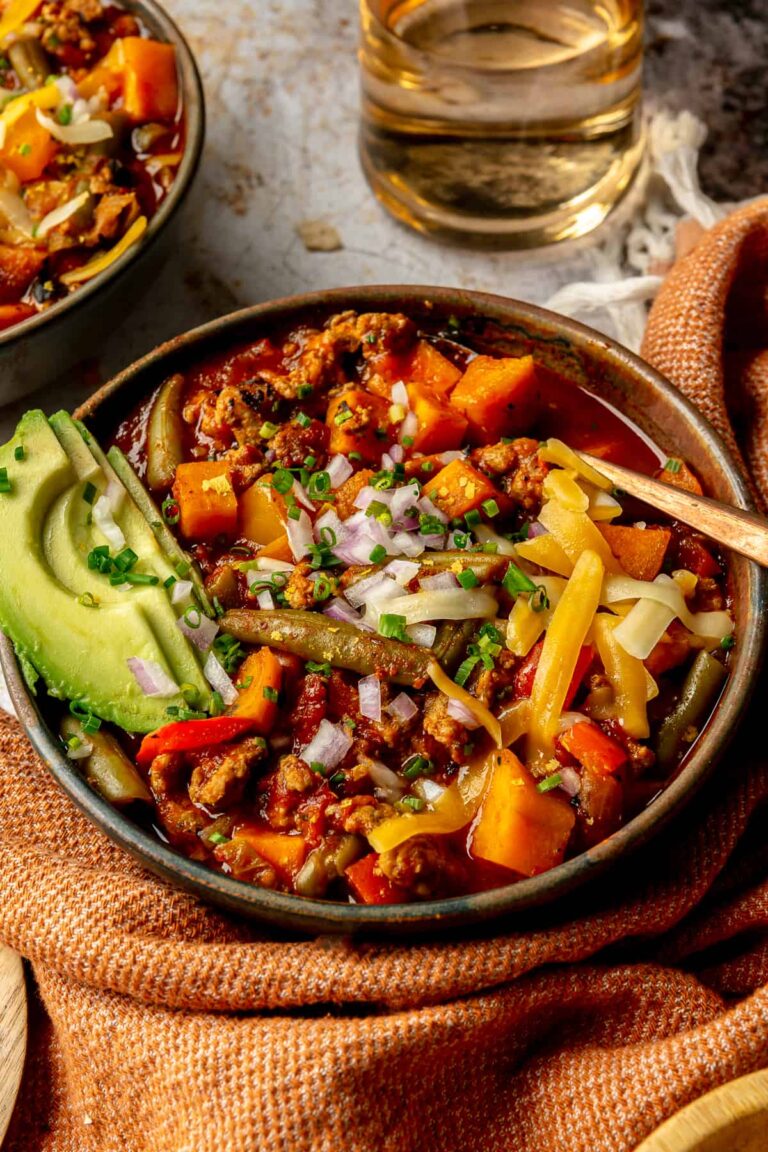 RECIPE SUBSTITUTIONS & QUESTIONS
Feel free to sub your preferred protein for the ground turkey and serve with however many toppings you'd like.
A quick note on the bone broth: this can be homemade (typically, by simmering marrow-rich animal bones – like chicken, beef, or turkey – for hours), however, I typically buy store-bought organic to save time.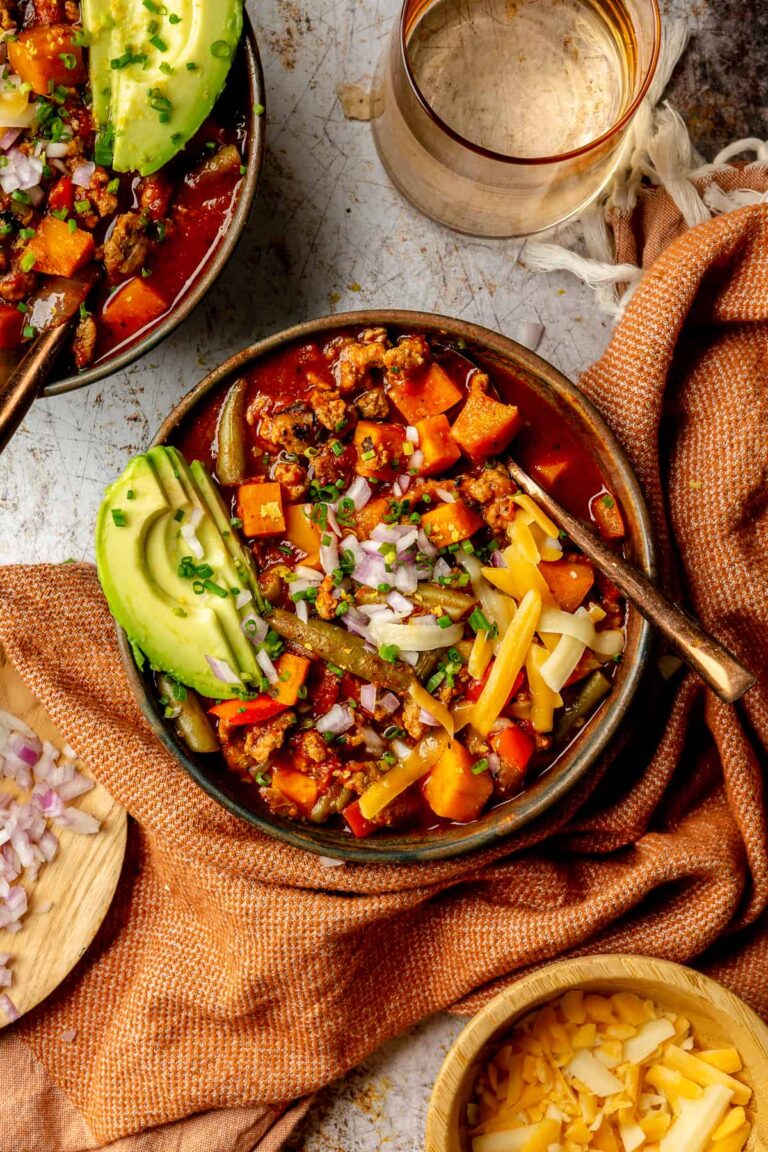 WHAT IS THE HEALTHIEST MEAT TO PUT IN CHILI?
There's really not one specific meat that's the healthiest to put in your chili as we all have different protein needs and health goals. If you're aiming for lean meat, I'd suggest using ground turkey or chicken. Ground beef is a good choice as it's a little higher in terms of healthy fats, but still an excellent source of animal protein that naturally contains all nine essential amino acids, and is rich in B vitamins as well as minerals such as iron and zinc. No matter what protein you use, I always recommend buying organic, pasture-raised or grass-fed.
IS CHILI WITH BEANS HEART HEALTHY?
While some studies have shown that those who eat beans regularly have lower risks of heart disease and type 2 diabetes, you can still make a delicious, heart-healthy chili without them! If you do prefer to include beans, typically pinto, kidney or black beans are used.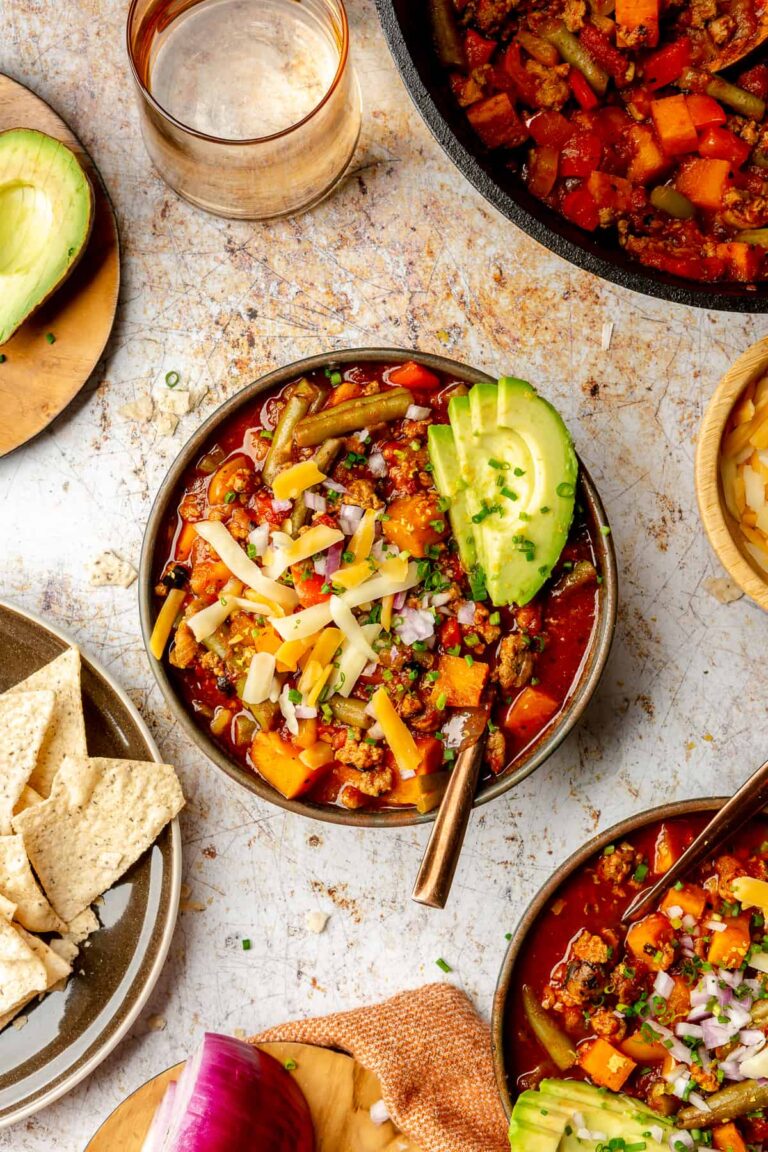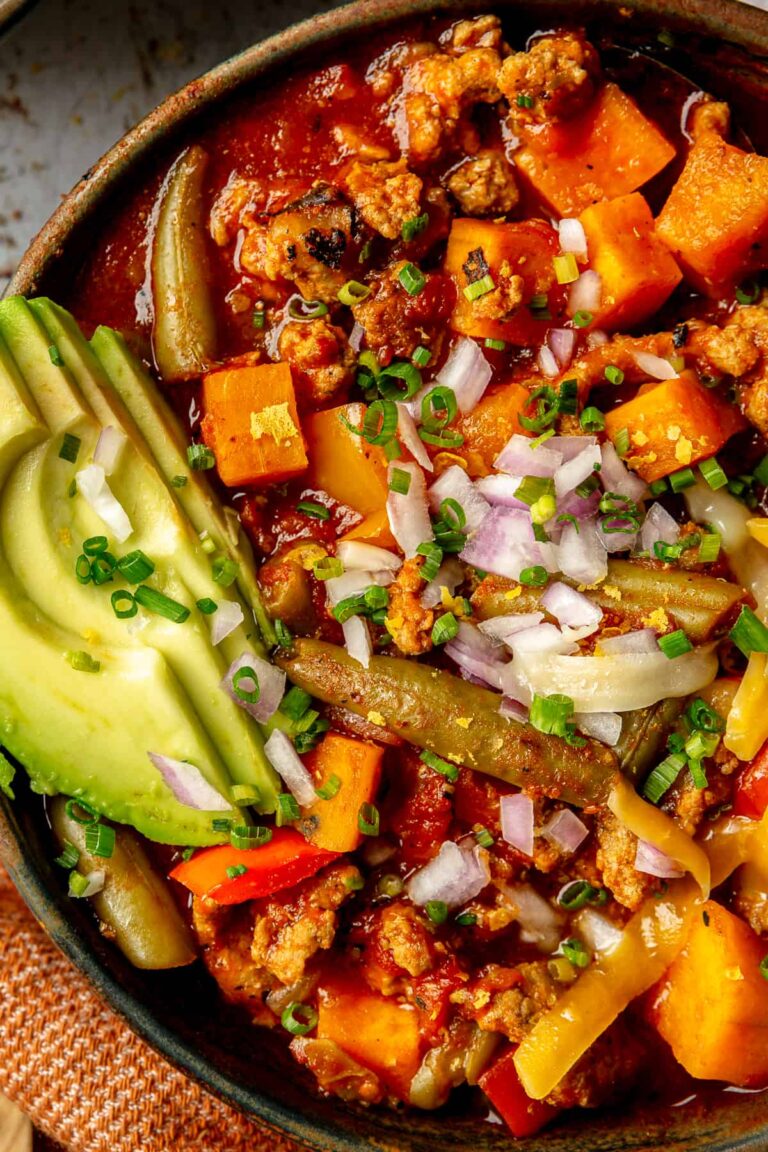 Click here for the Reel I made of this recipe 🙂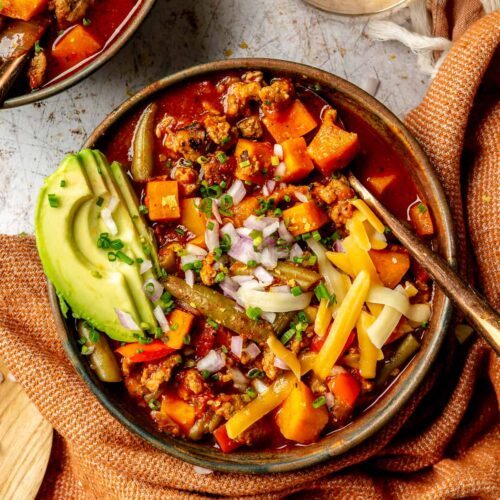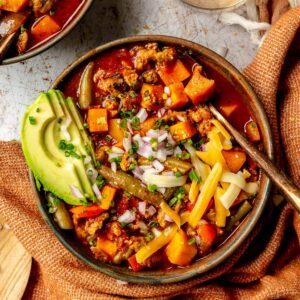 Ingredients
2

tbsp

olive oil or avocado oil

1/2

red onion, diced

1

lb

organic ground turkey

,

(or sub favorite protein)

1

15 oz can

fire roasted tomatoes

1

15 oz can

tomato sauce

1.5

cups

bone broth

1

medium

sweet potato, peeled and cubed

1

can

chopped green beans

1

red bell pepper, diced

1/2

tsp

chili powder

1/2

tsp

cumin

1/2

tsp

oregano

1/4

tsp

garlic powder

1/4

tsp

paprika

1/4

tsp

red chili flakes
Instructions
Cut up and sauté the diced onion in oil until caramelized.

Add in ground turkey to brown, along with all spices.

Pour in crushed tomatoes, tomato sauce, and bone broth. Stir altogether.


Cover and let simmer on low-medium heat for 25 minutes.

Add in peeled and chopped sweet potato, bell pepper, beans, cover with lid, and cook for an additional 10 minutes.

Serve with avocado, nutritional yeast and/or organic cheese & chives. You can also add a handful of chopped spinach once finished for extra greens. We love eating with Siete chips 🙂