Blackberry pickin' season is in full swing, and that can only mean one thing….. ENDLESS recipe possibilities! Initially, I wanted to make a dessert crisp. But with this hot weather we've been having I needed a refreshing late-night treat. A few weeks ago my girl @dani_nemeh posted these insane vegan blackberry cheesecake bars that literally made me drool looking at them on Instagram
With a few tweaks here and there (minimal because her recipe is bomb), these Frozen Blackberry Cobbler Bars were born! I swear the baked granola base makes the entire bar– I'm such a sucker for any crumble/crumb/crust you throw my way. My trusty taste testers (mom and boyf) were a little more than excited about these as well.
I used Paleo Passion Foods Caribbean Coconut grainless granola for the base and topped it with a decadent vegan, creamy, frozen layer that leaves me a little speechless. The top layer tastes so similar to cheesecake, which is why I don't think I'll ever understand how cashews sub as the perfect vegan cream factor in recipes! Mind-blown every time.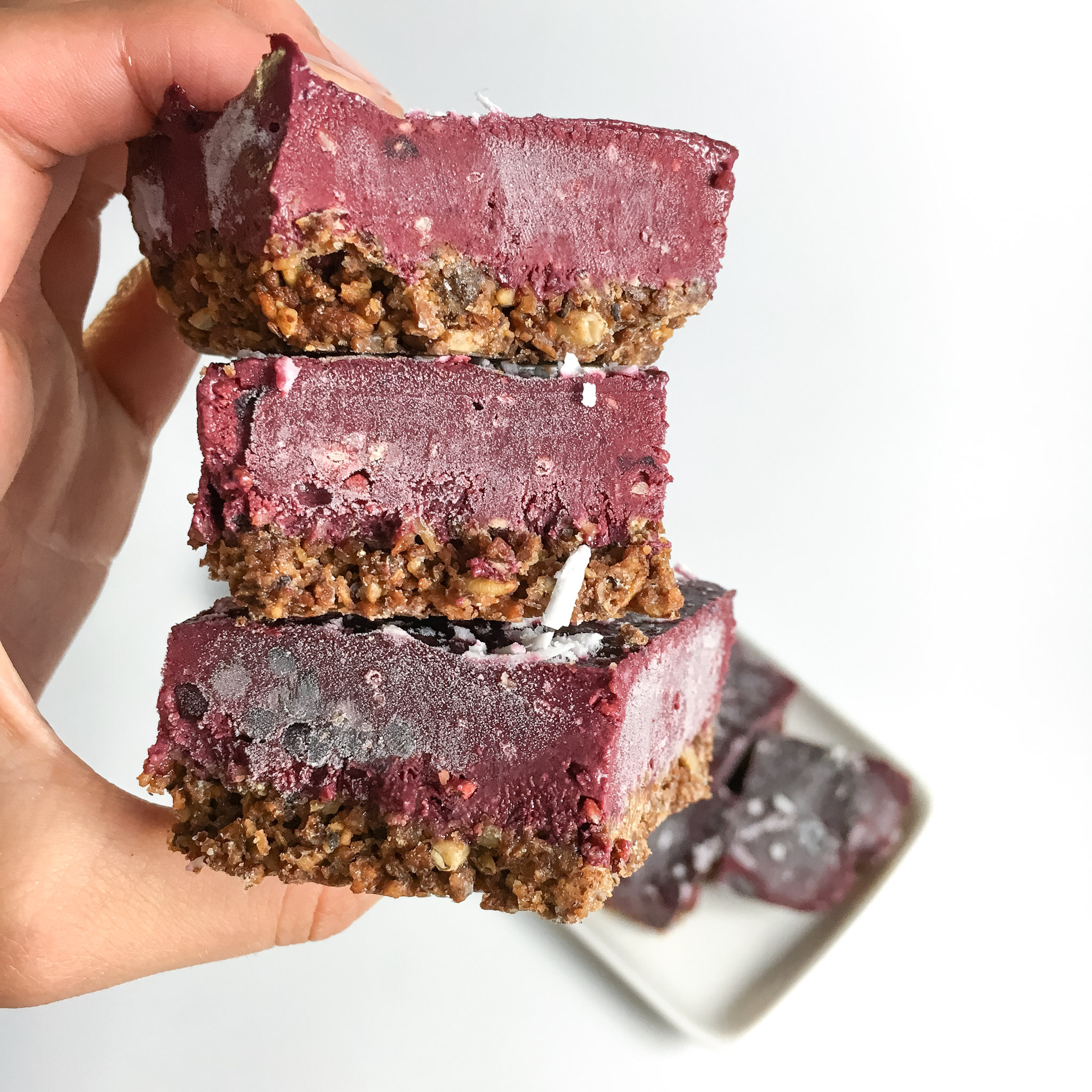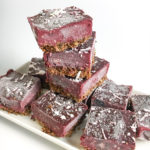 Frozen Blackberry Cobbler Bars
Ingredients
Crust:1.5 cups Caribbean Coconut Krave The Krunch granola1/3 cup coconut oil1/2 tsp cinnamon

Filling:1.5 cups fresh blackberries2 tbsp coconut oil2 tbsp maple syrup1/4 cup fresh lemon juice2 tbsp shredded coconut1 tsp vanilla1/3 cup raw cashews2 scoops Vital Proteins Collagen Peptides

optional
Instructions
Heat coconut oil until a liquid and mix with granola and cinnamon in a medium-sized bowl

Line an 8x8 baking pan with parchment paper and press granola mixture firmly until even

Bake at 350 degrees F for 15 minutes, then remove and let cool for 5 minutes

To prepare the blackberry cream layer, blend all "Filling" ingredients together, leaving 1/2 cup fresh blackberries out to fold in after

Once blended, pour in the last 1/2 cup of blackberries and stir

Pour entire mixture over the top of the granola base, making sure it's even

Sprinkle with shredded coconut and place in the freezer for at least 3 hours to harden

Remove and cut into squares

Store in freezer