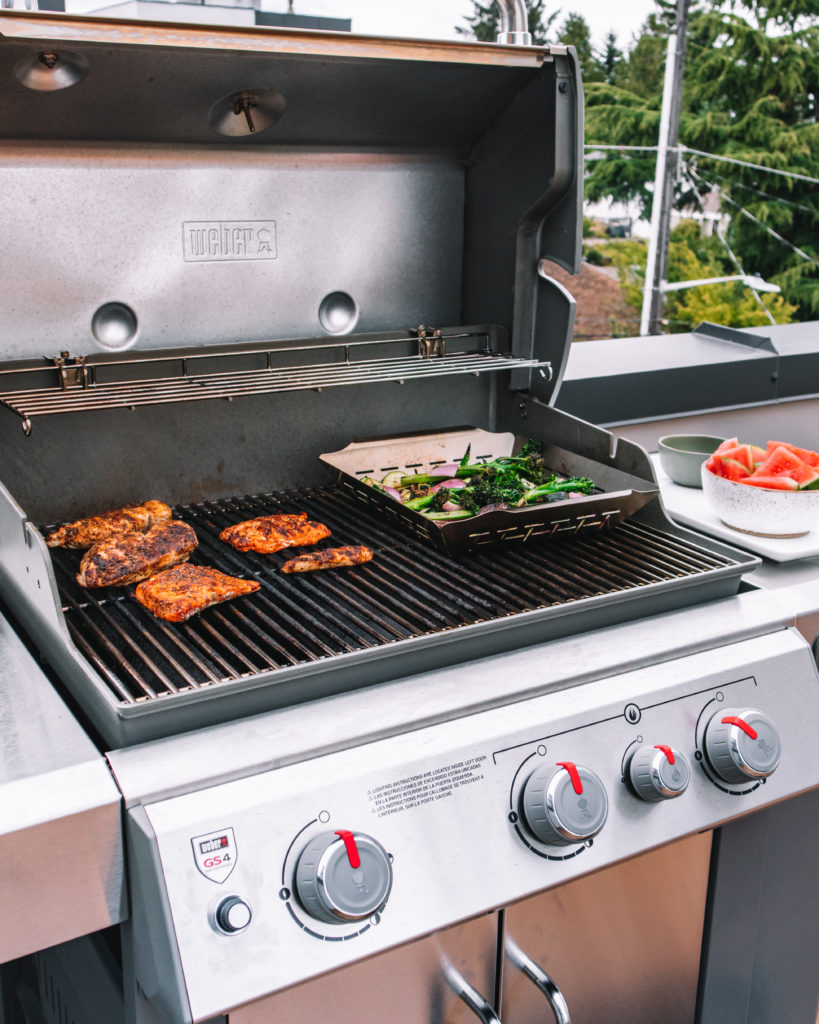 This post is sponsored by Weber and all opinions expressed are always my own 🙂
It's no secret I've been obsessed with our new home since moving in, especially our new rooftop area! So far, we've stained the deck, set up outdoor furniture and brought up our (my) most prized possession, our Weber Genesis II grill. I wasn't kidding when I said I'd be using it all summer long… 😉 I've fired it up almost every day since we've lived here / I've been home from traveling and I can't get over it!
In case you're new to the party, food tastes 1000x better grilled. The char, the smokiness, the caramelization– I'm telling you, don't wait until after summer to cave for a new grill. You won't regret it!
I'm partnering with Weber this season to show that grilling doesn't have to be difficult. It's actually quite easy, and even more so, it's a great way to elevate the foods you're already eating, entertain when guests come over, prep food for a busy week, or simply to enjoy the summer weather.
Now that everything is set up at the house, I've been so excited to have friends and family over to enjoy some good food and catch up, but also, obviously to show off my skills with the new grill. Trust me, just a few easy tricks to remember (click here for my 7 tips for easy grilling), and you'll easily be the talk of the crowd when it comes to mastering the grill.
Since Weber grills are so easy to use, all I have to do is basically turn a knob and press a button to preheat it 15-minutes or so ahead of time before I'm ready to start grilling. As soon as it hits 500 degrees Farenheit I know it's ready!
I wanted to share with you guys a menu meant to be easy and to 'wow' your friends and family while entertaining. Summer is the best time to utilize the outdoors, your grill, and delish seasonal fruits and veggies!
Here's my ideal menu—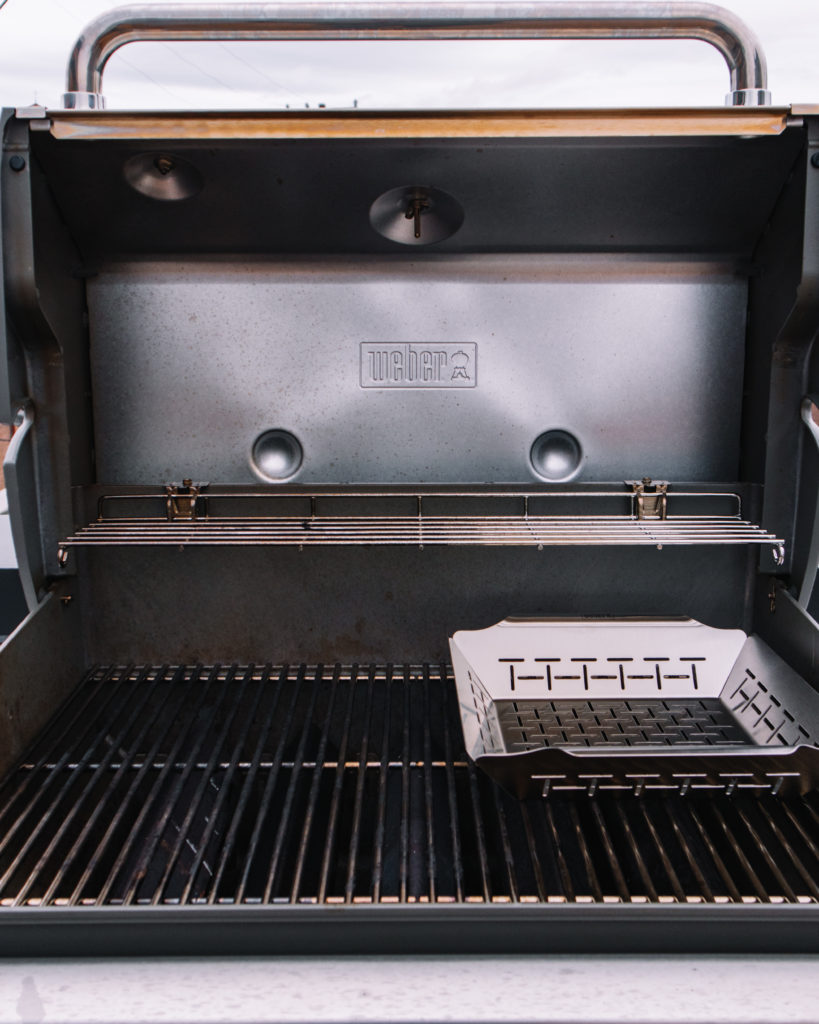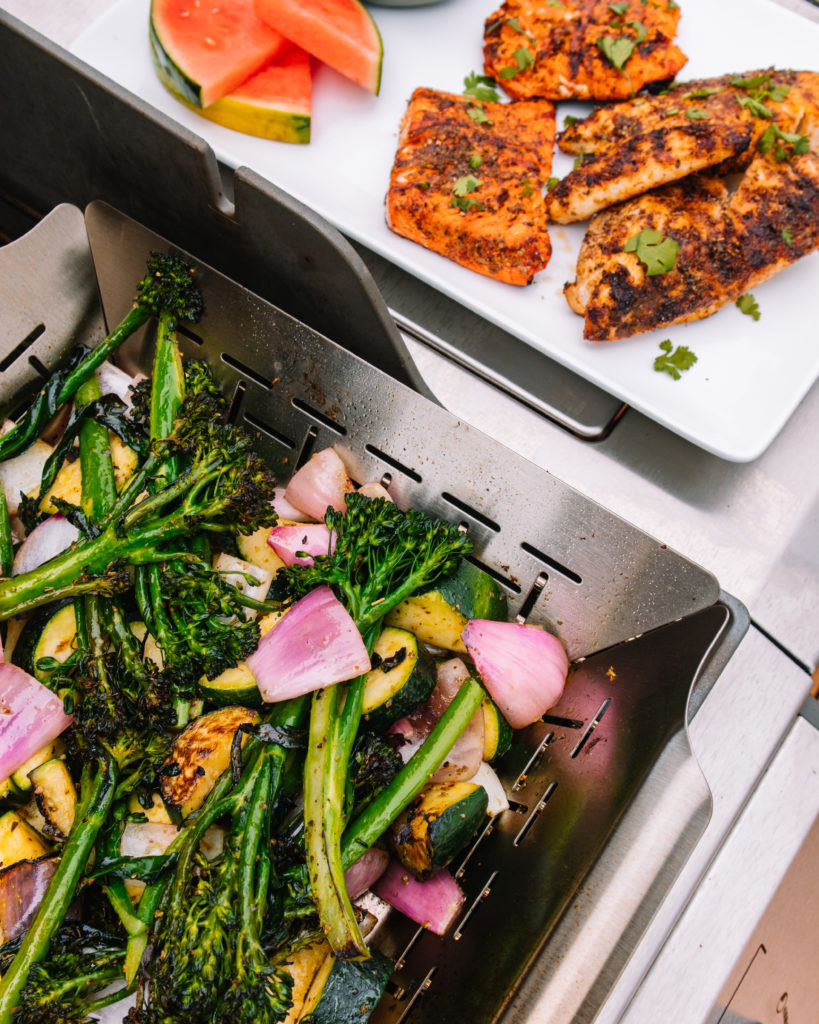 VEGETABLES: Obviously a staple in all my meals. I found this Weber grilling tray at the store, which is perfect for vegetables, plus you still get that yummy char on the outside. Today, I did a mixture of broccolini, zucchini and red onion. But again, utilize whatever you have in the fridge or on sale at the store. Try sticking to organic produce as often as possible and if unavailable, try following the Dirty Dozen!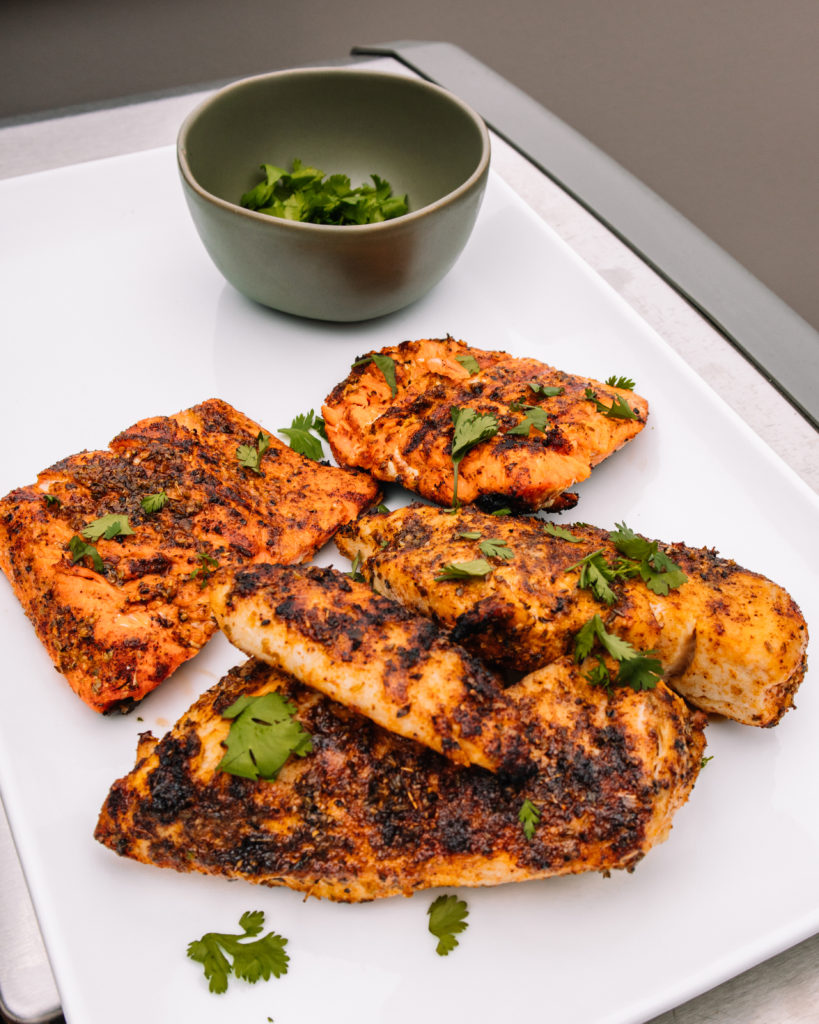 PROTEIN: Quality protein is key in any diet! It helps to maintain muscle mass, contains essential amino acids needed for protein synthesis and helps to keep you satiated, or full, for a longer period of time. My go-to is organic chicken and wild-caught fish. I made a blackened seasoning for both and they turned out beyond!! Full recipe below.
DESSERT: Okay, so I wasn't going to leave you hanging after the main course with nothing to satisfy your sweet tooth. I'm all about basing a good dessert around fresh fruit. I love a good natural sweetener like fruit, honey, and maple syrup, so I've created a classic grilled peach topped with coconut oil, cinnamon and honey, and paired with vanilla bean ice cream (dairy-free for me!). HELLO SUMMER, we are HERE!
I hope you love this yummy seasonal dinner menu– I promise if you're new to grilling, you'll be surprised at how easy (and quick) it is to grill all of these foods. BTW, If you're looking for more recipes on the grill, Weber has its own Weber Grills App and it's an amazing resource that provides you with instructions on how to set up your new grill, offers hundreds of different recipes, and step-by-step grilling instructions on how to prepare the perfect meal. Continue to experiment with fresh produce you find at your local farmers market or grocery store this summer. Utilize what's in season!
Grilled Veggies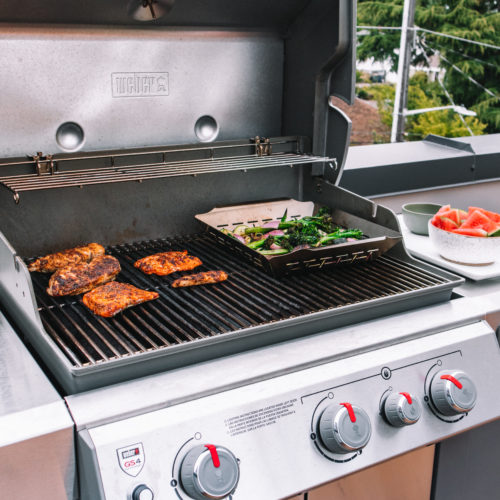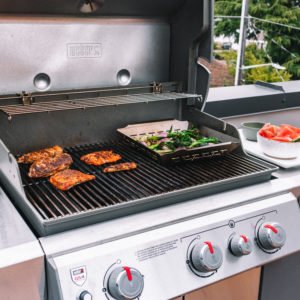 Ingredients
Grilled Veggies
1

large

zucchini, sliced into thick rounds

1-2

bunch

broccolini, ends trimmed

1

large

red onion, roughly chopped

2-3

tbsp

extra virgin olive oil

1/2

tsp

cumin

ground pepper, to taste

pink salt, to taste
Grilled Chicken + Salmon
2

organic chicken breasts, trimmed

2

wild salmon fillets

2

tbsp

avocado oil or extra virgin olive oil

1

tsp

cumin

1/2

tsp

chili powder

1/2

tsp

paprika

1/2

tsp

garlic powder

1/2

tsp

oregano

ground pepper & sea salt, to taste

1/4

cup

freshly chopped cilantro
Grilled Peaches
4

unripe peaches

,

(easier to break apart this way)

coconut oil

,

(spray works best!)

cinnamon

drizzle of honey
Instructions
Grilled Veggies
Combine all veggies, oil and seasonings of choice in large bowl. Toss until well-combined. Let sit/marinate for 10+ minutes.

When protein is nearing being complete on the grill, add veggies to vegetable grill tray, on skewers, or straight to the grill if they're chopped into large enough pieces. Close lid to grill and check back in 10 minutes to toss.

Repeat several times until charred and tender. Enjoy!
Protein
Drizzle/coat protein with extra virgin olive oil. Add seasonings, and flip chicken to make sure both sides are seasoned.

Once grill is preheated, using tongs, add chicken to grill and wait on the salmon (reduced cooking time). Close lid and let cook for 8-10 minutes before flipping.

Add the salmon, flesh side down and close lid to let cook
for 5-7 minutes before flipping. Fish is done once it flakes off with a fork.
Grilled Peaches
Slice peaches in half and twist gently apart.

Spray with coconut oil, sprinkle with cinnamon and drizzle with honey. Spray once more with oil, then you're good to go!

Add peaches flesh side down to the grill. Close lid and let cook for about 3-5 minutes, or until they begin to caramelize/char.

Remove from grill and pair with vanilla bean (dairy-free for me!) ice cream and drizzle with honey. You will LOVE!